Vehicle-to-vehicle communication and infotainment systems across a broader range of motorcycles have been identified as important safety technology trends over the next five years.
A report by British technology research and advisory company Technavio says smartphone technology is pushing development of V2V and infotainment systems to new levels of connectivity.
While infotainment systems have largely been the domain of heavy motorcycles such as Harley-Davidson and, to a lesser extent BMW and Honda, Technavio lead analyst Siddharth Jaiswal says introduction of a comprehensive touchscreen to the 2017 Indian Roadmaster could lead to the adoption of more infotainment systems in other bikes.
"Gradual adoption of infotainment systems in mid-segment and commuter motorcycles is expected during the forecast period," he says.
These infotainment systems bring connectivity, entertainment and information to riders and, the manufacturers claim they are also a safety device, providing important information in a convenient and least-distracting manner.
However, the more interesting development is in Vehicle to vehicle (V2V) technology being driven by new smartphone apps and the global move toward Intelligent Transport Systems (ITS) and self-driving autonomous vehicles.
The report says networked wireless communications between vehicles can enable motorists to make "coordinated and informed decisions about their route and allow safer manoeuvring in busy urban traffic environments".
"This system is expected to increase the safety quotient in motorcycles," it says.
Three companies have already gained experience in vehicle connectivity technologies in Europe.
BMW Motorrad participated in a German event named simTD, while Honda and Yamaha participated in DRIVE C2X and the companies are now collaborating in developing co-operative intelligent transportation system (C-TIS) for motorcycles.
BMW added GoPro camera control to their car infotainment system in 2014 and BMW Motorrad is now working to bring it to its motorcycles, starting with the K1600 models.
The system captures information such as battery life, storage space, records video, and photos, and displays such information on the infotainment system.
BMW Motorrad has also developed automatic emergency call (eCall) system which is expected to be available in some of their motorcycles in 2017.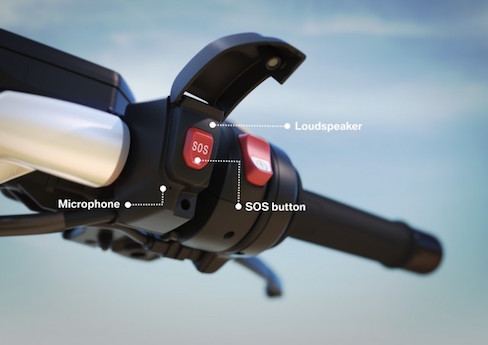 Samsung and Yamaha recently partnered to develop their smart windshield concept displays information from the rider's smartphone on the windscreen of a scooter.
Meanwhile, Yamaha is also working on a self-riding motorcycle and Kawasaki is developing artificial intelligence that learns a rider's behaviour and can intervene if bad decisions are made.
While the companies are developing these features in an effort to improve safety for riders, you have to wonder about all the extra distractions and the interventionist technologies that can  take over from riders.