Even with GPS and paper maps you can still get lost in some complex cities or counties with vague road signs and that's when a taxi comes in handy.
Using a taxi as a guide is a great tip from Mike Ferris of Ferris Wheels Motorcycle Safaris (to become World on Wheels from January 2016).
We are currently travelling on their three-week Tacos n Tequila Tour of Mexico, Guatemala and Belize and on several occasions we have arrived in a bustling and frenetic city to find Mike's GPS has taken us to the wrong hotel.
Sometimes the GPS and street maps just don't match up with the actual city streets, like in Acapulco, Mexico and when you're stuck in frenetic traffic, it's difficult to get directions and consult a GPS or paper map.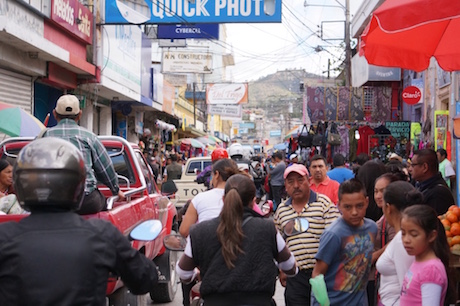 That's when Mike accesses the local knowledge of the taxi driver.
Mike simply pulls over a taxi driver and asks him to lead us to the hotel, then pays them for the service. Its usually pretty cheap, especially if it's divided up among several riders.
But it doesn't always work.
We tried to use a taxi in Flores, Guatemala, to escort about six of us to our hotel after we had become separated form the pack.
The taxi driver led us up a street, pointed at the turn and took off.
It was in the right direction, but still nowhere near the hotel and he had left without being paid.
That's strange because I had given him the universal symbol of payment – thumb and first two fingers rubbing imaginary coins together!
We hailed another taxi driver who finished the job and actually counted the bikes to make sure we he didn't lose anyone.