Tamworth exists in our national conscience as that little country town where they like both types of music, where the guys are all boot-scootin' cowboys and where the gals are charming gingham-wearing warblers.
That's an understandable misconception as it has hosted the Tamworth Country Music Festival every January since 1973. But Tamworth is a whole lot more than just a country town. For a start, it's a city.
And it's a city many travellers have visited. Some one million tourists pass through Tamworth every year, according to Destination Tamworth and many of them are motorcycle riders.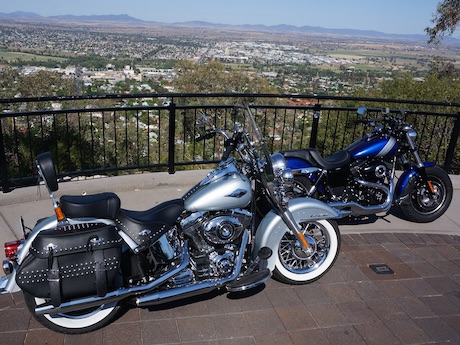 Unfortunately, most of those riders only stay overnight on their way from Sydney to Brisbane or vice versa, or as the turn-around point before heading home again.
We riders usually roll in off the New England Highway a little weary from several hundred kilometres of some of the best and most challenging riding in the country – well-known "Ways" such as Bucketts, Thunderbolts and Clarence, and highways such as the Oxley, Gwydir and Bruxner.
By the time we've booked into our hotel room, washed the road grime off our leathered hides and supped on the first of many coldies from Liquorland, it's getting dark and our thoughts turn to big-arsed rumps — steaks, that is, not the gingham-clad cowgirls — and some bench racing. Consequently, we only get to see the inside of a pub, restaurant and our motel room.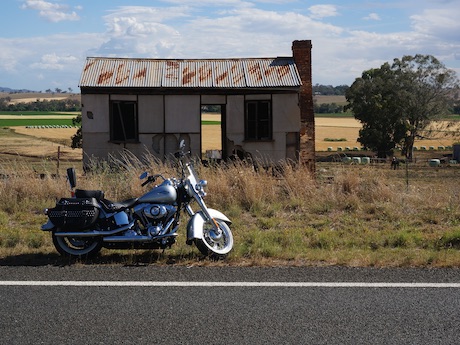 Next morning, we are slow to lift our heavy heads off the motel pillows and by the time we've repacked and refuelled the bike, there's only time for a quick brekky in Peel St before blowing out of town again.
It's a shame, because there is a lot of good riding around the surrounding semi-circle of hills, some interesting country towns and pubs to visit, plus museums, wax works and other tourist attractions.
Best idea is to stay at least two nights so you can squeeze in a day of sight-seeing and regional riding.
Harley riders will do just that when they converge on the central NSW city at the end of February for the 24th annual HOG Rally, nicknamed the Iron Horse Muster, because it will feature a rodeo and have a cowboy theme.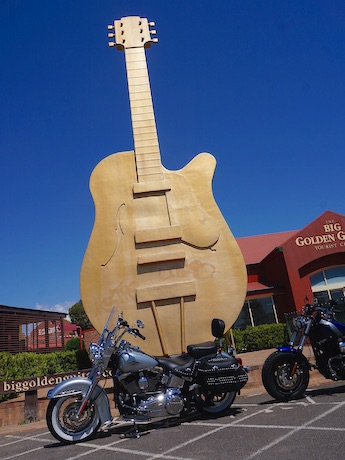 Probably the most identifiable tourist landmark in Tamworth is the Big Golden Guitar which sits right on the southern highway approach to the city. It was built in 1988 and has been in millions of tourist photos. The short time I was there, about a dozen motorists, including riders, stopped to take photos, posing with their families, or bikes. One C&W fan even whipped out his guitar for an impromptu rendition of "Pub With No Beer".
It's a great place to start your tour of the Tamworth region as it now also hosts the Tourist Information Centre where you can get all the advice you need. While you're there you can also visit the accompanying country music wax museum with 26 wax figures, a sporting museum with the biggest collection of Sir Donald Bradman memorabilia in Australia, grab a coffee or ice-cream in the cafe and grab a new belt buckle or Akubra in the gift shop.
Craig Dunstan manager of Destination Tamworth says the city gets more than one million visitors a year, mainly motorists passing through. "It's a natural waypoint," he says. "These days we're seeing a lot more riders on touring bikes bigger than 1100cc."
The biggest attraction in town for riders is undoubtedly the Powerhouse Motorcycle Museum right next door to the Powerhouse Quality Hotel where many a weary rider has dusted off his boots.
It was established 13 years ago and is staffed every day except Christmas by volunteers who can tell you all the background stories on the bikes.
It's a great collection of about 50 rare and significant bikes from the 1950s to the '90s, so you'll probably find your first bike, your favourite bike and your dream bike. The rarest and most expensive on display is the limited edition gold series MV Agusta F4 bought for $125,000 and now worth about $300,000 followed by a rare green frame Ducati worth almost $100,000.
Local motorcycle restorer Stefan Hodgson is constantly working on the collection so you will see new bikes every time you drop in.
The museum is open seven days, from 9am to 5pm but motorcycle clubs can request later hours. It only costs $8 ($6 pensioner, $4 child and $16 family) and they give you a free cuppa.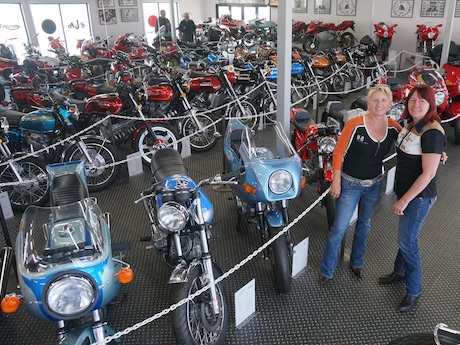 WHERE TO RIDE
If you base yourself in Tamworth, there are some terrific short rides around the region that take you to quaint country towns with their own attractions. The roads get more entertaining towards the mountains that ring the city to the north and east.
The shortest ride is up to the lookout on Endeavour Drive. Be careful of joggers and walkers getting their daily exercise, but the 360-degree views are breathtaking. We managed to squeeze our bikes up the walkway to get a nice photo of them with Tamworth as the backdrop.
Nundle is a 45-minute scenic ride east of Tamworth along the Peel River and through the Dungowan Valley. At Nundle, take a short walk around the historic village and check out the Nundle Woollen Mill which is in working condition.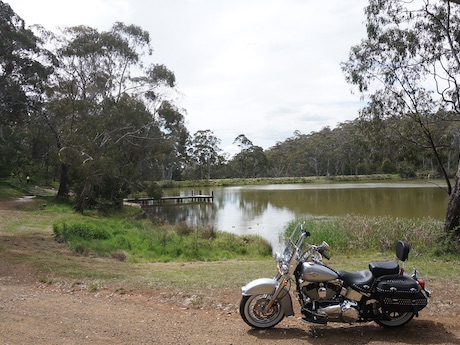 Hanging Rock is just a few minutes up the twisting road into the mountains. You can tour the Arc En Ciel Trout Farm or relax or camp by the lake. You can also check out and stay at the aptly named Dag Sheep Station, Fossickers Tourist Park, The Peel Inn or Birches B and B.
The pretty little town of Willow Tree on the New England Highway is worth a stop as you head north from Sydney. It's also about 45 minutes from Tamworth. Have a look at the First Fleet Gardens at Wallabadah and then ride on to have lunch at one of the best pubs in NSW – The Willow Tree Inn. 
Heading north-west on Fossickers Way, it's 45 minutes to the once-grand Manilla which is still in pristine condition. Ride a further 25 minutes to Mt Borah, famous for its paragliding after hosting the world championships there in 2007. It has stunning views across the whole region and out to Gunnedah.
Climb up the magnificent ranges along the New England Highway to the north and you'll reach the willowy town of Bendemeer in a leisurely half an hour. Stop at the historic Bendemeer Hotel on the banks of the MacDonald River.
The roads west of Tamworth are fast, open and sweeping, but sadly, not very interesting.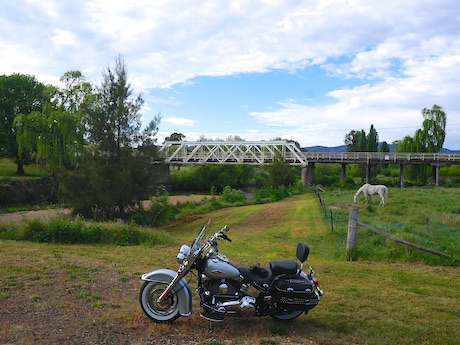 WHERE TO STAY
Because the city is set up for a huge influx of tourists for the Country Music Festival, there is plenty of accommodation from cheap caravan parks to pubs, hotels, right through to top-class motels.
Surprisingly it's not the weekends that are busiest. If you're staying during the week, it might be an idea to book ahead as the place is usually booked solid from Tuesday to Thursday with business people passing through or attending conventions.
WHERE TO EAT
Similarly, there are heaps of fast food outlets, cafes, taverns and restaurants in the city.
The Longyard Hotel has a fantastic pub atmosphere, often live entertainment and great meals. Because of its set-up and location just down the road from the venue for the HOG Rally at the $35m Australian Equine and Livestock Event Centre, it will no doubt become the "Full Throttle Saloon" during the Harley event.
Other eating-out tips: Espresso Addimi has the best coffee in town; the new Addimi Wine and Tapas Bar; Post Office and Tamworth hotels; Le Pruneau for modern French cuisine; or the Safari Club if you want the best steak and ribs in town.
HOW TO GET THERE
Tamworth is about 400km north-west of Sydney, 1200km from Melbourne, 1500km from Adelaide and about 550km south-west of Brisbane.
If you travel via the coast, you will want to get off the boring and heavily trafficked, policed and roadworked Pacific Highway. Thankfully there are some great link roads that wind up and over the Great Dividing Range such as the Oxley, Bruxner and Gwydir highways, plus Bucketts, Clarence and Thunderbolts Ways.
If you're coming from inland, avoid the Newell Highway north of Connabarabran. It's often referred to as the New-hell with good reason. The New England Highway is the most direct route as it passes through the city. It's mostly picturesque, but is also plagued by traffic, police and roadworks.