Suzuki V-Strom 1000 ABS Image Gallery
Productske helmet safety and high-viz clothing, there's no real proof that it works. But it just seems to make sense that anything that gives the bike a different appearance might also help it to become more visible.
A yellow headlight bulb on a motorcycle isn't a new idea. Back around 2007 or so, I replaced the dual headlights on a 1998 Triumph Tiger "Steamer" (Blog) with a pair of Nokya Hyper Yellow H4 headlight bulbs (review).
Those bulbs were really, really yellow and hopefully they made a difference. I couldn't tell you if that was true or not, to be honest, but at least I felt like I was more visible.
Yellow bulbs are not always legal but I never got stopped, and if I did, I planned on pleading that since the most common phrase heard after a car/bike encounter was "But Officer, I didn't see him!", I went yellow for safety.
So I decided to try it again on the new 2014 Suzuki V-Strom 1000 ABS (Blog), the current webBikeWorld.com Project Bike.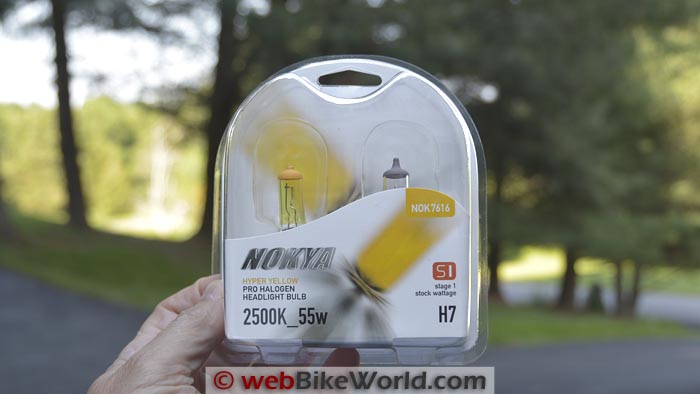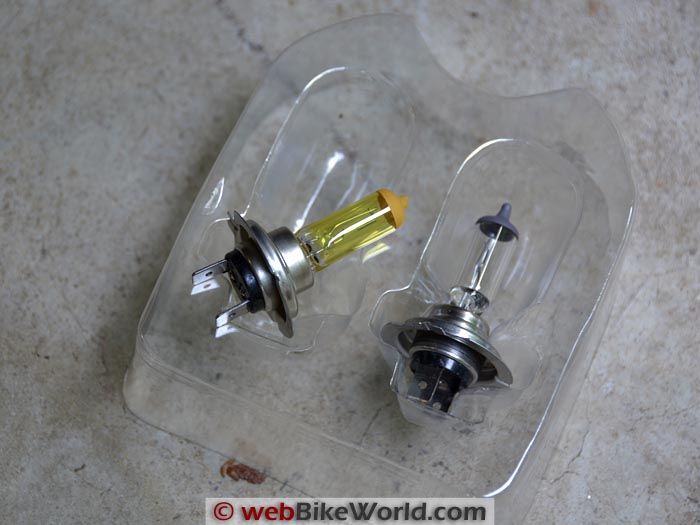 Which Bulb?
Looking at the owner's manual, I discovered that the new V-Strom takes an H7 bulb, so I ordered up a pair of Nokya Hyper Yellow H7 bulbs from the webBikeWorld Amazon.com store for $18.47 the pair. I figured that since I had a good experience with the Nokya Hyper Yellow bulbs on the Tiger, I'd give 'em another try.
Are Yellow Headlights Legal in the U.S.A.?
Basic web searching indicates that some U.S. state laws prohibit the use of yellow headlights. Federal law is supposed to supersede state laws (tell that to the police officer who just pulled you over), but we couldn't find definitive information stating that a yellow headlight is legal and how "yellow" is defined.
In the Code of Federal Regulations, Title 49 – Transportation, 571.108 Standard No. 108 "Lamps, reflective devices, and associated equipment", section S5.5.11(a), paragraph 3 states that a pair of headlights "Is designed to provide the same color as the other lamp in the pair, and that is one of the following colors as defined in SAE Standard J578 MAY88: White, white to yellow, white to selective yellow, selective yellow, or yellow…" Some information on testing is contained in theNHTSA DOT TP-108-13.pdf document.
Neither of these is definitive, so if you have any information on the legality of yellow headlights or bulbs in the U.S.A. or other countries, feel free to submit a comment (information at the end of this review).
Changing the Headlight Bulb on the V-Strom 1000 ABS
Legalities aside, changing the headlight bulb on the new V-Strom is actually pretty easy. It's all described in the owner's manual, but I took some photos and let's run through the process in pictures: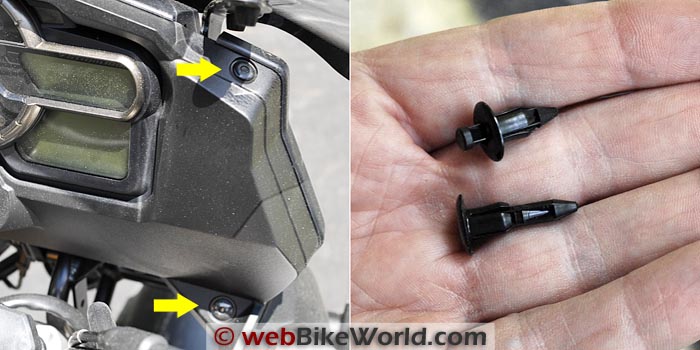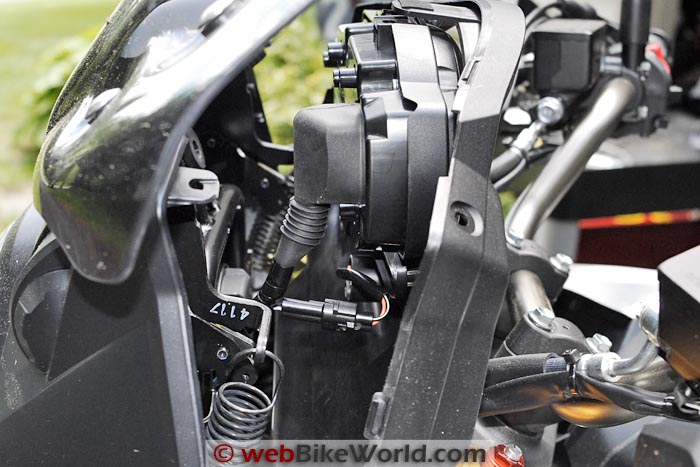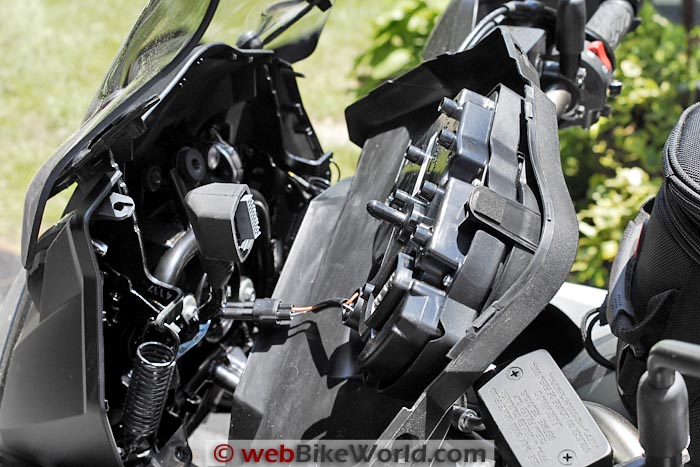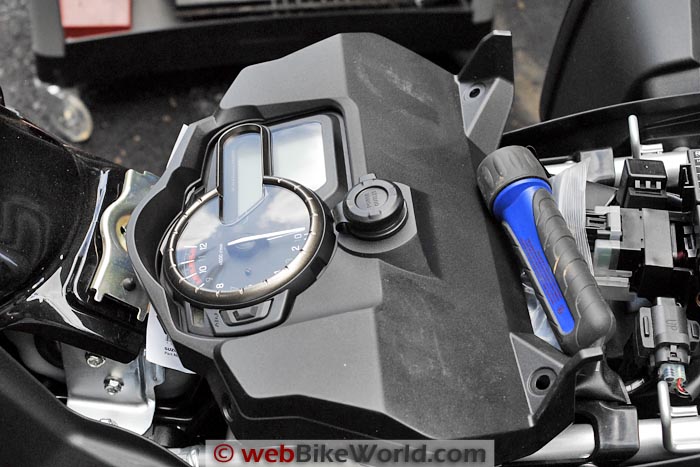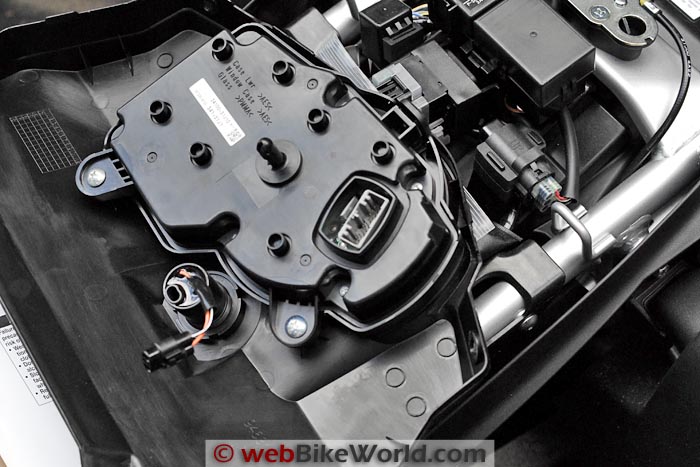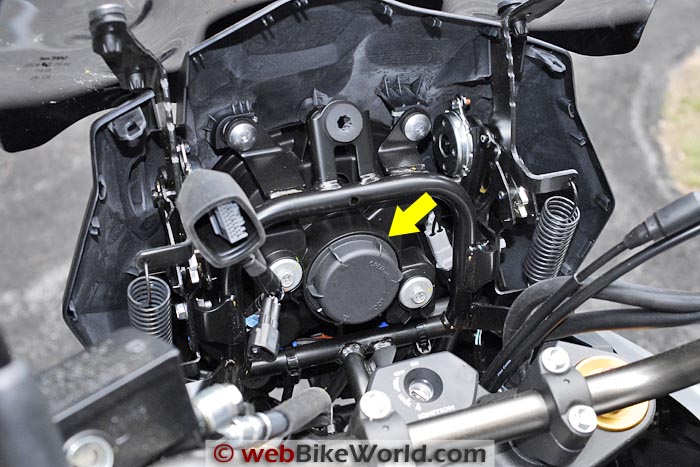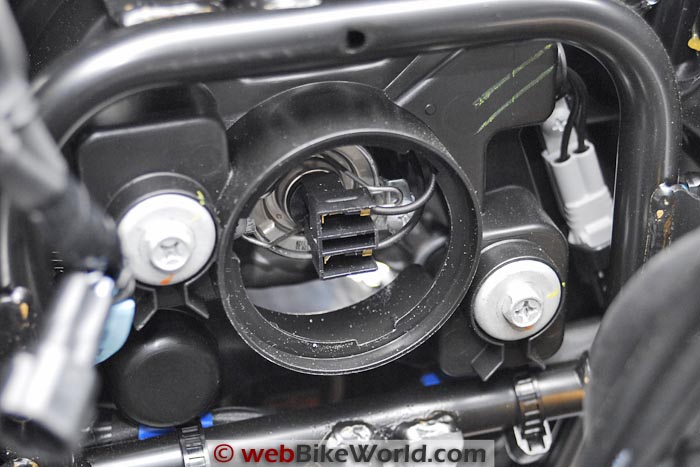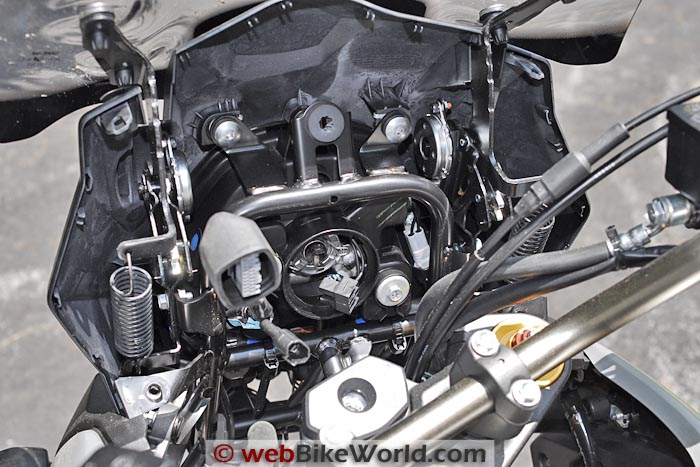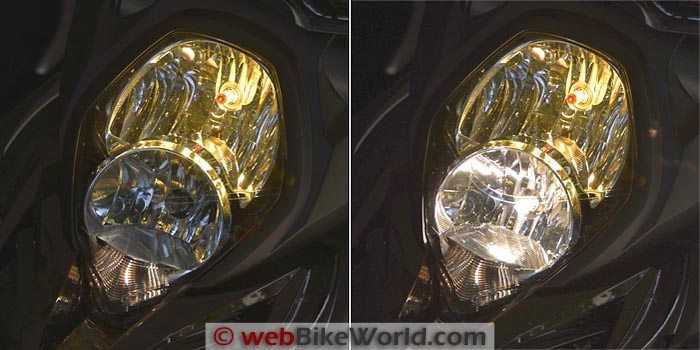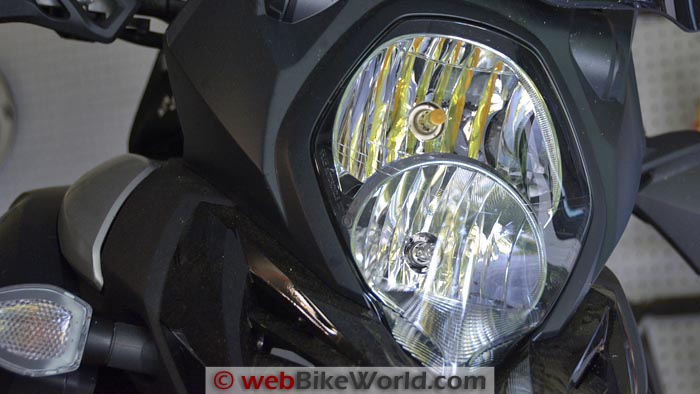 Conclusion
Again, for more information on yellow headlight bulbs for motorcycles, read the Yellow Headlight Bulb Replacement review.
Whether you choose yellow or white, the headlight bulb on the 2014 Suzuki V-Strom 1000 ABS is pretty easy to replace. I like the Nokya Hyper Yellow H7; it's just yellow enough to make a difference without — touch wood — attracting the attention of the local gendarmerie.
More wBW: Suzuki V-Strom 1000 ABS Blog  |  wBW Motorcycle Lighting Reviews
Note:
 For informational use only. All material and photographs are Copyright © webWorld International, LLC since 2000. All rights reserved. See the webBikeWorld® 
Site Info page
. Product specifications, features and details may change or differ from our descriptions. Always check before purchasing. Read the
Terms and Conditions
!
Owner Comments and Feedback
---
From "I.C." (July 2014): "I have achieved the same effect with my Kawasaki Versys and KLE500 by replacing the small running light with a BikeVis Bullet (review) single LED bulb. Just the bulb alone being sold off individually for a while. It is white and contrasts with the yellow-tinged standard bulbs."
---
From "M.C." (June 2014): "In point of fact, the same way a headlight modulator is always legal in the daytime (Editor's Note: In the U.S.A.), yellow headlights are always legal per (U.S.) National Highway standards, which cannot be preempted by state or local ordinances.
What may not be legal, depending on their placement and local laws, is having certain red or blue lights, particularly in the rear.
Here are the rules (here) and (here) from the (U.S.) Federal Motor Vehicle Safety Standards. The key point for this particular issue is that, although a motorcycle must have a white low beam headlight/s and high beam headlight/s, headlamps when being used as DRLs can be anything from white to full-on yellow.
Additionally, having yellow lamps in addition to the required white headlamp, is not prohibited. The key provisions are Section 10.17.et seq., and Table I-c. To be safe, yellow lights should be in addition to the minimum required white headlamps.
Editor's Note: Just to note, about 40% of the webBikeWorld visitors come from outside the U.S.A., with different laws regarding headlights. Also, despite the fact that modulators and different types of headlights are legal, there are many reports of motorcyclists being stopped by uninformed police, so it's always a good idea to have an explanation (which may or may not help). Here's a handy printable version of the NHTSA regulation for headlight modulators in the U.S. You may want to print a copy and keep it with you.