Suzuki V-Strom 1000 ABS Center Stand Image Gallery
The Suzuki V-Strom 1000 ABS center stand accessory is another very nicely made part and it's a perfect fit on the bike.
Just like the Suzuki GW250 center stand (review), the V-Strom kit is easy to install with only an 8 mm hex wrench and a torque wrench required.
Installing the return springs is tricky however, but I have a tip on that.
Also like the GW250, the V-Strom was designed for a center stand and the parts are an exact fit.
This is a welcome evolution and long overdue; too many motorcycles still don't have a bolt-on center stand option from the factory.
The V-Strom is a pretty hefty bike and it's much taller than the GW250, but the Suzuki center stand kit has the right leverage.
All it takes is a strong press on the foot lever to lift the bike up on to the stand. You'll need about 150 or so pounds minimum of body weight though to do it!
A center stand is a very useful accessory, especially for normal maintenance like a chain lube or oil change. The Suzuki center stand kit has a list price of $284.95, which seems about $100.00 more than it should be, but I guess I'm still living in the past.
For a tall bike like the V-Strom, a center stand can help a "height challenged" owner (like me) climb on board.
A good example of that would be the Suzuki DR650 (blog). I installed an SW-Motech center stand kit (review) on that bike and it's a good thing I did, because putting the bike on the stand was about the only way I could swing my leg over the panniers and get seated.
The V-Strom 1000 ABS center stand kit is actually very easy to install…other than mounting the return springs, which took me a couple of hours to figure out. But, I have a tip for you on that.
The instructions that come with the Suzuki kit are very thorough, but I'll walk you through the process in the photos below>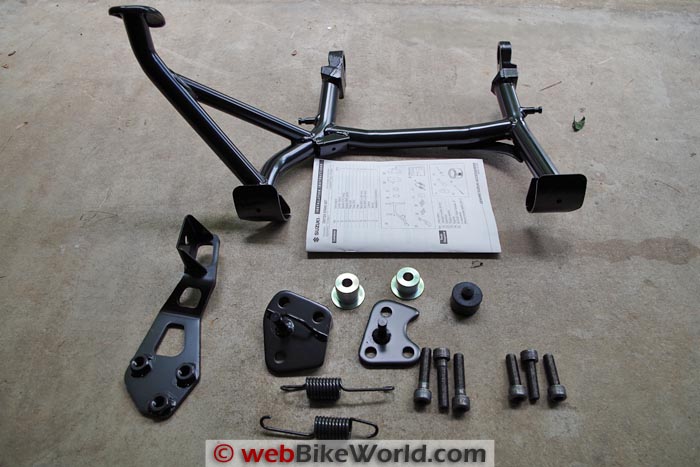 Tools Required
Because Suzuki designed the V-Strom 1000 ABS for a center stand, the installation is easy and can be accomplished by anyone with basic tools and general mechanical knowledge about motorcycles.
All you need is an 8 mm Allen wrench, although an 8 mm hex socket on an extension with a ratchet works best. You'll also need a torque wrench and a screwdriver comes in handy to lever the springs into place (see below).
Suzuki specifies their "Super Grease A" or equivalent; in my case, the equivalent is the excellentTri-Flow Clear Synthetic Grease (review) with Teflon, which is good stuff; waterproof and a bit sticky, so it stays in place.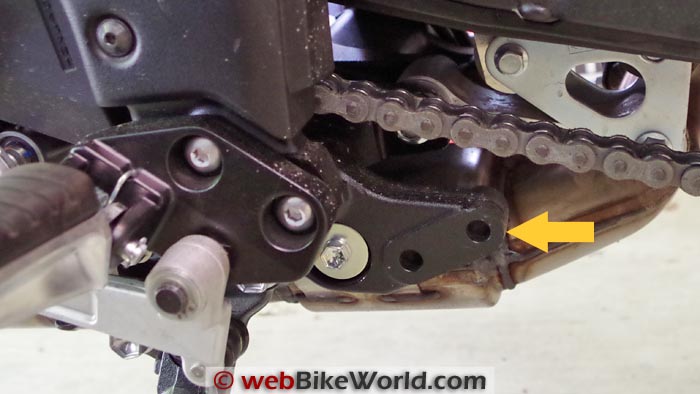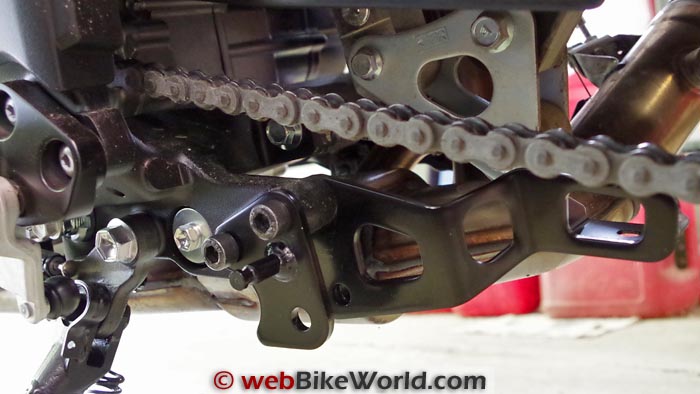 TIP: Install the rubber stop in the bracket BEFORE you install the bracket on the bike — it's much easier!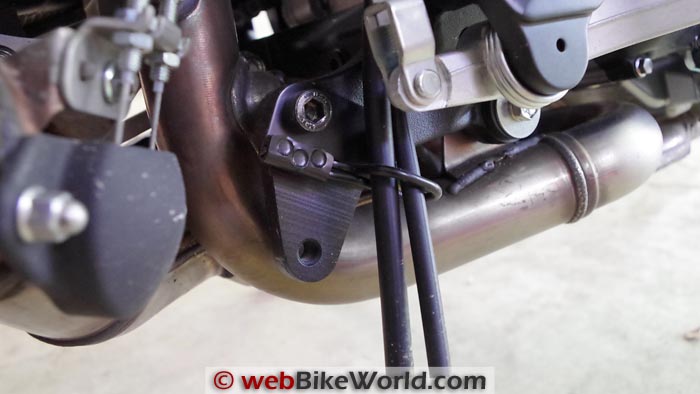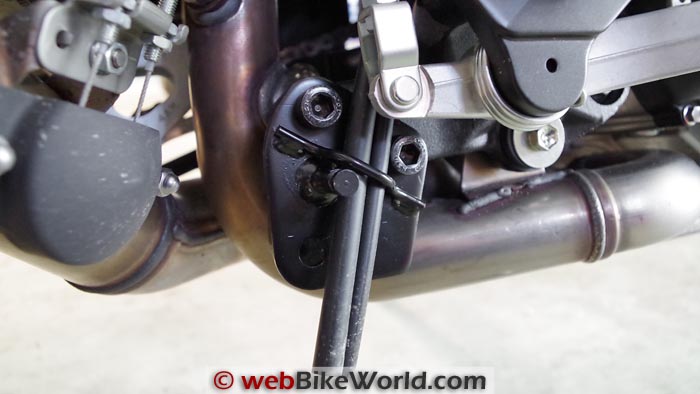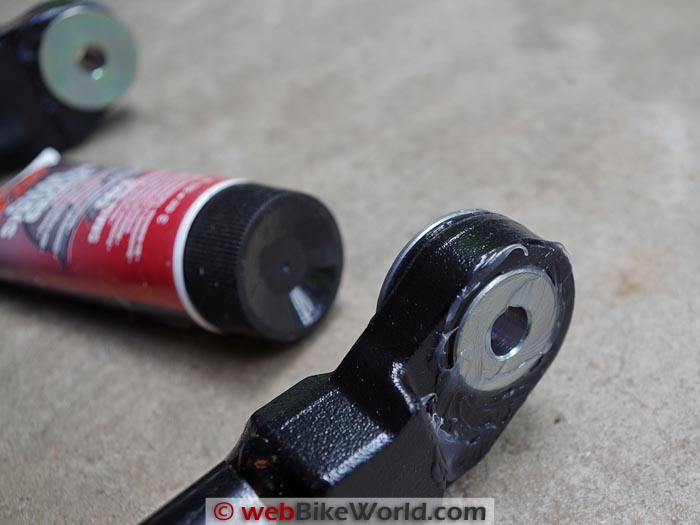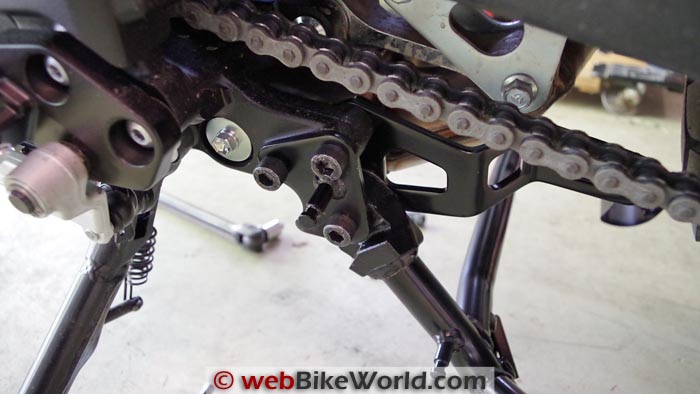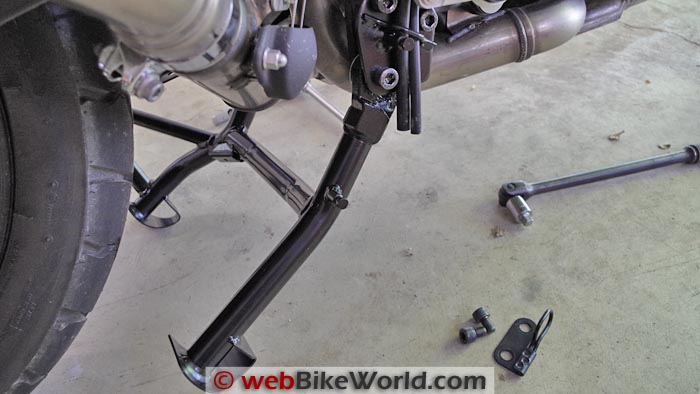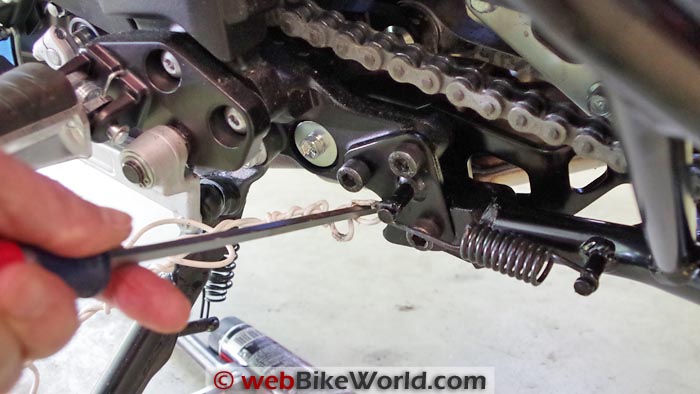 TIP: I twisted a coat hanger into a small loop, then looped it around the spring hook, then used a screwdriver to lever the hook on to the spring post. Note the spring hooks have a specific direction for installation as noted in the center stand instructions.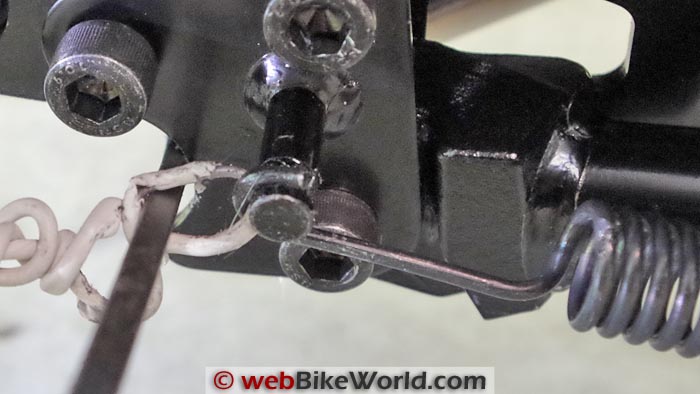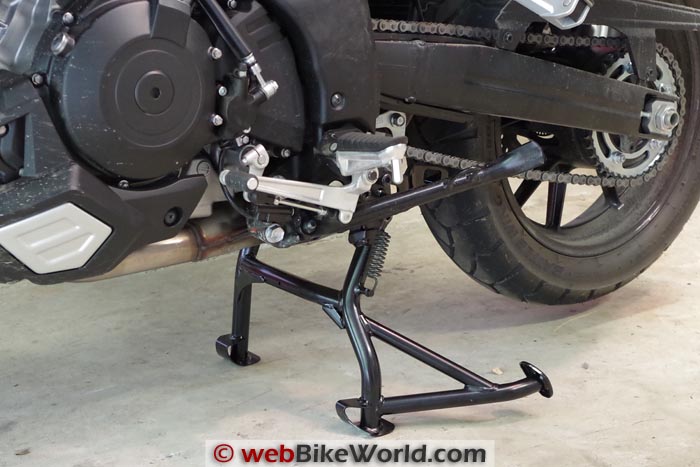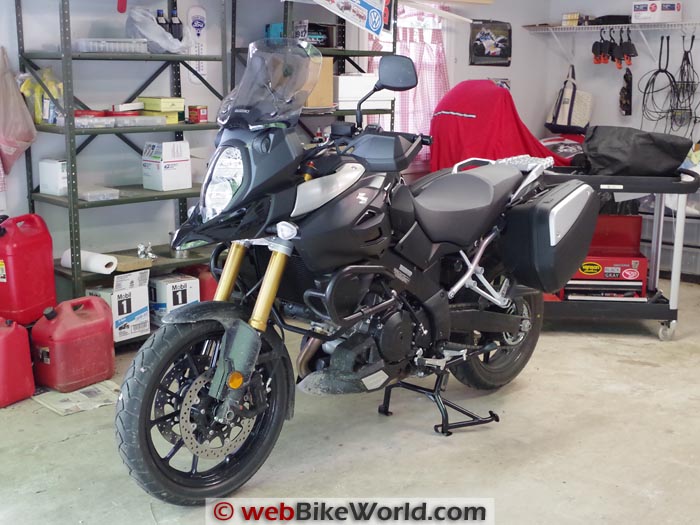 w

BW

 Video: Suzuki V-Strom 1000 ABS Center Stand
Conclusion
The Suzuki V-Strom 1000 ABS center stand is very easy to install, although the list price of $284.95 is well over twice the cost of the GW250 center stand kit, which lists for $115.95. But, the V-Strom kit makes up for it because it's even easier to install.
Either way, it's a very well made piece that adds a lot of utility to the bike and I can highly recommend the option.
More wBW: Suzuki V-Strom 1000 ABS Blog  |  wBW Motorcycle Reviews
Note:
 For informational use only. All material and photographs are Copyright © webWorld International, LLC since 2000. All rights reserved. See the webBikeWorld® 
Site Info page
. Product specifications, features and details may change or differ from our descriptions. Always check before purchasing. Read the
Terms and Conditions
!
Owner Comments and Feedback
---
From "I.B." (May 2014): "This works with most centre stand springs: Place spring on bench and using a large flat blade screwdriver push blade into spring to spread coils.
Once spread insert a thick washer (or coin if you're a BMW owner) between the coils and remove screwdriver blade. Continue along spring inserting washers until spring is extended to required length."
Rick's Reply: Thanks for the tip, I tried a variation of this, on the workbench I inserted several washers into the coils but couldn't get the spring spread open enough to fit.
The coat hanger trick worked once before so I tried it again and it worked. Sometimes you have to twist the wire into a figure 8 to lengthen the loops enough to get leverage on some other piece of the bike.