Suzuki DR650 Hand Guards Image Gallery
It took four different sets of hand guards to figure out a solution for the DR650.
The Cycra Probend CRM hand guards are not  the perfect solution and it takes a bit of customizing to get them installed, but they do the job.
A good set of hand guards is a must-have accessory for any dual-sport motorcycle.
The Suzuki DR650 comes with a set of very flimsy hand guards that are "guards" in name only. I'd call them "finger shields" instead.
The Suzuki shields are small plastic bits that serve to keep some air off the hands and they offer zero protection for the handlebars and controls in a crash.
Riding off-road means an occasional fall and this can result in damage to the brake or clutch lever, bent handlebars or worse. It doesn't matter if you're doing 30 MPH or crawling, a simple tip-over can damage some parts.
So a good, solid set of hand guards — that is, a strong bar that protects either side — is a must-have.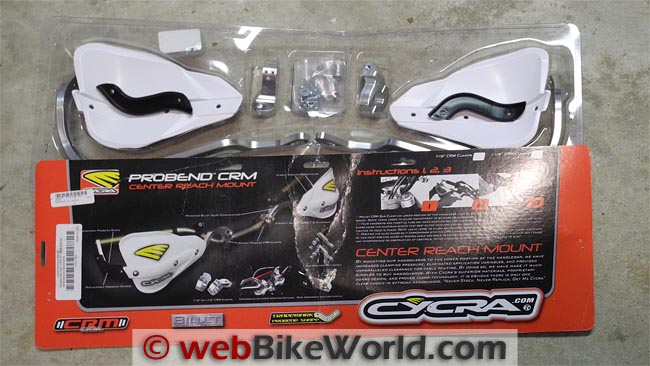 Suzuki DR650 Hand Guards
Who knew it would be this difficult? There are a zillion accessory parts for a Suzuki DR650, but the "perfect" set of hand guards doesn't exist. Or at least I never found them…
I trolled through dozens of DR650, dual-sport, Thumper and off-road forums to see what types of hand guards other DR650 owners — most of whom have way more experience than me with this bike — were installing.
Opinions varied, as opinions do, and there didn't seem to be a consistent answer to the question.
To make a long story short, the bottom line is that I did not find a set of hand guards that would install correctly on my DR650 using the stock handlebars.
This is despite the various postings I read where owners claimed they could install a particular set or another without modifications.
My criteria were simple — or so I thought. I wanted a set of hand guards that was basically a "drop in" installation.
I did not want to modify the brake and shift levers and I wanted good protection for my hands from the wind and to protect from branches when riding off-road.
Of course, the hand guards would have to protect the handlebar and controls in case of a tip-over.
The most curious disconnect was the reports from owners who claimed they did not have to modify their shift or brake levers to fit behind the hand guard bar.
I went through three different brands/sets of hand guards and could not find a set that would fit without cutting the ball tips off the levers, so in the end, I had to take a deep breath and break out the Dremel.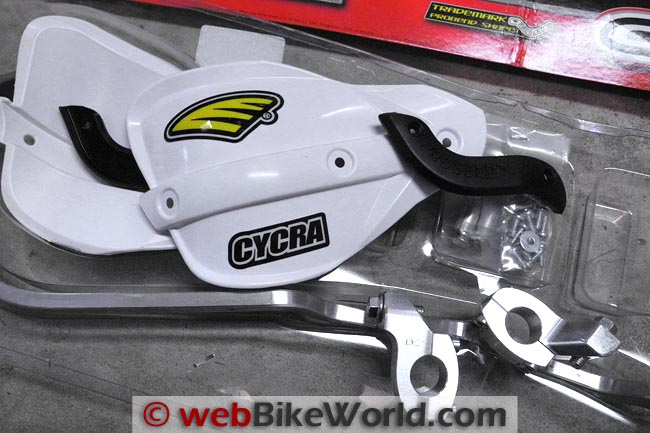 Try and Try Again…
The first set of hand guards was purchased was from Pro Cycle.
We have purchased many accessories for the DR650 for our Budget Adventure Tourer series from Pro Cycle and they have a huge assortment of goodies for the bike. An email confirmed that their hand guard set would fit.
In addition, the description for their hand guard kit on the Pro Cycle website states that it "Will not interfere with your levers!".
Unfortunately, I did not find this to be the case. I could not get the kit to fit my DR650, with or without modifying the levers, and this after messing around with it for several days, trying everything I could think of. So it was returned to Pro Cycle.
Next, I tried a set from Moose Racing. I carefully removed one of the hand guard bars from the package and lined it up on the DR650 to get an idea of how it lined up.
It didn't even look close, so I just as carefully put the bar back in the package and returned the kit.
Back to the forums to do some more research, where I next settled on a Tusk Racing hand guard set, purchased from Rocky Mountain ATV.
Owners claimed this set would also fit without modifications, and again we messed around with it for several days before finally giving up.
This was getting expensive!
Next, I bought a set of the "Cycra Center Reach Mount – Complete Racer Pack" hand guards fromCycra Racing. Again we spent a few days trying various methods to get it to fit with no luck.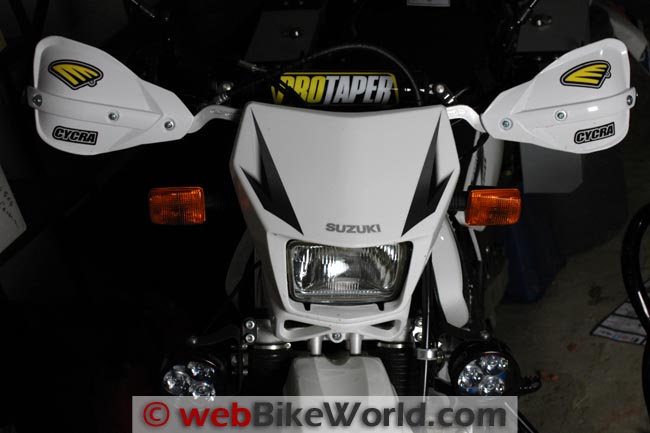 Pro Taper SE Handlebar
Eventually, I pieced together a set that worked.
I used the handlebar clamps from the Tusk Racing set, the Cycra Probend hand guard bars and I had to break down and buy a new handlebar — a Pro Taper SE with the Honda CR bend (which I calculated to be almost identical to the stock DR650 bar configuration).
The key was the new handlebars, which are just slightly taller (a slightly higher rise), which allowed enough room to fit the Tusk handlebar clamps and hold the Cycra hand guards.
Actually, if I had to do it over, I'd probably buy a bar with about 15-20 mm more rise.
I'm glad I got the Pro Taper handlebar though, even though I really didn't want to go through all the trouble of installing it, which involves removing the controls.
It is definitely much nicer, higher quality and made from much thicker aluminum than the stock bar, which, according to reports, folds like a wet napkin at the first sign of trouble when the bike tips over.
I added a set of the Pro Taper "Pillow Top" grips and I'm glad I did; they are comfortable, sticky and they provide excellent feel and plenty of grip with every type of glove I've tried.
Why finding and installing a set of hand guards is so difficult for a bike that is as popular as the Suzuki DR650 is beyond me. Anyway, here are some photos with descriptions of how it works.
Feel free to email me with your tips or suggestions and/or pics of your DR650 hand guard installation.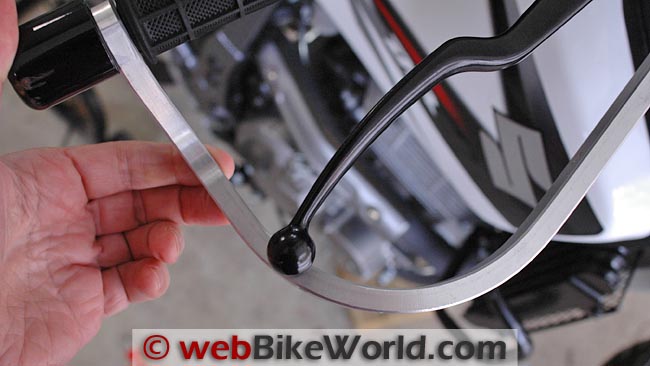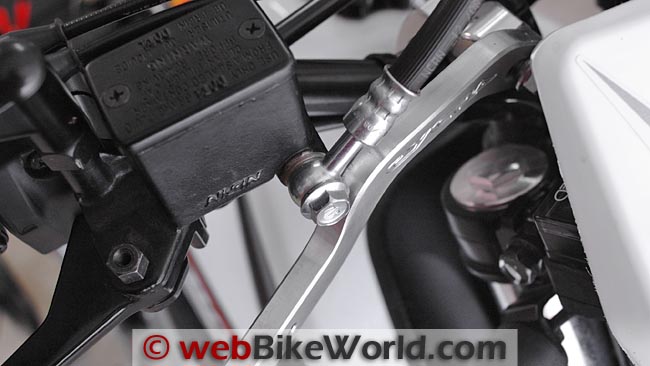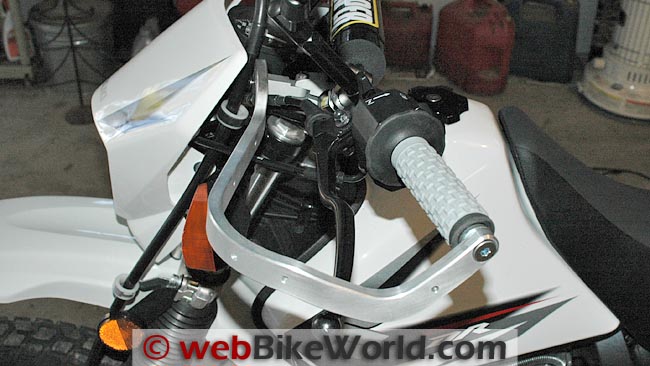 Conclusion
My cobbed-together hand guard set works; it feels solid; and it fits (just barely).
The bike has tipped over accidentally and the guards performed, although the hand guard bar on the right-hand side did move slightly, so apparently it isn't as tight as it could be.
This is a problem because it seems nearly impossible to get these things tight enough to stay in place. I'm not sure what would happen if the bike hits the ground or a rock at higher speeds…but I'll have to assume the results will be better than with no guards at all.
Costs
Cycra Probend CRM Hand Guard Set: $112.97
18 mm Handlebar Riser (Not Used): $29.95
Pro Cycle Hand Guard Kit: $89.95 + $19.95 for the deflectors for a total of $109.90
Moose Racing Hand Guard Kit: $59.95 (not including deflectors)
Tusk Racing Hand Guard Kit: $54.99
Pro Taper SE Handlebar (7/8″): $55.99
Pro Taper Pillow-Top Hand Grips: $10.95
More wBW Motorcycle Hand Guard Reviews
▪ Suzuki DR650SE Blog Home
▪ Barkbusters Storm Hand Guards Review
Note:
 For informational use only. All material and photographs are Copyright © webWorld International, LLC since 2000. All rights reserved. See the webBikeWorld® 
Site Info page
. Product specifications, features and details may change or differ from our descriptions. Always check before purchasing. Read the
Terms and Conditions
!
Owner Comments and Feedback
---
From "F" (February 2015): "Re. poor fitting hand guards, I fitted a pair of Dirt Power Racing hand guards with a similar (but lesser) issue of tight fit to the levers.
My solution was to put a spacer between the end of the guard and the handlebar to push the guard further outboard.
Their locking inset in the bar has an extended knob that gives some clearance, but an additional 1/8" thick washer gave me all the clearance needed.
There was also no interference with the master cylinder. Problem solved!
These were generic pieces purchased off Ebay for about US $28."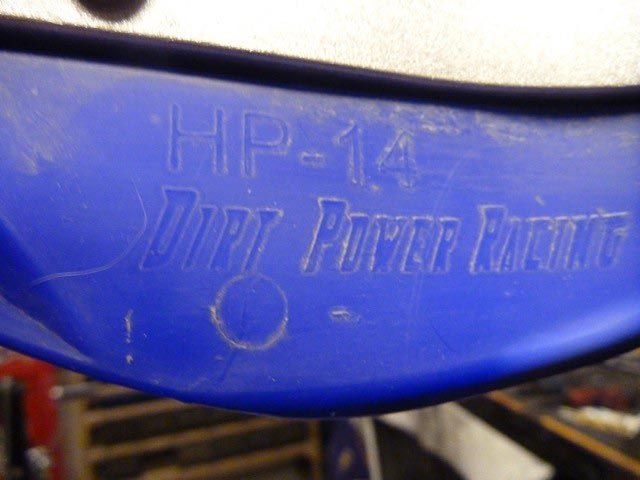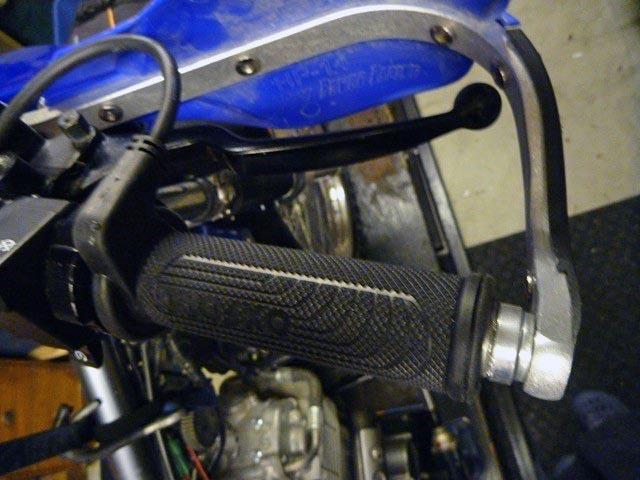 ---
From "J.S." (December 2011):  "I think most folks do the install in one of two ways. One group (the "I like to stand when riding" group) re-orients the levers downward. Clearance is a non-issue for these folks.
The other group installs a spacer between the end of the bar and the hand guard which moves the guard out enough to clear the levers.
Most folks don't seem to install the factory bar ends and just leave them off. Most kits don't include spacers, but the ProCycle kit does."
---
From "T.M." (December 2011):  "Have you seen these handguards (Acerbis)? Looks like they fit but kind of hard to tell."
Rick's Reply: I've seen only the photos but wasn't too fond of the looks and not sure if they would fit?
---
From "M.S." (December 2011):  "I have the same kind on my DRZ400 and except for bending a tiny bit the handlebar ends, no issues like you have had. I do remember I had to be careful which mounts to order.
I also prefer to mount the other end to a triple clamp rather than a handlebar. It's just more solid. I've been down twice and it would not move at all.
Except for a scratch on the slider, no other damage. I remember that at the TT site, it was not that difficult to pick the right mount."
---
From "B.Z." (December 2011):  "Just read your latest installment of the hand guard thing with your DR. I went through similar things with my old Monster that I had sorta motarded before the Hyper was ever conceived.
The system I wanted to use and couldn't with the Monster, but you could is (the Woodblaster).
When my bike got laid down at VIR, the handguards did their job, but they will shift and bend if you hit anything hard enough, which could in turn bend the bars and/or tweak the top triple in the perch mounting bushings.
The latter is usually just adjusted by some slapping it back into place kind of antics, but still.
The Woodblaster is meant to aid in this regards by being a much more stout unit and keep from those kinda of things from happening."