Suzuki plans to extend its two-day adventure rides throughout Australia with their third adventure ride heading to Bathurst from Lithgow at 9am on May 26.
The event is free and open to riders on any adventure motorcycles, says Suzuki Motorcycles Australia marketing manager Lewis Croft.
"Ideally the ride group works well with around 60 – 70 riders and the ride is free to any make of adventure bike," he says.
"From the manufacturer's point of view our objective is to demonstrate the versatility of the V-Strom and DR range, provide opportunities for Suzuki adventure riders to ride as a group and to allow test rides on our new V-Stroms."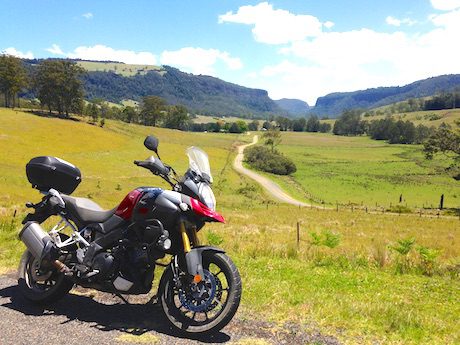 Suzuki Adventure Rides
The first Suzuki Adventure Ride was a two-day 970km trek to Dargo, Victoria, and the second was held in February to Wirrina Cove in South Australia.
"This stemmed from one of the riders who was interested in the Dargo ride but could not make it, so we decided let's host one in that region," Lewis says.
"There are plans underway for rides in Western Australia, Queensland and possibly Tasmania and we'd like to make these annual events."
The Suzuki Adventure Ride – Bathurst Cove 2018 will cover 240km on the Saturday through the Central Tablelands via Ganbenang, Jenolan, Dickmaloi and Oberon.
There will be an opportunity for participants to test ride the all-new V-Strom 650 and 1000 range in the afternoon.
Sunday's 240km route starts at the Family Hotel in Bathurst passing through Duramana, Turondale, Crudine concluding at Capertee.
There will also be prizes to win along the way.
Participants must register for the ride by emailing their First Name, Last Name, Mailing Address, Make/Model and Phone Number to motorcyclemarketing@suzuki.com.au or call Matt Reilly on (03) 9931 5500.
Suzuki will post out instructions and a commemorative registration decal for the ride.
Accommodation can be booked online with the Family Hotel in Bathurst or by phone on (02) 6331 1353. Participants also have the freedom to arrange their own accommodation elsewhere.