Forget about fitting a Bluetooth headset to every helmet you own; you may soon be able to make and receive phone calls and listen to your favourite music with a special set of sunglasses.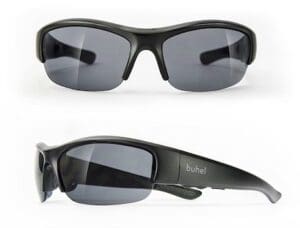 Italian company Atellani has secured enough funding through a Kickstarter program to begin making their Buhel SG05 SoundGlasses which use bone-conductor "earpieces" in the arms and small, bidirectional, noise-cancelling microphone in the bridge.
Bone conduction is a new method of transmitting sound without headhones. Instead, they use electromechanical transducers to deliver vibrations to the bones behind the ears which channels clear sound to the inner ear. They say it's better than normal headphones!
The accompanying video mentions that these SoundGlasses can be used while driving, walking and cycling, but they don't mention motorcycling where they would be a boon.
It would mean your ears are left clear to hear important sounds such as car horns and tyres screeching, or you can still hear the music even if you wear earplugs to protect your ears!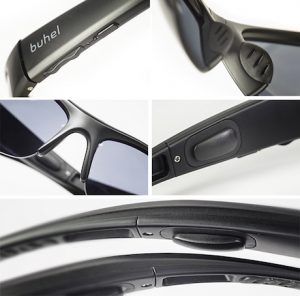 However, there are a few modifications needed for motorcycle use.
The first would be the addition of an intercom function so riders can talk to each other and their pillions. They say it communicates with "other electronic devices" such as GPS, so an intercom function should be easy to add.
Second, battery life needs to be extended for riders who travel all day and need plenty of music-listening time as well as intercom talk time. Currently, they say a two-hour full charge of the enclosed lithium-ion battery only lasts for about three hours of talk time, or around 300 hours on standby.
Third, the sunglass arms should bend a little more as straight-arm glasses can often be uncomfortable under a helmet. We're also concerned that the "earpieces" may be uncomfortable after a while, although it looks like they might be made of a soft compound. We will have to trial them when they are brought to market.
Fourth, they feature a multi-function button on the front part of the arms to place and end calls, or to activate Siri/Cortana. That could be a little difficult to access inside a helmet, so maybe that should be relocated. it would still be a little more inconvenient than a traditional hemet Bluetooth controller.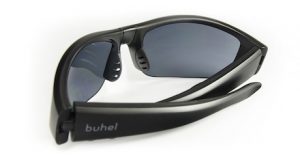 They also say the microphone is noise-cancelling, but you would probably need to close your visor to make calls at 100km/h!
We contacted Atellani with our concerns and "John" quickly replied that they are working on an SG06 edition for motorcycles with intercom and longer battery life to be released later this year.
He also says the polymer compound in the SG05 is quite flexible and quite comfortable. "We used them a lot while wearing a helmet with no issue," he says. "Bone conduction works even better when wearing a helmet."
He also addressed concerns about the microphone: "The way the mic is made, which is really original to the SG05, brings outstanding results in terms of noise cancellation. The mic is something we would not change in upcoming models."
The company needs $80,000 to launch the project and has so far received $112,884 from 637 backers with more than a month to go, so it looks like proceeding.
The lightweight 43g SoundGlasses will cost from $US270 which is much cheaper than most Bluetooth headsets. If you're quick, you can get them for a Kickstarter pledge of $165 which includes several replacement lenses and prescription adapter.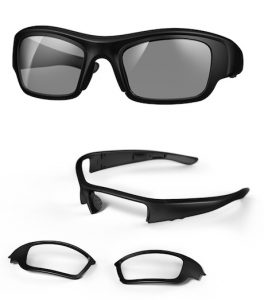 SoundGlasses communicate with any iOS, Android or Windows smartphone via Bluetooth 4.0. They will come with multiple interchangeable Category 3 UV-certified lenses, along with an adapter for allowing users to mount their own prescription lenses.
Lenses offer PC 2.0, Category 3 protection and are impact resistant, anti-scratch and meet the following technical regulations: Australia AS/NZS 1067:2003 (A1:2009) sunglasses and fashion spectacles; USA ANSI Z80.3:2001 sunglasses and fashion spectacles; and CE EN ISO 12312-1:2013.
Buhel already makes Speakgoggle G33 intercom ski goggles with similar functionality which would be useful for off-road riders. they feature a walkie-talkie, Bluetooth and anti-fog, anti-scratch lenses.