Street & Steel Oakland Jeans Review Summary
Review Summary
The Street & Steel Oakland Jeans are a compelling option for someone seeking a balance between style and protection. They resemble regular jeans and will seamlessly blend into your wardrobe. Made from 12oz stretch denim, these jeans feature aramid reinforcement where it matters and adjustable CE knee protection. The added protection means these jeans can get warmer than a regular pair. However, whether it's all day on a motorcycle or at your desk in an office cubicle, you could be just as comfortable in the Oaklands as you would in a pair of Levi's. Plus, with a price tag of $150, they're excellent value for money.
Pros
Aramid reinforcement in areas prone to sliding in a crash
Comfortable for all-day wear on and off a motorcycle
Resemble a pair of good-looking regular jeans
CE-rated knee armor
Great value for money
Cons
Aramid reinforcement does restrict airflow
Knee armor placement can be tricky
No reflective panels
Street & Steel Oakland Jeans Image Gallery
Review Summary
Manufactured by Street & Steel, a brand associated with Cycle Gear, the Oakland jeans are a no-nonsense pair of pants that tick all the right boxes.
The Oakland jeans could pass as a regular pair but feature aramid reinforcements along the most common slide points.
The fit is snug and might be too tight for some if picked in the same size they typically wear.
CE Level 1 armor inserts for the knee are included as standard. They can be uncomfortable over the first few uses and will require adjustment.
Street & Steel Oakland Jeans
Riding pants typically fall into one of three categories — textile, leather, or denim. Irrespective of which you pick, you'll end up having to make some sort of a compromise.
Leather offers the best abrasion resistance, but it can get hot; not great if you live somewhere with high temperatures and humidity. Textile pants usually don't offer as much protection, but they're notably more breathable. That is the compromise I chose to make. I've always owned a pair of textile riding pants. The downside is that they look like motorcycle pants, and while that isn't necessarily a bad thing, I'd much rather be out and about on a regular day in something that doesn't stand out as much — which is how my search for a set of denim motorcycle jeans began.
Since this was going to be my first pair of riding jeans, I wanted to get something that already had some credibility. It'd give me a baseline for what to expect from a well-made pair and prove to be an appropriate comparison with the textile gear I'm otherwise used to. After some research, I narrowed it down to the Street & Steel Oakland Jeans, one of the most popular pairs our friends over at RevZilla stock. I've owned them for a few months now, and this review should give you a proper idea of what they have to offer and what it's like if you're making the switch like me.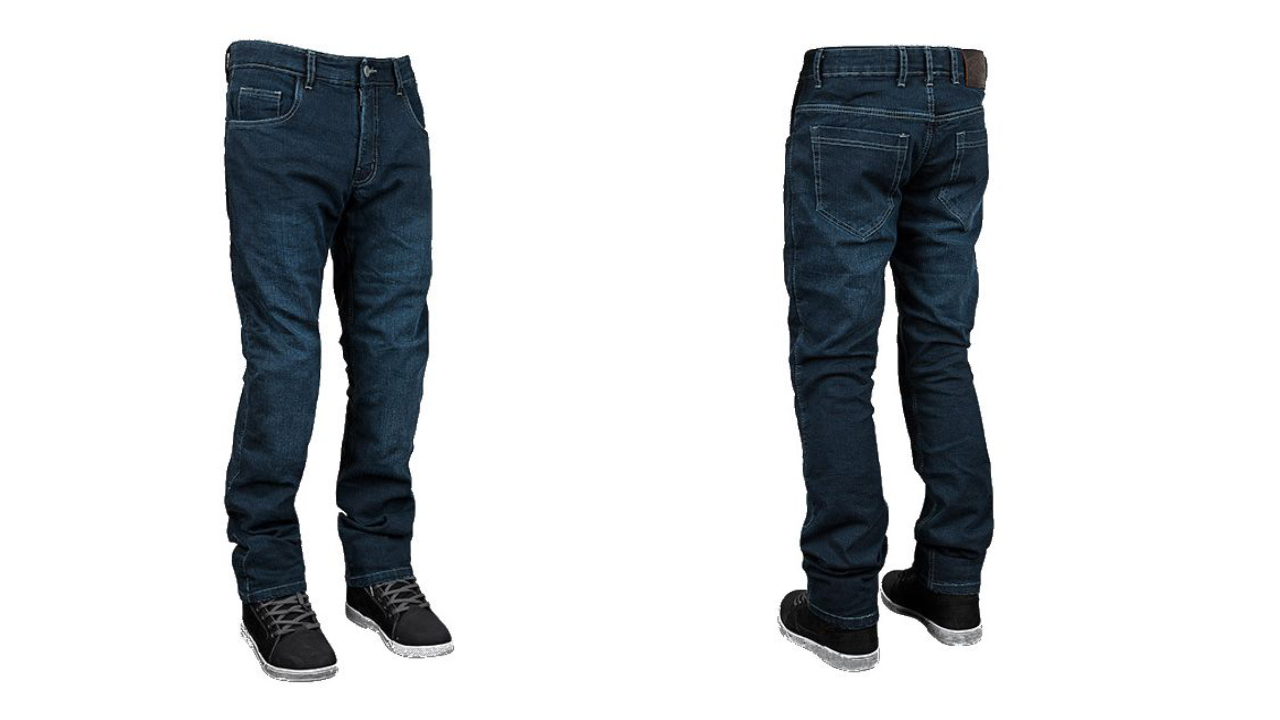 About Street & Steel
Street & Steel might be an unfamiliar brand to some of you, especially if you're outside the United States. From the house of Cycle Gear, Street & Steel primarily produces jackets, pants, boots, and gloves for men and women. It also has a limited collection of helmets.
In the company's own words, "Whether you ride a bagger, Dyna, Triumph, custom HD or vintage café racer, the right look matters, and Street & Steel delivers motorcycle gear that looks just as good off the bike as it does on it. Made from high-quality leather, textile, and polycarbonate, Street & Steel gear performs up to the latest safety standards with CE2 armor and DOT certification while maintaining a distinctly classic feel."
Key Features
12oz stretch denim riding jeans
Seamless knee design
5 pocket design
Heat and tear-resistant aramid-reinforced seat, hips, and knees
Removable and adjustable CE knee protection included
Design
I'll be the first to tell you I don't often experiment with my clothing and style. I never consciously chose the 'minimalist' lifestyle that many YouTubers advocate, and I'm no Zuckerberg who wants to save time by having fewer options to choose from — I'm just indifferent about my fashion choices. In fact, if we spent a few days in the same vicinity, you'd get to see every piece of clothing I own.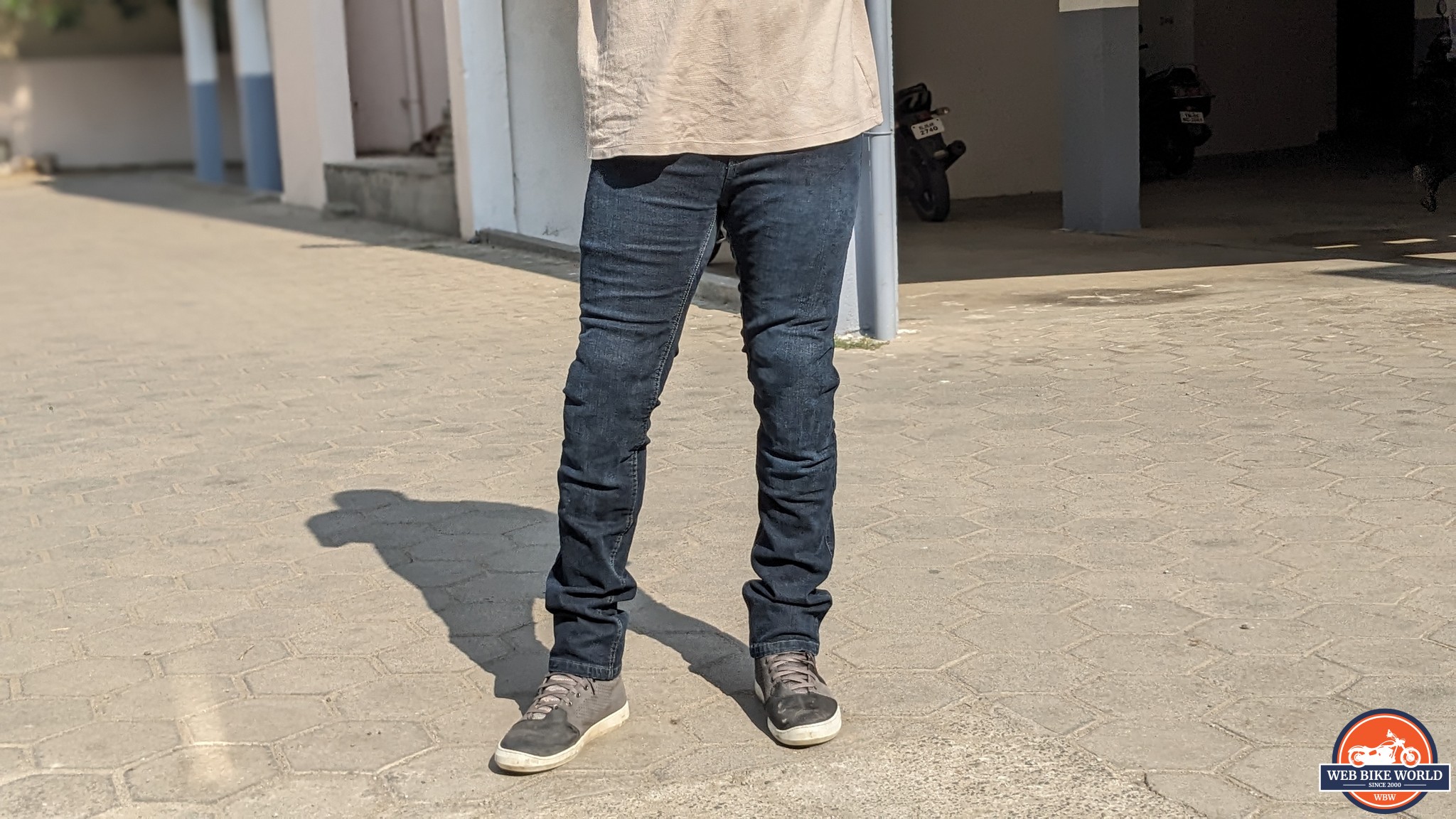 In that sense, I'm not looking for something unique when I buy something new. My go-to pair of jeans has always been Levi's 513s, and I wanted something that looked similar from my riding pants as well. The Street & Steel Oakland jeans are just that, albeit with a slightly slimmer fit. They look like a regular pair of jeans with a five-pocket design and no-contrast stitching.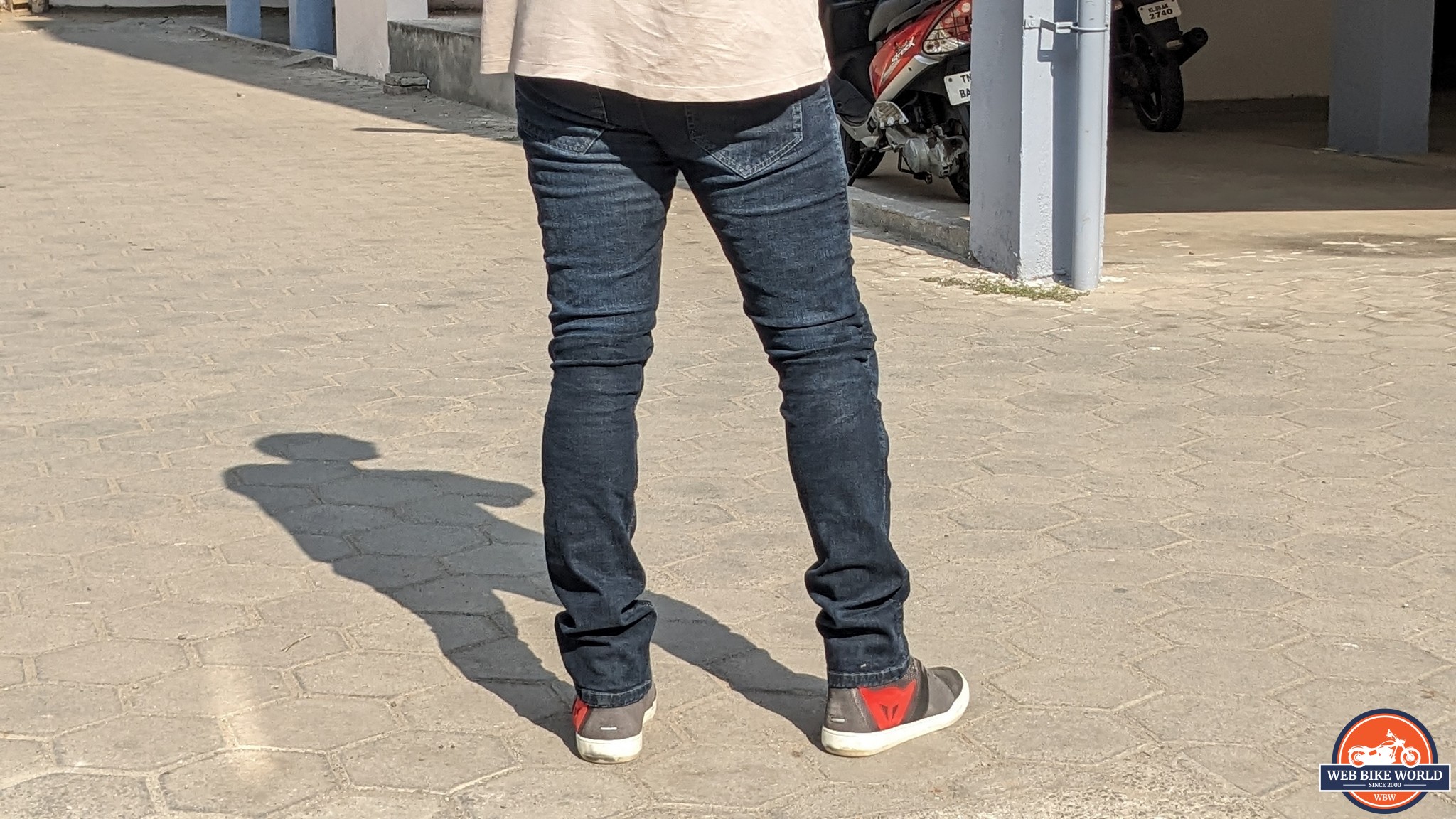 Materials and Construction
The Street & Steel Oakland jeans feature a single-layer construction of 12oz denim. For reference, Levi's mentions on its website that most of its designs are made with fabric weighing between 10.5oz and 12.5oz per square yard of fabric. This material is blended with elastane on the Oakland jeans to offer additional stretch.
For an added layer of abrasion resistance, it comes with aramid reinforcement along the seat, hips, and knees. Aramid, short for aromatic polyamide, is a class of synthetic, heat-resistant fibers. You're probably more accustomed to another moniker of its—Kevlar, which is simply a trademarked brand name for the aramid fiber produced by DuPont.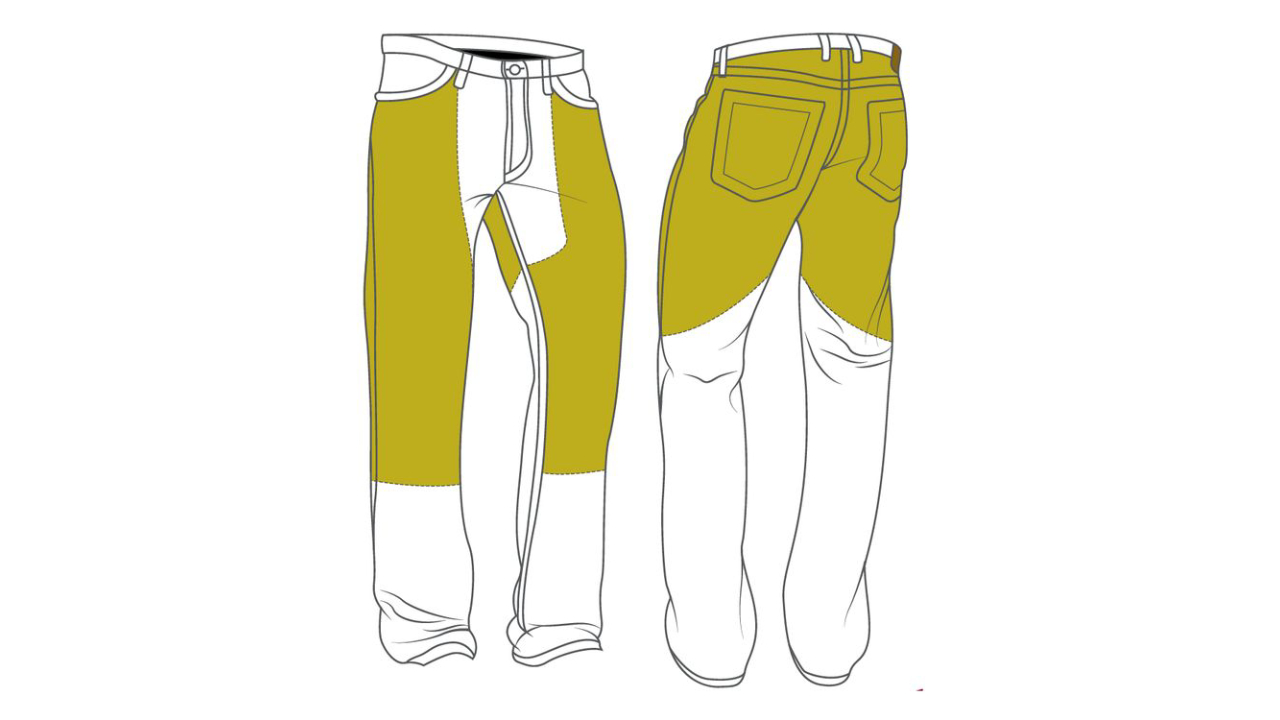 The heavier fabric and added layers of reinforcement mean that these jeans weigh more than the average pair. For reference, a pair of Levi's jeans I own weighed 578g, while the Street & Steel Oakland jeans weighed 940g without the armor inserts; throw those in, and it adds up to 1100g. They don't feel uncomfortably heavy, but the difference is noticeable.
The Street & Steel Oakland jeans are decently put together but don't scream quality in terms of finish. You'll find that this is most evident with the inner stitching since I saw some loose or fraying threads after a couple of uses. They don't affect the structural integrity of the jeans in any way, but they prevent this denim from being considered premium.
From my understanding, Street & Steel doesn't have the manufacturing or production capabilities of some of the more prominent names in the industry, so I do see how the finish quality isn't fully there yet. I'd like to establish that the average consumer might find no fault with the finish quality—I'm pointing it out because it's my responsibility as a reviewer to do so.
Fit & Comfort
CycleWorld (that makes these jeans) and Revzilla (who I bought them from) have a disclaimer on the product page saying: Note: Customers recommend sizing up one size from your casual jean size if you don't like a slim fit jean.
I'll admit I chose to ignore that piece of advice based on some customer reviews that mentioned they felt the same size as their casual jeans size fit them perfectly. So when I went ahead and ordered a size 32, what I got was a pair that fit me a little too well. These are snug-fit jeans; if that's not your style, I recommend sizing up. That said, they don't look bad or too tight around my thighs or read end, which is where they feel the most snug.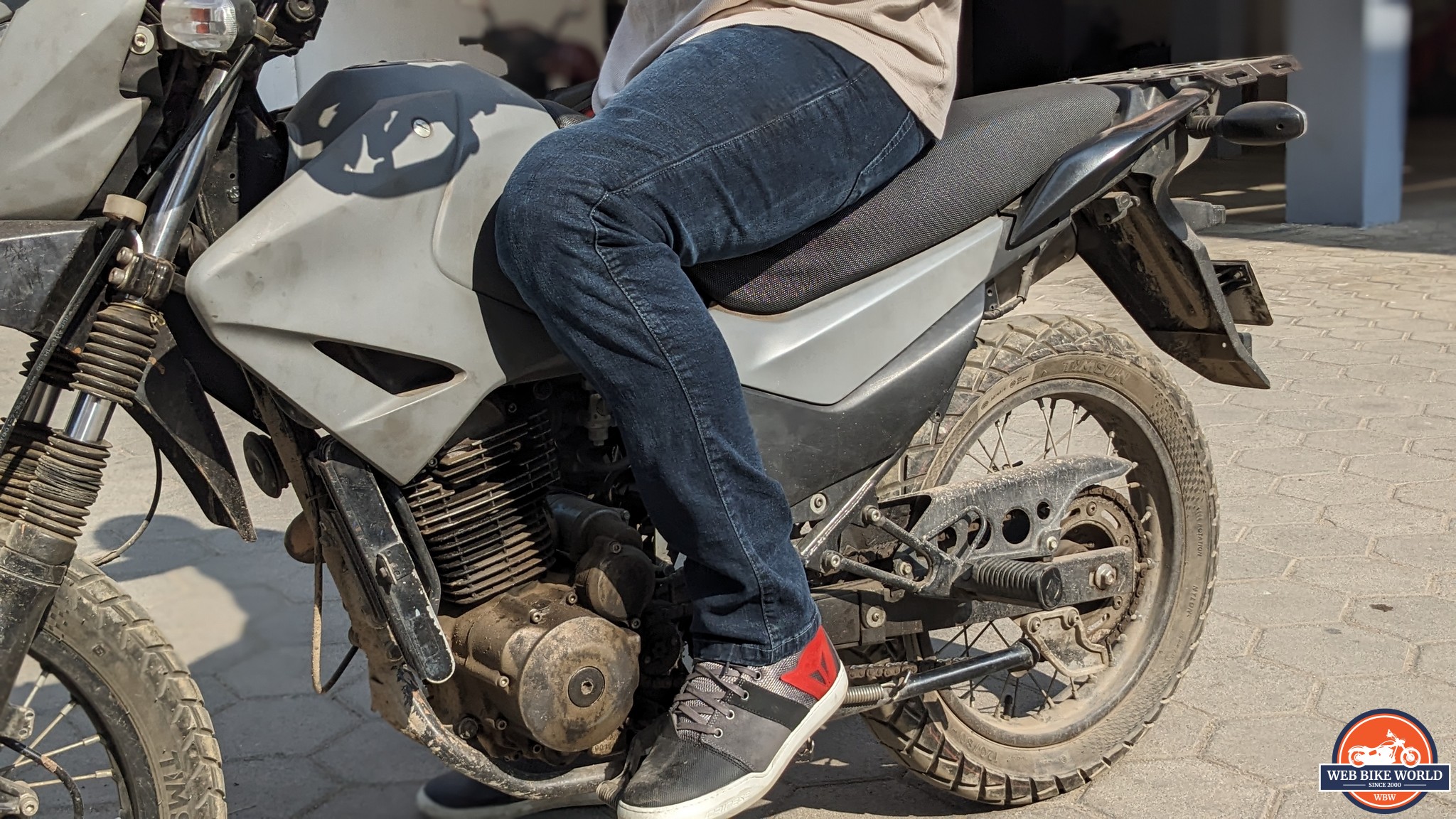 Sizing up to a 34 would have been ideal, but I'm in India and didn't want to go through the hassle of sending this back to RevZilla in the US. Still, I say that because, stylistically, I would've liked a pair that's not as snug and a little more 'straight' fit. In terms of comfort and movement, these don't hinder me in any way.
The elasticity allows me to get into a full squat with ease and walk around as much as I'd like without it being too tight or uncomfortable anywhere. What did bother me, however, was the pockets for the armor inserts. The knee armor is velcro-fastened inside a rather accommodating pouch on the inner side of the knee. For my height, these pockets end around the middle of my shin. I found that with every step I took, the bottom end of the armor pocket would fold into my shin and brush against it. This can be quite bothersome, and if you let it be, it will bruise your skin. Trust me, I speak from experience.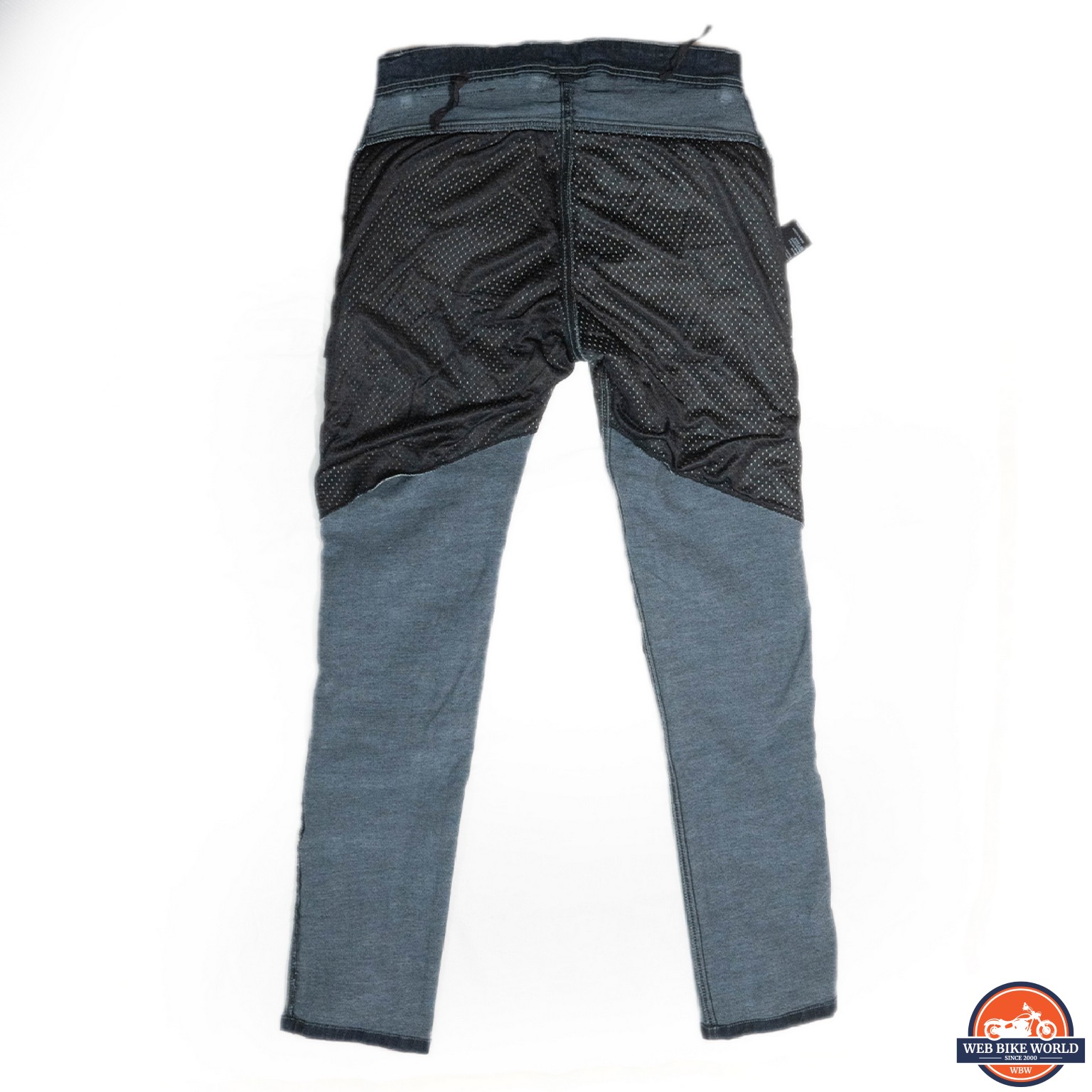 It took multiple attempts of minor adjustments to the knee armor's position to ensure this wasn't as prominent. Finally, I was able to get it to a point where it was no longer that noticeable by sliding the armor inserts as low as possible within the pockets and rotating them slightly toward the outer edge of my legs.
Since you have to take the jeans off, flip them inside-out, and adjust the armor each time, I recommend you don't keep this for when you're just about to head out on a ride.
Protection
Riding jeans are not designed to be a replacement for more purposeful leather or textile riding pants. Understandably, you don't get industry-topping safety levels from them. As mentioned above, in the case of these Street & Steel Oakland jeans, you get a rugged denim construction with aramid reinforcement along the seat, hips, and knees. Tests have shown that aramid can be 5-7 times more abrasion-resistant than regular denim, so the added reinforcement on the most common slide points is a welcome addition.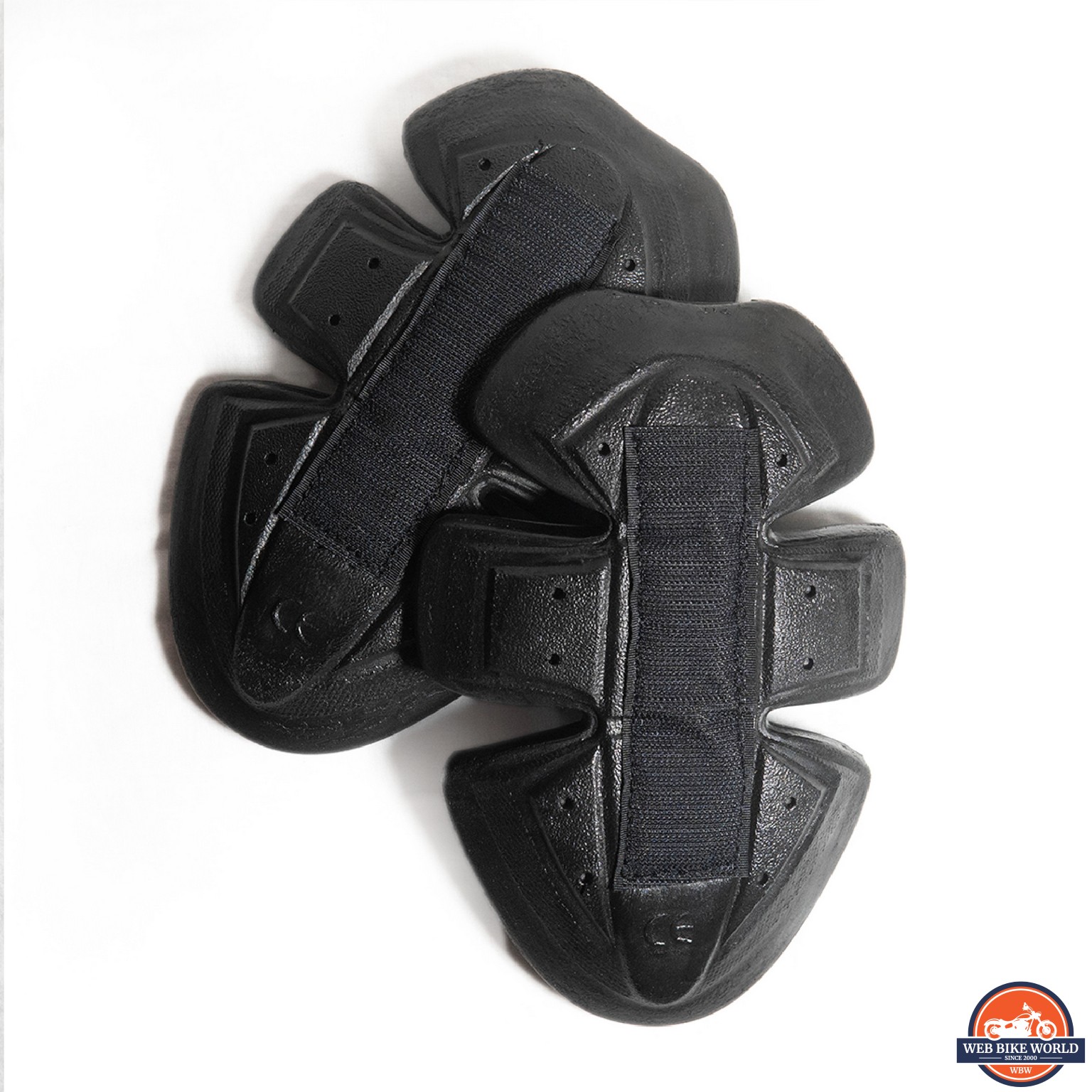 There are pockets in the knee for armor, and the jeans come with CE Level 1-rated inserts. If you want to upgrade the armor, I'd suggest buying CE Level 2-rated inserts and sticking a 3M velcro strip on them so you can fasten them inside the pockets. I haven't done so yet, but I intend to very soon. You don't get the option of adding armor for the hip, which is a miss.
Verdict
For $150, these are an excellent pair of riding jeans. For the most part, they're comfortable on and off the motorcycle, and I've worn them without the same armor as a regular pair of jeans several times. The only major drawback I've found is that the velcro tab at the bottom of the knee armor pocket brushes against my shin when I walk. I've managed to mitigate this as much as possible, but it's still not perfect.
Aside from that, these jeans look great, and you get decent protection in all the right areas. If you don't want to spend your commute in a pair of textile or leather riding pants, these are definitely jeans you should consider buying.
Pros
Aramid reinforcement in areas prone to sliding in a crash
Comfortable for all-day wear on and off a motorcycle
Resemble a pair of good-looking regular jeans
CE-rated knee armor
Great value for money
Cons
Aramid reinforcement does restrict airflow
Knee armor placement can be tricky
No reflective panels
Specs
Manufacturer: Street & Steel
Price (When Tested): $149.99
Alternative models & colors: Black, Blue
Sizes: 28 to 42 (waist)
Review Date: October 2023
Important Links/Where to Buy