The revolutionary Australian-designed Vozz RS 1.0 Helmet with a hinged shell and no chin strap is a high-quality, comfortable and practical helmet.
We have been testing the $888 helmet now for a couple of weeks and rate it very highly.
HOW IT WORKS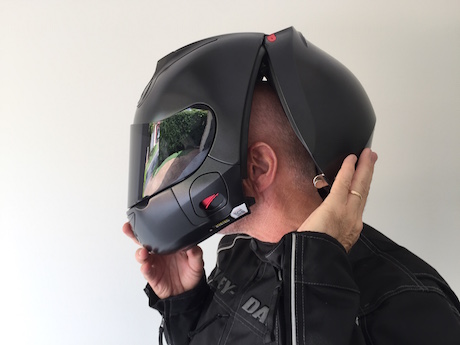 The helmet splits in two, front and back, with a hinge at the top.
There are clips on each side of the chin piece and it clicks together tightly so there is no need for a chin strap.
That means you can put it on while wearing glasses and with your gloves on.
But the main reason it has been designed this way is to make it easier and safer to remove in the event of an accident.
If a paramedic sees the helmet is different to what they normally expect, there is a little scan emblem for them to get instructions over their phone on removal procedures.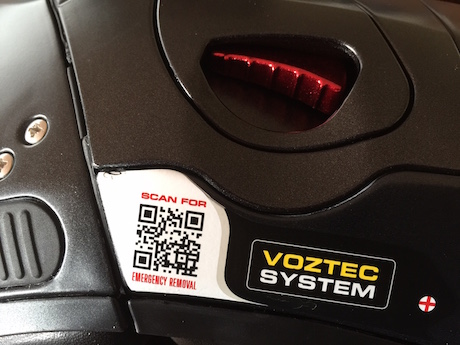 Basically, you press the two buttons and open the front like a door!
There may be no need to totally remove the helmet anyway, as the paramedic can now access the injured rider's mouth for resuscitation.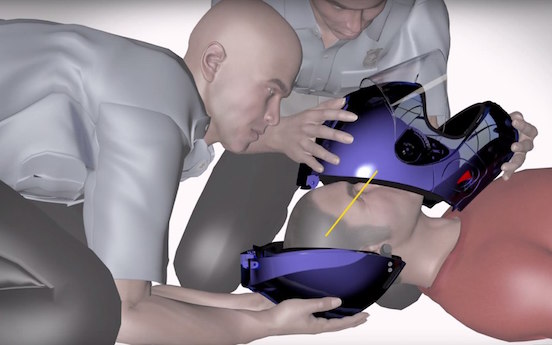 CONSTRUCTION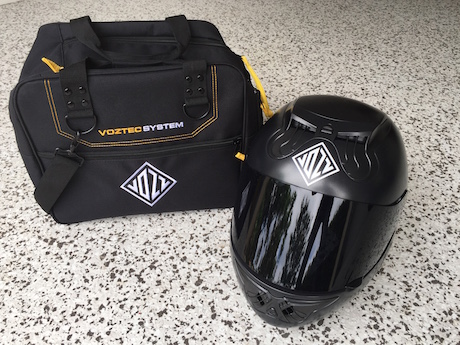 Fresh out of the luxury soft-lined carry case with handles and zips, the helmet looks smart and high quality.
It has a Tri-Composite shell where the front is made of a combination of carbon, Kevlar and fibreglass while the rear shell is made of high-grade ABS.
The liners are not removable, but the cheek pads can be taken out to be washed and there are six fractional fittings of comfort liners with three shell sizes. So each shell size has two options for cheek pad size.
The helmet weighs 1780 grams for AS/NZ and DOT, and 1680g for ECE, which is about the same weight as most flip-up helmets.
Interestingly, the instruction manual warns not to put any stickers or paint on the helmet as they can "damage the materials used in the helmet manufacturing process" and reduce its effectiveness in a crash.
COMFORT AND FIT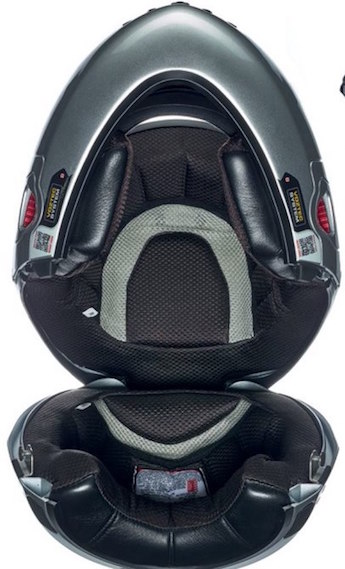 The chin strap is replaced by an internal, fully adjustable rubber chin cup so it fits snugly around your head.
It's called a "chin retention system" and while it didn't annoy me, people with beards may have some discomfort.
Not every head is the same shape. I can't wear an Arai, but Shoei, Bell and AGV helmets fit fine as does this one.
However, sizing may be different. I normally take a small, but they sent me a large and it is only slightly loose. I'd say a medium would be fine for me.
It feels exceptionally plush inside like any top-shelf helmet and is very comfortable.
There are no pressure points on my cheeks, top of my head or on my forehead, however I do get some pressure on my left ear only.
There are vents at the bottom and top in the front and two exhaust vents in the back.
Ventilation is very good, even in this steamy weather, probably because the protruding chin section allows plenty of space for air to circulate around your face.
OPERATION

It doesn't work like a normal helmet, so even putting it on requires different procedures.
First, hold it upside down with the chin facing towards you. Open the visor and hold it by the chin piece, then push down on both latches and as you lift the helmet over your head, the rear hatch will swing open.
Then press your face into the front and push the back into place with a solid click.
The manual suggests you check the locks by trying to pull it apart and even check in your mirrors that the latches have closed.
It's difficult to get over the paranoia of not doing up a chin strap and having the latches come open and the helmet flying off in the wind. But it hasn't happened!
Removing the helmet is swift and easy. Use both hands to flick the latches and off it comes. No need to take off your gloves to undo the chin strap and no pulling and tugging to get it off.
It also won't pull your earrings off, either.
However, putting the helmet on with earplugs or earphones is difficult without dislodging them. You have to carefully push your face all the way forward, being careful not to knock the earplugs out.
You can lock it to your bike with a plastic-coated chain through the chin bar.
NOISE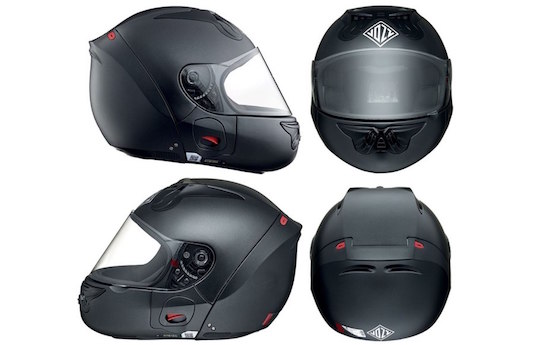 Vozz claims the rolled front and streamlining makes it very quiet, but there is still wind noise coming from the join behind the ear, even though the split line is sealed with rubber seals.
It feels strange to have wind noise coming from behind your ears as most helmet wind noise comes from the front.
I noticed a slight whistle from the visor, but only when you turn your head around for a shoulder check. It's slightly louder on the right than left.
While wind noise is not as bad as most modular helmets, it is a little louder than some of the top full-face helmets.
BLUETOOTH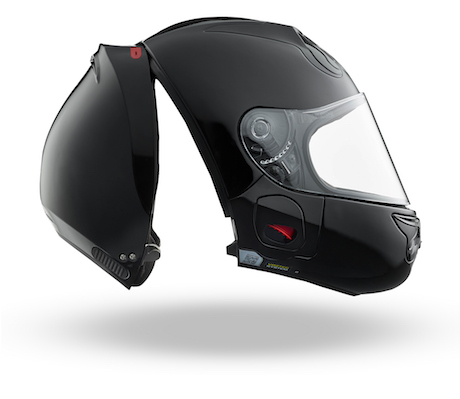 Connecting a Bluetooth communication unit to the helmet is difficult because of the rolled bottom edge, however you could stick a unit on a little higher on the front section of the helmet, just in front of the red latches.
The helmet comes with ear recesses on both sides of the join and I found it difficult to velcro the Bluetooth's speakers into place.
Instead, I moved them further forward than the recesses and they sat at just the right place for my ears.
However, most times I take the helmet off, at least one of the speakers falls out.
Vow says there is no Bluetooth factory option "at this stage", but they say they are continuing to "develop this type of feature".
VISION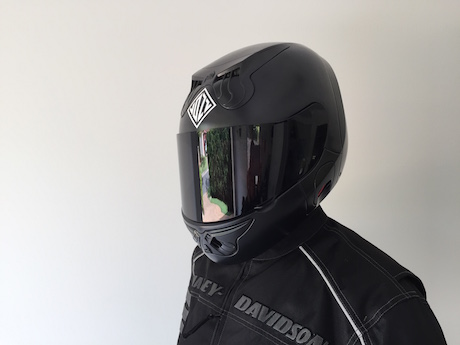 The anti-fog clear and 80% tinted visors included work nicely without the need for a Pinlock insert.
In fact, the helmet has better anti-misting qualities than normal full-face helmets because the chin bar is longer. That moves the visor further away from your mouth and nose.
Vozz also claims the visor is anti-scratch. We tested a small area off to the side and found it resistant to scratches with a coin.
The visor is about 2cm deeper than most, extending down nearly as low as on the Bell Bullitt, which provides plenty of vision.
This extra vision is handy when looking down at the instruments or to check whether you have forgotten to zip up your jacket pocket.
Changing the visor is easy. Click the latch and out it pops. Fitting is also simple with no need to even use the latch.
And lining up the tinted visor in the slot is also simple, even though you can't see where it goes. Just wiggle it a little and it catches.
CONCLUSION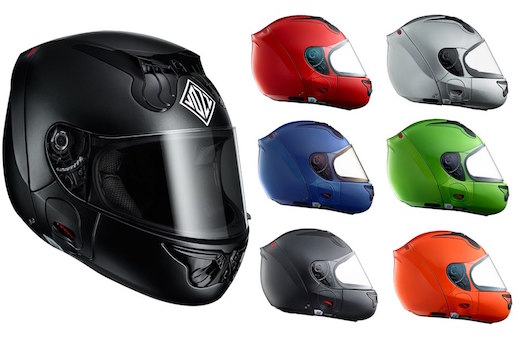 From a sheer practical point of view it is easier to take on and off while wearing your gloves and will suit people with spectacles and earrings.
From a safety perspective, it's nice to know that the front hatch can be opened without causing spinal injuries to an injured rider.
Is the helmet worth $888? Yes. Even more expensive helmets don't come with a spare tinted visor and luxury carry bag.