You can bet your bottom dollar that somewhere out there in the motorcycling afterlife, alongside the likes of Burt Munro, Evel Knievel, and Rollie Free, there's a very cool, very happy-looking Terrence Stephen McQueen from Beech Grove, Indiana still getting his kicks and talking smack with the best of them. And that's because the man we know as Steve McQueen was just as much a motorcyclist as he was an actor.
With a moto collection apparently numbering in excess of 200 bikes—along with a bunch of cars and even a few planes—he was someone who was deeply passionate about motorcycle riding (and especially racing). Legend has it that he paid for acting lessons from his race winnings. And even better than that, he had the financial fortitude to indulge in collecting bikes to his heart's content.
So what cycles does a man of immaculate taste and considerable skills purchase when money is no object? THIS is what.
#1. 1970 Husqvarna 400 Cross
There's not many films that can top On Any Sunday in terms of getting people excited about motorcycling. Talk about being in the right place at the right time.
Put simply, it's probably the greatest motorcycling movie ever made. And the stars of the whole damn thing were good ol' Steve Mac and his still gorgeous Husqvarna 400 Cross that provided the 'wow' moment at the end of the film. If you've never seen it, what the hell are you doing with your life?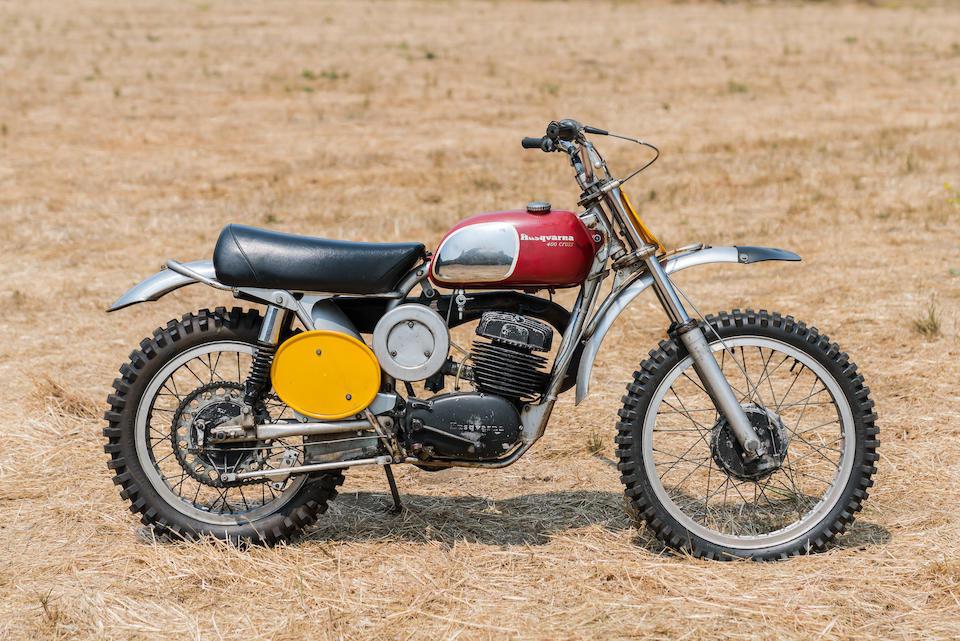 The late '60s were a pivotal time for off-road motorcycles. As the genre developed, huge leaps and bounds were made when the manufacturers realised that these bikes could be so much more than just road bikes with knobby tyres and no mirrors.
The now-legendary Swedish designers at Husky started with a blank piece of paper, a powerful two-stroke engine, and an innate understanding of what it took to go fast on the dirt. And in '69, there wasn't much faster than this 400. With 40hp on tap, it may not sound like much—but match that with a mere 100 kilo (220 pound) curb weight, and you'd have to be dead inside not to have fun on this.
Sold? Well, it can be yours for a mere $320,814 Californian bucks, which just so happens to be the exact price it was purchased for at auction in 2018.
#2. 1962 Triumph TR6 650 Special
You know a motorcycle is famous when you strike up a geeky conversation about it at a social gathering with the most naive non-motorcyclists you can find—and they know the bike you're talking about. The famous 'fence jump' scene at the end of McQueen's The Great Escape from 1963 is another legendary moto moment that he himself created. And it was arguably the single most famous on-screen moto moment of the Twentieth Century. It's also interesting to note that this is the only non-racing bike in the list.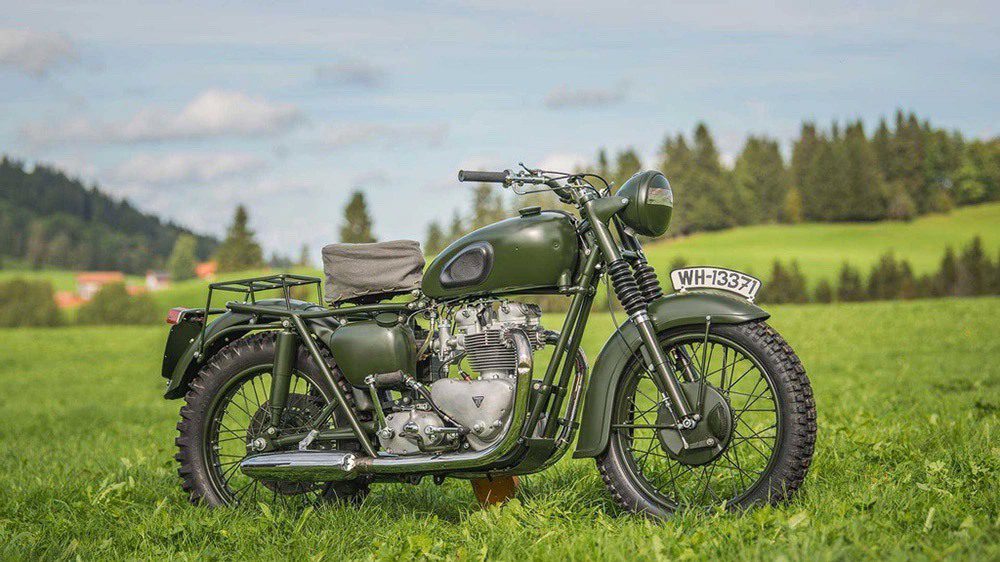 Apart from the rather comical sight of Nazis riding British Triumphs, the bike is as much a star as McQueen is. A TR6 650 Special was made to look more 'wartime' with olive drab paint, a luggage rack, and a '40s-style seat. The script—originally written to have the heroes escaping via train—was rewritten after McQueen suggested the bike jump idea as being more exciting and cinematic than a slow train to freedom.
Aussie motocross champ Tim Gibbes and stuntman Bud Etkins were tasked with making it happen. Despite McQueen's requests (and his various other stunts already being completed for the film), Etkins was to do the final jump that made it into the movie and into the annals of motorcycling history, too.
#3. Métisse Desert Racer
Yes, McQueen and desert racing were clearly a big thing. The bikes you see here are the mere tip of the iceberg as far as his offroad bike collection goes. The Honda Elsinore, anyone?
But putting that aside for one moment, I think it's fair to say that his crowning achievement in offroading bikes was the Métisse Desert Racer. Developed by McQueen and Bud Etkins to be the last word in desert racing, it was essentially a parts-bin special that turned out looking (and working) pretty damn well.
Still available today for those with an inclination and a few spare dollars, collectingcars.com saw one sold for £21,250 in early 2022. For that price, you could get a genuinely beautiful bike powered by a fully reconditioned Triumph TR6 twin engine and four-speed 'box, with a period Triumph front hub and BSA rear.
Tasty extras included an Amal carb, a chrome-moly nickel plated oil-in-frame, erm, frame, chromed steel wheels and exhausts, a scrambler rear boot, and a trials front, topped off with competition levers & grips. I figure if I write another 200 of these stories, I'll be able to get my own, but the chances of me looking as cool as McQueen on it are pretty much zero.
#4. 1920 Indian Daytona PowerPlus
Sure, board track racing is all retro cool and hip now, but in the 60s, the sport was about as popular as stabbing a salty fork into your eye. As always, McQueen could see the beauty—not only of the sport but of the bikes themselves.
Little more than dangerously fast and powerful motorised bicycles (check those pedals), the romance and bravery that came from these machines was apparent to McQueen—even while the world stood dazzled by the modern magic of two-strokes, the rise of Japanese bikes, and newer, less deadly forms of moto racing.
A non-McQueen PowerPlus sold for a gasp-inducing $150,000 all the way back in 2006. You may be wondering what McQueen got for his cash way back then. Amazingly, the engine had a very modern-sounding 1000cc and eight valves in a sidevalve configuration.
Using the engine as  a stressed member, the bike was a direct response to the successes of the Harley and Excelsior bikes that the Indian racers were up against in the racing ranks of the day.
And in case you are wondering, the PowerPlus Indians of this period can be readily identified by their s-shaped seat post. Mind you, with 16 hp and a top speed in excess of 100 mph, you'd be hard pressed to spot it as it screamed passed you on the splintered boards.
#5. 1915 Cyclone Boardtracker
As with the Indian above, these two photos are of the actual bike owned by McQueen as taken by the auction houses that had the privilege of selling it. Conceived a full 6 years before the above Indian, the Cyclone couldn't have been more aptly named.
Faster and more powerful than anything that had come before, this bike's specs were so far beyond the other racers of the day that the Federation of American Motorcycling officials at the time assumed its recording-breaking capabilities were the result of timing errors or cheating rather than it being just straight-up quicker.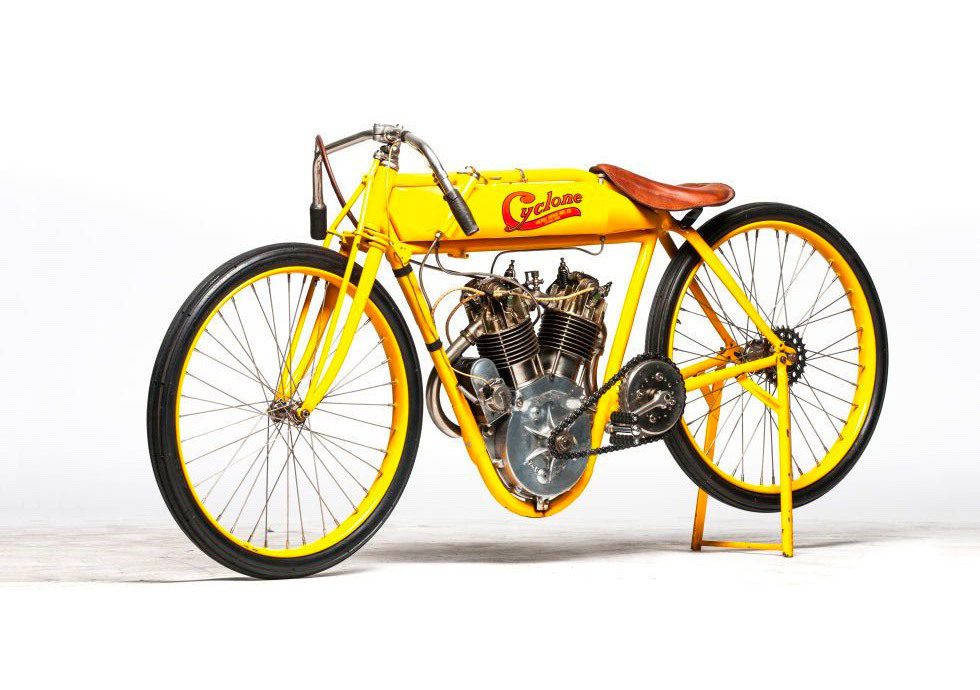 The bike's most unique feature was probably its overhead valves, which were actuated by an innovative shaft-and-bevel system and clearly years ahead of their time. Add this to a 61 cubic inch, 45 degrees V-twin engine with massive valves and super fancy sealed bearings, and you had a recipe for both massive speeds and dubious reliability.
While it left Indians, Harleys and Excelsiors eating its dust (or sawdust, as the boardtracking case may be), the fact that it had trouble lasting the distances required meant that the novelty wore off and soon they couldn't give these bikes away.
All this is amusing when you fast forward to 2015, when the exact bike you see here with all that McQueen heritage was sold at auction for a rather incredible price. Or, as the Hemmings auction house put it in early 2015, "The 1915 Cyclone sold for a hammer price of $775,000, becoming the most expensive motorcycle ever sold at auction. Last fall's reported $1.35 million sale of the Captain America chopper from Easy Rider was never finalized."