Brisbane custom bike shop Ellaspede has scored a coup by bringing Hollywood actor and motorcycle racing legend Steve McQueen's iconic1963 Triumph Bonneville Desert Sled out for display.
Ellaspede will host a special event to view the Desert Sled, along with the full range of new Triumph Bonnevilles, on Friday, August 5, 2016, from 5-10pm. Bar proceeds go to bike-and bicycle-building charity Traction.
The Desert Sled was sold at a Bonham auction in Las Vegas in January for $US103,500 to a buyer who has asked to remain anonymous.
Ellaspede Online and Marketing Manager Hughan Seary says they approached the owner to express their enthusiasm to bring it out to Australia.
"After some discussion and the huge generosity of the owner we were granted its use for one night at this event," Hughan says.
"At this stage there are no other plans to display this bike anywhere in Australia, so it's truly a rare opportunity to see the bike before it goes back into the private collection."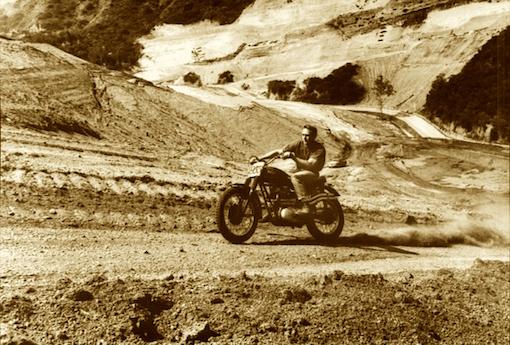 The bike has never been shown outside the US before.
It was rebuilt for Steve by his friend Bud Ekins who performed the famous jump over the barbed-wire fence in the 1969 film, The Great Escape, after producers prevented the actor from performing the stunt for insurance reasons.
The Desert Sled was painted by famed motorcycle painter Ken Howard, better known as Von Dutch, and Steve rode it in the desert racing scenes of the iconic 1971 film On Any Sunday.
In 2009, the Desert Sled sold at Bonhams & Butterfields' first motorcycle and memorabilia auction for $84,240, yielding a good return for seller Larry Bowman, a prominent California collector.
In 2015, a 1915 Cyclone board tracker motorcycle owned by Steve McQueen sold for just a few dollars short of $1 million.