New MV Agusta boss Timur Sardarov has a stern warning to dealers as he works to restore the company's stocks after years of financial hardship and rudderless direction.
"A lot of dealers had been granted the dealership before my time and are not the right dealers and partners," he says.
"They either have to step up or fuck off!"
Stern warning
He says his stern warning includes some Australian dealers.
"Some are doing well and some are not doing vey well," he says in perfect English with a heavy Russian accent.
"It's important that our distributor (Urban Moto Imports) is communicating and making sure they communicate the strategy, the new positioning and new way for MV Agusta to be presented.
"For me, the most important thing is the client. The dealer is an intermediary to MV Agusta.
"If the dealer does not invest and follow processes we have put in together to follow, it means the dealer will be terminated or converted into a service centre.
"For us it's easier to sell and deal with the client directly through the internet and make sure that the dealers who do not have our identity and training are just delivery points.
"We're working on dealing on online, converting ourselves into an online hybrid system with big dealers."
Quality and parts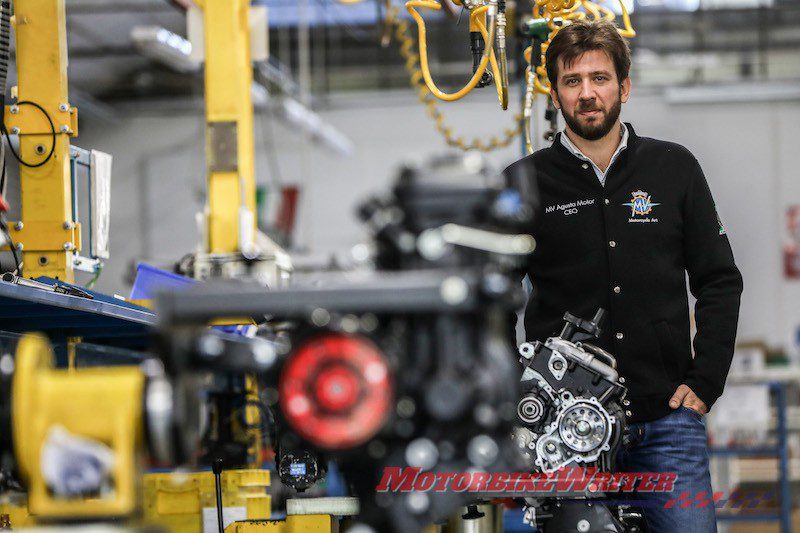 While issuing a stern warning to dealers, Timur has reached out to customers directly via social media to complain to him about parts and other issues.
"There are still perceptions from the past that MV Agusta is unreliable quality and spare parts delivery is not up to standard," he says
"I want to assure that is not the case.
"We are up to the standard of Honda. In the past three years we have improved quality four-fold.
"Spare parts delivery is 48 hours in Europe and in Australia is within 10 working days like America. "Before coronavirus that was the case."
Timur urges customers who have lost faith in the iconic Italian brand to re-engage with MV Agusta.
"I believe it is the most interesting bike to own and the most fun bike to ride," he says.
"It's different and has a lot of character.
"You're not going to see many of them in Australia."
MV Agusta Australia is currently offering $3000 off the ride-away price on selected 2019 Brutale, Dragster, and Turismo Veloce models.