Big "D" shaped lock is about as hefty as they get.
Probably wouldn't completely stop a thief, but it should slow them down for a while.
The folks at Squire Locks read our review of the Squire ML2L Motorcycle Disc Lock and sent us this monster Paramount Plus wheel lock to try.
We couldn't fit the ML2L through the disc brake holes on our '98 Triumph Tiger "Steamer", and Squire wanted us to try this one instead.
The Paramount Plus has to be the World's Heftiest Wheel Lock; this thing makes the ML2L look — and feel — like something you'd use to lock up Granny's purse in comparison.
It's a full 4-5/8 lbs. (2.13 kg) of lock assembly. Believe it or not, it's actually made for bicycles! I don't know what kind of thievery goes on in Britain, but crikey — if you need a 2kg lock to secure a 25 lb. bike…
Look at the size of this thing compared to the Tiger's 19″ front wheel and also compared to the size of my hand in the bottom photo.
Squire doesn't mess around when it comes to MTPD's (that's Massive Theft Prevention Devices). This one is rated as Sold Secure Gold by the UK's Master Locksmith Association, who gave this lock the highest attack resistance rating.
A Sold Secure Gold rating means that it has repelled a concerted attack by faux thieves with "a full tool list" for up to 5 minutes.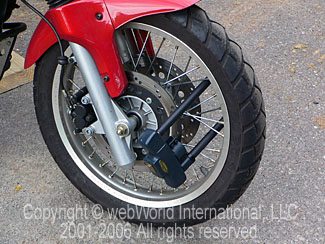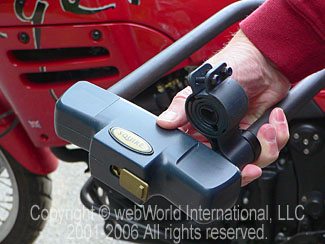 It also carries a 10 year guarantee. The shackle is made from 16mm thick hardened boron alloy steel, with a claimed resistance to cutting with a bolt cutter of 15 tons of pressure.
The shackle is covered with a nice, thick rubberized coating to help protect the motorcycle's paintwork from getting scratched.
The Paramount Plus comes with two keys, each with a plastic end cap and holes to allow fastening to a key ring. The keys unlock the locking body that fastens to the end of the shackle.
The body of the lock is completely covered with a type of plastic and the lock itself is made from armored steel.
A six-pin tumbler apparently provides more than 100,000 different key combinations, so the chances of someone else having your key are pretty remote.
Squire claims that the shackle can be pulled with six tons of pressure and still remain in the lock.
The Paramount Plus shown here is their biggest size wheel lock, with a 260mm clearance under the shackle. It also has a 105mm clearance width.
The key hole has a sliding dust cover, seen in the bottom photo.
The lock also comes with an adjustable mounting device that's designed to attach to a bicycle's top frame cross bar.
It's an interesting concept, but it's made from plastic and is too flimsy to attach to a motorcycle, or at least on any motorcycle in our garage. It's possible that it can be attached to the frame of a different motorcycle though, which would allow the lock to be carried on the bike when not in use.
Unfortunately, we still couldn't fit the Paramount Plus through the disc brake rotor holes on our Tiger. But it does fit through the wheel, and acts as a deterrent just with its presence.
By the way, the Paramount Plus was selling for $99.98 and is now $59.98. This is a screaming bargain, because I've seen cheap third-world sourced junk locks in the local bicycle store for nearly this price, and I could probably pick those open with my teeth and not break a crown.
Conclusion
If you're looking for the biggest, baddest wheel lock to maybe match your el Monstruo Squire SS65CS lock and chain, the Paramount Plus is it. Wrap this baby around the front wheel of a motorcycle or scooter and watch the thieves sulk.
Next: Squire Motorcycle Lock and Chain Review
Squire ML2L Disk Lock Review
w

BW

 Review: Squire Motorcycle Wheel Lock
Manufacturer: Squire Locks (UK) or Squire Locks USA
List Price (2006): $59.98
Colors: Black
Made In: England
Review Date: May 2006
Note:
 For informational use only. All material and photographs are Copyright © webWorld International, LLC since 2000. All rights reserved. See the webBikeWorld® 
Site Info page
. Product specifications, features and details may change or differ from our descriptions. Always check before purchasing. Read the
Terms and Conditions
!
Owner Comments and Feedback
---
From "N.N." (Who purchased the lock from the webBikeWorld Yard Sale):  "Rick, the lock arrived today!  Yay!
A couple things I noticed first off, in case you wanted to add them to your review:
The lock shank has to slide into and out of the lock body fairly straight; there's no tolerance really for slipping on and off, or at an angle.
I guess this adds to the security, but it takes some getting used to, and might be a pain to get right in an awkward position around a bike.
The keys don't really come out of the cylinder too easily, and sometimes the plastic cover comes off the key before the key comes out of the cylinder. Again, this takes some practice to get it right.
Some graphite dust might have helped to lubricate, but it looks like Squire greased the cylinder from the factory.
Overall, it looks like a good, hefty, strong lock.
Working the mechanism takes some patience and practice, and maybe time to wear down any manufacturing burrs, but once you get the feel down, it locks in really secure. I'm glad I got it!"