Spidi's Nkd H2Out Gloves Review Summary
Review Summary
The Nkd H2Out Gloves are a short cuff riding glove with a big emphasis on keeping water out. Consequently, it's the same waterproofing fabric that makes these gloves run hot and lack breathability. The Nkd H2Out has various protective features, such as padding in high-impact areas. The CE Level 1 knuckle protector sat on the back of my hand as opposed to where it should be - on my knuckles. Overall, the Nkd H2Out Gloves are comfortable to ride in but drawbacks make them a mid-tier choice.
Pros
The entire glove is waterproof
Palm, wrist, back of hand, and finger padding feels protective
Touch screen fingertip works well
Comfortable to wear with a snug fit
Cons
Microfibre fingers don't provide grip
The polyurethane knuckle protector is slightly misaligned and covers the back of the hand instead
Gloves can be pulled off with minimal force
No protection on finger joints
Spidi's Nkd H2Out Gloves Image Gallery
Review Summary
If you're looking for the main takeaways from this review, here is my summary on the Nkd H2Out Gloves by Spidi:
The Nkd H2Out Gloves retail for $119.90 USD.
The gloves are available in 3 different color schemes and range from size SM-3XL
Padding on the palm, back of hand, fingers, and wrist protects from impact
CE Level 1 knuckle protector does not cover the rider's knuckle, but the back of their hand
Velcro closure easily gives way to minimal pulling force
Goat leather strips are sewn into the palm for abrasion resistance, but not the fingers
The Nkd H2Out Gloves are completely waterproof with the exception of the wrist opening
Touchscreen compatibility works well
Gloves Are as Important as Everything Else!
I will never forget what a sales rep said to me my first time shopping for riding gear:
"How much do you value your fingers?"
This question still sticks with me to this day as he saved me from making a big mistake. As a new rider, you're dishing out money left and right. You're splurging on a motorcycle, license fees, insurance, riding school, and a full set of gear.
If you're like I was, you're looking for ways to cut costs and save where you can. Seemingly the easiest way to do so would be on gear.
Sure, gloves aren't as flashy as helmets or as style-inclusive as jackets, but they're just as important. Don't believe me? Ask yourself this: "How do you control a motorcycle?"
With your hands and feet of course!
High-quality, well-made gloves are paramount to your control over the motorcycle. The gloves need to provide you with a reliable grip, be flexible enough to not restrict your movements, and ideally offer you some degree of protection.
Spidi Nkd H2Out Gloves
If I had to pick my favorite type of gear to review it would likely be gloves. That is because I feel as though they're often overlooked or last on your shopping list, and I strive to change that. Your hands are what operate your motorcycle's controls and allow you to ride in the first place.
Shouldn't you show them a bit of love and respect?
I decided to reach out to Mark over at Spidi as I wasn't happy with my current pair of riding gloves. I was over the moon when he agreed to send me a pair of their Nkd H2Out gloves, amongst other gear, for review.
These gloves are completely waterproof, windproof, and insulated. They offer well-rounded protection through the padding on the side, back, and palm of the hand, as well as a protector on the knuckles.
On paper, the gloves sounded like a hit. I soon found out that wasn't entirely true and that the gloves did have some downsides to them. Read on for my breakdown on the Nkd H2Out gloves.
Design, Build Specs & Features
The Spidi Nkd H2Out gloves are designed to be an extremely lightweight glove that extends roughly 1-1/2" up your forearm. They are available in sizes SM-3XL and come in 3 color variations:
Black
Black/White
Black/Grey/Red
The gloves have a sleek look to them that I can appreciate. They caught my eye as branding is subtle and the all-black color scheme matches the style of my Iron 883. There are a few reflective elements but in my opinion, they don't make a meaningful difference.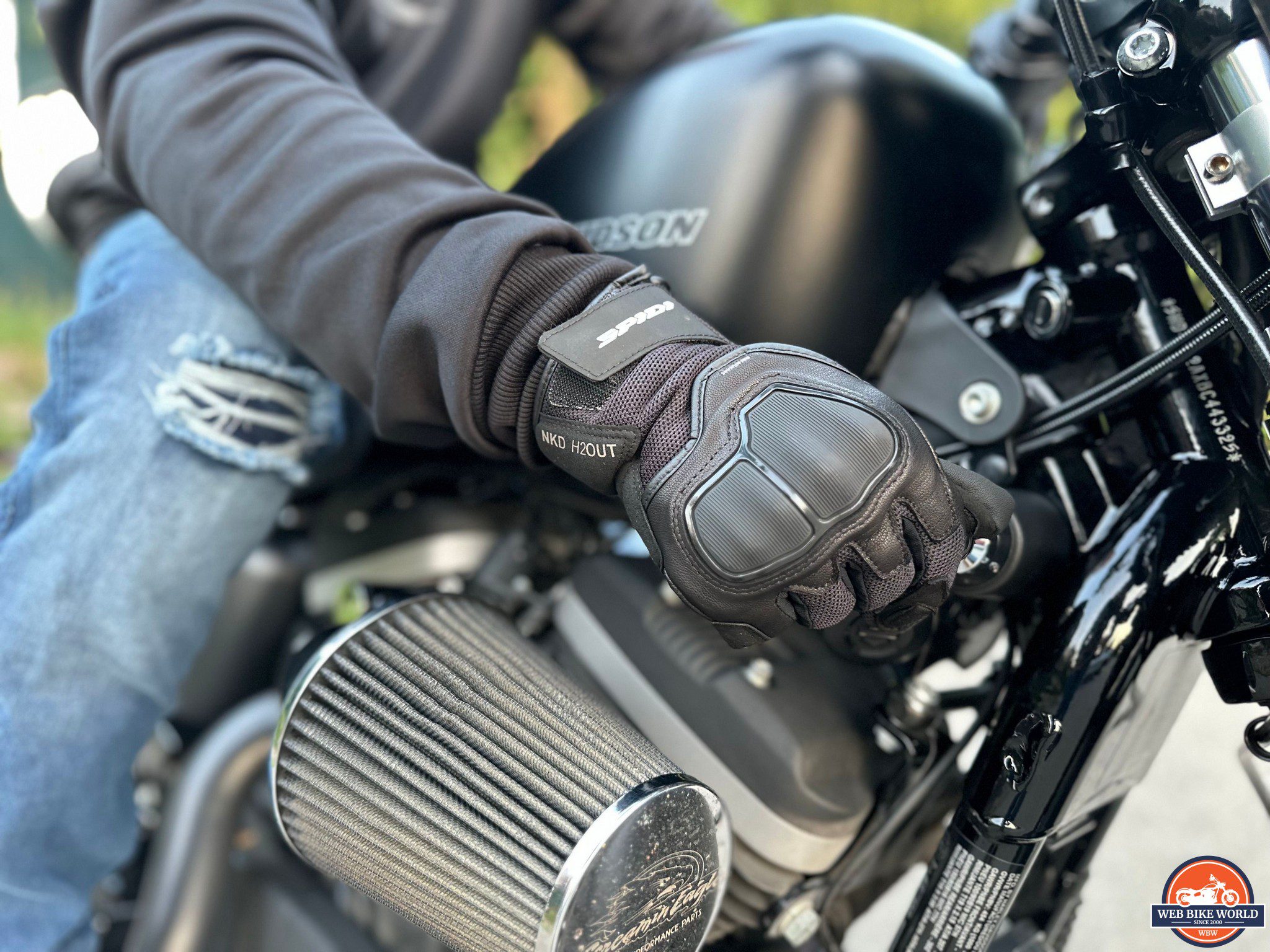 Strips of goat leather are sewn into the palm, but not on the fingers. The fingers are made out of a clarino microfiber fabric that worked against the H2Out's during my review period. For the first time ever, I had my hand slip off of my grips as the gloves provided next to no traction.
Features
The gloves are outfitted with an array of padding that covers the back of your hand, digits 2-4, and your palm. There is also padding on the side/wrist of the glove that protects your pisiform – the carpal bone that sticks out on the side of your wrist. I'll cover the padding in depth under protection.
Aside from the protective padding, the Nkd H2Out gloves come with numerous features, such as:
High-resistance clarino suede microfiber
Goat Leather
Punched mesh fabric
Elasticized fabric
Waterproof, windproof, and breathable H2Out garment
Anti-absorbent water barrier
Variable-density polyurethane shield having shock absorber functions
Touchscreen compatible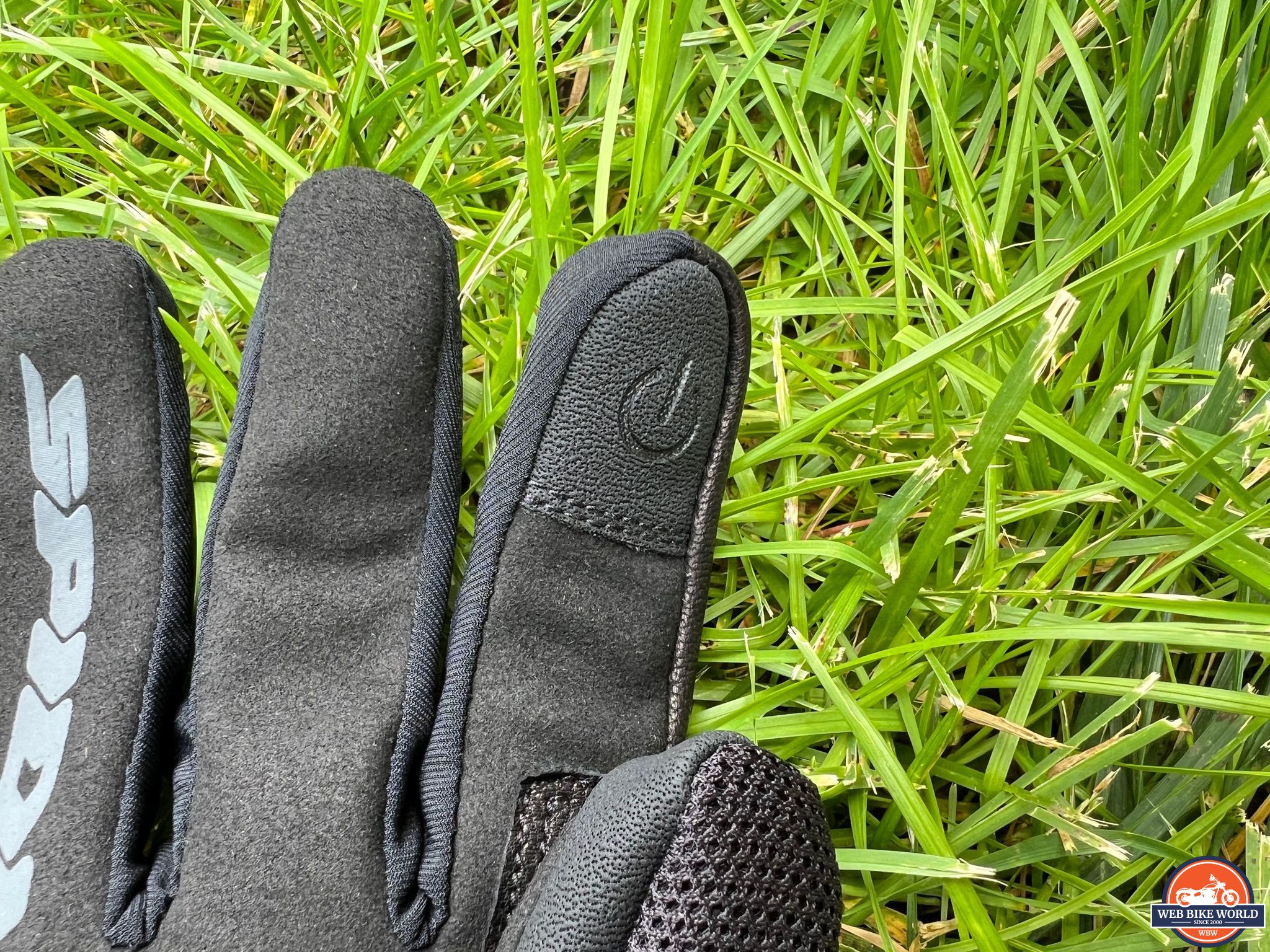 I was happy with the performance of the touchscreen compatibility. The index finger sports a special leather tip with a power button indicating it'll work on touchscreen devices. While I wouldn't attempt to send a text message, I was able to enter my passcode, navigate through my apps, and switch songs.
I found the gloves to be completely waterproof without any part of my hand getting wet when completely submerged. Of course, water will still be able to enter the gloves from the wrist opening but that would be true for any pair. The only downside to the waterproofing is that it's not as breathable as Spidi claims.
Design, Build Specs & Features Ratings: 75%
I did not have any concerns with the design of these gloves. As I mentioned, I'm quite fond of the sleek all-black scheme and think it nicely compliments my style. However, the Nkd H2Out gloves definitely have some drawbacks in terms of their build specs and features.
First off, it is counterintuitive to wear riding gloves that may lessen your grip on the bars. I am willing to admit that I may be at fault as I've only worn riding gloves with leather fingers and palms. At the same time, my lack of experience with a fabric glove should not be an excuse for using a material that doesn't provide traction.
In terms of the waterproof fabric, I love that I can ride through any weather condition and not worry about my hands getting wet and cold. The downside to this, however, is that the waterproof fabric is not as breathable as Spidi claims. I found my hands to be very hot and sweaty on high-temperature days. I would recommend these gloves for low-medium temperature rides.
Size & Fit – True to Size
Have you heard what they say about guys with small hands and feet?
They wear small gloves and boots. Get your damn head out of the gutter.
I used Spidi's glove sizing guide when ordering the Nkd H2Out gloves. Based on their guide, a size small would've been a perfect fit. Reluctant to believe that I had the hands of a newborn, I opted for a size medium.
I should've listened to the size guide.
The mediums were too big and I had to exchange sizes. These gloves fit true to the guide and I would recommend referencing it before ordering. Further support is available through our buyer's guide to motorcycle gloves.
Fit
The Nkd H2Out gloves have a very snug fit, but not to the extent that they limit your ability to ride. Typically when I wear gloves the fingers are much longer than my own. All of my fingers with the exception of my index reached the end of the glove. This was big in my books as I didn't have to combat excess material.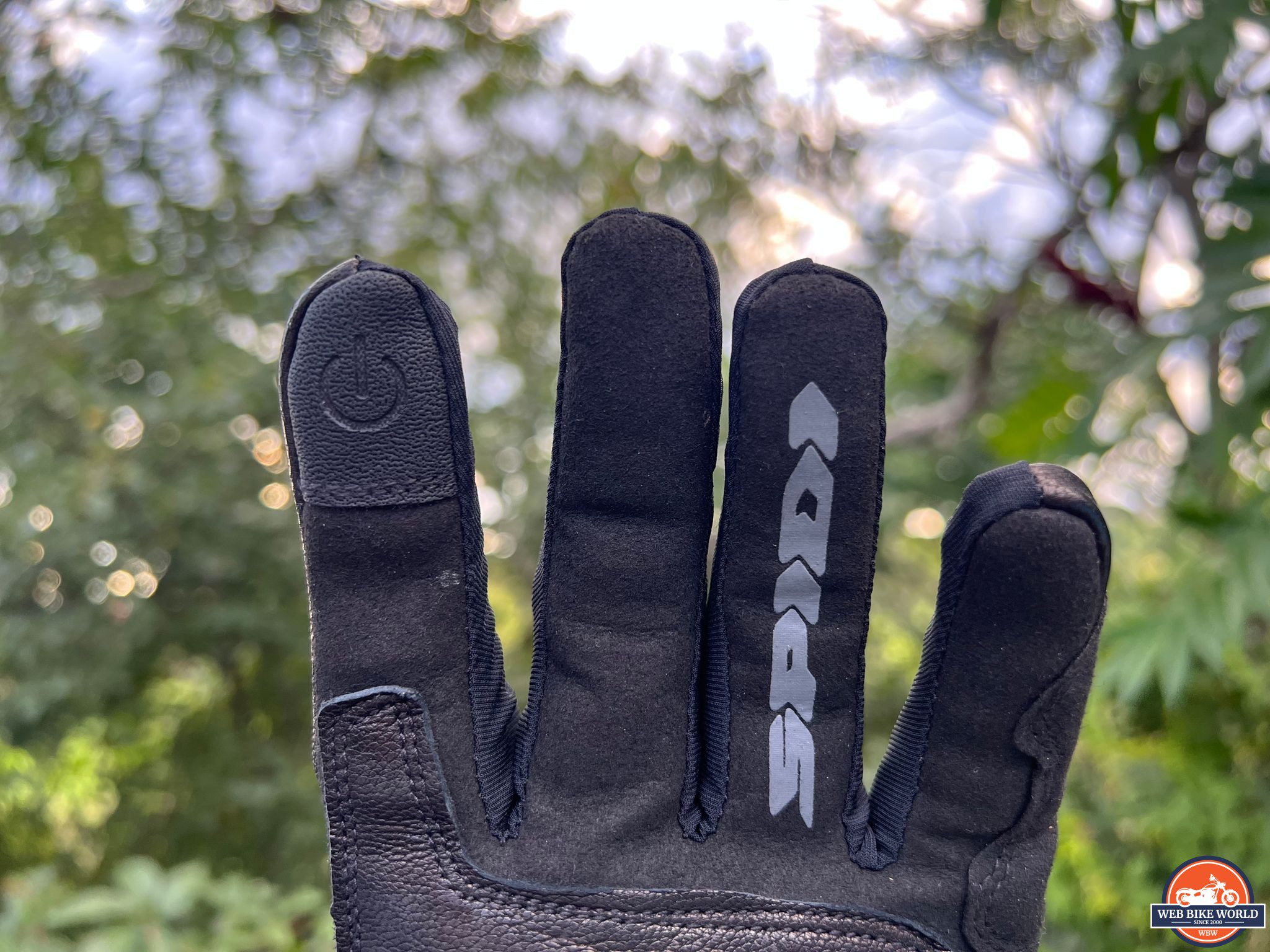 The fingers were flexible enough that I could close my hand without feeling pressure on the underside where the material folds, or on the top where the fabric is stretched. Gloves that are too tight can hinder blood flow and cause your hands to fall asleep while riding. This was not the case with the Nkd H2Out's.
The wrist cuff had a lot of elasticity to it, and the large opening made it easy to take the gloves on and off. The wrist is secured by folding a thin portion of the glove and fastening it with a velcro strap. The cuff was large enough to accommodate my watch but I wouldn't recommend wearing your gloves in this manner.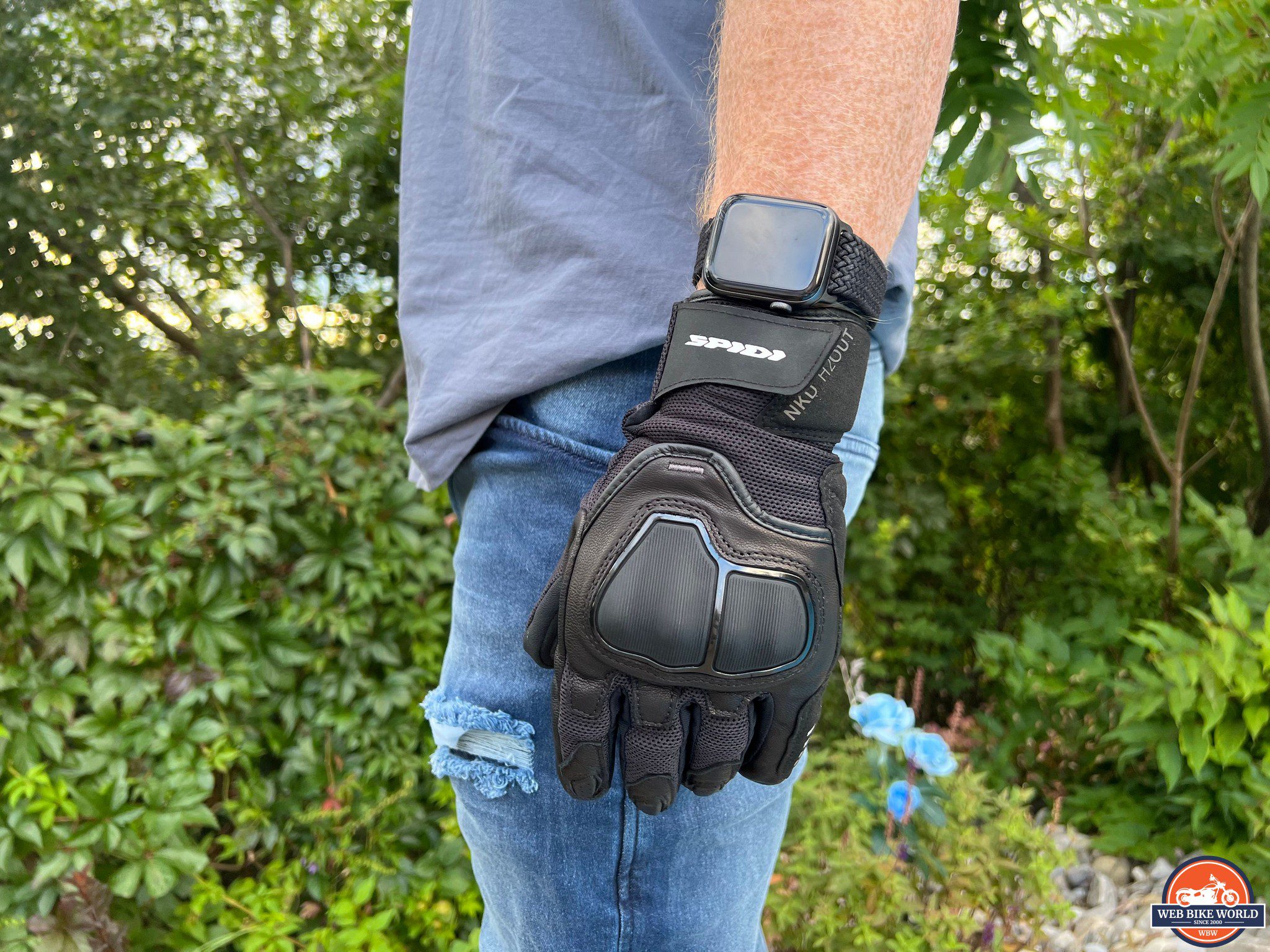 Personally, I hate taking off my Apple Watch. I'm more of a set-it-and-forget-it type of guy. In order to wear both riding gloves and a watch, I purchased a pack of stretchy braided bands off of Amazon. They are a cheap and effective way to wear my watch higher on my wrist and out of the way of my gloves.
Size & Fit Rating: 70%
I've given Spidi full marks for their sizing as the gloves fit true to size and exactly as the size guide indicated. With that being said, my biggest concern with these gloves is the large elastic cuff and how easily it is to take these gloves off.
I had Ashley tug on the fingers to see how much force it took to pull the gloves off my hand. To our surprise, it took very little effort. My biggest fear is entering a slide while wearing the Nkd H2Out and having them stripped away leaving my hands exposed. I would love to see Spidi redesign the wrist closure for a more secure fit.
Protection That's Missed the Mark
Earlier in this review we covered that the Spidi Nkd H2Out gloves have various protective pads on them. These pads cover the back of your hand, fingers, palms, and side of your wrist. They also come equipped with a CE Level 1 knuckle protector.
I found it odd that the protective pads for your fingers are only on your index, middle, and ring fingers. Your pinky and thumb are left to fend for themselves. They also don't have any protection for the joints of your finger. For comparison, the REV'IT Sand 4 Gloves protect the phalanx and joints.
The padding on the palm and side of the wrist feels plentiful. I don't have much doubt that it'll provide a fair amount of protection against impact. The same kind of padding can be felt underneath the knuckle protector on the back of the glove.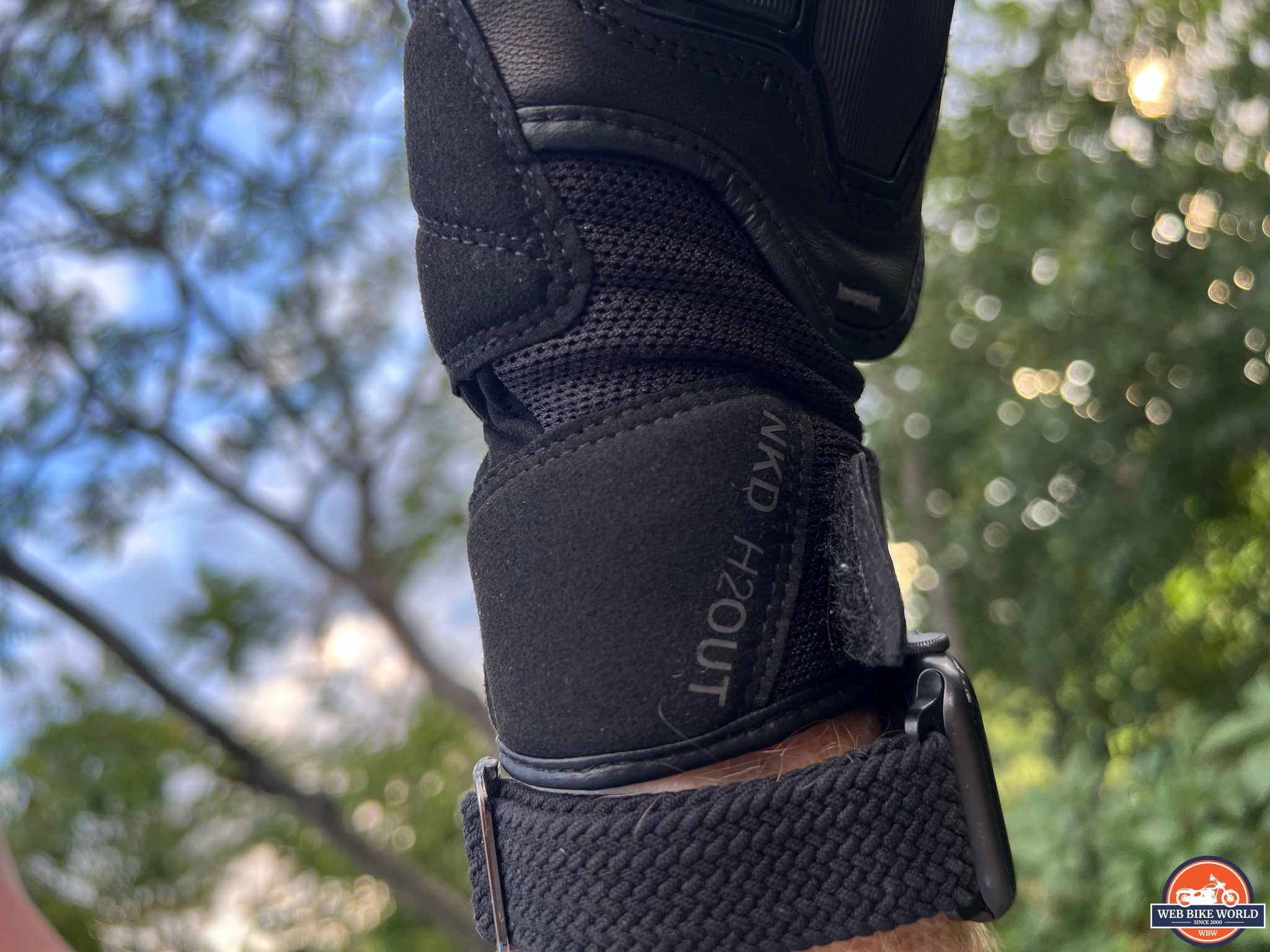 The knuckle protector is sewn into the glove from the fingers and sides. The back of the protector is held by a small stitch that is slightly off-center to the right. My guess is that Spidi designed the glove in such a way as to promote breathability for the back of the hand.
The protector is made out of flexible polyurethane. When I say flexible, I mean that I can fold it and manipulate it when my hand is in the glove. This was unusual for me as I've only come across rigid materials in past experience.
When I clenched my fist or grabbed my handlebars, I noticed that the knuckle protector was misaligned. It is slightly recessed back, and not covering my knuckles. Instead, my knuckles are in line with the CE level 1 protector stitch, as opposed to the polyurethane shield itself. The protector rests more toward the back of the hand.
Protection Rating: 65%
It became very apparent to me throughout this review that a gauntlet-style glove, such as the Quantum 2's, are far superior at keeping you safe. The simple matter of fact is that short gloves are not able to provide you with the same level of protection as a glove with a longer cuff Therefore, right out of the gate, we cannot rate the Nkd H2Out's 5/5 for protection.
In terms of impact resistance, the protection is there, but not in the right spots. In particular, I'm referring to the CE Level 1 knuckle protector. I feel as though I am missing a key safety component to these gloves because of this. The knuckle protector on my Alpinestars Air v2 Gloves lines up perfectly, so I know that my hand is not to blame.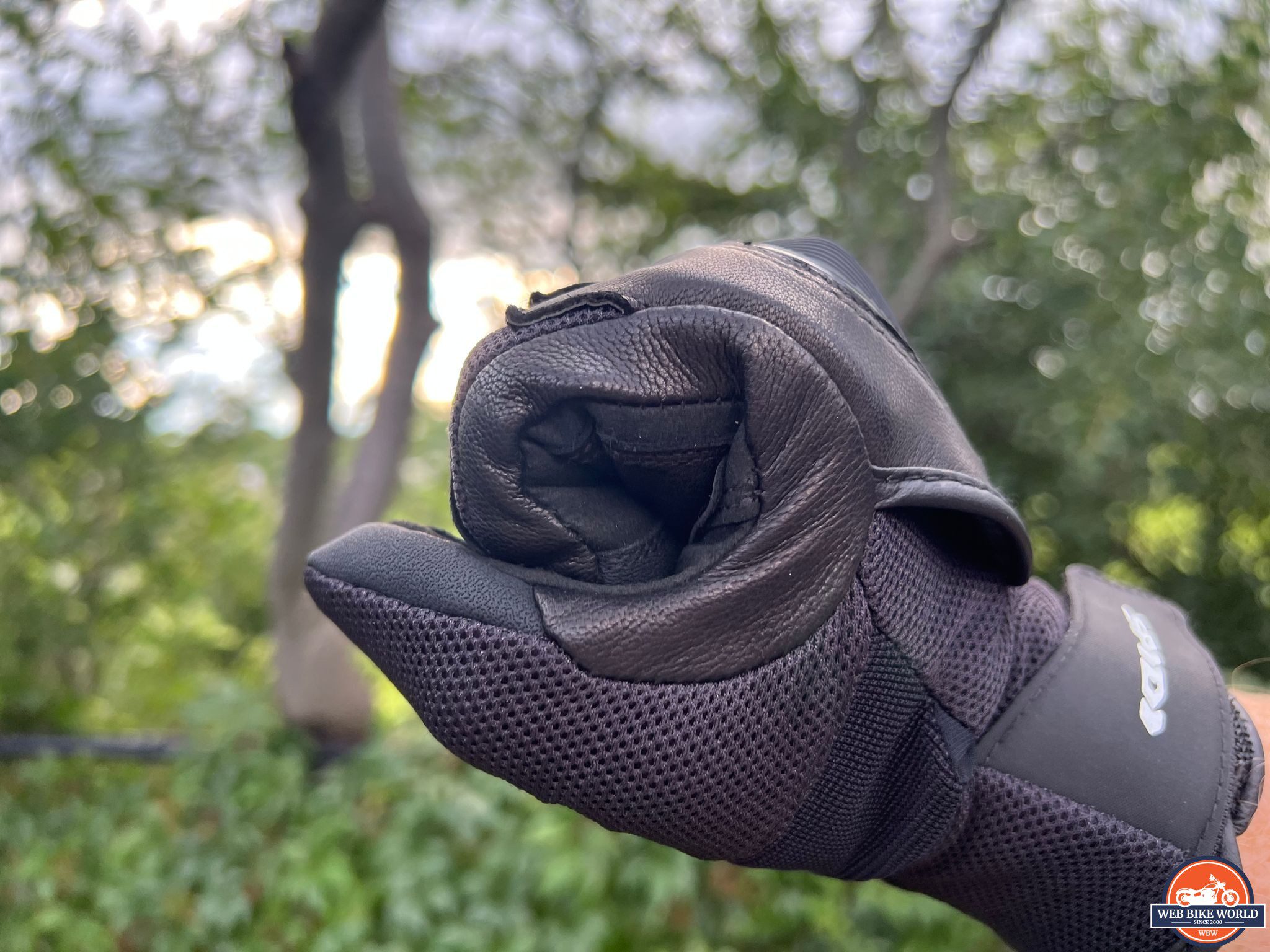 I've also taken into consideration the aforementioned issue relating to how easy it is to pull the Nkd H2Out gloves off. I don't feel confident that these gloves would stay on during a slide, thus leaving my hands exposed.
For complete protection, you should consider our Best Gauntlet Motorcycle Gloves Buying Guide.
Final Verdict
The Nkd H2Out gloves could be a top contender choice for a short glove if Spidi made some of the improvements I've mentioned here.
I'd love to see an all-leather palm and fingers. The Nkd H2Out gloves are not cheap, and as such we shouldn't settle for the few strips of goat leather sewn into the palm. By removing the microfibre fingers and replacing them with leather, I'd feel much more confident on the controls.
The location of the knuckle protector needs to be addressed. It is great that the gloves have received CE Level 1 certification, but if a knuckle protector is not protecting the knuckles, what good is it?
I'd also like to see a stronger closure that isn't as easy to pull off. In a crash, the gloves will be subject to forces far stronger than Ashley's pull. It's scary to think about how easily they could come off. Spidi's Carbo 7's make use of a dual fastening system to combat this.
Aside from that, the Nkd H2Out gloves would be a good option for unfortunate weather as the waterproof fabric works perfectly, and the gloves tend to run hot. I would say they're best suited for spring or fall riding.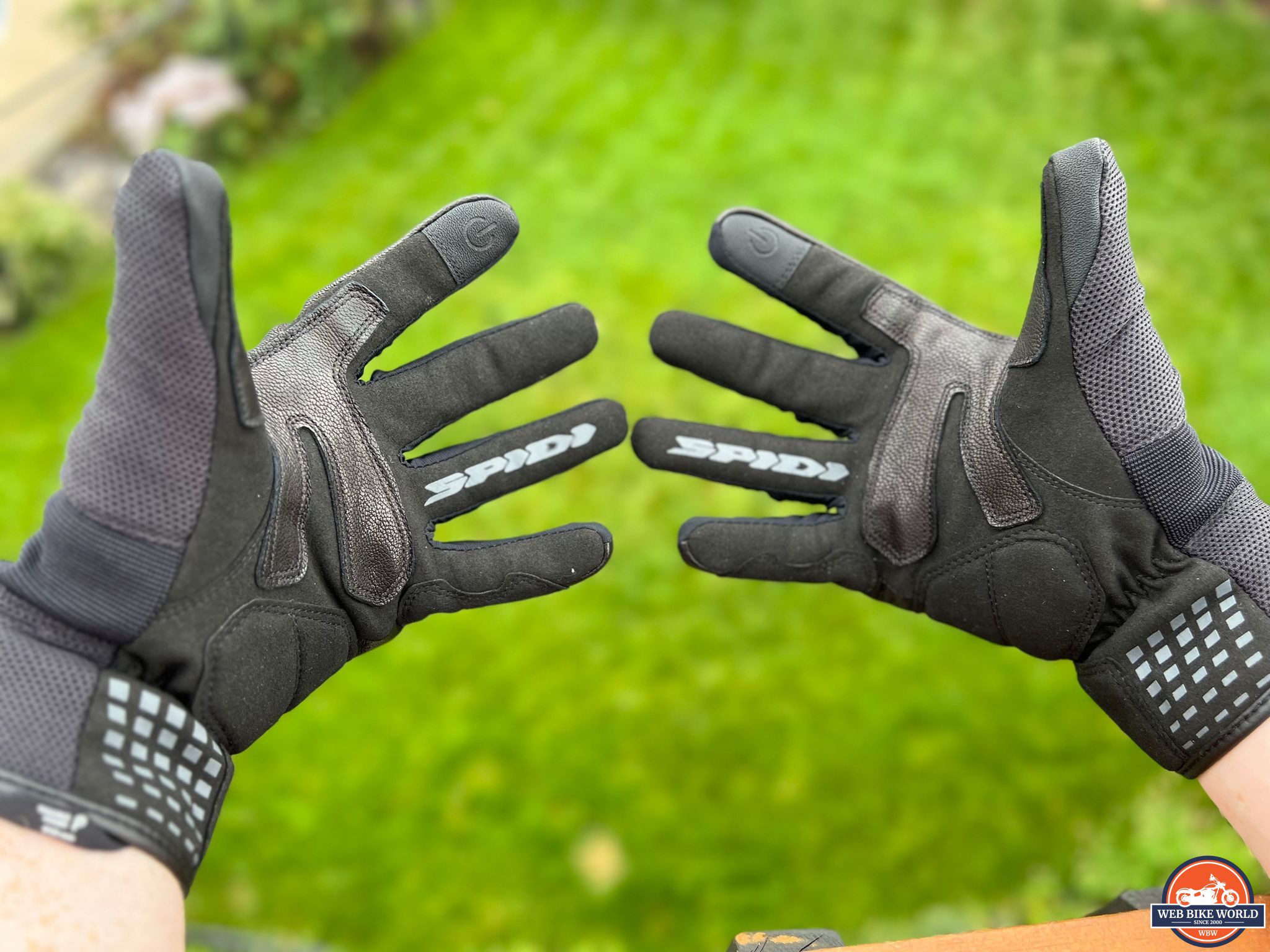 Pros
The entire glove is waterproof
Palm, wrist, back of hand, and finger padding feels protective
Touch screen fingertip works well
Comfortable to wear with a snug fit
Cons
Microfibre fingers don't provide grip
The knuckle protector is misaligned and covers the back of the hand instead
Gloves can be pulled off with minimal force
No protection on finger joints