Review Summary
Track-day gauntlet gloves with a good dose of street smarts. Excellent armoring and protection throughout. Design is heavily borrowed from actual racing gloves, so ventilation is the only really weak point at lower speeds, as you need to approach slow track speeds for it to fully kick in. Simply one of the best sets of gloves I have had the pleasure of reviewing.
Materials & Build Quality
Pros
Full race construction with reinforced fingers and double reinforced little finger
Fully sports/race armored with carbon fiber and TPU
Extremely strong wrist strap and cuff closures
Leather is full grain cowhide backing with goatskin for any area that faces controls
Palm is double protected with slider and impact foam
Cons
No significant ventilation until approaching track speeds
Dexterity is limited to items needed for motorcycle control and nothing else (not really a con, more of a design choice by Rev'It)
REV'IT Quantum 2 Photo Gallery
As I ride a sport tourer, a 2012 Kawasaki Ninja 650, I have often focused more on the tourer part of the equation. This is probably through the combination that I'm still relatively new to the riding world as a whole, and that I am still gaining confidence slowly but surely about the capabilities a bike such as mine has. It was about time, then, that I started to explore a bit more into what the sport side of a sport tourer could do.
Of course, I am not saying I was going crazy and breaking the laws of the road, because that is simply silly. What I am saying is that I've learned to trust the lean of my bike in corners, balancing the lean and my body position with gentle throttle inputs, and accelerating smoothly out of corners without making the bike misbehave.
Part of following this sportier side of sport touring is also looking at proper sports gear, so when Rev'It contacted webBikeWorld and offered to send some pieces of gear for review, I politely asked if I could review their newest entry into the street sport listings, the Quantum 2 full gauntlet glove. A couple of weeks later, the parcel was on my doorstep, and as I have only really been reviewing short motorcycle gloves, I was excited to give my first gauntlet glove a proper test!
About Rev'It!
Rev'It was founded in 1995 by motorcycle enthusiast Ivan Vos. His inspiration came from his job as a shipping and inventory director for a motorcycle gear company, and he noticed that only two types of gear were being produced, namely the cheap-and-nasty, and the great-but-expensive types of gear. He imagined a world in between the two, with fair pricing for top quality gear that was available to every rider.
After 7 successful years in the Netherlands and the EU, Rev'It crossed the pond in 2002, and the rest, as they say, is history. Now one of the world's most respected gear brands, Rev'It is at the forefront of motorcycle gear innovation, and has partnered with manufacturers such as Ducati and Yamaha to provide both riding gear for the street, and sponsoring professional racers with gear.
Rev'It is also dedicated to sustainable gear production. Their HQ and factory in Holland is powered almost entirely by electricity sourced from the famous Dutch off-shore wind farms, and any and all leather used in the products comes from farms dedicated to sustainable sourcing and ethical treatment of animals. All synthetics that are used in their gear is either produced in house with minimal or neutral chemical use, or sourced from companies that share their sustainable and environmentally responsible ethics.
About webBikeWorld's Review Policy
This product was provided for review by Rev'It. Note that we do not allow brands to influence review scores or content. Please see our review policies for more information.
We here at webBikeWorld believe that you can't just try something out once and give an honest opinion of it. Any product we test is actually used by our testers, and for the end of July and parts of August, these were my alternative riding gloves.
Rev'It Quantum 2 Features
The Rev'It Quantum 2 gloves are positioned in the market for the track day enthusiast that also likes to have fun on the street. Newly released at the tail end of 2020, these gloves are, in a way, the "little brother" to the full-fat, race-spec, MotoGP homologation Jerez 3 Racing Gloves. I say little brother, because many of the advances in research, design, and development that made the Jerez 3 one of the best full-on racing gloves in 2019 and 2020 has been trickled down to the Quantum 2.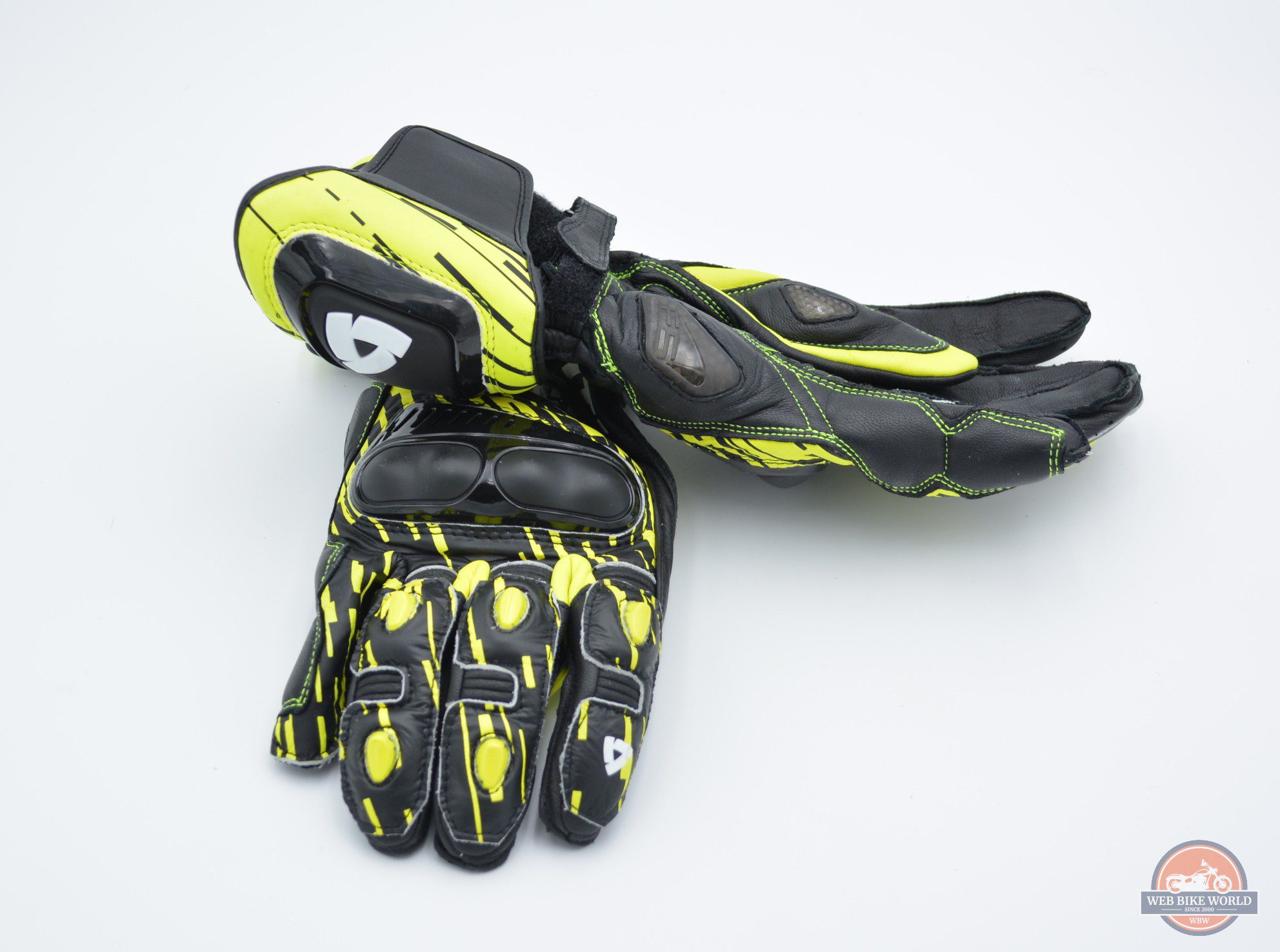 One of the biggest bits of that trickle down is that the Quantum 2 utilizes the same "three dimensional safety" approach as the Jerez 3's. What this means is that racing crashes, low sides, highsides, and the subsequent tumbles or slides were studied endlessly, with data being gathered on the most common impact and slide areas. This was then fed to the design team, and appropriate hard slides, impact padding, and double or triple leather reinforcement was added to the critical points around the entire glove.
Armor integration into the glove was also a key metric. To keep the glove as budget friendly, not as much full-on race grade armor could be used, yet keeping the protection to a maximum was something that was not going to be sacrificed. As I will discuss later on in the Protection heading, how Rev'It solved this, frankly, a stroke of genius.
The Quantum 2 also features multiple materials in its construction. The backhand upper is made from full-grain thick cowhide, with the palm and finger lowers being made of powersports-grade goatskin. The cuff closure and gauntlet wraparound are made from a combination of synthetic PU leather and 3D air mesh to let air in and out of the cuff area, preventing it from overheating when tight around a jacket or race suit.
Speaking of the cuff, the Quantum 2 gloves feature a redundant double closure. The wrist is first secured by a velcro strip mounted solidly just below the base of the palm, and holds the glove in place. This is backed up by the gigantic cuff closure, which has enough velcro on it that if you jumped onto a wall made of velcro hooks, you could realistically hang from one or two hands with just the contact patch from the cuff.
The Quantum 2 is also significantly pre-bent in its construction, and as I will discuss in just a moment, this is a very, very good thing.
Rev'It Quantum 2 Fit & Comfort
Put simply, I think that having all the street-only oriented gloves of late that I do have has spoiled me a little. Most of them, when made out of leather, require anywhere from an hour to maybe three or four hours to properly break in and get comfortably pliable. Not so with the Quantum 2's.
It is a good thing that as part of the construction and comfort features of the gloves, the fingers and thumb are significantly pre-bent. The day I received these gloves, I put them on, secured the closures, and then went to make a fist. I could do it, but it felt like I was squeezing one of those hand exerciser springs. My initial reaction was both "wow, that's some thick leather," and "I am going to need more time to break these in," so I set them aside to spend some weekend time to do just that.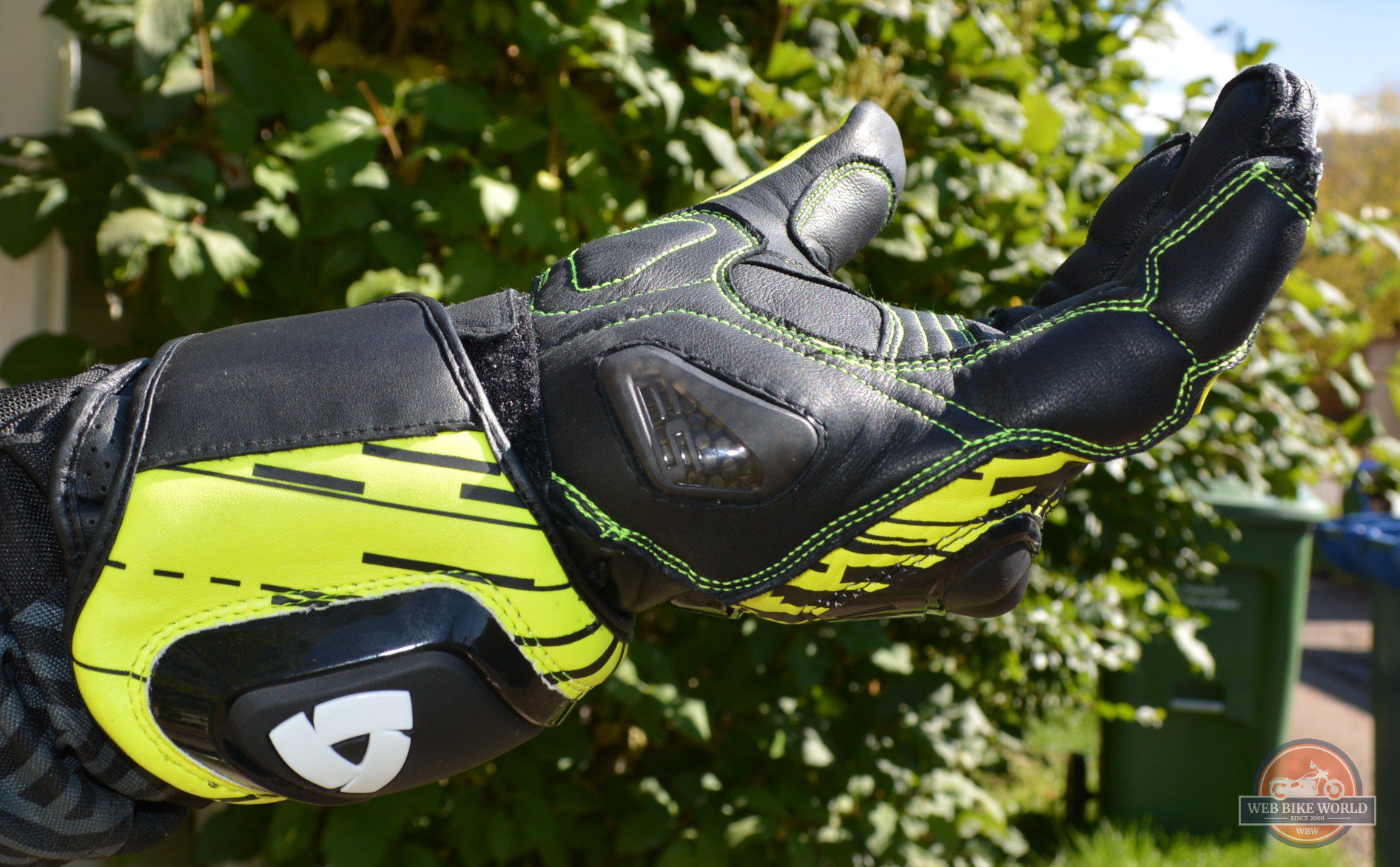 The initial fit and the current fit are both very comfortable, don't get me wrong. Unlike most of the gloves I own, when you put the Quantum 2's on, it feels like you're actually putting significant and stiff armor on. The Saturday morning I dedicated to breaking in the gloves turned out to be more of a whole-day-Saturday exercise in making fists, spreading my fingers out, and generally having sore hands at the end of the day.
Even now, the leather of the upper, the thicker cow hide, is still not fully malleable, but this is part of the design. These are not gloves meant to happily tap the "You've Arrived!" message on your phone GPS when you pull up outside your friend's place. These are gloves meant to meet the pavement or tarmac at over 200 KPH and keep your skin on your body.
In all honesty, that was the most difficult part of the mental adjustment I needed to make to fully understand that the gloves are, indeed, comfortable and fit extremely well. That is why I started out this section saying that other gloves may have spoiled me. There is a difference between having a fully malleable but good street glove offers protection and comfort, and having proper track gloves that offer protection and comfort by sacrificing a little dexterity.
Rev'It Quantum 2 Dexterity
This section will be quite different than most of my other glove reviews, because the Quantum 2's are not, in any way, shape, or form, designed to be smartphone or fine-touch compatible. These are gloves designed to protect from all angles, and do so with thick leather, multiple heavily armored points, and full wrist shielding that also keeps your wrist bones aligned.
That said, the control offered by these gloves, especially the way that they give you a precise touch on the handlebars, has actually completely changed how I grip the controls in my normal gloves. I used to use a technique I learned through martial arts, namely that the little finger is the most precise finger you have, and I used to hold the throttle and clutch grips primarily through my little finger.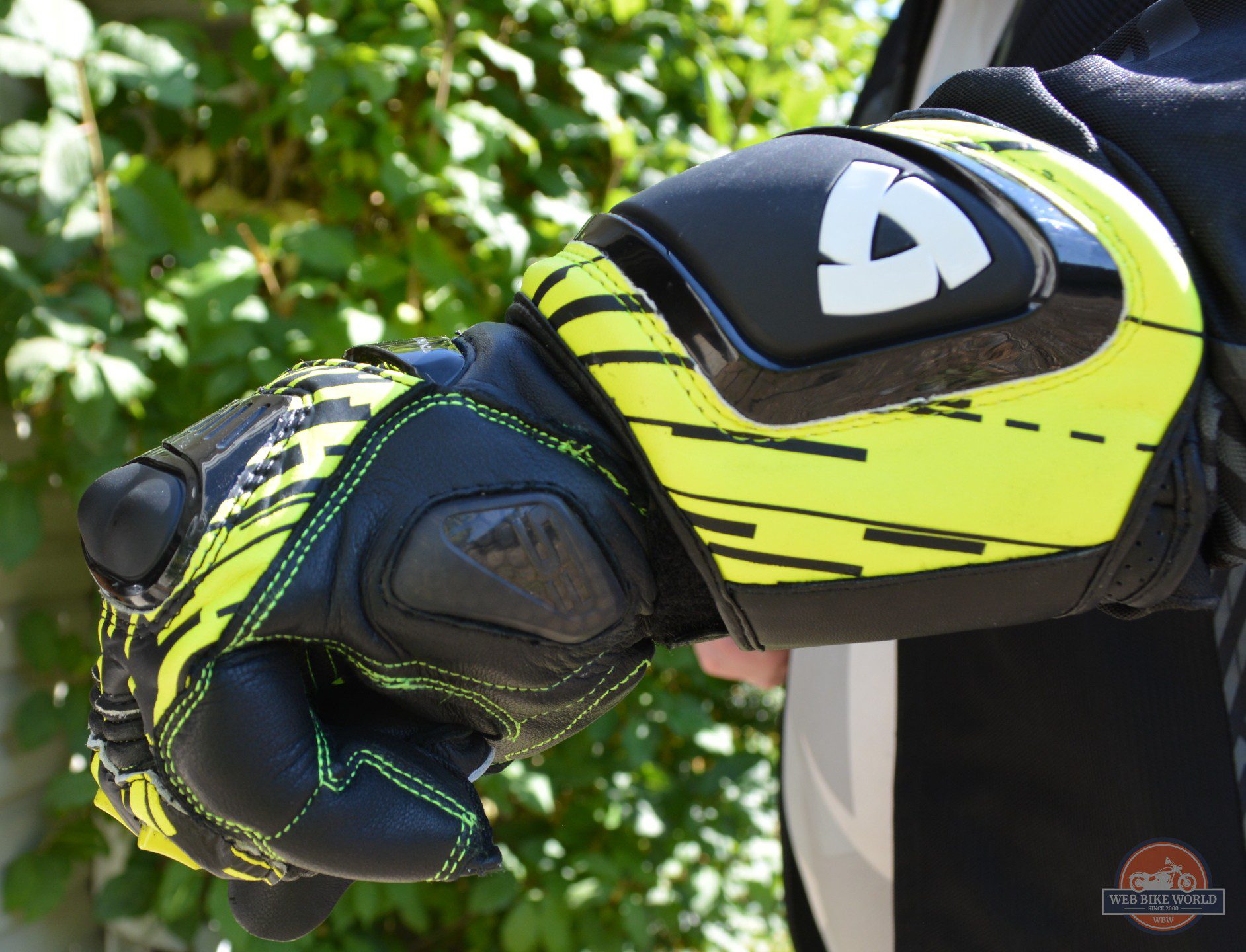 I never quite fully understood the meaning of the "finger feel" style of riding that a lot of professional racers use, where their hands are just barely on the throttle and clutch grips, and yet they have an absolutely razor sharp throttle feel. After wearing the Quantum 2's for a month, I now fully understand.
The way the glove is stiffened around the thumb, index, and middle fingers, especially on the cowhide uppers, makes the throttle grip sit naturally between those three contact points. Instead of using the wrist with some finger motion to move the throttle, these gloves make moving those three fingers into almost telepathic commands to the engine. The other two fingers, the ring and little fingers, naturally curve around the grips as well, and offer enough contact for excellent feel of the way the front is behaving, and make countersteering, again, almost telepathic.
Thumb controls for lights, horn, kill switch, and ignition come precisely to touch, and there is minimal resistance to reach for them. Try and bend the thumb back a little, however, and the leather and thumb armor stops you. So, it is best to say that the Quantum 2's are precisely dextrous within their intended usage, but you won't be picking a screw up off the floor with these on because that is not their intended use.
Rev'It Quantum 2 Protection
Armor. More armor. Oh, look, more armor! Surprise, more armor!
That, in a nutshell, is what the Quantum 2's are all about. Yet, when compared to their big brother, the Jerez 3 racing gloves, the armor looks 95% the same, yet the Quantum 2's are half the price. How Rev'It managed this is one of the reasons that these gloves seriously impressed me from a design and engineering standpoint.
The first major difference between the gloves comes at the wrist articulation. The Quantum 2 gloves flatten out the angle that the wrist closure joins to the thumb-side main chassis, while the Jerez 3 gloves angle that closure almost to the middle of the back of the hand. The second, and far more impactful engineering change, was breaking the knuckle TPU armor into two separate pieces, instead of one large molded piece.
If you will allow me to use an analogy here, this is something that computer chip manufacturers will sometimes do to keep costs down. Instead of putting everything into one highly complex, very expensive chip, they will break off certain functions of that chip and use what is known as a hyperbridge or interconnect to tie the two separate chips together. Because the individual complexity of each chip is lower, the price to manufacture is lower, and thus, those savings are passed on to the customer.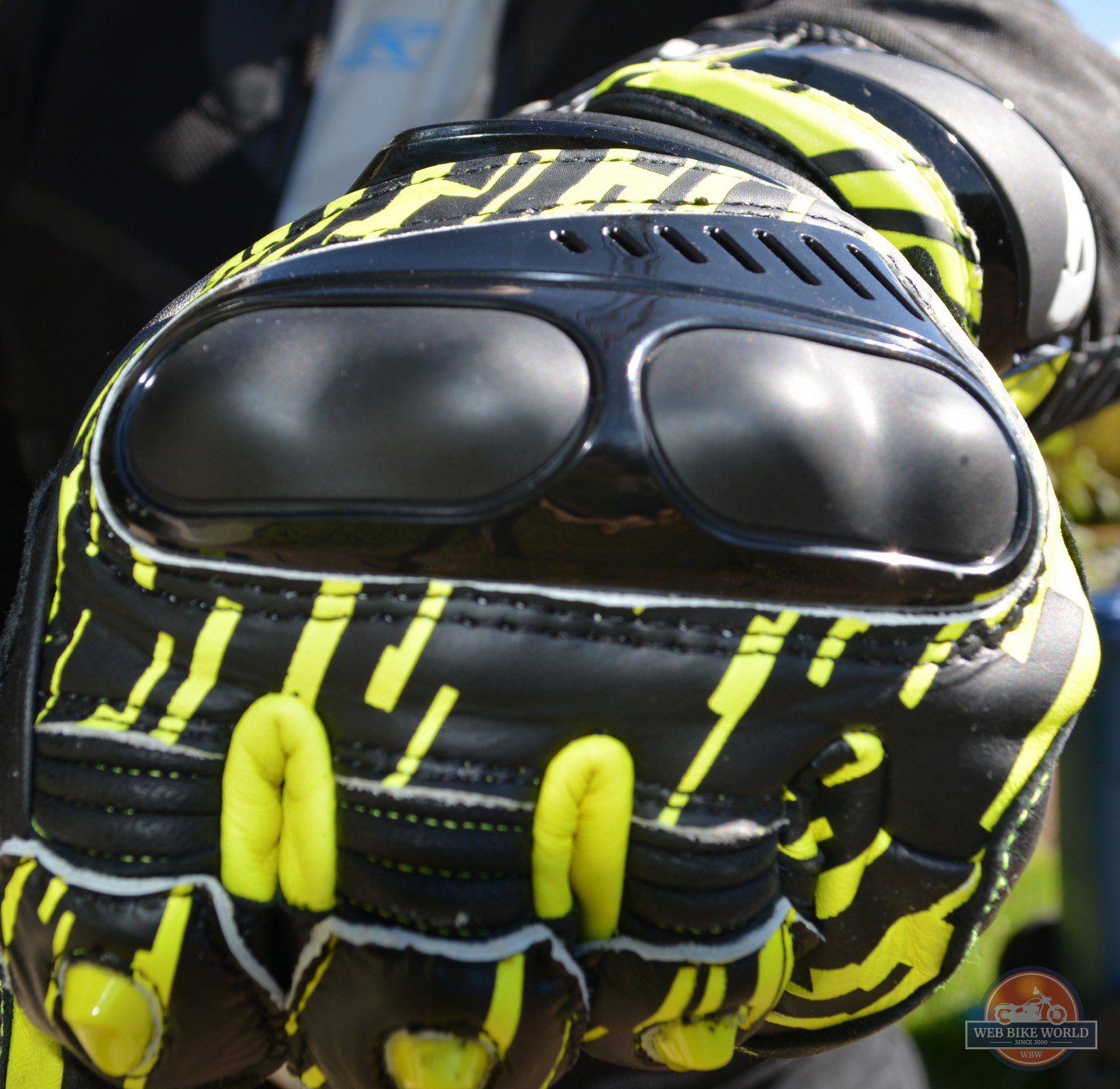 The same applies with the knuckle protectors on the Quantum 2. Instead of forming one big, four knuckle TPU piece with a dedicated surround and ventilation, they simply made two smaller pieces of knuckle armor and bridged them with a slightly modified version of the surround from the Jerez 3. It still has the ventilation, it still protects all four knuckles, but because it is less expensive to make, the savings are passed on to the rider. It's still the same quality of armor, just made in a less expensive way.
Another major difference in the protection between the two comes in the form of the leather, and is probably where the bulk of the savings come from. The Jerez 3, the pure racing glove, uses the absolute highest quality leather available, namely kangaroo leather and synthetics reinforced Pittards goat leather, which have ceramic microfibers supporting the leather. The Quantum 2, on the other hand, uses powersports-grade goatskin and powersports-grade cowhide.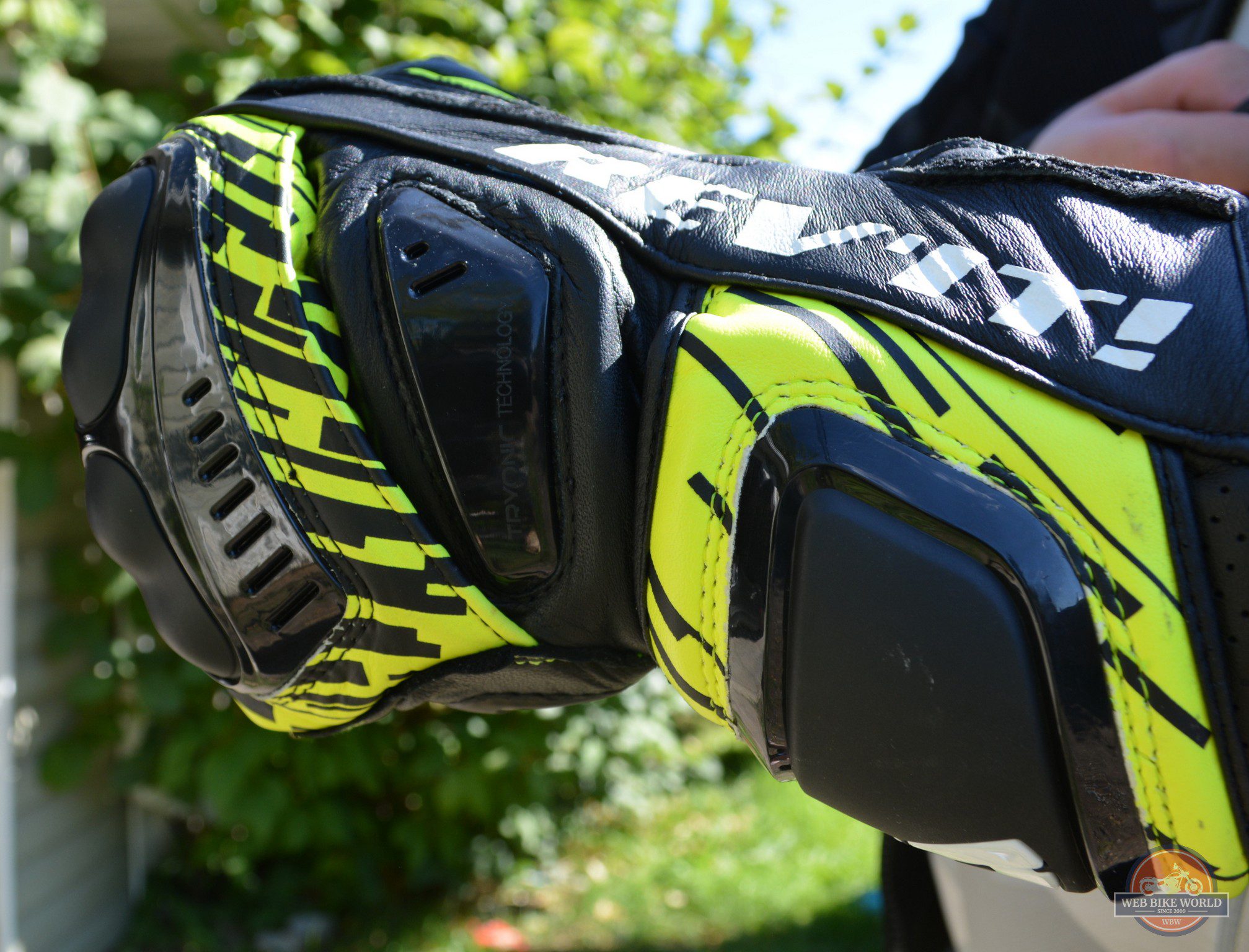 Both gloves do share on the placement of their armor, however. Both have clear TPU-over-carbon fiber palm sliders that also wrap to the outer edge of the hand, with the same type of slide on the back of the thumb. Both have hard TPU armor on the outer edge of the little finger, but the Quantum 2's is thinner and placed under the double leather reinforcement. Both gloves have per-knuckle hard TPU sliders except on the last half of the index finger, and both have double and triple stitched palm leather, although the Jerez 3 uses the Pittards ceramic reinforced goatskin there versus regular powersports goatskin on the Quantum 2.
The only significant armor difference is that the Quantum 2 uses impact foam for the palm heel area, while the Jerez 3 uses another piece of clear-TPU-over-carbon-fiber there. Still, that impact foam is of Rev'It's SeeSoft non-Newtonian style, so it will harden to metal-like stiffness if hit hard. Both gloves have a large, formed TPU wrist armor piece, with the only differences between the two being that the Jerez 3 has a double velcro closure, while the Quantum 2 is only a single velcro closure around the wrist.
Rev'It Quantum 2 Build Quality
The Quantum 2 gloves are, in a word, amazing in terms of build quality. My reference for exceptional build quality are the KLIM Dakar Pro gloves, which received a nearly perfect score from me. Gauntleted hand on heart, these Quantum 2 gloves are of that standard.
No loose threads, no pieces of armor wobbling about in their settings. All stitches, be they single, double, or even triple stitches, are perfectly spaced and very strongly anchored. The leather is joined beautifully when it interfaces with another type of leather or synthetic material. Every piece, panel, and a platform is perfectly sized and solidly mounted.
I have absolutely no complaints or issues whatsoever with the build quality of the Quantum 2 gloves. They are designed and engineered for a singular purpose, that of street and track protection, and that shows with the rugged and precise way the gloves are assembled.
Rev'It Quantum 2 In The Real World
These gloves were my alternative gloves for the end of July and most of August, 2021, as I was also testing a pair of Scorpion EXO-Talon gloves in the same time period. This often meant that I would take the Talons for shorter rides, and the Quantum 2's for longer rides or short rides through aggressive sections of road, of which there are a few in my corner of Calgary.
The first thing I noticed when riding with the Quantum 2's, apart from finally understanding how professional racing riders have such amazing throttle control, is that wearing gauntlets definitely forces you to relax your arms. What we are all taught in our riding safety courses is that tense arms and shoulders often lead to less control over the bike, and one way that some of us unconsciously tense is by going to a slightly high-wrist position.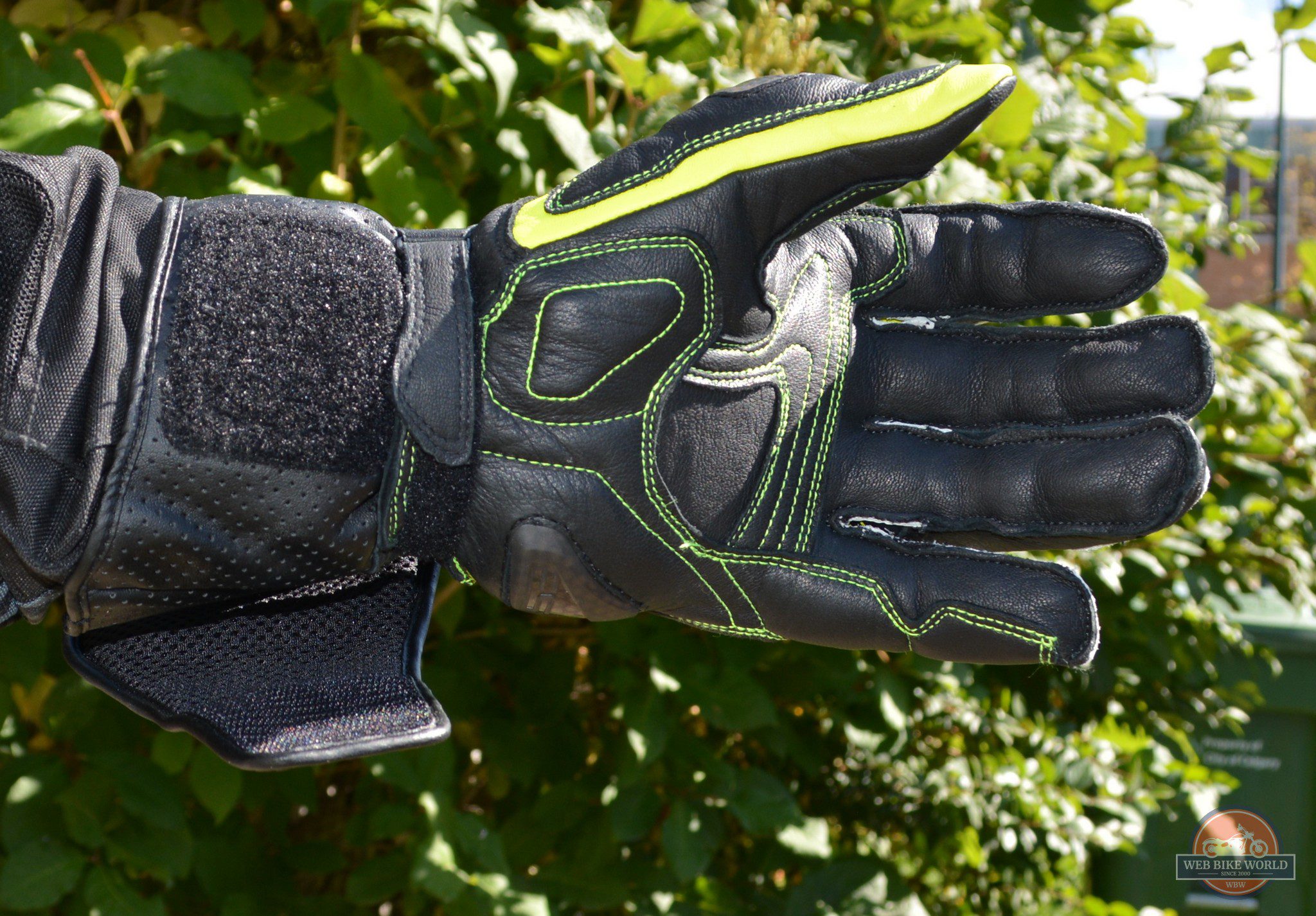 With the Quantum 2's, you can't do that. If you even tense a bicep with these gloves on, you feel it in your wrist. In a way, these gloves helped me realize that I do unconsciously tense my clutch arm, because it rarely does anything other than signals and clutching, while the right is constantly doing micro-adjustments to throttle and is therefore "always active."
The second thing I noticed when wearing the Quantum 2's out for the longer rides is, in a bit of an ironic twist, just how supportive they are. I have found that with "normal" gloves, on long rides I do start to get that forearm and wrist soreness that crampbuster levers were designed to alleviate. With the gauntlets? I can ride for 7 hours straight, and I did actually do that doing the famous Highwood Pass in Alberta, only stopping for hydration and fuel fill-ups, and my arms and wrists are as fresh as when I set off.
The only area that I found the Quantum 2's to be lacking or have issues in real world testing is in hot weather. Due to the armoring and protection offered by the gloves, the ventilation system, namely the exhausts behind the knuckle TPU and the large TPU protector on the back of the hand having vents, doesn't really do much when you're under 30 MPH. Even at 50 MPH, it doesn't do much, although you can just feel the flow of air over the skin of your fingers.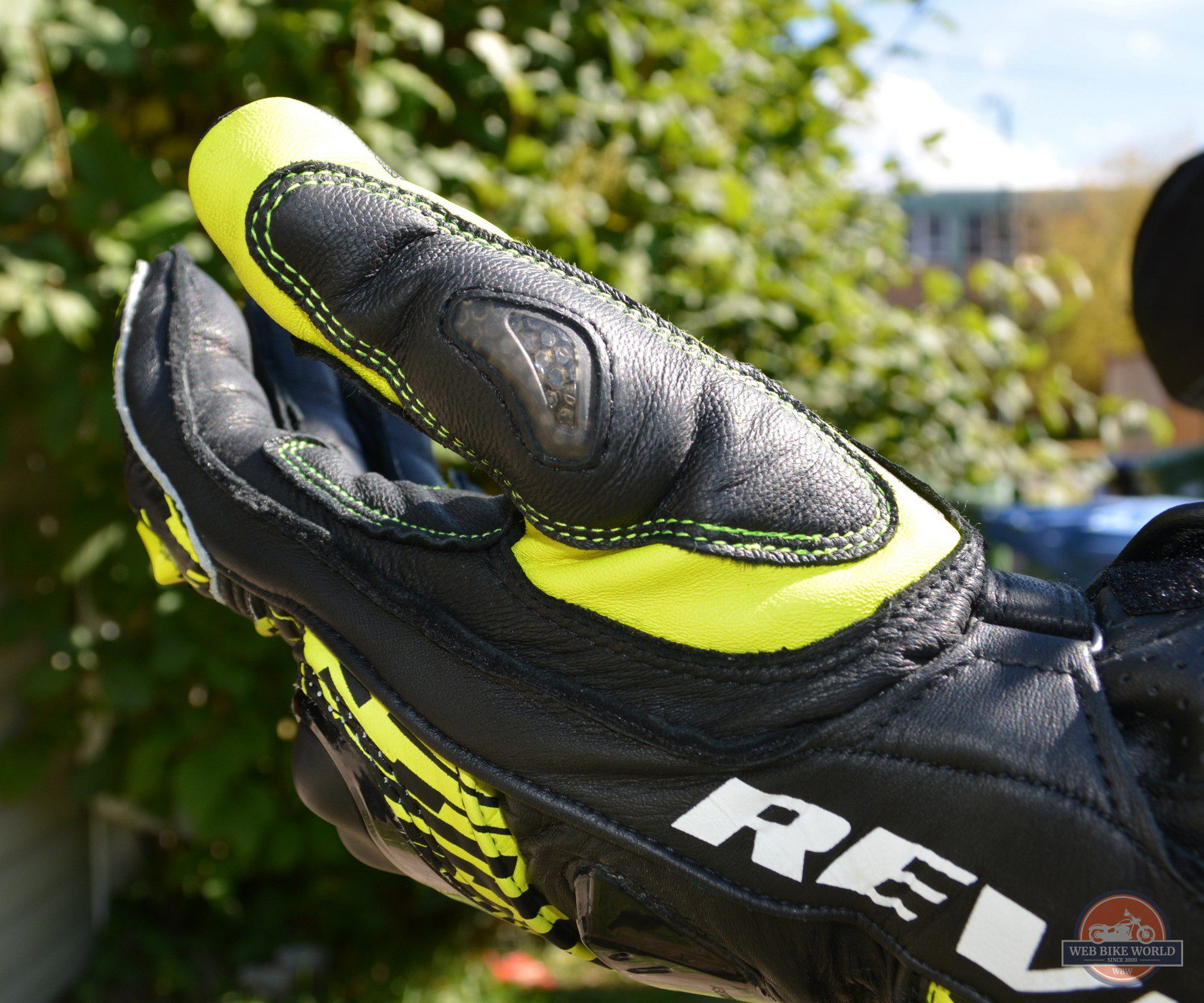 I think this comes down to the gloves being track-day gloves with a street sport lean. The Jerez 3 has the same ventilation style, but as race gloves, they are expecting air to be passing over them upwards of 100 MPH. I didn't get going nearly that fast, but on a short stretch of the highway out to the Highwood Pass, I was cruising along at 70 MPH (the speed limit) and I was finally feeling the vents start to pull significant moisture and heat from my hands.
On colder days, however, the Quantum 2's are lovely. When they've warmed up enough from the heat of your hands, they can be held out in 50 to 65 F wind and you won't feel anything being wicked away. Your hands stay lovely and warm, and I suspect that you wouldn't even need a grip warmer until the temperatures were down to the high 40s. At that point, I would personally park my bike because my tires are not designed for near-freezing weather riding, but someone with some stickier rubber or potentially even a dual-sport or ADV rider with appropriately grippy tires would love these gloves if they ever misplaced their touring gloves.
All in all, I found that the Rev'It Quantum 2's both taught me something about a new way to approach throttle control and grip, as well as let me know that even though I feel relaxed, I sometimes will tense my left arm a little because it's been sitting there doing nothing for a while. They say it's the little things that make the biggest impact, and while there are a lot of little things with the Quantum 2's that are truly excellent, it's the little things about myself that they taught me that was the most surprising real world impact they had.
Final Thoughts: Track Gloves With Street Smarts
If you're in the market for a track day glove that is as at home on the street as it is on the circuit, then you really need not look further than the Rev'It Quantum 2. As part of a street sport collection launched by Rev'It in late 2020, these gloves blend racing technology and design with materials that offer excellent protection, at half the cost of a true racing glove.
While they are more track oriented, the inclusion of some very street sport level features is just icing on the cake. A single velcro release on the wrist, albeit a gigantic patch of it, makes for a more rapid removal of the glove in case you need to do some mid-ride repairs or are stopping to enjoy the scenery and don't want to fiddle with a double closure. Powersports grade leather instead of super-high end racing leather keeps the gloves in the affordable range for almost any rider wanting top quality gear.
To top it off, I personally appreciate the razor-sharp focus on being gloves for riding. These aren't gloves to make it easier to use your smartphone on your handlebar mount at a stop. These aren't gloves meant to provide protection just at in-city speeds. These are gloves that are entirely about the feel, the control, the activity, and the enjoyment of riding a motorcycle, and everything else is secondary.
And you know what? I don't think my smile has ever been wider than that full day of riding through the Rocky Mountains, with these gloves keeping my arms and wrists supported and fresh the whole ride.
On a side note, we do have a race track opening near the city in 2022, so keep your eyes peeled for an update to this review if I can manage to get in on a track day ride!
Final Score: 4.2 out of 5
Pros
Full race construction with reinforced fingers and double reinforced little finger
Fully sports/race armored with carbon fiber and TPU
Extremely strong wrist strap and cuff closures
Leather is full grain cowhide backing with goatskin for any area that faces controls
Palm is double protected with slider and impact foam
Cons
No significant ventilation until approaching track speeds
Dexterity is limited to items needed for motorcycle control and nothing else (not really a con, more of a design choice by Rev'It)
REV'IT Quantum 2 Photo Gallery