Spidi Hoodie Armor Light Women's Jacket Review Summary
Review Summary
Say goodbye to the unflattering, ill-fitting and flat out uncomfortable womens riding gear that has been around for decades. At first glance, the new Spidi Hoodie Armor Light Women's Jacket looks like a normal, stylish spring jacket. Little does the average eye know that this jacket comes equipped with CE Level 1 shoulder and elbow armor. The armor is complimented by Class A certified abrasion resistance to make your upper half feel safe and secure while riding. Whether you are up front gripping the bars, or enjoying the ride as a passenger, your upper half stays stylish while being protected at the same time.
Pros
Reflex reflective zones for night/dark riding visibility
High quality materials by a well known brand
EN 1092-4:2020 Class A certified abrasion resistance
Equipped with CE Level 1 Warrior elbow and shoulder armor
Comfortable, stylish and flattering
Mesh lining for breathability and movability
Cons
Only available in 3 different colors at the time of writing (Red, Black, Navy/Red)
Jacket color may vary from what you see online
Back armor is only compatible with velcro back pads (CE Level 1 Z53 or Z54 back protectors, sold separately)
Spidi Hoodie Armor Light Women's Jacket Image Gallery
Review Summary
If you're looking for the Coles notes version of my Spidi Hoodie Armor Light Women's Jacket review, here it is:
The Spidi Hoodie Armor Light Women's Jacket retails at $149.64 USD
The jacket fits slim around the waist, while still providing room for your bust
The jacket runs longer in the torso to keep your back fully covered while riding
Good range of sizing, fits true to size
The jacket comes equipped with knitted cuffs, mesh lining, reflex reflective zones for night riding and elasticized 2 layer fabric
Interior lining is comfortable & doesn't run hot
Comes with CE Level 1 Warrior elbow and shoulder armor
Comes with velcro pads to purchase CE Level 1 Z53 or Z54 back protectors which are sold separately
Equipped with thumb loops to keep the sleeves from sliding up in the event of an accident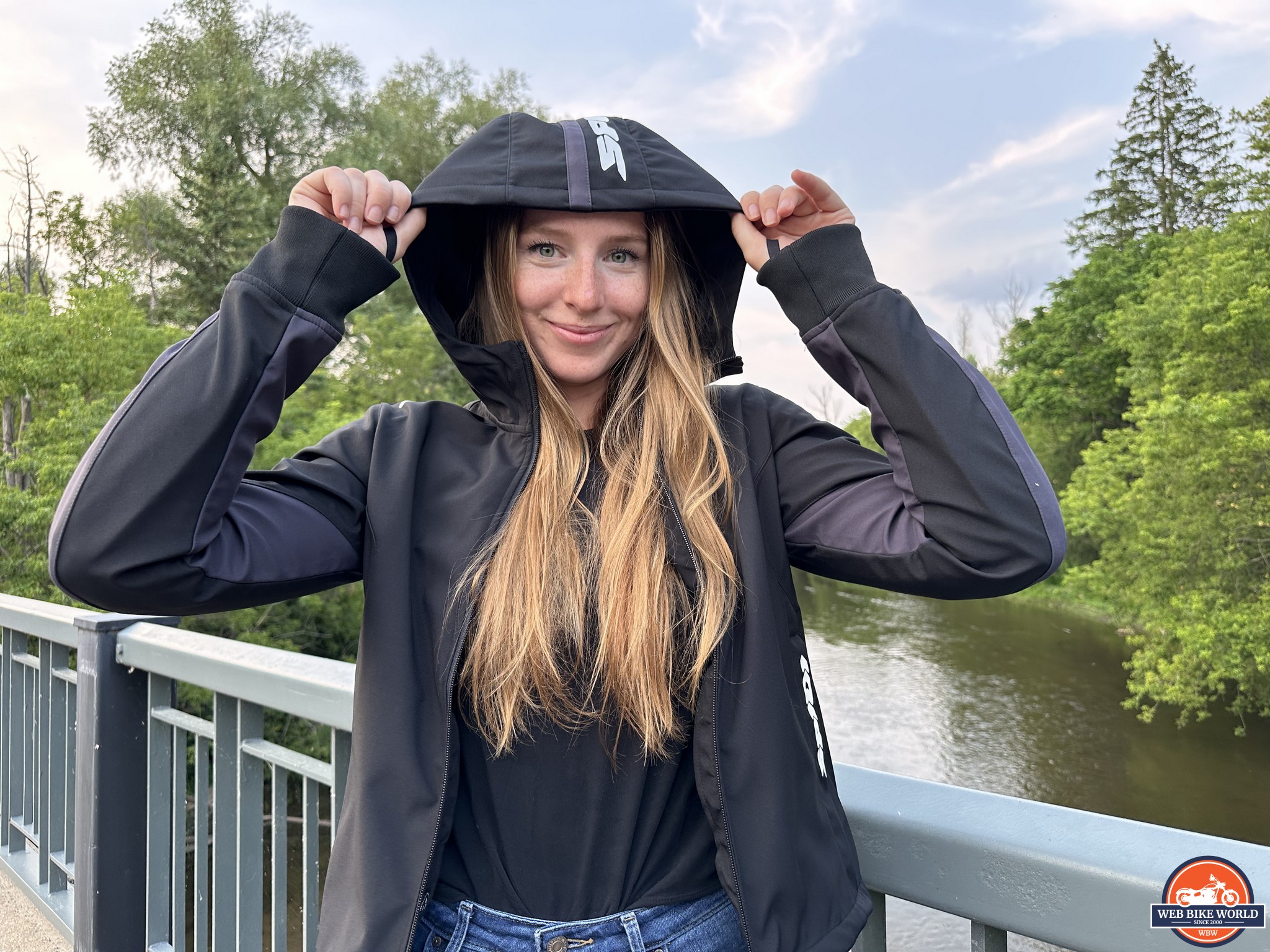 Spidi Hoodie Armor Light Women's Jacket – A Motorcycle Jacket Suitable for Any Outing
Long gone are the days where you have to question whether or not you're going to sacrifice your safety or sacrifice your personal style while riding. To be honest, riding gear was never a hot topic on my mind as a passenger on the bike. However, once I was introduced to proper riding gear I realized the importance of it and will never ride without it again!
After looking at protective gear options for female riders, I was left disappointed (thank goodness for Spidi!). The importance of being protected while riding is unmatched, but I also don't want my style to suffer. Luckily, Spidi understands that you don't have to compromise style for safety. You can look like a badass while still being fully protected.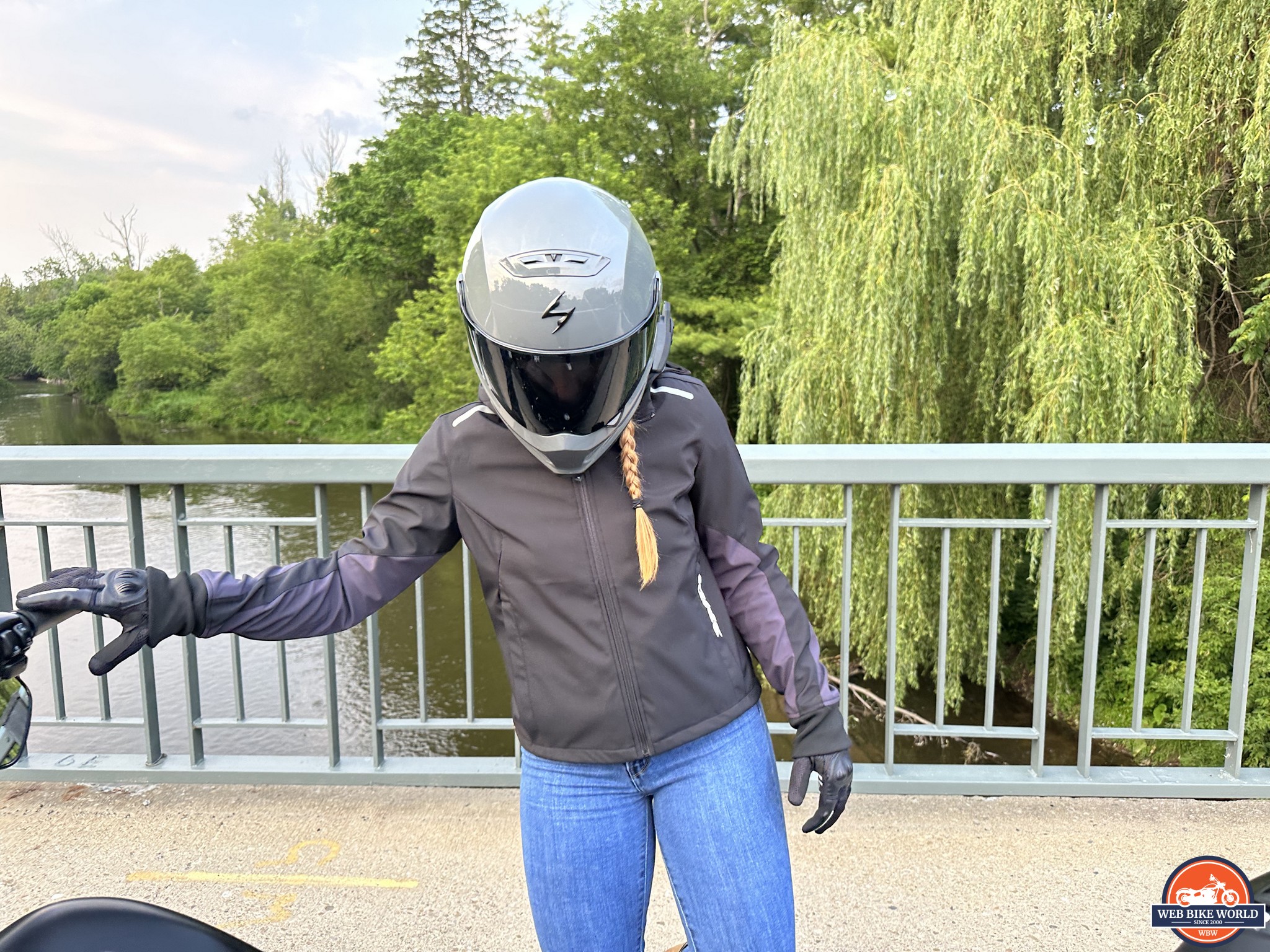 First Impressions
A first impression is exactly that… the very first thought that pops into your head as soon as you grab something! Here was my first impression of the Spidi Hoodie Armor Light Women's Jacket:
"Are you sure this is a riding jacket…?"
It definitely was and definitely is a riding jacket. I was initially blown away by how much I liked the look of the jacket. Secondly, I couldn't get over the quality that I could feel in my own two hands. A thick, yet breathable material with double lined insides for comfort and flexibility.
When I first tried the jacket on, I was unsure of the size. I was debating whether or not to get a larger size, as the size I ordered fit a little snug. After wearing it around the house for a few minutes, the stiffness went away and I decided to keep the size I ordered.
You can read more about my opinion on the sizing of the Spidi Hoodie Armor Light Women's Jacket below!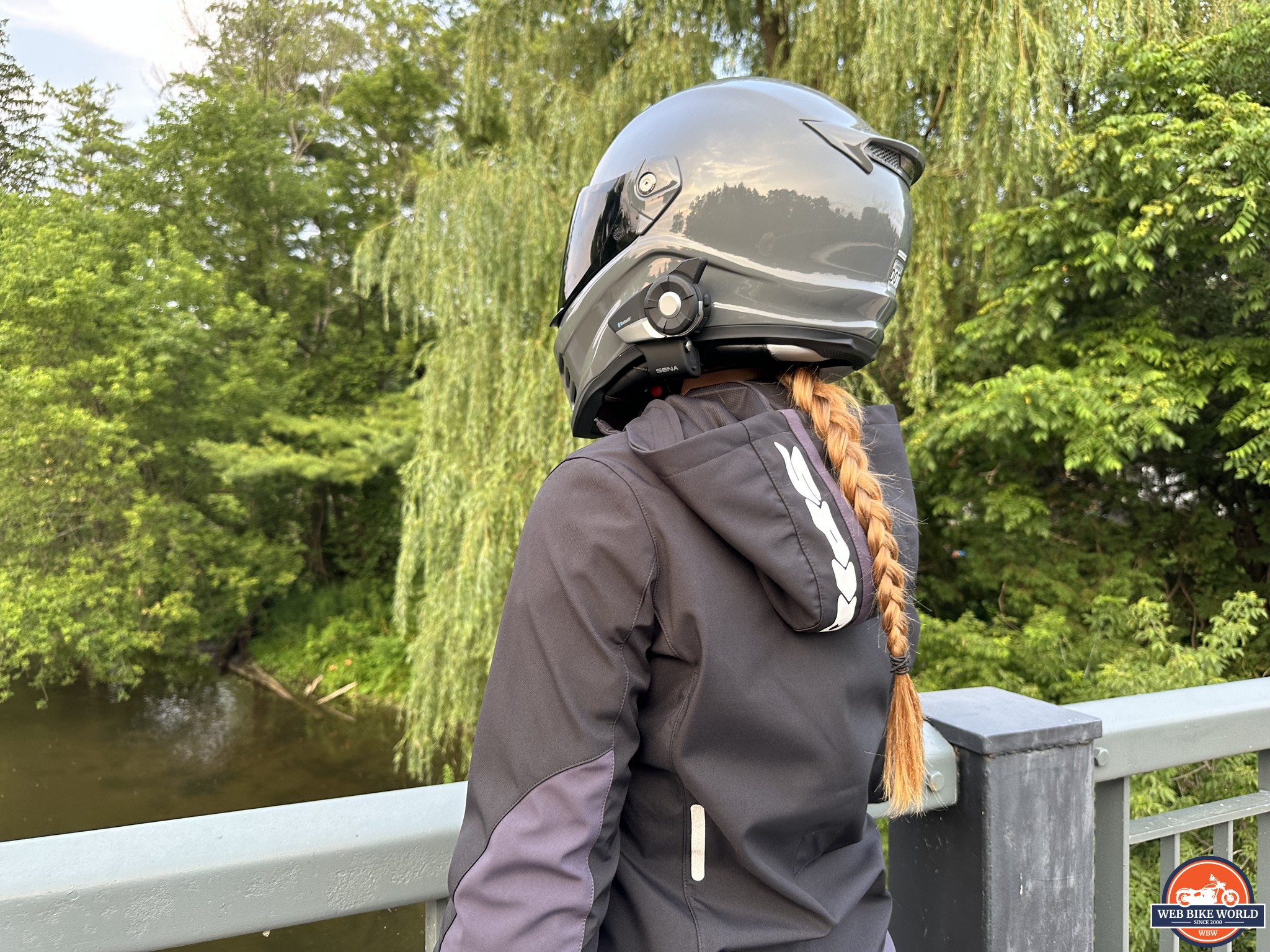 I was also surprised to find thumb straps when I put my hands through the jacket sleeves for the first time! I didn't notice them initially, so to me, they were an added bonus!
The thumb straps wrap around your bare hands or your gloves and the strap itself is quite stretchy. The straps are a great feature to ensure that your sleeves and armor stay in place in the event of an accident.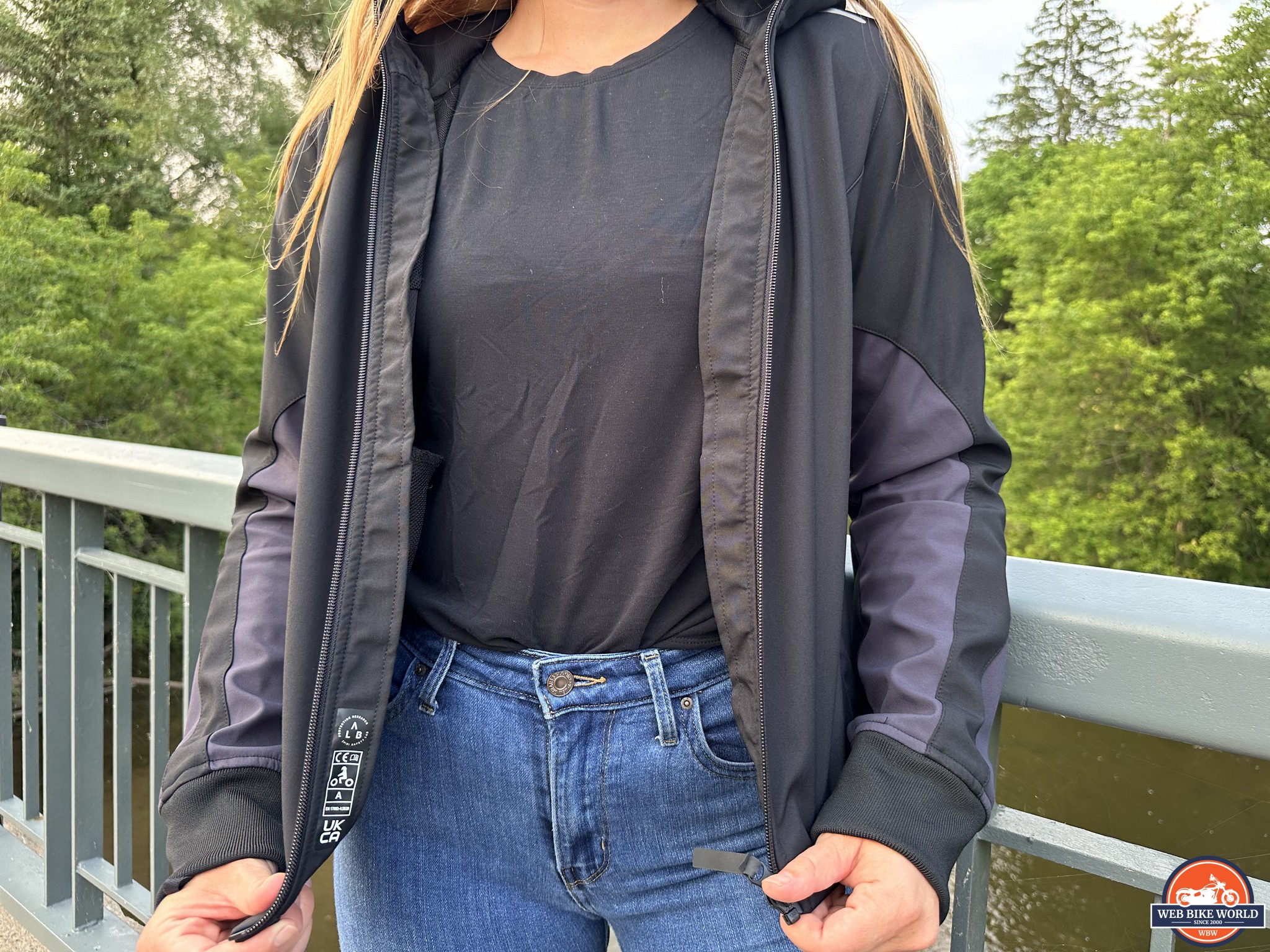 Design & Feel
Throughout my years of buying jackets, I have found that quality can be hit or miss. Spidi has a BIG HIT with this jacket. The material is thick but VERY breathable making it perfect for riding on hot days as well as cooler days.
The jacket is made with a polyester softcell elastic 2-layer fabric. This means that the fabric provides a windproof and water resistant shell with a soft, mesh inside. You can move with the jacket and not feel restricted while riding. The longer torso of the jacket also ensures your back stays covered all the way past your tailbone!
If you're looking for a jacket brave enough to combat all weather conditions, check out the REV'IT! Levante 2 H20 Jacket.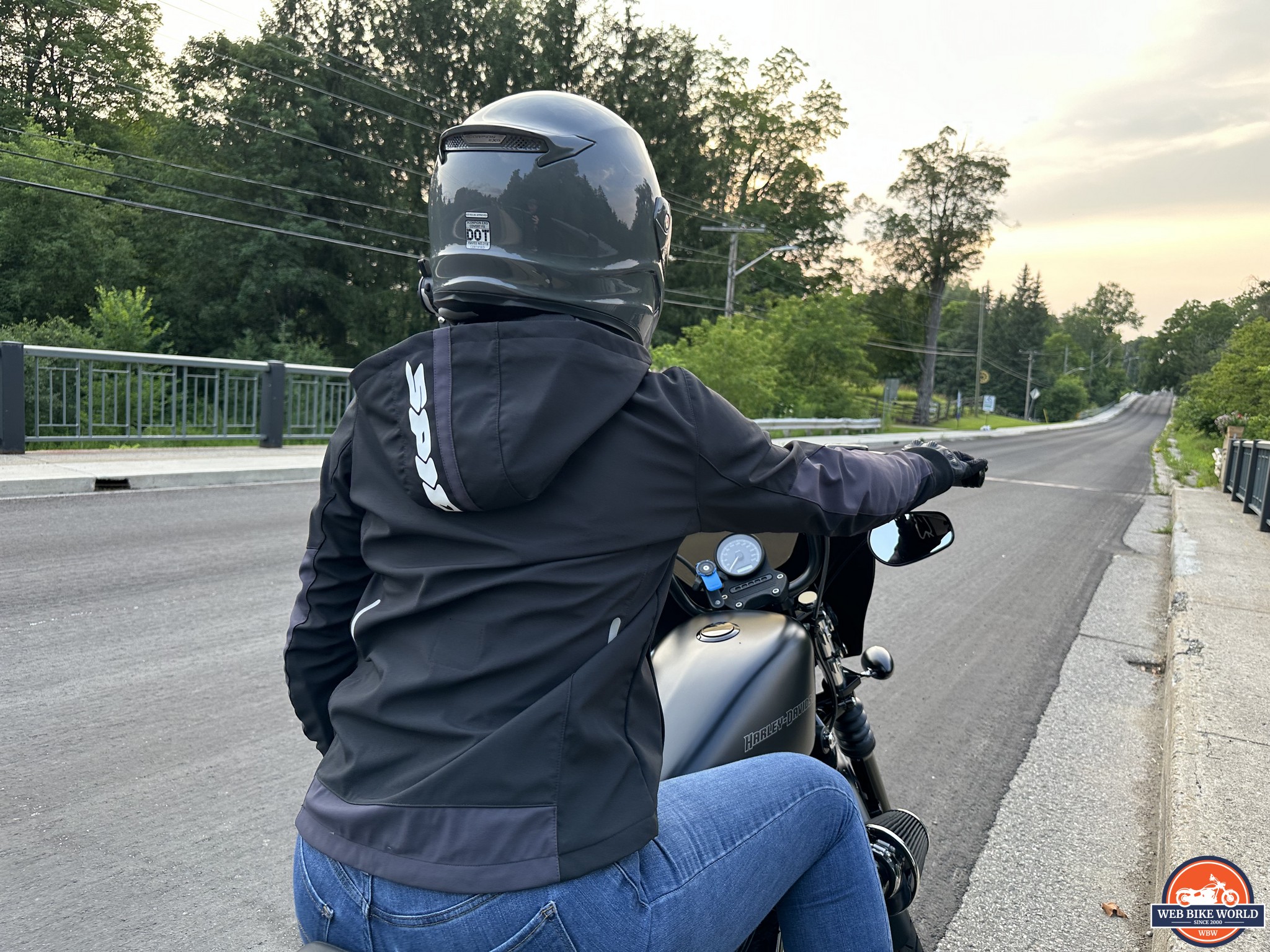 Feel
The Spidi Hoodie Armor Light Women's Jacket is designed with softcell elasticized 2 layer fabric, which provides a water resistance, windproof, and breathable jacket for riders. I can attest to all three of those features. The jacket feels breathable while riding, but doesn't allow gusts of wind through the jacket.
I can wear this jacket on hot days and not worry about overheating or getting sweaty. The material is cooling and breathable during rides, but still keeps me warm on cooler days.
If you're looking for something a bit more heavy duty, our best motorcycle jackets for women's list has got you covered!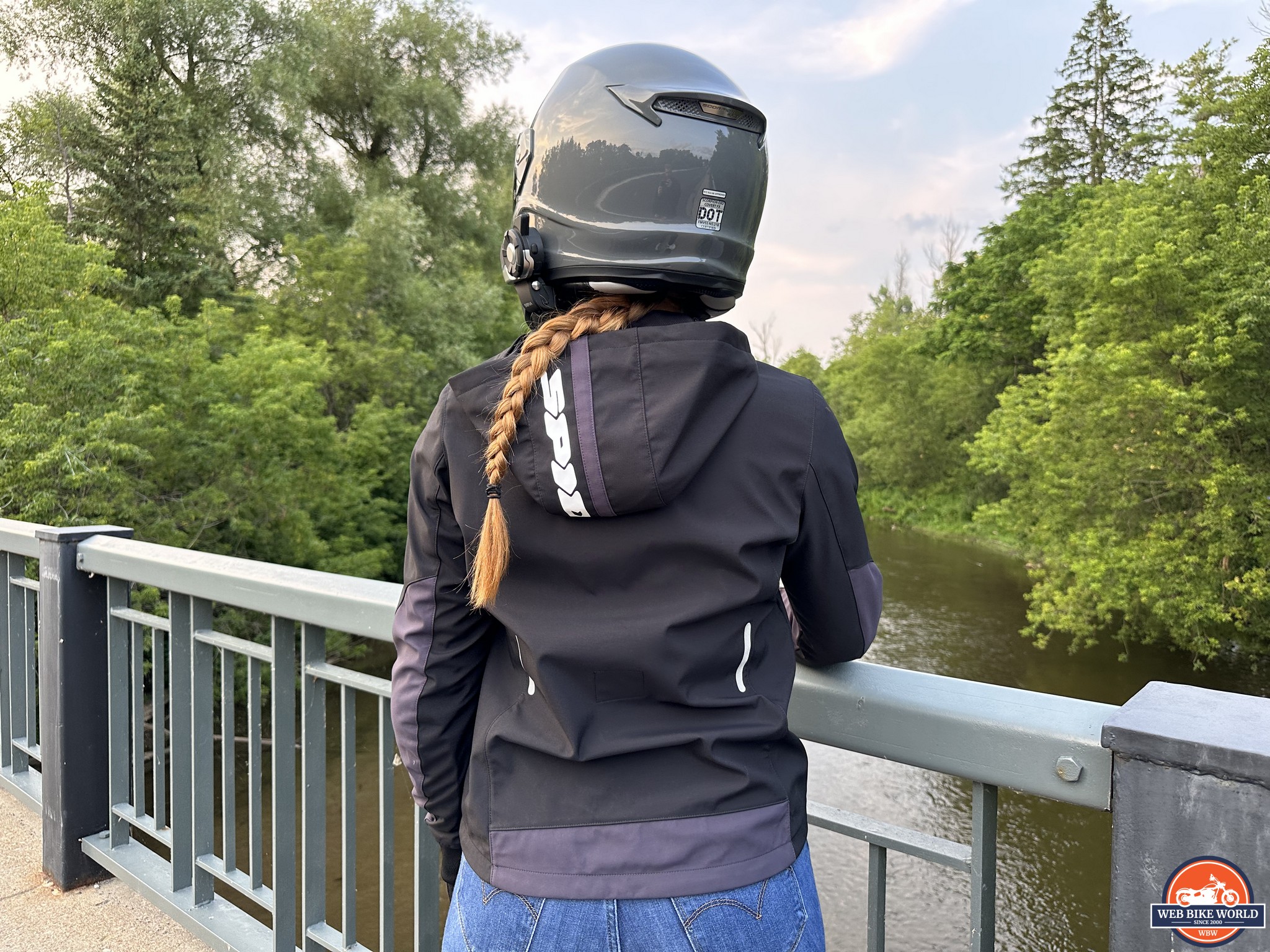 Design
The inside of the jacket is lined with a fixed mesh lining for ultimate flexibility and comfort. The Armor pads slide into pockets in the mesh lining and seal in place using velcro. The jacket itself does not come with a back pad, but you can buy the compatible back pad here.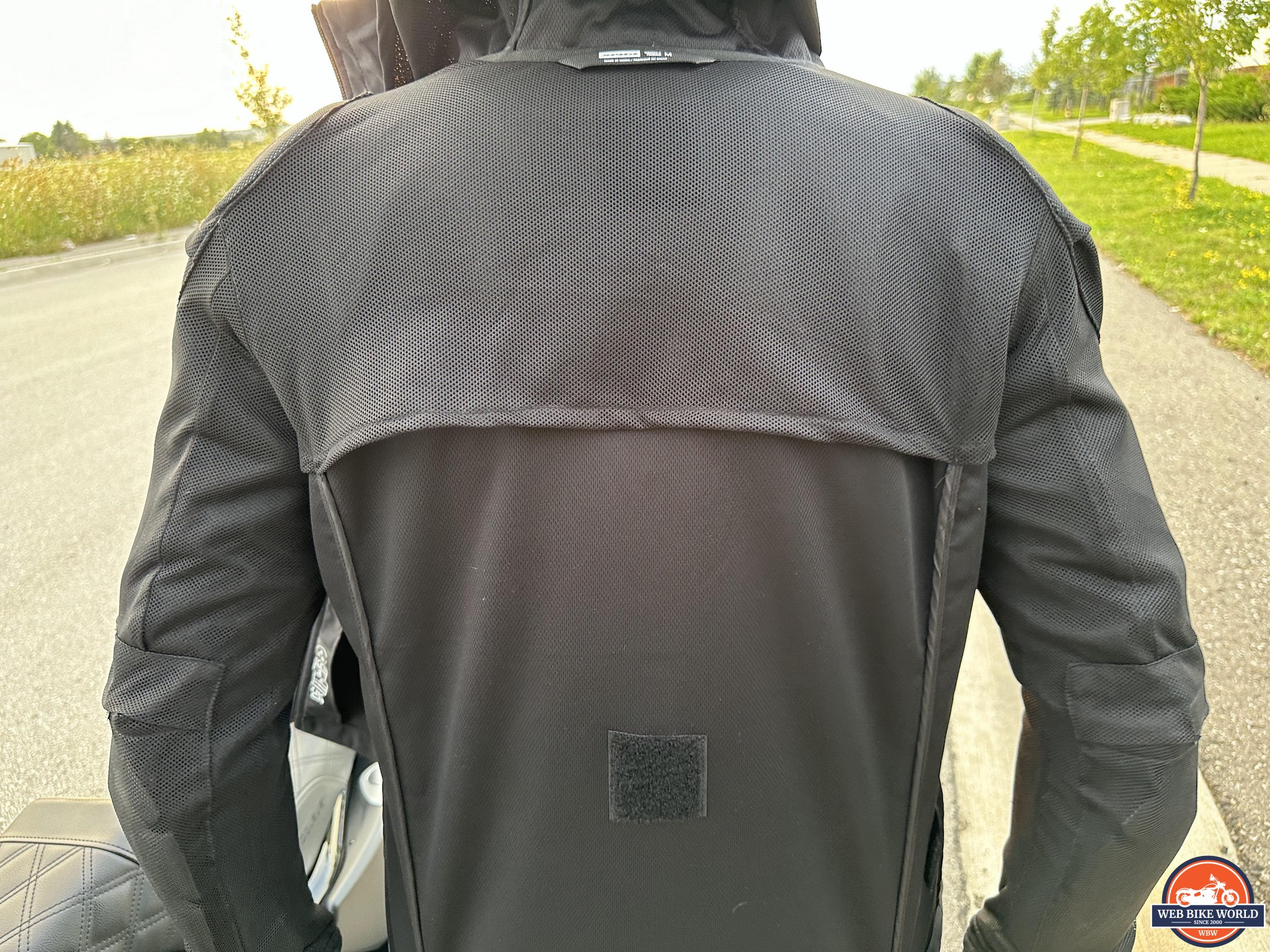 I was a little disappointed when I realized the jacket didn't have a mesh pocket for the back pad like it has for the shoulders and arms. Having previously bought a removable back pad to swap in and out of my other jackets, I was hoping I would be able to do the same with this one.
Spidi sells the back pad with the velcro attachment but it is an added expense to consider.  I could fasten velcro strips to my existing pads but then I'd be putting my safety in the hands of cheap, dollar store velcro.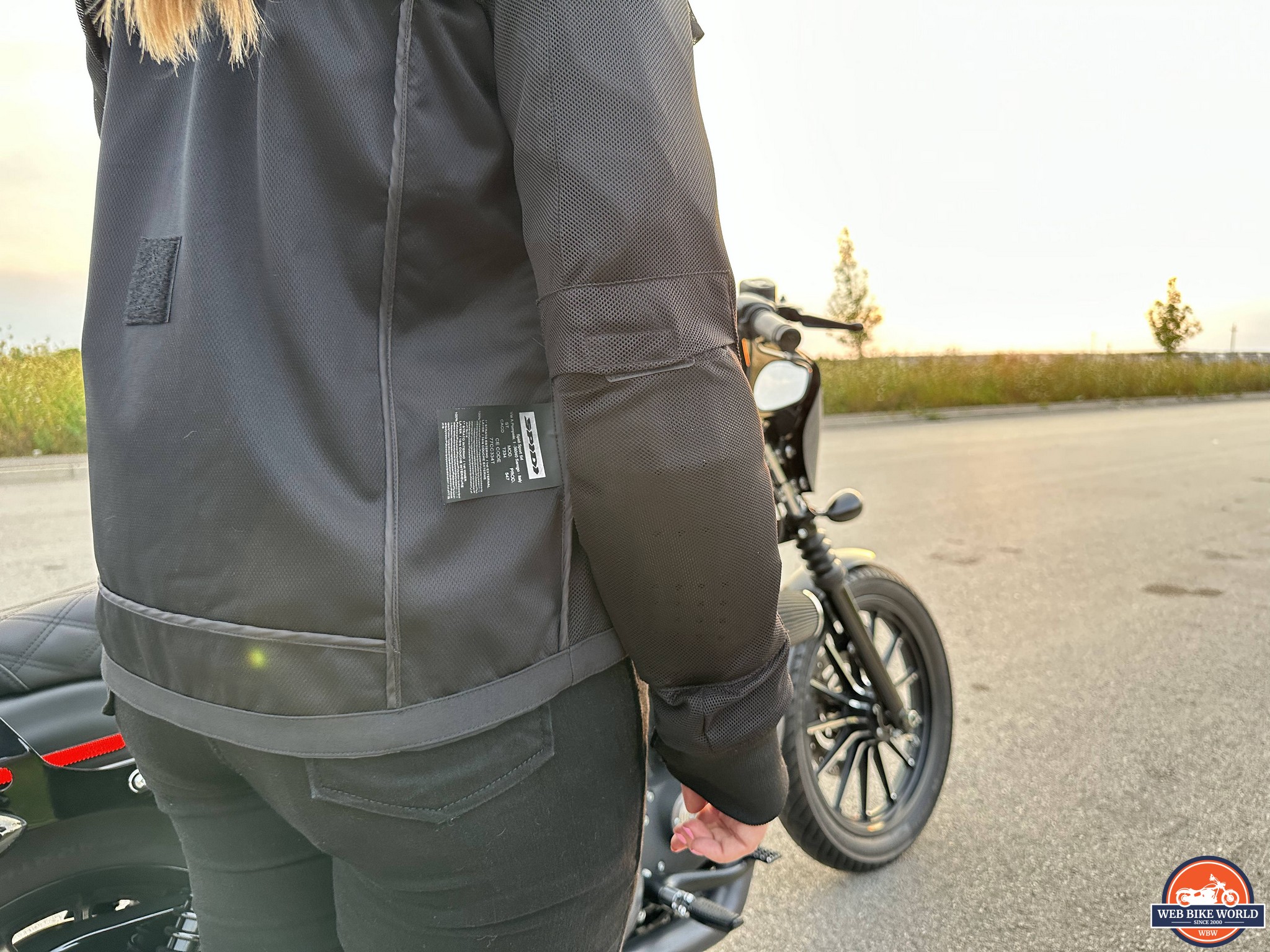 Design & Feel Rating – 85%
The Spidi Hoodie Armor Light Women's Jacket was designed to be movable, breathable and functional. Spidi definitely accomplished all of that with this jacket. The jacket is comfortable to ride in while also offering protection in case of an emergency.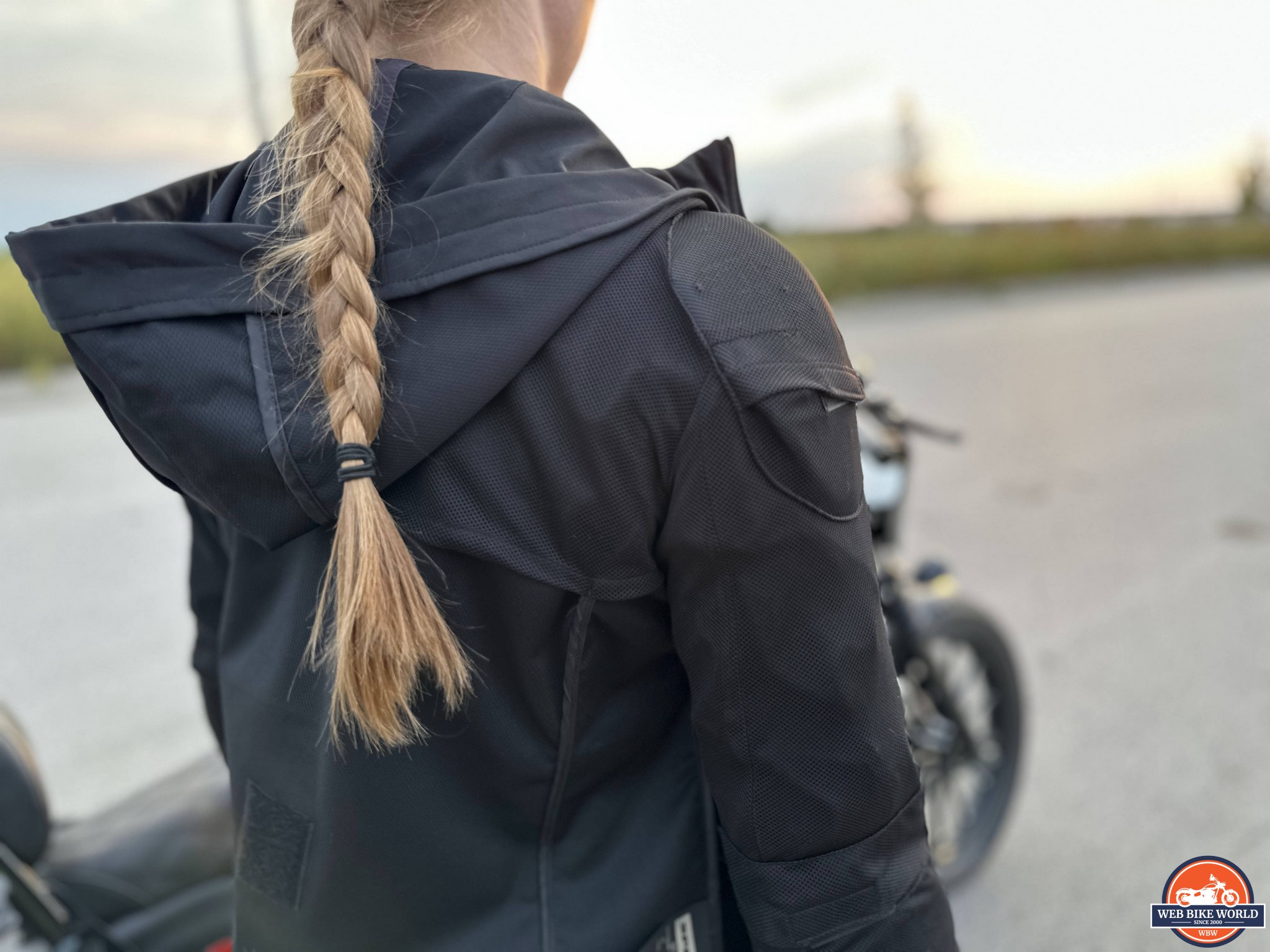 Spidi could make some minor improvements to the jacket to improve their overall design. Spidi could adjust the placement of the thumb strap to accommodate riding gloves. They can also add a mesh pocket for back pad armor for more versatility!
Sizing & Fit
As a curvier girl, I have always struggled to find clothing that fits me properly. Now I'm trying to add armor and gear into the equation… I thought this was going to be a recipe for disaster.
I referred to the size guide to determine which size jacket to get from Spidi. I'm glad I stuck with what the size chart suggested. The jacket ended up being a perfect fit!
I thought I was going to have to make multiple exchanges to find the right size when dealing with Spidi. That was not the case, which had me pleasantly surprised!
Speaking of curvy, if you've struggled with finding proper fitting riding gear like I have, be sure to check out The Best Motorcycle Gear For Full-Figured Women!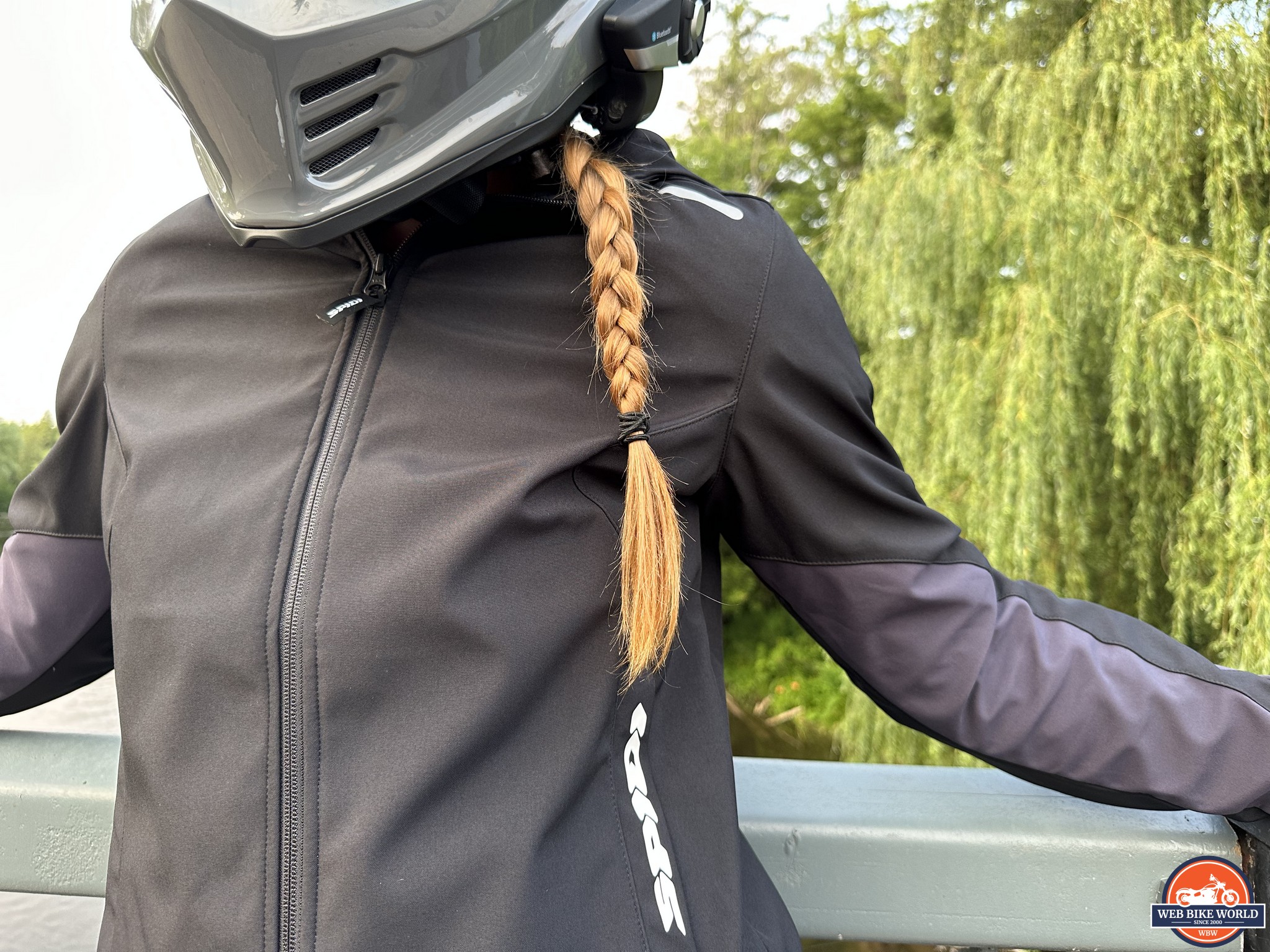 Sizing
Jacket shopping has been a consistent struggle for curvier women, so initially I was very nervous to try it on. As I mentioned earlier, when I first tried on the jacket, it fit snug to my body. Not uncomfortably snug, but snug enough that I was considering sizing up to a large.
If I had a larger chest, I 100% would have sized up in the jacket. I would consider my chest to be on the smaller size, but still proportionate to my body. With that being said, the jacket is comfortable but fits snug. If you are a women with a larger bust and want to be able to do the jacket up all the way, I would definitely recommend sizing up.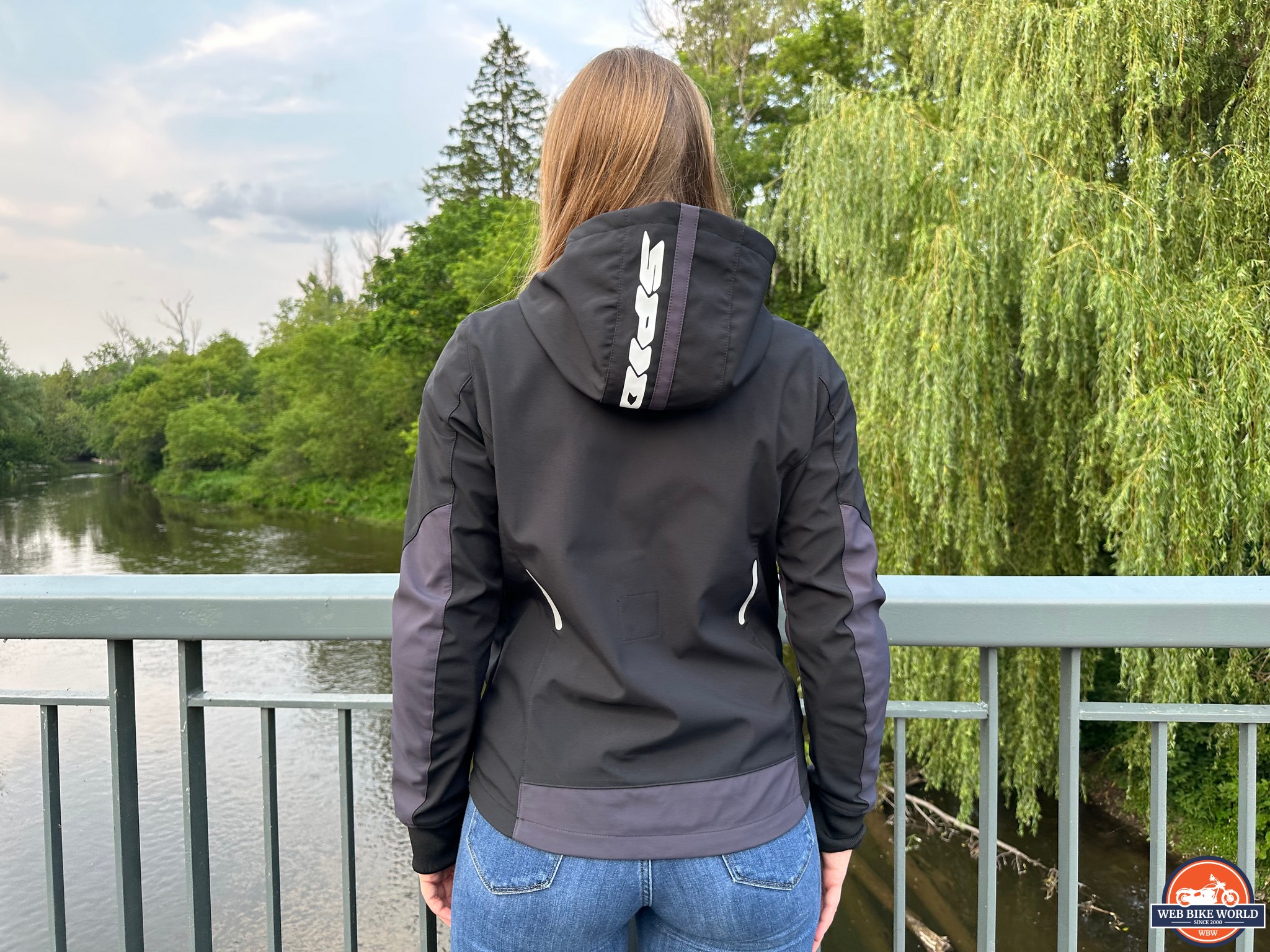 After wearing the jacket around the house for a few minutes, it began to feel more comfortable and it started to adapt to my body's shape. It wasn't long before the jacket lost its stiff feeling and became quite comfortable to wear.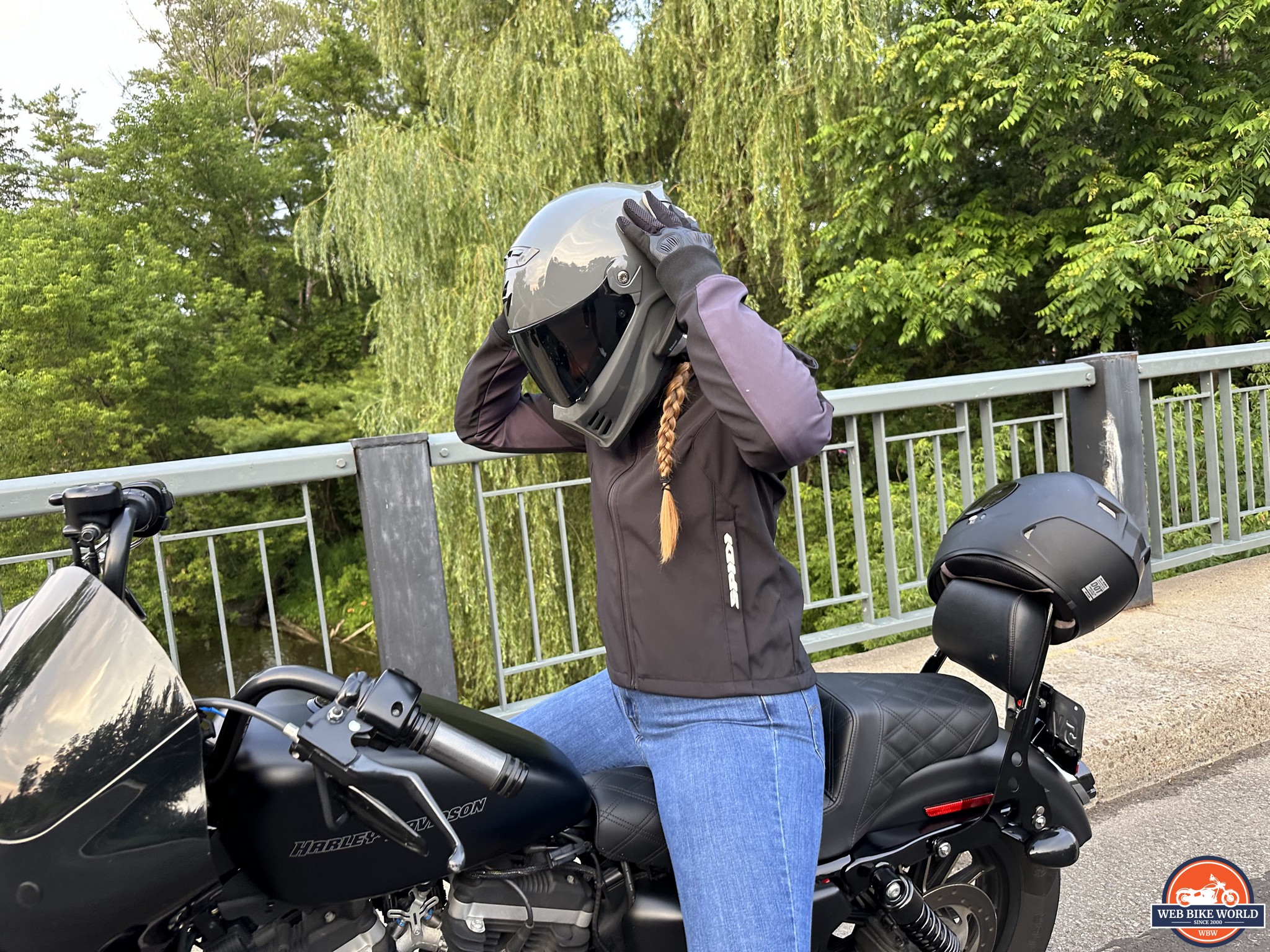 After my first ride in the Spidi jacket, I came to the conclusion that the size medium was perfect for me. It was tight enough in the arms so that the armor was not sliding around in the lining of the jacket, yet it was still loose enough to be extremely comfortable while riding. Most importantly, it did not restrict my movements.
I'd say that Spidi's sizes fit true and are comparable in size to other pieces of clothing you own. As I'm sure you know, it's always best to consult the manufacturer's size guide for the best fitting size.
Fit
The waistline is tapered and has a longer torso section than your average light jacket. I found this gave the jacket a very flattering fit. The sleeve length fit is comparable to other jackets on the market and the knitted cuffs are an added bonus for movement and flexibility!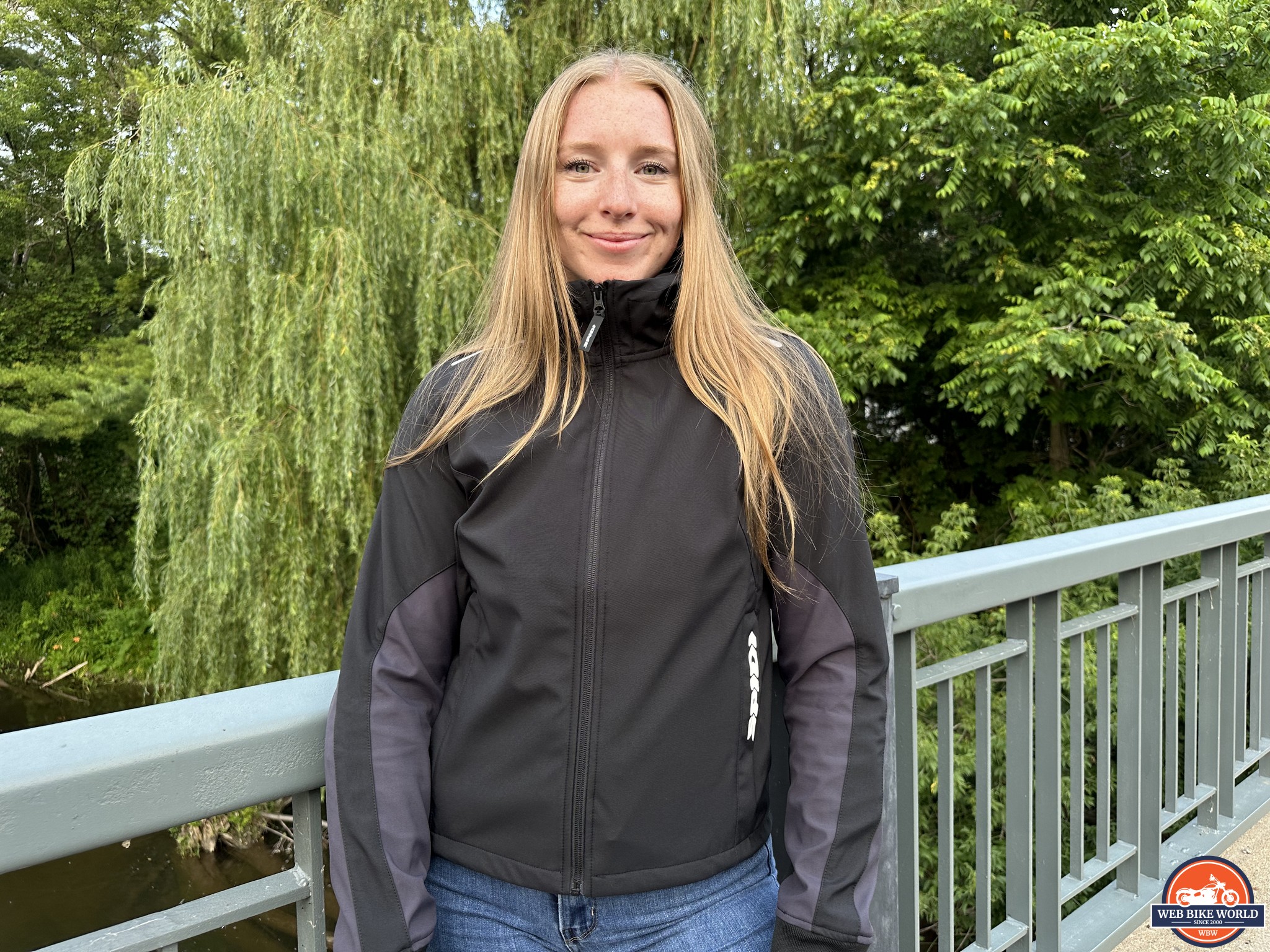 You don't want the jacket to be too loose fitting on your body, you want to make sure that the armor pads in the mesh of the lining aren't moving around while you ride. With that being said, the arms are tight enough to fit a thin t-shirt or long sleeve underneath, but not anything heavier. If you plan to wear a hoodie underneath the jacket, I would suggest sizing up.
Size & Fit Rating – 85%
Spidi gets a big check mark on sizing. I was very happy that I didn't have to return this jacket for a different size. Luckily, the Spidi size guide is accurate and the jacket fits true to size!
The extra length in the torso of the jacket makes me feel comfortable and secure while riding. The tapered waist also adds shape to the jacket to compliment those curves! If you find yourself more of an apple or round shape, the tapering of this jacket may be tight fitting in comparison.
Keep in mind that the sleeves are also form fitting and you probably won't be able to fit a hoodie underneath the jacket.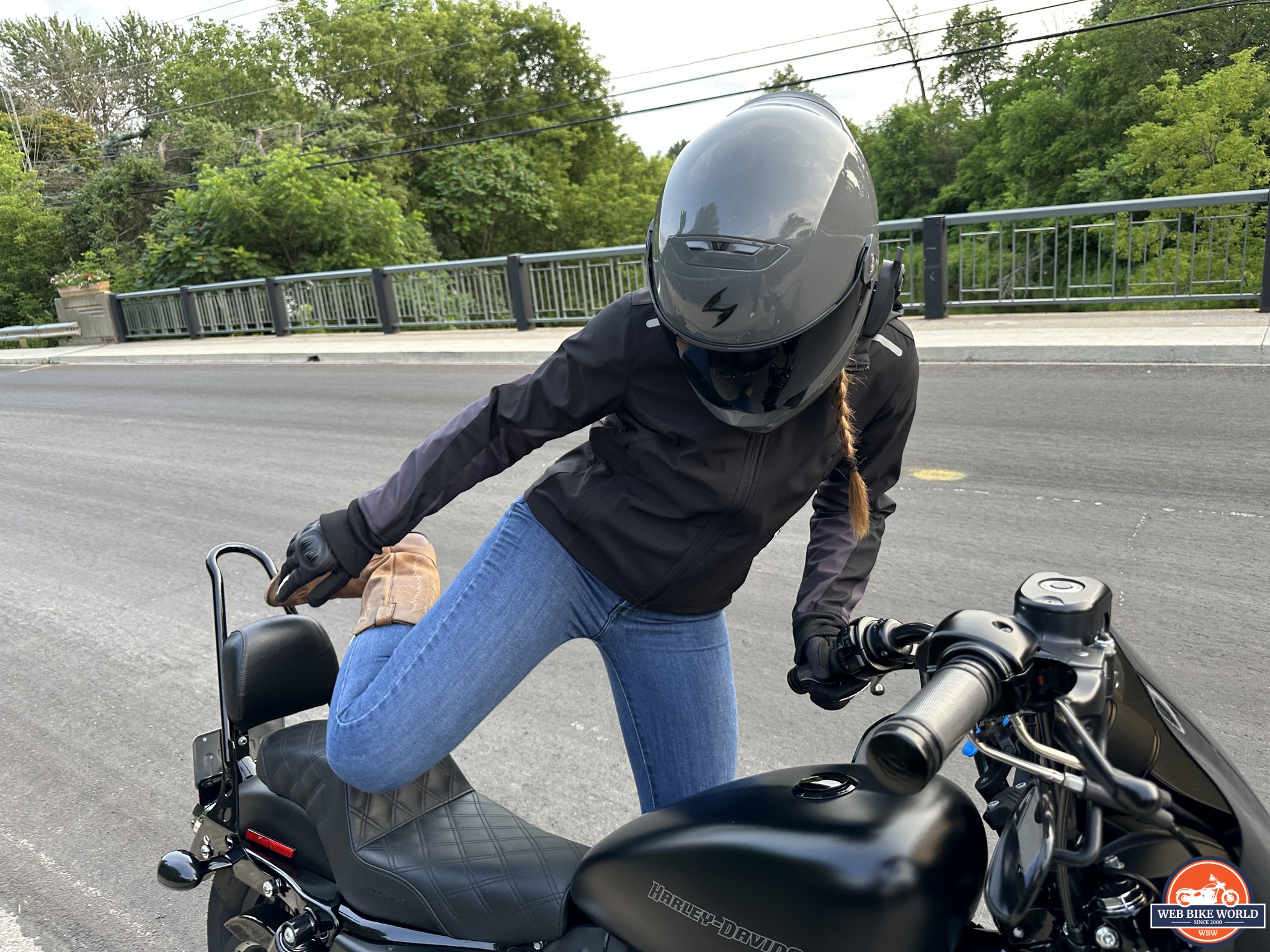 Features
At first glance, you wouldn't expect that this jacket has many features, if any at all. However, the Spidi Hoodie Armor Light Women's Jacket comes with more features than you think. Here are a few that I think deserve the spotlight!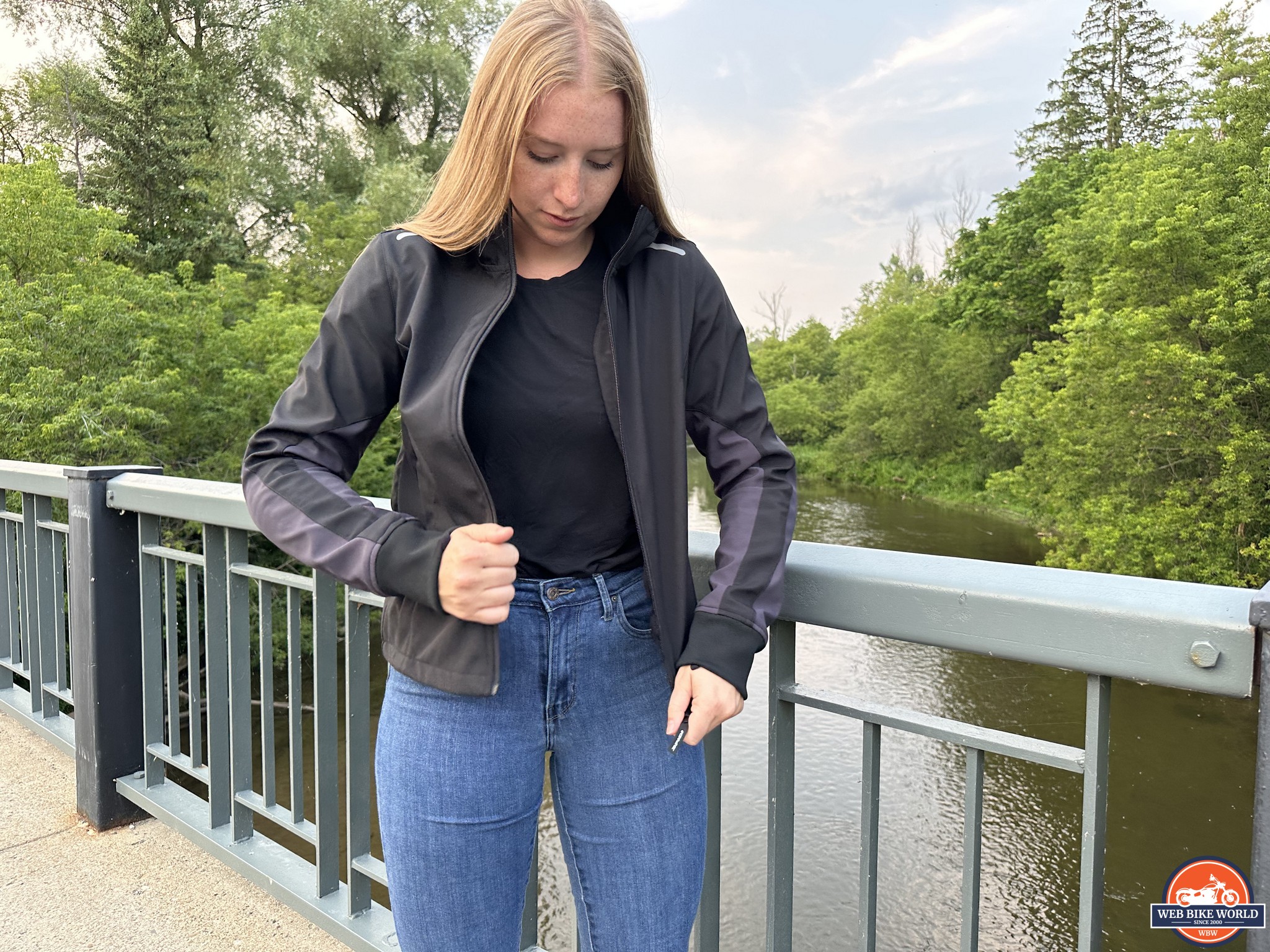 Cuffed Sleeves
There is nothing I hate more than having to take off my apple watch because my sleeves are too tight to go over it. With the cuffed sleeves on this jacket, that is not an issue on my mind. The cuffed sleeves are flexible and very comfortable. They are also breathable and don't restrict my movement.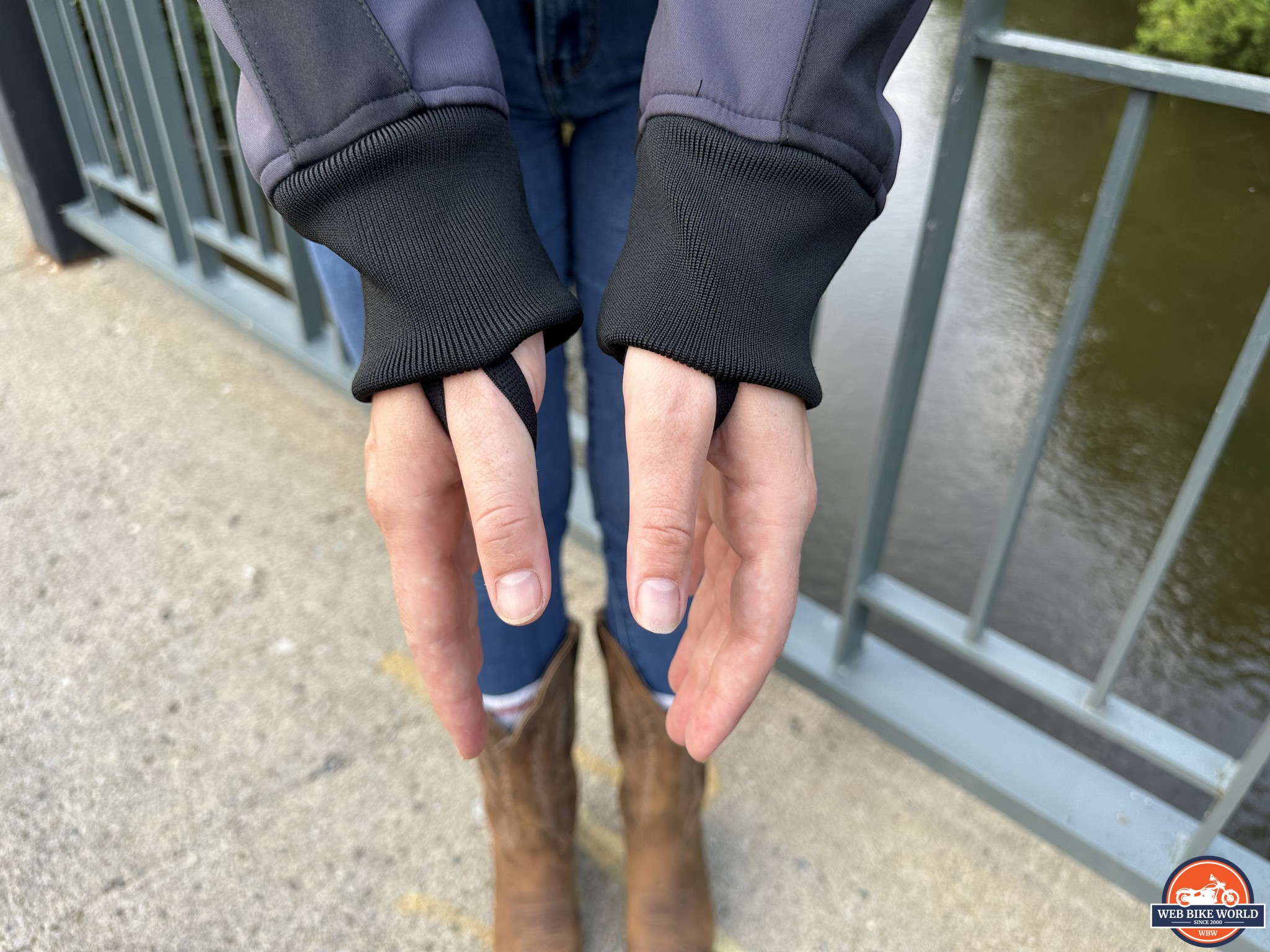 Thumb Straps
Like I mentioned earlier in this review, I didn't know the jacket came with thumb straps when I first got it. So to me, these were an added bonus. The straps themselves are very stretchy and moveable, even once they are strapped around your thumb. I found they fit well over my gloves as well.
For those who are interested, I've been wearing the Spidi Flash-R EVO Women's Gloves. Keep your eye out for my hands-on review on them coming soon.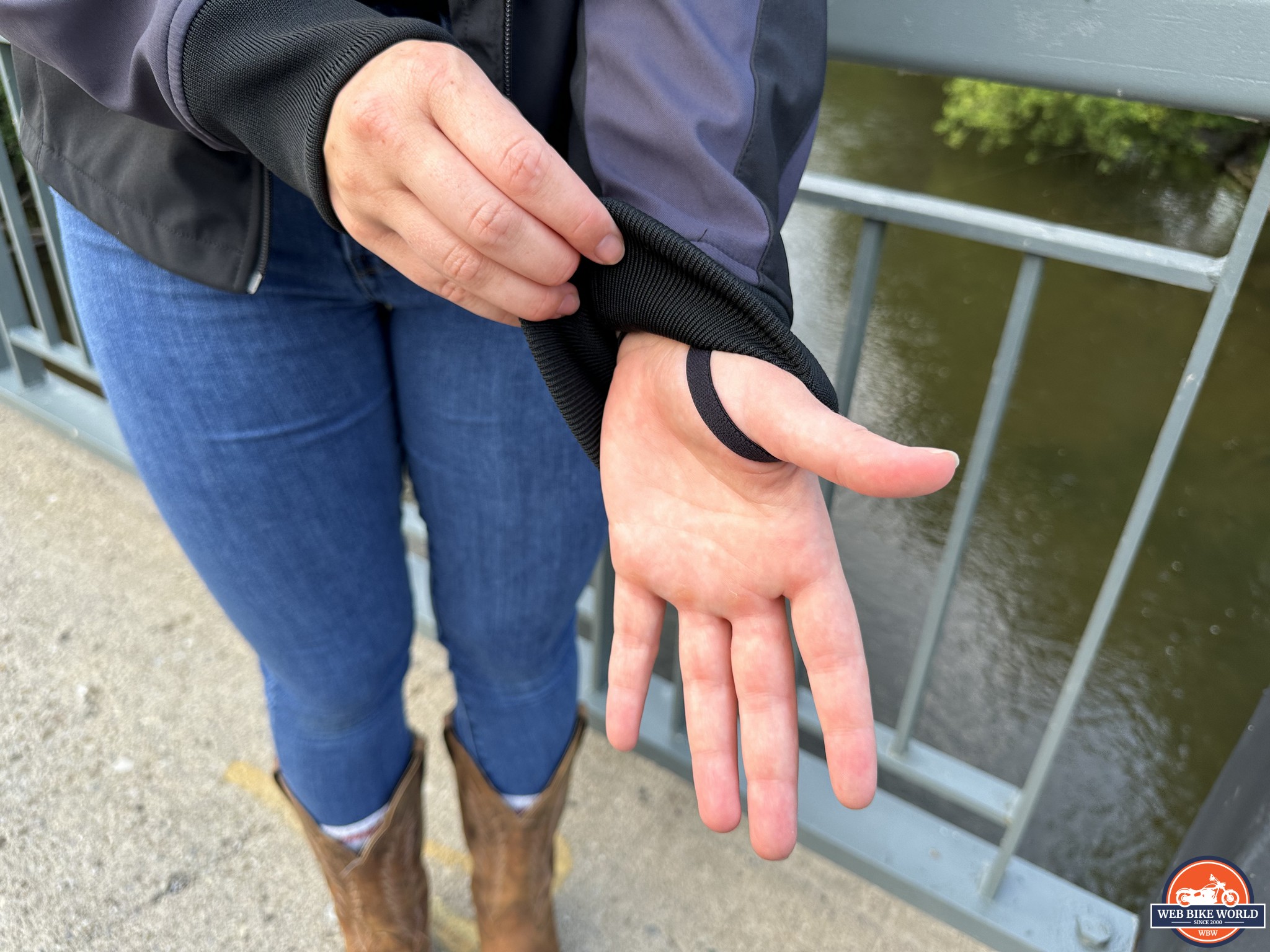 I think it's worth noting that because of the knit cuffed sleeve, and the placement of the thumb strap, you have to place the strap over your gloves. The cuffed sleeves do not fit under my gloves, so you have to put the glove on first and the strap overtop.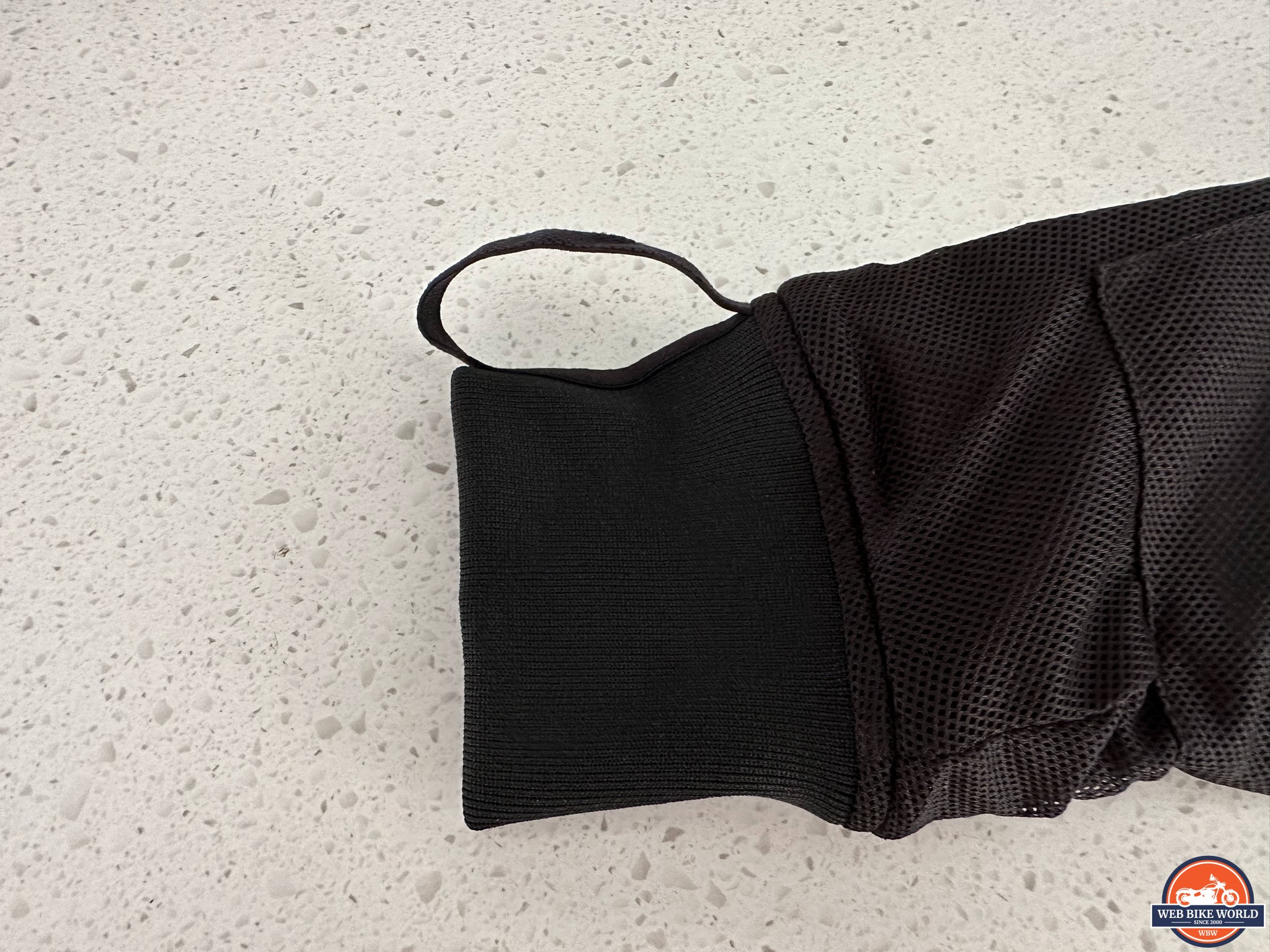 Fixed Hood
Having a hood on a riding jacket may annoy some riders, especially if it's flopping in the wind while riding. I can confidently say that the hood on the Spidi jacket does not move when you ride. The hood is lightweight, but sturdy enough that it stays laying flat on your back during your rides.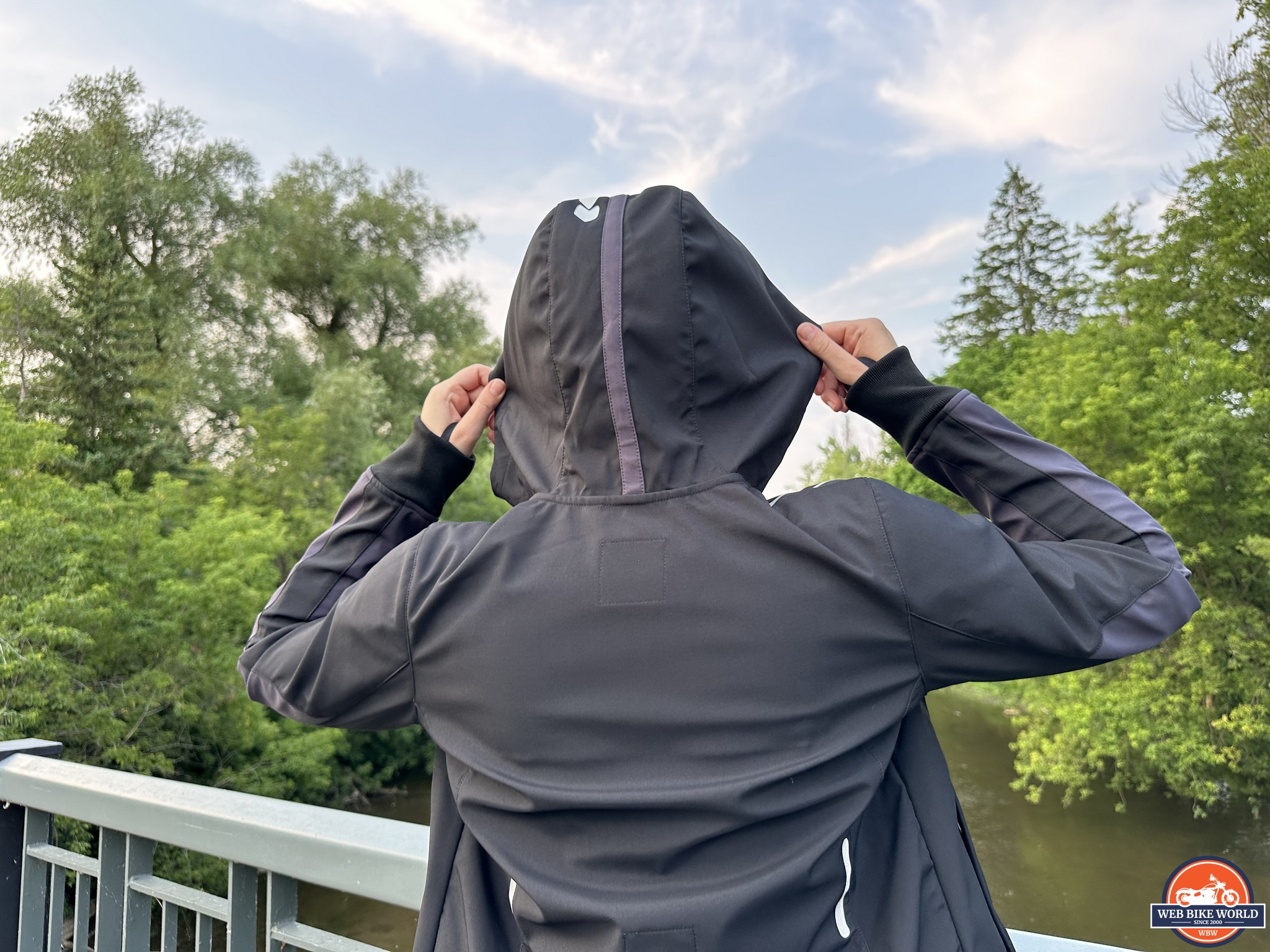 The hood also comes with a reflex reflective zone on it, so the hood gives you a bit of added visibility for night time riding. You also have the option to put the hood on when you're off the bike for extra style points. Having options is always a bonus.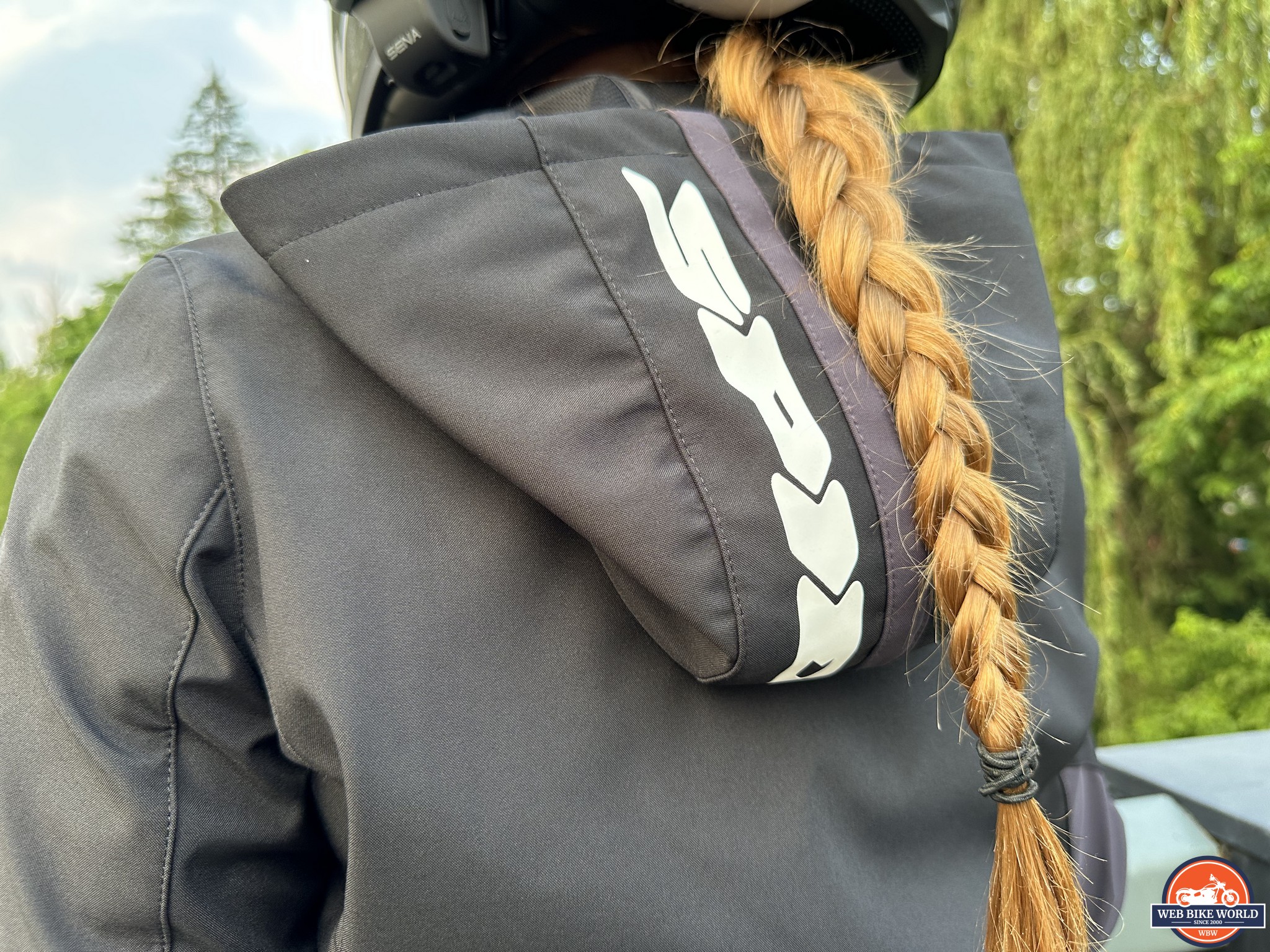 Features Rating: 80%
Overall, I am fairly happy with the features of this jacket. The added protective measures are always a welcomed bonus. I like the option of being able to use the thumbs straps and the hood if I wanted to. I also appreciate the thought out placement of the reflex reflective zones.
However not being able to fit gloves under the jacket is a slight issue for me. The thumb straps and the cuffed sleeves do not allow for even the smallest glove to fit under, so that is definitely a feature I would look into upgrading in the future!
Protection
Riding on a motorcycle leaves you exposed to the elements, other cars, animals, etc. With being exposed on the open roads, you want to make sure that you are as protected as you can be. You never know what could happen and I would highly recommend being as prepared as possible.
Spidi has taken extra measures to ensure that the jacket provides protection while still being comfortable and stylish!
Reflex Reflective Zones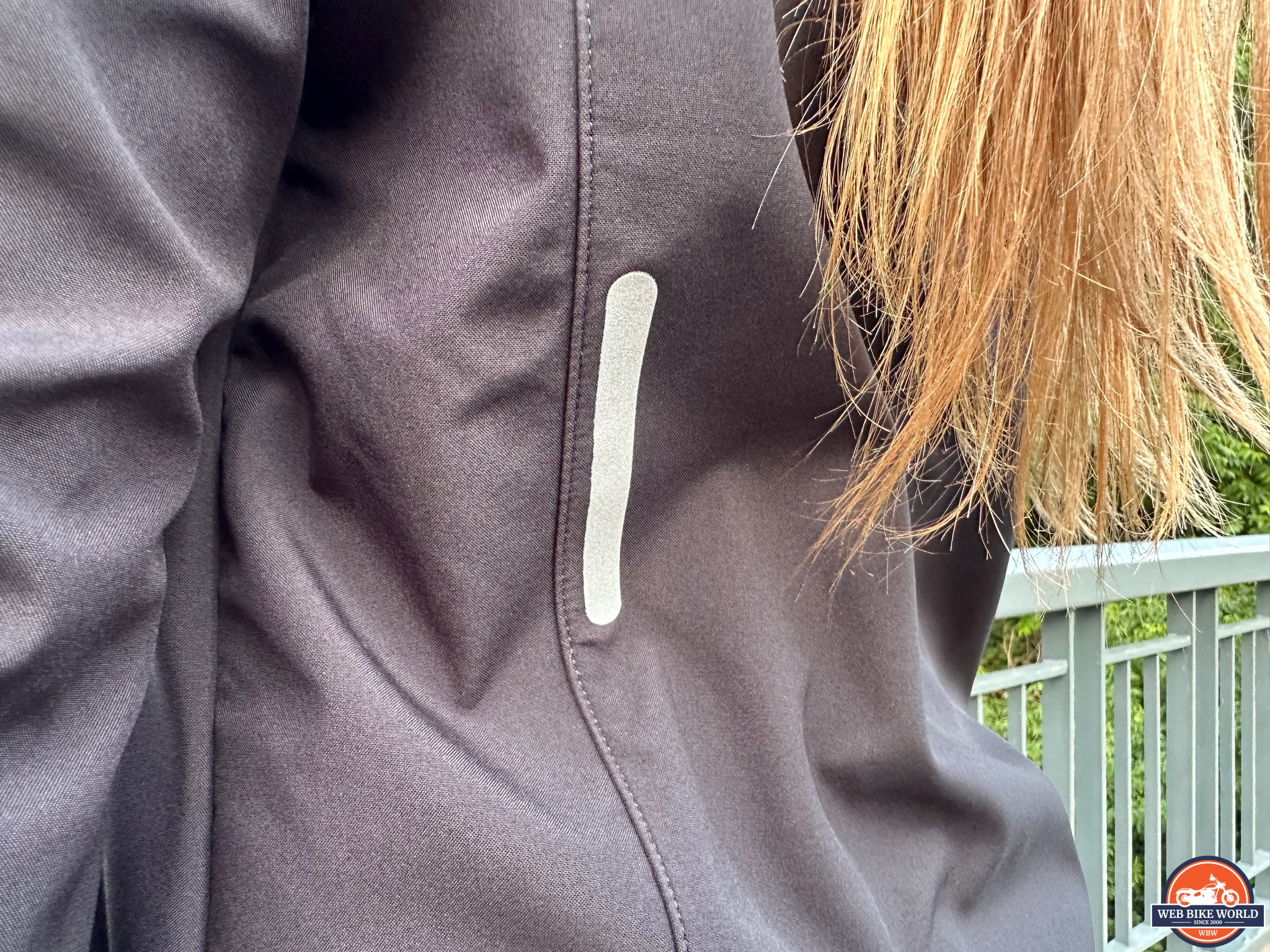 Personally, I am not a big fan of riding at night, but sometimes time gets away from you and you get caught riding in the dark. I would rather be prepared with reflective gear and not have to worry about not being seen by other drivers. One of the many features of this jacket are the multiple Reflex Reflective Zones!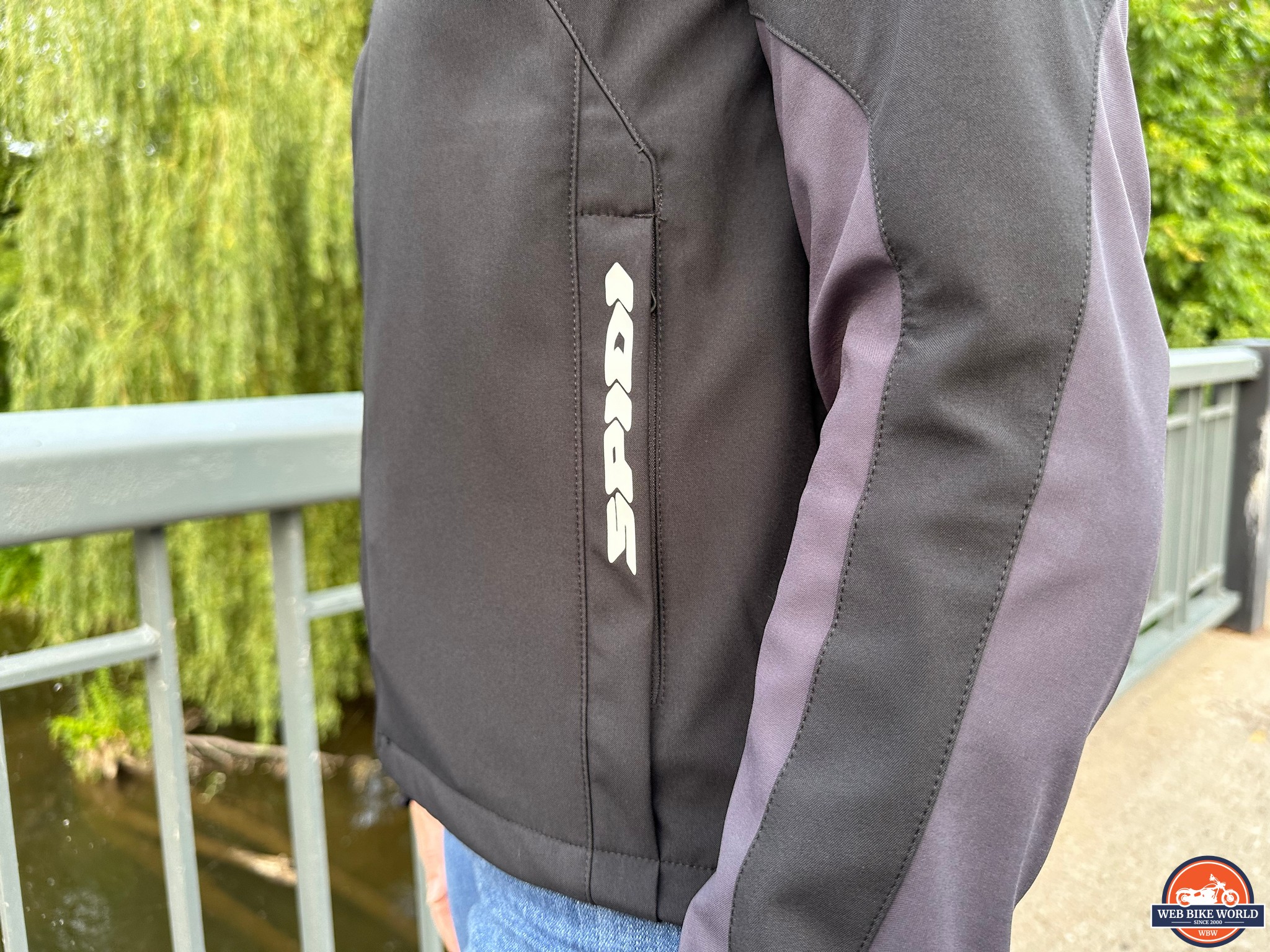 The jacket comes with 6 Reflex Reflective zones; 3 on the front, 2 on the back and 1 on the hood. The reflective zones are not only a stylish addition to the jacket, they provide added visibility which is essential for night time riding.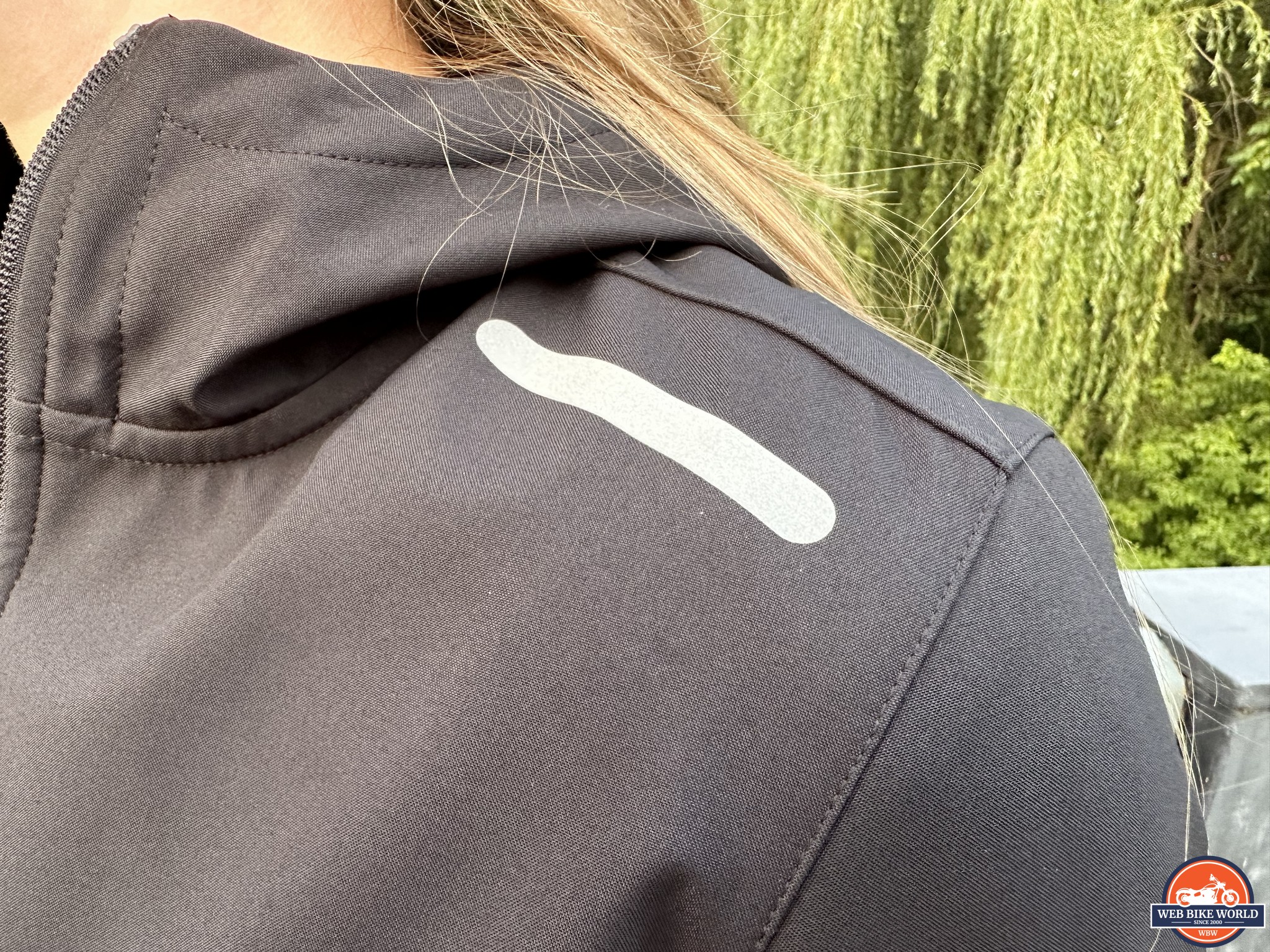 CE Level 1 Warrior Elbow and Shoulder Armor
Riding with proper armor has become crucial for me, even as a passenger. If you have the option to be as safe as possible while looking great, I would recommend doing that. The Spidi jacket looks great while still providing a certain standard of safety.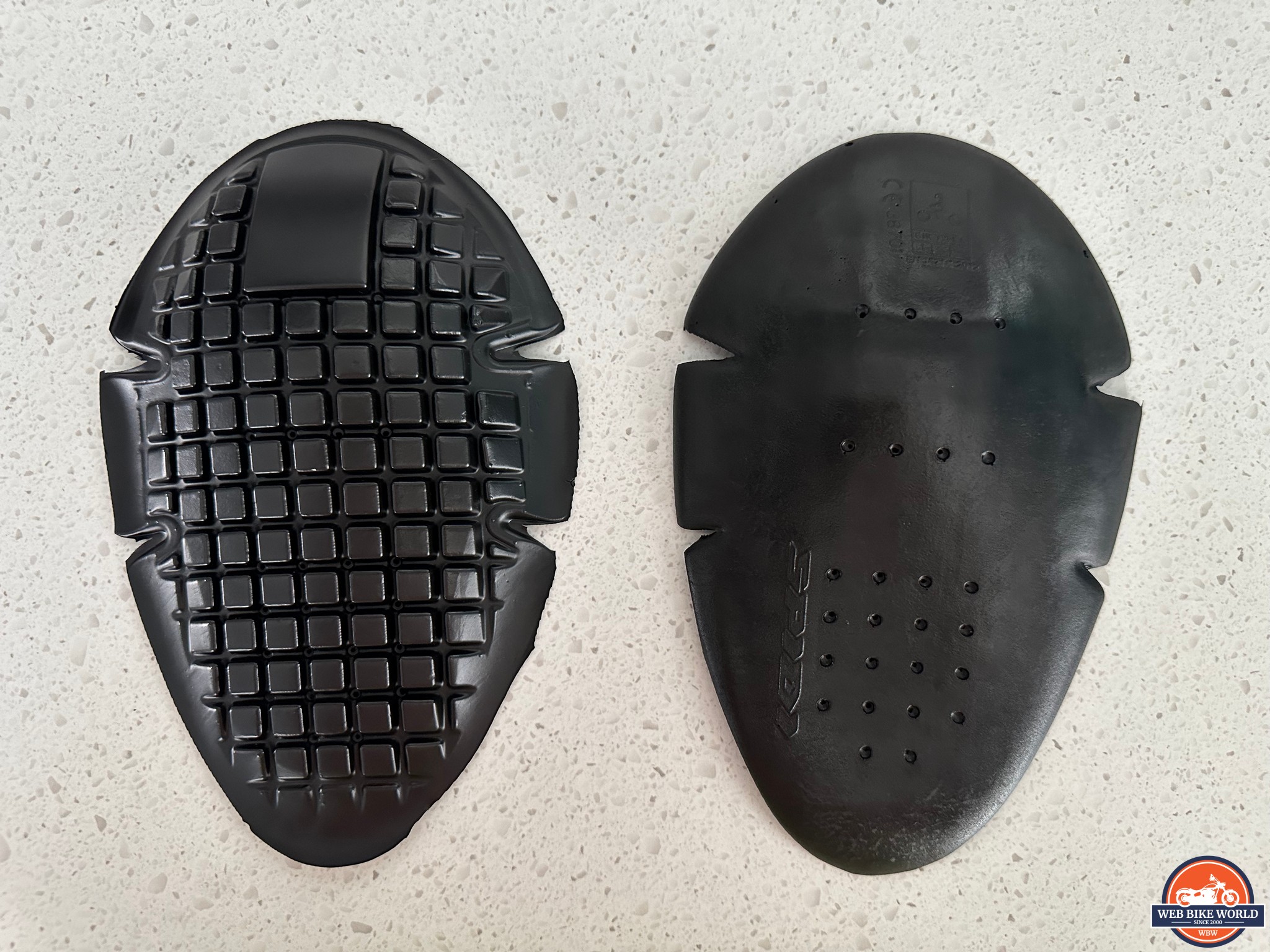 The Jacket comes with two shoulder CE Level 1 Warrior Armors and two CE Level 1 Warrior elbow Armors. They are lightweight, flexible and give me peace of mind when I am riding. I find comfort in knowing that I am protected if I ever find myself in a terrible situation.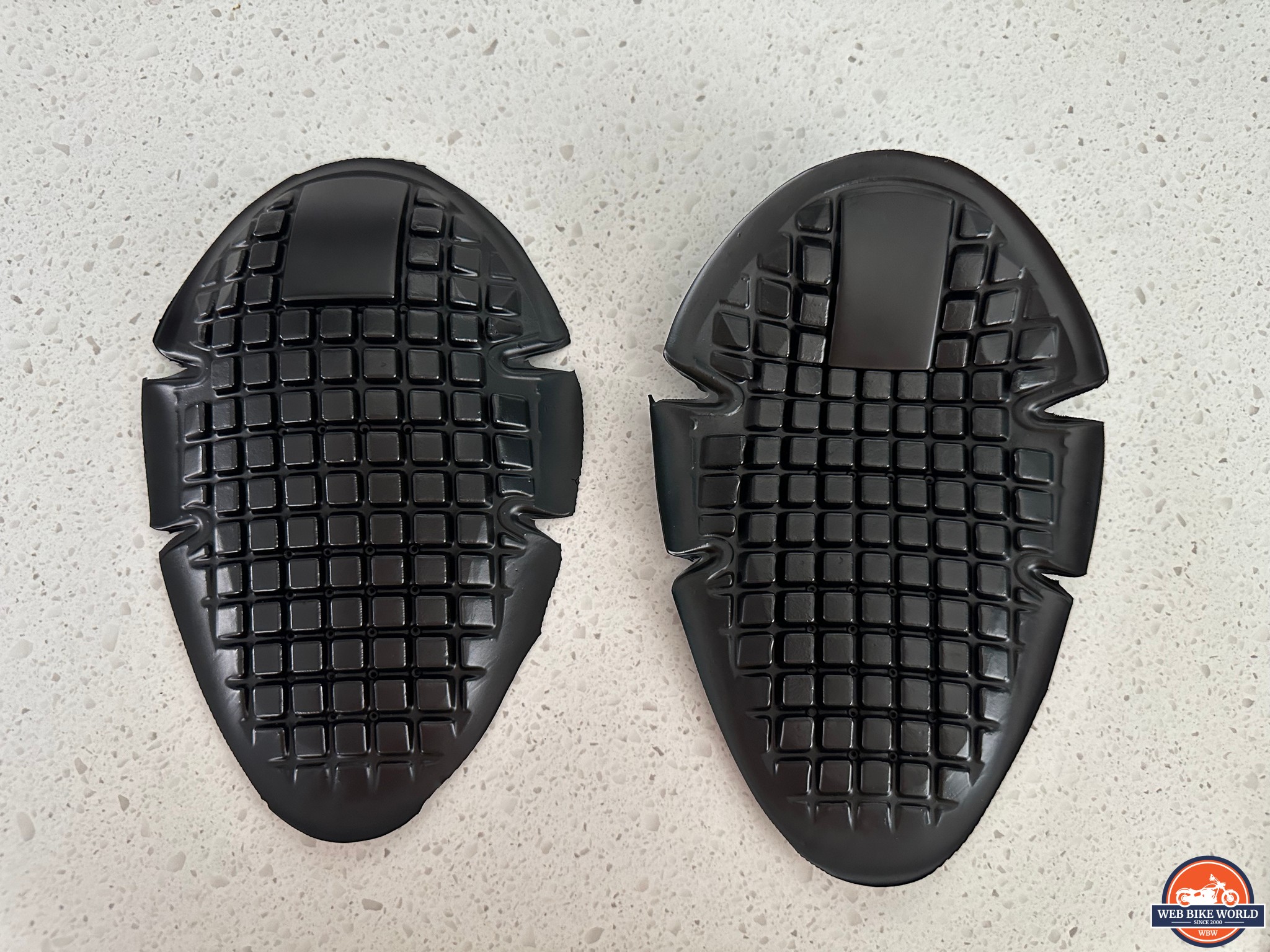 I would like to point out again that the jacket has velcro pads sewn into it for a back pad instead of the mesh pocket. It is only compatible with a certain style of back pad that is made by Spidi. It can be purchased separately here.
I think it's important to highlight that the jacket also came with a safety manual in the inside jacket pocket. Spidi wants to ensure that everyone has the most up to date information on their protective gear so each person using the jacket knows exactly what they are getting.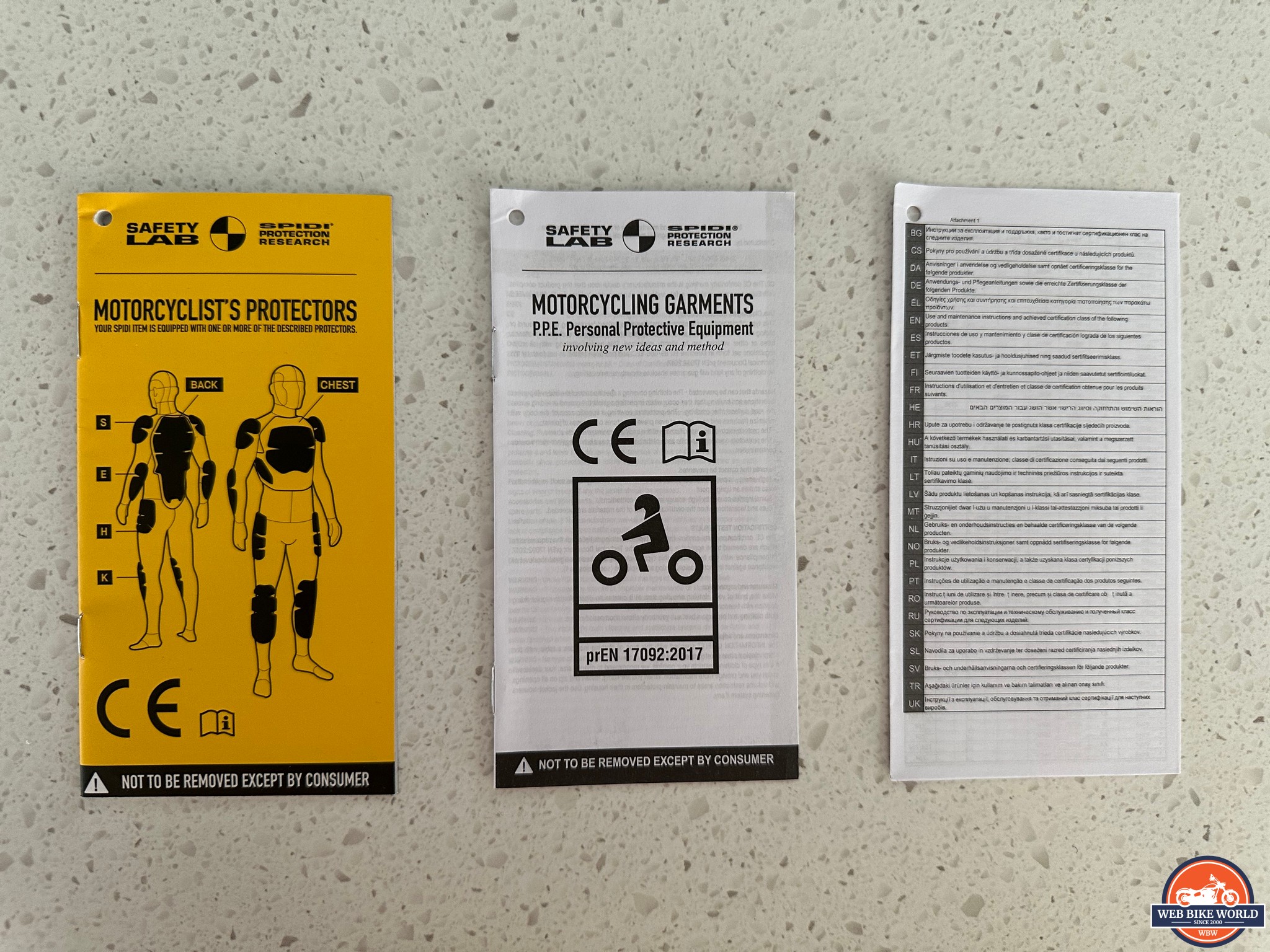 The elbow and shoulder armor pockets are very easy to maneuver. The pocket is closed by velcro and it feels very secure. The armor stays in place while riding and I do not find myself adjusting it too often. Removing them and putting them back in is also a very easy process.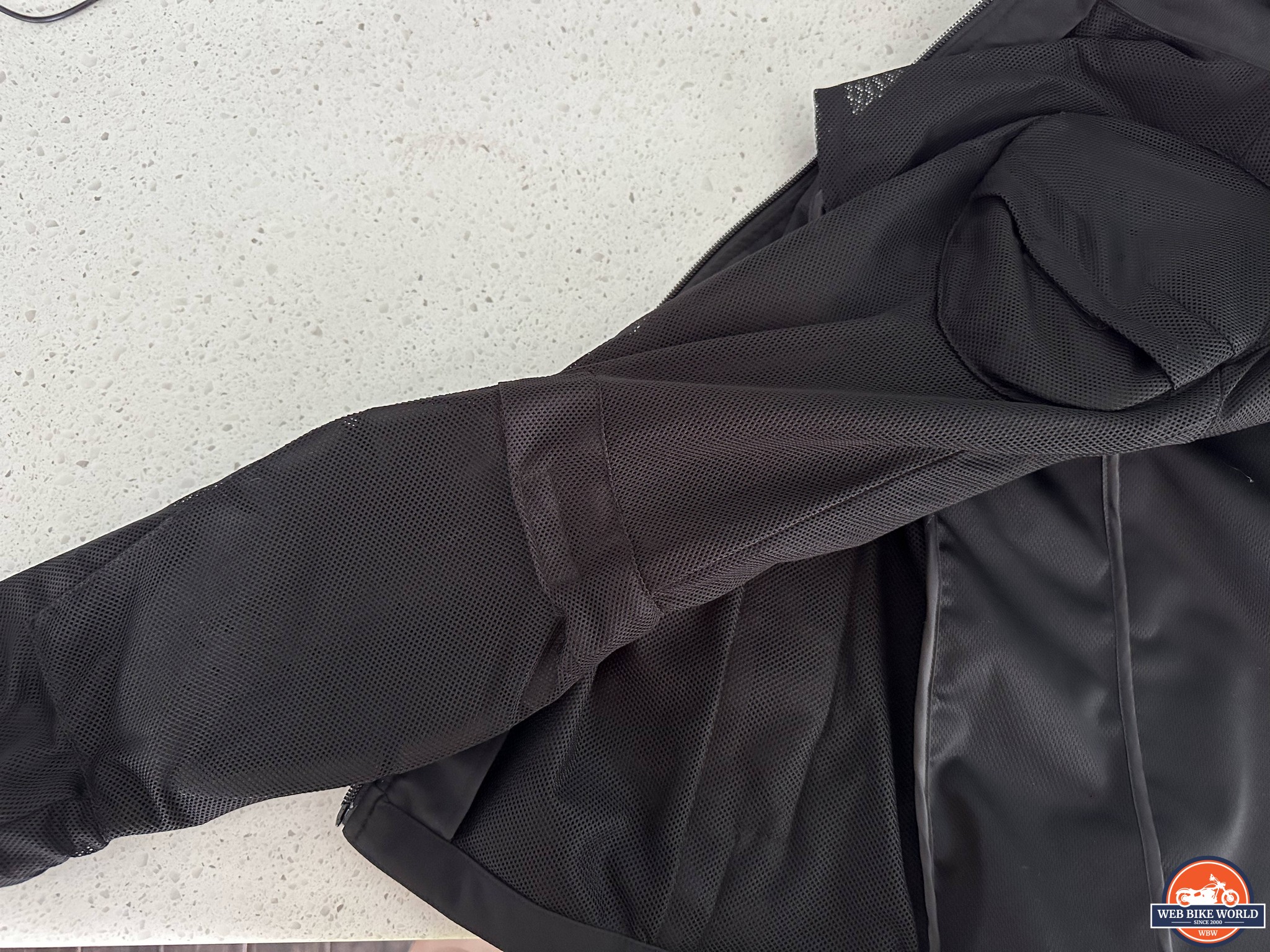 Class A Certified Abrasion Resistance
Obviously, no one plans on sliding on the ground when they go out for a ride. By wearing gear, we are "preparing for the worst" while "hoping for the best". You can find some peace of mind in knowing that the Spidi Jacket comes fully equipped with Class A Certified Abrasion Resistance lining.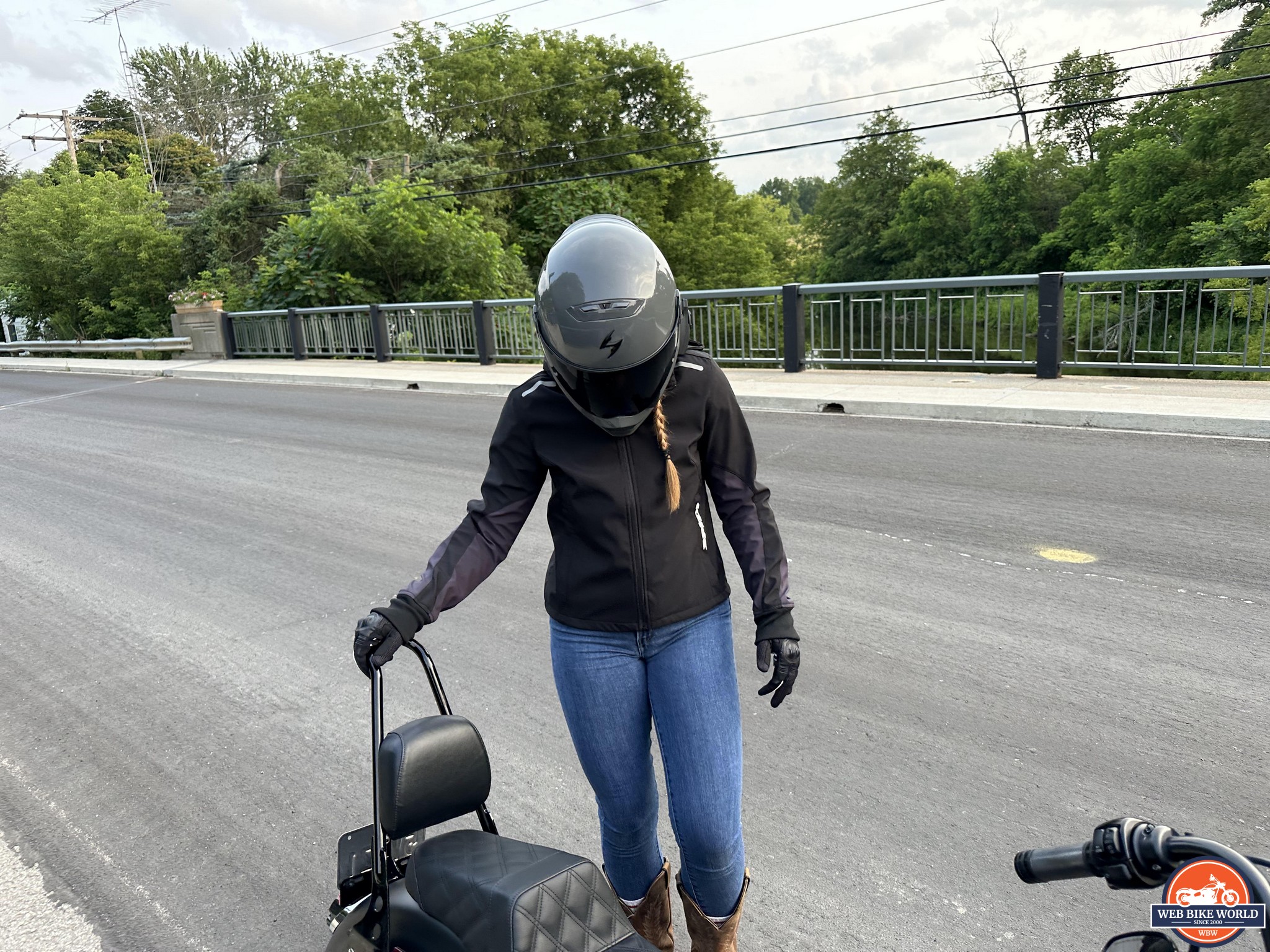 This means that the jacket provides the minimum necessary degree of protection from impact and abrasion. It eases my mind knowing that I am protected on my upper half if anything were to happen, so props to Spidi for that!
For all of you who are wondering, I'm wearing the Scorpion Covert FX helmet in the above picture. It's my favourite full-face helmet to date!
Protection – 75%
The Spidi jackets make me feel safe and secure while riding. However there is definitely room for improvement.
The armor provided by Spidi in this jacket are great protective additions for your arms and shoulders. However, not including a back pad is not ideal. Also, the velcro attachment for the back pad instead of a mesh pocket seems like a missed opportunity.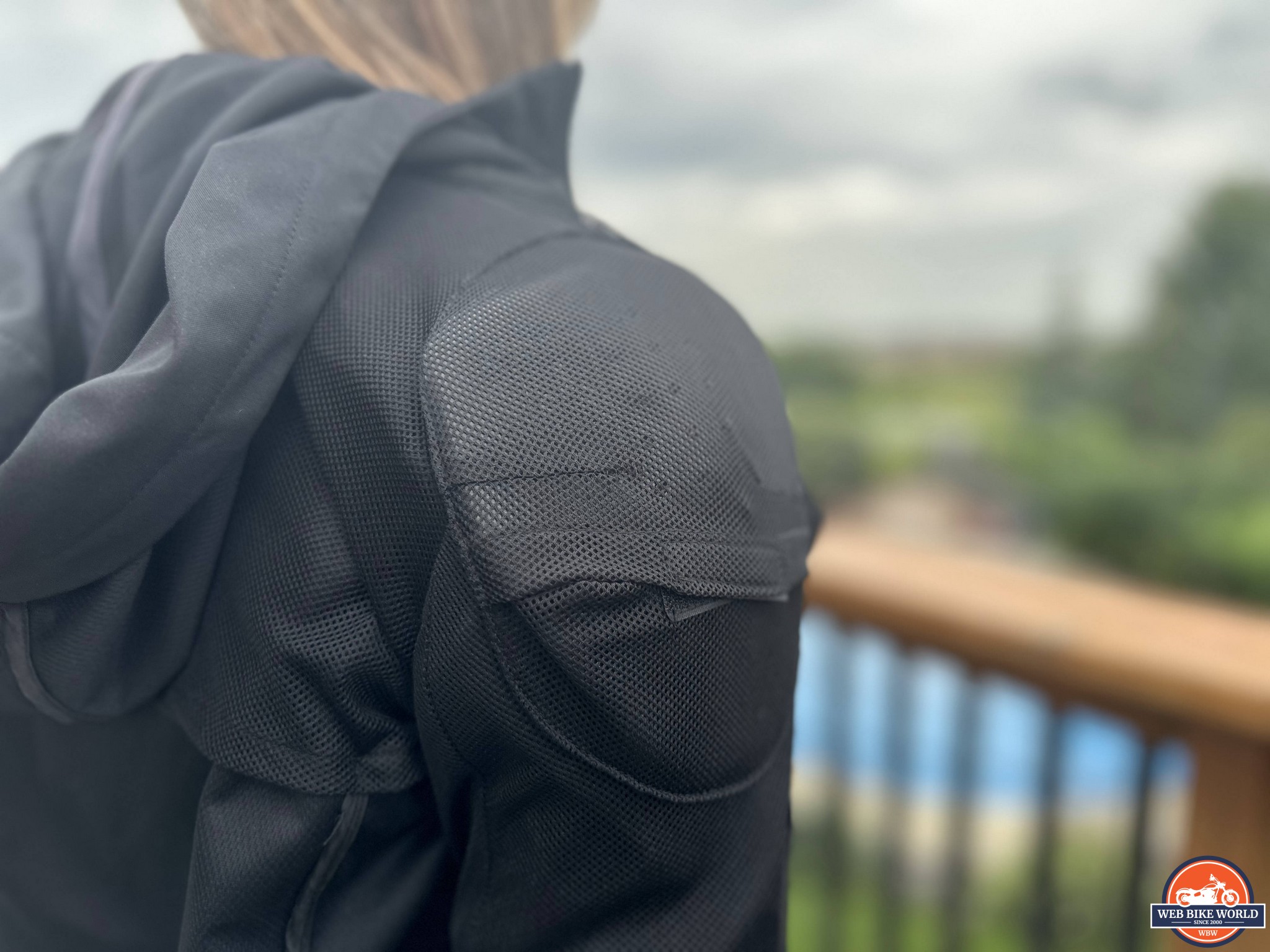 The reflex reflective zones add comfort to night riding, and the abrasion material in the jacket gives me reassurance in the unfortunate event of a slide.
Final Verdict
I know I have said it already in this review, but I was pleasantly surprised with the Spidi Hoodie Armor Light Women's Jacket. To be honest, my expectations were low. Trying to find stylish but protective riding gear has been quite difficult and I wasn't sure if this jacket was going to be flattering on my body type.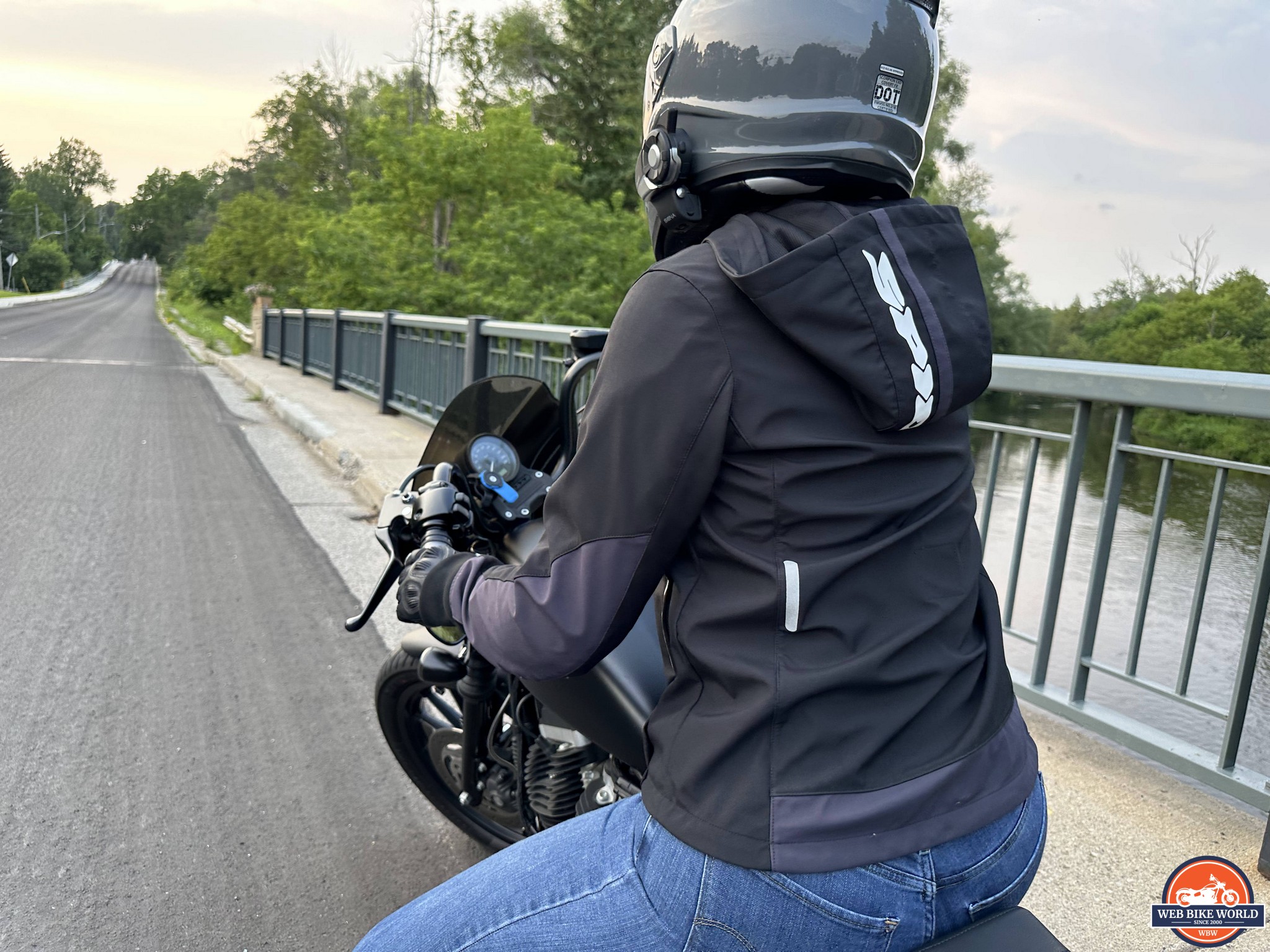 I am very happy to say that I have found my new go-to riding jacket. I reach for this jacket everytime I go riding. The breathability and comfort are outstanding and the added protective gear makes this choice a no brainer.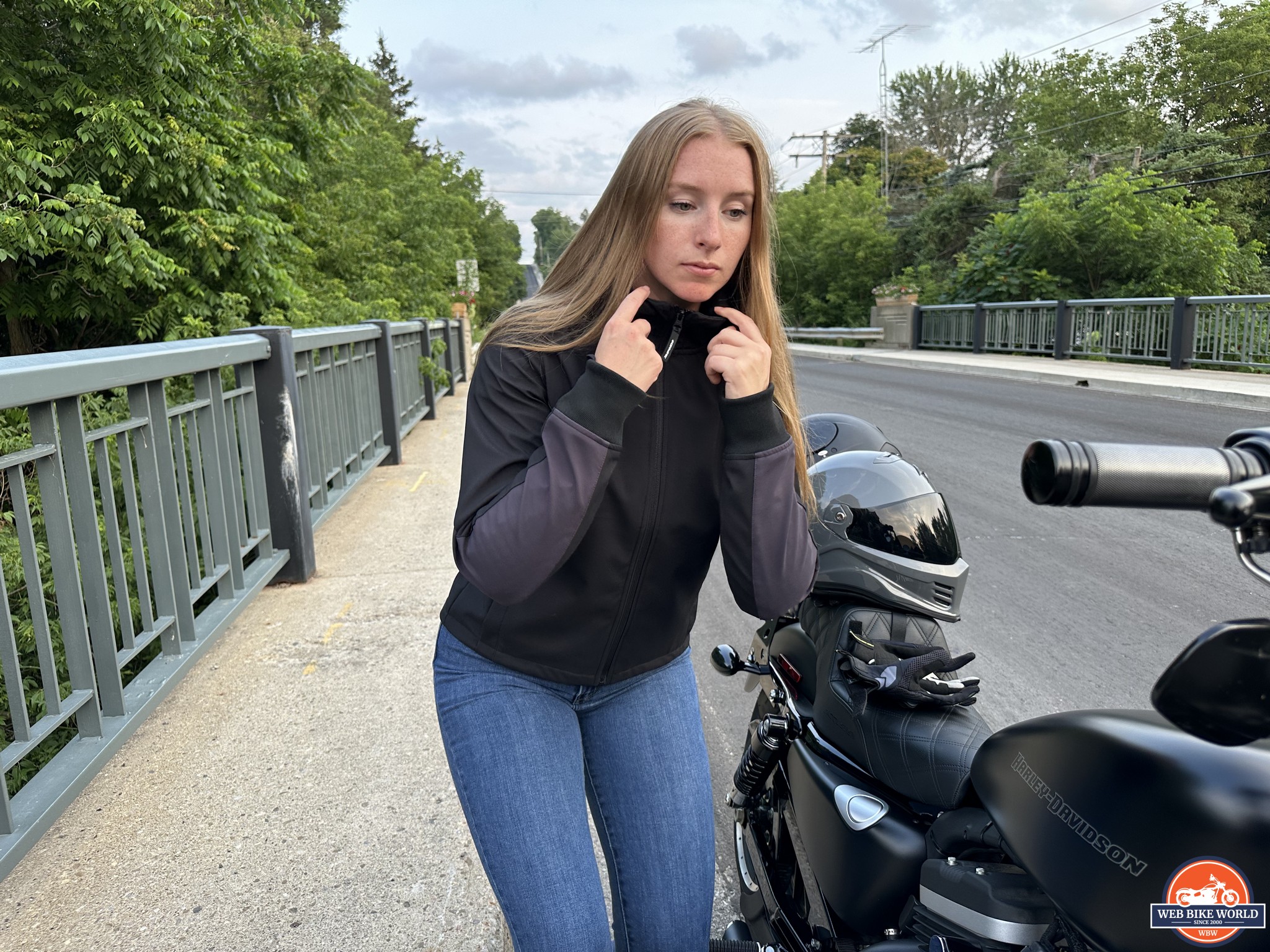 I would definitely recommend this jacket to any female rider or passenger. The fit is flattering, I get protection from the jacket on my upper half, and I love the flexibility and breathability of the material. Hopefully Spidi comes out with more colors in the future because I would definitely order another one in pink!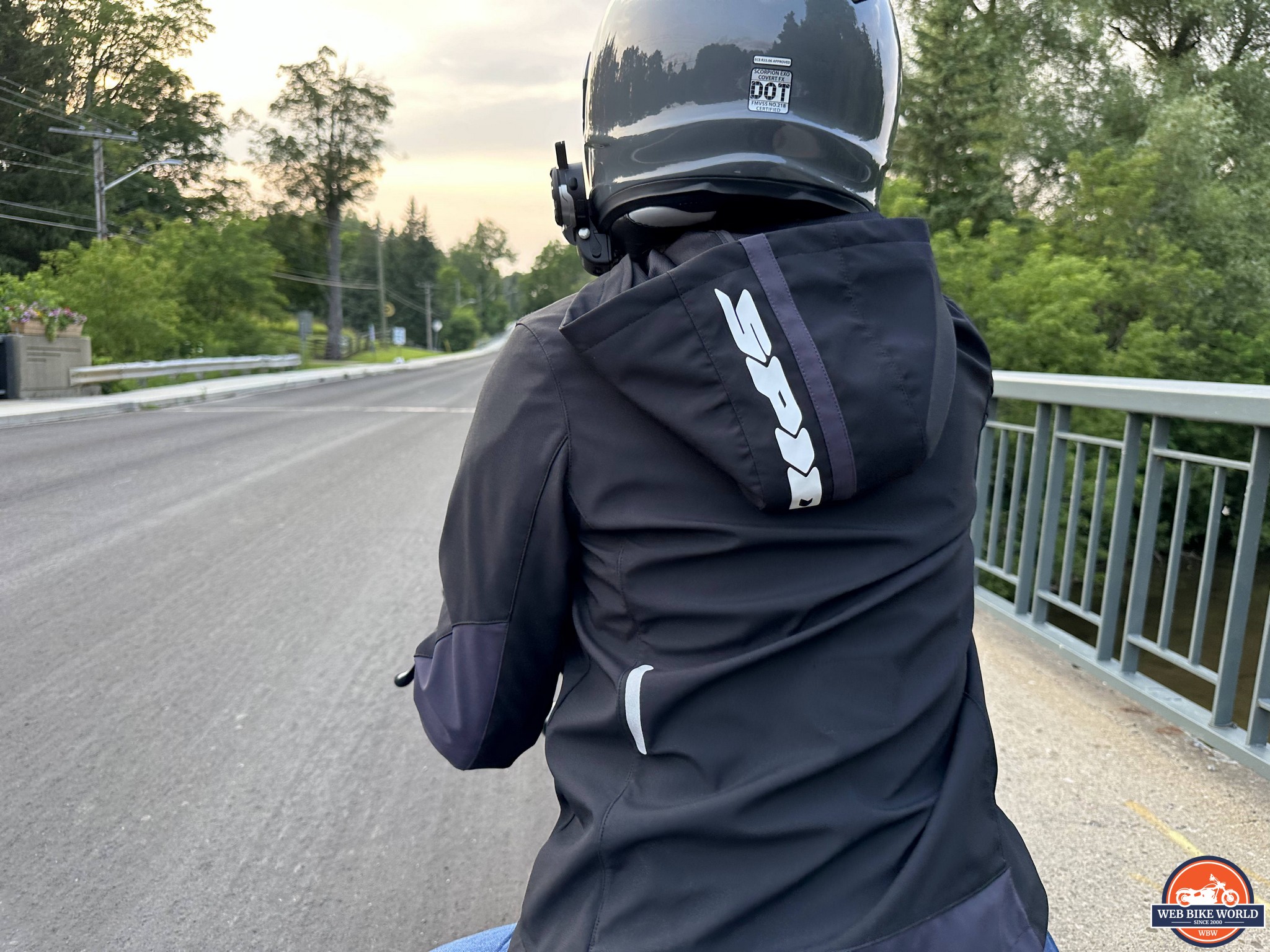 Pros
Reflex reflective zones for night/dark riding
High quality materials
EN 1092-4:2020 Class A certified abrasion resistance
Equipped with CE Level 1 Warrior elbow and shoulder armor
Mesh lining for breathability and movability
Cons
Only available in 3 different Colors at the time of writing this review
The Color of the jacket for this review is not currently available
Back Armor is only compatible with velcro back pads (CE Level 1 Z53 or Z54 back protectors, sold separately here)
Specifications
Manufacturer: Spidi
Price: $149.64 USD
Colors: Red, Black, Navy/Red
Sizes Available: XS-2XL
Review Period: July – August 2023
Where to Buy