Manufacturer's Information
Category:  Plastic cleaner and polish.
Made In:  Unknown
Type:  Spray bottle, 12 oz. and 2 oz
Retail Price:  ~$9.95 (12 oz.) and $4.95 (2 oz.)
Manufacturer:  Dan's RC Stuff
Claims:  Cleans and protects plastic.  Optically neutral finish.
For Use On:  Plastic, windscreens, helmets, visors, etc.
Claimed Features:  Cleans and protects.
Application:  Spray on, wipe and buff.
Background
Speed Clean may look similar to the "Speed Cleaner" product reviewed on webBikeWorld some time ago, but the two products are unrelated, according to the manufacturer of Speed Clean.
While Speed Cleaner came from the aerospace industry, where it is used primarily for cleaning aircraft windshields, Speed Clean is popular with RC (Radio Control) modelers, who apparently use Speed Clean to clean the plastic car body shells on their creations.
But Speed Clean has "1,000 uses", according to the manufacturer.  "The world is filled with plastic and now you can keep it clean and protected" is their motto.  Well, I don't know whether the world is actually filled with plastic, although I suppose magma can be considered to have plasticity of movement.  But there certainly are a lot of plastic gizmos in my world!
And for motorcycling, the three most important "plastic" sorts of things that we use every day are a windscreen, a helmet and its face shield, and Speed Clean works on each one of those and many more.
Which Size?
Speed Clean is a white colored liquid that comes in a simple 12 oz. spray container or a handier 2 oz. pocket sprayer.  Both sizes use a basic pump sprayer; Speed Clean is not a pressurized aerosol, which makes shipping less restrictive, according to the manufacturer.
But my feeling is that the pump sprayer on the 12 oz. version throws a pattern that is too wide for motorcycle related use.  Also, the amount of Speed Clean that results from a single spray with the 12 oz. pump also seems too great for most of the items I have that need cleaning, such as a helmet or face shield, or especially a GPS or LCD display screen.  The large spray pattern results in a mist of Speed Clean liquid over too wide of an area, which results in more work to clean it up.
The 2 oz. bottle is much more efficient, throwing a compact spray pattern that can concentrate the Speed Clean liquid on to a helmet, a face shield or small windscreen with a pattern that is much more focused.  This can be seen in the Flash slide show below, where two photographs fade from the large spray pattern of the 12 oz. bottle to the small pattern of the 2 oz. size.
But besides the spray pattern, the 2 oz. size is a perfect fit in a tank bag side pocket.  The 12 oz. size is really for garage shelf storage only.  One thing to note: we found that the 2 oz. bottle isn't 100% leak proof, so it's best to store it in an upright position in the tank bag pocket.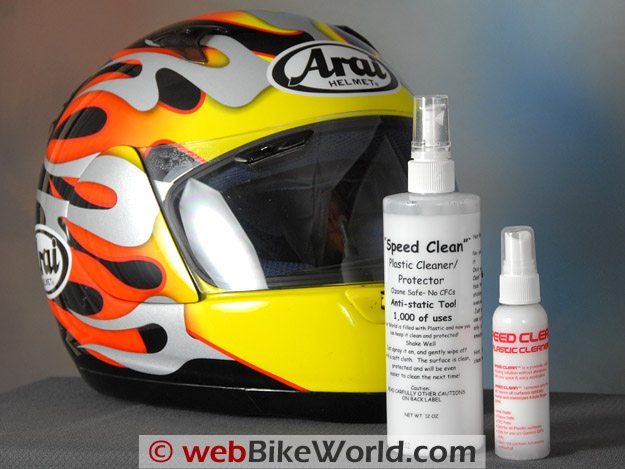 Using Speed Clean
Speed Clean is designed to both clean and protect, according to the sales literature.  The white liquid has the consistency of water and something about the formulation makes it separate, with clear on the bottom and white on top, if the bottle is left standing for some time.  A couple of shakes quickly homogenizes the milky mixture though.
After using Speed Clean on just about every "plastic" thingie I could get my hands on, I can say that this product seems like, works like and feels like a definite cross between a cleaner and a polish.  Sort of like crossing a basic plastic cleaner with a basic quick polish; for example, something like Meguair's Quick Wax (review).  This hybrid characteristic makes it difficult to evaluate Speed Clean for the purposes of this review actually — is it a cleaner or is it a polish?
After extensive use, I can say with confidence that it's a little of both — but don't expect miracles.  Speed Clean is not a magically super undiscovered cleaning product that will instantly dissolve bugs and road grime (although it is about the equal of the less-harsh cleaning products).
And it's also not a super magic polish, like the Tirox Speed Wax spray we reviewed recently.  It does, however, do a decent job of cleaning and a decent job of polishing without the harsh chemicals that are used in other formulations.  The absence of the harsh chemicals probably reduces the cleaning ability of Speed Clean, but makes it (claimed) safe to use on "delicate" plastics like GPS screens, LCD displays, cell phones, iPads/Pods/Phones, laptop screens and more.
w

BW

 Flash Slide Show:

  Speed Clean on a motorcycle windscreen.
Comparing Speed Clean
We evaluated Speed Clean by comparing it to other cleaners like Glass Plus (a staple in the webBikeWorld garage but getting very difficult to find lately, for some reason); a generic "Green" non-ammonia general purpose spray cleaner; ProtectAll (review); and AutoGlym (review); a British product that is similar to ProtectAll (but with a better smell!).
However, in terms of performance, Speed Clean is probably most closely related to the All Kleer (review) cleaner and polish with regards to both its cleaning ability and polishing (protective) performance.
Unfortunately, "protective" performance is almost impossible to subjectively evaluate, but after extensive comparisons on several motorcycle windscreens using the variety of products mentioned, I do think it's more like a sprayable, more fluid competitor to All Kleer.
Speed Clean is slightly easier to use than All Kleer, however.  A tiny spritz of Speed Clean is really all that's needed on a face shield because its consistency allows it to be spread over a wide surface area, unlike All Kleer with its thicker formulation.
We found that it does take some physical agitation (i.e., rubbing) with Speed Clean to remove bugs.  This is especially true on a windscreen or helmet face shield.  Speed Clean leaves a slightly hazy residue that then must be buffed out for the polishing effect, but it buffs out more quickly than All Kleer or Auto Glym.
Secondary Characteristics of Speed Clean
The manufacturer claims that Speed Clean will reduce static electricity, which can make the surface that has been treated with Speed Clean less prone to collecting dust and dirt and easier to clean after it does get dirty.  We found this to be more-or-less true, although it's very difficult to conclusively evaluate this feature because it's near impossible to duplicate the dust and dirt conditions each time.
But the treated windscreens and face shields do seem easier to clean than they did before treatment, although this could be said for a windscreen or face shield treated with just about any polish (not necessarily a cleaner).
I don't think the "protective" abilities are the equal of a product like RejeX (review) for example, but the main thing to remember here is that the little 2 oz. spray bottle is handy, can be carried just about anywhere, works on a wide variety of plastics (including GPS and iPod/iPhone screens, motorcycle LCD dashboard screens and more.
One other interesting feature of Speed Clean is its "optically neutral" claim.  This means that whether it's used on a matte surface or a glossy surface, the reflectivity won't change.  This, along with the fact that it does not contain ammonia or citrus by-products (although the manufacturer doesn't say what's in it or whether it's biodegradable), makes it acceptable for use on PDAs, cell phones, GPS screens, etc.
We tried it on two of the "Rubbertone" helmets (helmets with that soft-touch, rubbery-feeling surface).  One helmet has a matte finish and the other helmet has a semi-gloss finish.  Speed Clean didn't change the reflectivity, but it was difficult to remove or buff out all of the remaining product from the rubbery surfaces.  So far, the best way to clean this type of surface is plain lukewarm tap water and hand (finger) agitation for the tough spots.
An Important Note for Cleaning Plastic Items
Note that plastic is relatively soft compared to glass.  Always use a high-quality micro-fiber cleaning cloth specially designed for cleaning lenses when you're cleaning your face shield, windscreens and especially computer screens, PDAs, GPS screens, LCD instrument readouts, etc.  It's important to use a high-quality microfiber cloth; here's a selection from Amazon.com.
I use this 3M Microfiber Lens Cleaning Cloth, even though it's more expensive, it is specifically designed for lenses, where some of the other microfiber cloths are designed for household cleaning and many of them are not acceptable for use on face shields, lenses or LCD screens, in my experience.
Conclusion
While Speed Clean doesn't necessarily shine (pun intended) in any one particular category, the combination of cleaning and polishing, along with the wide variety of plastics and other types of surfaces on which it can be used, make it a pretty handy item to have in the garage, to carry in a tank bag or to take on a long motorcycle journey.
Where to Buy
Note: Products can be purchased using the following webBikeWorld Amazon.com Affiliate links:
Rating:  4 out of 5
More:  wBW Motorcycle Cleaners, Waxes and Polishes Page
Review Date:  June 2010
Note:  For informational use only.  All material and photographs are Copyright © webWorld International, LLC – 2000-2011.  All rights reserved.  See the webBikeWorld® Site Info page.  NOTE:  Product specifications, features and details may change or differ from our descriptions.  Always check before purchasing.  Read the Terms and Conditions!