A spate of hit-run crashes involving drivers speeding off after crashing into motorcycles seems to have hit Victoria.
The latest two hit-run crashes were in Brunswick yesterday (19 March 2019) and St Kilda West on Monday.
A rider was also injured in a hit-run on Footscray Rd on February 28 and another rider was injured in Laverton North on March 7.
Spate of concern
This spate of hit-run incidents raises the prospect that motorists are viewing riders not as vulnerable road users, but as "temporary Australians" with a death wish.
It could be a direct result of the recent bad press about the high rate of motorcycle fatalities in the state, currently at 20.
Sadly there have been no arrests so far in any of these four hit-run incidents.
Anyone with information about any of these incidents is urged to contact Crime Stoppers on 1800 333 000 or online at www.crimestoppersvic.com.au
St Kilda West hit-run
A KTM rider has suffered serious injuries in a hit-run incident in St Kilda West on Monday night.
Police have been told the rider was travelling south-east along Park Street about 6pm.
A white sedan was parked on Park St near the intersection of Mary St when the car pulled out of the parking spot and hit the motorcycle.
The rider was thrown from the motorcycle and the white sedan fled the scene, west along Park Street.
The male rider, a 20-year-old Hampton man, received serious leg injuries and was taken to hospital.
St Kilda police are investigating and are keen to speak to any witnesses or anyone in the area at the time with dash-cam footage.
Brunswick hit-run
In the Brunswick incident, a woman driving an unregistered dark green Ford Falcon station wagon callously sped away from the scene.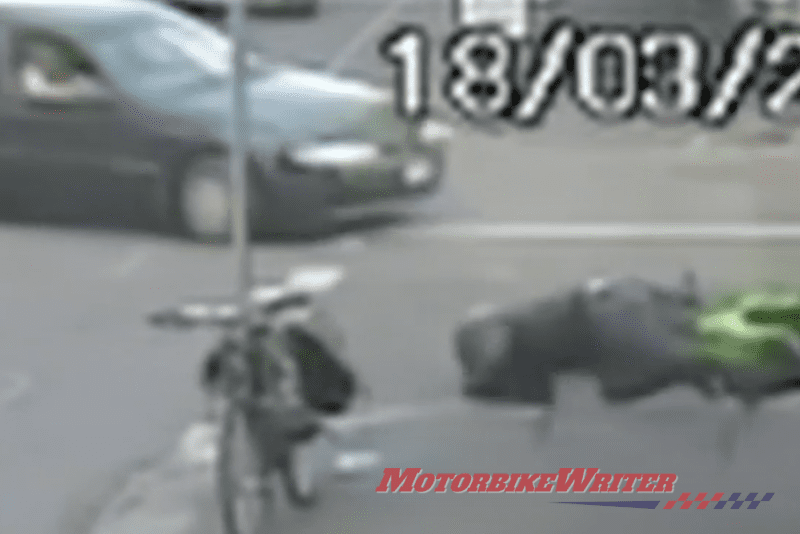 The incident occurred at 3.30pm on yesterday (19 March 2019) at the corner of Sydney Rd and Cozens St.
The 31-year-old Mickelham man was treated at paramedics at the scene, before being taken to the Royal Melbourne Hospital with minor injuries.
He was later released from hospital.
No arrests have been made at this stage and the investigation is ongoing.
In CCT video, the driver turns across in front of the rider, hitting the bike, then stopping momentarily before driving off.
The female driver is described as Caucasian in appearance, wearing purple sunglasses, with a medium build and aged in her mid-20s.
Do you believe this spate of hit-run crashes is due to a lack of driver concern for motorcyclists? Leave your comments below.