The Harley-Davidson Road King replaces the Classic model in 2016 and there are only a few small changes that add a mere 2kg, but make this so much more the real King of the Road.
The Road King has long been my favourite Harley. It has the best chassis, it converts to a cruiser with the quick-release screen and bags, it's very comfortable, handles well, has the best cornering clearance of any Harley and it's a great two-up tourer.
The Classic had the soft bags, spoked white-walled wheels and a narrow and thin rear seat, while this model features the single-latch, lockable hard panniers, mag wheels and the fatter and wider pillion seat from the Heritage Softail.
While that adds 2kg to the weight, it's not at all noticeable on the 371kg rig.
But it does add plenty of comfort and security to the bike. And most importantly, the price is the same.
I've never owned a Harley, so HD HQ in Australia kindly sent me a Road King to test for six months to see if I could live with one.
There are many critics out there who trot out the tired, old lines that they don't handle, break down, don't stop, chew fuel, etc. I often wonder how many of these critics have ever ridden one or ridden one recently, let alone the venerable Road King.
For such a big, comfortable beast, it really does go quite well.
A Kiwi journo and I had a delightful romp through the twisting roads around the North Island earlier this year, leaving other riders on lighter machines in our wake.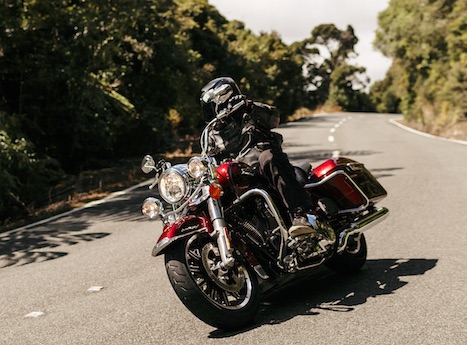 The Road King certainly does handle. Not like a sportsbike, but very well for a bike of its size.
I must admit, I've only ever ridden new Harleys, so I don't know if they break down. Nothing has gone wrong so far except for a rivet falling off the lock on the inside of one of the panniers.
At 5.5L/100km, they burn fuel at a reasonable rate for the weight of the bike.
Interestingly, if you go hard, the fuel economy doesn't blow out. It's fairly consistent and I've been getting close to 400km every time from the 22.7L tank.
When it comes time to stop – urgently – the bike pulls up very promptly thanks to linked brakes with dual 300mm discs up front and very effective and forgivingly smooth ABS.
Mrs MBW wasn't too happy with the previous Classic model which we rode around New Zealand last year.
She said the thin and narrow rear seat was only comfortable for about an hour at a time before she had to stop and rest. Now, she is fine sitting on the bike until it runs low on fuel after several hours.
Compare the seat shape and size in these photos. (The sissy bar is an optional extra we had fitted for extra pillion comfort and a feeling of security.)
She also likes the security of leaving her purse and jacket locked in the panniers while we go for lunch.
And if she needs anything out of the bags while we're riding, she has easy access with the latch right next to her and the lid opening out. She's been able to fish out a camera, her phone or whatever while we're on the run. Very convenient.
Those panniers also now carry a small puncture repair kit. The previous model had spoked wheels with tubed tyres so if you copped a puncture, you had to ring for a recovery vehicle.
Fingers crossed we don't get a puncture, but if we do, the tubeless tyre should be easy to fix by the roadside.
Stay tuned for more updates on our travels on the Road King and we'll see if we encounter any problems with the big rig.
Harley-Davidson Road King Classic FLHRC tech specs
Price: $32,495 (+ORC)
Warranty: 2yrs, unlimited km, roadside assist
Service: 1600/8000km
Engine: Rubber-mounted, air-cooled 1690cc High Output Twin Cam 103
Torque: 142Nm @ 3250rpm
Compression: 10.1:1
Transmission: 6-Speed Cruise drive
Suspension: 49mm forks, dual air adjustable shocks
Tank: 22.7 litres
Economy: 5.6L/100km (claimed), 6.5-81L/100km (tested)
Brakes: 300mm discs, Reflex linked system with ABS
Wheels: 130mm, 17-inch front; 180mm,16-inch rear
Headlights: Dual halogen or optional LED Daymaker
Length: 2450mm
Width: 960mm
Height: 1430mm
Seat: 715mm
Clearance: 135mm
Wheelbase: 1625mm
Tyres: 130/80B17 65H; 180/65B16 81H
Wet weight: 371kg