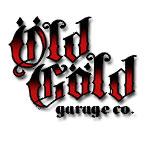 The 883ci Evo Sportster engine is the stock unit with original miles on it. Dan cleaned it meticulously and then bolted up a few dress-up items such as the Knucklehead snout air cleaner and Old Gold points cover. On the front of the bike the hand controls are vintage '60s Harley items which dangle off a pair of Hot Rod Surf Z-bars with Super Sixties grips wrapped around them. The sheetmetal on the bike is comprised of a hacked-up Paughco tank adorned with a Mooneyes gas cap. The rear fender is of unknown descent that Ritch scored on eBay. One of the coolest things modified for the bike is the K-model oil tank that gave the Sporty a more vintage look. After the custom parts were fitted, the bike was blown apart and the sheetmetal was hustled off to Nick-O-Teen for a few fabulous coats of custom-mixed Bloody Mary Mornin' red. When it came time to figure out the seating surface the choice was easy. Dan's lovely and talented wife Tiffany owns Hammersmith Leather and did a killer job.
Built In: U.S.A. Bike Style: Bobber
Image Gallery
---
Slippery When Wet Bike Specifications – Old Gold Garage Co.