Siima Sibirsky Super Adventure Pants Review Summary
Review Summary
The Sibirsky Super Adventure pants are comfortable, adjustable for fit and good protection in any kind of riding weather. They have a removable interior thermal liner and a quick attach waterproof outer layer along with excellent venting front and back. Armor is housed in the knees and hips for protection. Excellent value for the money and have a handsome design to boot.
Pros
Good protection from the elements
Good visibility thanks to ample reflective striping
4 pockets (2 waterproof ones)
Includes a waterproof outer layer and removable interior thermal liner
Very versatile and good air flow capability
Affordable
Excellent customer service
Cons
Single stitching may limit usage and longevity
Armor included isn't of the highest quality
Limited sizing and color options
Siima Sibirsky Super Adventure Pants Image Gallery
Siima MotoWear is a motorcycle riding gear company, owned and operated by a passionate designer named Giorgos Evripidou in Nicosia, Cyprus.
If you've never heard of them before don't worry, you're not alone. I only encountered Siima for the first time myself a couple of months ago. I "met" Giorgos online thanks to a posting he had made on an adventure rider Facebook group looking for volunteers to test out his Sibirsky Super Adventure Riding Gear.
I took the bait and got myself a set of Sibirsky Super Adventure Riding gear to review as soon as I could. Giorgos was easy to communicate with online and took the time to make sure I got the best fit I possibly could.
Shipping
Shipping was included in the price of the gear and it arrived all the way from Cyprus in about a week or so. Not bad coming from so far away.
Construction and Design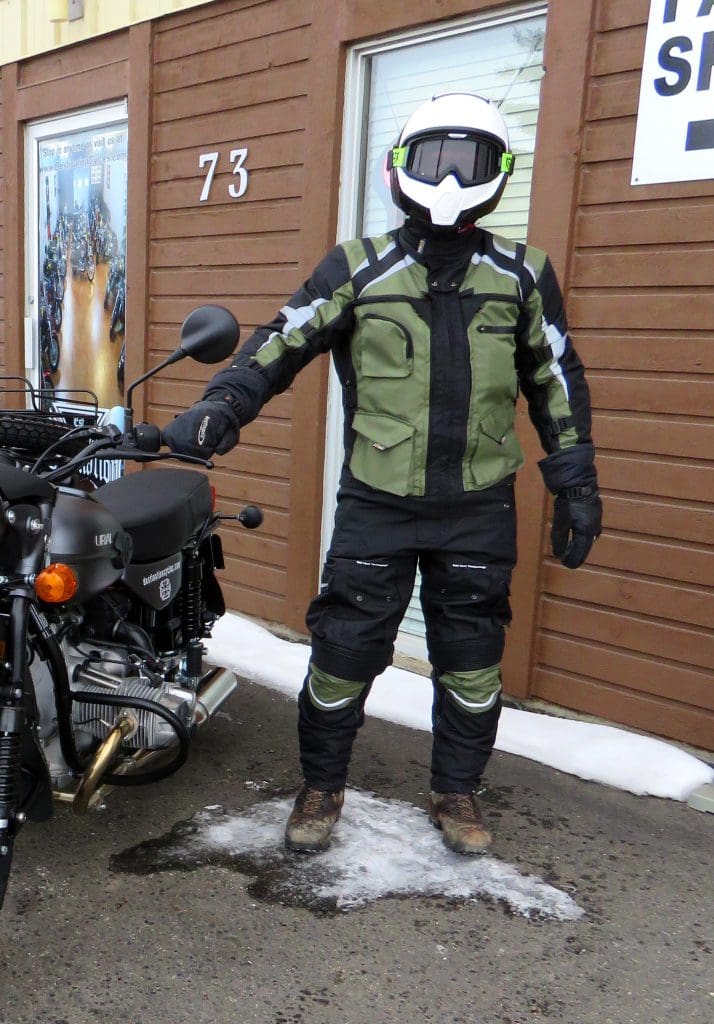 These pants are made of the same 600D ballistic nylon textile as the matching Sibirsky jacket you can buy separately or as a package. The jacket and pants both have the same kind of removable thermal liner that secures in place using a zipper at the waist and buttons at the ankle areas.
The inner liner material behind the nylon is double mesh to allow excellent airflow when vents are opened for rider comfort.
Priced Better Than Comparables
They're a great price costing 160 Euros or roughly $195 US. (You can get a 20% discount from Giorgos by using the coupon code SIBIRSKY20 at checkout time when you order your pants online). This means these pants are a fantastic deal compared to other comparables on the market.
Unlike the jacket, you can't remove large sections of the outer material to cool yourself in hot weather riding, but don't worry the pants have excellent venting too.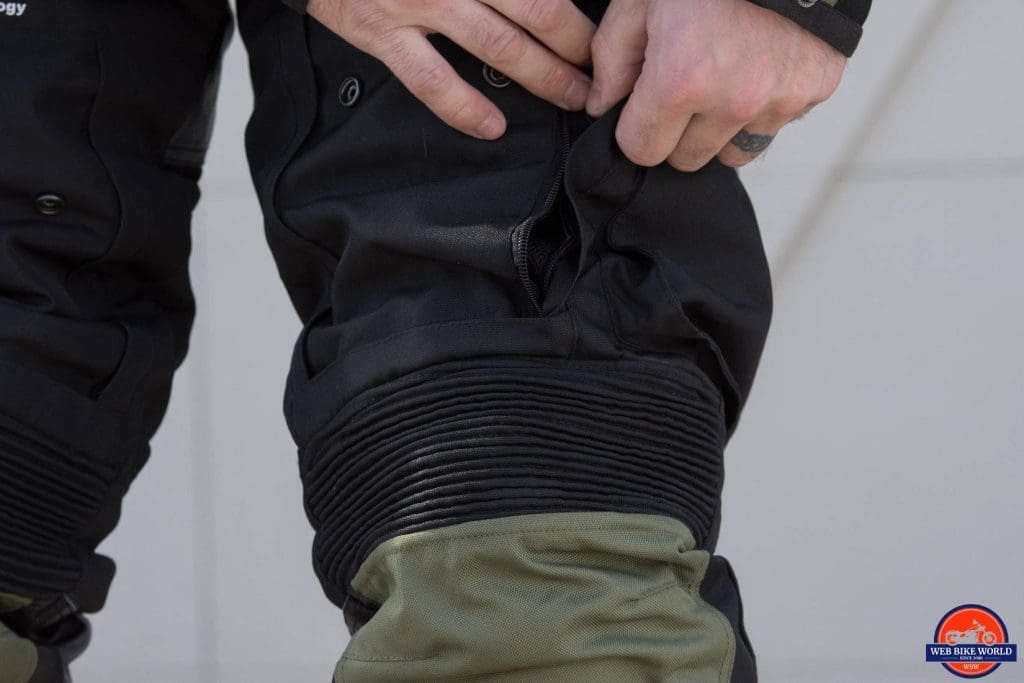 Airflow Venting
There are two long zippers on the front of the thigh area located on either side of the large cargo pockets that can be opened up to provide excellent airflow. On the back of the thighs, there are long zippers to open as exhaust ports.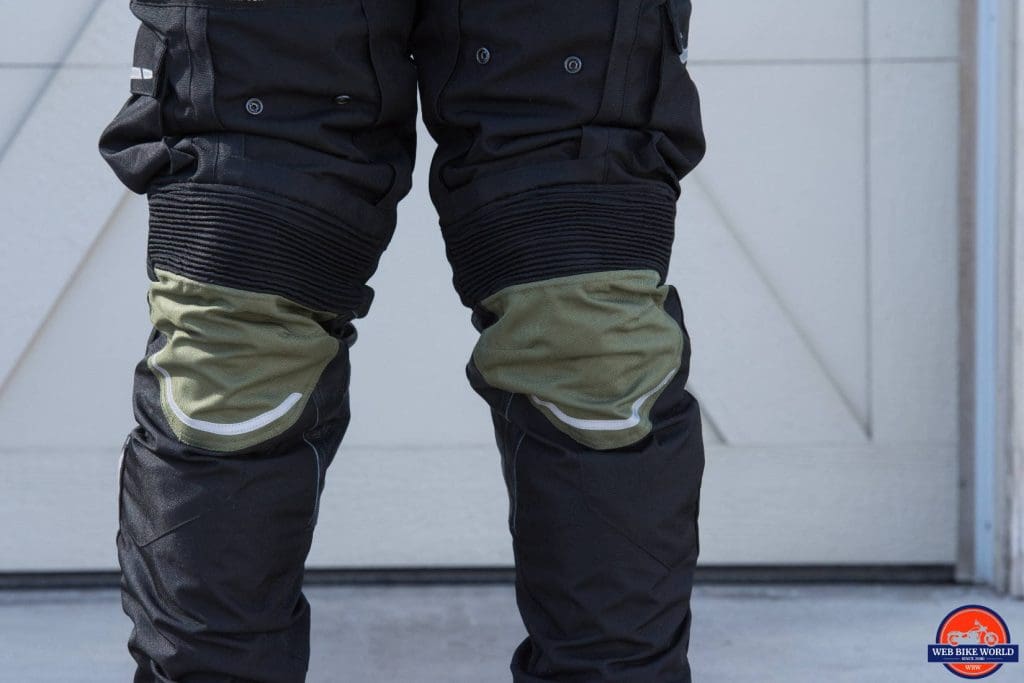 General Appearance
I really like the tasteful lines and colors chosen for the pants and the highlights of silver-colored reflective material found on the knees, thighs, calf and heel areas. In addition to the two cargo pockets, there are hand pockets on either hip that have a zipper and velcro to seal them shut. The liner on the inside of these pockets appears to be waterproof material.
Longevity?
I noticed that there is only single stitching on the pants and the high wear areas around the knees, in particular, aren't reinforced with extra material or superfabric like you would find on a Klim for example. It's understandable since these pants cost about 10 times less than those big brand name ones though, it does make me wonder how they would hold up in a slide or crash. The other side of that argument is that you could replace the pants 10 times before ending up paying what you would for the Klim ones. I suppose it just depends on how rough and how often you ride whether these are issues for you. Food for thought.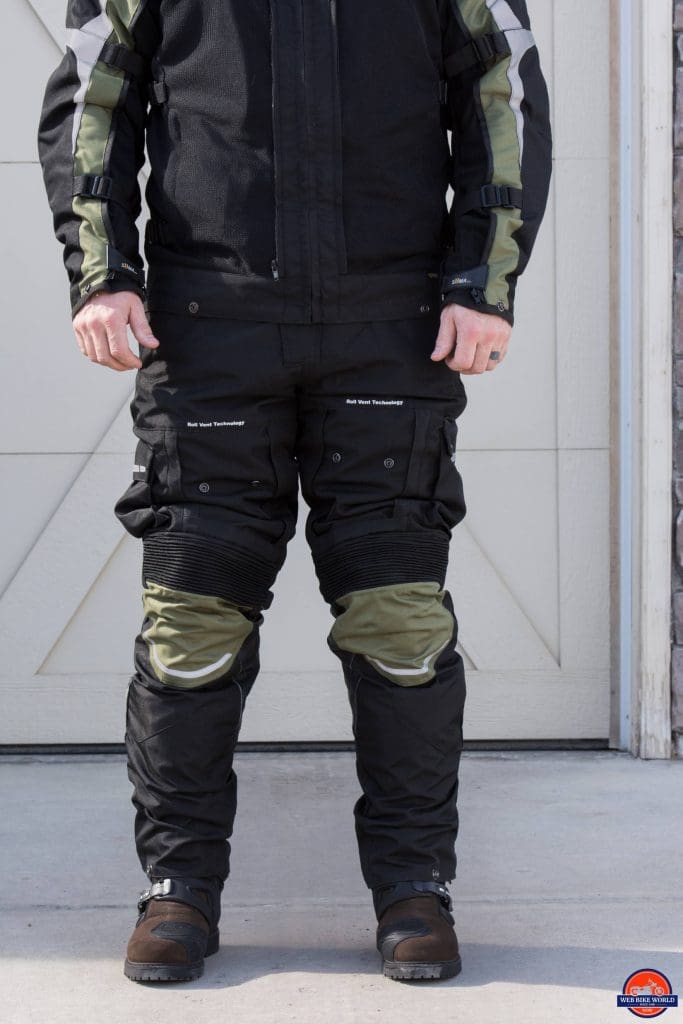 The crotch and inner knee areas do have leather patches sewn onto them to help with chafing wear typical of rubbing on the seat or sides of the bike frame.
Armor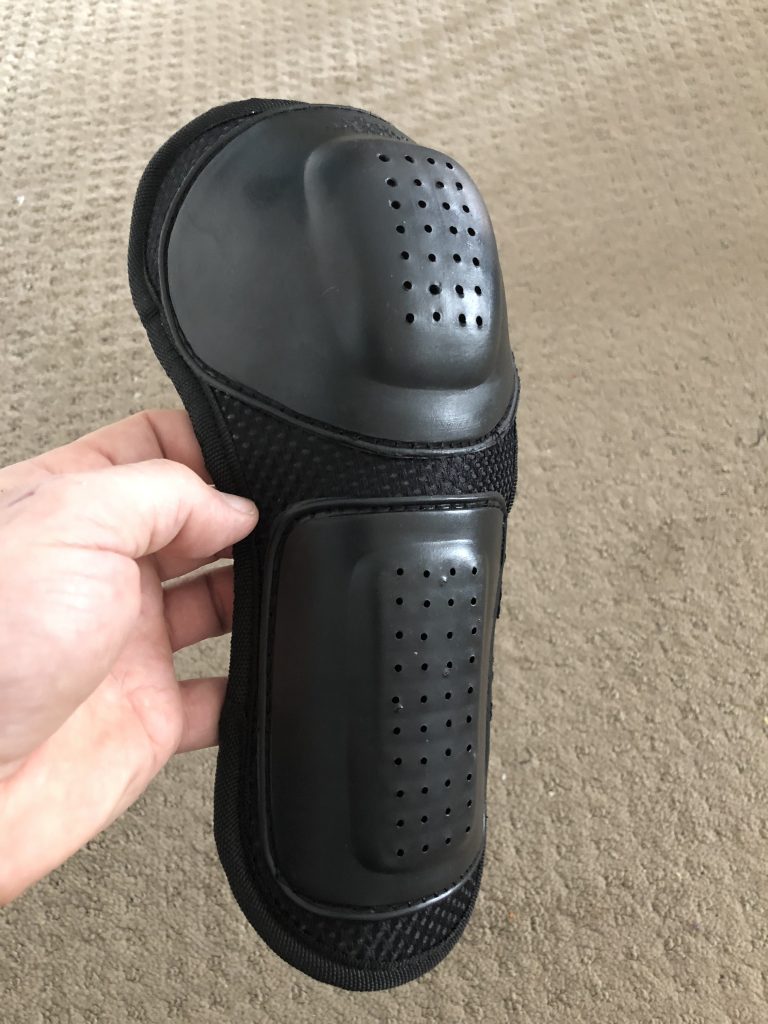 There is CE level 1 equivalent armor in both hips and knee areas of the pants. They look like they just barely qualify as that level of protection, but I suppose they would still make a small difference in a crash. They are mesh covered and shouldn't make you sweat too badly in hot weather. It probably would be a good idea to upgrade these with better quality protective padding. The low purchase price of these pants makes that feasible.
Fit and Comfort
My 34 inch waist is easily accommodated in a size Medium Sibirsky pant, but my 26-inch inseam is a huge problem when it comes to the length (or lack thereof) I need. The knee armor never lines up with my knee cap and unfortunately, there's no short sizing option available. Giorgos warned me about this, but I decided to get the pants anyway and see how it would all shake out.
Short people problems…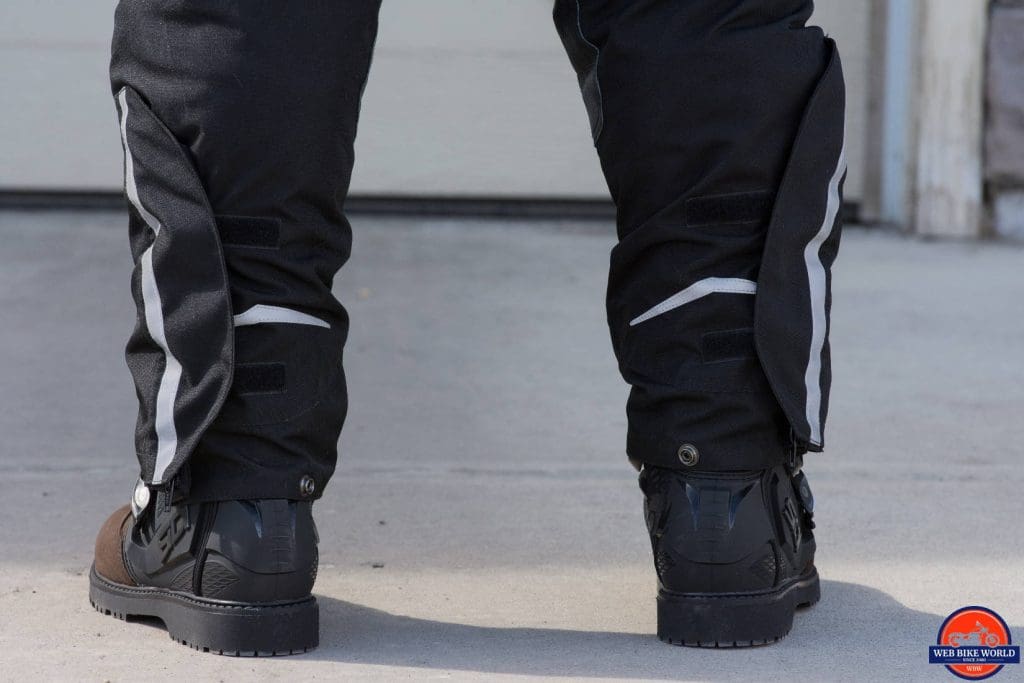 As I hoped, the flared lower portion of the pants have a zipper and velcro flaps that work together to hold the material tight against my calf/boots.
I was able to hike the pant material upwards before closing the flaps, thusly locking the knee armor further up the leg in a position where it belongs over my knees. The net result is a fair bit of material bunched up as you can see in the photos, but the pants feel comfortable and do what they're supposed to do.
I found these pants fit too tight when I wore them over my jeans, but if I remove the thermal liner then they fit fine while wearing jeans underneath.
Waist Adjustment
The pants have velcro adjustment straps on both sides of the hips allowing you take in or let out material in fitting them to your individual waistline. The medium pants will range from about 33 to 35 inches this way.
Regardless, you're best to consult directly with Giorgos to get the best fit available before ordering. He knows his gear well and will happily advise you on fitment.
The fly has a zipper and a large fold over flap that is secured shut using velcro in order to keep the wind from coming through and subjecting your most tender bits to windchill. It worked perfectly in my sub-zero field testing.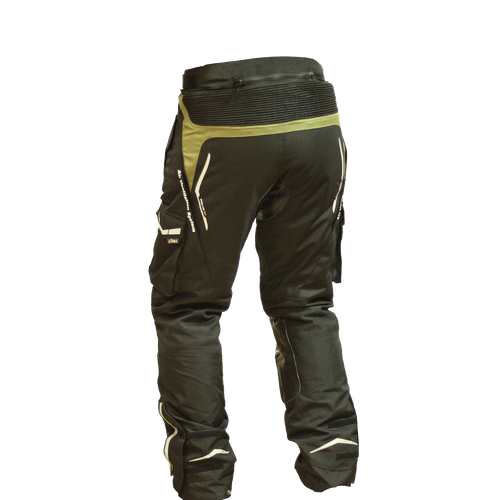 This image shows how they look on someone with a more typical 29-inch inseam. You can see they are some sharp looking pants when they aren't all bunched up on my short legs. The pants in the picture seem to be more green than the black mine are though.
You'll notice the accordion-like pleats that are found in the lower back/rump area to allow stretching and better conformity without producing permanent bulging over time. This same design is used in the knee area to keep things fitting tight… not that I personally need it!
Note the zipper used to attach the pants and jacket together is visible just above the accordion pleats in the photo above.
Road Testing
I decided to test the pants out on a cold March morning that more closely resembles winter than spring. The temperature was 26 F and there was plenty of snow on the ground. Luckily a local Ural sidecar dealership was doing demo rides and I got in on that to see how effective Siima's 4 season riding gear would perform.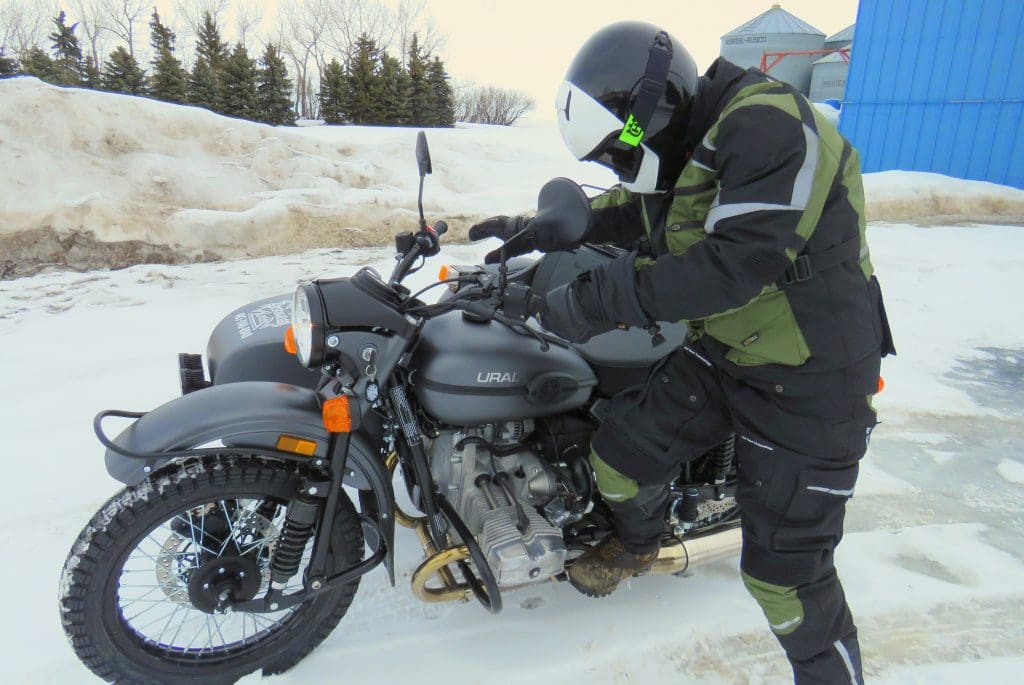 With zero fairing protection on the Ural, I got the full windchill effect during my 40-minute ride at highway speed and the Sibirsky pants didn't even flinch. I was very happy with how the wind and cold wasn't a factor whatsoever. Underneath the pants, I was only wearing my usual cotton briefs and some thermal full-length underwear. That's it.
There's no doubt about the validity of the 4 season claims of this gear in my mind. I'm confident that the venting in these pants would make summer riding very comfortable once the thermal liner is removed.
Water Proofing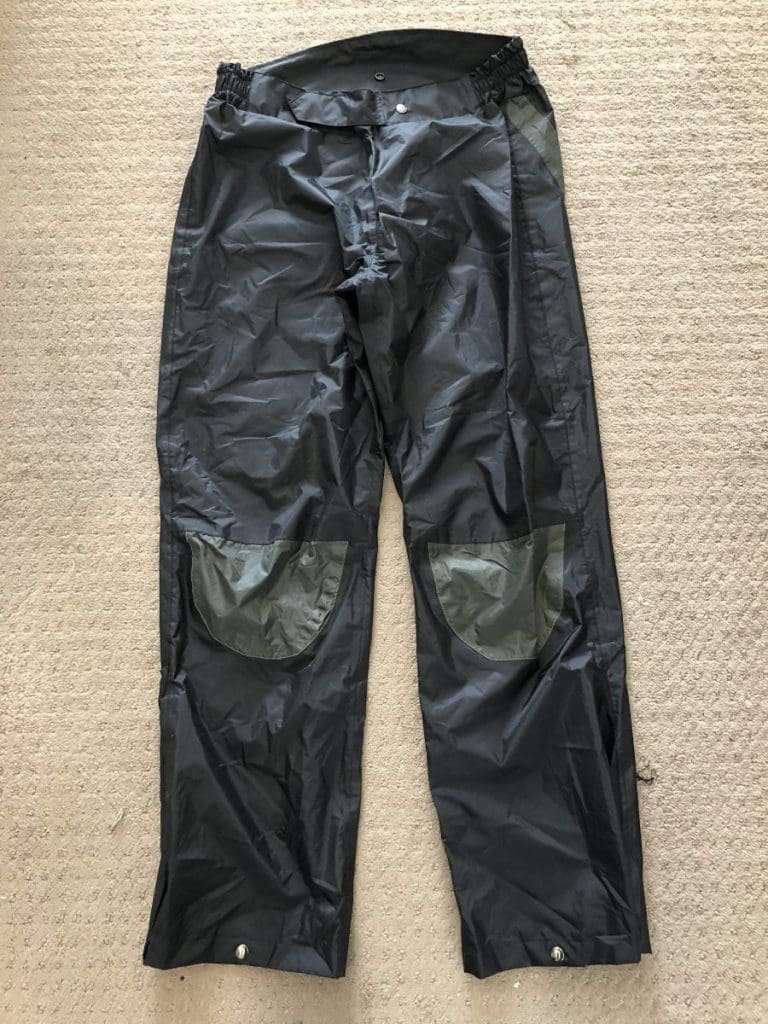 The Sibirsky pants and jacket are only water resistant on their own, but included is an outer layer you can attach using snaps that is fully waterproof rain gear.
I much prefer this to liners that install on the inside of the pants because I find them difficult to install. Especially when combined with a second thermal lining or trying to install it standing on the side of the road when an unexpected downpour is encountered.
The downside to this waterproof outer layer is the dark color scheme and lack of reflective material. While it's nice how it matches the pants, it's not the best idea to wear dark colors out riding in heavy rain.
Very Limited Colors and Styles
The Sibirsky pants are only available in green and black color schemes and there's no women-specific version offered. Good thing those are my favorite colors and I'm male. Sorry ladies.
Siima is focused on keeping things simple for now in order to ensure the cost of manufacturing stays economical. They're a small fish competing in a very big pond with some large sharks after all and they have to operate lean and mean as such.
What's the Verdict?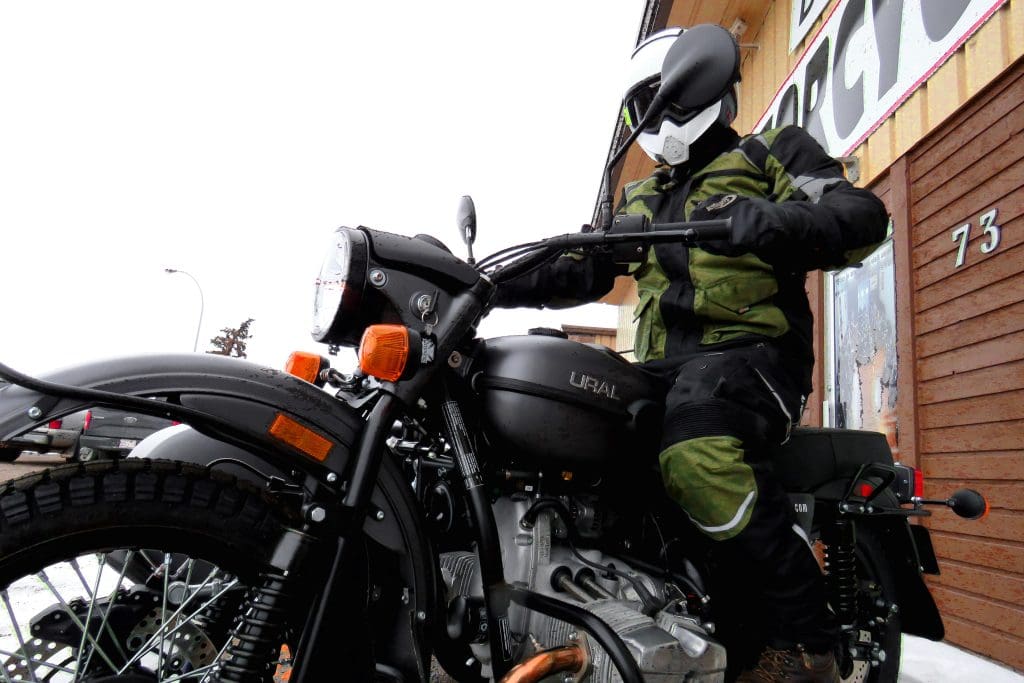 I will definitely be wearing the Sibirsky riding gear in the hot summer weather this year and loving it! This will be a welcomed change from my current leather gear.
Pros
Good protection from the elements
Good visibility thanks to ample reflective striping
4 pockets (2 waterproof ones)
Includes a waterproof outer layer and removable interior thermal liner
Very versatile and good air flow capability
Affordable
Excellent customer service
Cons
Single stitching may limit usage and longevity
Armor included isn't of the highest quality
Limited sizing and color options
Be sure to read my review of the Siima Sibirsky Super Adventure jacket as well if you're in the market.
Siima had the goal of creating affordable and convertible riding gear that could suit multiple rider needs, and I think they succeeded for the most part. Yes, there are a few things I would change about the Sibirsky Super Adventure, but nothing drastic. For the features you get at this price I think it's worth your hard earned money if you're a rider on a budget and can't afford to buy from Klim or Rukka.
The Sibirsky offers protection from the wind, cold and rain to the wearer and buying this gear has the added charm of helping support one of the "little guys" that keep the big, mainstream manufacturers honest.
I like that.
I also like that not everyone out there will be outfitted in Siima gear and I can feel somewhat alternative and unique that way.
Coming Soon From Siima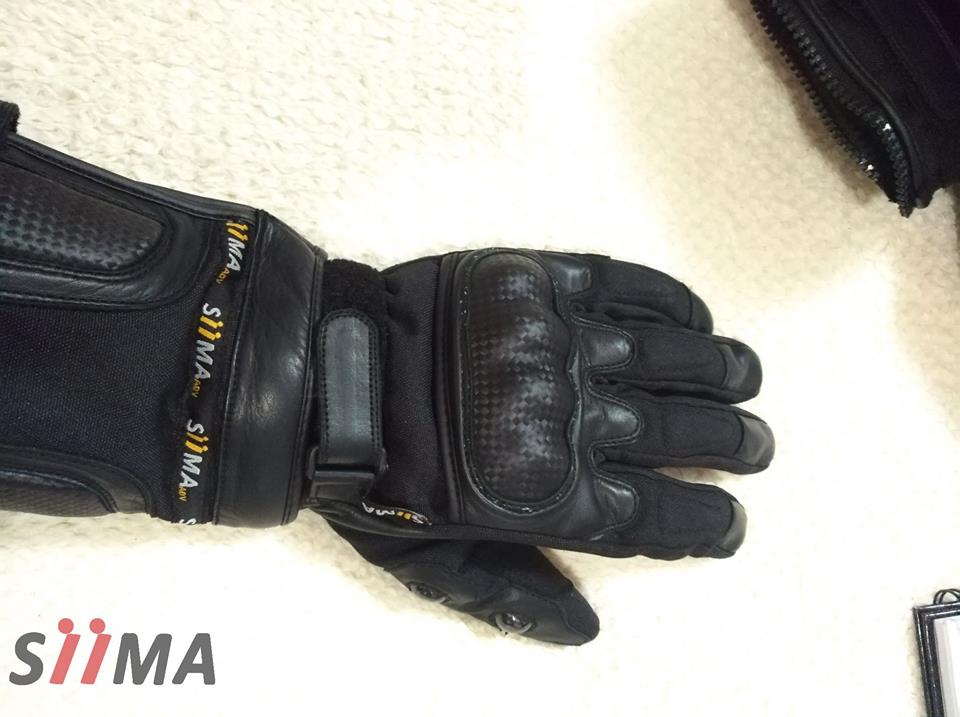 You'll want to keep an ear to the ground because Giorgos told me he's been developing a matching set of convertible gloves to go with the Sibirsky gear and it should hit the market in the next few months.
Note: The photo above is one of a few different versions being tested now by Giorgios and may not necessarily be what the end product looks like.