Siima Sibirsky Super Adventure Riding Jacket Review Summary
Review Summary
The Siima Sibirsky Super Adventure jacket is a stylish and very flexible piece of kit capable of 4 season weather protection. It converts to provide excellent air flow in hot temperatures while also functioning capably in cold weather to keep you warm. For riders on a tight budget it's a terrific option featuring some protective armor built in too.
Pros
Good visibility thanks to lots of reflective striping,
Lots of pockets including a drinking water reservoir and rain gear storage pouch
Includes a waterproof outer layer and removable interior thermal liner
Very versatile and outstanding air flow capability
Affordable
Cons
Single stitching may limit usage and longevity
Armor included isn't of the highest quality
Waterproof layer has no reflective material or hi viz colors
Limited sizing and color options
Heavy
3.5
Average, With Drawbacks
Siima Sibirsky Super Adventure Riding Jacket Image Gallery
A couple of months ago I noticed a posting on a Facebook group for Adventure riders that was offering a discount on Siima riding gear in exchange for "an honest review".
It was posted by an account with the name Giorgos Siima. Intrigued, I contacted him by private message about the offer right away. Giorgos Evripidou responded quickly, was very approachable and excited to talk to me about his line of jackets and pants. He is the owner and designer of Siima riding gear based out of Nicosia, Cyprus and a big fan of motorcycling.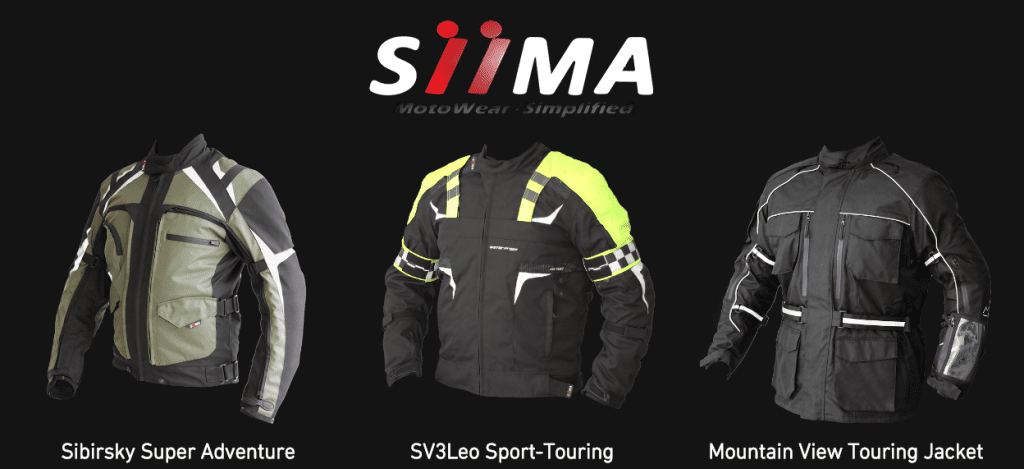 As you can see he has three varieties of riding gear available, but it was the Sibirsky Super Adventure jacket and pants that I requested to do a hands-on review of because it stands out to me as an adaptable system for true 4 season riding that can be had at a reasonable price.
Bargain Pricing
The jacket sells for 289.99 Euros or roughly $357 US, shipping included (before Giorgos gives you a 20% discount when you use promo code SIBIRSKY20). That would put it lower priced than a direct competitor quality jacket like the Rev'it Tornado 2. The Rev'it does have better quality armor in it but lacks some of the other Sibirsky features as you'll see.
The Sibirsky Jacket System
Features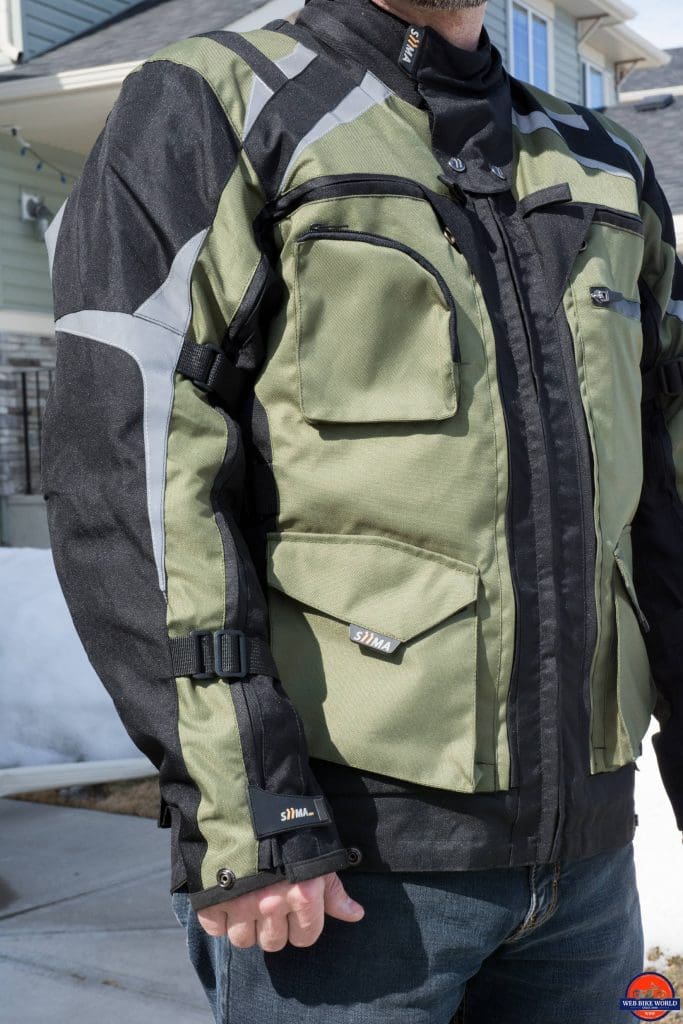 The Jacket appears to be a typical 600D ballistic textile variety on the surface with reflective striping tastefully blended into the lines of the shoulders and arms, front and back.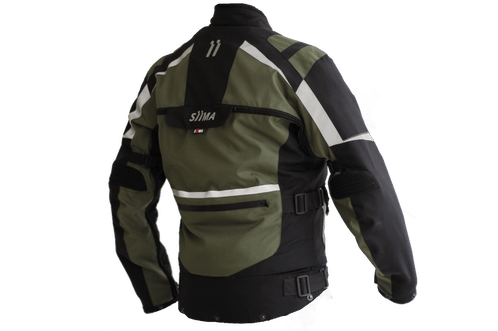 Fit and Comfort
Add to that the adjustable cinches on the arms, waist and wrist areas, along with a removable collar that covers the lower and mid-neck area and it's starting to get more interesting. The cinches allowed me to adjust the jacket to fit snug but not uncomfortably tight. It left a little room to spare for extra inner layers if desired.
There are pleated, accordion-like sections of material on the elbows, knees and lower back of the Sibirsky system to keep those areas from stretching and bulging out over time from the stress of a typical riding position. It looks like it would hold up well, but only time will really tell.
I have a 40-inch chest and a 175 lb muscular build, but I'm short at only 5'7" tall. Finding riding gear that fits me well is extremely challenging. To complicate matters, when I had my wife help take my measurements to order the Sibirsky jacket she misread the tape and told me my chest was 42 inches.  Maybe she was trying to pad my ego?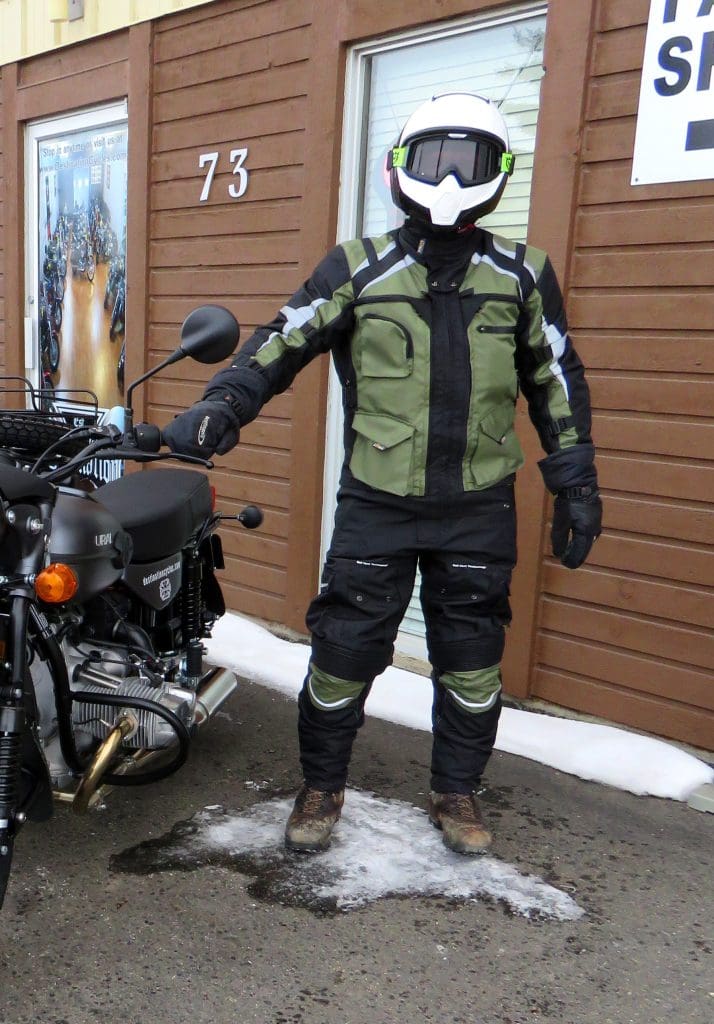 That's how I ended up with an XXL jacket on Giorgos' recommendation. I've never been an XXL anything in my life but surprisingly the jacket still fits me quite well. If I could do it over again I think I would have gone with the XL instead just to tighten up the fit a bit. The XXL leaves me some room for additional layers if I want them which isn't a problem really.
You'll find the Siima jackets fit smaller than US sizes do, so make sure if you order one that you consult with Giorgos beforehand… and give him your actual and correct measurements.
Collar and Wrist Seals
The removable collar doesn't have neoprene on the sealing edge to block out water, but it does have soft, felt lining it and it's comfortably snug without causing any chafing.
The adjustable wrists also have the same felt lip on them, but I don't care for the velcro adjuster there because it left a bulge when I latched it tight to my wrist. This probably wouldn't have happened if I had ordered the XL jacket instead so I can't really hold it against Siima.
A Couple of Misses
I noticed that the stitching isn't doubled anywhere on the jacket or pants, making me wonder about the life expectancy of the Sibirsky, especially if it's used for serious off-road riding and takes a few slides across the dirt during spills off the bike. Double stitching is commonly found on the higher end brands for this very reason.
Neither is there any superfabric or double thick sections of nylon on the elbows, shoulders or other high stress/impact areas of the jacket. Similarly, the knees, hips, and rump on the pants aren't reinforced, but there are patches of leather sewn into the crotch and inner knee to help with wear.
Excellent Hot Weather Mesh Venting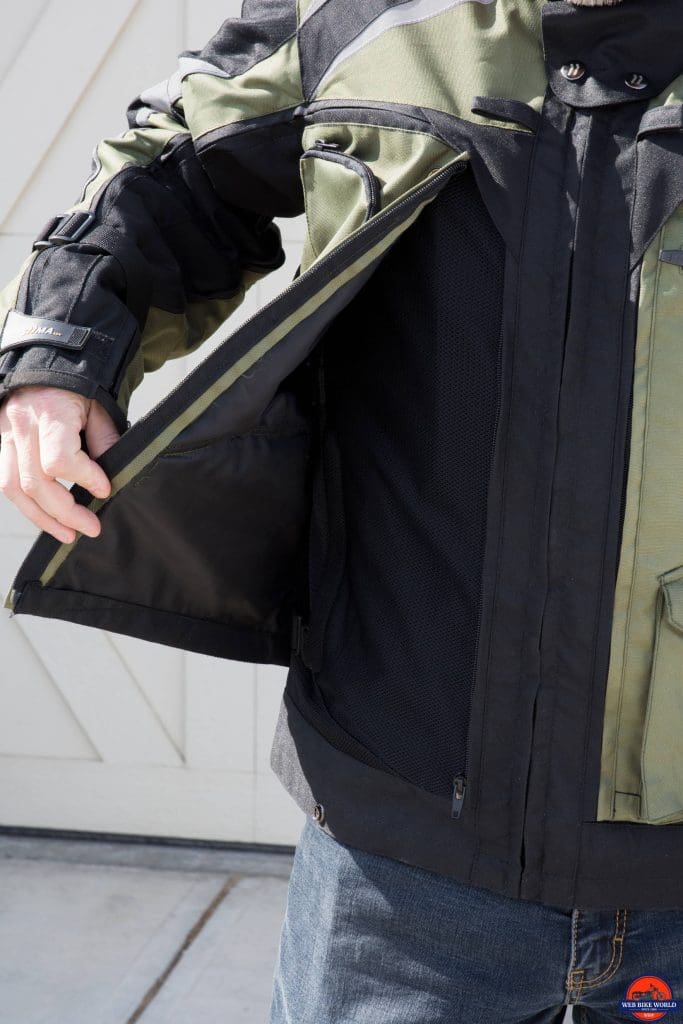 The jacket has large openings on both sides of the lower 75% area of the jacket that can be opened up a little bit or all the way down to the waist and pinned back using snaps to allow air to flow into the jacket's inner mesh liner and cool the wearer.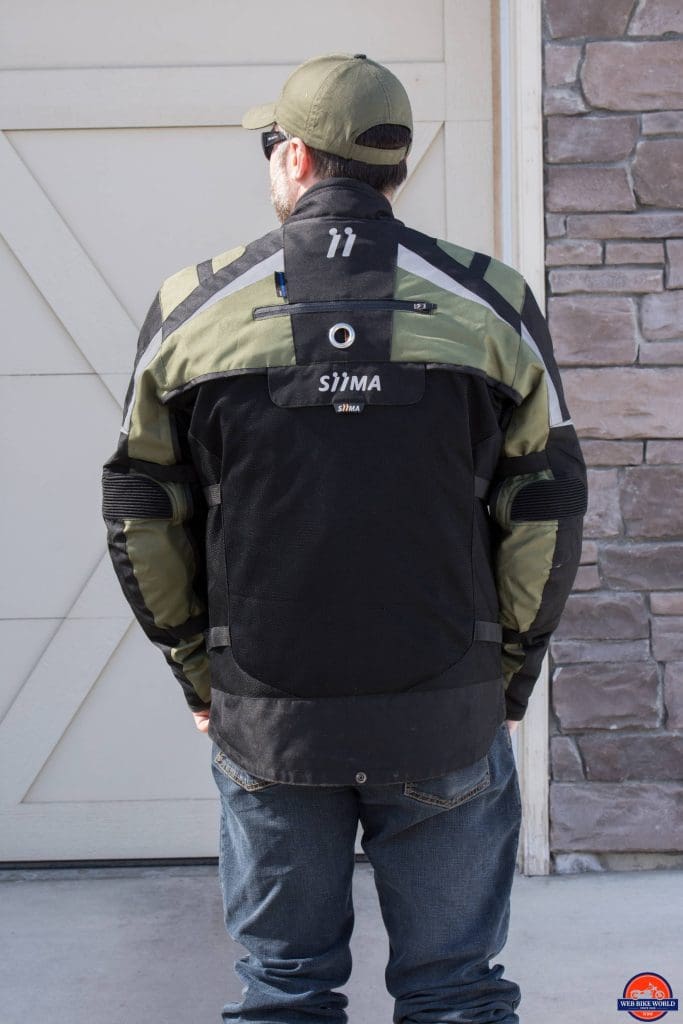 If you find that's not good enough while riding in temps rising high above 100 degrees just continue undoing the zipper and you'll find that it removes the entire outer layer on the front, lower portion of the chest area and most of the back too. There's even a strip attached to it that runs along the inside of both arms. This allows you to remove more than half of the outer textile layer of the jacket leaving double layered mesh in its place. You can see how the outermost green layer is gone in the photo above leaving the black mesh in its place.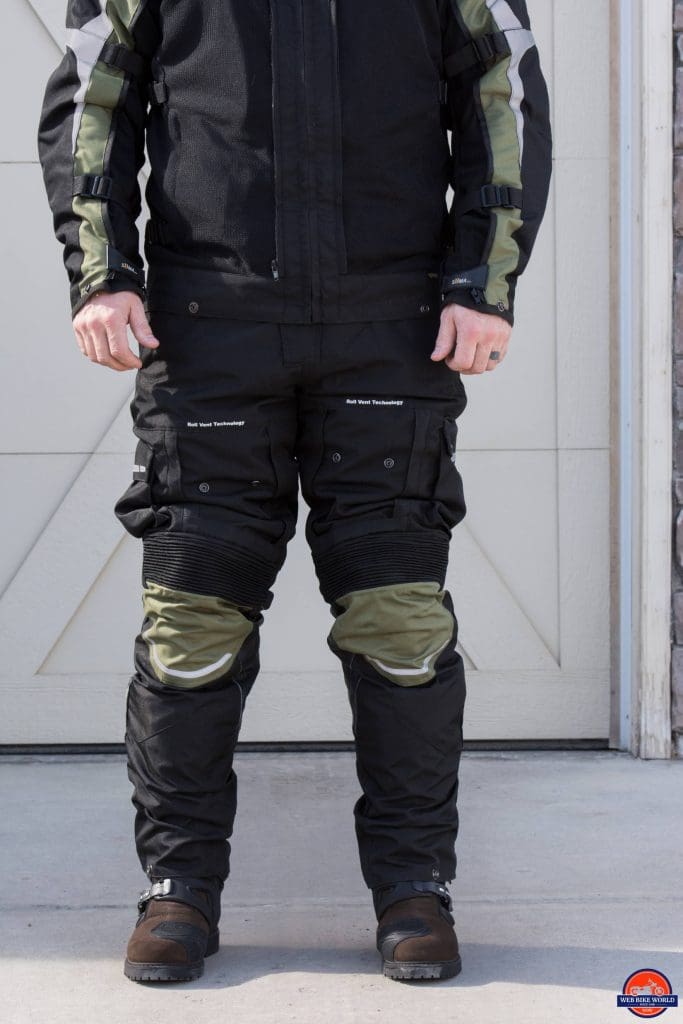 I haven't seen a comparably priced jacket on the market that will flow more air through it than this one, including the Rev'it Tornado 2 which is saying a lot. It's the strongest selling point for the Sibirsky for sure. When I removed the outer layer to test the cooling properties I was very impressed with how well it worked. Excellent design.
Water Reservoir Pouch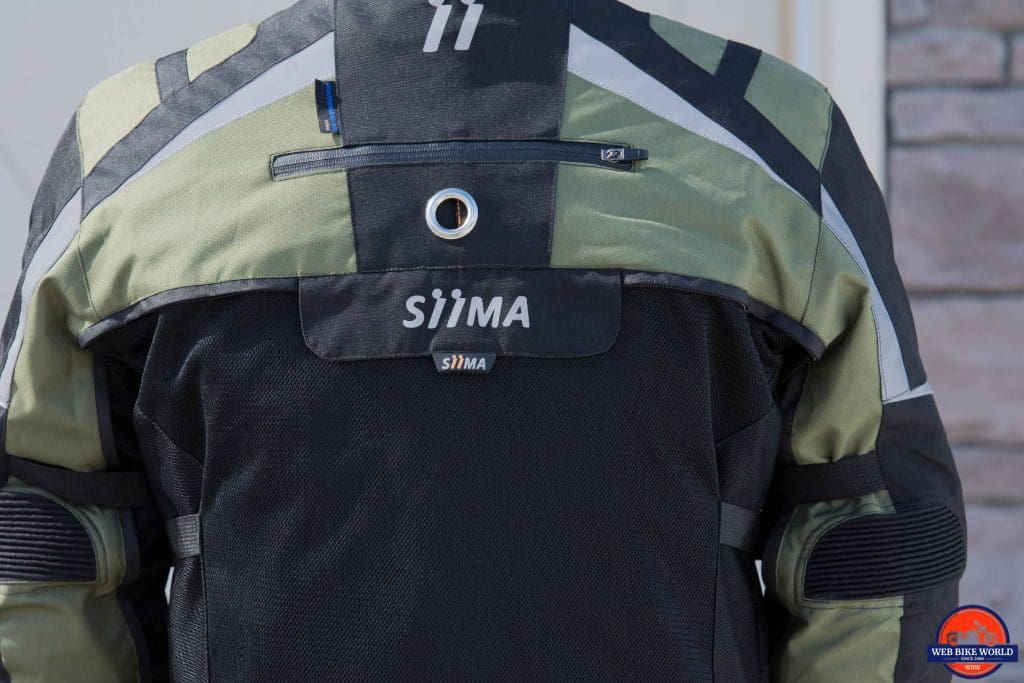 In the photo above you'll notice a large grommet with a zipper above it. This is a pocket designed to hold up to a 3 Litre water reservoir and the grommet would be where the drinking tube exits to reach the rider's mouth. A water reservoir isn't included with the jacket, and I don't see any loops to anchor down the drinking tube anywhere on the jacket either.
Removable Thermal Layer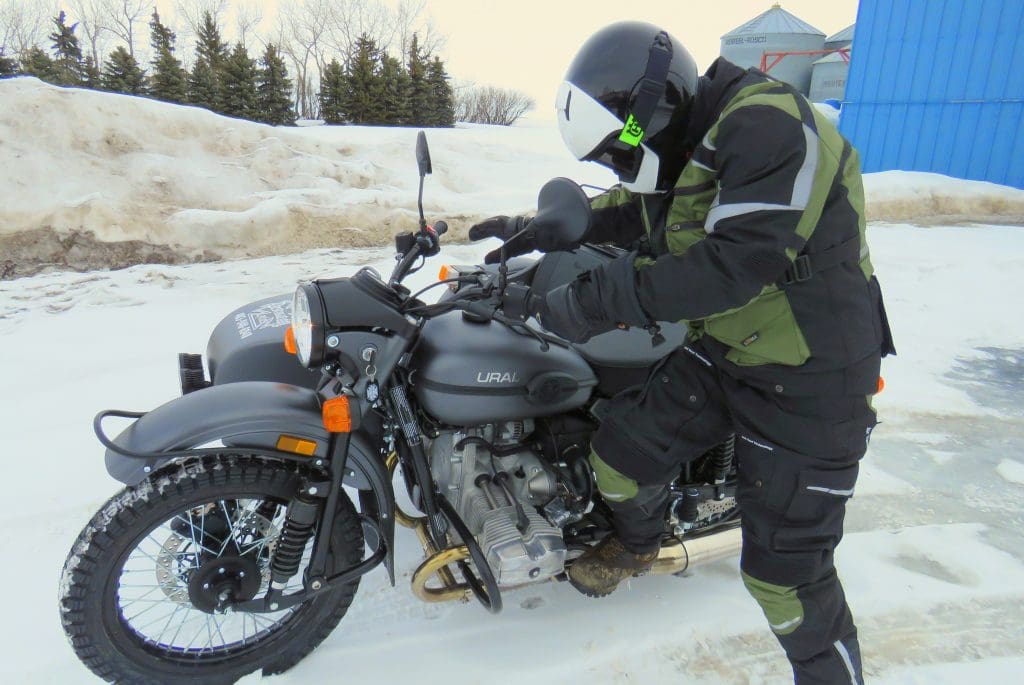 The Sibirsky certainly has hot weather riding covered, but it also comes with a removable thermal liner that snaps in and out of place for colder weather riding. The pants come with the same thermal layer material snapped in them at the bottom and zippered at the top.
I was very skeptical about a jacket with so many zippers and ample mesh lining being able to keep me warm in cold weather and had to put it to the ultimate test: a Canadian winter motorcycle ride!
I may have subconsciously tried to set the Sibirsky up for failure by venturing out in 26 degrees F weather on a Ural sidecar bike demo. No windshield or anything to block the windchill from hitting me straight in the Sibirsky, so to speak. Underneath the jacket, I only wore a turtleneck cotton shirt (mostly to cover my neck) along with a standard thermal underwear top and bottom layer… that's it! Let's see how that Siima thermal layer really works, eh?
Four Season Gear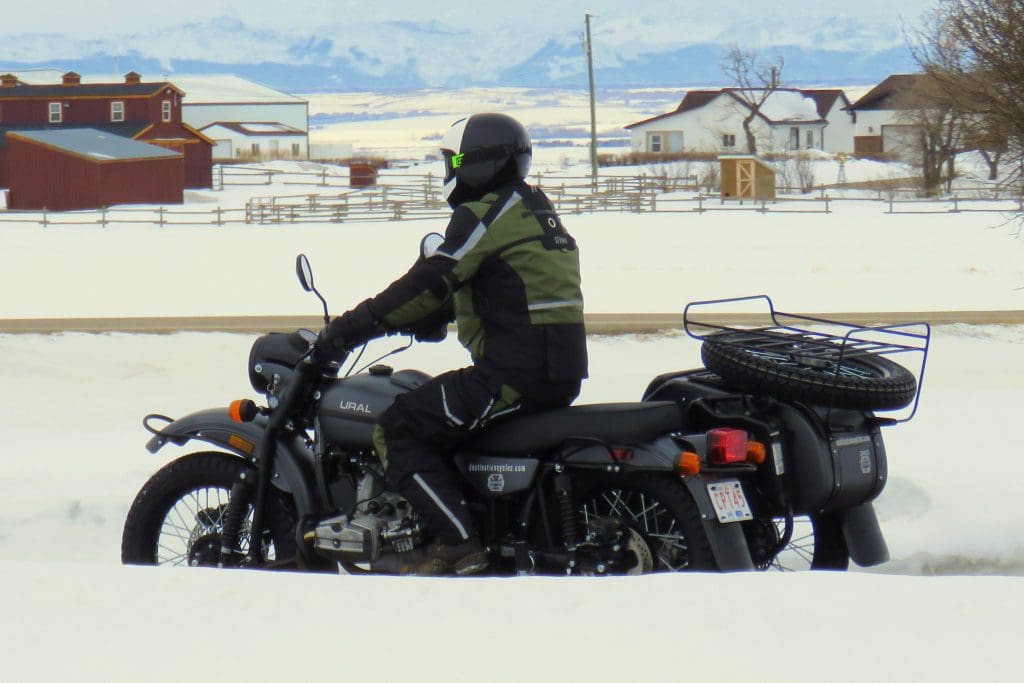 I went out at highway speed for a good 40-minute ride on the Ural and to my amazement, I stayed warm! By the end, I was starting to notice a slight bit of a cool sensation touching on my chest area. I believe it was because the zippers were beginning to freeze up and transfer cold through my turtleneck and thermal top. If I had actually worn a sensible layer of fleece or even a hoodie I doubt I would have felt anything at all.
The Sibirsky pants didn't transfer any cold whatsoever to their credit. I was very impressed that even with the deck overwhelmingly stacked against it the Siima gear stood up to a thorough cold weather test.
I should have known that with a name that translates to Siberian, the Sibirsky would be suited to cold weather, eh?
FYI, Siima is Finnish for "line" or "path".
Zippers
All the zips are YKK quality ones and move well without snagging. There are flaps covering every zipper seam that keep the wind out and warmth in if you want to go that way.
Armor
There are CE Level 1 pads in the chest, elbows, and shoulders along with a Level 2 equivalent one covering the back. They definitely aren't the same high-end quality you would find in a brand like Klim or Rev'it as you can see in the photos, but they do feel like they would make some difference in a crash. The pockets that the armor sits in could accommodate better quality padding if you bought some to install in the jacket and pants yourself.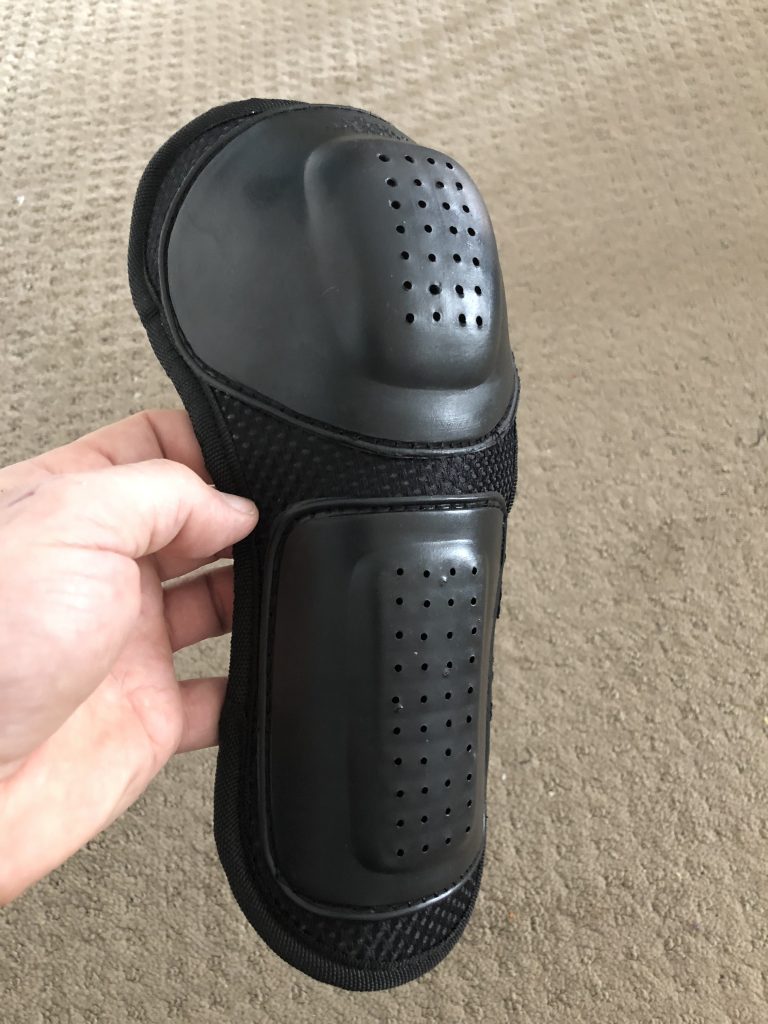 The mesh backing on the ones in the arms, legs, and shoulders help with moisture wicking, but the large one on the back and those on the chest are basically just big, solid chunks of rubber that could make you sweat more in high heat riding. Good thing you can open those huge vents to compensate.
Pockets
There are four pockets on the front and one on the inside vest area. None are waterproof sadly, but they are a good size to hold wallets, cell phone, passports or whatever else you'd typically carry.
If you remove the lower portion outer shell of the jacket for hot weather riding you'll lose all four pockets and only be left with the inner vest pocket.
Rain Gear Pouch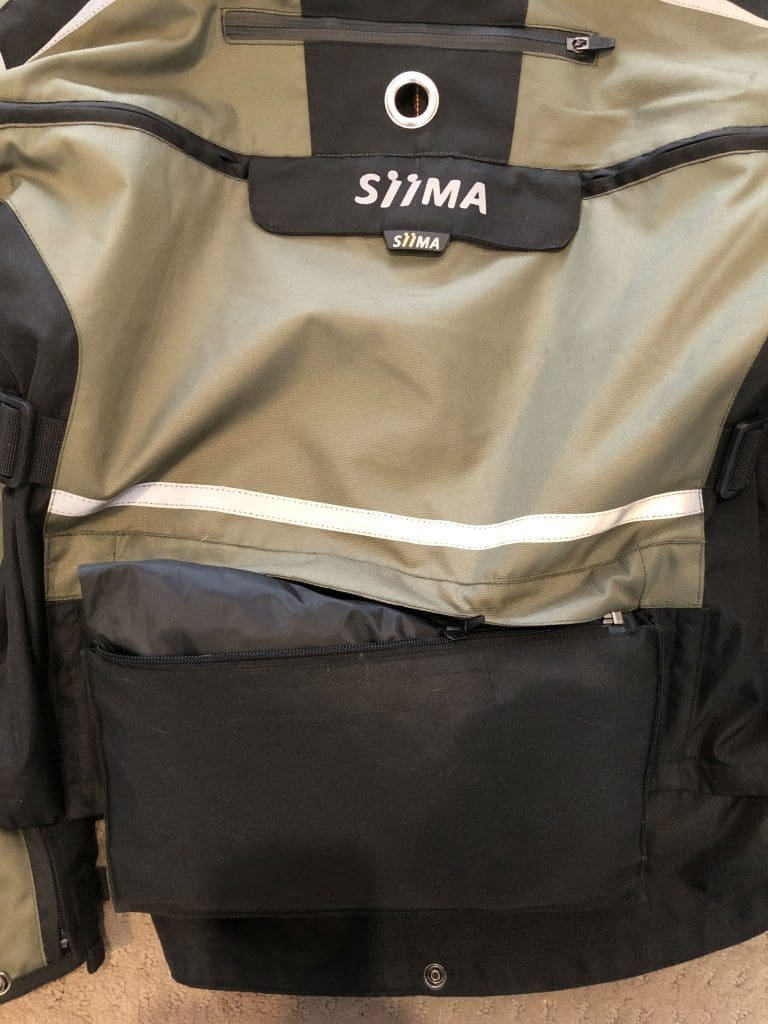 A large pocket is located on the jacket's lower back around waist level that surprisingly will hold the waterproof rain gear (jacket and pants) that come included with the Sibirsky. This pocket is fully detachable if you get tired of wearing it back there and is a nice compact storage pouch for your rain gear whether attached to the jacket or not.
Water Resistant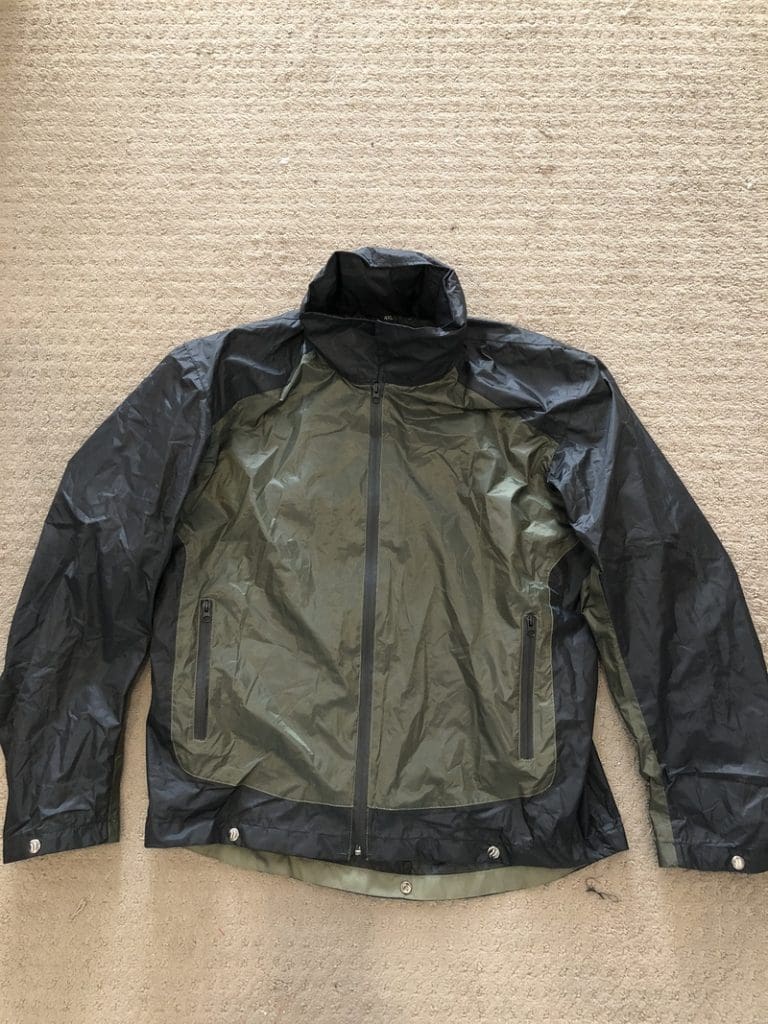 The Sibirsky on its own is at best water resistant and good for light rain only. You'll have to throw on this waterproof layer if you are out in the steady or heavy rain to avoid getting soaked. The waterproof top and bottom attach to the jacket and pants quickly using snaps to stay in place.
The jacket has a hood rolled up in the tall collar that would come in handy.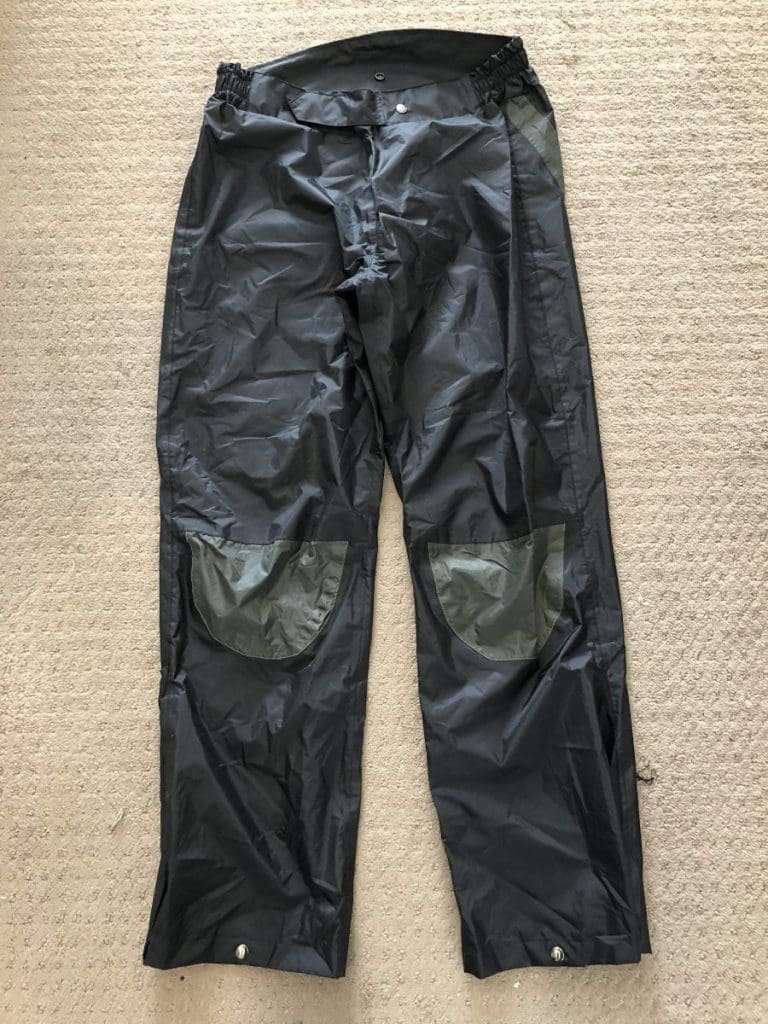 Some people prefer the waterproof liner to be installed inside the jacket and pants to protect it in a fall or crash, especially for off-road adventure riding. For myself, I can't stand trying to feed waterproof liners into the arms and legs of riding gear and I find hooking up the buttons or snaps that hold them in place internally, irritating. Even more so when you're pulled over on the side of the road trying to put on your rain gear while the rain is beating down on you.
At times like that, I recognize the wisdom of just wearing the waterproof layer over the top of your jacket and pants. Feel free to disagree if you like, but I see this as a plus for the Sibirsky system over the Rev'it Tornado 2 internal waterproof liner. If the Sibirsky waterproof outer layer does get damaged in a fall, Giorgos told me it would only cost $30 to replace.
I would much prefer the Sibirsky have a breathable, waterproof, Gore-Tex outer shell, but that would ruin the bargain pricing aspect of it for sure.
Where's the Hi-Viz?
I think it would have been prudent to put some reflective stripes on the waterproof outer layer or at least some hi-viz colors since you really want to be easily seen in heavy rain by other drivers. The dark green and black rain suit matches the Sibirsky jacket and pants nicely, but style isn't everything.
Attaching Jacket to Pants
There's an 8 inch long zipper and some snaps to connect the Sibirsky jacket and pants together at the waist to inhibit wind from sneaking up inside the jacket while riding.
This zipper appears to be the same kind most other manufacturers use to attach the top and bottom layers together so it's possible you could intermarry the Sibirsky to other brands. I didn't have anything on hand to test this theory, unfortunately.
The Verdict?
I'm sold on the Sibirsky jacket.  It's worth the asking price.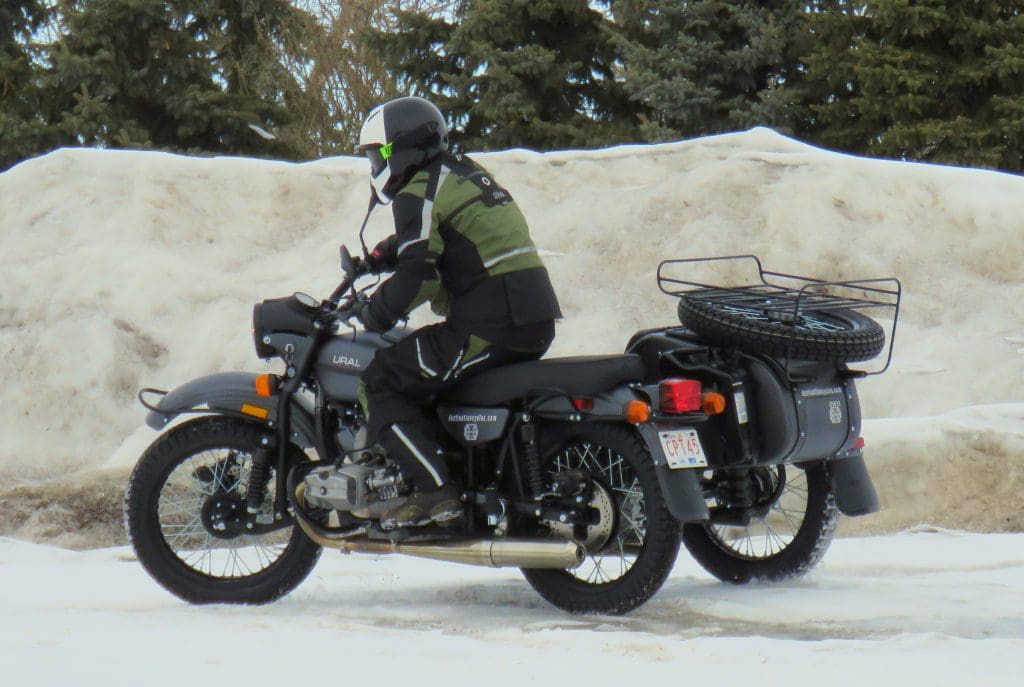 Specs
Manufacturer: Siima MotoWear
Price (When Tested): $350 before 20% discount
Made In: China, Designed in Cyprus
Alternative models & colors: None
Sizes: S / M / L / XL / XXL / XXXL
Review Date: April 2018
Pros
Good protection from the elements
Good visibility
Lots of pockets including a drinking water reservoir and rain gear storage pouch
Includes a waterproof outer layer and removable interior thermal liner
Very versatile and outstanding air flow capability
Affordable
Excellent customer service
Cons
Single stitching may limit usage and longevity
Waterproof layer has no reflective striping or hi viz coloring
Armor included isn't of the highest quality
Limited sizing and color options
Heavy
As I mentioned I would make some changes to sizing, add double stitching, some superfabric on the knees and elbows and likely upgrade the armor, but these aren't deal breakers by any stretch.
For a budget conscious buyer, I think Siima is a sure winner and I look forward to more in-depth testing this summer in warmer temperatures. I'll be holding on to this gear for a while.
Siima Convertible Gloves Coming Soon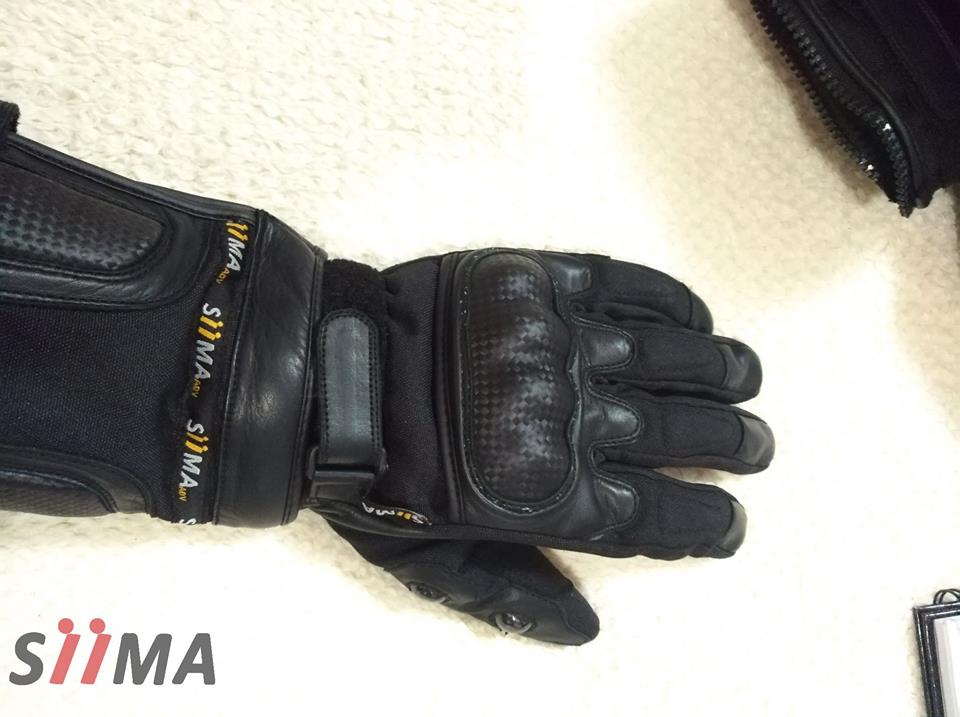 Giorgos informed me that he's close to releasing a Super Adventure Glove in the next couple of months, so keep your eyes open for that too. The photo above is just one incarnation he's testing and may not be the style he settles on.