Shoei RF-1000 Review Summary
Shoei RF-1000 Image Gallery
One of the benefits of conducting helmet reviews is the ability to compare many different brands and models against each other.
Trying on a variety of helmets is crucial to finding the perfect fit.
But it's not easy to accomplish if the only source of helmet samples is the local dealer.
Certainly there are a lot of really good helmets for sale.
And fierce competition in the marketplace means that it isn't very hard to pick one that will provide the fit and comfort that works at, say, a 90% level.
If you've never found the perfect fit, then the 90% solution might work just fine and you may never know what you're missing.
But when the perfect fit does come along, you'll immediately know it, it's an extraordinary revelation, and you'll never again be satisfied with anything less.
That's the feeling I had when I first slid this Shoei RF-1000 over my noggin.
"Fits like a glove" is the saying — it coddles my round head like no other helmet I've tried before. It's wonderful to find a fit like this, since the narrow/long head shape apparently is more common in the U.S.A. and many helmets are designed for that market segment.
Even some of my favorite helmet models, which once were designed for rounder head shapes, have been modified during updates to change the internal shape to fit narrower heads better.
Most motorcyclists own only a single helmet, so why not make sure it's the highest quality, best fitting helmet available?
Although there are helmets that might have a particularly brilliant feature or two to differentiate them from the crowd, the RF-series is designed to incorporate as many features as possible in a single package that does it all for the large majority of riders.
The result is an excellent daily use helmet that is my choice for the helmet I'd pick if I could only have one.
The RF-1000 is the latest upgrade for what has been probably the most popular Shoei helmet models of all time, the RF-series.
Starting with the RF-105 (does anyone remember that far back?), to the RF-200, 700, 800, 900 and now the RF-1000, Shoei has been making improvements and adding features which have further increased the model's popularity.
According to Shoei, the improvements are a result of many hours of research and development in the wind tunnel and with computer-aided design.
The RF-1000 is a complete rework of the RF-900, and it includes a new aerodynamic (yet subtle) shape using their AIM+ (Advanced Integrated Matrix plus Multiple Fibers) helmet shell technology.
Also included is the Shoei CX-1V face shield with the Quick Release Base Plate (QRBP) system allowing fast and easy visor changes (the same unit used in the Shoei X-Eleven race helmet).
And a new ventilation system; and the addition of Shoei's "3D" helmet liner with removable cheek pads to allow a custom fit if necessary.
Shoei claims to have been spending lots of time in the wind tunnel with their new designs, and the effort is apparently paying off.
The goal of wind tunnel testing is to provide smooth air flow over the helmet to reduce wind noise while also allowing effective internal cooling. Shoei claims a 24% reduction in drag and a 17.8% reduction in lift from the new RF-1000 redesign.
The RF-1000's shape proves that radical aerodynamic shapes aren't necessarily better.
The helmet has a subtle shape and the wind tunnel work isn't obvious at first glance, but run your hands over the top of the helmet and you'll feel a very smooth blending of gentle curves.
Abrupt surface changes and wings will only serve to increase noise, so smoothness is the watchword here; simpler is sometimes better.
On the road, the aerodynamics seem to help the air flow over the top of the helmet and out over the rear spoiler with a minimum of buffeting, lift or movement.
Shoei's AIM+ (Advanced Integrated Matrix plus Multiple Fibers) combines fiberglass, organic fibers and some proprietary "high performance fiber" (which looks a lot like carbon fiber) in a patented mixture that keeps the helmet light in weight while offering high levels of protection. The RF-1000 is both DOT and Snell approved in the U.S.A., and ECE 22.05 and ACU Gold approved in Europe.
Computer-aided design and stress analysis can help the designer understand how to maximize the helmet's protective qualities while reducing unneeded bulk. Our RF-1000 in size XL weighs in at 1610 grams (3 lbs., 8-3/4 oz.), which is a touch lighter than Shoei's X-Eleven of the same size.
While this might be a couple-hundred grams heavier than the lightest weight helmets available, the RF-1000 is lighter than many of its competitors and the weight is carried well; there's no top heavy feeling and the comfortable and plush internal padding may add a few ounces, but helps keep the helmet very quiet.
The shape really seems to work; this is one of the quietest helmets we've tried. In general, helmet noise usually comes in two flavors: a higher frequency "whistling" noise usually emanates from the top of a helmet, caused by poor aerodynamics, vents or wings.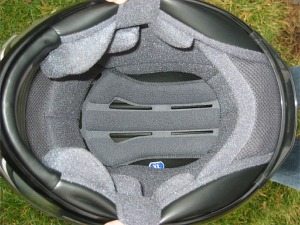 Lower frequency "booming" noises are usually caused by turbulence around the bottom of the helmet where it meets the neck.
These low-frequency noises can be greatly increased by various types of buffeting caused by motorcycle windscreens and fairings.
The RF-1000's external shape keeps the higher frequency noises at a minimum, and a nice touch is the two wide flaps on either side of the neck, covering the chin straps, which help prevent any lower frequency noise from intruding.
There is an increase in the higher frequency noise levels when the top vents are open, but overall noise levels are low.
Remember that we always wear properly inserted earplugs with every helmet on every ride, and we recommend that you do the same. Helmet noise can be greatly decreased when wearing earplugs, and health and safety can be greatly increased. Visit the wBW Earplugs and Hearing Protection page for more information and reviews on different earplug brands.
The paint and graphics on the RF-1000 are typical Shoei high quality. The graphics on our "Voltage" model give it a nice 3-D effect without being too over-the-top.
It's nice to see that Shoei is still offering the Axis Yellow color, which is one of the safest helmet colors available.
If you've ever come across a rider wearing an Axis Yellow Shoei helmet, you know what I mean — that high-visibility color sitting way up high on the rider's head really stands out and promotes safety.
Ventilation
Shoei's work in the wind tunnel is paying off in the cooling department also and the RF-1000 flows copious quantities of air without relying on gimmicks.
You would think, for example, that a simple chin vent would be easy to design to function efficiently, but this doesn't always seem to be the case with many helmets we've used.
The chin vent on the RF-1000 pulls in a lot of air, which is directed up onto the back of the visor. This does an effective job of de-fogging, while also indirectly venting cool air onto the rider's face.
The brow vents are also simple yet functional. They're located in the highest pressure zone right at the front of the helmet.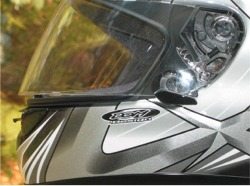 Air is forced directly into the helmet, up through the liner and down on to the rider's head through the ample liner vents, and is pulled out the back via the low-pressure area enhanced by the rear spoiler.
The spoiler has a single slide mechanism that opens or closes the rear vents simultaneously. I always leave the RF-1000's rear vents open, and only open or close the brow vents when necessary.
Although the RF-1000 is subjectively one of the quietest helmets we've tried, there is a noticeable increase in high frequency volume when the brow vents are open.
It's sort of a wind rushing noise that definitely disappears when the brow vents are closed. But the large volume of air is worth the slight increase in noise in hot weather.
Face Shield
The RF-1000 uses the CX-1V face shield design, which is the same visor that's used on Shoei's X-Eleven race oriented helmet.
The CX-1V has excellent optical qualities, and it's treated to block almost 100% of UV rays.
The CX-1V is designed to smoothly wrap around each side of the helmet to eliminate any external pieces that might catch the wind and generate noise and turbulence.
The RF-1000 also includes Shoei's three-position lever on the left hand side of the helmet, also taken from the X-Eleven.
When in the topmost position, the lever locks the visor in place to prevent it from blowing open at way-too-fast highway speeds. Flip the lever down and the face shield cracks open just a touch to allow quick de-fogging or a bit of ventilation.
This is a great feature and I use it all the time.
This photo (left) shows the lever in the down position, with the visor open about 5 mm. The distance that the face shield can be opened using the lever is adjustable via a Phillip's head screw which is accessible when the visor is lifted.
In addition to the lever, the CX-1V visor has 7 "clicks" to open, with fairly strong detents that keep the visor in the desired position.
The RF-1000's visor also uses Shoei's Quick Release Base Plate system, which allows very easy visor removal and replacement (see below).
| | |
| --- | --- |
| | |
| Shoei's Quick Release Base Plate mechanism makes changing visors a breeze. Place the visor in the fully opened position, pull down on the little D-ring, and… | …pop the visor out of its lock. The entire process takes a matter of seconds. |
| | |
| The RF-1000 has a simple but effective venting system. The chin vent directs a large volume of air up onto the back of the visor and is very effective at de-fogging. The brow vents are hidden behind slides. | The RF-1000's spoiler helps direct air off the back of the helmet to prevent buffeting, while also creating negative pressure to pull air through the helmet. On this silver/grey "Voltage" model, the spoiler is clear with a slight dark tint. |
Shoei's continuous improvement approach for the RF-series has made it one of the most popular motorcycle helmets in the world, and with good reason. It does just about everything and does it very well.
Quality, comfort and quietness have always been the hallmark of the RF design, and the RF-1000 brings class-leading aerodynamics, and state-of-the-art ventilation to the mix.
Throw in some features found only on the most expensive and exclusive race helmets, such as the quick release visor, adjustable lever for visor opening, AIM+ composite shell and a large assortment of colors and graphics, and this is a lot of helmet for the money.
w

BW

 Review: Shoei RF-1000
Manufacturer: Shoei Helmets
List Price (2004?): $340.99 – $480.99
Colors: Colors and solids
Made In: Japan
Review Date: 2004
Note:
 For informational use only. All material and photographs are Copyright © webWorld International, LLC since 2000. All rights reserved. See the webBikeWorld® 
Site Info page
. Product specifications, features and details may change or differ from our descriptions. Always check before purchasing. Read the
Terms and Conditions
!
Owner Comments and Feedback
---
From "H.C." (August 2011): "Just spent Day 1 with my new Shoei XR-1000. They are going on sale locally (South Africa) due to the new models becoming more pervasive and dealers are shifting old stock.
I have to start out by echoing your comments regarding that "just right" fit the first time I put it on. Other than that, no surprises. It is firm all around my head but it does apply some pressure to my (rather large) earlobes around the bottom edge.
This lid ventilates VERY well, is not too noisy (subjective comparisons follow) and the Pinlock anti-fog visor WORKS!.
The one thing that has not been said by anyone else so far, however, is how well this lid works for people who wear eyeglasses, like me.
Simply put, it was a revelation to put on my glasses with this lid in place. I have never had a helmet fit glasses so comfortably and so easy to put on and remove the glasses.
It is as if the guys at Shoei designed this lid with cut-outs to wear glasses comfortably. For that reason alone, I love this lid.
At first, there was no room in the chin area for me, but then I just pushed my head back in the lid and the issue was solved. (Once the padding beds in, I might invest in some thicker cheek pads to make this a more permanent arrangement of fit).
I have owned the following lids so far and have used all in greater or lesser capacities for my daily (40 kilometres one way) commute in all seasons:
Vega Altura – really cheap and nasty beginner lid. Plastic shell and not much else, except a poor visor that loves to fog up. Poor ventilation.
KBC VR-2 – supposed "upgrade" to an affordable fibreglass shell lid. Very heavy, poorly ventilated and rather silly graphics. To much pressure on my forehead that never went away and poor peripheral vision. Never wore it much.
AGV Stealth – a good lid on paper – beats everything else in every test you like to mention. (Top rated in ECE, SHARP, etc.) Looks the business with the silver iridium visor I bought. Noisy inside and not fantastic ventilation, but feels fantastic nonetheless.
Feels like a top quality lid on your head. Too short around the brim, so wind noise from there. Isolation inside inspires confidence, so I used to go faaaar to fast with it on. Not good to turn your head sideways at speed.
ARC A55 (or something) half helmet – open face. Bought on sale on a whim. Poor quality, poor fit, but spoilt me for the open feeling and fantastic peripheral vision of an open-face lid.
Airoh J-55S – an upgrade from the ARC. Jet-style helmet with very hard lining and padding – never comfortable, but I got used to it. Used it the most out of the above lids in daily commute. Built in shade visor is nice to use, useful feature.
Noisy lid, but very useful. Could leave it on the bike for convenience. No self-respecting biker would steal it. and now – the Shoei.
After all that, all I can say is that I will wear the Shoei religiously. I am back to full-face helmets just because this lid is so comfortable. It is more comfortable from the outset than all of the above and quieter than all of them.
Subjectively, at least, it feels lighter than the AGV. My peripheral vision is still good and putting on my glasses is really easy. I don't actually mind the Pinlock visor in my vision too much – I will get used to it.
The optical quality of the visor, even with Pinlock – is fantastic – no distortion whatsoever, which was a problem with the Airoh that I used to wear a lot. Anyway – that is my little rant. Estimated value of this assessment = more or less 2 cents. Cheers – keep up the good work."
---
From "D" (3/10):  "I bought the Shoei RF1000 in solid black after reading your reviews and owned it for a year now. The visor on this helmet is a safety hazard because of fogging from the first breath on, no need for low temp, this visor fogs in any condition.
I find it inconceivable that I have to spend money on a Pinlock replacement visor and the Pinlock insert to make it work normally, these are faulty helmets.
Your review should include the fact that in order to make this helmet work you absolutely, imperatively need a Pinlock fog system, or something of the sort.
Same thing with Shoei, nowhere do they mention that this helmet needs a good anti fog system that has to be purchased separately. I've been trying to write Shoei about the visor but they didn't answer me. Very disappointed.
My other helmet is an RSX Shark which has much better visor by a long shot."
Editor's Reply:  It's difficult to evaluate face shield fogging, because if the helmet is reviewed in the summer, there's no way to determine the anti-fog capabilities. Also, I must have cool breath, because I rarely have a problem with this.
Nevertheless, I pretty much figure that no visor will prevent fog, and, in fact, some of the newer helmets don't even bother to claim that the face shield has an anti-fog coating, probably because the coatings usually don't work anyway.
Some of the new HJC and Shoei helmets come with a Pinlock insert.
Not sure if you've tried the Clarity Defog It (review) product we reviewed; it works on the RF-1000 visor we have here and is so far the best and easiest to use anti-fog treatment we've found.
---
From "T.K." (2/10):  "I thought I had done all the research after checking your review of the RF-1000. However, I failed to read all the comments posted on your site and now I will add my own.
Fog, Fog, and more Fog. How on earth Shoei could put out such a helmet/shield system is beyond me. I cannot use this helmet until summer, and I'm not even sure about that. Then there is the noise, especially the booming type.
Even with ear plugs it is unbearable. Finally, someone mentioned turning your head at speed, and believe me, it feels as though the wind will take the helmet off.
It just makes for an expensive shelf ornament, for now. I would not recommend this helmet."
Editor's Reply:   Regarding fogging, very few, if any, face shields  will prevent fog, no matter what the manufacturers say. So a product like the Clarity Defog It product we just reviewed is usually necessary.
Regarding noise, as we mention in all the reviews, it depends on many things, especially the way the helmet fits the rider's head shape, the windscreen, the type of motorcycle — even they type or style clothing the rider is wearing.
If the helmet is also moving around on your head, it sure sounds to me like the helmet is either a mismatch for your head shape, the wrong size, or both."
---
From "C.F." (1/10):  "Just thought I'd chime in on this as I've now got over 25,000 miles worth of riding with this helmet.
After having tried on a dozen or so different lids for when I began riding, I decided to spend the extra money and buy the Shoei as it fit the best out of all the brands I tried. This was in October of 2008.
Since that time, I've found this to be the most comfortable, quiet and best-fitting for my (admittedly) alien-shaped head.
While it is true that the Shoei name demands a premium at checkout, little details can be seen that reassure one that this cost is not without merit: The D-Rings, for example, are thicker and feel stronger than those on Scorpion or HJC helmets.
The visors are top-notch, and the dark smoke model negates the needs for carrying (prescription, in my case) sunglasses.
As far as noise goes, yes, there is some booming, but good earplugs or canal phones all but eliminate this. Compared to the HJC CP and CL series, the difference is night and day.
For those that are considering buying a cheaper helmet, I'd humbly suggest to save your money, and pick up the RF-1000 now while they're still available, as this is an impressively good lid that has not once failed a DOT or Snell test. Just my 2¢."
---
From "J.B." (7/09):  "I purchased this helmet mid summer 2008. I love it. The ventilation is incredible.
The only qualm I have is that the padding has compressed enough so that the helmet now sits too low on my head, restricting the air flow. Otherwise a great helmet."
---
From "C.L." (7/09):  "I bought my RF-1000 about 6 weeks ago, it fits me well, and it's a nice helmet. Some areas where it's not so nice:
Three position lever for cracking open the visor: Good concept, poor design.
My local shop generously gave me 2 weeks to try it out, and in those 2 weeks it worked great!  But after a month, when I cracked my visor open it would immediately slam shut.
Repeatedly flipping the lever open when my hand should be on the clutch was not a good thing.
Looking closely, I saw a tiny groove worn in the lever right where it pushes up against the visor. This small amount of worn material was enough to tip the balance in the spring's favor. Tightening the screw helped only for a little while.
I also noticed that the visor was not really sealed against the rubber gaskets. I adjusted the visor, more or less following instructions, and it made a big difference in the wind noise!
But what the instructions don't tell you is that you can either have a properly sealed visor or a properly functioning visor cracking lever, but not both.
The lever is a fixed distance from the upper base plate bolt: with a fixed distance, the lever is always correctly positioned for its "visor lock" function.
But if the base plate is rotated forward to get a good lower seal, it's no longer close enough to the visor.
Although the instructions advise against rotating the base plates, but it's not always possible to get a good seal without doing so. If you manage to get both, you were lucky. But the lever is going to wear anyway, and the only way to take up the slack is to rotate the base plates.
Fogging: The chin vent doesn't work so well for me, probably due to my full height windshield. When I'm off the highway, cracking open the visor with the three position lever kept the fog away. Until the lever stopped working, that is.
Can't comment much on the noise level, though. Thanks to webBikeWorld, I now wear earplugs. Before the earplugs, I found I was asking people at work to repeat what they just said too many times. No more.
Knowing what I know now, would I buy another RF-1000?  I'd probably give it a pass and keep looking."
---
From "S.S." (6/09):  "I just rode my first 200 miles with my RF-1000, and would like to share my experience. First, I wear an XL, and the fit is very similar to my XXL Scorpion EXO-400 (review).
I wear eyeglasses, and both helmets pinch my ears a bit, but otherwise fit my Saint – Bernard – shaped head very well.
In terms of quality, the interiors of the Scorpion and the Shoei are about the same, with good materials and no rough surfaces in either one. Likewise, the visors open and close almost identically, although the seal of the visor does seem to be better on the Shoei.
Having read many posts concerning fog issues with the Shoei visor, I ordered the Pinlock anti-fog system (review) with the helmet, and installed it prior to my ride. It worked perfectly, and I did not find the silicone seal to be overly intrusive into my line of sight.
I did, however, notice the halo reflections around objects at night, but a slight tilt of the head corrected these double images.
When weighed against the potentially fatal outcome of having a fogged visor, I think they are a reasonable compromise.
I will say that I never had a fogging problem with my Scorpion visor, although I have read of others who did.
In terms of ventilation, again, I find the two different brands to be similar, although the Shoei directs the air onto two spots high on your temples, and can definitely be felt.
The Shoei vents are easier to open and close while in motion, and the difference can clearly be felt.
With the EXO-400, it is sometimes difficult to find the little toggles when wearing gloves, and I can not feel the difference whether they are opened or closed.
I do think the Scorpion passes a sufficient volume of air, but it is diffused so that you don't feel a specific jet of air like you do with the RF1000.
The Shoei exterior is much nicer than the Scorpion, although I got the Sever pattern on the Shoei, and it really stands out. The Shoei also feels lighter than the Scorpion when you hold it in your hands, but once on your head, both feel well balanced.
The Shoei is better in the wind, especially when checking your blind spots on the interstate, but I did not find it to be any quieter than the EXO-400.
In summary, these two helmets are pretty similar, except in terms of price. I invested in the Shoei because it fits my head just that much better than the Scorpion, and I feel that this eliminates one chronic distraction when trying to concentrate on the road ahead.
Was it worth the extra $235? (That's 2 EXO-400s for the price of 1 Shoei). In my case, yes, because I really think that a good fit is the single most important consideration when buying a new helmet.
What about the person who has a head that fits perfectly inside the EXO-400?  I envy you!"
---
From "R.R." (7/08):  "Good fit quality could be better. This helmet is very comfortable and the noise is ok. If you look to the right or left this helmet suddenly has a lot more wind noise.
Of course that's expected since it's designed to look forward for the most part when your riding.
I agree with the user than said the helmet fogs up easy. I bought the deflector that goes inside and forces the airflow from the bridge of the nose down and still have the same issue.
The shield mounting on this helmet is severely lacking. Even with the fasteners all tight the shield does not open and close very well and feels flimsy. I don't think I have a bad helmet I think it is just a really poor design.
I looked on the Shoei website and the Quick Release Base plates, and Quick Release lever sets are the top four sellers for accessories on this helmet. Why on earth are these more popular than replacement shields etc…
I might add it's not only for this helmet that these parts are top sellers. Less than a year of ownership and I'm already replacing these parts.
The other thing was the visor on the helmet. I had the first one replaced. Had very small almost invisible stress cracks on the bottom but not in the field of vision. Same with the replacement. Just hoping it doesn't fly apart in my face someday.
I have a 15 year old Bieffe helmet that is much more solid than this Shoei. The KBC I bought as a spare is almost as comfortable and appears about the same quality as the Shoei except I haven't had to replace any parts on it.
For the price tag on the helmet I would say it was pretty disappointing. I bought it for about half price $190. Had I picked it up in a store and there were no markings on it I would have thought it would be about a $55 helmet. Feels good on the old noggin I just hope it holds up. Not likely I'd buy one again though."
---
From "S":  "I recently purchased the Shoei RF-1000 to replace my Scorpion EXO-300. I first have to say that it is one of the most comfortable helmets that I have tried and was pleasantly surprised by how quite it was compared to the Scorpion.
I'm probably going to keep this one for quite a while until something else jumps out at me.
With that said though…. there are a couple issues with the visor that I've noticed. Coming from the Scorpion, I was rather disappointed in its ability to fog up rather quickly. Riding in the Pacific Northwest in the morning…. fogging is a pretty big issue.
My Scorpion seemed to never fog unless I was stopped at a red light.
The Shoei on the other hand seems to fog all the time unless its 60+ degree weather. ( I just ordered some SalClear today to see if that helps ). Also, the although the visor does shut down all the way, it doesn't have quite the force as the Scorpion.
I have also noticed that at speed when I look over my shoulder, that the visor lifts enough to allow a strong breeze in. (now I see why they put a lock on it).
Oh… and one more little thing (and this is just a little bit of knit-pickin) . The material that the liner is made of sticks horribly well to Velcro.
If I toss my gloves in my helmet when I get off my bike, they really stick in there, and I have to pull quite hard to remove them (I also noticed that the chin strap padding made of the same material sticks to the collar of my fieldsheer jacket).
Other than all of that….. great helmet. Thanks for your review….. came in handy when i went to purchase a new helmet. 🙂 "
---
From "B.W.S.":  "Just recently bought this helmet. based on your review and any comments on it, i couldn't agree more with it.
My face little bit "long" at the chin, so whenever I try any helmet, my chin is still exposed, it's not covered by helmet (what's the point using full face type if my chin is not covered up?…hehehe…).
But with this RF-1000, it covers my chin thoroughly. That's one point plus. Another one is, the inner helmet fits properly with my forehead. It presses firmly, but not cause any painful to my head. (I'm using it with balaclava too).
As for the noise within helmet, I have no problem with it. It's still below my expectations for this db noise.
Thx for your review."
---
From "G.P.":  "I was the guy who wrote to complain that the Shoei TZ-R was a terrarium. Since I seem to be extra finicky about fogging, I thought I'd drop a line about the RF-1000 I just bought.
I spent about three hours riding yesterday in 50 degree weather, and except at stop-and-go traffic speeds, any fogging which occurred cleared up almost instantly. The ventilation is excellent in the RF-1000. Stuck in traffic, I just popped the shield open a little.
And Shoei included both the breath guard and chin curtain which I have yet to install – very nice.
As far as noise, it was almost as quiet as the TZ-R which it replaced. I did a little bit of highway driving on this first trip out, but I didn't notice any of the booming mentioned in the review.
The aerodynamics of the two helmets are quite different; the increase in wind pressure when I turned my head to the side to double check the lane next to me wearing the RF-1000 was very noticeable.
The one complaint I have is that the brow vents seem somewhat awkward to operate, especially with gloves. Maybe this will change as I get more accustomed to the helmet.
All in all, the RF-1000 is very comfortable, reasonably quiet and exceptionally well ventilated. A+ Shoei!"
---
From "P.G.:  "I have about 500 miles on my RF-1000 and couldn't be more pleased. It is relatively quiet, good ventilation control, fits me well enough (it is still breaking in).
While I have not done a back to back comparison, it seems a lot quieter than my (HJC) CL-14. Thanks for the good advice. Your review of the RF 1000 seems spot on."
---
Fromm "G.M.":  "First off, I'll mention that I got a great deal on the RF-1000 and they were very good to me (after a little persuasion) to return it for a nominal amount. Reason for the return: Unbearable wind volume.
Even with earplugs the noise from the wind entering the neck area was actually painful from 40 mph and up and an immediate source of headaches.
Thinking that it might just be my head shape or my bike's fairing, I asked someone else to try it while I wore their VR-1. I noted a major difference and they commented on the noise as well.
True, the noise was reduced when wearing a TurtleFur or other clothing that filled the gaps, but hey, summer's almost here and that won't be happening.
I can only wonder how someone could wear this helmet and not have the same problem unless they had a neck like Ahhnold."
Editor's Reply:  We've found that all helmets are noisy; some less so than others. But we felt that the RF-1000 was one of the quieter helmets. We always recommend wearing properly fitted earplugs when using any motorcycle helmet.
Of course, all bets are off when you're behind a fairing — fairings and windscreens can generate all sorts of buffeting, and that buffeting can cause lots of wind noise. This is especially apparent under the neck area of many helmets.
You may want to try a Windjammer helmet wind blocker, which we found to be very effective in reducing low-frequency noise on full-face helmets.
---
From "B.W."  "Suggest the Shoei Wind Curtain, available through the Shoei website. They come in vinyl and cloth versions, and fit up under the chin to help prevent buffeting noise.