Shinko 016 Verge 2X Tire Image Gallery
The Shinko 016 Verge 2X tires seem to be more of a supersport tire that perform very well in the grip and handling department and have good handling in the rain.
The wide sipes cause a slight vibration or roar on the road that is tolerable but it is noticeable.
The tires warm up quickly and perform nicely in the rain.
The new Shinko 016 Verge 2X tires are a good performing tire but their wear rate is distinctly in the supersport, soft, sticky tire category. However, the would be a good choice for the sport rider who likes to romp even when the weather turns wet.
Motorcycle tires. Few things can spark as much debate over which brand is better for your bike than tires. Of course, deciding which oil to use might be right up there too.
I do understand the passion that comes from the concern about which tire is best for your bike. Tires, in my opinion, are the most important item on a motorcycle. These hoops of rubber are all that stand between a rider and the pavement and a tire failure can be a very bad experience on a motorcycle, no doubt.
Fortunately these days, manufacturing has gotten so consistent and the technology going into the design so modern, that failures are a very rare occurrence. As such, we are left to debate about a tire's performance based on things like grip and handling as well as tread life.
Of course we still hear about the occasional defective unit, but most riders just simply get to go out and shred them hard with little fear of failure. Me? I'm not the shredder type. I do like a good curvy road and believe I push my limits sometimes, but I know I'm not the fastest or craziest or bravest rider out there and I'm OK with that.
However, when our editor asked me if I wanted to test a new pair of tires from Shinko, I knew who to call. Before we get into that though, let's have a look at the Shinko 016 Verge 2X motorcycle tires.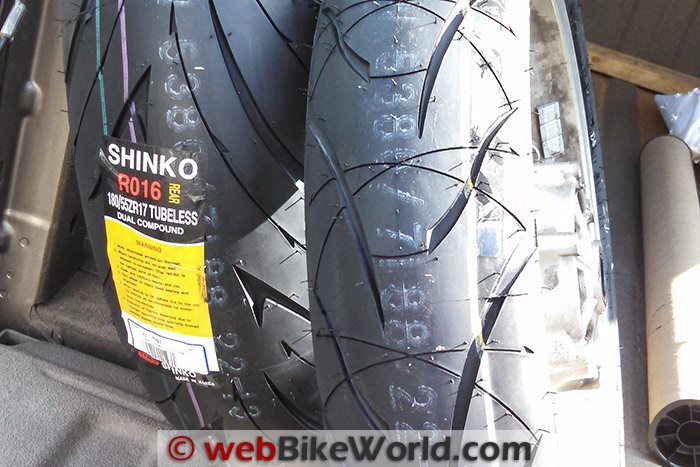 Shinko 016 Verge 2X Tires
I'd like to make one point clear early on. Many people are under the impression that Shinko tires are made in China, but this is incorrect.
After doing some research for this review I learned that Shinko started out in the 1940's making bicycle tires and tubes in Osaka, Japan. In 1998, the Shinko Group purchased the motorcycle tire technology and molds from Yokohama and soon after began selling Shinko brand motorcycle tires. Currently the tires are manufactured in South Korea and are designed in Japan.
The newest tires to come from Shinko are the 016 Verge 2X. These are an update to the original Shinko 011 Verge supersport tires but now include a dual compound for longer tread life in the middle while providing a softer, stickier compound for the shoulders for increased grip.
Looking at the construction of the tires, I see one immediate difference in the way the 016 Verge 2X front tire is made when compared to the older 011 Verge; the 016 Verge 2X has sections that run across the tire horizontally where the 011 Verge was made from two large pieces, a left and right side.
From my own limited knowledge of tire construction, I understand that the multi-sectional construction is a better method that provides more consistent results in the final product. I have noticed that less expensive tires typically are made with the two halves method, so perhaps there is something to this.
The Shinko 016 Verge 2X tires have a modern tread design with siping designed to channel water. This is something that is in vogue now with most manufactures of sport touring tires.
Incidentally, Shinko lists these tires under both the "Super-Sport" and Sport Touring categories on their website. Since they are listed in both groups I think now we need to find out for ourselves the more appropriate class in which to place these tires. Since I stated earlier that I'm not much of a tire shredder myself I decided to hand them over to my "Tamed Sport-Touring Test Rider" and friend, Gerald.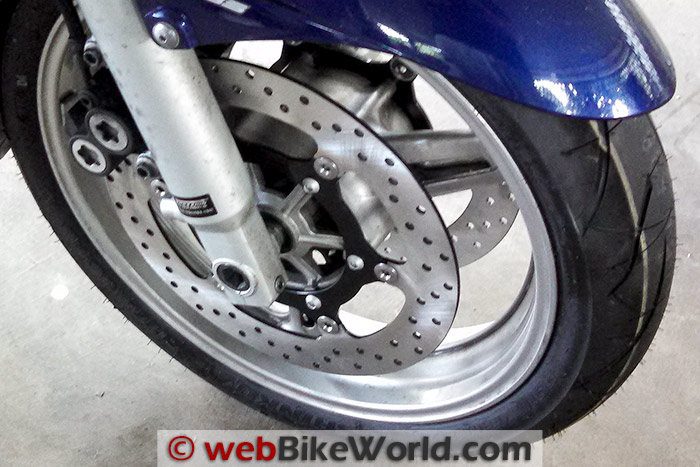 Tire Sizes and List Prices
A rear in size 180/55ZR17 and front in size 120/70ZR17 was used for this review. The Shinko 016 Verge 2X tire sizes currently available include the following:
Rear:
180/55ZR17 (Part #87-4097) $199.95
190/50ZR17 (Part #87-4098) $204.95
200/50ZR17 (Part #87-4099) $215.95
Front:
120/60ZR17 (Part #87-4083) $119.95
120/70ZR17 (Part #87-4084) $121.95
The Test Rig
Gerald rides a first generation Yamaha FJR 1300. This is a heavy and powerful sport touring bike that can put the power down to the ground easily and yet is still rather nimble in the twisty back roads. Not all may agree with the nimble part but I can say that with Gerald riding, that FJR will leave most sport riders in the dust.
Despite its size, he can truly make that big bike dance and has left me and other riders on much more capable bikes behind him shaking our heads. Oh, I forgot to mention that he does this two-up with his wife on the back. It's truly a sight to behold and he does this looking calm and at ease.
Needless to say, a big bike, lots of power and two up is a formula for tire torture in Gerald's hands. What follows next are his thoughts and observations (edited by me) after nearly 1400 miles torturing and riding on the Shinko 016 Verge 2X tires.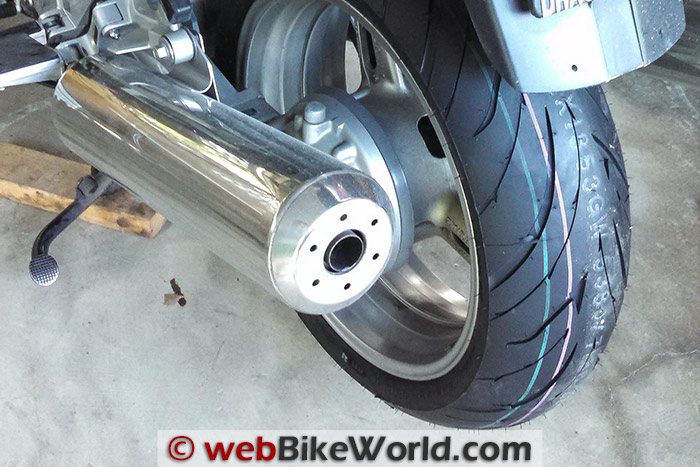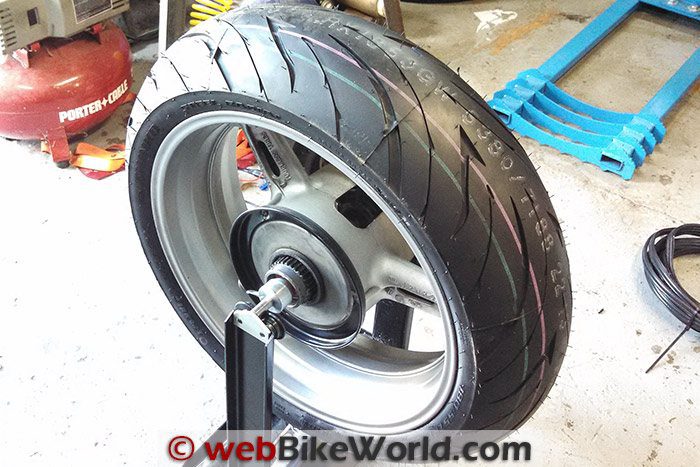 Shinko 016 Verge 2X Tire Initial Observations
I had the tires mounted and balanced at Cool Spring Powersports in Franklin, Tennessee. Once I got home, I used my own tire balancer to verify and then I installed the wheels back on the bike. The tires mounted up well balanced without much weight needed. Mileage at the time I installed the wheels and Shinko tires on the FJR 1300 was 32,739.
The sipes seem large; there are very big sipes (1/2 inch in diameter) that make me wonder if they will sound like a Jeep on mudder tires out on the road. The first ride (scuff in) went well and I noticed no slip issues once the tires are scuffed.
Initial observations of note are that the sipes do make a little vibration and noise but it is tolerable. By comparison, the Pirelli Angel GT tires make a roar when I lean onto their sides (think Jeep on mudders for sure).
Riding Observations
Before my first big two-up day of 300 miles, the 016 Verge 2X tires already had about 200 miles on them. At about 175 miles in, the tires were looking like they were wearing quickly but they were holding up well (those wide sipes are decieving).
On a hot dry day, riding two-up on twisty back roads, I found the "edge" of the tires a couple of times (they would lose grip) but it wasn't bad and this was when the tires were being pushed to their limit intentionally for evaluation purposes. Overall, I would give them an "A" for grip in these conditions.
Riding in the Rain
My next big evaluation was during a long weekend in the mountains. Unfortunately, I lost out on the weather for this trip and it rained all weekend. With that said, I have never had a problem riding in the rain on other tires and it made for a good wet weather test for the 016 Verge 2X.
I can say that the tires performed very well in the rain. They never lost grip, although I don't push them like I do when riding in the dry for obvious reasons. Overall, that weekend I logged another 850 or so miles, with at least 700 miles of that in the rain. This ride brought the tires to 1,370 miles total. A thorough inspection of the tires at this point revealed that the rear was worn just to the wear bars with the front still in good condition.
Handling Observations
The Shinko 016 Verge 2X tires warmed up quickly, even in the rain. My evaluation was done during the summer in the Southeast United States, so note that warming up a motorcycle tire is usually easy in these conditions.
Tip-in on the FJR 1300 with the 016 Verge 2X tires is fairly neutral compared to other brands I have tried. Other brands of tires I've used on the FJR 1300 were either prone to fall in while cornering while other tires required more of a push, so the Shinko 016 Verge 2X were "middle of the road", pun intended.
Once the bike is leaned over, the tires seem to hold their line well, especially in the front where it probably counts most. The only time the rear ever got out of shape was under an extreme lean when trying to find the edge during my evaluation.
The overall ride quality is on the firm side, but without being considered "bumpy" There are definitely other tires out there in this class with softer sidewalls that can provide a plusher ride. It is important to note though that the tires were inflated to the higher end of their recommended pressures as the riding was done two-up.
Overall Summary
My opinion is that the Shinko 016 Verge 2X tires provide good grip in both wet and dry conditions but tread life suffers when mounted to the heavy sport touring extreme that is the FJR ridden two up.
The wide sipes cause a slight vibration or roar on the road that is tolerable but noticeable. The sipes in the middle of the tire are not as deep as those on the edge. The problem with this is you get a false sense of when the tire is wearing out, since you cannot get a good gauge to how much rubber is left in the middle. This makes it a gamble/guess as to how much is left in the center on inspection.
The tires mounted up and balanced with no problems with none of the head shake or "death wobble" from the front end that I have personally experienced from previous Shinko front tires. However, I must note that these are the first motorcycle tires I have had in a long time (years in fact) that actually lost air in a week. I had to add air every time I went riding because they would lose several pounds from one week to the next.
Finally, these ended up being a good tire on the road, but I just wished they lasted longer. On average, I get about 3,000 miles out of a rear and these gave me about half the life of other brands.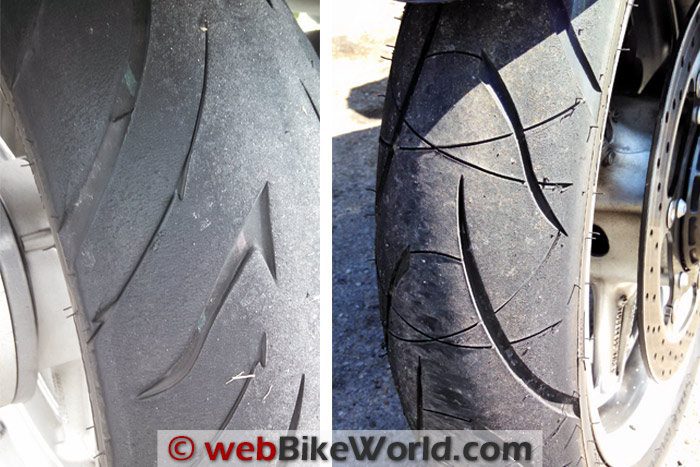 Conclusion
The Shinko 016 Verge 2X tires are very good supersport tires. They seem to perform very well in the grip and handling department, including good handling in the rain.
Mileage, however, suffered greatly in comparison to most other brands of sport touring tires I have tried. It is true that I really put these tires through the wringer but as I observed, the Shinko 016 Verge 2X tires lasted only about half as long as other sport touring rubber I have tried.
Keeping that in mind, the earlier question in the review as to whether these are supersport or sport touring tires is easily answerable. They are a good-performing tire but mileage is distinctly in the supersport, soft, sticky tire category. However, they seem a good choice for the sport rider who likes to romp even when the weather turns wet.
Finally, I'd say that honestly, I am probably a worst-case-scenario on motorcycle tires and the 016 Verge 2X didn't last as long as I would like. If I could find something that offers better wear with the same handling characteristics, that would be perfect.
w

BW

 Review: Shinko 016 Verge 2X Motorcycle Tires

Manufacturer: Shinko Motorcycle Tires
U.S. Distributor: Western Power Sports
Street Price (2014): Front: ~$93.00. Rear: ~$149.89. Both available here
Sizes Available: Front: 120/60-17,120/70-17. Rear: 180/55-17, 190/50-17, 200/50-17.
Made In: Korea
Review Date: August 2014
Note:
 For informational use only. All material and photographs are Copyright © webWorld International, LLC since 2000. All rights reserved. See the webBikeWorld® 
Site Info page
. Product specifications, features and details may change or differ from our descriptions. Always check before purchasing. Read the
Terms and Conditions
!
Owner Comments and Feedback