Shark Leathers don't just make leather riding gear, but also textiles such as these kevlar-protected cargo jeans.
They describe these pants as "distressed cargos", but they look more like tiger toast to me. I'm not really a fan of the look, but maybe I'm just too old-fashioned.
They come in sizes 26 to 42, but because they are made of stretchy denim, even in the waist band, they fit around my expanding 34-inch tummy quite comfortably.
They also feel comfortable on just about any bike because they stretch with you, yet they don't leave saggy knees if you've been riding a sports bike with your knees bent.
However, the kevlar inserts don't have a mesh lining, so the rough material sits right up against your skin. It's prickly and hot, even though they describe it as "soft-knitted".
Shark says they are made for Australian conditions, but they aren't really suitable for a Queensland summer.
I rode on a cool night and the heavyweight denim cargo pants feel quite warm and, even though they are breathable, they are fairly wind resistant, so they may be better as cooler-month gear.
The jeans are a slim design so they don't flap around uncomfortably in the wind, yet are wide enough at the bottom to fit over your boots and there is plenty of extra leg length so they don't ride up over short boots when you bend your knees.
"Cargo" probably refers to all the cargo you can fit in the expandable two rear and two side pockets featuring velcro flaps. There are also two deep front hand pockets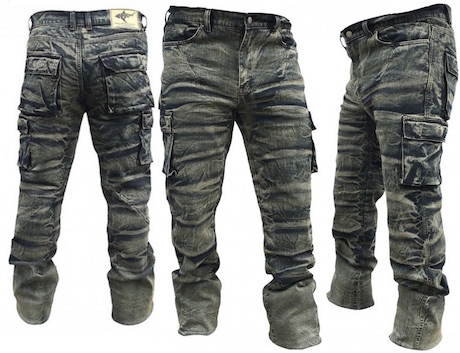 Protection is provided by 330gsm DuPont Kevlar strategically placed in the most vulnerable positions to abrasion (backside, hips, outside of leg, thigh and knees).
While there is no protective armour, there are pockets provided in the hips and knees for optional armour inserts.
Currently Shark has marked them down from $179 to $159 which is good value for protective riding jeans with DuPont Kevlar.