The new Sena Prism Tube action camera is super easy to use and takes outstanding quality video.
It also includes the best action camera helmet mount in the business.
That makes all the difference in the world for both ease of use and getting the video you want.
The Tube includes an internal battery, rechargeable via the Micro-B USB port.
There's also a surprise feature — a tiny microphone and a single speaker are included.
Mount the mic/speaker assembly and you can do live voice-overs or record background sounds.
The Tube even has a voice prompt system to let you know when the camera is on or off.
This is a basic action camera without any of the added frills you don't really need. It takes video at 1080p at 30FPS only. No photographs; no slow-mo and no 720p.
Who needs it when the video from the Tube is crystal clear, very nicely exposed and the colors are near perfect.
Forget those complicated box cameras with the features that you can only remember with a cheat sheet on the gas tank.
There's really no need for anything other than the Sena Prism Tube for the vast majority of motorcycle video.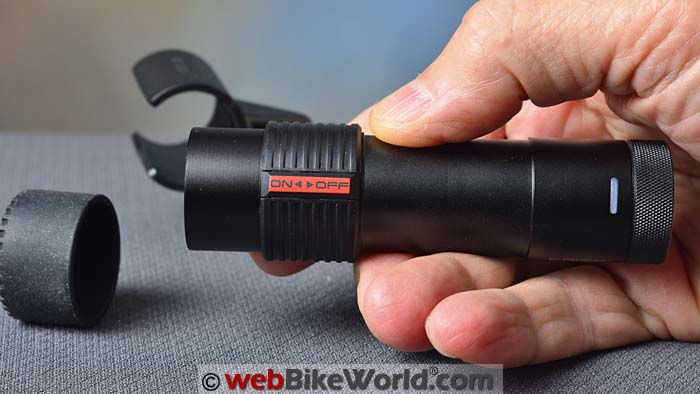 Introduction
Sometimes — or maybe all the time — simpler is better. Especially when it comes to an extraneous device on a motorcycle.
You don't want to spend time and effort futzing with some complicated camera, intercom, radio, GPS or lighting system when you should be paying attention to the main task: piloting the motorcycle.
This is especially true for an action camera. Some of them (cough, cough looking at you, GoPro) are so needlessly complicated, you need an owner's manual cheat sheet stuck on the gas tank for guidance.
And you do not want to be riding a motorcycle while you're looking down at the gas tank, trying to figure out whether the camera is on or off!
Not to mention that our scientific analysis has shown that 99.998% of motorcycle videos end up on YouTube anyway.
If that's the case, you do not need cinema-quality video for that and YouTube will rip your video apart as it applies its draconian compression algorithms to save space.
Actually, that's probably not completely fair, as YouTube quality has improved quite a bit since we first started reviewing motorcycle action cameras back around 10 years ago.
As long as you remember to click on the "gear" icon and select the highest video resolution available, YouTube is at least viewable.
But forget about that; let's talk about the Sena Prism Tube…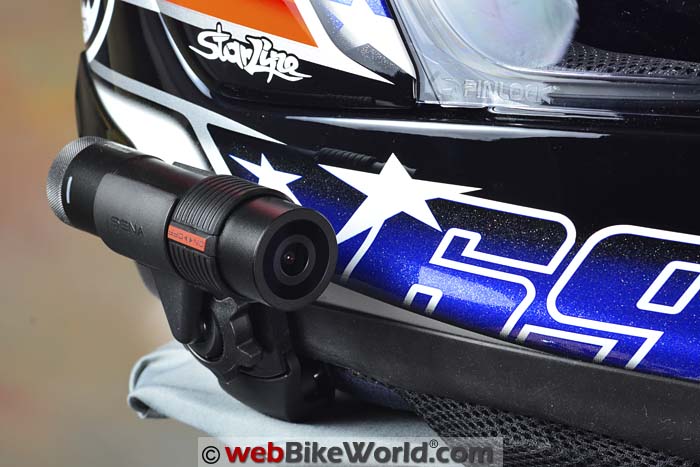 Sena Prism Tube Overview
Sena now makes three motorcycle action camera systems: the Sena Prism (review), a dedicated action camera system; the Sena 10C (review), a Bluetooth intercom system with an integrated action camera and the Sena Prism Tube.
The Sena Prism Tube was designed with a focus on off-road riding for dirt bikes but it's perfect for any type of motorcycle riding.
The "Tube" was also designed specifically to be simple and easy to use. One could almost call it "basic", but that word implies low quality and the video from the Sena Tube is anything but.
And as its name implies, the Sena Tube has a tube or cylindrical shape. We think this shape is currently the best design for a motorcycle action camera, at least for helmet or for motorcycle mounting.
Nothing against GoPro really, but that huge square shape that requires a big housing just doesn't cut it for helmet mounting and it's not very easy to mount one on a bike either.
And GoPro doesn't include the Tube's surprise also: a microphone and speaker adapter kit, which can be used to record voice-overs.
The recording system works very nicely and with the microphone mounted in the helmet, it eliminates a surprising amount of background noise. We'll cover more of the details in the following sections.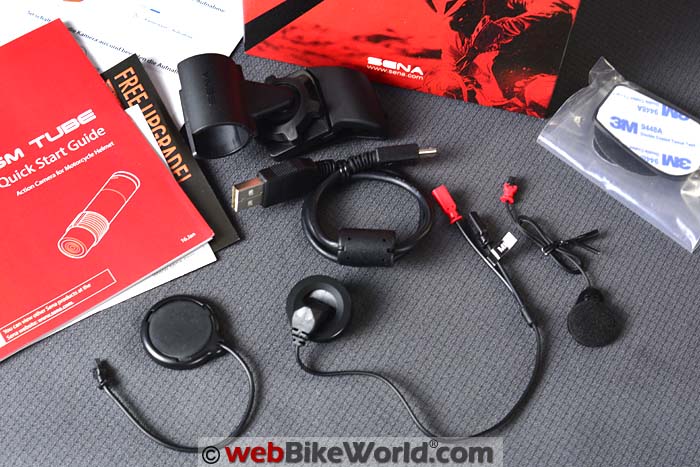 In the Box
The simplicity of the Sena Tube is obvious as soon as you open the box which, by the way, is also suited for storing the camera and the few accessories rather than as an "open once, throw it away" container.
It's not clear whether or not Sena designed the box that way (probably not).
The disposable and non-recyclable issue is something we've experienced with many other motorcycle action cameras (and intercoms) and a dual-use retail/storage container is definitely a good idea compared to adding even more to the waste stream.
You need somewhere to store the device anyway, so why not the retail packaging which, by the way, then benefits the manufacturer because the box serves as a continuous advertisement?
In the box is the Tube with its removable silocone lens cover; a very nice motorcycle helmet clamp mount (more on that in a bit) and a stick-on mount adapter.
Also included is a USB charging cable and a microphone/speaker adapter that connects to the USB port. It has a separate screw-on cap and the USB connector has a plastic barrier to maintain the water resistance.
Five separate Quick Start Guides are included, each printed in a different language. There is no separate detailed owner's manual because none is needed for this simple device; the Quick Start Guide covers all the details you need to start taking video.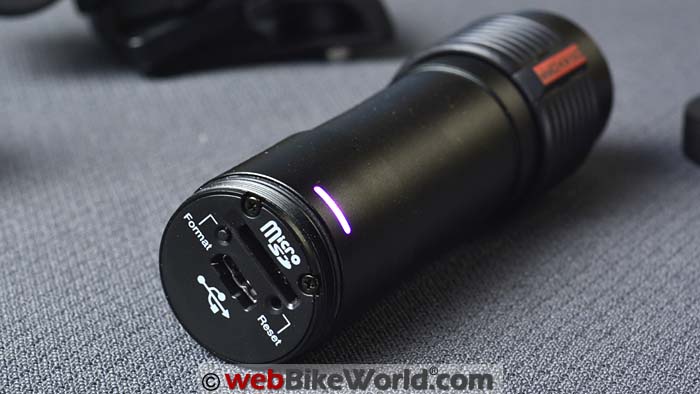 Specifications
The Sena Prism Tube includes a 1000 mAh lithium-polymer rechargeable battery with a claimed recording time of 2 hours and a charge time from empty of around 3 hours.
The video files are saved in .MOV format on a micro-SD card (not included) up to 32GB. The memory card should be Class 10 or better.
Operating temperature range is listed as -10 C to 55˚C (14F to 131F). The camera is water-resistant with a screw-on aluminum cap in the rear. A thin O-ring is installed on the body to seal out moisture when the rear cap is installed.
Field of view is rated at 125 degrees, which is just about perfect — not too wide and not too narrow. Distortion is minimal and only slightly noticeable if the camera is pointed at something close and out of the horizontal plane.
The sensor is a 3.5 million pixel CMOS type with f 2.0 fixed aperture. Video is recorded at 1080p at 30FPS only.
The camera has an external microphone, revealed under a hole when the sliding on/off switch collar is pushed forward to start recording. An LED light is located along the upper rear part of the Tube to indicate status.
Dimensions and Weight
The Sena Tube measures 26 mm in diameter and it's 99 mm long. The body is 24 mm wide with 31 mm over the sliding switch collar.
The camera without the rubber slip-in lens cover weighs just 74 grams (2.625 oz.).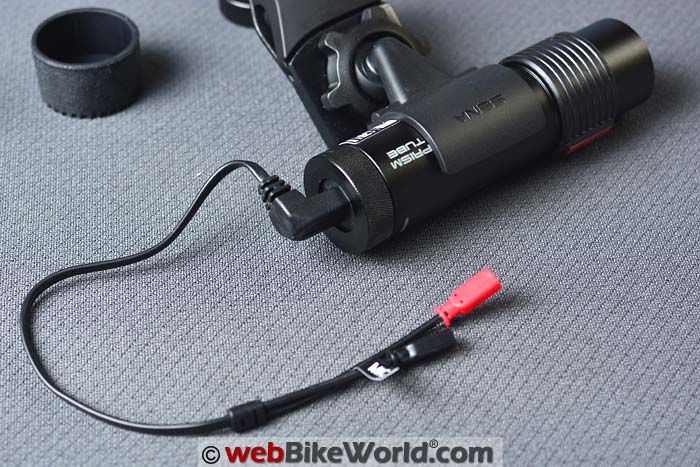 Mounting Notes
Most of the action cameras available today were not designed specifically for motorcycle use.
And it's fairly obvious that most of the designers don't ride motorcycles, because many of the cameras have very poor helmet or bike mounts available, even as an option.
Mounting an action camera on a motorcycle helmet or motorcycle has always been a problem. But the Sena Tube was designed specifically for motorcyclists and Sena has a lot of experience designing helmet mounts for their intercoms.
So naturally, the Tube has a helmet mount that works. It looks very similar to an intercom mount that fits between the EPS and helmet liner. The mount even has two stainless steel hex-head cap screws (Allen wrench included) to secure the mount to the helmet.
Only problem?
Some of the helmet manufacturers are trying to get too clever and they're installing bottom gaskets or surrounds on the helmet shell that make it very difficult or impossible to mount a clamp.
For example, we were not able to use the Sena Tube clamp mount on the SCHUBERTH E1 (review), due to the proprietary SCHUBERTH neck roll.
The clamp mount also doesn't fit the new Bell Star (Preview) because it has a different type of molded bottom gasket.
We were able to fit the clamp mount on the Arai Corsair X (review), however; it has a "standard" gasket fitted to the bottom.
Sena includes a stick-on surface helmet mount in the kit. Pry the adjustable camera holder assembly from the metal helmet mount and you can slide it into the surface mount if your helmet won't accept the clamp.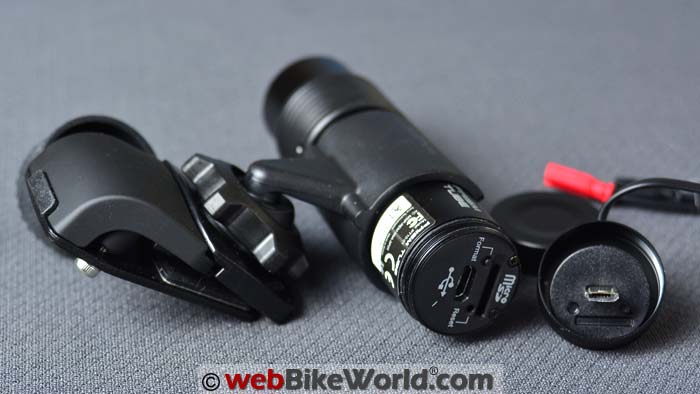 Tube Quirks
The only issue we had with the Sena Tube is that the semi-circular clamp doesn't quite hold the Tube camera body firmly enough.
So you have to be careful when the camera is mounted on your helmet because you can move the camera out of alignment as you slide the collar to turn the camera on and off.
Also, there is no laser alignment tool built into the camera, nor is there a smartphone app (the Tube does not have Bluetooth or WiFi capability).
So you have to be very careful about vertical and horizontal alignment. It takes some trial-and-error to get this correct, although it's more difficult to get the horizontal alignment correct than vertical.
Using the Sena Prism Tube
The Tube was designed to be easy to use and that it is.
There's a corrugated raised collar at the front, just behind the lens. Push it forward to turn on the Tube and start recording. Pull it back to stop recording and turn off the Tube.
That's all there is to it!
Of course, you'll need to first insert a microSD card in the slot under the rear cap. Also, make sure the internal (non-removable) battery is charged.
You can charge it using a Micro-B type USB connector from a powered USB port on your computer or any standard phone charger will work.
We used the Solar JOOS solar charger (review). It takes a little longer but it's "free" energy
Microphone and Speaker
The Sena Prism Tube comes with the unique microphone and speaker adapter. It can be connected by removing the screw-on cap and inserting the USB connector for the mic/speaker wiring harness, then use the special included cap to seal the back of the camera.
Connect the included single speaker and mic and they will be activated when the camera is turned on.
The Tube even has a basic voice prompt system, letting you know when the camera has been turned on or off and, we assume, when the battery level is nearing depletion.
That may seem silly, but since you can't see the camera when it's mounted on your helmet, it's actually a good feature that gives confirmation about camera status.
I can't tell you how many times we thought we were recording video with other action cameras and discovered only too late that the camera wasn't turned on.
Some cameras are ridiculous in this regard, so it's definitely an issue.
The sound recording quality when using the mic and speaker is surprisingly good. When we first started using the microphone, we thought the voice recording would be overwhelmed by the noise inside the helmet.
But Sena has included some of their noise reduction technology in the system and the voice recording is surprisingly good, as you can hear in the video below.
Here's a tip: don't overdo the voiceover, because not everyone will want to hear you droning on about something or other as you ride.
w

BW

 Video: Sena Prism Tube Overview and Sample Video
NOTE:

 Select 1080p under the "gear" icon in the YouTube video for best results!
View the Sena Prism Tube Video on the webBikeWorld Vimeo Pro channel.
▪ Download a 1080p Raw Sample (118MB, converted to .MP4 format)
Video Quality
The Sena Tube records video at 1080p/30FPS only. Really, that's all you need.
Very few people use their action camera to take still photos and the photos are usually pretty awful anyway. A modern smartphone takes better photos (and sometimes video) than most action cameras today anyway.
1080p/30FPS is perfectly fine for watching on your TV or YouTube or Vimeo or especially on your phone or tablet. Yes, 60FPS would probably make for smoother video and maybe Sena will update the Tube at some point to get there.
But the video quality from the Tube is really good — actually, it's some of the best we've experienced on a motorcycle action camera, no matter the price.
The exposure is just about perfect, even going in and out of the shadows, as you can see in our video. The color rendition is also near perfect and very realistic. And the 125 degree field of view is a good compromise; not too wide but wide enough.
The video is also sharp and clear without the over-sharpening artifacts found on some of the other action cameras we've reviewed.
Altogether, the Sena Prism Tube delivers outstanding quality video for an action camera.
Conclusion
The Sena Prism Tube is very easy to use, the price is right, it has an excellent mounting system and it takes outstanding quality video.
It's simplicity is its strength; you probably do not need anything more than this to take some fantastic videos on your motorcycle.
More webBikeWorld: 
▪ Video Action Camera Reviews
▪ Intercom and Radio Reviews
w

BW

 Review: Sena Prism Tube Action Camera
List Price (2016): $119.00
Note:
 For informational use only. All material and photographs are Copyright © webWorld International, LLC since 2000. All rights reserved. See the webBikeWorld® 
Site Info page
. Product specifications, features and details may change or differ from our descriptions. Always check before purchasing. Read the
Terms and Conditions
!
Owner Comments and Feedback
---
From "G" (September 2016): "I have been using your site for a long time now, mainly for helmet reviews as the information available on such a wide range of products is brilliant and proved invaluable in aiding with my choices previously.
I am looking at updating my cam and read through your reviews to help with my selection and see if there was anything i wasn't already aware of.
Several times I noticed you referencing that you use SanDisk SD cards and I cringed every time i saw them mentioned as they are in fact a very poor choice for use in these kinds of cameras.
Seeing the comments left by "B.P." on the Sena tube review prompted me to write to you about this.
Whilst SanDisk are excellent cards for many applications they do not do well in these applications due to their non standard proprietary controller often resulting in corrupted and unreadable files.
This is a common issue for these cards and not just for use with the Sena but with most dashcam DVR's.
The issues experienced by B.P. are in fact user error and it's unfair to be blaming the product for the failure of the cards suitability.
Transcend, Lexar, Samsung, Kingston and probably most other memory cards (providing they are at least Class 10) all work flawlessly with most DVR products and i have no reason to think the Sena would be any different.
I just wanted to mention this to you as it may be something to consider mentioning in future reviews and perhaps as a response to B.P's comments.
On another note. I was very interested to see the new Sena tube as i can't believe it's taken so long for anyone else to come out with what is surely the only realistic design for a bike cam.
Lipstick cams, as they were originally known, are the obvious choice for these uses as they have by far the most suitable form factor for such applications.
They haven't been using them for TV coverage of professional bike racing, MotoGP etc, for decades because they're no good.
The ReplayXD 1080 that I own is so much better than anything else in so many ways that even 5 years on there is little I would swap it for. If only i could still buy the original one I would. Sadly the follow up products from Replay were riddled with issues.
But mine has awesome usability, almost every mount you would ever need is included in the original purchase, can be hardwired so never have to worry about flat batteries and you can run an external mic.
Video quality, form factor, power and external mic are most important things you need in a bike cam.
I can run a $5 eBay mic on my cam, easily position it anywhere I want out of the wind on the bike and get sensational audio that puts every action cam on the market to shame, bar none!
Frankly i don't know why manufacturers even waste their time with the worthless built in mics, they really are pointless. Better to just have the facility to plug one of your own in."
Editor's Reply: We have no particular reason for using SanDisk memory cards other than the fact that we have used many different types here over the years with no problems.
All I can say is that we use SanDisk microSD cards in our Sena Tube with no issues. SanDisk cards are also on the approved list for GoPro cameras.
I just spent some time searching online for "SanDisk memory card problems" and "SanDisk proprietary controller problems" and found basically nothing other than the fact that every memory card manufacturer has their own 'proprietary' controller.
I have a feeling the problems experienced by "B.P." may be more related to trying to record video files of an hour or more and/or file format incompatibilities with computer or video editing software.
Or, this may be more of an issue with Sena's firmware and how it addresses memory cards than it is with SanDisk, who is one of the largest memory manufacturers in the world.
One would think that if SanDisk memory had controller incompatibility problems that there would be many reports of these issues, but that apparently is not the case.
---
From "R.R." (August 2016): "Hey, guys! Love the reviews and I've purchased and used the Tube several days and made small clips that were easy to download.
However, NOBODY, Sena or you guys, mentioned the proper orientation for the 'round' camera, so my first day was full of upside down video!
My friends got a good chuckle out of the forest roads traveled upside down…
If you look at some of the pictures you use in the article, the camera isn't oriented right on the helmet. It's a mistake I won't make twice!"
Editor's Reply: To be honest, I figured it was obvious that the switch goes on top.
The Sena Quick Start Guide for the Prism Tube states "Make sure the tip of the slide switch faces upwards and is parallel to the ground."
Also, in the "Tube Quirks" section of our review above, it states:
"The only issue we had with the Sena Tube is that the semi-circular clamp doesn't quite hold the Tube camera body firmly enough.
So you have to be careful when the camera is mounted on your helmet because you can move the camera out of alignment as you slide the collar to turn the camera on and off.
Also, there is no laser alignment tool built into the camera, nor is there a smartphone app (the Tube does not have Bluetooth or WiFi capability).
So you have to be very careful about vertical and horizontal alignment. It takes some trial-and-error to get this correct, although it's more difficult to get the horizontal alignment correct than vertical."
And we also assumed that a new owner would try the camera first before bringing out on the road, to see how it works and to make sure it's recording correctly.
Suggestion to new owners of any action camera: try it first before you bring it out into the field, so you can make sure all of the features are understood and working correctly.
---
From "B.P." (July 2016): "I bought one of these largely on the basis of this review. Thought I'd report the problems I'm having; maybe it'll save someone else some trouble.
Here's the email I sent to Sena tech support:
'I recently purchased a Prism Tube for use on a motorcycle helmet. For memory, I purchased a 32gb SanDisk Ultra microSCHC Class 10 card (up to 80mb/s).
Three times now this has happened: Camera is fully charged, I test it briefly in the house and download the file. Footage plays and looks fine.
Then I put camera on my helmet, go out and ride for an hour. Come home, download file…and my media players all refuse to play it, saying that the file is damaged, or that it's a format they don't support.
After the first time this happened, I formatted the card and tried again. Same result. After that I did a hard reset on the camera. Same result. Any ideas?'
This is the answer I just received:
'Thank you for contacting Sena Support. Sena cameras are having problem with SanDisk SD card. That is why we do not suggest our users to use them. You might want to use different Class 10 SD card.'
Woulda been nice to know before I bought the camera and three memory cards, right?! Guess that's what I get for using a no-name brand like SanDisk (sarcasm).
Anyway, I'm going to try a different brand of card to see if it makes a difference, since I can't return the camera. Maybe this will be the only problem I'll have, but right now I'm sorta regretting not going with the standard GoPro setup…
I was planning to use the camera mainly to record vid while on a motorcycle trip in Italy, so wanted to be able to just let it run for an hour or two at a time and review the footage later (but part of my job is video editing, so I'm set up to handle large files).
Just liked the idea of a simple, compact camera."
Follow-up from B.P. (July 2016): I just tried with VLC, no dice. Freshly updated QuickTime, same deal. Premiere Pro chokes on it, too, and that'll handle almost anything.
I'm returning my unopened SanDisk cards and will try Samsung. I assume you guys recorded some longer (like 30 mins plus) clips during your test? This seems to be related to file length/size. If I record a minute or two, it's just fine.
Editor's Reply: That's interesting, no, we have never recorded any video more than maybe 10-15 minutes, the files are just too big to work with, copy, edit, etc.
The best part about the Tube is being able to easily stop and start, so no need to record long files.
We edit the files with Adobe Premiere Elements 14, no problems with that and also I use the same SanDisk cards to record the video clips for the helmet reviews from a DSLR, again lots of small files edited together rather than one large one.
Second Follow-up from B.P. (July 2016): Quick update: I decided to a different memory card and test the camera again. I went with a slower (48mb/s) Samsung card this time, and tried it out this morning.
No corrupted files, and the footage all looked good. I rode for about 50 minutes and left the camera running the whole time.
It seems there's a 4gb file size limit (= roughly 35 minutes), but the camera just makes a cut and immediately starts another file without any user input needed.
So I don't know if it's the brand of card (SanDisk) that was the problem, as their customer service said, or perhaps the higher-speed cards…but the switch took care of it."
Editor's Reply: To be honest, the Tube probably isn't designed for taking long videos, maybe for what you need a GoPro or possibly a ReplayXD Prime X might be better?
Most of these action cams become very hot when recording for long time periods and then weird things start to happen.
---
From "H.S." (June 2016): "Thank you for the review of Sena Tube camera. As always, I found your review very informative.
It, though, left out a question I was hoping to find an answer for: how do the camera's speaker and microphone interface with an existing intercom system?
Naturally, I wouldn't want two microphones, and I simply cannot have three speakers. Does Sena offer any harness for connecting the intercom's speakers and microphone to the camera?"
Rick's Reply: The answer is no, there is no interface with an intercom microphone or intercom.
The Tube is designed for anyone who wants a very simple action camera and doesn't necessarily use an intercom and may not even be a Sena intercom customer.
Sena specifically said that if you want a camera with intercom, go for the Sena 10C (review).
So in that regard, the Tube is just like any other action camera, you use the intercom separately from the camera. Actually, not sure why you'd want to interface an action camera anyway with an intercom…
---
From "J.C." (June 2016): "I'm just wondering if you tried recording with just using the external microphone? I'd be curious as to the audio quality and whether or not the external mic picked up any verbal narration while talking in a full face helmet?
Obviously the quality wouldn't be as good, but is it useable?"
Rick's Reply: The external mic picks up just as much wind noise as any of the other action cameras. The downloadable raw sample linked in the review above uses the external mic.
---
From "Y.T." (June 2016): "Does the Sena Prism have the ability to record in a loop? And to record while charging?
Rick's Reply: No, it does not record in a loop, it wasn't designed for that type of use. But it does record while it's being charged, I just tried it to confirm, although there is nothing about this in the documentation.
---
From "D.S." (June 2016): "Will that mounting system accept a Replay XD Prime X (review)?"
Rick's Reply: I just tried it, the Replay XD Prime X will fit in the Sena Tube mount.
The Sena Tube is too narrow for the Replay XD mount though, you'd need to wrap a piece of bicycle tire inner tube around the body of the Tube to fit.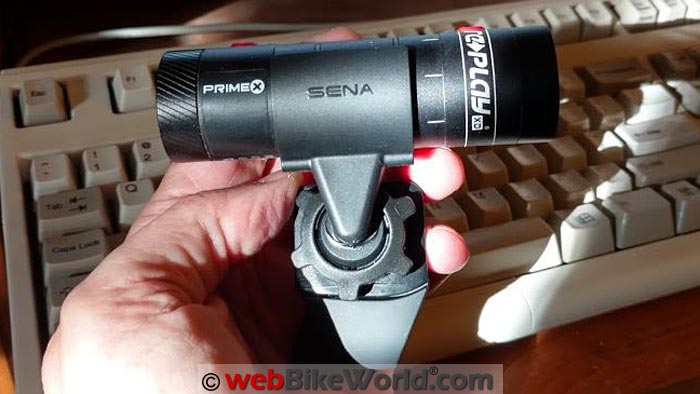 ---
From "M.F." (June 2016): " Thanks for the review. This camera seems like it took the ease of operation of the Contour Roam and mated it with the form factor of the Replay XD cameras.
I noticed the body of the camera is 24 mm which is the same as the Replay XD720 and newer 1080mini. Replay offers some really good mounts that work well for placing them on motorcycles and maintaining a low profile.
The Replay mounts with the Sena Tube may extend the utility of the camera."
Rick's Reply: We reviewed the Replay XD Prime X (review) and the older Replay XD 1080 (review)cameras. Their mounts are probably better for mounting on the motorcycle, but not too good for helmet mounting. Expensive also!