Sena Momentum Pro Helmet Review Summary
Review Summary
An excellent product, the Sena Momentum Pro is the newest member of the evolving Sena Momentum helmet line. It features a stylized shell with a smooth finish, intermediate oval shape, excellent interior, very good airflow, and obvious attention to detail everywhere. With onboard BT and QHD Camera, this innovative full-face helmet is a great investment from many perspectives including safety.
Air Flow & Noise Management
Pros
Integrated helmet, BT, & Camera environment
Read the guide, charge it up, & go
Ease of use & overall functionality of BT & Camera hard to beat
Continued firmware support
Long battery life with short charge times
Long warranty
Great investment
Cons
Limited camera configuration options
No integrated firmware or app for BT & Camera like 10C series
Visor adjustments lacking
Open visor can block lens
No drop-down sun visor
Interior pieces can be hard to remove
No charging on the go like other Sena devices
Sena Momentum Image Gallery
Anything to do with technology, motorcycling, and relatedly safety education and training gets my utmost attention – always has, always will. So, when Sena announced the first Momentum helmet in 2017, it got flagged, and Sena's evolution of this product has been followed with interest.
Quite incidentally, in jumping into a product discussion, the offer to get a Momentum helmet for review (acknowledging Kevin's review of the Sena Momentum in April 2018) wasn't going to be turned down.
*Note – Sena provided this Large, White, Momentum Pro Helmet at no cost for the purpose of this review.
Think of the expression "foot in the door" here and you will understand my rationale. I highly suspect (and hope) that Sena continues to evolve the product. Whether Sena is using the Momentum line to integrate and showcase their individual renowned products or work towards a 'smart' helmet of sorts, or both, is hard to say right now.
But the Momentum products are viewed as one more positive step addressing safety at different levels.
The Sena Momentum Lineup
The (current) Sena Momentum lineup is listed below, with basic features, and USD pricing.
Sena Momentum Lite with BT for four, 399.00
Sena Momentum with BT for eight, 449.00
Sena Momentum INC with BT for eight, 549.00
Sena Momentum Pro with BT for eight and QHD Camera, 599.00
Sena Momentum INC Pro with BT for eight and QHD Camera, 699.00

Note – INC (Intelligent Noise Control)
The next Momentum model announced is the Momentum EVO featuring Bluetooth and Mesh technology. It is available for pre-order now, although the wait time is unknown. And its also likely that another variant with (hopefully) some camera updates will appear going forward.
The Sena Momentum Pro + Accessories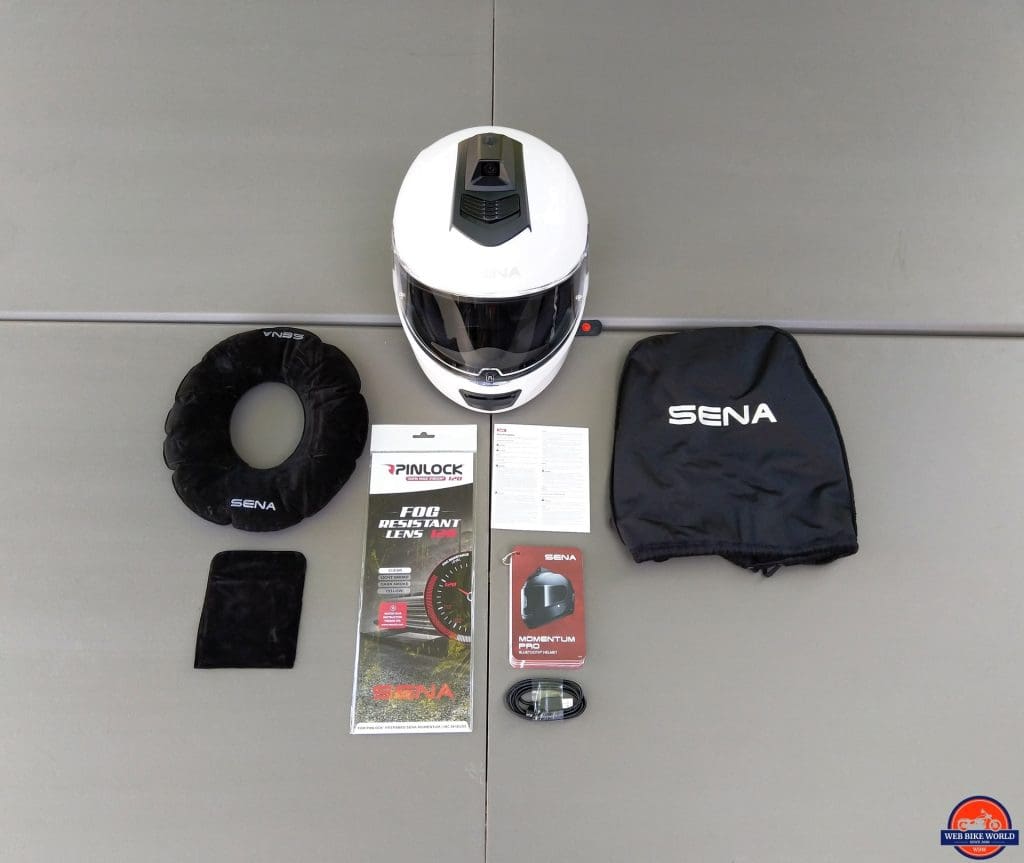 Along with the carefully packed helmet in its large helmet bag with Sena logo was a bundled accessory pack, including the pocket-sized flip-style multi-language Quick Start Guide, a blow-up Sena helmet ring (appreciated) with storage bag, a Pinlock Fog Resistant Lens 120 (clear), the 90-degree micro-USB charging/data cable, and multi-language Safety Precautions foldout.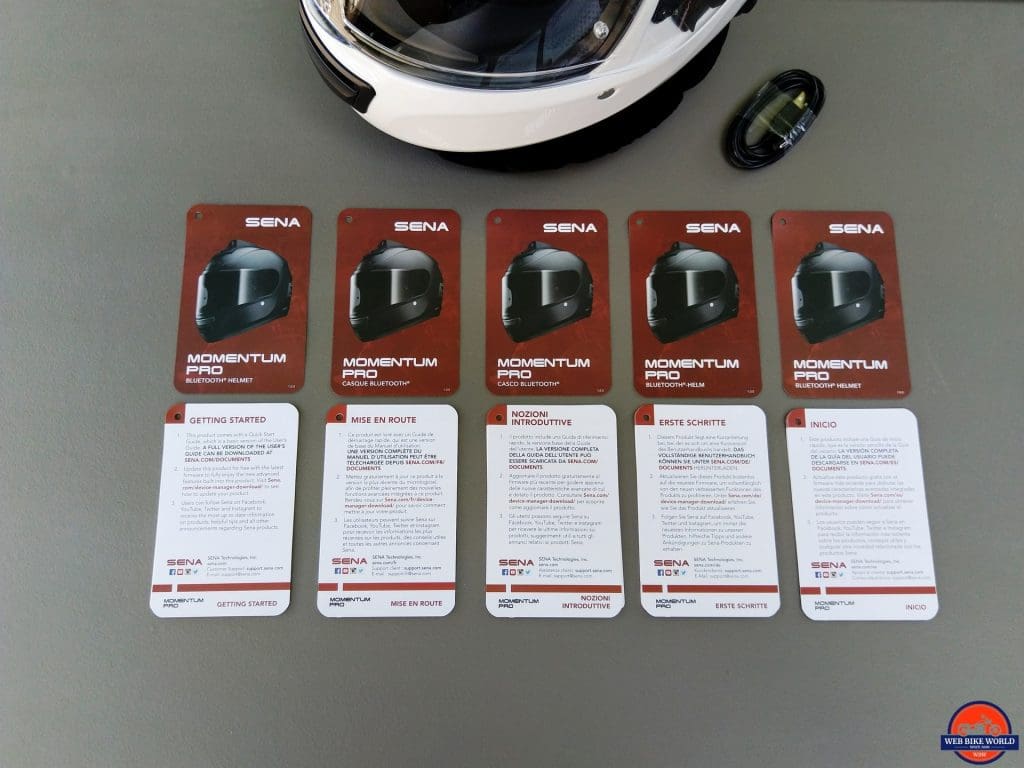 Momentum Pro Features
(from Sena media)
Composite fiberglass shell
Intermediate Oval Shape with two shell sizes – XS-LG and XL-2XL
Multi-density EPS liner
Face shield (visor) that is Pinlock ready (Clear Pinlock 120 lens included)
Removable, washable, quick dry liner
Top & chin vents
Rear exhaust port
Double D-ring closure
Includes breath guard & chin curtain
DOT & ECE certified (separate part numbers)
Bluetooth Specifications
Bluetooth v4.1
Talk time: 20 hours
Charge time: 2.5 hours
Profiles: HSP, HFP, A2DP, AVRCP, Intercom
Audio multitasking
Advanced noise control
Built-in SBC codec
Range up to 1600m (1mi) in open terrain
Supports up to eight users
Built-in FM radio with RDS AF
Camera Specifications
Field of View: 135 degrees
1440p, 30 fps (Quad HD)
1080p, 60 fps (Full HD)
1080p, 30 fps (Full HD)
Normal & Loop Recording Modes (maximum two hours)
MicroSD memory cards of up to 64 GB ((Note – a 128GB media card is supported))
Accessories for the Sena Momentum helmets include: Clear or Tinted Helmet Shields, Pinlock Ready Face Shields, Chin Curtain, Breath Guard, Cheek Pads, Pinlock Lens Inserts, Helmet Liner
Build Quality & Finish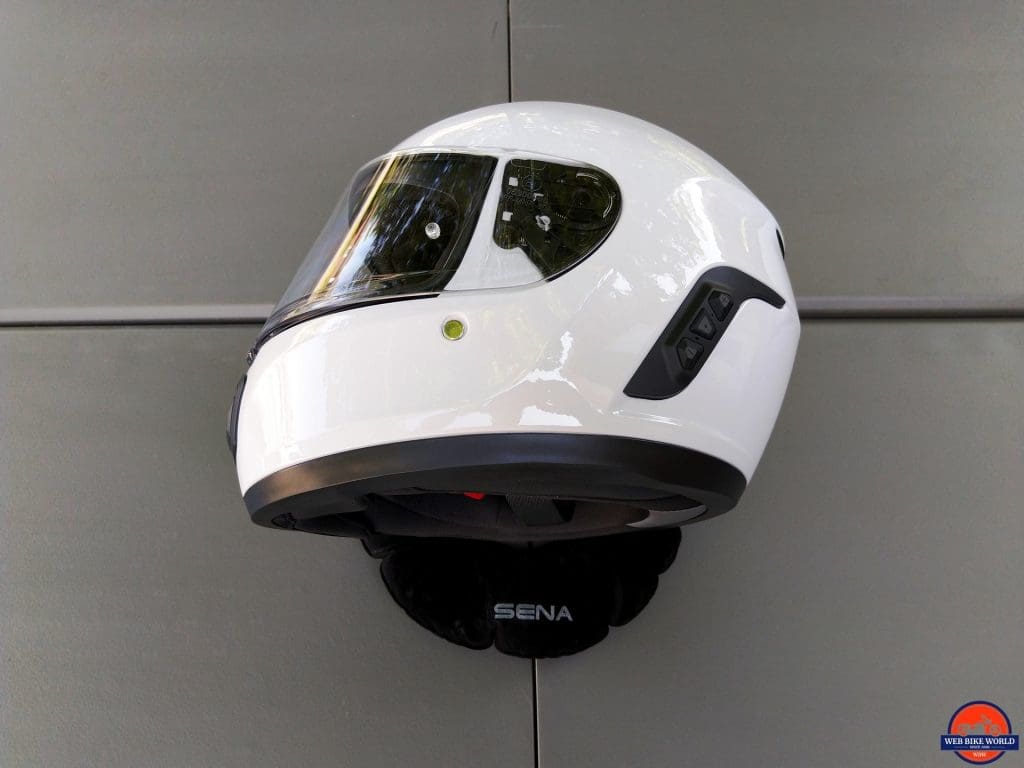 The Momentum Pro is a solid looking and solid feeling helmet built up from a composite fiberglass shell and multi-density EPS and is identified as an (intermediate) oval shape.
A minimalist approach to vents and exhaust results in one chin and one upper front vent and a single exhaust port. Not a bad approach when noise control is a key objective – as long as overall airflow is maintained and in this category, there are no complaints so far.
Constructed of laser-cut foam, the quick-dry lining is removable and washable. It's not a 'plush' environment, but it is well cut and laid out, reflecting attention to detail as do the exterior-mounted components.
Neither the top-mounted QuadHD camera or left side Bluetooth control housings look out of place – they are nicely shaped and fit tightly, blending discretely into the airflow lines of the overall shell. The whole layout and look are great. It's probably as pleasing in matte black as well.
The additional media components do add to the bottom line. Sena lists the weight of the Momentum Pro at 1820gr or 64.2oz (4.0125lbs) for the Medium size. The Peloz scales gave a reading of 1826gr or 64.41oz (4.025lbs for a minor difference of 6gr or 0.21oz; the weights are within the averages based on the long-term wBW Helmet data).
The eye-port isn't as panoramic horizontally and vertically like the NEXX helmets provide, but it is larger than it looks from photos, at least horizontally. I don't feel that the edge of the eye-port is closing in on me as with many helmets.
Summary – excellent design and build, well balanced when worn, attention to detail is obvious.
Paint & Colourways
The Sena Momentum Pro comes in Matte Black and Glossy White. Both might seem 'plain', but neither appear that way to me. I have not yet seen the Black Matte in person, but I can attest that the White Satin finish is a no-brainer option for me based on looks and visibility.
Paint Quality
Kevin's review of the Sena Momentum identified some choice observations regarding paint finish, decal layouts, etc., and as such, I was prepared to be super observant and super (constructively) critical of anything found…
In receiving and inspecting the Sena Momentum Pro for this review – I even measured the lines and decal layouts, and I ended up both disappointed and happy. Disappointed in that the layout of decals, placement/fit of inserts, and final finish is seamless – and, happy in that this was the case.
Summary – I'm hoping that (a) Kevin just got a bad one or (b) that Sena pulled up their socks and got a grip on finish and QC. Whichever it is, the Momentum Pro gets high marks for paint quality and overall finish.
Fit & Comfort
There were no surprises in first putting the Large-sized Momentum Pro on. I was expecting a snug encompassing fit and it was. The chin, side, and back roll sections are noticeable but not uncomfortable, especially if used to wearing a helmet like the Schuberth C3 Pro.
After the first week of use, a couple of minor pressure points disappeared and after the first month, the Momentum Pro had become one of the most comfortable helmets worn in the last few years.
The double-D ring chinstrap is, as Rick would comment on, very long. But it does provide lots of adjustment and the loop fastener snap keeps the excess tidied up and out of the way.
Glasses Test – My eyeglasses slip in and out of their thruways easily – clearance for them, even if they were heavy framed pieces like my old nerd glasses would be good. Sunglass wearers are well-served as well – a good thing given the lack of a drop-down sun visor.
Summary – Excellent fit from day one. Break-in eliminated any pressure points and the helmet is one long term comfortable protection piece.
Interior & Liner
The interior is not as plush as found in most mid to high-end helmets, but then it's not bad either. Nothing regarding the liner causes discomfort or effort in using the helmet, which is good given how snug the Momentum Pro to put on and take off.
One shaping section that I do identify with on a positive note is the support bump or roll just above the bottom neck roll where the bottom of the skull and neck sit – this can be a key support area and for me, it can be felt, but in a comforting supportive way.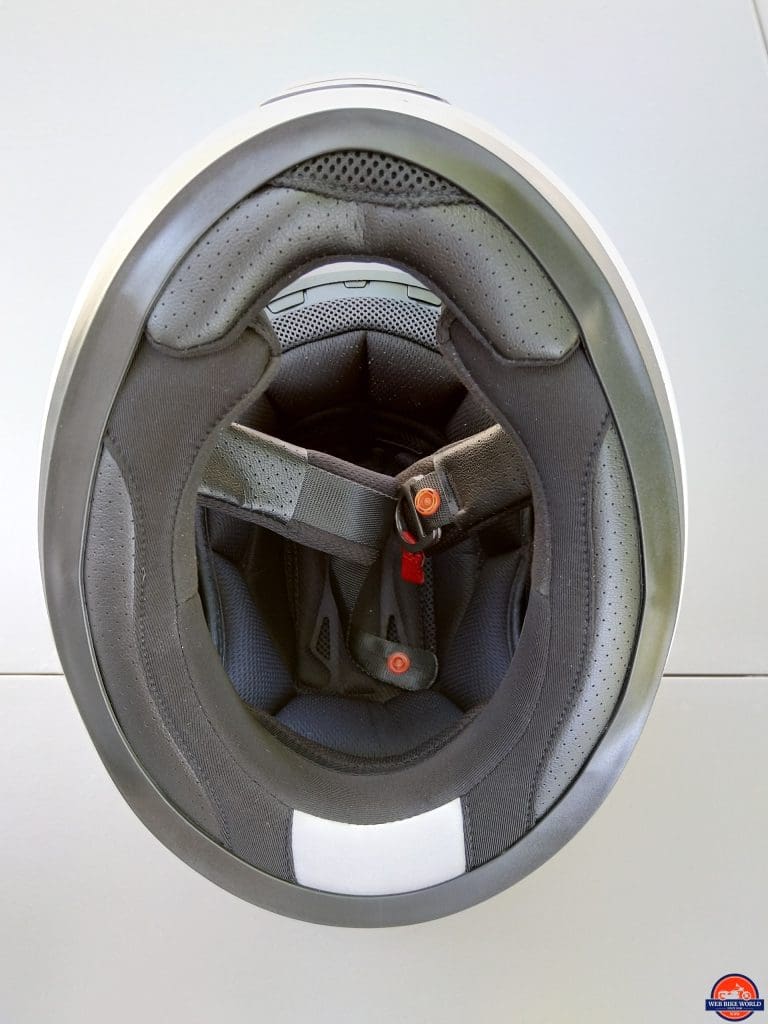 I haven't removed all the liner pieces for close inspection or cleaning but most of the sections fit together well and secure to the inner layer with the familiar red snaps used by many manufacturers. And yes, the label inside states that it is made in China.
Summary – The interior is solid and the liner pieces well-laid-out without excess material or movement when the helmet is put on and taken off. Basic materials that work.
Eye Port & Face Shield (Visor)
The eye port on the Momentum Pro helmet, which I presume is the same for all the Momentum models provides very good peripheral vision and overall a great field of view; its not on par with the panoramic experience provided by the NEXX helmets, but close.
Face Shield or Visor
The face shield, hereafter identified as the 'visor', found on the Momentum Pro helmet is unique for the Momentum series products with specific OEM part numbers.
Visor
Somewhat surprisingly, the visor is (literally) a weak component and not in keeping with the rest of the helmet regarding design, build, and function.
It is a heavy piece with thick top and bottom edges that are not visually or air-flow friendly. Compared to many other visors, even large panoramic style pieces, with smooth edges or smaller edge buildups, the Momentum Pro visor, unless closed or fully open, is just plain poor.
Adjustability
In addition to the obscuring/distorting top and bottom lines, adjustability is equally poor. There are only two real detents on the visor mechanism, one where the visor is open a bit for airflow and at the top, at its highest setting.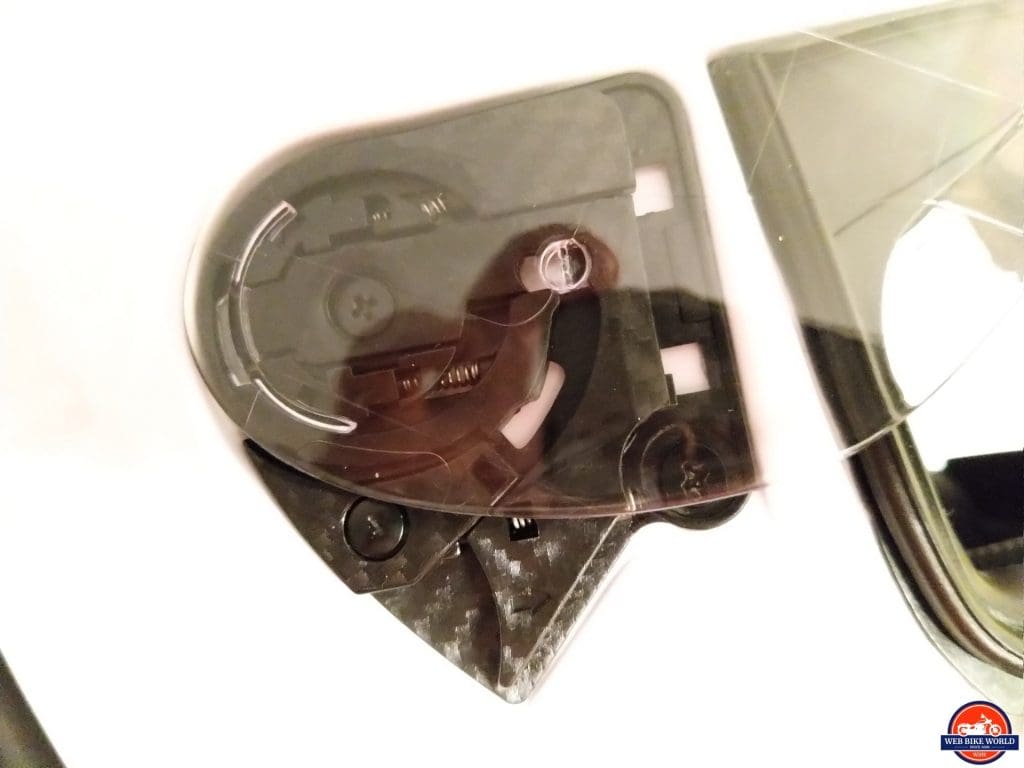 Once out of the lower setting the visor sits about 20% open and until it approaches the second or upper detent at about 80% open, it has free play with only friction keeping the visor at any in-between setting.
Between the thick top and bottom edges and the lack of positive latch points on the mechanism, keeping the visor partially open for visibility and/or airflow is virtually impossible.
A cleaner less clunky visor from top to bottom, along with multiple positive latch points on the mechanism for safe adjustability would be a great change.
Lens Conflict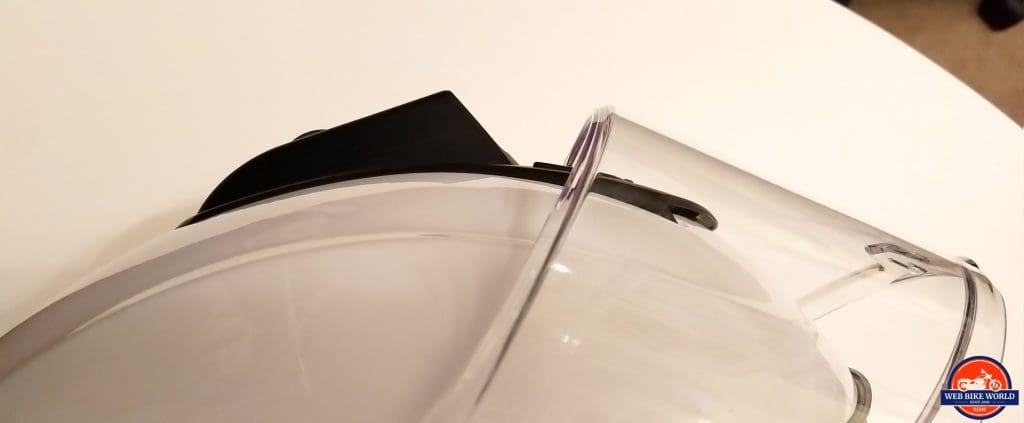 Acknowledging that there are limited options given placement of the camera lens, is that when in the uppermost position, the upper edge of the visor sits directly in front of the camera lens… this could be minimized to a great deal if a clean edge visor was used…
Seal
When fully closed via the center-mounted tab, the visor and eye-port are well and truly sealed, verified by a couple of hose tests, given that rain is in short supply or has been.
When lowered, but not locked down, the visor is relatively stable although it often vibrates audibly depending on the cockpit environment – this sound is heard by connected intercom users… great sensitivity re the microphone, though. More on this later.
Visor Removal/Installation
This is a more positive aspect of the visor assembly as removing or installing the visor is indeed quick. Open the visor fully, pull the locking mechanism forward (arrow marking) to release the visor. When it releases, lift the visor away from the mechanism.
To reinstall, push the locking mechanism forward, align and insert the visor guide into the locking mechanism and once aligned, release the locking mechanism. Make sure the guide is locked properly to the helmet. Repeat all for the other side.
Visor Options
The absence of a large peak, drop-down sun visor or light tint shield, or a set of prescription sunglasses is causing issues when using the Momentum Pro, so it was finally time to address the issue. The dark smoke visor that seems to be the only available option isn't the preferred solution. Pinlock to the rescue… which is where I found the visor information.
There are two visor variants for the Momentum helmets:
Type 1 – Pinlock insert ridge along the top and bottom, visor mechanism is 'arc' shaped
Type 2 – Embedded lens-shaped ridge all around the viewport, visor mechanism is both 'C-shape' and an 'arc shape'
Pinlock Options
From the Pinlock Sena Momentum Support Page link, clicking on the Type 1 photo will bring up the current two Pinlock options, one being the 100% Max Vision Pinlock ProtecTINT and the other, the 100% Max Vision Pinlock 120 for Sena.
The ProtecTINT piece is sun reactive, changing from clear to light smoke shading when exposed to sunlight. Whereas the Pinlock 120 provides the optimal coverage ideal for the track or adventure riding and is available in Clear, Light Smoke, Dark Smoke, and Yellow.
Note – Both a ProtectTINT and Pinlock 120 in Light Smoke are on their way. If this submission can't be updated before publication, an update regarding how these pieces performed will be done.
Summary – Eye-port very good, visor not so good, although removing/installing it is easy and when it's locked into place, the eye-port to visor seal is excellent.
Airflow & Noise Management
The Momentum Pro helmet scores well in the ventilation arena although a bit better or more pronounced flow into and around the head area was expected. You can tell there is air coming in at the chin and upper vents but it's a very subtle feeling, possibly related to keeping air pressure and flow well regulated to assist in overall noise control.
Venting functionality is simple – Down to open the front chin vent and back to open the upper vent.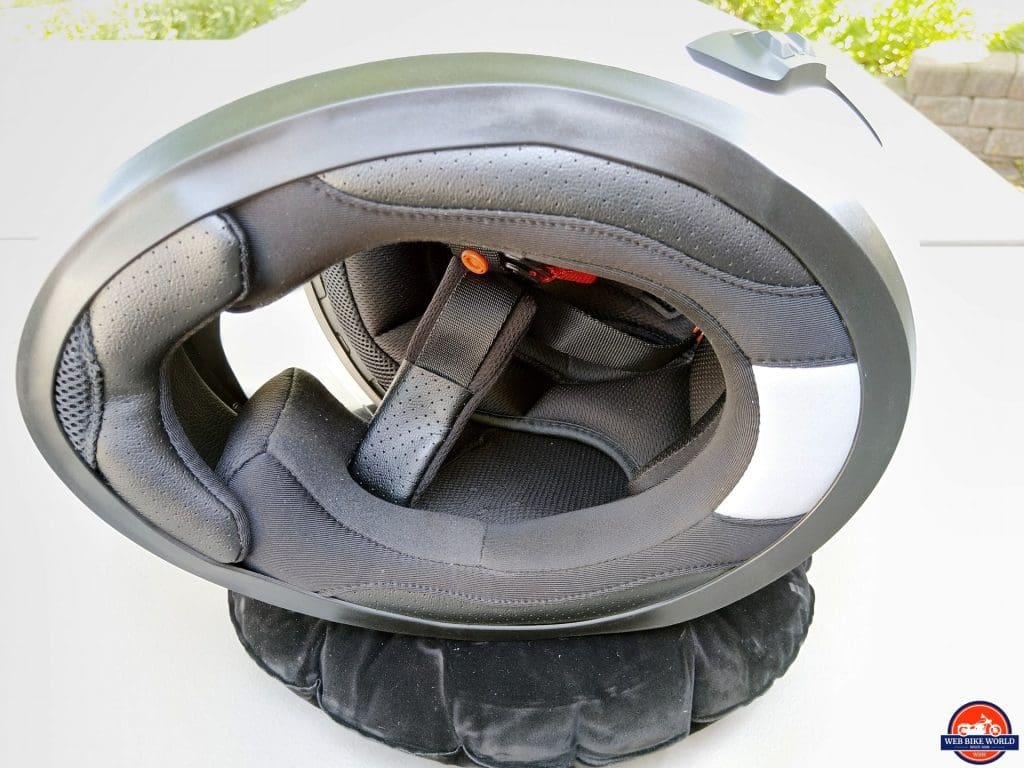 Overall styling, positioning of the inserts, and profile of related pieces, along with the styled airflow lines combine to keep exterior noise well down (a somewhat subjective assessment of course). Buffeting is minimal (F850GSA cockpit with the windscreen in high-position).
Combined with a very quiet interior disturbed only by vibration and noise from the visor unless its locked down, the helmet is far better than the Arai XD4, on par with the NEXX X-Patrol, but not as good as the Schuberth C3.
Summary – Very good exterior airflow management and a quiet environment inside, although a bit more ventilation presence inside would be good.
Momentum Pro Bluetooth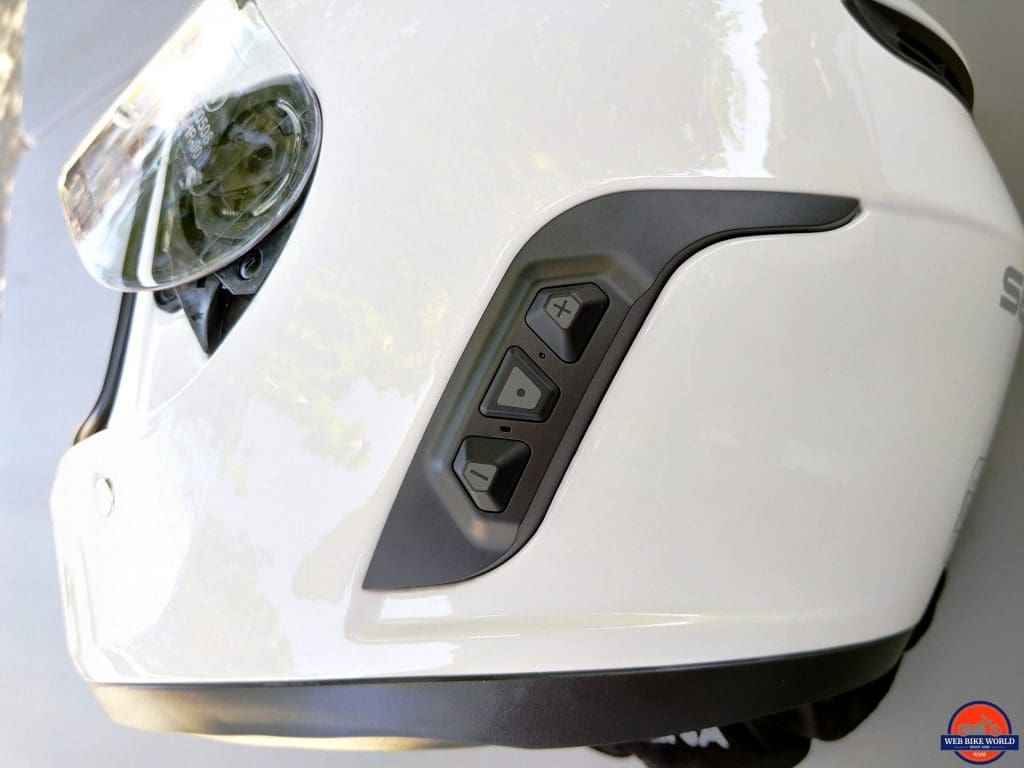 The Sena Bluetooth system integrated into the Momentum Pro helmet is based on the 20S technology that has been well covered by various wBW reviews going back to late 2014 including a follow-up review (part 2) on the Sena 20S-O1D variant released in 2017. All to say that the 20S baseline is still going strong and aging well.
And with Kevin providing further insights regarding the Bluetooth system used in the Sena Momentum he reviewed, this section focuses on related updates and other observations regarding system performance.
Firmware
Subsequent firmware releases have provided 'tweaks' to some features, cleaned up others, and added feature enhancements to boot. The Sena Momentum Pro is currently on firmware release v1.0.2, the latest posted (mid-Aug 19).
Controls
The treasured Jog Wheel isn't found on the Sena Momentum series helmets, but the 3-button vertical insert laid into the left side is readily accessed and after an hour or so of use, completely familiar.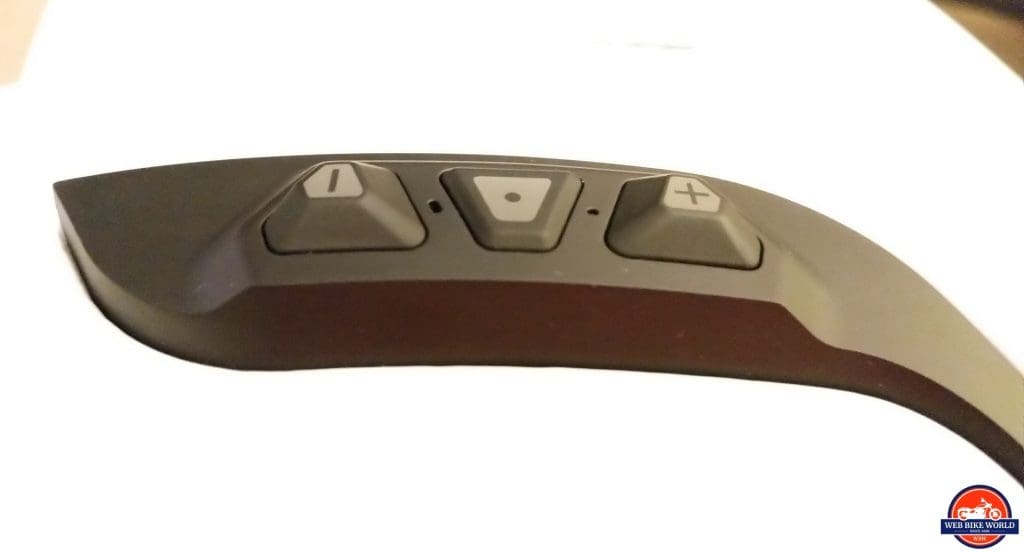 I found the layout, top to bottom, of Plus (+), Center and Minus (-) a great one. The three are well spaced with the top and bottom controls sitting higher than the center one. Overall feel and function are outstanding, among the best used. Other brands take note…
A single small not very bright LED sits between the Center and Plus buttons and it flashes Blue/Red/Green depending on helmet status or input mode. In low light or shade it can be seen if viewed directly, but otherwise, not so much… For dismounted use, it needs to be cranked up a notch or two.
The stylized battery housing with external micro-USB port is fitted on the right side matching the left side control strip placement. The micro-USB port is located on the bottom of the strip and with the silicone weather plug inserted, it virtually disappears.
Speakers & Microphone
As expected with a well designed and well-made integrated helmet like the Momentum, neither the microphone or speakers, nor any connections are to be found, unless some serious and unneeded digging around is done.
The microphone resides behind a small cut-out in the lower left of the chin bar interior and as Kevin pointed out it is extremely effective. The speakers are almost undetectable, totally recessed and hidden behind the light liner layering.
Between the great speakers and interior helmet environment, Sena Momentum Pro audio is as good if not better than any other Sena product and arguably better than most other brand systems… except for my benchmark UClear Pulse Pro 2.0 speakers. Kudos to Sena.
Intercom
Hand in hand with the superb audio is the (usual) great performance from the intercom, be it configured for a pair, small or larger group (up to eight).
The only observation is that the intercom on the Momentum that has a great range, like most Sena systems, is and does get noisier as distance increases. The signal deteriorates with eventual connection loss… the noise can go on for a protracted and annoying period.
Sena always keeps tweaking things, including the intercom, but the issue noted isn't unique to the Momentum.
Two new products under test are timely examples in that their intercom performance (audio) is maintained out to their "claimed" and beyond range. Once some degradation takes place, there is a quick cut-off with a "connection lost" announcement and once the user is back in range, a quick seamless "connection restored".
Charging
To my surprise the Momentum Pro cannot be charged on the go, something that this long-time Sena user is having trouble fathoming. As soon as the provided micro-USB charging cable is connected the system turns off automatically.
The Momentum Pro does have increased capacity battery, rated at 20 hours of use, to handle both BT and Camera duties but this Sena mainstay is really missed and needs to be implemented.
Regarding battery performance, however, I fully agree with Kevin's assessment. Sena did a great thing in beefing up the onboard power capacity vis-à-vis the standard headset and it (somewhat) offsets my observation about no charging on the go.
Based on the use of six to eight hours per day including two to three hours of music streaming or FM radio use, ongoing intercom chatter and the odd phone call, getting two days between charges is easy. In checking battery status, recharging from two of four Red flashes (somewhere in the 50% percent zone) takes an hour or less – impressive.
BT Summary – As expected in using the 20S technology and latest firmware, the integrated BT capability has lots of intercom range punch (albeit with some noise), unmatched pairing versatility, and great audio-overlay management.
Momentum Pro Camera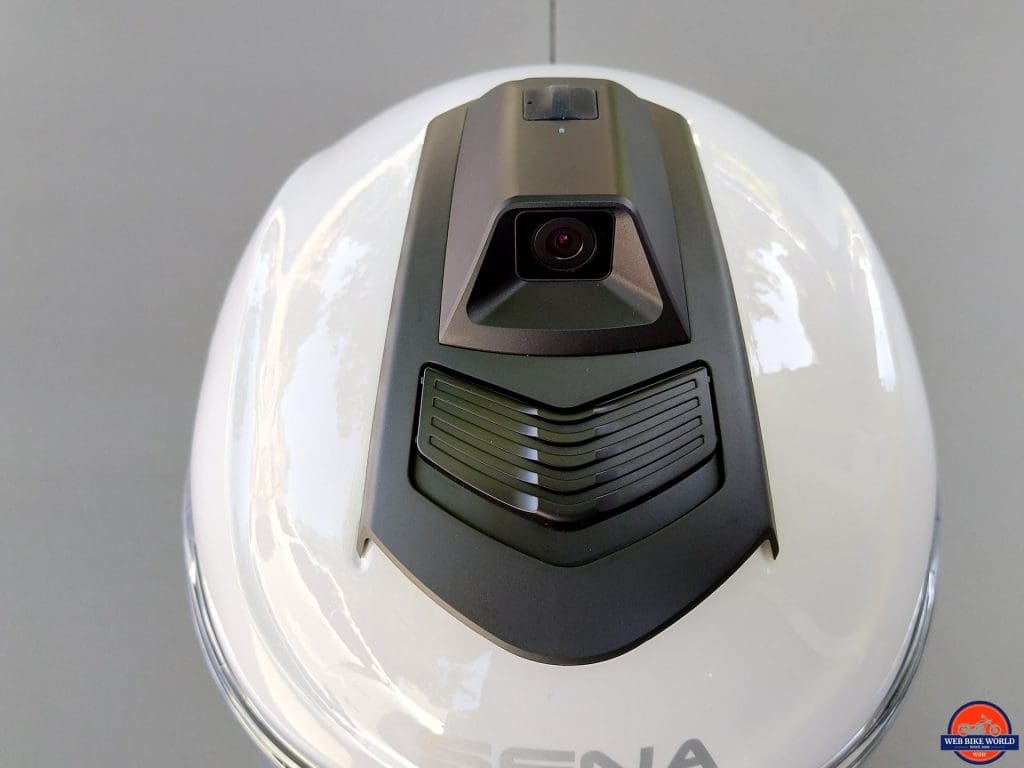 The camera built into the top of the Momentum Pro records in Quarter High Definition or QHD 1440p at 30 frames per second (fps) or Full High Definition (FHD) 1080p at 60fps or 30fps. The 60fps mode allows the creation of a slow-motion video.
The lens provides a 135-degree field of view (FOV), somewhat less than other POV cameras but still wider than the 125-degree view of the Sena Prism. This puts the Momentum camera pretty much in the middle of things regarding capture.
The single-camera control located on top of the camera housing is a simple design solution and overall it's not that hard to access and its use is uncomplicated – On/Off power and Recording On/Off. But from function and safety viewpoints it's not optimal. Remote compatibility?
Video capture resolutions are set using the Sena Camera App along with Video Mode that allows 'Normal' – continuous recording (4GB maximum) or 'Loop' – three (3) minute video segments; along with Video Quality (Fine/Normal) and other basic settings.
Audio is recorded through the Momentum Pro's Bluetooth system microphone and/or from (other) sources provided by the BT system.
Camera WiFi & App
With the camera turned on and the paired mobile device ready, users can connect to the 'local' connection (no internet) that is named 'MO PRO -xxxxxx', and then launch the Sena Camera App, or try to…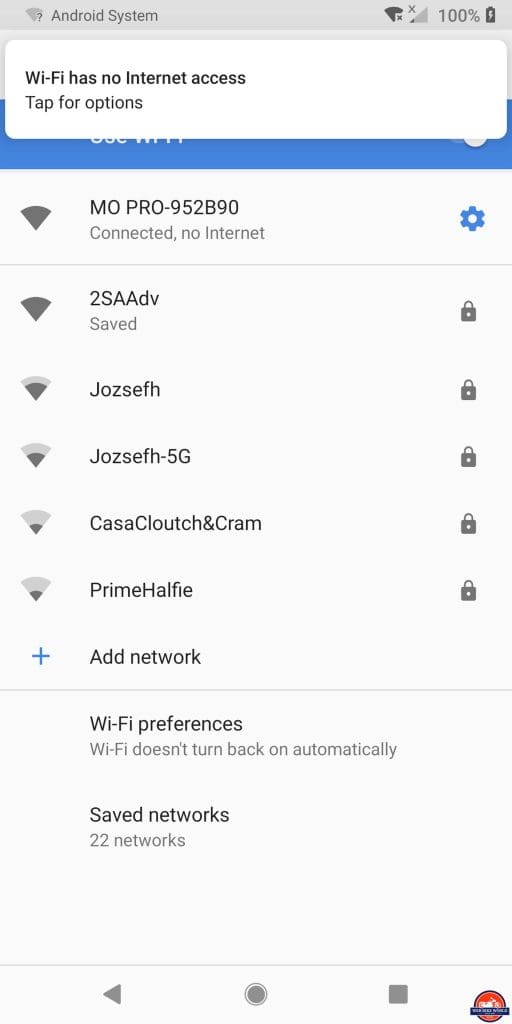 As Brandon noted in his Prism Tube WiFi review, getting the connection made and kept, and the app launched can be problematic.
Workarounds – Turn off any data service but keep the overall connection going for continued phone service (options allowed by most newer devices) to provide a better environment to keep the Momentum Pro WiFi connection going. Close the network connection app when not needed.
Hidden Settings – Revealed
This relates to Brandon's 'helpful tip #3' provided in his Sena Tube WiFi review. I was also frustrated with the lack of detailed setting information for the Momentum Pro camera. Very little of which is found in the Sena User Guide or posted anywhere.
This is unsettling in that Sena has been in this business for some years and continues to release new products, update existing devices, and produce excellent BT User Guides.
Most of the missing settings are directly accessible from the Sena Camera App with the Momentum Pro. With the app launched and the Momentum Pro model selected, bring up the Momentum Pro screen, then press the left side camera icon to go to the Preview screen (shown below).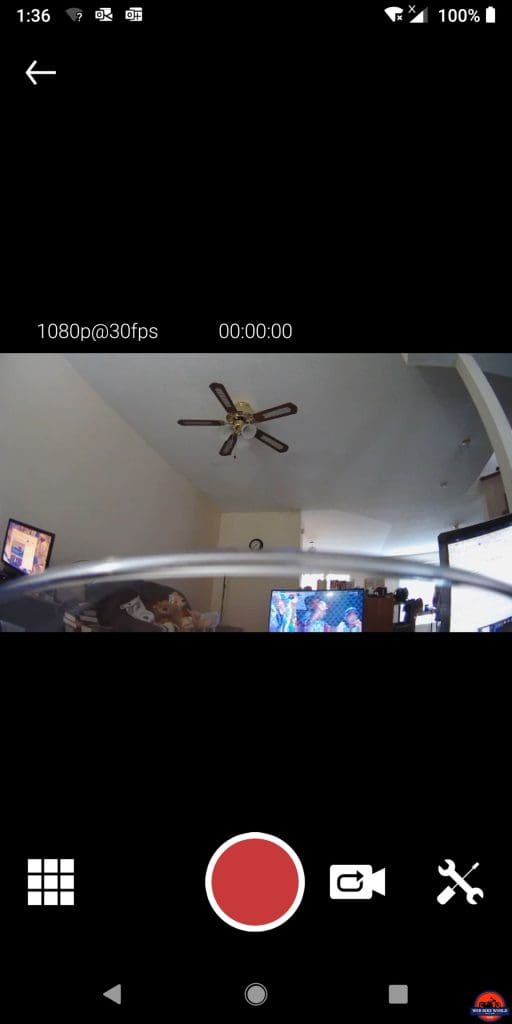 Pressing the Tools icon loads the 'Settings', revealing most of what Brandon spent so much time searching for. I truly understand his frustration and rant.
The basic settings provided are OK, but minimal compared to most POV camera systems. More settings and finer-grain control options would be a great objective for all the camera products.
Camera Function
One quick press has the camera going through its boot sequence, followed by "Camera On". Another one to two (1-2) second push results in a short squawk tone to start "Recording".
To stop recording, press the Camera button for one to two seconds. To turn it off, hold the button for three seconds – it takes a bit of timing practise to get it done smoothly.
Storage
Sena recommends use of good 64GB microSD media, a size that makes sense given the overall recording limitation and the shared battery. A 128GB high speed read/write card is now installed, which the Sena Camera App recognized and formatted correctly for use.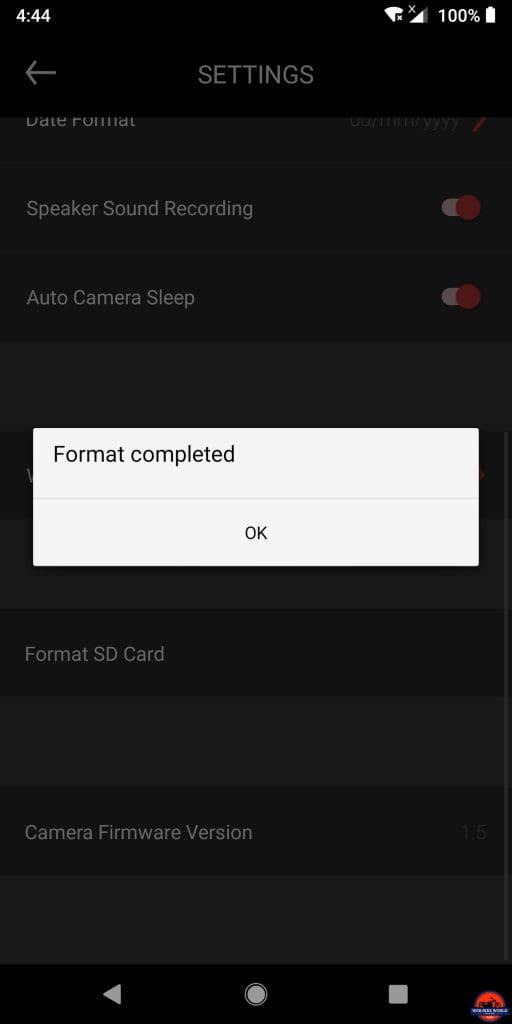 Recordings
In Normal recording mode, recording can be continuous for two hours, although there is a 4GB maximum per video.
With Loop recording mode, although not defined anywhere, individual loop videos of three minutes are created under the 'Loop' folder. Other options would be good, but in general, this time and file size works overall.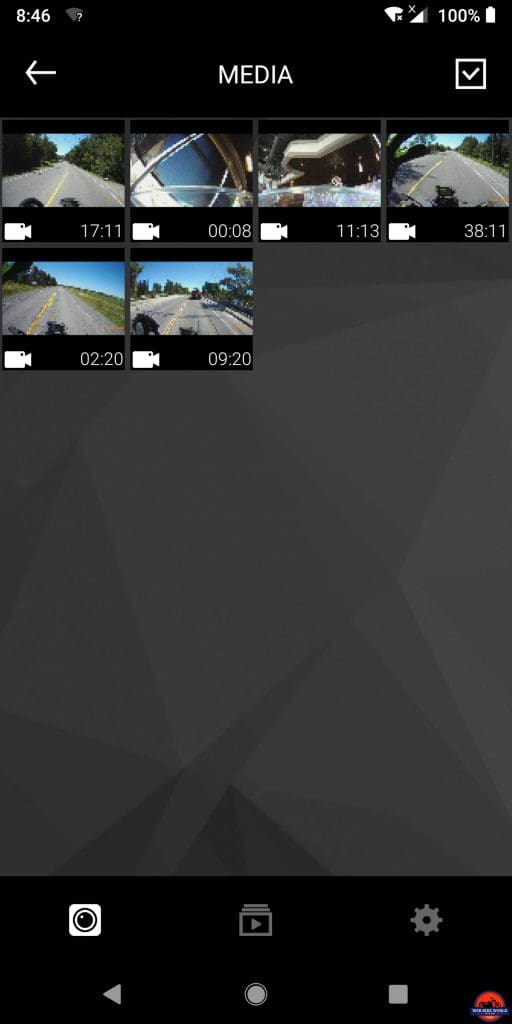 Video
Video performance is very good overall and for my requirements including travelogue video and as importantly, traffic-cam, it is just fine.
Differences between resolutions, frame capture, and Normal/Fine settings are discernable in the below examples. But as noted earlier and with other Sena camera products, there aren't a lot of options overall.
1920×1080, 30fps
1920×1080, 60fps
2580×1440, 30fps
Audio
Speaker Sound Recording – In addition to the direct headset microphone feed, the User Guide identifies other audio input options as provided by the Smart Audio Mix feature on the 10C EVO device that allows phone, intercom users, music stream, FM to be added – all selectable under the integrated BT/Camera app.
But under the Sena Camera App with the Momentum Pro, the only setting is 'Speaker Sound Recording' that is On or Off.
When ON, all audio sources from the BT headset are captured.
When OFF, only audio from the internal BT microphone is recorded.
Audio input choices as per the 10C series firmware/app would be great…
Camera Firmware
Keeping Sena products up to date is easy with the Sena Bluetooth Device Manager. The onboard QuadHD camera is upgradeable, but not through the Device Manager but rather by a separate more manual method.
From the Sena Momentum Pro Downloads page, scroll down past the device manager section to the Camera Firmware Upgrade Guide and follow the steps. It's all quite easy.
Camera Summary
Like the BT feature, the camera is integrated physically with the helmet component. While there are common points and some interconnectivity, the helmet, BT, and camera don't form a single managed 'integrated' environment… or not yet.
On the Road
A word to the wise before throwing a leg over – it's better to turn the camera on/off before putting the helmet on. The usual LOUD default voice announcements are very annoying, as they are for virtually all Sena systems… can't we get this fixed?
Overall helmet environment is very good less some extra noise generated by the visor that likes to vibrate when it's not locked down. Opening the chin and top vents provide good but not outstanding airflow. Not increasing internal noise levels either might be an objective here…
In the cockpit, the Momentum Pro works extremely well. Minimal buffeting and virtually no extra noise generated when the head is repositioned or purposefully moved in/out of the airstream. This is one well-engineered helmet that is easily on par with more expensive and quieter rated helmets used.
The helmet, BT and, camera combination works well with the disparate media systems functioning smoothly (for the most part) and efficiently. There's minimal effort and minimal distraction, although having separate management apps detracts.
A live preview feature allows the user to get the camera's perspective on things, which is good to know and appreciate before using the system on a continuing basis. Just don't stop doing the critical shoulder checks and field of view sweeps because the camera is going… it's not the real-time sensor – you are.
Conclusion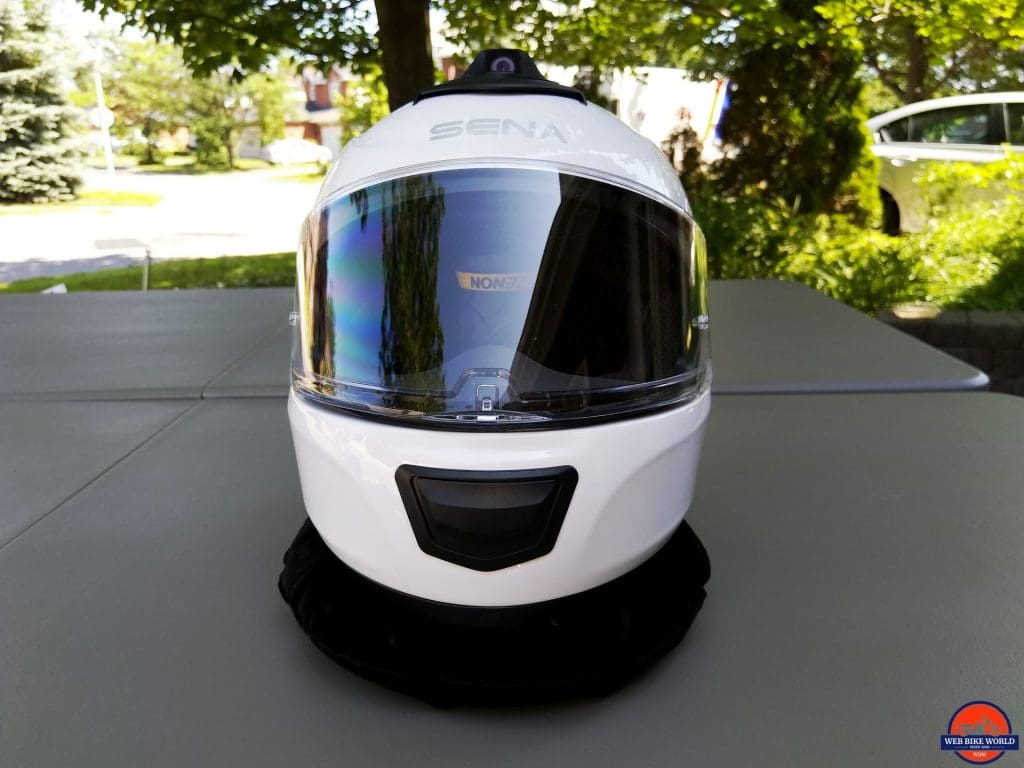 Off the Top – When Sena offers a product like the 10C/10C EVO line with all in one firmware and integrated function app, the (current) status quo for the Momentum Pro seems odd.
But in considering lots of other issues and factors, the Momentum Pro is what it is. Its current features and abilities do make the helmet a standout.
And less a missing in action feature – GPS/Geo-tagging, all the other observations are easily addressed and resolved. Sena has most of the solutions in use already.
Bottom Line: The Sena Momentum Pro as a multi-feature product is not an integrated system controllable from a single interface. But, in its current form, with its current functionality, it is an excellent product. The Momentum Pro helmet is worth a very close look; highly recommended.
Pros
Integrated helmet, BT and Camera environment
Read the guide, charge it up and go
Ease of use and functionality of media systems hard to beat
Sena firmware support for longevity
Long battery life, short charge times
Long warranty
Great investment
Cons
Limited camera configuration options vis-à-vis other Sena camera products
Visor adjustment lacking
Open visor can block lens
No drop-down sun visor
Interior pieces can be hard to remove
No charging on the go like other Sena devices
No single BT and Camera app
Specs
Manufacturer: Sena
Price (when tested): $599.00 USD
Made In: China
Colours: Matte Black or Gloss White
Sizes: XS to XXL
Ratings: DOT & ECE
Review Date: May to August 2019