The Breakdown
The 2019 F750GS and F850GS are BMW Motorrad's new, anxiously awaited, but behind schedule new release models replacing the original F650 and F700/F800 series motorcycles.
The somewhat larger (853cc vice 798cc) engine with revised crankshaft offset, timing and balancing changes now produces 95Hp vice 85 and torque is 92Nm vice 83; the changes provide a far stronger and responsive motor.
While weight is up, chassis, suspension, and component changes make for a far more stable machine compared to the F800 motorcycles – progress is good.
Overall First Impressions
Pros
Motor – "strong like bull", arm pulling power across the band
Buzzing/vibration virtually non-existent
Chassis/suspension/component changes form a very stable well-handling machine
21in front wheel stable at all speeds/surfaces
LED headlights and tail/brake lights
Aluminum cross-spoke rims, tubeless
Electronic packages enhance the experience
Familiar size, layout, and function regarding current F-series motorcycles
Slimming lines, narrow rider area and back subframe facilitating accessory mounting
Cons
Heavier, gain mitigated through chassis, suspension and component changes
Factory packages and equipment options add significantly to the base price
Centre mount fuel cell only 15L (incl reserve)
Non-adjustable windscreen
Rallye variant should have more endure bit-n-pieces as standard equipment
Some low-rpm remapping needed
A Dilemma in the Making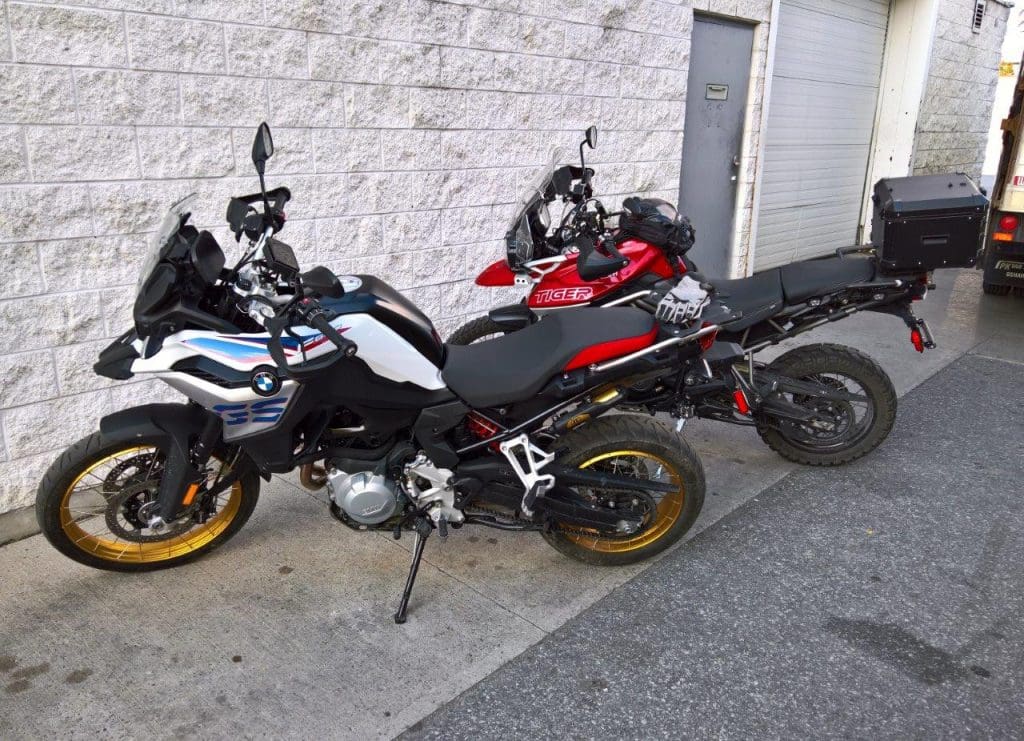 What we have here is an evolving but acknowledged dilemma… created knowingly in owning many Beemers of all sizes over many years, including an original F 800 GS and recently a treasured F 800 GSA that was originally slated as a trade for a new F 850 GS or GSA; the former now seriously overdue and the latter becoming a serious contender given timelines.
In the interim, a 2018 Triumph Tiger 800Xca fills the mid-displacement (small GS) gap quite nicely; in fact, it's causing the dilemma. The Tiger is one darn fine motorcycle and thoughts of retaining it while still investing in an F 850 are gaining traction…
Acknowledging & Leveraging a Relationship
An early opportunity is just that and one not to be left on the table. As a volunteer Ride Lead for the BMW Demo Ride Days I was discussing the plans for the upcoming second Ottawa Motorrad event with the Sales Manager, during which it became apparent that an opportunity to undertake a First Ride review of the 2019 BMW F 850 GS could become reality; can we say 'thank you'.
The Walkaround – First Impressions Do Count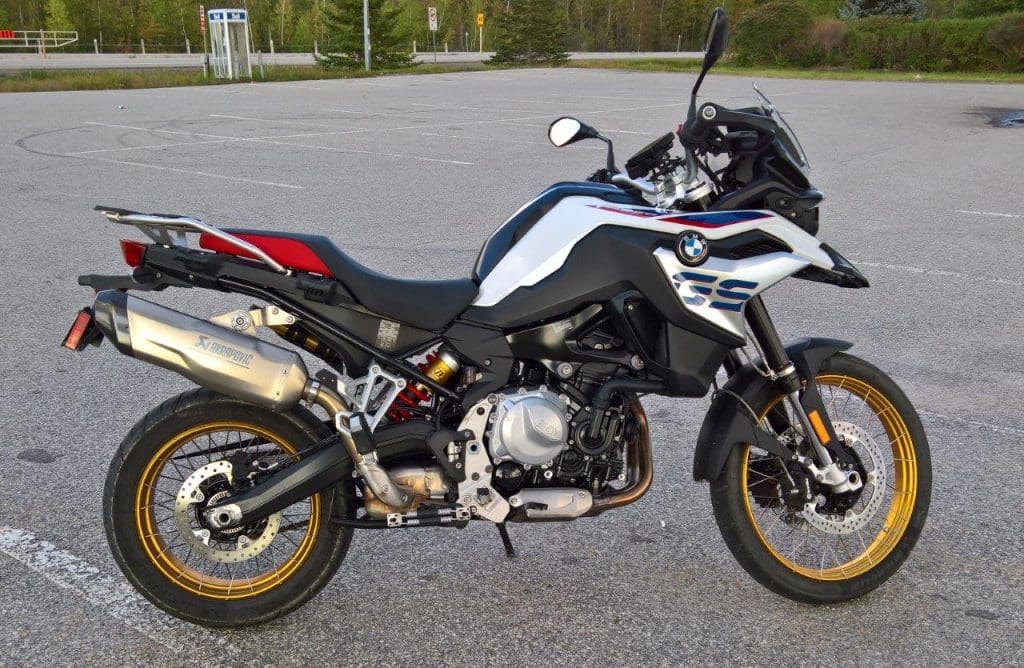 The 2019 BMW F850GS in Rallye livery – Light White and Lupin Blue scheme stands out and provides a very good visual first impression, not diminished after the first walk around and then further inspection of the externals.
It is hard to miss the specific GS Rallye highlights including the radiator trim and cross-spoked gold rims, and especially for F-series owners, the (now) right-side exhaust and left-side chain drive.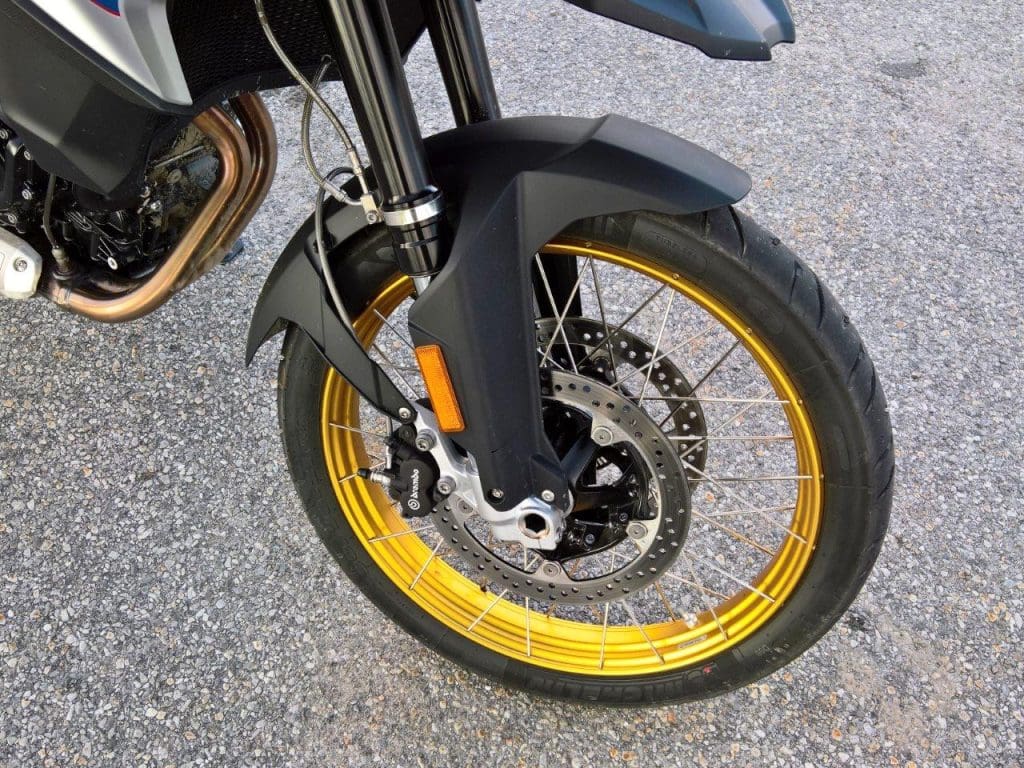 Without getting into the nitty-gritty, such as where all the parts are from or, where its assembled, this first contact (including the distinctive LED running light shaping), first leg over, first start-up and first ride, is all (very) good.
Getting used to not having the fuel cell under the seat is likely to be one of the most persistent visual observations owners of previous F-series machines will have – appreciating the pros and cons of such an arrangement.
Smooth Styling – Slimming Lines
In not (totally) buying into all the BMW Motorrad marketing hype about the 'why' in moving the fuel cell back to what some see as the traditional location in front of the rider, one must acknowledge that it does result in an overall slimming of lines and fit from the rider's placement to the back of the motorcycle.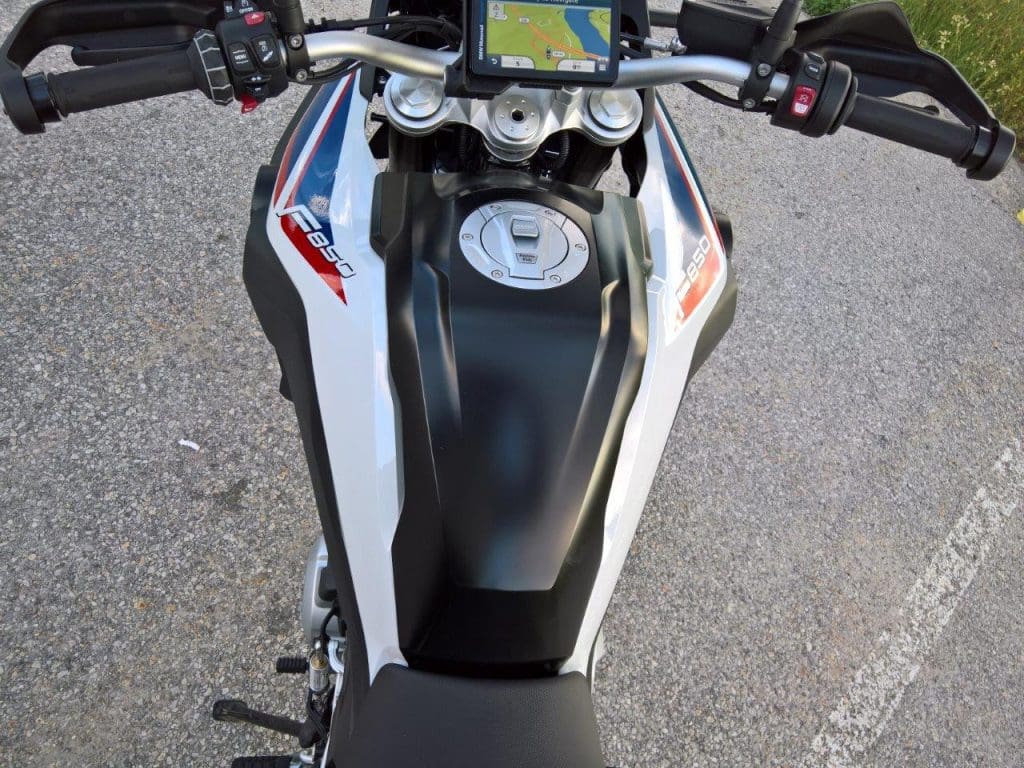 There is still a fair amount of plastic, but BMW Motorrad's continuing design and styling exercises see the modular pieces become more aesthetically pleasing and for the most part, easier to work with.
And the streamlined plastic and flowing lines do contribute to an overall visual of a lighter, leaner machine, which is good as both the 2019 F850GS and its almost identical sibling the F750GS have put on a few kgs.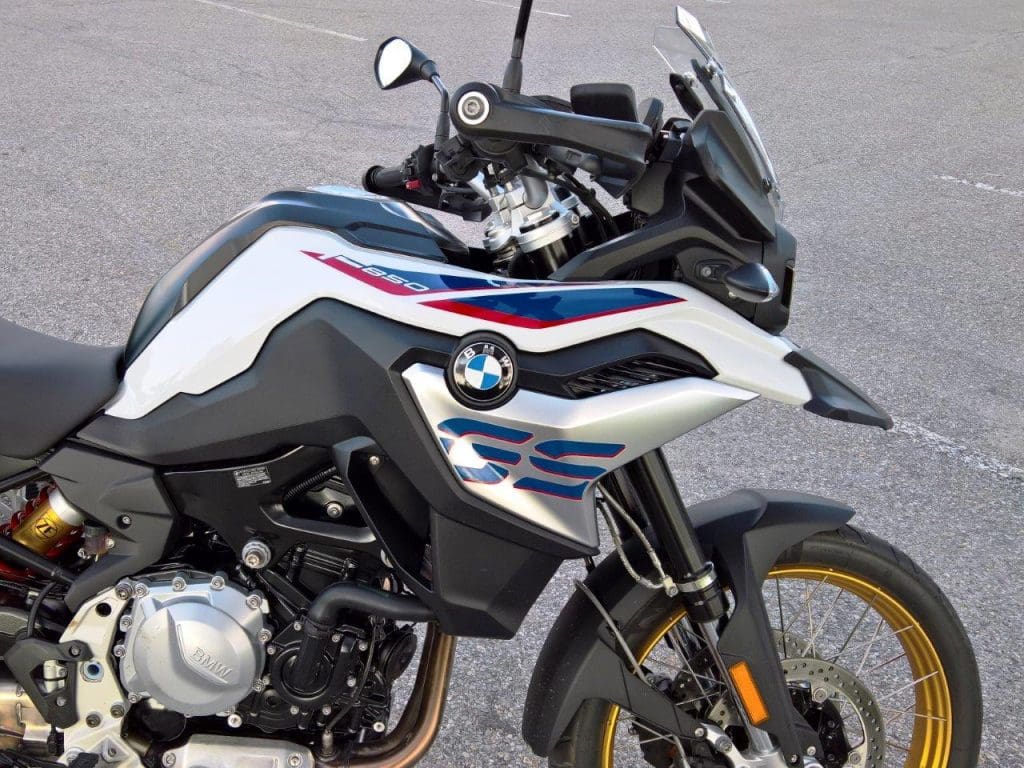 Wheels, Brakes, & Suspension
The F850GS Rallye variant features gold rim aluminum cross spoke wheels. The front is 21 x 2.15 shod with a 90/90 tire while the rear is 17 x 4.25 and carries a 150.70 R17 tire. And, to the joy of many, tires can now be run tubeless.
Up front is found a 43mm USD fork with 8.0 in of travel, with the more sensitive exposed parts protected from obstacles and low-flying things by full fender leg covers.
At the back, the standard configuration rear shock in bright red has 8.6 in of travel. BMW electronic suspension adjustment or ESA equipped models are easy to spot – the gold colored remote reservoir component is fitted inside a protective plastic frame mounted on the left subframe.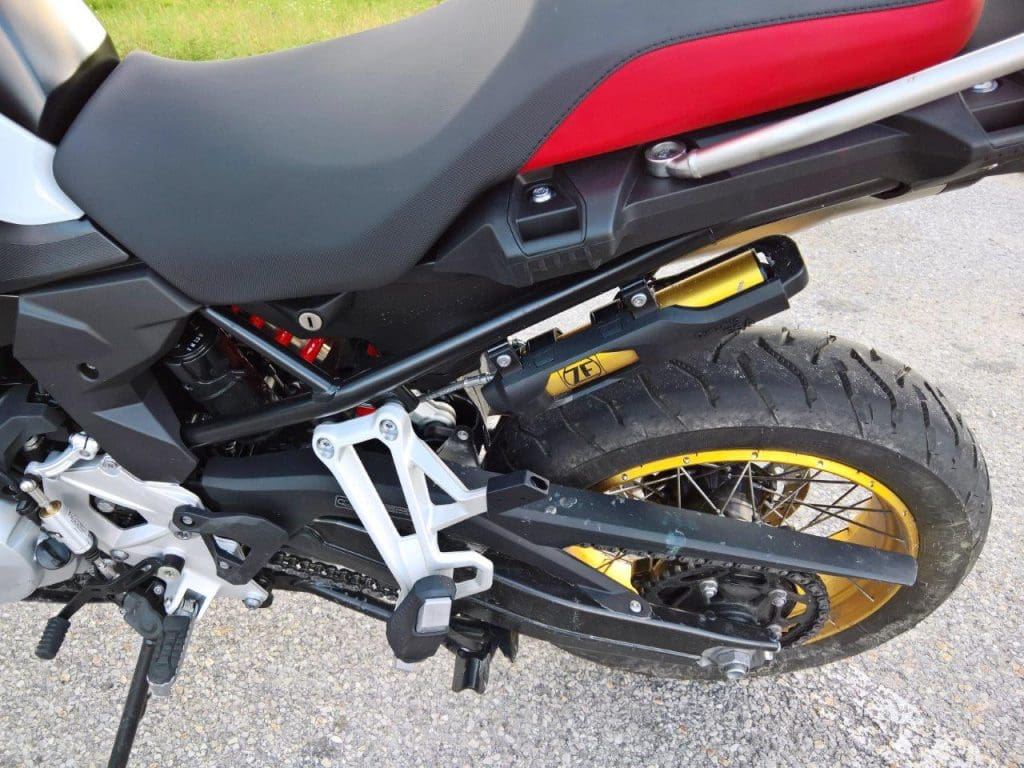 Both the 750 and 850 models feature dual 305 mm front brake rotors with two-piston floating calipers; a single 265 mm rear disc with a single caliper is used at the rear wheel.
The enduro-style brake lever is familiar – readily accessed and providing good modulation of the rear stopper. Some owners will prefer the optionally adjustable assembly with its spring-loaded section that flips up or down depending on what type of access/reach is desired.
This adjustable component was standard on the original F800GSA and I had hoped it might have been migrated as a standard piece… ah well.
Carries Its Weight (Increase) Well
Rolling the F 850 GS around in the parking lot didn't bring any surprises, in fact, it seems lighter than my previous F 800 GS machines, especially the recently departed 2014 F 800 GSA that was the heaviest due to its extra fuel load carried mid-ships and a couple of OEM accessories.
With its up-front 15L fuel cell at least 90% capacity, the F 850 GS's road-ready weight is listed as 229 kg or 505 lbs (up from 217 kg or 478 lbs) for an identified increase of 12 kgs or 26.5 lbs over the base 2017 F 800 GS model.
But like the original F650/700/800 series models, the new F 850 GS and the F 750 GS carry their weight extremely well; discernable weight gain is mitigated once the wheels start turning and the ride by wire throttle exercised.
Engine/Drivetrain Overview
A quick summary of the power plant: an increase from 798cc to 853cc for the vertical two-cylinder vertical four stroke motor featuring four valves per cylinder, DOHC and dry sump lubrication.
Claimed output for the F850GS is 70kW or 95hp at 8250rpm (up from 85hp at 7500rpm); maximum torque is listed as 92 Nm at 6250rpm (up from 83 Nm at 5750rpm)
Another major engine change that can be felt and heard, features a crankshaft journal offset of 90 degrees and firing intervals of 270/450 degrees. This results in a uniquely powerful sound immediately distinguishable from earlier F-series machines (0-degree crankshaft journal and 360-degree firing order).
Longtime F-series owners will be pleased to note that higher rpm buzz issues prevalent on so many earlier F-series models is now, at least from my initial F750/850GS rides, a thing of the past; mitigated by using two counterbalance shafts (vice the original crankshaft/counter-weight layout).
The combination of these major changes results in an extremely strong and extremely smooth-running engine throughout the (used) rpm range and of course, the previously mentioned robust engine sound.
At 416 W (nominal power), the alternator hasn't been beefed up, something I thought might have happened as part of the new powerplant. The battery is a 10 Ah maintenance free unit.
Other notable features are
BMW-M digital engine management
E-Gas (ride by wire)
regulated catalytic converter
a new stainless-steel exhaust system
6-gear claw gearbox integrated into the engine casing (similar to the approach used with the new R 1250 motors)
secondary drive using an endless Z-ring chain with rear hub cushion damper
mechanical clutch with anti-hopping function and,
full Euro-4 emissions standard compliance.
The First Ride
After installing my BMW Navigator VI into the open navigation preparation cradle mounted on the handlebar clamps it was time to quit 'burning late-summer daylight' and get on (and off) the road to make the most of this time-limited opportunity.
At 188 cm (6 ft, 2 in+) and an 86.3cm (34 in) inseam, putting a leg over the F 850 GS with the regular seat (860mm, step length 1910mm) felt familiar – the well-used BMW Santiago boots are flat on the ground.
Leveraging the GS up from the too-tall (for a purpose) side-stand isn't hard, but a little extra effort is involved – the first sign of that extra/re-located weight.
The Keyless Ride button brings the F 850 GS Rallye to life with a familiar initial bark. But after this, it is a whole new ballgame and any notion that this is the same in-line vertical twin of yore is immediately dispelled as the GS settles into a lump-lump big-V-twin sounding idle, admittedly helped in part by the optional HP Sport (Akrapovic) Sport silencer.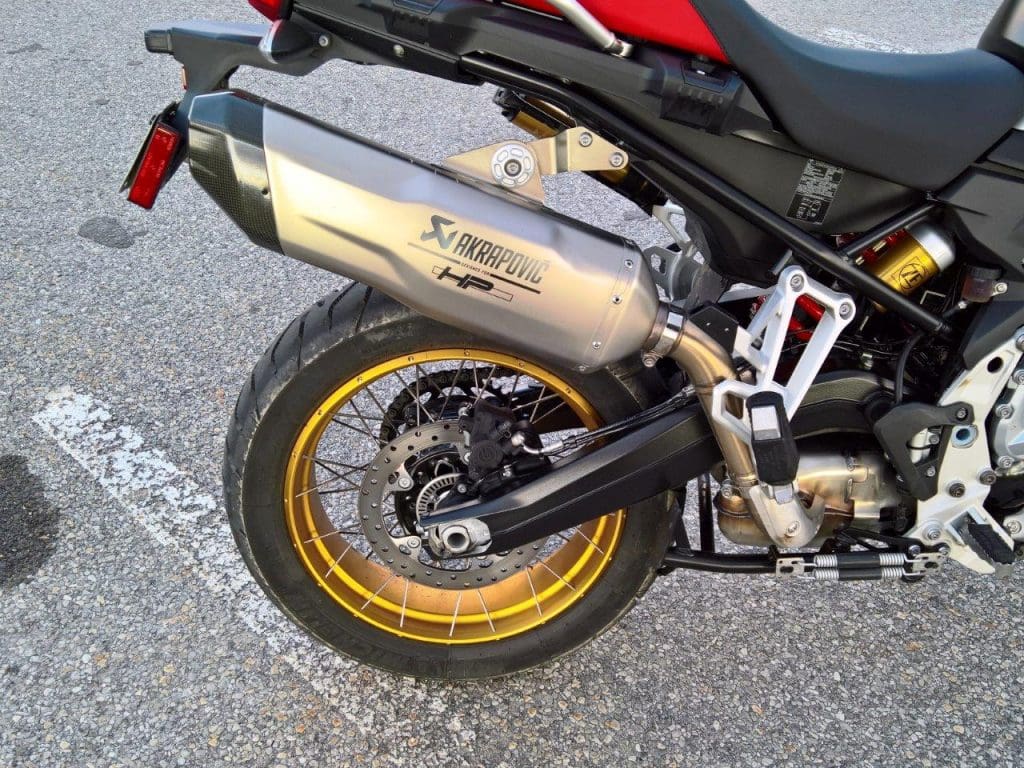 With the ignition on, the new 6.5in TFT display comes to life and after its initial splash screens the standard extremely clear and easy to read default display sits ready for your viewing pleasure and, use via the new Multi-Function or Jog Wheel controller now part of the left switchgear grouping on the handlebar; do I like being spoiled, yes.
During a short warm-up, all the switch-gear, pedals, and mirrors were further inspected and adjusted as needed; quality and feel are first-rate, everything is placed in familiar ergonomically positions and works as expected.
A slight push down on the shifter brings about a slight snick and jump for first gear, but after that, it is all smooth – whether with the more stock 750 GS model or the F 850 GS equipped with the Shift Assist Pro feature.
The first few blocks of crawling at low speed in traffic around town serve to confirm that the new F 850 GS (and its 750 sibling) are among the most nimble and well-balanced motorcycles I have ever ridden; none of the increased weight nor its distribution is felt.
The F 850 GS hauls. Once the tach clears a low RPM stumble (not observed on the F 750 GS) output and mapping of the new engine is readily discernible – arm straightening pull and a rush of speed, no muss, no fuss, just big smiles.
With tractor-like pulling power and long legs, the revised power plant is best displayed in dialing up some throttle and exercising the Shift Assist Pro. Upshifts are seamless and downshift only slightly more noticeable, although like the versions on our 2017 and 2018 R 1200 GS Rallye machines the feature works best when used from second and up and back down.
Toggling between the Road, Enduro and Enduro Pro modes is a fun and discernible exercise while running our poorly maintained city roads, out into the countryside, and then on to some hard pack gravel and dirt roads while transitioning between stretches of pavement.
As with the big GS machines, Dynamic Mode on the F 850 GS Rallye handles road and varied riding conditions with ease although the F 850 GS feels different in all available modes due to its chassis, suspension, handling and weight.
My original F 800 GS and F 800 GSA machines tended to exhibit some high-speed oscillation or twitch (on and off-road), but the F 850 GS with its frame, geometry, and suspension have the 21 inch and 90/90 wheel/tire combination stable at all speeds and on all surfaces traveled on for this review.
And even given the limited amount of time spent in transitioning onto and between road surfaces, the vertical twin GS feels very much like the Tiger 800Xca with its strong frame, stable handling, and compliant WP suspension.
The stock (skinny) road pegs on the demo Rallye were fine for this initial ride review, but as most of my riding is a mix of on and off-road with some touring thrown in, optional Enduro foot pegs or something similar will be needed.
With the narrow road pegs, standing up wasn't as comfortable for the feet and like the F 800 GSA, another 15 to 20mm in bar height would be good for prolonged off-road riding.
But overall and for most other riding conditions, the layout of the handlebars, mirrors, pegs, and seat make for good ergonomics and visibility, at least for my build.
Many riders complained about the mirrors on the F-series motorcycles, but it never was an issue with me once the proper positioning is found and the mirrors on the F850GS are good to the same degree; not that they wouldn't get changed for something more robust… or more easily replaced.
Like the Tiger 800Xca and the F 800 GSA, however, the left mirror on the F 850 GS is glass smooth while the right mirror is blurred at varying rpm and gear… is there a conspiracy here?
The brakes are as good or better than on previous F-series machines, although they don't have the same forceful feel found in activating the integrated and assisted brakes on the larger GS machines; you know – that soft brick wall feeling…
Of importance for many is that the back brake, by itself, is well modulated and progressive, providing fine grain use, somewhat impacted depending on the modes in use of course.
And last, but not least, the windscreen. I am a minimalist here – enjoying the feel and flow of air into and through the cockpit. Accordingly, both the small and large (standard) non-adjustable screens (available in tint as well) installed on the 750 and 850 respectively look clean.
Being non-adjustable, a lot of riders will be (possibly) scratching their heads and looking for something else – quickly. Given the simple installation and adjustment solutions used on the bigger R-model machines, this fixed-in-place approach does not make sense, at all.
Now, having made these observations, higher-speed pavement runs were fully enjoyable on either machine and of course, a small spoiler style windscreen works well for many off-road environments, especially in warm-hot climates.
This initial ride was just that and I have no doubts that a longer-term review or ownership experience will put other things on the table to be dealt with; part of the fun in fitting the machine to the rider (or vice versa).
Seat Comfort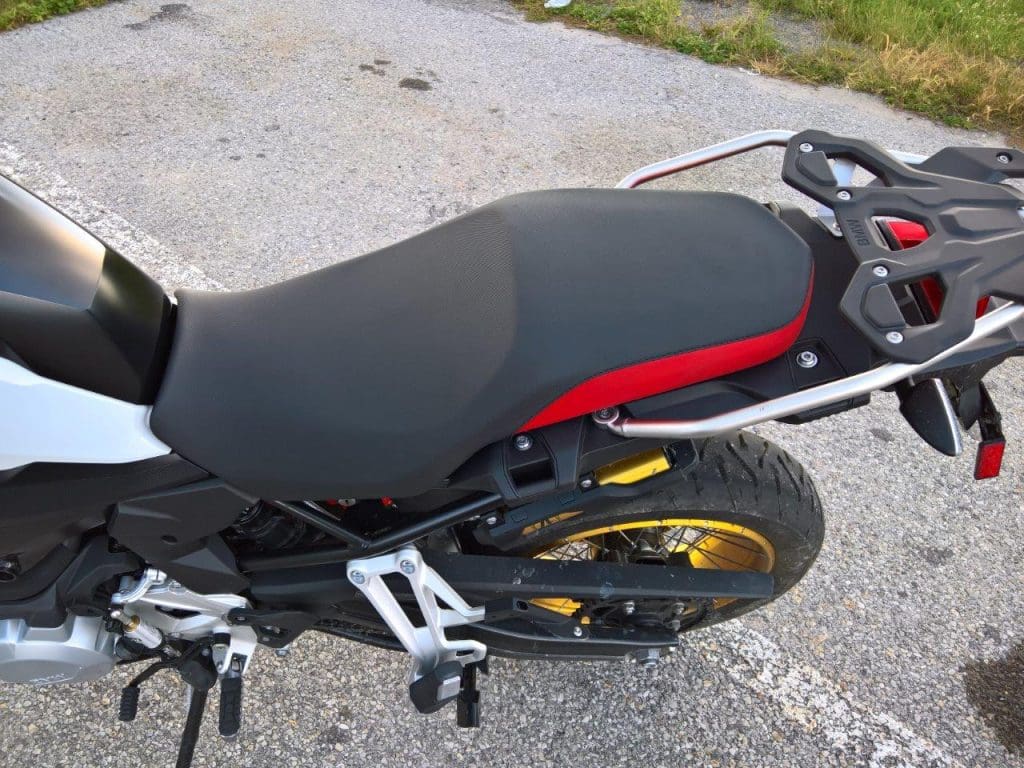 Since SHAD started making most (or all) of the BMW Motorrad OE and optional seats for Beemers I have been far less inclined to change seats during the ownership experiences – acknowledging that we are all unique in our requirements.
The first ride on the standard seat was comfortable for about three hours, then a couple of pressure points could be felt, but a photo stop provided the break, and some needed stretch n flex exercises. Bottom line – there is enough flat real estate and wiggle room to allow movement and allow seated flexing exercises.
While the stock seat is pretty good, once the ownership experience begins, one option to be pursued is the flat Rallye seat (seat height of 890mm and step length of 1980mm) as its shape and deck-style layout allows lots of movement – sitting or standing.
Another slightly higher option from stock is the Comfort Seat (seat height of 875 and step length of 1950mm). An earlier version used on my 2014 F 800 GSA was excellent for day-in/day-out travel, although needing a bit more cut out at the rear for larger/taller riders.
LED Lighting
Finally, the F-series GS machines get full LED lighting with a standard LED headlight for low and high beam and rear tail/brake (with dynamic?) light. LED signal lights and the distinctive daytime running light are optional items.
Controls, Display, & Electronics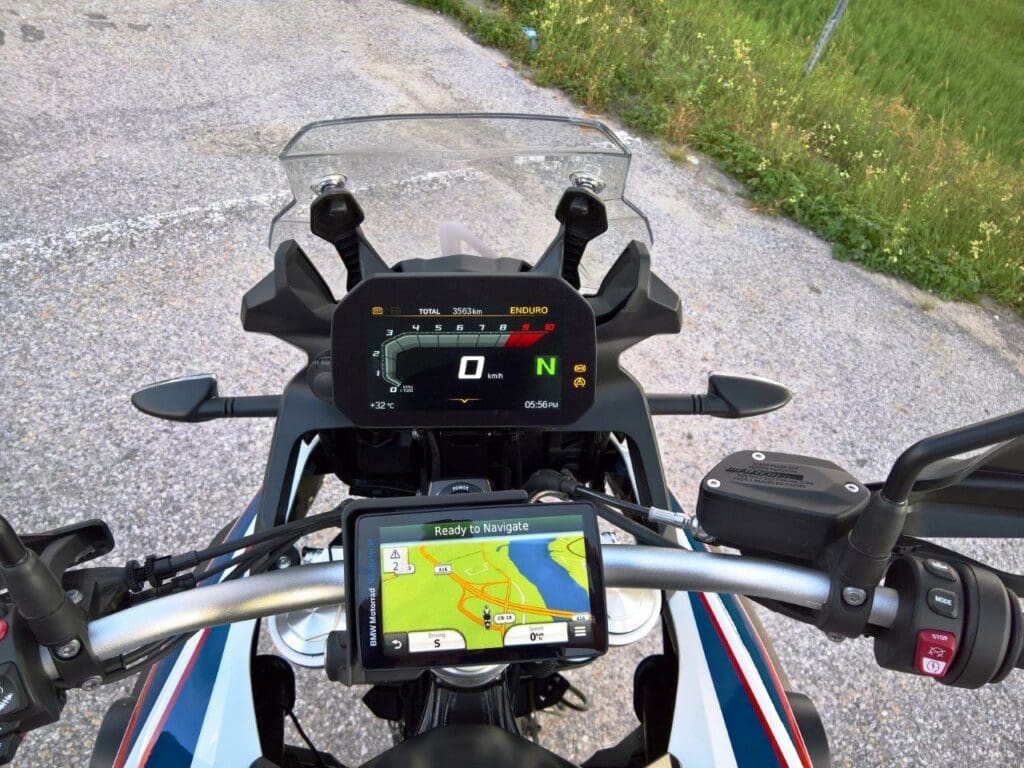 As stated earlier, all the basic controls fall readily to hand, or foot, without major observation, less the skinny road pegs.
As expected, given its showpiece status and subsequent fleet demo use this Rallye was equipped with (all) of the optional equipment packages. And less one or two specific enduro-oriented pieces, this configuration is the one I have on the pending order sheet.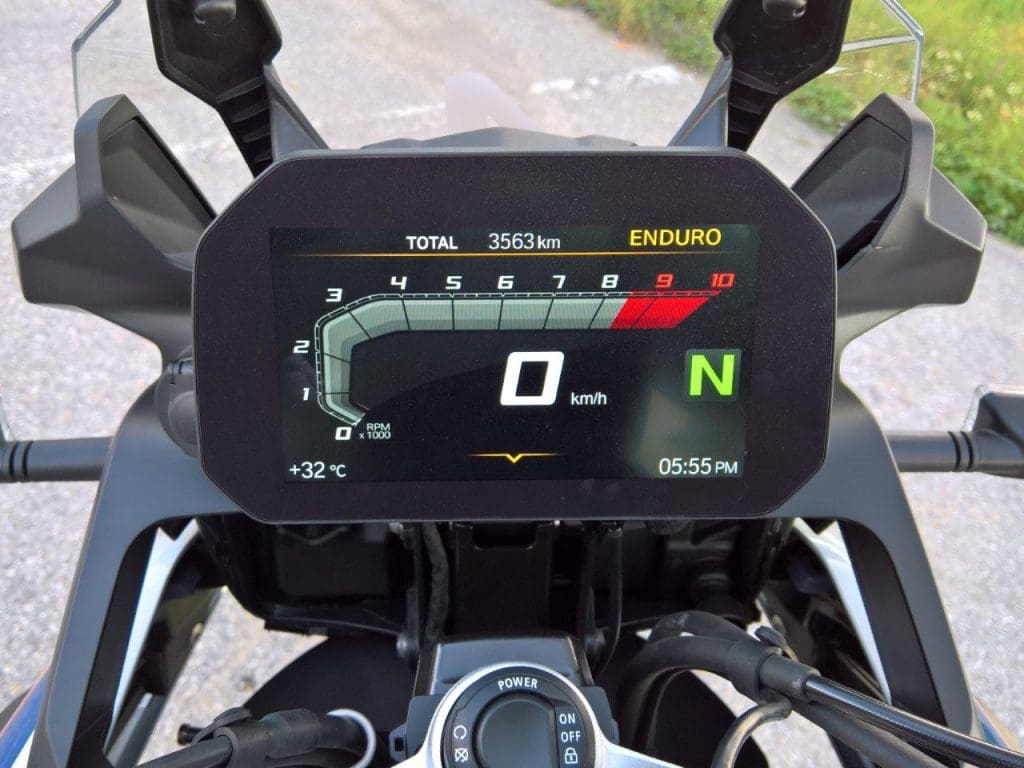 Two of the most visual and useful additions are the 6.5 in TFT display and the left handlebar-mounted Multi-Function Controller or Jog Wheel. The Jog Wheel provides an intuitive and safe interaction with the TFT display menus and equal ease of interaction with a mounted BMW Navigator V or VI device.
And with the latest TFT firmware release loaded onto the system, additional features and enhancements to the navigation feature available when using a paired smart-device is now available.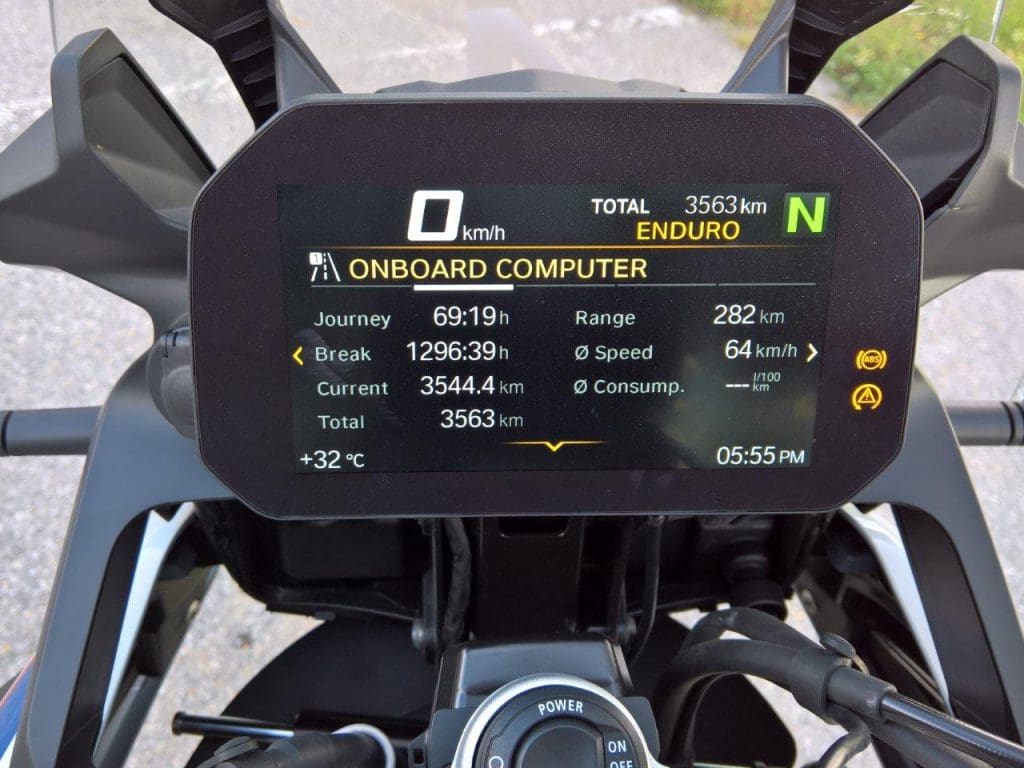 I would be remiss in not admitting that the (smaller) TFT display and (very) well-thought-out but multiple digital input controls on the Tiger 800Xca including its nifty joystick controller is an easy to read and easy to use feature although with one or two niggling setting limitations.
But in 'borrowing' the 2018 R 1200 GS low frame Rallye from the home fleet with its TFT, Jog Wheel and Navigator cradle, the Motorrad combination reveals just much more can be realized by the user in an integrated cockpit environment; with more to follow.
For the most part, this same level of technology with features is now provided on the new F-series machines, including cruise control; it is a most welcome upgrade to the little GS machines.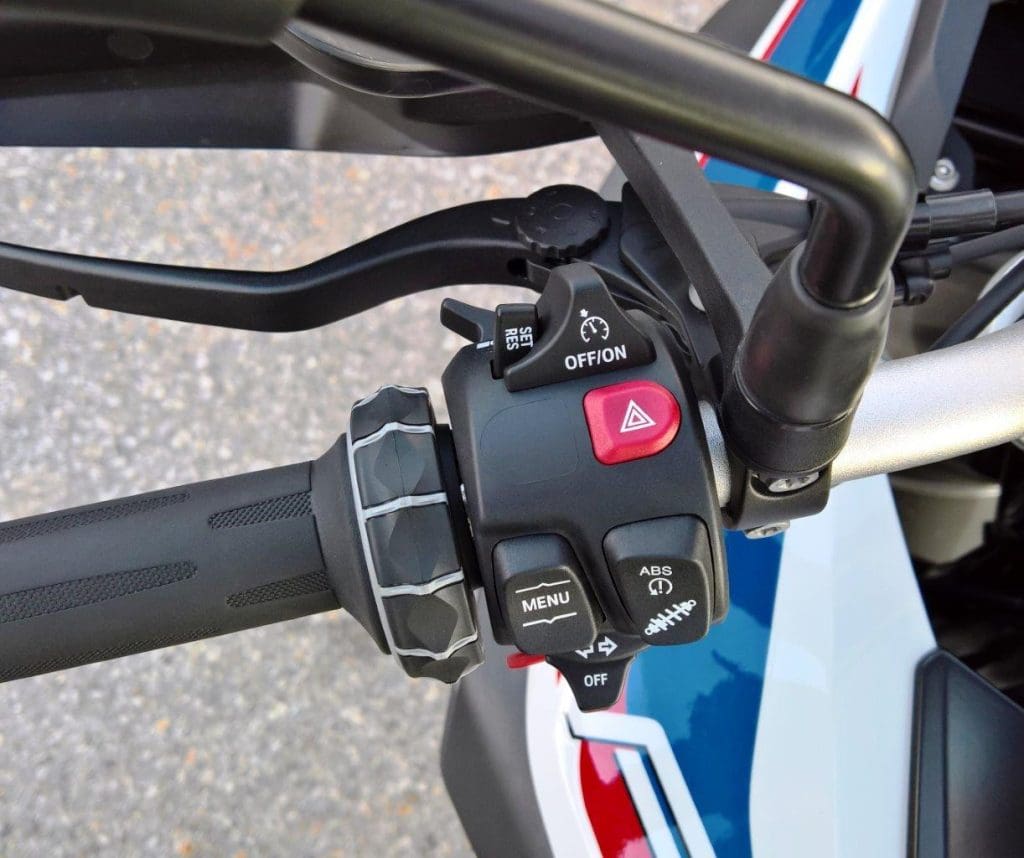 Depending on the installed packages (standard or optional), the left and right handlebar nacelles provide the rider a whole lot of customization for individual riding environments and most of the features can be set 'n forget or dynamically managed on the fly.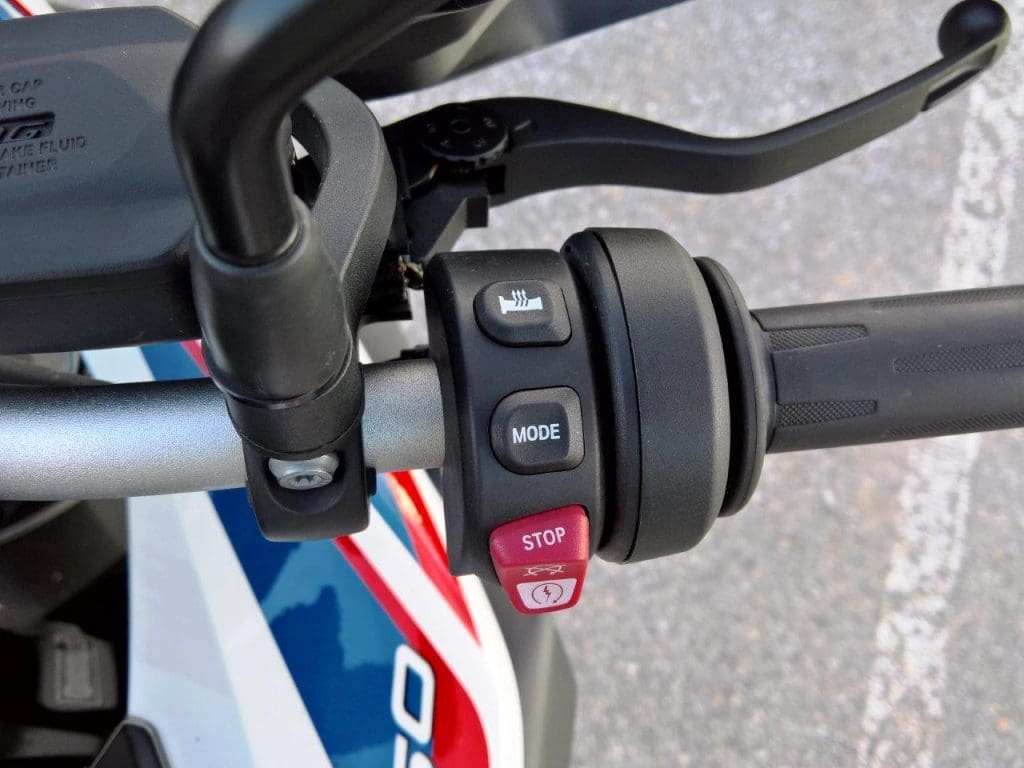 First Ride Deliberations & Verdict
As a way of qualification, this review is based on one initial ride of about five hours and then two more one-hour demo run trips on the F 850 GS Rallye and F 750 GS the following day; just enough time and exposure to start gathering data and processing it…
However, based on getting some extended riding time on the F 850 GS Rallye variant, it is (as I knew it would be) the model for me – it fits, almost like the proverbial glove and just like the original F 800 GS and later F 800 GSA did.
My attraction to and ownership of mid-size machines has never really waned over the decades and riding the F 850 GS Rallye served to rekindle the relationship.
And while this first ride is about the F 850 GS Rallye, the F 750 GS model cannot and should not be overlooked – I agree with many others who have used both, in that the F 750 GS is an excellent replacement for the original F 650 and current F 700 models.
So, no formal Pro and Con table here yet or encompassing summations – we'll reserve those for what we hope will be a Part II Follow-on, either facilitated with a longer-term loan of the F 850 GS Rallye if it can be coordinated or, actual ownership.
And yes, my dilemma continues. Stay tuned.
F 850 GS General Specifications & Configurations
General Information
Manufacturer: BMW Motorrad
Price: Current Motorrad Canada MSRP $14,550 CAD (base pricing), Rallye variant has most of the optional packages installed, so pricing will change accordingly, all subject to confirmation
Made In: Germany – to be confirmed…
Alternative Models & Colours: Racing Red, Exclusive in Pollux Metallic Matt and Rally in Light White/Lupin Blue Metallic
Review Date: September 2018
Specifications
Engine Displacement – 853 cc
Engine Type – In-line 2-cylinder, liquid cooled
Horsepower – 95 hp
Transmission – 6 speed
Wet Weight – 229 kg (504 lbs)
Seat Height – 860 mm (33.8 in)
Fuel Capacity (incl Res) – 15L (3.3 Imp Gal and 3.96 US Gal)
Maintenance – Service Intervals of 10,000 km / 12 mo, Valve Clearance Checks – 20,000 km
The current (initial) offerings from Motorrad Canada identify three F 850 GS variants – Racing Red, Pollux Metallic Matt (Exclusive) and Light White (Rallye).
Standard equipment on all models includes ABS brakes, automatic stability control (ASC), On-Board Computer Pro, Rain, and Road ride modes, heated grips and a DIN power socket.
Available Factory Options Listing
LED Headlights
Keyless Ride
HP Sports Silencer
Preparation for GPS Device
Lowering Kit
Tire Pressure Control
Cruise Control
Anti-Theft Alarm System
Off-Road Tire
Luggage Rack and Luggage Brackets
Connectivity – 6.5in TFT Display
Low Seat – 835mm (32.8in), and
Comfort Black Seat – 875mm (34.5in)
Available Factory Packages
Comfort Package – Keyless Ride, Tire Pressure Control and Centre Stand
Touring Package – Dynamic ESA, Cruise Control, Luggage rack, and Luggage brackets
Lowering Kit – provides Cruise Control along with Luggage Rack and Luggage Brackets, but without Dynamic ESA
Dynamic Package – Dynamic Traction Control, Gear Shift Assistant Pro, Ride Modes Pro, ABS Pro
Exclusive Package – Pollux Metallic Matt, Hand Protectors, Galvanized Radiator Cover with GS Logo, Tape in Black Matt and White Aluminum Metallic, Gold Anodized Fork Tubes
Rallye Package – Light White/Racing Red/Lupin Blue Metallic, Hand Protectors, Galvanized Radiator Covers with GS Logo, Cross Spoke Wheels with Gold Anodized Rims