Better, much better…
Going down the road with the new 20S system is much smoother than what we reported upon in the initial Sena 20S Review Part 1: First Impressions posted way back in July of this year.
The Sena team deserves kudos for their continued updates and evolution of this new system; there have been lots of tweaks and enhancements made over the last three months and it really is an excellent system.
But I see the 20S as a work in progress with outstanding potential — much of it already demonstrated.
One of those demonstrations has been an intercom that is capable of providing link ranges in excess of two kilometres and based on my experience with lots of Bluetooth intercom communication systems, this puts the Sena 20S at the top of the heap.
And speaking of the intercom and related audio, the sound provided by the speakers is nothing short of outstanding and darn close to my favourite standard headset — the one provided with the UClear systems.
Now if only the default audio level management on the 20S could be addressed a wee bit more…
This longer-term evaluation has served to reveal that Sena continues to move forward and ahead in many areas whilst concurrently closing the gap in others where some shortfalls existed. I won't yet commit to stating that the Sena 20S is the best system on the market, but it is easily the best in its class.
The Sena 20S was first introduced in this webBikeWorld Sena 20S preview that was posted during the 2013 AIMExpo (report). The 20S slides in to the top spot as the new flagship motorcycle communication system for Sena, bumping the very popular Sena SMH10 (review) down a spot in the product lineup.
We followed up with an initial take in the Sena 20S Review Part 1, so be sure to read that for all of the background information on this new system.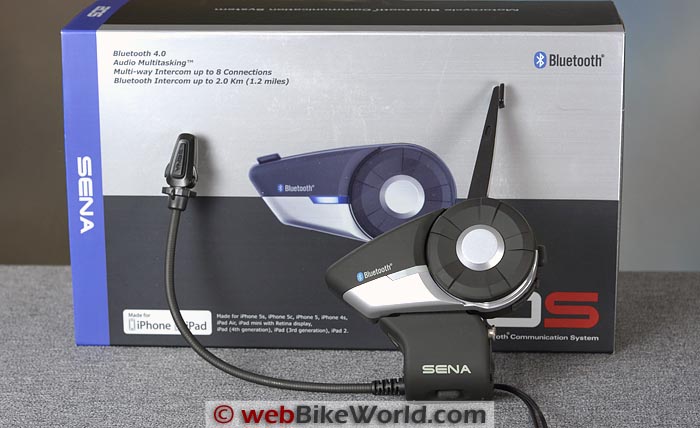 Sena 20S Introduction
As the Editor will attest, the Sena 20S product has been dangled more than a few times to anxious consumers, but after what it seems was a very long wait, the retail box products had materialized.
My task was to provide a more detailed follow-on to the initial 20S posting done by the Editor and "Burn", with two particular objectives.
First, to provide a detailed examination of how the 20S systems perform in diverse riding environments with a relatively large set of peripherals and second, to assess the updates being released by Sena.
Initial Takes
The Sena 20S dual pack box arrived well packed, with handouts on top, upper form holds the two 20S modules and the cradle mounts with boom microphones (changeable) and detachable speaker set.
The two lower forms hold the other accessories, including the 12V DC automotive chargers (not DIN 4165 style though) and the thin-wire microphones.
Key amongst the included handouts is the small one on top that shouts "UPGRADE NOW" in bold black letters — good advice indeed that should be heeded and a mantra going forward.
Speakers: don't forget to remove the transparent plastic cling covers off the ear-side, it tends to enhance the listening experience!
Module and Base Interface: Align the module on the slides and push it down slowly and firmly and when you think it has seated, push it down a bit more — the small engagement tang will sound a sharp "snap" when it fully engages in the detent.
By the same token, when removing the module, make sure the small silver release button is pushed in fully and only pull up on the module once you can see that it has sprung up slightly from the base.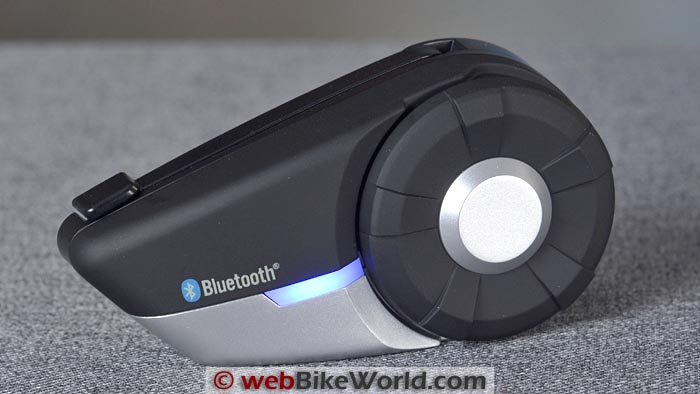 The New "Third Button"
The new addition to Sena's long favoured two-button design (Jog Dial and Phone) identified in the Part One review isn't readily apparent by its low profile positioning on the bottom of the cradle, but it does serve to provide some very important functions.
Primarily, it is used to address a concern that is far too real: retention of situational awareness or cognizance of one's surroundings while riding with an active headset.
But with the release of firmware v1.2 this control now has three functions, initiated by:
Quick double push: initiates Ambient Mode with external sensor.
One second push: activate Voice Command mode, and
Two second push: activates Group Intercom mode (if so configured).
The Ambient Mode mutes all audio on the system with an external sensor activated providing audio enhancement of the ambient (outside of the helmet) environment. Another quick double push deactivates this mode.
In populated areas when even first-responder alarms can be difficult to hear unless very close, this aid is a great feature to have and to use.
Another timely benefit in being able to instantly mute system audio allows you to converse with other riders, vehicle occupants or pedestrians when stopped without having to resort to some form of sign language.
A one-second single push of this button now provides the most positive means of activating the Voice Command feature. The other two methods — a double tap on the chassis or a loud "Hello Sena" are less than foolproof, given cockpit and helmet environments.
This third option overcomes these potential shortfalls of the other methods, although it isn't hands-free.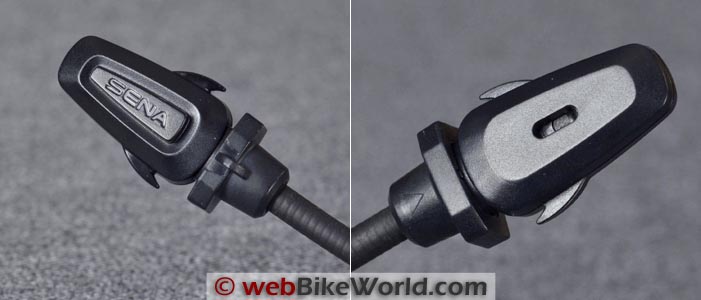 Audio Management
With Audio Multitasking enabled under Settings, the 20S provides concurrent audio from multiple sources, although users still need to appreciate that a default Audio Priority list is still in place.
As such, it can be useful to know (listed highest to lowest):
Ambient Mode Activation.
Mobile Phone (or Navigation Device).
Voice Command Mode (as activated).
Intercom Stereo music (wired) using auxiliary input.
Music sharing (wireless) via Bluetooth (as activated).
FM Radio, and Stereo music (wireless) via Bluetooth streaming.
Overall switching between audio sources is very fast and typically without conflict.
What the user will likely need to adjust is the Intercom-Audio Overlay Sensitivity (Section 20.3 in the owner's manual) to provide better differentiation between foreground and background audio; more on this later.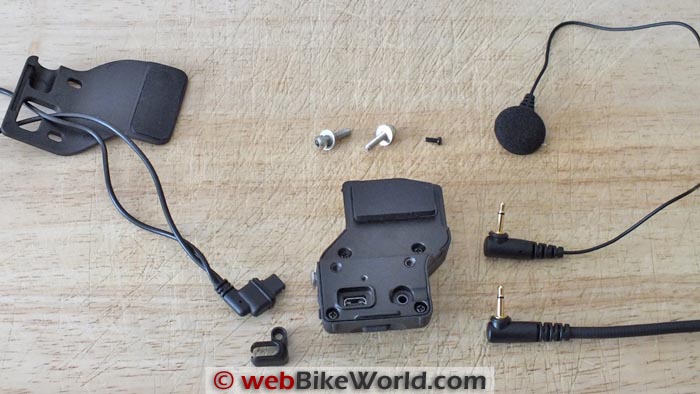 Helmet Configurations
Four helmets have so far hosted the Sena 20S intercom modules: SCHUBERTH C3 (review) and SCHUBERTH C3 Pro (review), my venerable and soon to be replaced Arai XD3 (review) and a Scorpion EXO-400 (review).
Both the clamp and adhesive mounts were used, with some augmentation strips of 3M adhesive used to add some strength to the adhesive mount on the SCHUBERTH helmets, mainly due to address height differences between the shell and bottom edging.
If the foam boom covers are used on the mics, the small molded "hooks" or barbs on the boom really hold the foam pieces tight, so be careful in lifting the foam covers away when removing them for washing or replacement (replacement pieces are provided in the kits).
Less the boom part of the microphone being a bit short (another ten mm or so would be better for large shell helmets), no problems were encountered.
And once the extremely effective speakers were mounted properly — in line with the ears and just touching or perhaps 1-2 mm of clearance — all of the helmets provided an excellent audio environment.
Users who prefer earbuds as a full or part-time solution are taken care of; inserting a 3.5 mm stereo connector into the port on the front edge of the base provides that connectivity.
And at the same time, silences the in-helmet headset, unless it has been removed (described in the manual).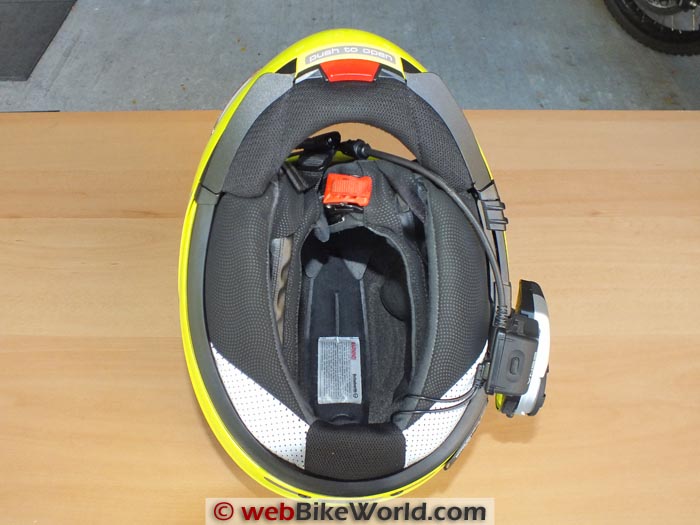 iOS and Android Apps
Both iOS and Android operating systems are supported.
Once downloaded from their respective sites (Apple iTunes and the Google Play Store), the apps can be installed and with device pairings activated the apps can be utilized — visual system management at your fingertips.
As paired to the respective iPhone 4S, Nexus 7 (Gen 1) or Nexus 5 smartphone, the 20S devices show up almost instantly on the app screen.
The simple intuitive menu choices make configuring or changing parameters far (far) less onerous than using either the direct input Jog Dial menu or PC-based methods.
There are some minor differences between the iOS (v1.3.1) and Android (v1.3) Apps, but both are easy to navigate and once you start using the app as the system manager it is second-nature and very efficient.
Also, if working in a group, building and using the Intercom or Group Intercom Lists (a feature similar to the Cardo One+8 feature), is very handy and hopefully Sena will develop this further.
If multiple 20S devices are managed on a single smartphone, giving the devices unique names or tags is good. Also if working in a group, building and using the Intercom or Group Intercom lists a feature similar but different to the Cardo 8+1 implementation is very handy.
System Updates
As detailed in Part 1 of this review, the 20S is packed with features, but even so it didn't generate that "warm and fuzzy feeling" right off the bat. But most of the observations and issues identified in Part 1 were subsequently acknowledged by Sena.
Sena has been hard at work and diligent in responding to requests for information regarding function, performance and documentation.
And in providing early releases of firmware updates and each of the Release Candidate (RC) beta releases have been put through their paces along the evaluation way and then subsequently reassessed once the formal release was provided.
Releasing a new and advanced Bluetooth helmet communications system can be a risk, but if done properly then the risks should be manageable with continued mitigation of issues going forward — at least that is the theory.
But it has still been a bit of a rocky road. Bottom line: by keeping the 20S systems updated, users will get the most from their investments.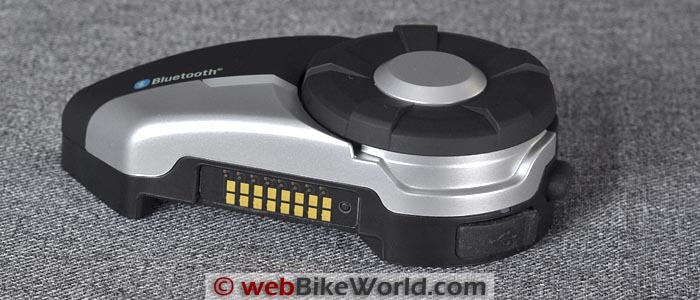 A Note on Production Systems
In providing feedback to Sena, their team realized that some of the issues reported were (likely) due to the fact that we had pre-production units.
So at the same time that we were looking at firmware v1.2 RC8 and RC11 releases, Sena opted to send us two new production modules and these were used to complete this longer-term evaluation.
A quick run-through of the production units running firmware v1.2 RC8 didn't reveal any surprises and with v1.2 RC11 installed, things got even better. This longer term evaluation is truly a roll-up of everything learned since Part 1 and of course, the experience continues…
The systems performed very well, although the FM Radio feature still seemed a bit "flaky" and audio levels still not consistent.
Note to Sena: please, please turn down default audio levels for tone and voice announcements. Between the production modules and ongoing firmware upgrades everything was coming together nicely.
A Note on Firmware v1.2 Dated 4 September 2014
This release has rolled up almost everything tested or observed upon from previous beta releases and the major changes include:
Increased audio volume for intercom, music and Bluetooth audio recording.
Improved multi-way intercom reliability.
Audio boosting option.
Headset battery meter for iPhone (still checking this one out).
Advanced Noise Control On/Off capability.
Voice command triggering by Ambient Mode button Bug fixes and improvements
NEXT: On the Road With the Sena 20S
Also: Sena 20S Preview  |  Introduction (Part 1)
Note:
 For informational use only. All material and photographs are Copyright © webWorld International, LLC since 2000. All rights reserved. See the webBikeWorld® 
Site Info page
. Product specifications, features and details may change or differ from our descriptions. Always check before purchasing. Read the
Terms and Conditions
!
Owner Comments and Feedback
---
NOTE: Owner Comments are in the Sena 20S Review Part 1.