All-Season Motorcycle Riding Outfit Image Gallery
If you've already taken a trip to Tierra del Fuego or have been on some other major dual-sport adventure, like the Trans-America Trail (report), you probably have very specific clothing requirements.
On the other hand, if you're content to ride the roads that are more heavily traveled (or at least better paved), I have some suggestions for you.
What follows represents my experience regarding what I consider to be the minimal and optimum amount of outerwear, in terms of utility and compactness.
Call me "The Minimalist".
Here's the concept: What is the least amount of motorcycle clothing you can choose for traveling?
Minimal in terms of numbers, weight and luggage space but not sacrificing utility.
For the last seven years, I've traveled light, with only a single set of riding gear.
The outfit I am about to present has been field-tested by my riding buddy as well, with both of us riding assorted machines on trips ranging from local (and distant) lunch runs to 800-mile superslab days and even 4,000-mile multi-week trips.
This collection of gear is compact, yet it handles all of the weather conditions that most of us encounter when riding a motorcycle, in all temperature ranges above freezing.
And surprisingly (or perhaps not), a garment intended for playing golf has played a central role in my kit.
After you digest this, feel free to send your picks for a minimal motorcycle riding outfit to The Minimalist.
During my first few years of motorcycle riding, I accumulated assorted special-purpose riding gear, conducting my own survey of the industry as far as my budget would allow.
My purchases have included:
All Those Clothes…But What to Wear?
That pile of gear is all well and good…but that's a lot of clothes.
If I went on a trip that seemed likely to encompass a wide range of temperatures and weather conditions, would it be too hot or too cold for the Scout leather jacket? That turned out to be an actual problem.
Later on, with more jackets at my disposal, the question was "Should I take both a mesh and a 3/4-length jacket?"
That was an occasional solution, but it turns out (if you haven't yet discovered this) that pretty much any non-mesh jacket takes up a lot of space if it's being stored for backup purposes. So, the main motivation for me was trying to eliminate the multi-jacket problem.
I wondered if I could get by with just one set of clothes — particularly one jacket?
And could portions of that set, when not actually being worn, pack into a very small space?
The answer to both of those questions is "Yes" and that's when I became "The Minimalist".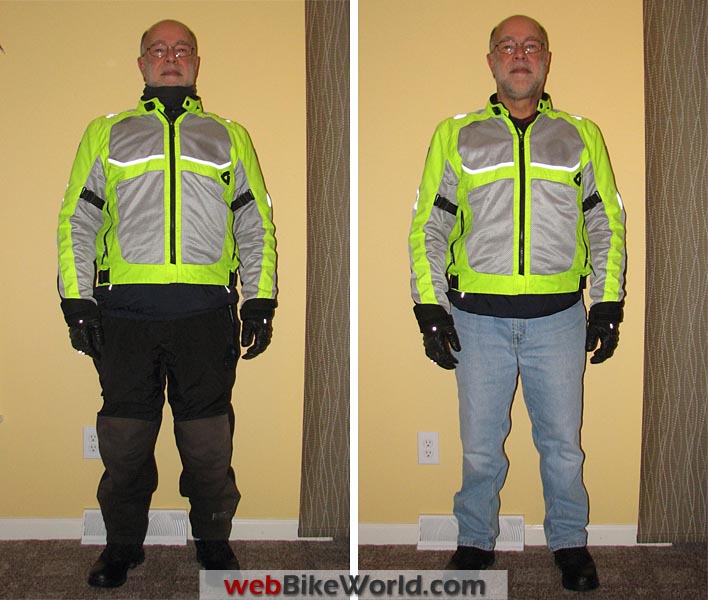 The Minimalist's Minimalistic Riding Outfit
Item 1: The Heated Jacket Liner
There are two keys to making The Minimalist's all-purpose compact system work. The first, believe it or not, is a heated jacket liner.
I have a Tourmaster Synergy heated jacket liner. It is similar to the Tourmaster Synergy vest reviewed previously on webBikeWorld, with the addition, of course, of heated sleeves (that's what differentiates a liner from a vest).
Now you might think that a heated jacket liner is a frivolous addition to The Minimalist's minimalistic riding outfit. Well…not really, because the beauty of a heated liner is three-fold.
First, it keeps your torso and arms toasty, and a warm core is a happy core. Second, even when you're not using the heat function, the liner serves as a moderate thermal covering; this capability relegates a non-heated jacket liner to the closet.
And finally, when you're not wearing it, a heated liner takes up very little storage space.
Any heated liner will do; you can start your research in the webBikeWorld Heated Motorcycle Clothing Reviews page. I bought the Tourmaster Synergy heated jacket liner because even including the controller, it was cheap.
Speaking of controllers…you'll want one with several settings, not just a mere on/off switch.
(And my first couple of Tourmaster controllers, replaced under warranty, were subject to some gremlins — as discussed in the webBikeWorld Tourmaster Synergy vest review. Now I actually pack a spare controller in my toolkit).
In terms of convenience, I replaced the Tourmaster stock power cord with a coiled cord; I replaced the SAE connector on that with a male Powerlet plug and — on multiple bikes now — I have added a dedicated female Powerlet socket below my left thigh.
Item 2: The Rain Shirt
The second key to The Minimalist's do-it-all system is a well-made waterproof windbreaker.
I'm aware that many mesh (and non-mesh, for that matter) jackets come with one or even two (wind/waterproof and/or insulating) liners. And some of these liners — not many, but some — can also do double-duty as around-town wear.
But…remember that the liner must be waterproof (double-duty garments are one of the secrets to The Minimalist's Minimalistic riding outfit). And it should breathe. And have stretch panels, for freedom of movement.
All of that is important, including the ability to be stretched downward over the lower back, to prevent drafts. That's a must-have. And don't forget the ability to adjust the collar and wrists.
Sounds like a rare combination of properties, right? It is, which is why I strongly recommend theFootJoy DryJoys Tour Xp Rain Shirt..
DryJoys is a product line of FootJoy, which makes golf apparel. I don't play golf, because if it's a nice enough day for walking the links, I'd rather be out riding. But the Tour Xp Rain Shirt is one fine piece of clothing.
It has all the properties listed above: windproof, waterproof, breathable, stretches in all directions, has adjustments at the collar and cuffs, and it doubles as a good-looking off-the-bike windbreaker.
Additionally, when it's not being worn, it packs down to a next-to-nothing, minimalistic size. And finally, it's durable: no rips, snags, pills, pulled-off snaps, broken zippers…no problems at all in seven years of very frequent on- and off-bike use!
I first discovered the FootJoy and DryJoys brands 7-8 years ago, when I was doing some serious research on the topic of waterproof rain shirts.
The DryJoys Tour Xp shirt got sterling reviews from the golfing, hiking, and general-apparel communities, and they were right. I'm attempting to save you that research time here.
The Tour Xp shirt is the current version of the one I bought in 2006; at that time it was called the DryJoys Performance Rain Shirt.
The newest version is "lighter in weight because we use a bonded construction (no liner), it's more flexible and the DWR finish on the outer shell provides better weather proofing", according to the company.
Now don't choke on the price — I forget what the list price was seven years ago, but at discount I paid $117 for mine. Today, the list price for the current version is $250.00, although you should be able to find it discounted by 10% or so.
Sound like a lot of cash? Keep this in mind: First, the Tour Xp shirt is central to the layering methodologies of The Minimalist's ensemble. Second, this is a product that — based on my personal experience — should last for many years.
It is also a very useful — not just acceptable, but downright useful and stylish — off-bike windbreaker.
And finally, note that a waterproof/windproof layer like this not only blocks the wind, but it also helps significantly in keeping in the warmth that the heated liner generates.
When going on (gasp!) non-bike vacations, I always pack the Tour Xp Rain Shirt as a general-purpose windbreaker and rain top. I've gotten my money's worth out of this thing.
Item 3: The Mesh Jacket
The Minimalist offers a radical choice as the one jacket you'll need for the upper half: your choice of a high-quality, air-flowing, mesh textile jacket, such as my current REV'IT! Tornado HV.
Take a look at the webBikeWorld Summer, Hot Weather and Mesh Jacket Reviews for a good list.
You need a jacket for protection, of course.
Like most mesh jackets, the REV'IT! Tornado has armor in the shoulders, elbows, and back (although the back was just a piece of foam, which I replaced with a CE Level 1 rated pad and the new REV'IT! Seesoft Level 2 back protectors (review) are now available).
The discontinued Teknic Supervent jacket was in some respects better (waterproof outer pockets, for instance), but after seven years it was getting resistant to washing, and wasn't as hi-viz as newer jackets.
In addition to being protected, even in the hottest weather you'll actually be cooler if your arms and torso are somewhat covered, as opposed to riding around in a T-shirt, for instance.
And when you're walking around, a mesh jacket is your best bet for folding up and stuffing in a saddlebag or topcase because when it's stored, it takes up the least space among jacket types.
Here's the most important secret to The Minimalist's minimalistic motorcycle riding outfit system: the mesh jacket becomes your only jacket (so make sure it's a good one)!
I am somewhat reluctant to recommend the REV'IT! Tornado, based on its $350 list price and the lack of a standard back protector.
I do give it high marks for the high quality of its construction, its high-viz implementation, and for the use of light-colored mesh areas.
For some reason that baffles me though, manufacturers seem fond of using black-colored mesh and black-colored solid fabric in mesh motorcycle jackets. We're talking jackets for as hot as it gets, right? Why black?
There are many other choices in the webBikeWorld summer and mesh motorcycle jacket reviewslisting.
On the other hand, I've tried on a lot of mesh jackets at Americade, the New York City motorcycle show, and others.
On more than one occasion, for instance, I've had snaps pull right out of the material when I snapped adjustable cuffs or bicep take-ups, and then tried to unsnap them. And a lot of the zippers seemed pretty flimsy.
My point is that even though we're talking about "only" a summer mesh jacket, you need to get one with robust materials, stitching, zippers and so forth. I bought the Tornado at a store, so I was able to inspect the construction in person.
Also, armed with my Tourmaster Synergy heated jacket liner and the DryJoys Tour Xp Rain Shirt, I was able to try on several different jacket sizes, using all my layering combinations.
Thus, I could make sure everything fit and the armor was in the proper place after making the adjustments to fit my body shape.

Item 4: The Overpants
Good overpants — the kind without mesh panels, anyway — will protect you from the weather as well as the tarmac.
Underneath, you can wear any old pants; on really hot days, I sometimes wear walking shorts underneath, if I know I'll be doing a lot of walking at a rally, for instance.
If you've never worn overpants, what you might not know is that they're also generally a good defense against "monkey butt," should you have miles and miles to go before you, um, get off the superslab.
They provide extra padding, and generally allow you to move around more easily on a seat.
A decent pair, such as the Firstgear HT Overpants (review), will be waterproof and not merely water-resistant. They'll have full-length (or at least very long) zippers to facilitate ingress and egress over boots.
They'll come with a removable thermal liner and they will also have some type of closure adjustment system for the cuffs.
If you're not into wearing something like Bohn Cool Air Bodyguard Pants (review),, you should also look for overpants that include knee and hip armor, but make sure the pants fit tight enough to keep the armor in place.
I'm on my second pair of the Firstgear HT overpants.
Through no fault of their own, the first pair got to be a little, um, snug in the waist over the course of many years. That I bought a second pair should tell you what I think of them.
"But what about mesh pants", you ask? I have never really found a good use for other types of mesh overpants that I have tried. Here's why: if it's too hot for the HT overpants, you might as well skip them altogether.
And if you're concerned about protection, you can wear the Bohns or aramid fiber lined jeans, such as the Rokker Original Rokker (review).
By the way, if you fainted at the price of the DryJoys Tour Xp Rain Shirt, you'll need to call an ambulance when you check out the Rokker jeans.
So, if you're going for a long ride, wearing overpants at the start will let you ride longer and, unless it's excruciatingly hot, more comfortably. And starting out that way, you won't have to stop and change into them when it looks like rain.
The only downside, for The Minimalist's purposes, is that if you're not wearing your overpants on a particular part of your journey, they take up a fair amount of storage space (unless fastened on a top rack, for instance) compared to all the other items.
The flip side is that the pants liner is miniscule for storage purposes.
Item 5: The Boots
The Minimalist recently shared his thoughts on two versions of Tactical Boots in this webBikeWorld review, and many of you were kind enough to provide feedback, both pro and con, regarding my suggestions.
Only the waterproof Ridge 9000 go on The Minimalist's multi-day trips and either those or the Blackhawk Warriors are his day-trip footwear.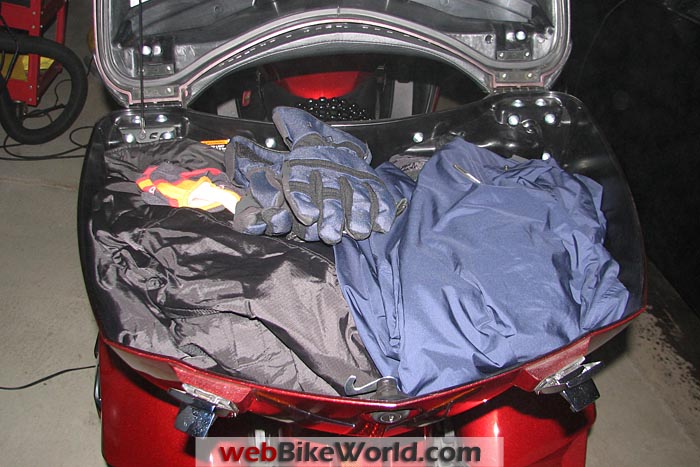 Item 6: The Gloves
I travel with three pairs of motorcycle gloves: light, medium, and rain gloves. So, two of those pairs will be taking up storage space.
I have a dozen or so pairs of gloves, but my particular choices for the last couple of years are, respectively, Bionic Men's Gloves (review), the Qwi Nerve Protector gloves and BiLT Tempest Waterproof Textile Motorcycle Gloves.
Note also that I have heated grips; without them, you may need a fourth, more insulated, pair (orheated gloves (reviews), a pair of which I bought from the webBikeWorld Garage Sale after a review.
You may have just noted that none of the gloves I have listed include knuckle armor.
If you require that, or if you're just looking for gloves for any old reason, I'd certainly start with the very extensive collection of reviews right here in the webBikeWorld Motorcycle Glove Reviewslisting.
I also pack a stretchy microfiber head covering for chilly days.
This type of tubular material can cover your head, your face, and your neck, depending on how you stretch and position it, and is surprisingly effective. Packs down to nothing.
Similarly, I also own a balaclava (reviews). I've found, however, that even riding a few degrees above freezing, a thick balaclava isn't necessary, given a core warmed by a heated liner and a full-face helmet.
If you don't wear a full-face helmet a thick balaclava is probably a good item to keep on hand; me, I also wear mine when walking behind my snow blower.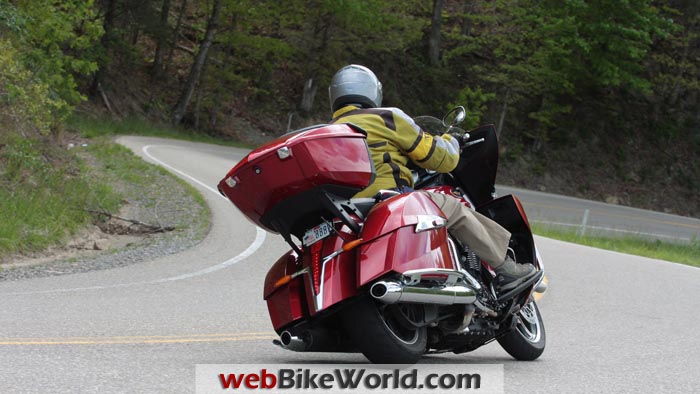 The Permutations
Your particular layering switch-points will depend on your tolerance for cold and heat, how much weather protection your bike affords you, and so forth.
Therefore, I make no attempt to list specific temperature ranges associated with each combination.
Let's just say that going from very hot to very cold, and from inside to outside, this is how I work my outer-garment layering above the waist:
Mesh jacket.
Rain shirt, mesh jacket.
Heated liner (power off), mesh jacket.
Heated liner (power off), rain shirt, mesh jacket.
Heated liner (power on low, medium, or high), rain shirt, mesh jacket.
For my lower unit, hot to cold generally goes like this:
Walking shorts, overpants (no liner).
Jeans (and, yes, I do own a Kevlar-lined pair, as well as a pair of Duluth Trading Fire Hose jeans (review)).
Jeans, overpants (no liner).
Jeans, overpants (thermal liner).
Conclusion
TThere you have it: a description of The Minimalist's minimalistic ensemble of motorcycle riding clothing.
One of the other benefits of this outfit is that no decisions need to be made by The Minimalist regarding what to pack for a multi-day trip, because the entire outfit is standardized.
And what I won't be wearing on any given ride segment can be packed to a very small size (with the possible exception of the overpants), especially if compression sacks are used.
Note that this exact minimalist ensemble has been field-tested by both The Minimalist and his riding buddy for six or seven years and tens of thousands of miles, in temperatures ranging from just above freezing to as hot as we cared to ride.
Do you have a favorite collection of minimalist gear or a better substitute for The Minimalist's minimalistic outfit? Let us know!
Note:
 For informational use only. All material and photographs are Copyright © webWorld International, LLC since 2000. All rights reserved. See the webBikeWorld® 
Site Info page
. Product specifications, features and details may change or differ from our descriptions. Always check before purchasing. Read the
Terms and Conditions
!
Owner Comments and Feedback
---
From "R.D." (March 2014): "A few years ago I went down and ended up in an emergency room at S. Lake Tahoe because my left knee got chewed up some.
The Dr. told me "I'm glad you didn't have Kevlar protection because that stuff becomes tiny splinters that get in your skin and I have to take each one out one-by-one with tweezers."
Kevlar was made to stop bullets, not protect you when you're body is sliding on pavement. I don't trust any garment for protection that has Kevlar in it. I trust Cordura, leather which have protected my body multiple times.
Editor's Reply: There's Kevlar…and then there's Kevlar. We must be careful about making general statements that all Kevlar is bad, because the different types of Kevlar and similar fibers can vary quite a bit, as can the construction, the weave and any other fabric types that are used in the weave.
It also depends on the liner types used between the rider's body and the Kevlar protectors and other factors.
Then there's always the question of how much damage might have been caused without the Kevlar or other protector vs. having it in place.
It might be that pulling a few fibers out with tweezers is a small price to pay compared to the damage that might have happened if the Kevlar or other type of protection wasn't there.
So the bottom line is that it's very difficult to make a broad generalization regarding this issue.
---
From "S.S." (February 2014): "Minimalist clothing might potentially create maximum skin grafts.
Yes, clothing needs to keep your body environment dry and comfortable so as not to distract your focus when riding, and the author's ensemble apparently does this well.
However, in the hopefully rare, but still not unusual experience of a get off, would you like to be wearing the minimalist's outfit, or something with leather or Kevlar on the outside and full coverage armor on the inside?
Protective and comfortable need not be exclusive to one another.
Granted, gear that fulfills both roles well is not cheap, but it is available and may save your life. If you can't afford the whole outfit in one shot, then buy it piece by piece as I did.
My first pants were Diamond Gusset Kevlar lined jeans with Bohn Armor underneath. I had a heavy leather jacket on top with no armor, but my helmet, boots and gloves were all good quality.
As soon as I could save enough funds, I bought a Motoport Stretch Kevlar jacket made to my exact dimensions. Expensive? Yes! However, it was a once in a lifetime investment, as this one will last me my entire life.
The Stretch Kevlar pants were next, and they, too, will be with me until I stop riding.
Hopefully I will never have to test the quad armor in them, but I feel like I am dressed for battle when I enter the fray each day, and if the worst ever does happen, I feel that I have given myself the very best chance to survive with minimal damage.
Getting back to the article, I understand that trying to review a garment's crash worthiness is a very difficult proposition, and your reviews tend to focus on the wearability and climate control features since these are easier to assess.
However, I think articles such as this tend to gloss over the main distinction between motorcycle gear and other outdoor gear, and that is crash protection. Perhaps this should at least be mentioned?
Thanks as always for a great site! Here's to some warmer weather!"
The Minimalist Replies: S.S. is to be commended for his wearing a Kevlar jacket and pants. Just to reiterate, my outfit includes pants with armor and an armored jacket is part of all my permutations.
Also, I replaced the jacket's back pad with CE-rated armor and also I wear a full-coverage helmet.
So, yes, I agree wholeheartedly with S.S. that crash protection should be taken into consideration. The jacket, overpants, and gloves mentioned above are all motorcycle-specific gear.
Readers who want to give my system a try may be interested to learn that the company that S.S. uses (Motoport) also sells some Kevlar mesh jackets, such as its Air Mesh Kevlar Jacket.
It's touted as being 'The only Mesh motorcycle jacket that provides better protection than road racing leather.' "
---
From "C.S." (February 2014): "I too have sought out a minimalist outfit. My base piece up top is also a mesh jacket.  The mesh jacket has changed a few times over the years; it's currently an AVG Solare jacket in the high-vis lime.
Most important thing is the ability to cinch the arms tight and has the armor in all the right places (although I did replace the non-CE-approved back piece with an approved model).
Have tried more expensive jackets and not found them that much better built; usually they just have more features. Have also seen higher priced pieces that are not well built with mesh that snags on Velcro cuffs and other annoying things.
I also have a real problem with the black mesh material that so many manufacturers insist on using. Why would you use a heat absorbing material on the air exchanger? I have a good local shop, so I was able to try this jacket before I bought it.
Based on the price and the reviews on-line, I don't know if I'd have given it the look it deserves. Sweat, oils, and sun do cause the fabrics to degrade, so I prefer to find good values that I don't feel bad replacing in a couple years.
This jacket doesn't have a lot of frills, but it is very comfortable riding in the heat. I went down this past summer when my front wheel hit a patch of oil while stopping behind a turning vehicle.
The Teknic mesh jacket I had on at the time prevented any serious road rash, however, when my arm struck the ground, the armor moved and the jacket lining produced a small abrasion on my elbow.
After that, I made sure that my current jacket fits snug and that the sleeves have a good means to cinch the arm armor tight.
The AGV Sport jacket does this with a good two-point cinch system that hold the armor much more secure than some of the other designs I've used. I also think the armor forms to my arm better than the previous jackets.
When it is really warm out, I'll usually only have a synthetic T-shirt under the jacket. You'll find these in outdoor stores. They are designed for hiking in warm weather and do a really good job of pulling sweat from your skin.
Some of the better ones have seams that are in non-traditional places so that backpack straps don't cause them to dig into your skin. This same feature also keeps the shoulder armor from getting uncomfortable. The better shirts also look good on their own.
I also carry an evaporative neck cooler for really warm weather. This is a fabric neck wrap with water absorbing beads inside.  When dry, it rolls up to be about the size of a film canister (remember those?).
You soak it in water for a couple minutes to allow the beads to absorb water. Then, you wrap it around your neck so that the material is held against the large arteries in your neck.
The airflow while riding evaporates the water in the wrap — a process that draws heat from your neck and blood — effectively cooling you down.
Doesn't work real well in very humid weather. As long as the temps are at or below your body temp, this is a good choice.  In typical conditions I can get a couple hours out of a soaking.
Best of all, it does not tend to cause water to trickle down your body like a bandana can.
For a thermal layer I carry and use a North Face Flight Series fleece jacket. I really like this jacket; it is very thin, so it fits under the riding jacket, but it is also warm and blocks the wind.
Extended sleeves have thumb holes so I can get a good coverage into gloves when needed. It's a jacket of choice off the scoot when you need something, but a heavy coat is too much.
I know thermal comfort is a personal thing, but this jacket over a cotton/alpaca long sleeve T-shirt (from Eastern Mountain Sports) is comfortable for me when active outdoors to about 20 degrees Fahrenheit.
Under my mesh jacket while riding (and just a T-shirt under) I'm fine at about 40 degrees (the wind chill becomes the issue). It's the perfect layer to have at those times where the days are really warm, but the nights get cool.
If it is going to be really cold, I also have a set of light poly thermal underwear (also available at Eastern Mountain Sports). The only issue with this layer is that it is not something you can put on or take off in public.
If your journey will take you from temps too warm for the thermal underwear to a place it is desired, plan a break someplace with a rest room to change.
This might sound strange, but the long underwear is also useful in extremely hot conditions.
When the temps are warmer than my body (i.e. more than 98 degrees) I found that wearing the long underwear top under the mesh jacket and keeping it soaked cooled me nicely.
You need to have a water bottle handy and re-soak every so often, but the same action that works for the neck cooler works for your whole body. The only downside is that you end up wet.
Of course, with the sweat, you'd be soaked anyway; just be sure to pack along a lot of water as it is amazing how fast things can dry out.
Usually when things get this warm, I try to ride in the morning or evening and relax in the heat of the day.
My outermost layer for when the wind is like icy fingers or the rain is falling is a Helly Hanson rain shell.
I purchased this in bright red for visibility.  It has a sealed zipper flap and high neck to really keep out the air and water. It does not breathe well, so in a warm rain I need some kind of wicking layer against my skin.
The key with this jacket is that it fits over my mesh jacket. This also allows it to flap a little if I want (or I can cinch it down) which allows some airflow. I use the same shell when snow-blowing the driveway with just long underwear and light fleece top under it.
It keeps out the elements that well and it also keeps the mesh jacket from getting covered in road grime on those nasty days.
The shell cleans very easily; usually if I catch it while it is still wet, a couple paper towels can get most of the grime off and I don't have to do any formal washing.
I have not used, nor will I ever likely use the liner that came with my mesh jacket. I dislike the waterproof layer being inside the mesh.
Not only does this allow the mesh to collect and hold water, but road spray really saturates the mesh with all kinds of junk that gets kicked up from other vehicles. Much prefer a dedicated rain shell that keeps the rain and grime outside.
Also, that material used in so many of the liners feels terrible against the skin.
For pants, I have tried several different things, but my current favorite are the BMW Summer pants. You can zip off the legs with the knee armor if really warm while stopped.
This isn't usually a real comfortable option for long term activity, but useful when meeting friends for lunch or other activity where you don't have to walk around a lot.
Other times I just wear these over some light shorts in hot conditions and remove the pants completely when off the scoot.
They do not come in a wide array of sizes, but the XL fits my leg length and provides a good fit everywhere else with enough room under it for a layer.
I ditched the elastic belt the pants came with and use a real leather belt that can be swapped to other pants as needed. No real airflow through the fabric, but the light color does not absorb heat much.
This was the hardest thing to find with riding pants — good stuff that isn't black. The current version has knee and hip armor.
I have worn them in the below freezing cold and at 100 degrees F. Better armored and more comfy than Kevlar jeans in the heat, and roomy enough for layers in the cold.
If I need to hang out for a while after a cold ride, I can also wear them over a light pair of regular jeans. It's a bit bulky, but when seated on the machine it's not an issue.
Would not want to hike a distance like that however. In my fall from the oil patch last summer, the only damage to my pants was a very tiny abrasion on the flap that covers the zipper that allows the legs to be removed.
Granted, my fall wasn't a long slide, but given the sore hip I had, I landed pretty hard and almost all my weight was on that fabric in the initial slide.
Finding only a small scuff on on the pants was a good indication that these are a quality protective pant.
If it rains, I have a very light ski shell overpant that not only completely keeps the water out (even sitting in the seat) but also blocks all wind. Best of all, they are designed to fit over ski boots with an elastic cuff, so it is easy to cinch down on my riding boots.
High waist helps keep the elements from coming up under the jacket.
A very light and thin windstop fleece ski balaclava that extends down to my shoulders and tucks well into the riding jacket can act like a helmet liner in the cold.
No idea how cold I can go with this as I've used the same while snowmobiling well below 0 degrees F. Can't wear this and the rain jacket zipped to cover my neck because it gets too warm, but for those late fall days where the wind is just too much for a bare neck, this is the ticket.
My boots are a composite safety toe Timberland Pro work boot that I've rubbed in a lot of mink paste to waterproof. Comes up over my ankle and offers good support while also comfy to walk in.
I use two different pairs of socks; both are from SmartWool.
The light pair is for warmer weather and allows my feet to breathe.  The heavy pair adds warmth and extends up my leg a bit to help seal out any air coming up the leg.
I also use 3 pairs of gloves, a mesh/leather pair that breath well in hot weather; a pair of light colored Lee Parks deerskin which with the heated grips are perfect in almost any conditions and are usually my glove of choice, so long as it isn't more than about 75 degrees or so.
Finally, I have a waterproof mitten that can fit over the other two as needed. I hate the feel of the mitten, but the gloves under stay dry.
I  have never seen a true waterproof glove that does not eventually soak through. Given the choice of being wet and miserable or some annoyance with the double layer of glove/mitt, I'll take being dry any day.
The bulky armored pants and jacket are always on when riding.
The rest rolls up small and fits well in the underseat compartment of the scooter with room to spare. I prefer storing riding gear there as the engine heats it up a bit. If you stop to put on warm clothes, it's nice to have them warm to start.
I also segregate my riding gear and other gear. The underseat compartment is used for riding gear while the Givi topbox is packed as if it was my luggage. In this way, I can easily detach the top box as a single piece to carry into a motel or such.
Although I do hike and camp, I have not taken an exclusive scooter "camping" trip yet — I prefer to have a hot shower and dry room when on a riding trip. By keeping my riding gear as minimal as possible, I have a lot more space on the scoot for all the rest of the stuff that makes us happy.
Two "luxury" items I always have are:
1) Sandals or sneakers to change into when not on the scoot. Getting out of the boots is nice after a long day. The thing to consider here is to keep the shoe simple. The more you can compact it, the less space it takes.
2) Small synthetic towel and water bottle because nothing beats a quick sponge bath to rid the sweat. Outdoor stores sell various pack towels; the one I use fits into a little mesh bag not much larger than a couple of tea bags.
Not only do they wring out nearly dry, but they completely dry faster than the average lunch stop.
On those hot days, I'll pull off the riding gear, pour some water on the towel, wipe my face, neck, arms, legs, etc. wringing and rewetting as needed. This gets the bulk of the sweat off and just really feels great.
I do not keep all the gear on my scoot at all times — as I've said, I use a lot of the items for other activities. For the average outing in good weather, I'll usually just toss the North Face fleece into the scoot.
If rain is forecast, I'll add the jacket and overpants.
I don't think I've ever packed both pairs of gloves. It's usually warm enough for just the mesh or cool enough that the Lee Parks are fine. The mittens live on my scoot.
On my Honda Reflex, there is a small cubby at the back of the underseat compartment.
It's not all that useful as it comes from the factory since anything put in there falls out. I attached a stretchy mesh net over the opening.
Behind this, I can keep the rain mittens, a half dozen paper towels in a zip-lock, the neck cooler, and a "pocket survival kit" by Adventure Medical Kits; this contains stuff like duct tape, whistle, mirror, magnifier, heavy wire, heavy thread, needle, etc.
Sure, some of the stuff like fishing kit is not really needed, but it's a nice kit that has a lot of little things that can become handy. The factory tool kit, augmented with some added items and a spare spark plug fits in the slot designed for it.
If I'm going more than an hour from home, I also pack along a spare CVT belt; finding tools to change it would be a lot easier than finding a belt. The other thing I keep in the scoot at all times is a tire repair kit.
For normal "nail in the tire" type of punctures, this can get you off the side of the road and save you the expensive tow and in the case of my scooter, the potential of broken body panels.
The kit contains all the needed items including an effective CO2 inflation system. I've had the "pleasure" of using my kit once and it worked like a charm. It got me home where I was able to remove my wheel and take it to the local shop for a new tire.
Unlike some of the "slime" style kits, this leaves no gunk in the tire.
The added clothes, belt, tools, tire kit, etc. all fit easily under the seat, and with careful packing, I can get my helmet in there as well. In fact, my goal is that all my riding gear has to be on my body or under the seat. So far, so good."
---
From "B.M." (February 2014): ": "Thanks for all the fantastic info. Regarding the rain shirt, is it waterproof enough to keep one dry (underneath a mesh jacket) when riding in the rain?
If more warmth was required, would you wear the heated liner over the shirt? Heated liners are waterproof?"
The Minimalist Replies: The DryJoys Tour Xp Rain Shirt is definitely waterproof, and so will keep you dry underneath a mesh jacket.
Heated liners are, generally, merely somewhat water-resistant, and so I wear the rain shirt over — on the outside of — the heated liner.
Think of the rain 'shirt' as you would a stretchable windbreaker, not really a shirt; for a real shirt — next to your skin — you'll want something close-fitting and wickable, and with its own collar, such as one of the UnderArmor products.
Being windproof as well as waterproof, the rain shirt also serves to keep in the heat generated by the liner.
So, the rain will go through the mesh jacket, and then simply run down the outside of the DryJoy shirt. In such conditions, the mesh jacket is functioning solely as anti-roadrash, armored, hi-viz (especially important in the rain) outerwear."
---
From "R. & S." (February 2014): "It was with much interest that I read the recent article on minimalist gear. Thanks to Bill "The Minimalist" for putting that together.
Let me qualify ourselves here by stating that we have kept a motorcycle in Europe for 17 years now, and have traditionally put in about 10 weeks a year riding over there.
In Europe, days are often beset by rapidly changing conditions of sun, rain, and in-between, necessitating many changes in gear.
We also have a couple of bikes at our home in Northern California which has very hot summers. There is a practice that S. and I have evolved into using that corresponds very well with what Bill recommends, yet it may be different enough to merit mention. It involves that rain shirt.
He speaks of it as a 'liner', but I'm not sure where he puts it — over or under his jacket. Here's what we've learned.
Having to take your jacket off in order to put on or remove a rain liner is a hassle. Letting your jacket get soaked while your liner is keeping you dry can be an inconvenience. Jackets with built in rain protection are too hot.
Here's our solution: We wear mesh jackets, take your pick. Then, we pack away waterproof, breathable, lightweight [non-motorcycle] jackets that can be bought at any sporting goods shop.
The shirt Bill describes sounds very cool and I'll be checking it out when our present jackets wear down, but point of fact is we paid $79 for the ones we have now. Ours have adjustable cuffs and neck, plus hoods that roll up into a collar.
When the mesh doesn't supply enough warmth we slip on the jackets which serve as windbreakers. When it warms up we slip them off. Same for the rain.
Besides being multi-functional, lightweight, and fashionable, the use we appreciate the most is not having to remove our mesh jackets in order to put them on as they go on over the top.
This is a very important point for us as it is not uncommon to go through many changes in a typical European day.
We also pack Polartec [100 or 200] type fleece jackets to use under our mesh jackets on cold days.
Either garment serves very well when worn out in the evenings in the Alps, branding us as hikers rather than motorcyclists, if that matters to anyone. Both pack away very well.
On the colder days we put on a light turtleneck under the fleece, which itself also serves well on European evenings. For the very worst conditions Sylvia packs a heated vest.
The hand warmers on the bike serve me well enough.
On the bottom we wear mesh pants, take your pick. For cold or rain we slip a pair of Gore-Tex like rain pants on. Again, not having to remove our pants in order to put on a liner is a great plus.
On the coldest of days we wear exercise pants under the mesh. Because we do plenty of hiking, and have never found a pair of motorcycle boots that filled that need well enough, we wear rugged hiking boots.
Built-in Gore-Tex liners keep our feet dry, and the over-the-ankle boot provides some, if not perfect protection. Again, when worn out at night those boots fit right in with the dress popular in the Alps.
(The boots) and a pair of light but dressy sandals are the only footwear we pack, saving us quite a bit of space.
Because the hiking boots aren't as high as most motorcycle boots I had 3 inches put on my rain pants by special order thus allowing my pants to stay below the top of my boots on a rainy day.
S. kept to the regular size pants, but ended up sewing on a couple of elastic straps to the bottom of the legs to keep them down.
We also use light balaclavas when it gets cold. S. uses hers most of the time to keep her longish hair from tangling up. Two pair of gloves each do the job.
Thus outfitted, we comfortably pack the regular expandable bags and top case that come with our 2005 BMW R1200GS, plus a small tank bag, with all of our gear without having to strap anything on.
We take 4 changes of everything, one pair of jeans, some athletic pants, and a pair of shorts each. I take a nice shirt, Sylvia a nice dress.
A major trick we've learned — we wash our cloths every night, thus spending 15 minutes a day instead of a whole morning or afternoon in a laundromat (which are very hard to come by in Europe) or worse, at the basin.
In the States, we make use of the laundries available in motels. And so it goes.
Packing light is an admirable but often missed goal.
Over the years we continue to whittle down our 'take'. Smaller computers, Kindles, tiny cameras, and the like have helped a lot although the various chargers require space themselves.
A GPS is a wonder to have but we still buy the most detailed maps we can find of the area we are in."
---
From "B.R." (February 2014): "The following is a list of items that I took on an 8000 mile trip around the United States in the month of September of 2013.
Temperature and weather range went from 110 degrees in Montana to 25 degrees and snow in Wyoming to eight inches of rain in three hours in Mississippi.
Your list is sure to vary based on what you ride. I happen to ride a 2012 Kawasaki Concours so I have  good wind and weather coverage.
Jacket: First Gear Kilimanjaro Air. Roomy, lots of pockets. Replace the armor with hard style.
Liner:  First Gear Kilimanjaro Air. Warm, fits the coat, light and will crush very small when not needed.
Vest: Tourmaster Synergy heated vest (review). Small and will crush smaller than a vest with sleeves. I use the three position controller that it came with. It is more reliable than a variable type.
Pants: Hein Gericke Street Line leather. These pants have been fantastic. Cool in the summer and warm in the winter. Hard armor in the knees and soft armor on the hips.
Rain Gear: Old pair of Early Winters Gore Tex Climbing Bibs with a Tourmaster over jacket. Small and light.
Gloves: Winter: Roadgear / Summer: Cortech perforated. Both Hypora, Keprotec, Schoeller construction.
Boots: Sidi On Road (review). Expensive and worth every nickel. 15 years old. Second sole.
Socks: Alpinestars poly blend motocross. Over the calf. Warm light and tough.
Helmet: Arai Quantum 2 (review) (currently) Kabuto FF-5V (review) with Pinlock. Great airflow. SNELL and DOT.
Misc: Briefs: Wickers (review). Under shirts Under Armour winter and summer gear compression (review). Silk Balaclava and silk long underwear."
---
From "D.H." (February 2014): "I have to say, I never considered heated gear with my mesh jacket. Not intuitive at all, but if it works…..it works. Time to experiment…"
---
From "N" (February 2014): "I wouldn't have thought of the mesh jacket all year round thing, but then again, I don't have a heated liner (yet), so maybe that's why.
Here's my setup:
Jacket: Sedici Alexi 3 season jacket – it's cool enough in the summer with the liners removed. With the waterproof liner and thermal liner in, I've run this jacket + liners with a long sleeved neoprene shirt down below 20 degrees F.
Pants: For anything over 50 degrees, I just wear jeans when commuting.
When I'm touring or riding below 40 degrees, I have a pair of BILT Typhoon pants. They use Velcro to attach the liner to the legs, which makes it almost impossible to get the liner in and out, so I just leave the liner in and only use them for cold weather.
Fully waterproof, big enough to go over jeans, and they zip to the bottom of my jacket on the back.
Gloves: For spring through fall, I use Cortech Vice 1.0 gloves. I bought these used from a second hand store when I bought my first bike, and they've been awesome ever since. For winter or other wet weather riding, I use Cortech Scarabs.
They've kept my hands completely dry, very warm, and they're still well protected as well as flexible enough to easily actuate my controls.
Boots: Just some waterproof, sturdy work boots I bought from Walmart for $50. They're waterproof, still breathe decently well at speed, and they're hopefully more durable than tennis shoes when the leather meets the road.
For off-road riding, I have a pair of Thor MX boots that have proved to be worth their weight when my bike landed on me.
Misc: I have a neck protector that I bought from Walmart out of their winter weather clothing section when I was on a bike trip last winter.
It's just a fleece tube that stretches from my bottom lip to the base of my neck, and it works way better than I would have thought possible. When it gets below 20, I'll usually toss on a scarf as well."
---
From "C.A." (February 2014): "Great article on minimalist riding gear. Here's what I've been using the past 100k miles…I spent another 50k miles figuring this out, and have decided that there is always a compromise, and where that compromise falls depends entirely on the rider, climate and how much wind coverage the bike provides.
For your reference, I ride an FJR1300 in Minnesota and tend to ride between the upper Midwest and and westwards, where rain is always possible, temps will be freezing to 110F.
Start with an Aerostich Roadcrafter (review) one-piece. When the climate changes all but the rear vent is accessible, preventing the need to make decision when to pull over and don rain gear. It also doesn't take up any space…as I'm always wearing it.
As long as I'm moving it flows enough air even in the hottest climates – whether 95F in Minnesota or 112F in Nevada.
(I know many will dispute this but it works for me when I am wearing tight athletic compression clothes underneath, and not being overweight helps significantly).
Sitting in traffic on a hot day is not fun, but I avoid those situations if I can. It keeps the sun off, and doesn't flow so much air that I dehydrate too fast.
Plus, when I stop for lunch or just to admire the scenery for a few minutes, it takes a few seconds to get out of the Roadcrafter and prance around in shorts. Also obviously very good in the rain and cooler temps.
Heated jacket liner: Yep. Indispensable. I use the un-insulated Warm n Safe with a dual remote controller.
On the coldest mornings I may put a long-sleeved wicking turtleneck underneath, and then the Roadcrafter on top, combined with the FJR1300's windshield and engine heat output  this is plenty.
Gloves: Two pair. Gloves for hot riding, like Lee Park's Outseam Deertour gloves (review) or other perforated gloves, which on the FJR is good down to about 60F. For cold/wet I use Gerbings T5 heated gloves.
Pants: LD Comfort shorts (review) (or equivalent cheaper ones from Target), long underwear for the cold nights in the mountains, and convertible REI travel pants.
Boots: Sidi Canyon boots (review). On the hottest of the hot days I wish for more air but these work well in all other conditions.
In my opinion I can deal with hot feet; but not cold or wet feet. I use microfiber dress socks in the heat, and Outlast hiking socks in the cold.
Helmet: Bell RS-1 (review). Comfortable, low noise, lots of ventilation when needed.
Generally the only things I need to make packing space for is the heated liner, the gloves I'm not using and the pants/long undies/turtleneck. And a few changes of socks and underwear. Hope this helps some other people when deciding what to wear!"
---
From "B.C." (February 2014): "So here is my minimalist setup:
Jacket: Olympia AST 2. I have ridden from 24 degrees up to 100 degrees. Eliminates the requirement for the rain jacket.
The outer shell is water proof, it also has a breathable waterproof thermal liner that doubles as a casual jacket in colder weather. This multipurpose jacket allows for a very nice all in one package.
Gloves: I have two pair of gloves, one Olympia perforated leather for summer and a Tourmaster waterproof insulated glove for cold and wet.
Pants: I wear Olympia Ranger 2 overpants, these are also waterproof outer shell but also have the windproof waterproof liner, than can be worn separately for just the weather protection. This allows for any combination of pants to be worn underneath.
Boots: Either some very nice Xelement boots from LeatherUp, a pair of ICON Elsinores, or a pair of Red Wing motorcycle boots.
The ICON boots are the most useful motorcycle boot with excellent comfort off of the bike. If I wear shorts under the over pants I carry a casual shoe in the side case."