Review Summary
A very high quality pair of short cuff sports gloves that proved to be able to go above and beyond what they are billed for, which is warm weather riding. Surviving a thunderstorm, temperatures as low as the mid 50's, and as high as over 90 F, while keeping my hands comfortable and my grip on the handlebars secure, these gloves literally went through the crucible that is Calgary weather in the summer, and came out the other side intact.
Pros
Full, single piece goatskin leather chassis for fingers and palm, stitched to another chassis for the thumb.
Superb suede-like leather in palm and thumb chassis areas for extra grip
Handles both hot and moderate weather without issue
Touchscreen capacitive through index and middle fingers on both hands
Dedicated thicker leather protective area for ulnar bump
Knuckle armor on floating chassis, keeping the armor perfectly placed at all times
Cons
Fingers are a bit long
Some minor dexterity issues with fine grip situations, which are exceedingly rare
Palm impact area feels slightly under-protected
Scorpion EXO-Talon Gloves Image Gallery
The story of how I came about getting the Scorpion EXO-Talon gloves is a bit of a tale, but suffice it to say, I bought a pair of Scorpion EXO-Vortex Air gloves way back in June 2021 at my preferred gear shop in town. I wore them home, took them off, and then didn't think about them for a day or two. The next time I went to ride, about halfway through my ride I noticed a slight popping feeling as I reached for my brake lever. Thinking it was just a knuckle cracking, I paid it no mind.
When I got home, however, I saw that the mesh backing of one of the fingers on the right-hand glove had started to come away from the leather it was sewn to. I called my gear store, and they were out of stock of the 3XL size glove I had bought, so I decided to give Scorpion's warranty service a go.
I contacted them with pictures via their email submission page, and within a couple of hours I had a response asking for me to send them in. I packaged them in a box, down to the local post office, and off they went. A few days later, the warranty department contacted me again, and because of the heatwave that hit in the middle of the summer, the EXO-Vortex Air gloves were sold out everywhere, and none were in stock at Scorpion.
They offered to upgrade me to the EXO-Talon gloves, the next up the chain of moderate and warm weather gloves, and I accepted. Almost two weeks to the day after I sent my Vortex Air gloves off, a brand new pair of Talon gloves arrived. The entire process only cost me postage for a small parcel, and the turnaround time was, for a cross-border warranty in the middle of the global pandemic, exceptional. My thanks go out to the Scorpion warranty department for getting me a pair of motorcycle gloves that I could then review!
About Scorpion
Scorpion Sports USA is a subsidiary of Kido Sports, which is a South Korea-based motorcycle helmet and gear developer that has been in the helmet business since 2001. The Scorpion website likes to make mention of a number of global facilities, including a couple in the USA, but all of their helmets are manufactured in China.
The helmets are designed by an international team of helmet engineers from Korea, Europe, and North America, and manufactured to strict tolerances. Given that they're the official helmet supplier to many global racing stars, don't let the China connection bother you. Let the quality of the helmets speak for themselves!
About webBikeWorld's Review Policy
This product was purchased by myself to be sport riding gloves for moderate weather. Note that we do not allow brands to influence review scores or content. Please see our review policies for more information.
We here at webBikeWorld believe that you can't just try something out once and give an honest opinion of it. Any product we test is actually used by our testers, and for most of August, during probably the hottest summer we've had in a decade or two, these were my daily riding gloves.
Scorpion EXO-Talon Gloves Features
The Scorpion EXO-Talon gloves are billed as short-cuff sport riding gloves, and their features match up very well to that description. They are a true hybrid style glove, with a leather palm and fingers, mesh backing, TPU knuckles with small intake vents to cool the hand, and a floating knuckle chassis that, much like with my very first gloves, the ICON Super Duty II's, keeps the armor over the knuckles at all times.
The fingers are all tipped with leather, and the index and middle fingers are touchscreen capacitive. What I noticed about the Talons that many other short cuff gloves miss out on is that there is a dedicated small section of leather on the outer wrist for the ulnar bump, which is held in place by the wrist closure, which uses velcro reinforced by flexible TPU.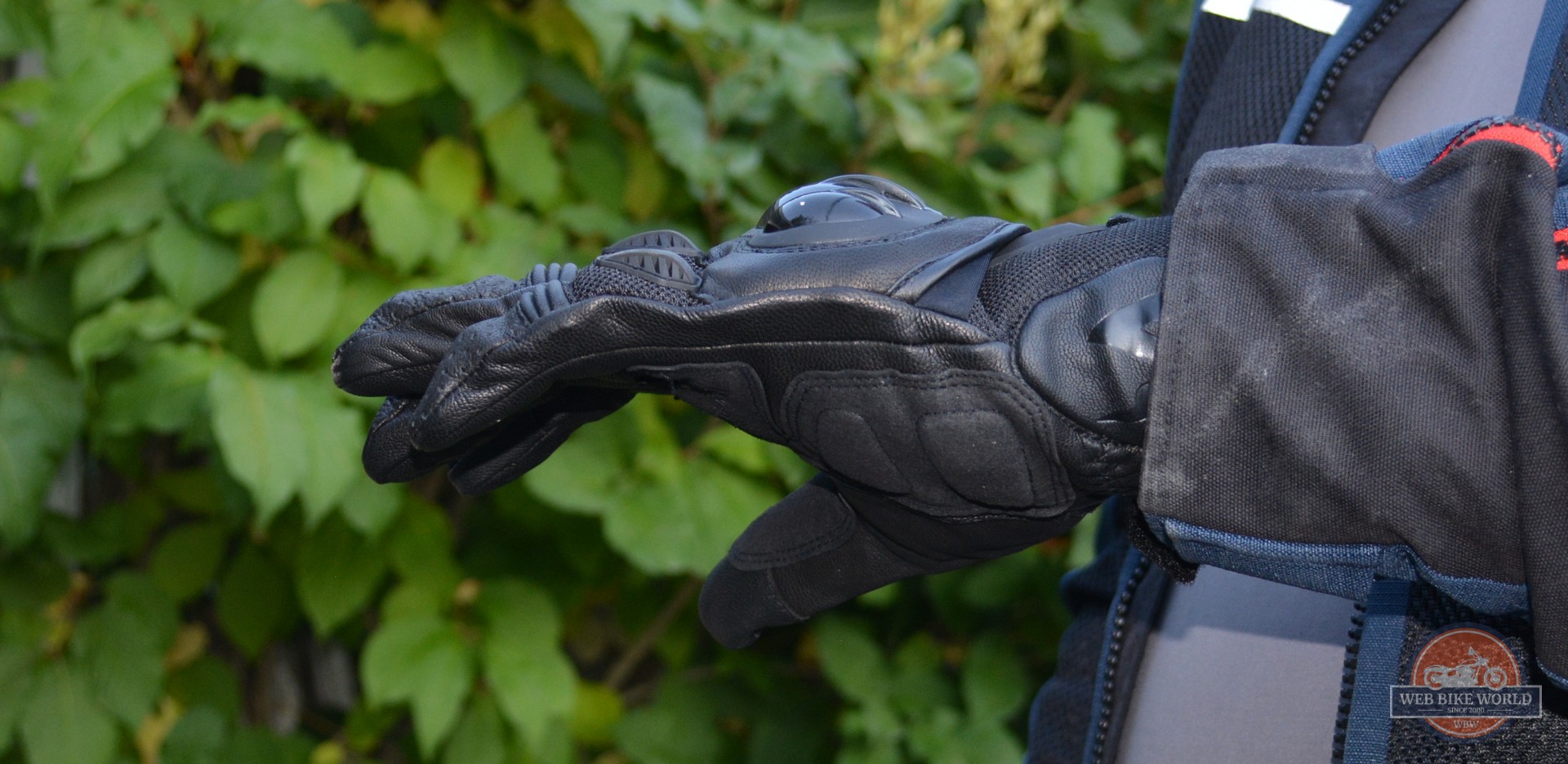 The biggest feature that these gloves offer is that they are aimed at being gloves for everything but the coldest weather. There is a TPU reinforced back of the hand vent, and the mesh, if exposed directly to airflow, will pass air through. Yet, during the month of August, I went riding on days where the temperature was 11 C (52 F), and other days when the temperature was approaching 32 C (90 F), and everything in between.
The Talons took all those different temperatures in stride, although I do feel that at 10 C and below, it would be better to wear a more appropriate cold or moderate weather glove.
Scorpion EXO-Talon Gloves Fit & Comfort
I found that in general, with my 9.5-inch circumference hands, the EXO-Talons fit very true to size, with the wrist closure coming naturally to the folds below my palm without needing to yank or tug on the gloves. I did find that the fingers are a touch long, but once your hand is around a throttle or clutch grip, it is the farthest thing from your mind.
The first thing that you feel when slipping your hands into the gloves is the weight of the knuckle armor. It rests on your knuckles through two layers of synthetics and leather, and that extra little bit of weight, which must only be a few grams, feels reassuring. The TPU knuckle armor is very solid, but by being on the floating chassis, they stay perfectly positioned no matter what shape or angle your hand makes.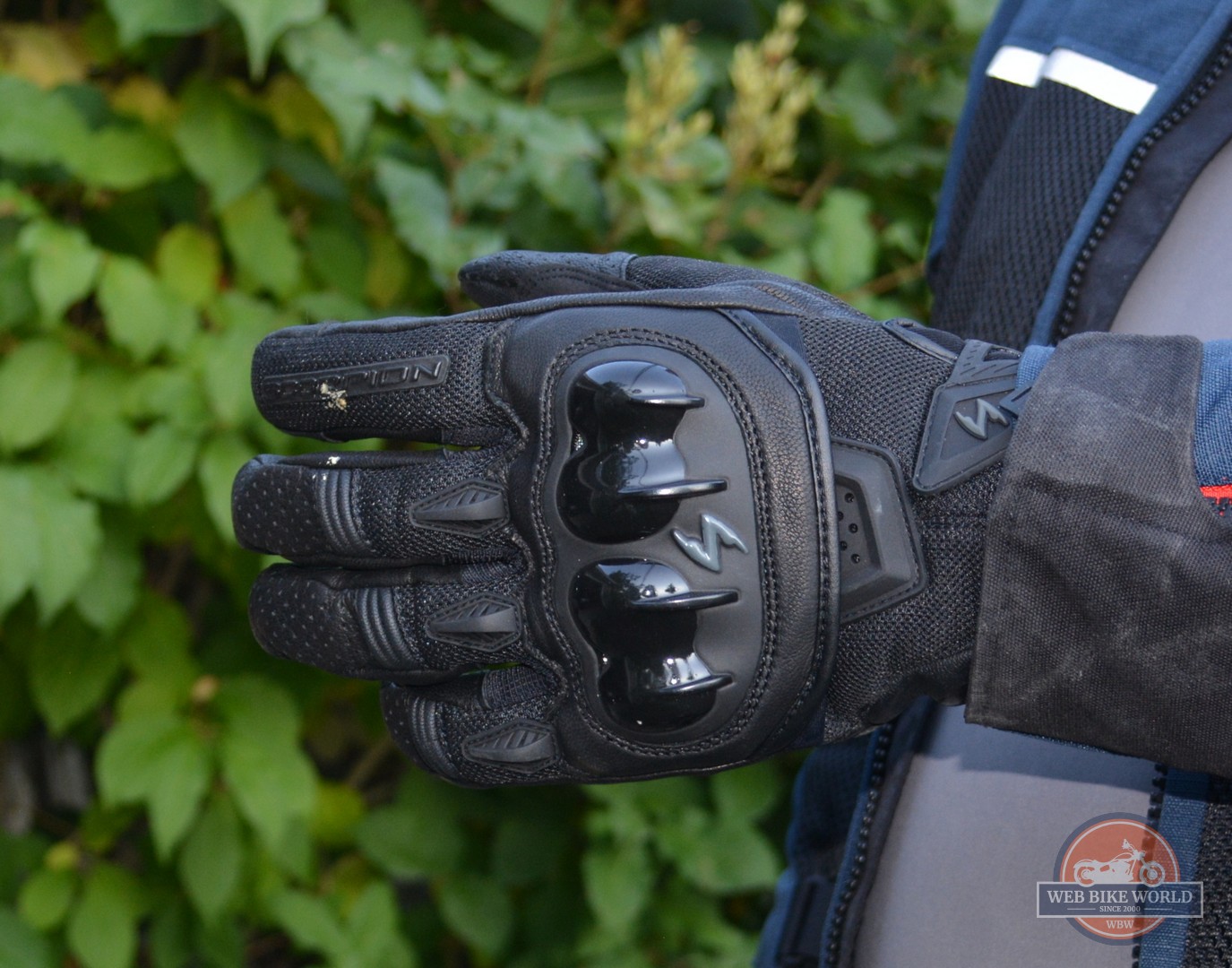 What makes these gloves more moderate weather gloves than, say, the KLIM Dakar Pro's I reviewed a month and a bit ago is that none of the leather on the glove is perforated. Instead, the fingers and palm form one continuous chassis of soft goatskin leather, with the thumb chassis double stitched to it. The palm then gets a layer of suede-like leather, which gives excellent grip on most handlebars that are even slightly textured, and also holds two palm-slider-area bits of impact foam.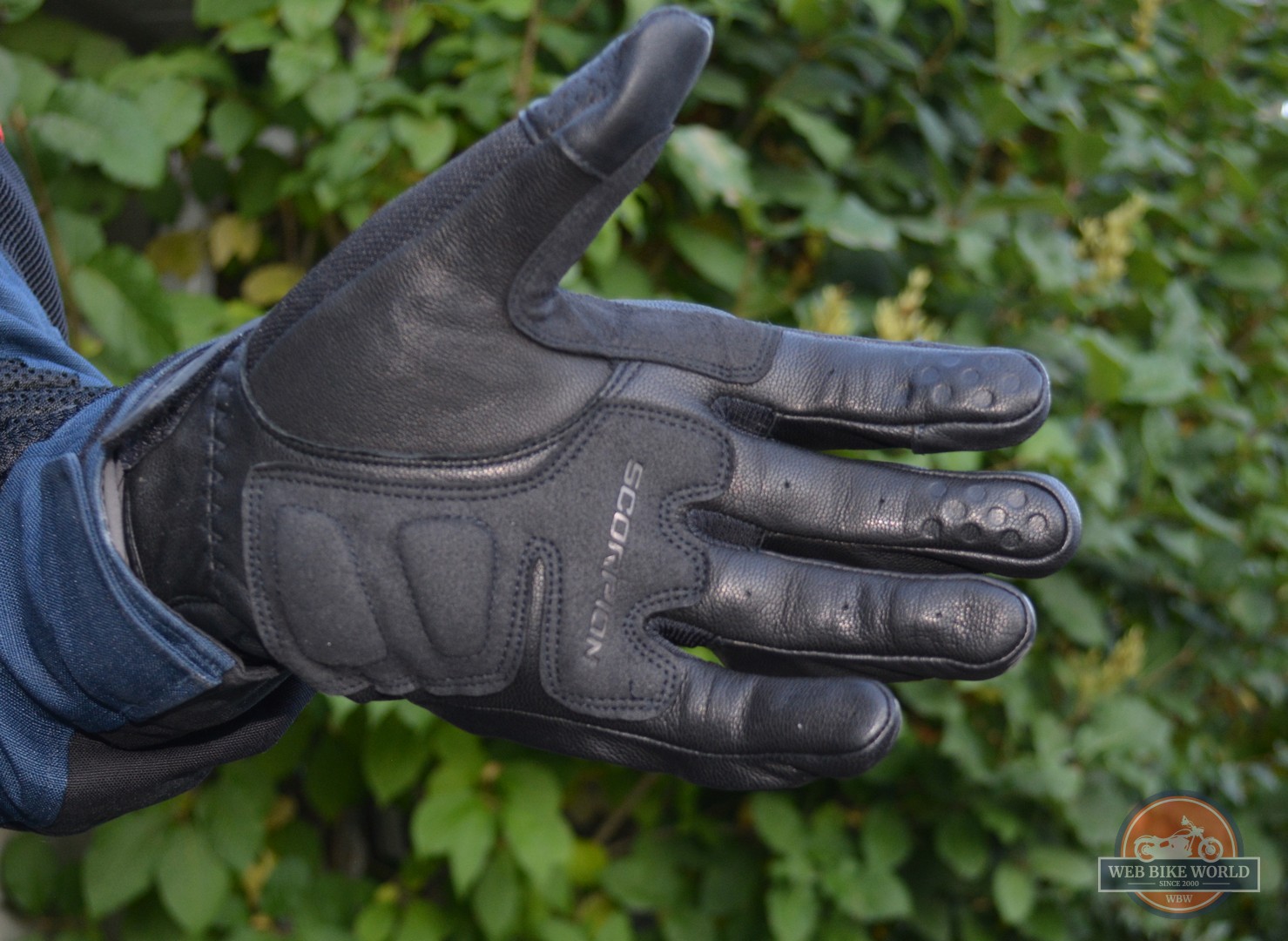 That same suede-like leather is also stitched in between the index finger and thumb leather, serving to both protect the seam that joins the thumb and main chassis, as well as give more of that excellent traction on textured grips. All fingers are finished and tipped in leather, with only the index finger getting a full length of mesh before the leather tip.
Once on, the gloves are very comfortable, although because there is leather, I followed my standard leather break-in procedure of wearing the gloves around the house, continuing to flex and stretch my fingers, and making fists once in a while. I also occasionally wet them down with a spray bottle of water, and after about an hour of doing this, they felt properly broken in enough for their first ride.
Scorpion EXO-Talon Gloves Dexterity
It only makes sense that any glove that features touchscreen capacitive fingers must, in some way, be good at dexterity. This holds true for the EXO-Talon gloves, as I was able to perform all basic tasks around motorcycle prep and riding without any issues. Adjusting the brake feel, accurately and confidently hitting all the controls, and even zipping up my Rev'It Arc Air jacket without needing to take the gloves off.
The only issues I found with dexterity were with very fine grip situations. While I could operate a motorcycle with confidence wearing them, if I needed to get a small screwdriver into a tight spot to adjust my idle, for example, I would have to take the gloves off to get that little extra feel from skin-to-tool contact. Also, as the fingers were a touch long, pinching at something to pick it up off the ground, such as my bike key, did take a few attempts to actually get a grip.
Otherwise, even with that big TPU knuckle armor plate, I found the gloves perfectly dextrous for all their intended uses. The finest confident grip I was able to obtain through repeated testing was the zipper of my jackets, whichever I was wearing that day, as I intentionally leave it open before putting on my gloves to test their fine grip feel.
Scorpion EXO-Talon Gloves Protection
While I have been converted to KLIM's uses of non-Newtonian foam armor, there is something really reassuring about having a big chunk of hard TPU armor on your hand. Maybe it's because the armor is prevalent, sticking out from the glove and shouting "come at me, pavement!" It may be because, as I mentioned above, having that extra weight on the knuckles that lets you know something solid is above them just gives that little confidence boost.
Whatever it is, I can say for certain that if I had to land on the knuckles or the back of my hand, I would be quite decently protected. Where I am not so sure about the protection is mostly on the palm slider area. Two small squares of impact foam are held securely by the double leather layering of the palm, but compared to other gloves in my kit, they are a bit small. If they had been joined into one big rectangle of protection, that would have been a bit more reassuring.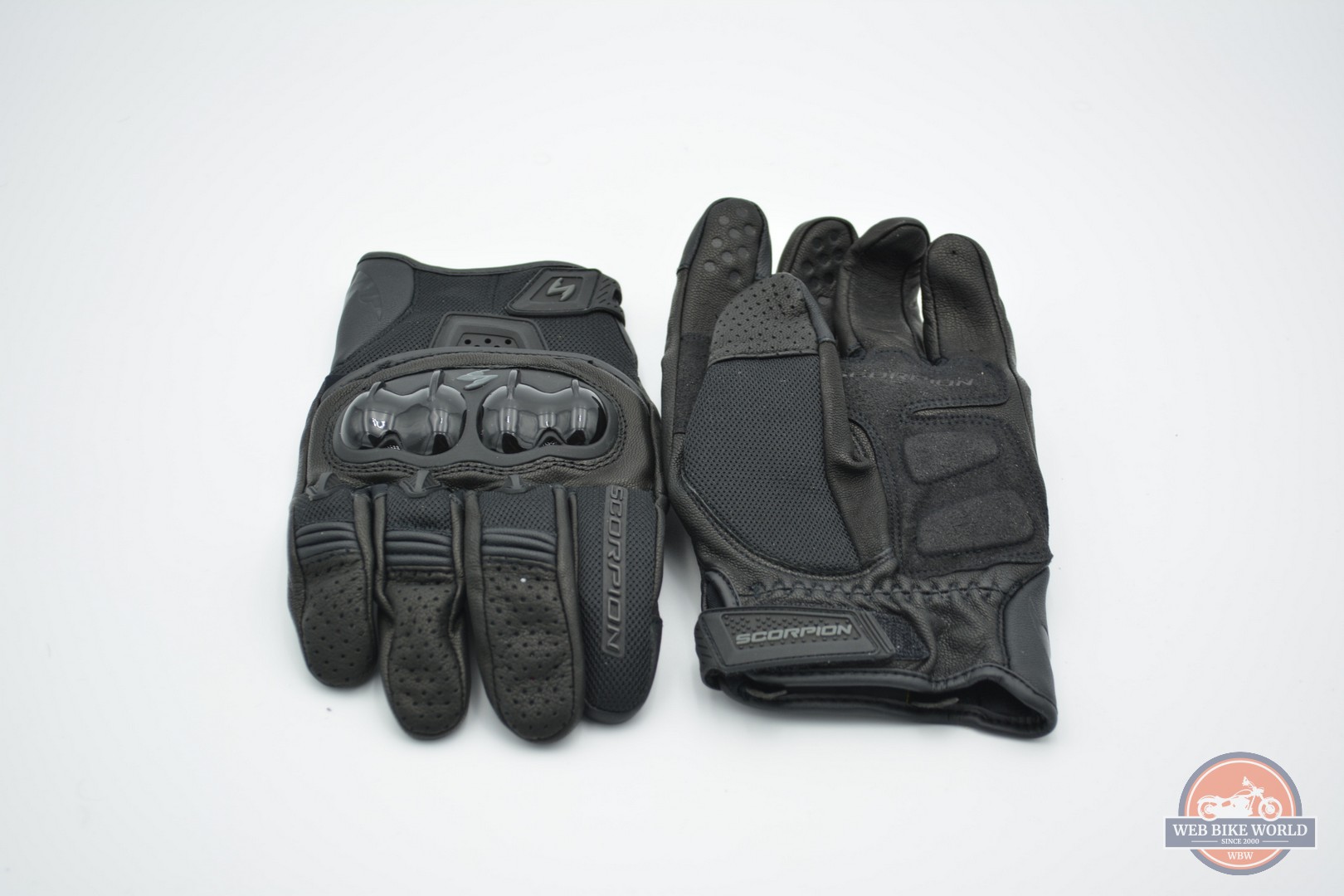 What impressed me, as I made note of above in the features description, is that the EXO-Talon gloves have a dedicated, 2 to 3mm thick bit of leather over the ulnar bump on the outer edge of the wrist. Most gloves either naturally cover it as part of the wrist closure, or are shaped to avoid it, but Scorpion, in their pursuit of this being a bona fide short cuff sports glove, put a big patch of leather there that is only there to help your ulnar bump slide along without removing skin during a crash.
Scorpion EXO-Talon Gloves Build Quality
As with all things Scorpion, despite being a budget oriented piece of kit, the build quality can, quite literally, be felt in the EXO-Talon gloves. Despite the original gloves I bought popping a stitch, I assume that it was the 1 in 1,000 that snuck through quality assurance, and I received a better glove through the warranty exchange anyways.
All leather seams are double stitched for durability. Anywhere there is a leather-to-synthetic or leather-to-textile interface, the seams are hidden but very strongly stitched. Everywhere that I would expect to see a thread end, there was no exposed or loose thread. It was either stitched through to the inside of the glove and tightly tied off, stitched back over itself to form a permanent terminus for the thread.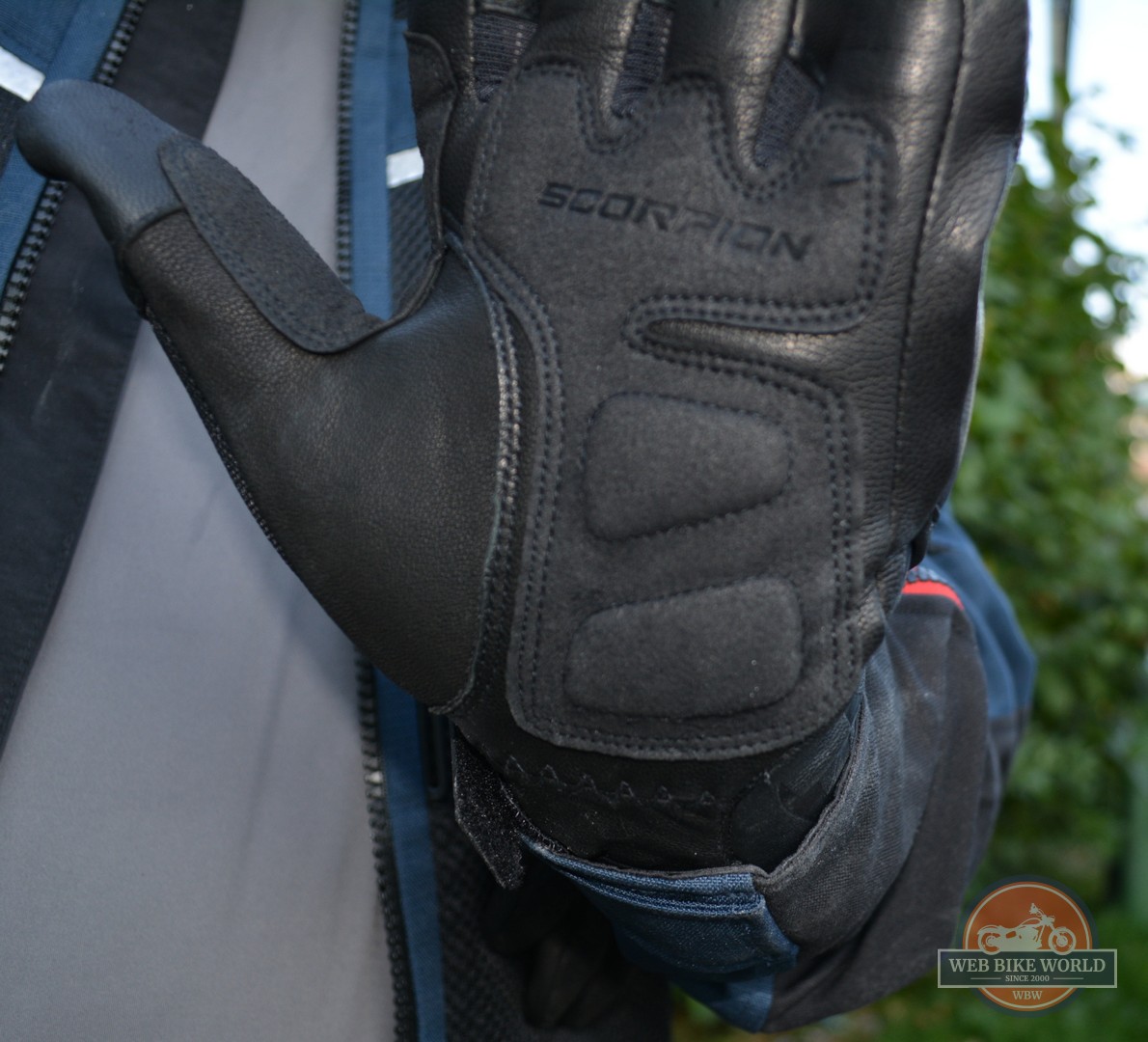 With all the fingers and the palm being one continuous piece of leather, the feeling throughout the glove is one of stability and quality. All the stitching on the palm is either double or, in small areas, triple stitched, and any exposed seams that might even have the possibility of being caught on something are covered, or stitched so tightly that you would need a molecularly thin item to even catch the thread.
In simpler words, the Talon gloves feel professionally made with a dedicated look towards how sportbike riders use their hands, and what kind of protection they would expect from a motorcycle glove.
Scorpion EXO-Talon Gloves In The Real World
These gloves arrived almost at the perfect time to be used in pretty much every weather condition apart from snow. I was wearing these when I got rained on and very nearly got hailed on by golf ball sized hail. I was wearing these gloves when the sky was overcast by forest fire smoke and it got very suddenly cold. I was wearing these gloves at the tail end of the hottest summer heatwave that has hit Calgary in years.
Through all of that weather, these gloves took it all in stride. There were days I would arrive home from my rides, the rest of me covered in sweat, and my hands were perfectly dry and cool. There were other days that even with all the ventilation and mesh of the gloves, including the little intake vents in the TPU knuckle armor, that my hands were dripping with sweat, and untreated leather generally doesn't like salt water, yet these gloves showed absolutely no sign of degradation or stiffening up due to moisture.
It was the colder days that impressed me. These gloves are, objectively, designed for warmer weather, with mesh backing, a backhand exhaust, and those aforementioned intakes in the TPU armor. Yet, despite all that, my hands were perfectly cozy on the days where the temperature dipped down towards the 50s and 60s in Fahrenheit. These were days when I was wearing my cool weather Tourmaster over-pants and my AlpineStars Andes 3 Touring Jacket, and despite all that, my hands never felt "frozen."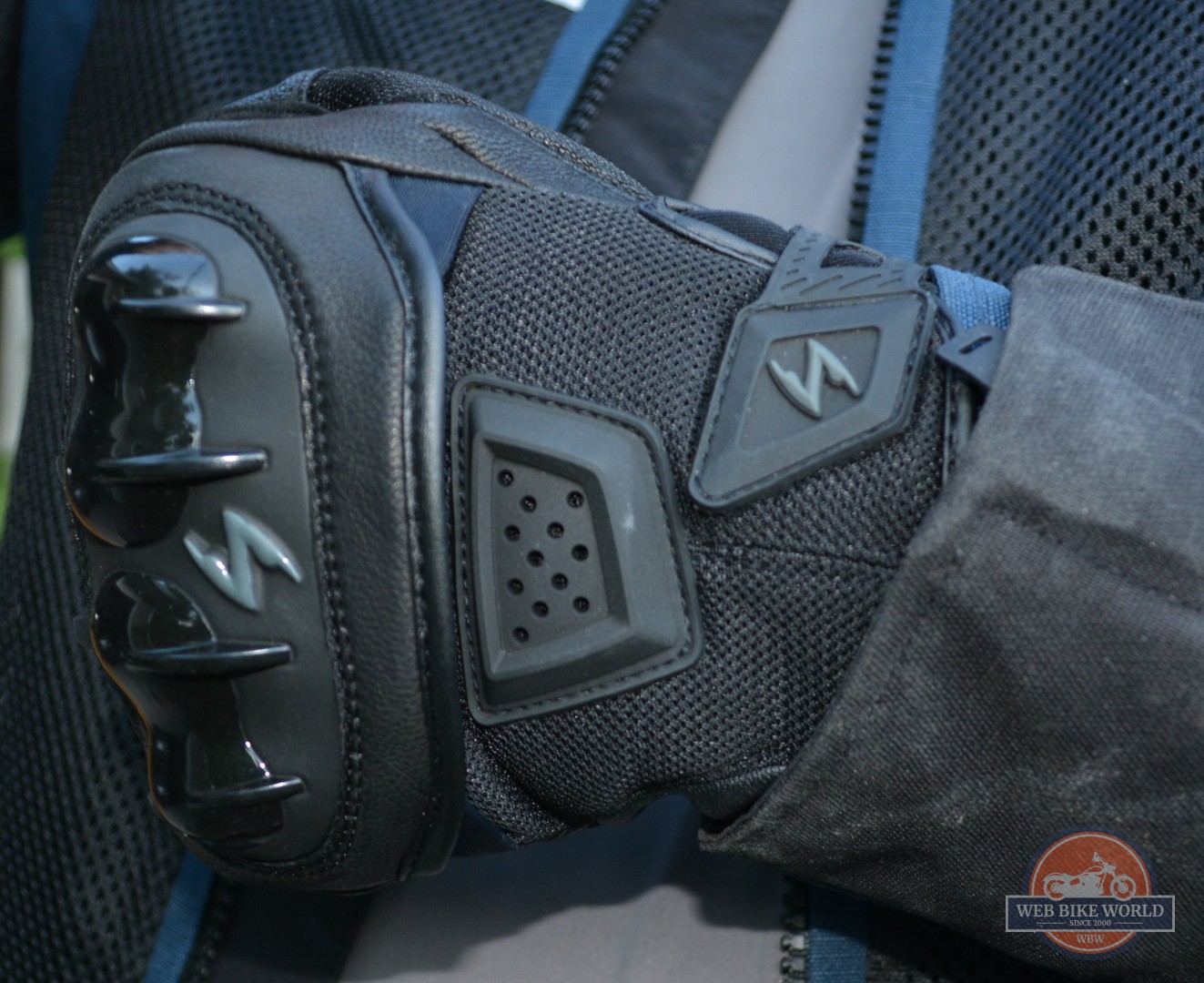 I was also massively impressed with how the gloves handled the very sudden thunderstorm that brought the hail down 15 seconds after I got my bike into my garage. It went from being blue skies and cool winds, to an absolutely soaking downpour. My over-pants and AStars jacket are both waterproof, but the gloves have a mesh backing that I felt would be like a sieve for rain.
So imagine my surprise that despite some water reaching the backs of my fingers and hand, I didn't get nearly as soaked as I thought I would in the gloves. They are definitely not ADV touring gloves meant to be waterproof, but they stopped enough rain getting through to keep my hands comfortably warm, despite nature's attempt to do otherwise.
As well, having the suede-like leather on the palm and over the thumb chassis joint allowed me to keep excellent grip on the handlebars, something required when rain riding as you need to be able to make constant small adjustments to throttle and steering. Rain riding is something that I am still not altogether fully comfortable with, especially as the tires on my Ninja 650 are Michelin Road Sport 4's, which are pretty much grooved slicks with a small rain channel. Yet, the Talons saw me home safe, without any spinning up of the rear tire or ducking of the front tire, and not a moment too soon. A few more seconds and my helmet would have probably started getting dented, the hail was so large!
Final Thoughts: A Quality Pair Of Sport Riding Short Gloves
If you live in an area where full three-season riding is a genuine possibility, the Scorpion EXO-Talon gloves may just be your spring and fall gloves, especially if you own a sportbike or sport tourer. Super comfort, quality construction, and excellent grip give you the confidence to give it a little right wrist and broaden that smile under your helmet.
I fully intend to use these gloves as my moderate weather gloves for the rest of the season, which in Calgary is generally through to the end of October if you have the gear to be able to handle cold weather properly. There are a few maniacs around here that will ride on into November, when the snows generally start to fall and stick to the ground, but I am not going to push my luck.
That means that in March or April of next year, after the winter has wrapped up and I've installed some grip heaters on my Kawasaki, it'll be time to get out the EXO-Talons and get my ride on! It still surprises me just how well what are billed as warm weather gloves handled the moderate temperatures, as well as wildly varying weather conditions, that August threw at my city.
Basically, I have no problem recommending these gloves for riding anywhere that the temperature dips a little low, but doesn't qualify for needing full on ADV wind and waterproof gloves. Reassuringly weighty armor, the consideration of protection for the ulnar bump, and the reinforced grippy palms and thumb area are all signs of intelligent, informed design, and then some.
Pros
Full, single piece goatskin leather chassis for fingers and palm, stitched to another chassis for the thumb.
Superb suede-like leather in palm and thumb chassis areas for extra grip
Handles both hot and moderate weather without issue
Touchscreen capacitive through index and middle fingers on both hands
Dedicated thicker leather protective area for ulnar bump
Knuckle armor on floating chassis, keeping the armor perfectly placed at all times
Cons
Fingers are a bit long
Some minor dexterity issues with fine grip situations, which are exceedingly rare
Palm impact area feels slightly under-protected
wBW Specs
Manufacturer: Scorpion
Price (When Tested):  $74.95 USD
Made In: China
Alternative models & colors: Black is only color available
Size Tested: 3XL
Review Date: Month of August 2021
Important Links / Where to Buy