Scorpion EXO Women's Covert Wax Riding Shirt Review Summary
Review Summary
If you are looking for a shirt that can handle a stiff autumnal breeze with room to spare, look no further than the Scorpion EXO Covert Wax Riding Shirt. This number features a 12 oz. wax-coated denim outer shell and an inner DuPont™ Kevlar® lining, with shoulder/back protection pockets culminating in a nice "comfy" gear option.
Pros
12oz. denim shell and 165 GSM DuPont™ Kevlar® lining are both fantastically flexible, yet tough
Tons of room in the waist for more curvaceous gals
Top-tier componentry (zippers, seam quality, etc.)
You really can't do better than the $139.95 USD price tag
Cons
Heavy
Middling breathability ratings, less suited to heatwaves
Not a "second glove" fitment for my body type
Not an all-rounder; Paraffin Wax-treated coatings are NOT WATERPROOF!
Scorpion EXO Women's Covert Wax Riding Shirt Image Gallery
*Disclaimer: Needing an in-depth, nerd-mode-on, nothing-excluded article on the Scorpion Wax Riding Shirt? This review is for you; otherwise, check out the "Review Summary" below for a synopsis of our findings.*
Review Summary
At a price point of $139.95, the Scorpion Wax Shirt is great summer for riding if you need something quick to throw on.
The construction of the product is top-notch!
The wax shirt does not appear to be officially certified, but you can purchase optional shoulder and elbow protectors.
Any bit of gear with waxed material will take away from the ventilation specs, but relatively loose (albeit heavy) fitment means some riders may find a surprisingly breathable number.
Scorpion Wax Riding Shirt: Casual Kevlar Meets an Homage to Idyllic Pasttimes
There's something faintly ironic about going MIA on the week's motorcycle articles, projects, and review deadlines to hoon happily about the local asphalt on two wheels; these days, any time on two wheels tends to take the back seat in lieu of daily 'dos – and when the bike DOES roll out for serene spots that inspire siestas and sapsucker sightings, the well-trodden track of choice calcifies into a shrinking, ill-tempered thing that is just as reticent to give up her pot-holed, muddy secrets as I am to double back for tea and a bath.
In keeping with the summer's continued procrastination preferences, then, I have enlisted the aid of several bits of gear – and Scorpion EXO's Women's Covert Wax Riding Shirt is one of them.
To be clear, I have owned wax-treated clothing in the past, though none of it was motorcycle gear; there was a faint, four-year era of my life that invested heavily in the bush-whack-happy, canoe-loving, hike-n-camp-n-throw-a-log-on dream that plagues many a thrifty Ontarian family.
While disenchanted with the obligatory, blood-thirsty swarms of mosquitoes that whined their perpetual compatibility with my Type O, I was grateful that Fjällräven pants came pre-waxed into a formidable barrier. It wasn't until later that I learned the pants would need touching up after a few washes – not a bad thing by any means, but a reality that, at the time, made owning waxed gear a tad less romantic.
But back to the Scorpion EXO Covert Wax Shirt.
As they say, you can't paint everything with the same brush; while a Wax Riding Shirt wasn't something I'd originally considered for my Yamaha YZF-R3's riding aesthetic, donning the piece taught me quickly that I was not only naïve but that my prejudice was sorely misplaced.
A wax shirt on a motorcycle may not pose the epitome of perfect performance, but the experience harkens to a time before I was born, when laundry wasn't just a button to push – it was a weekly occurrence of sweat and toil that taught generations to trust the process of a good patina.
Of course, this Wax Riding Shirt's Parrafin coating wasn't rubbed in over the course of multiple decades – it has received more of a laminate coating than anything else – but I couldn't shake how the thing felt like my old heavyweight flannel shirt, which was an old-time favorite for weekend bonfires.
I am getting ahead of myself; let's just dive into this review and see what Scorpion EXO has given us for this season's worth of shenanigans, shall we?
About Scorpion EXO
Scorpion EXO has long been lauded as a brand that not only seeks to stay on the cutting edge of our industry's gear evolution but aspires to do so while preserving our well-earned coin; Scorpion accomplishes this by owning and operating their own factories, cutting supply, manufacturing and labor costs in the process.
Since 2003, the American gear brand has been dedicated to "offering high quality, innovative motorcycle helmets and apparel at an incredible value" (via Scorpion USA). This process is aided by Kido Sports, a Korean helmet developer and one of the best in the industry.
*A big thank-you to Scorpion EXO for the privilege of being able to test my first piece of waxed motorcycle gear!*
Scorpion Wax Riding Shirt: Features
This Covert Wax Shirt may not be able to boast complete waterproofing, but there's plenty to praise all the same.
Key features include: 
12oz. Denim with Paraffin Waxed coating
165 GSM DuPont™ Kevlar® Lining
YKK Main zipper and button main
Elastic tab buttoned waist adjusters
Zippered hip gusset expansion
Mesh Shoulder and Elbow armor pockets designed to fit optional CE-rated Safe-Tech level 1 or level 2 armor
Mesh Back armor pocket designed to fit optional Sas-Tec Level 2 armor
6 Pockets; 2 Hand Warmer, 2 buttoned chest, large Napoleon, interior utility
Fold back collar with hidden snaps
Satin Trim at collar and cuffs for added comfort
1 Year Warranty
For a complete list of features, visit Scorpion EXO USA Women's Covert Wax Riding Shirt.
This slideshow requires JavaScript.
My first impressions of the Scorpion Wax Riding Shirt include the happy fact that I will never feel encumbered or restricted when out and about.
Scorpion Wax Riding Shirt: First Impressions
This is the closest I will ever get to wearing what feels like a construction flannel as motorcycle safety gear – and I think I'm getting a vastly different impression of this shirt than Rob Abbot, who reviewed the Scorpion Wax Shirt back in 2022.
Sure, I've had a tighter, more tailored aesthetic in my review selections up until now; last year's REV'IT! Coral Ladies Jacket Review was the fitment I'd come to love on a bike – tight hugging around the waist, decent freedom for the hips, adequate shoulder space, amtailored shoulder silhouette and at least one component that encouraged stretch into the package.
With the Wax Riding Shirt, I donned a relaxed style that felt as relaxed as it looked; after forking over middling hundreds for individual pieces of fortified pretty, I was stunned to realize that the Wax Shirt came at a ridiculously affordable $139.95 USD. In the Mother tongue, that's a steal –  certainly worthwhile to adjust to the new shape I cut on my R3.
At first, I called the shirt my "Trucker jacket;" my babe confirmed what I already knew, that I wasn't used to having this much fabric in excess about my person. Still, it was a relief to not have to worry about zipping up after a particularly dramatic round of all-you-can-eat-sushi. We all need that one versatile piece that settles about the shoulders like a soothing, mid-cycle sweat set (if you're a gal who revolves her wardrobe around the month's moods, you know exactly what I mean).
This slideshow requires JavaScript.
Scorpion Wax Riding Shirt: Construction
Outer Shell
Scorpion has given us a 12oz. Denim Shirt with a Paraffin Waxed coating – not the heaviest denim used for a jacket, but one that works exceedingly well in connection to the 165 GSM DuPont™ Kevlar® Lining on the inside of the jacket.  According to previous reviewers, the heat factor is partially due to this denim exterior, though there has also been mention of Kevlar itself showing off a non-breathable personality.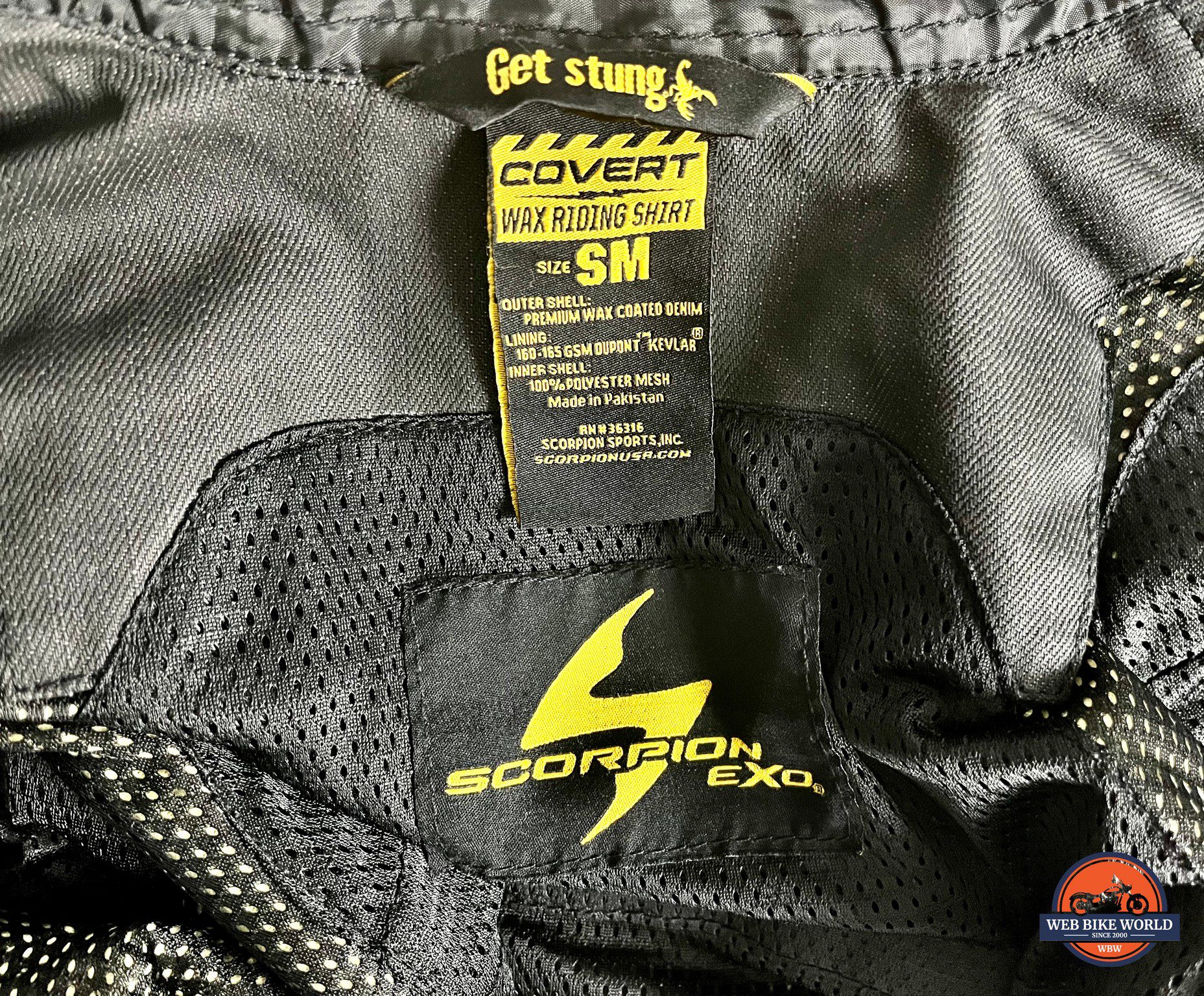 Outer Shell: Premium Wax-Coated Denim
Lining: 165 GSM DuPont™ Kevlar® Lining
Insulation/Inner shell: 100% polyester mesh
Interior
Outer Shell: A heavy-weight cotton denim acts as the main ingredient for the entire exterior, with double layers of the material at the shoulder joints and protecting the edge of each zippered section (both the zippered gussets – aka stretch panels – and the diagonally-slashed pockets).
Lining: While ​​165 GSM (grams per square meter) is the minimum measurement of Kevlar® for many riders, this Kevlar is not designed to be on par with a bulletproof vest; instead, the layer is installed to act as a deterrent to heat, protecting the skin.
On the inside of this lining is the polyester mesh that keeps everything aligned, with stin dressing the collar adn the sleeves.

Collar
For the collar, we have a button-down design, with the tips of the collar held down by a modestly dark snap button (press stud) on either side.
Satin lines the interior of the collar to the base of the Shirt tag.
This slideshow requires JavaScript.
The Scorpion Wax Riding Shirt caries a plethora of pocket choices.
Pockets
In total, there are six pockets for the Wax Shirt, with three extra, if you consider the pocketry for the shoulder and back protectors:
Exterior (shell)

Two diagonal, zippered slash pockets, partially protected by a single-run line of denim on the outside flap and stitched to the exterior shell with a single line of thread.
Two front dress flap breast pockets, secured with a duoble line of stitch and secured with a single silver snap button fastener.

Interior (shell)

One large utility pocket resides on the inner righthand side – the biggest on the jacket, not counting the safety pockets. This pouch will do nicely for a modest rain liner, or perhaps a map.
A single inner napoleon breast pocket, accessible via a slash design and accessed via zipper.
One velcro-ed back pocket to hold a Sas-Tec Level 2 Back Protector, and two shoulder pockets to hold CE Levels 1 or 2 Safe-Tech shoulder protectors.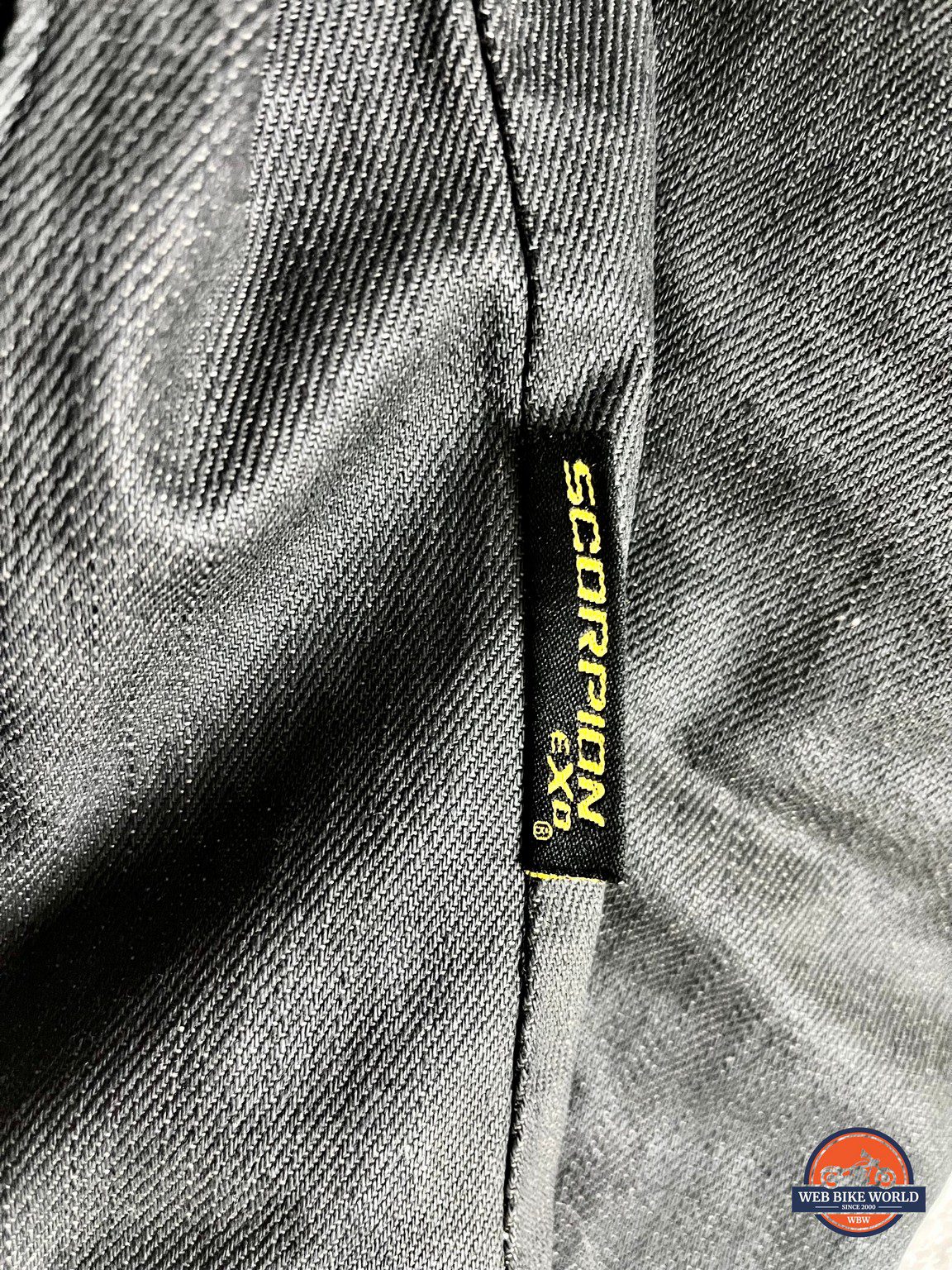 Branding
The Scorpion EXO branding has been placed at the bottom of the lefthand side of the coat, with further logos placed at the top of the kac protector pocket; apart from this, Scorpion stays true to their minimalist aesthetic.
This slideshow requires JavaScript.
Zippers / Fasteners
All the Coral jacket zippers are products of YKK – a fantastic choice, since YKK zippers self-lubricate.  The more your Wax Shirt is put through its paces, the more buttery the zipper will feel. Some believe that the zippers are a tad small for fitment, but being in possession of a size SM, I find the design to be perfect; subtle and modest, yet reasonably easy to grab.
The only thing that would have improved zippers / snaps in the Wax Shirt would have been little snatch threads tied to the zippers for easier grabbing – but, again, that's a "want," not a "need." Any self-respecting hobbyist can grab a good spool of heavy-duty Kevlar thread (highly popular in the construction and marine industry).
Scorpion's YKK zippers are used for the Shirt's Napoleon pocket, as well as the diagonal slashed hand pockets, the front main unit, and the two back gussets sitting at the upper end of each hip.
For snap buttons, we have a single unit holding down each tip of the jacket's collar, as well as seven snap buttons lining the front of the jacket (above the zipper main), a snap at the center of each breast pocket flap, and snaps holding the triple option of cinch afforded by the waist-snatchers on either side of the Wax Shirt.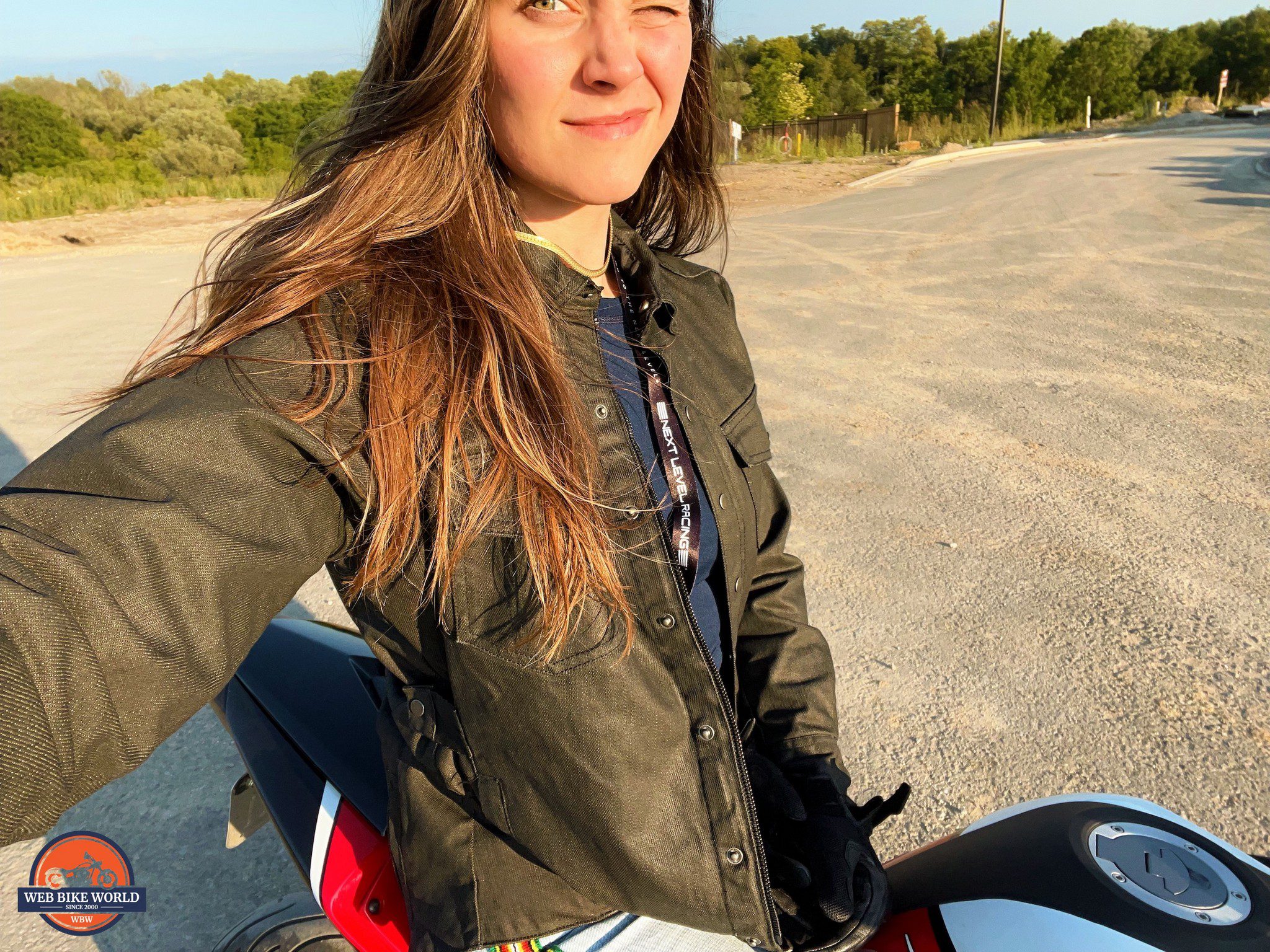 Colorways
The Scorpion EXO Womens Covert Wax Riding Shirt is available in Black – no other colors are available, or in production.
Scorpion Wax Riding Shirt: Build Quality
Sizing
The Scorpion Wax Riding Shirt comes in sizes XS to 2XL.
I run long in everything and I tend to need a size up for my shoulders, so my 5'9" self chose a size Small (SM). For reference, my bust is 35 inches.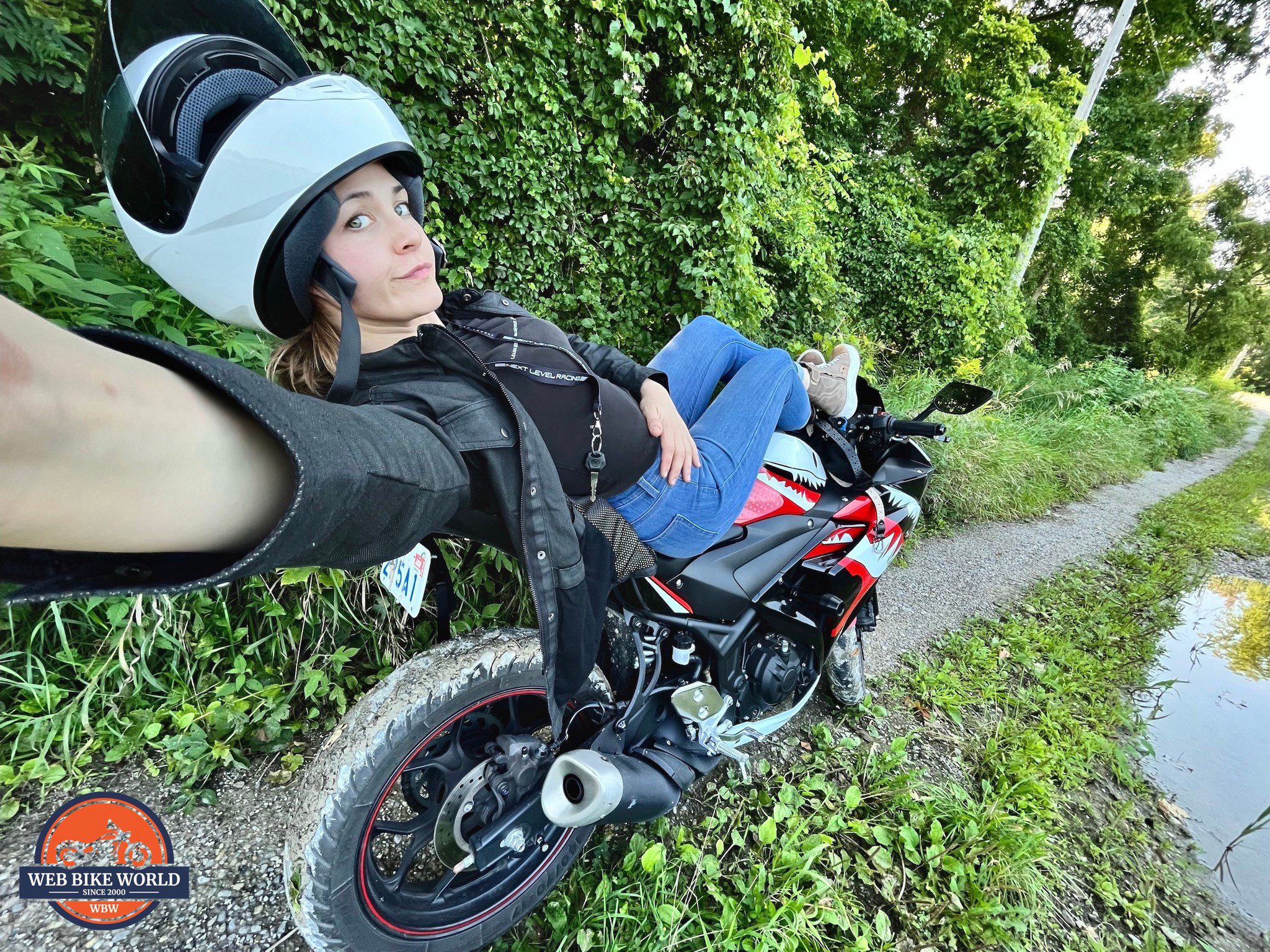 Comfort
I'll come out and say this nicely: I don't typically like rougher fabrics, and stiff materials are hard to work with.
I might put my poor R3 through trails worthy of turning the nearest BMW GS Adventure into a chuckle machine, but I also bruise easily and am not inclined to acommodate a product that might take weeks to break in.
Ain't nobody got time for that.
Perhaps my schedule was one of the main reasons why I warmed up to the Wax Shirt so quickly; there was an instant accessibility to the thing.  I'll admit, I still don't like the waist-cinchers – I feel like they only do so much before the fabric bulks up at the waist and the silhouette is questionable – but again, I'm coming from a different genre of riding aesthetic, factoring in the following posit:
What works for me might not work for the next Jane in line.
Regardless, always make sure to have measurements done meticulously at home, and check three times before clicking that "checkout" button; in an ultimate world, you're heading to a dealership that carries Scorpion gear, where they'll be able to confirm for you which size will suits your inclination and build best.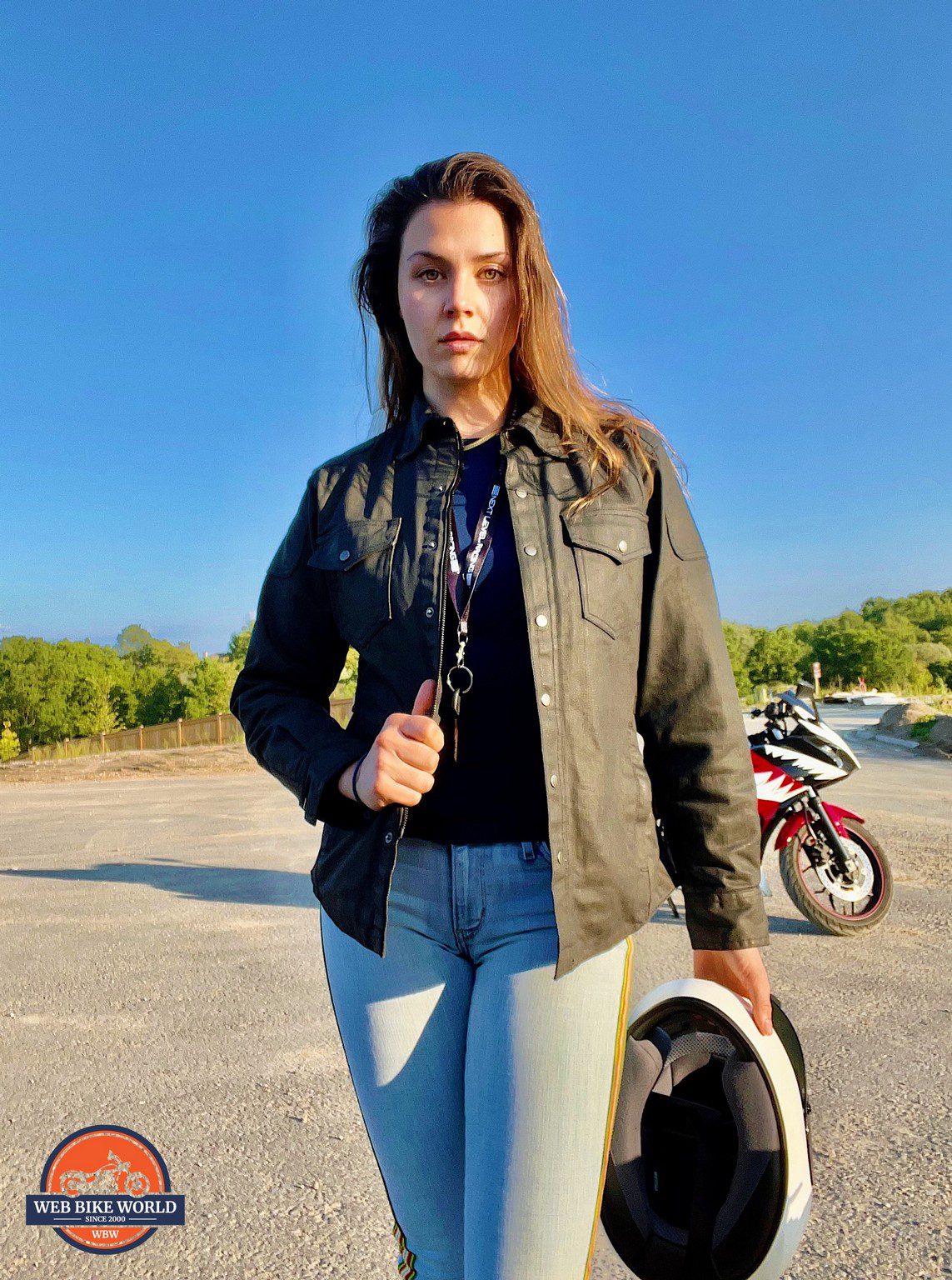 Adjustability
This is a bit of a tricky category.
On one hand, the Scorpion EXO Womens' Covert Wax Riding jacket shows off a stiff, unyielding 12oz denim. Very little adjustability in pure material choice.
To compensate, though, Scorpion created other aids, including:
2 waist-cinchers with three levels of snap buttons
A pair of hip gussetts that expand once unzipped
Pockets for armor, to be purchased separately (this means trying the jacket off the hanger gives better likelihood of prime fitment!)
While I like Scorpion's thought process behind all the above elements, I can help but feel that further cinching could have brought about a more versatile silhouette – perhaps some additional snap buttons on either side of the waist, or maybe even a whole pull-and-secure element for the inside of the Shirt.
Bottom line, Scorpion was particular about what would contribute to their Wax Shirt's minimalistic aesthetic, and I respect their choices of adjustability; they aren't anything special, but well-planned, regardless.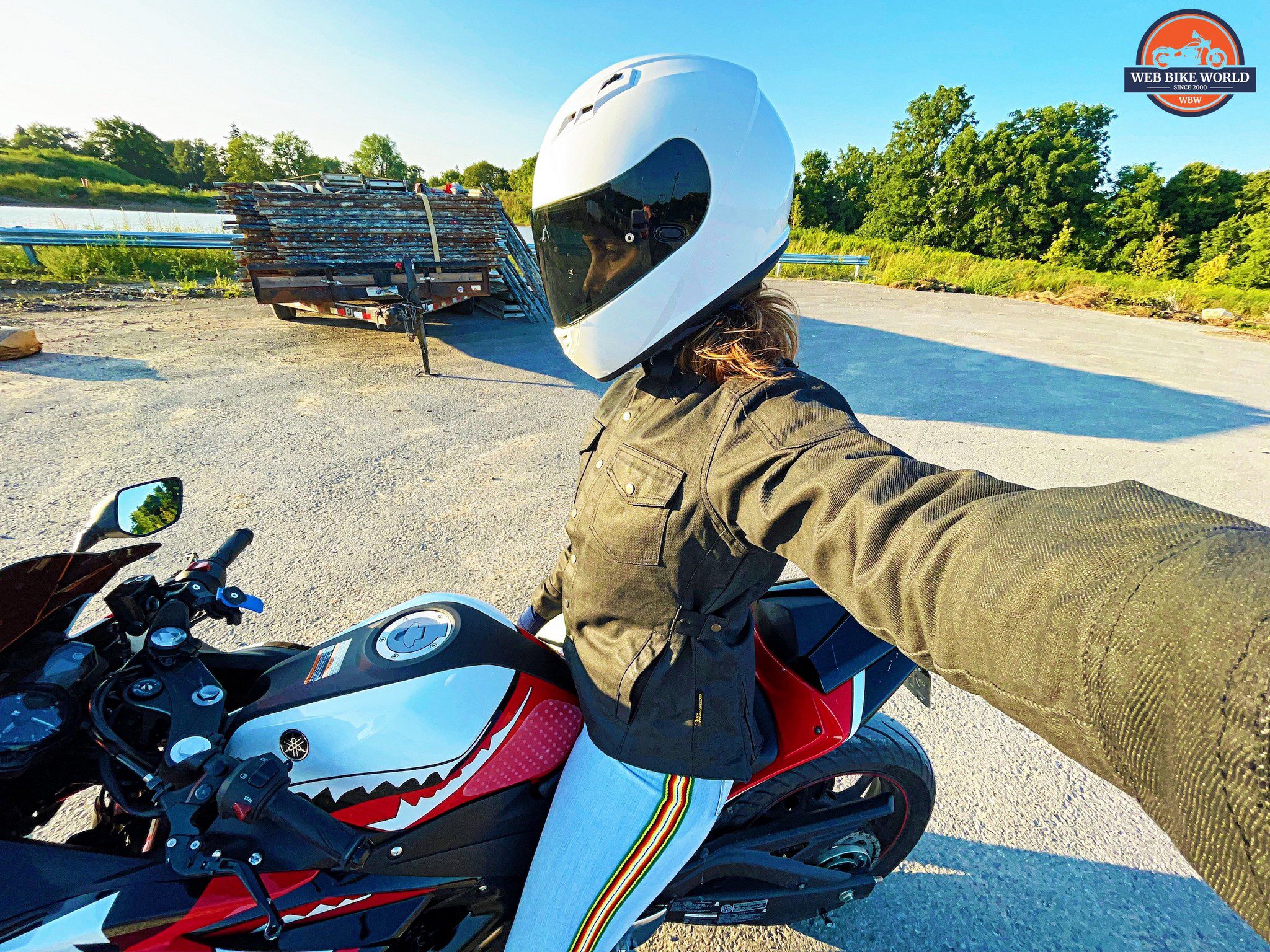 Scorpion Wax Riding Shirt: Functionality
First, let's look at what Scorpion EXO says regarding their goals for functionality with the Covert Wax Riding Shirt:
When you don't want to wear a heavy jacket, but still need more than just a t-shirt; that's where the ScorpionEXO Covert Wax Riding Shirt comes in.
True.
The Wax Riding Shirt felt like a lighter version of a jacket, though it was still much heavier than a t-shirt.
We infused 12oz denim with a unique mixture of micro and technical waxes to make a riding shirt that looks and feels like a classic work shirt, but protects against wind, water, and abrasion.
I'm not convinced this is what a "classic work shirt" feels like, but looks are bang on. This unit is certainly not a wind-breaker – protection against any wind will only work if you fully fill out your Wax Riding Shirt.  I am more slight, so there was room in the boxy fitment for are to barrage through an opening at the collar. Others might not find this to be an issue.
Protection against rain is temporary and slight to moderate, as the rain eventually seeps through. You're on a time limit here.
Protection against abrasion is great… I say this as someone that was fortunate enough to keep from tumbling to the topography for the duration of the testing period, but who also trusts that when Scorpion says "12oz denim," they took from the fineringredients available.
ScorpionEXO has combined the best of old and new technologies to deliver style, comfort, and safety.
Comfort is a yes, style is a tad bulky.. but , again, that's my preference.
Safety is more debatable when the rest of the safety protection (shoulder pads, back pad) does not make it into the final purchase price.
This slideshow requires JavaScript.
Ventilation
First off, I understand the comments about how waxed clothing is less breathable. The majority of my rides happened in temperate weather, with the exception of a thunderstorm that was almost over as soon as it started. In all that time (four months' worth), I was riding temps ranging from 45° to 95° Fahrenheit, with my body running cold on the lower end and feeling breezy and beautiful when the daily degrees climbed a bit last 8 or 90.
The only thing I can say to this is that your body type will affect how hot you feel in this jacket.  I tend to feel chilly all the time, so I enjoyed my time with this jacket… at least, as long as I was moving.
Intersections were tricky business, but then again, the breathability was certainly no worse than the leather REV'IT! Coral Ladies Jacket Review I did last year – in fact, the Scorpion Wax Shirt beat the Coral flat-out, thanks to the Shirt's "billowy "construction.
How, you ask?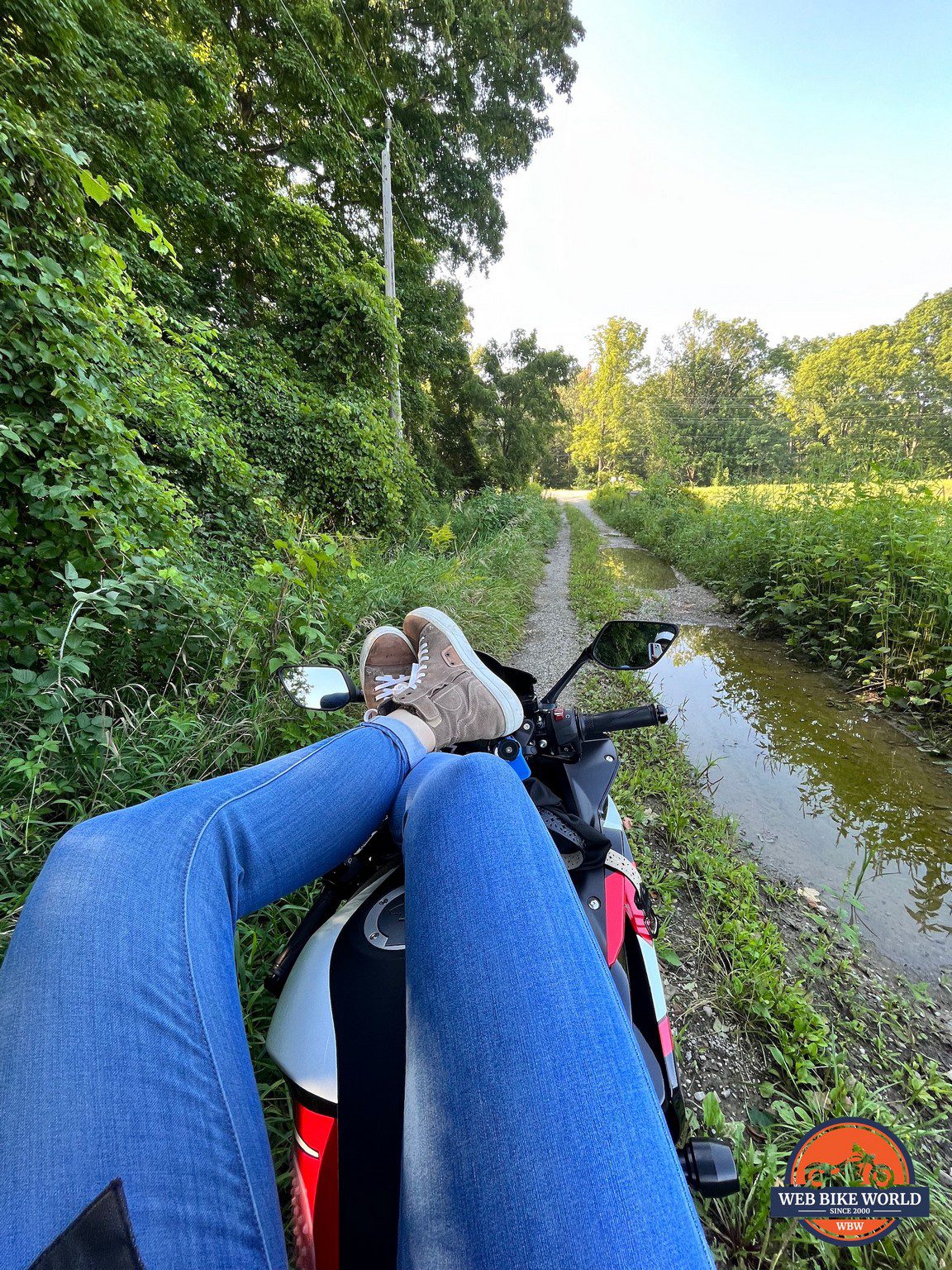 I run 40" hips, and it was a windy day, with tornado warnings on the forecast; my front main zipper was opened a bit to feel the breeze, and I leaned into increasingly strong gusts as I made the rolling lope back home from my first ride with the Covert Wax Riding Shirt.
As my R3 adjusted to peevish air currents, the Shirt – waist uncinched that day – smacked out into a veritable sail; collar snaps, which has been undone, flapped and gave, creating a yawning opening around my neck that grabbed the air like crazy. Everything funneled into the jacket, and the denim's tension at my folded hips shut off the escape route out the back of the shirt.
I rode that gale all the way home, buffeted by every puff, feeling as aerodynamic as a Kia Cube; despite the spiking humidity and soaring barometric readings, I'll admit that I enjoyed feeling cool as a cucumber in spite of the heat wave that was stifling the locals.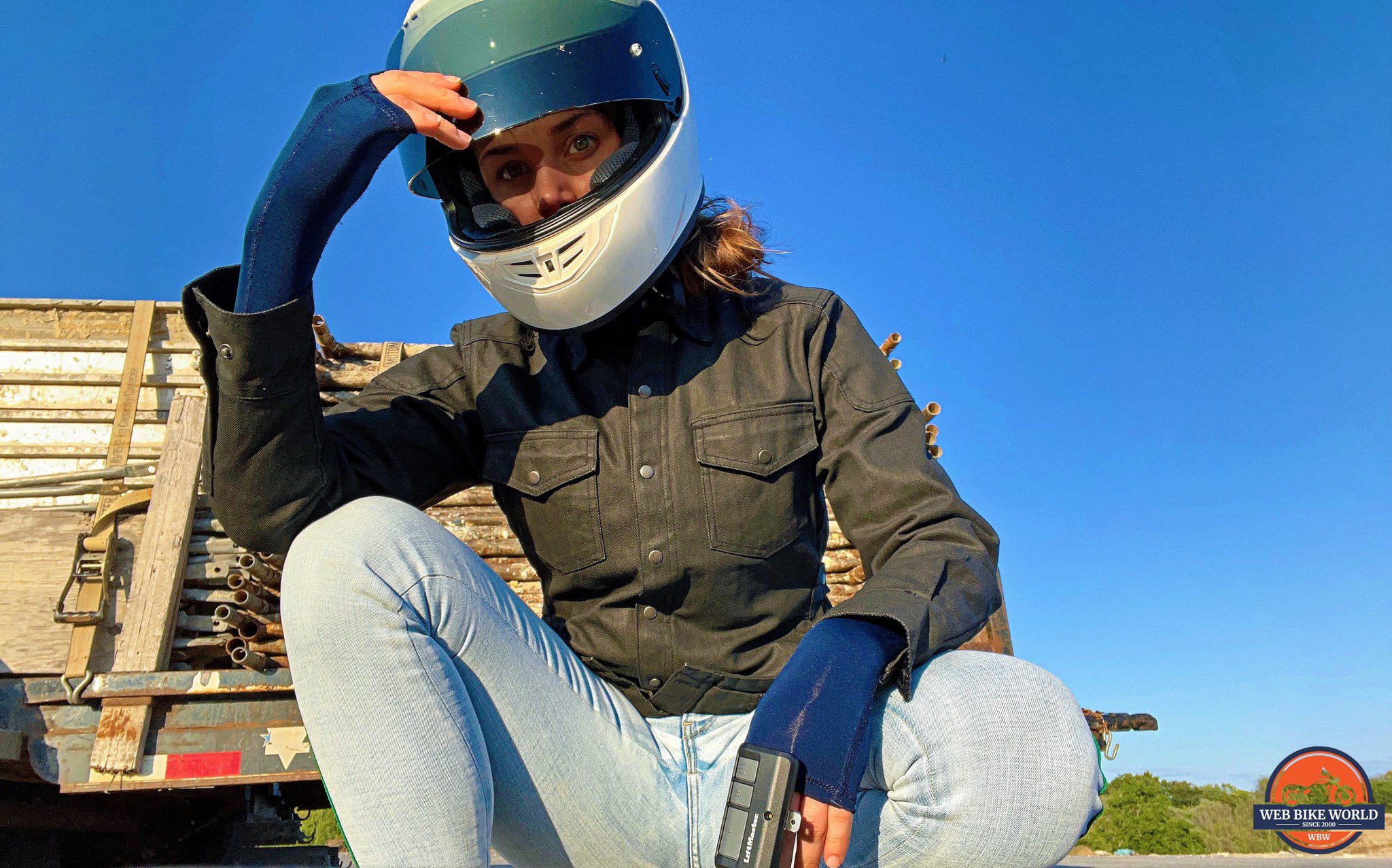 A less enjoyable experience happened about a month later; my second run of the open-collar-ventilation hack had the misfortune of catching the most disagreeable wasp this side of Canada. A quick apology, and I sent the thing on its way, albeit with slightly wobbly knees from the experience of trying to pull over responsibly with an infuriated, buzzing bit of cargo down my back.
Bottom line, this Wax Riding Shirt was not designed to be particularly breathable… but that can work in your favor, provided you take responsibility for the risks. To be clear, I went into this review triple-checking my fitment with Scorpion's charts; I have wide shoulders, and if I had decided to go down a size, my "T" zone (left shoulder to right shoulder) would have had no room to move, let alone to pass the "crouch and lean" test (see above), or to install further armor. (see below).
Protection
By now, I've made clear that this Scorpion Covert Wax Riding Shirt makes room for shoulder/back protection, but does not include any pads in the pricepoint; as such, I decided to test out fitment with my own PPE.
I pulled the shoulder/back pads – D30, Non-Newtonian good stuff – out of my all-time fave all-rounder, the KLIM Womens Altitude jacket. Upon removing the pads, I realized the back protector wouldn't fit in the Scorpion Wax Shirt – the Shirt needed a smaller protector, something to keep in mind – so I chucked in the shoulders and got a good after/before view:
This slideshow requires JavaScript.
Just to be clear, the Scorpion EXO Womens' Covert Wax Riding Shirt has NOT been certified according to any standards that I can see on their website; the armor designed to fit the Shirt at an additional cost, however, comes rated (and priced) as follows:
SAFE TECH LEVEL 1 SHOULDER + ELBOW (Prt# 436-002Y)

Safe Tech Viscoflex armor
Surpasses EN1621-1:2012 CE level 1 protection
$19.95 USD

SAFE TECH LEVEL 2 SHOULDER + ELBOW (Prt# 434-002Y)

Safe Tech Viscoflex armor
Surpasses EN1621-1:2012 CE level 2 protection
$24.95 USD

SAS-TEC SC-1/KA FLEX LEVEL 1 SHOULDER + ELBOW (Prt# 9117-03)

Level 1 rated visco-elastic "Flex" armor
Surpasses EN1621-1:2012 CE level 1 protection
$29.95 USD

BACK PROTECTOR SC-14 SAS-TEC LEVEL 2 (Prt# 9114-03 SC 1/14)

SC-1/14 Level 2 Back Protector
CE certified EN 1621-2, surpasses the required CE values by 50%
$44.95 USD
To this effect, then, fitment of the Scorpion Covert Wax Riding Shirt will change depending on how much armor you stuff into the thing. Before, I found myself with lots of room in the jacket.  Shoulder armor resulted in a tighter fit, so I can only imagine what the installation of back and elbow armor would do in terms of "your perfect size." I am a typical size Small, and the jacket would have been much more close to my skin if I had decided to purchase elbow/back pads.
An additional note: The Scorpion EXO Covert Wax Riding Shirt is $139.95 USD without armor; this means that if I choose, say, SAFE TECH's LEVEL 2 SHOULDER + ELBOW armor with the recommended SAS-TEC LEVEL 2 Back Protector, I'd find myself with an ensemble costing a total MSRP of $209.85 USD.
A $210 USD wax shirt with top-tier protection adds a whole extra title in the value sector for me – I truly wish that the armor was mandatory, perhaps with an option to upgrade what came with the Shirt. I would certainly be happy to pay the price for it.
Care Instructions
Wax-treated denim has been around for a hot minute. Back in the 17th century, Mariners used to grease their sails with a fish oils, linseed oil and wax, to encourage durability and efficiency of performance (Cirebags). Unfortunately, when used for tallship sails, oilskins and waxed fabrics also slowed boats down due to the sheer weight of the canvas – but that didn't stop companies from continuing the tradition into our present-day industries.
Today, waxed clothing is something of a living marvel; while not many carry the concept in their apparel lines, those that do understand use and maintenance, providing clothing and wax for anything from outdoor recreational entertainment, to hunting, to driving, riding, and beyond.
Waxing up your top (or bottom) of choice results in increased heat retention, which is why so many of our ancestors made sure to regularly "overwrite" (re-wax) their clothing; unfortunately, washing machines are no good for preserving the coating you bought the Shirt with, so if you want to support longevity of the wax treatment, better to handwash than try washing on light duty, like the tag recommends.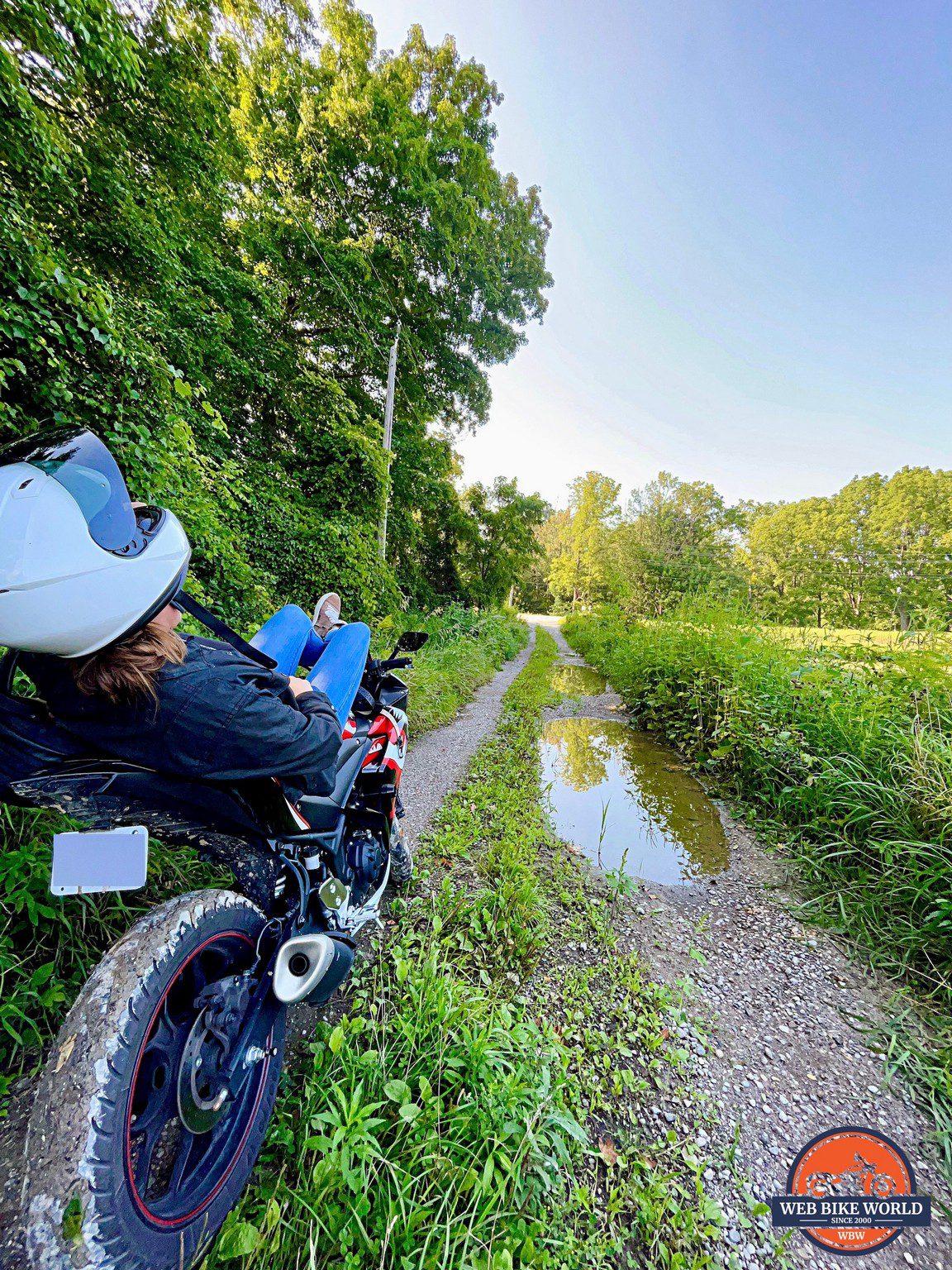 IMPORTANT: Scorpion recommends re-waxing once or twice a year with Barbour wax. Here is the re-waxing recipe they sent us:
Step 1: Clean your Scorpion EXO Covert Wax Riding Shirt…
Clean the [shirt] using cold water and a sponge to wipe down the outside of the [shirt].
Avoid using hot water, or any kind of soap and NEVER put the [shirt]  in the washing machine, as this will remove the wax coating permanently and the [shirt]  cannot be re-waxed.
Step 2: Soften the wax…
Take a tin of Barbour Wax Thornproof Dressing.
Remove the lid, and stand the tin of dressing in a container of water hot enough to soften the wax.
It should take approximately 20 minutes to melt the wax into a liquid consistency.
Step 3: Wax the Shirt…
Using an old cloth, rag, or sponge, work the melted wax well into the [shirt], paying particular attention to seams, creases and dry patches.
Wipe off any excess wax.
You should keep the wax tin in the hot water while working in order to keep the wax softened.
If the wax begins to harden top the container with more hot water.
Ensure you keep the wax away from the satin at the collar and sleeves, the inside of the [shirt] and inside of the pockets.
Step 4: Dry the Shirt…
Once you've re-waxed the [shirt], hang it up.
Allow to dry overnight in a warm place away from other garments.
Be aware the [shirt] may lose excess wax for a short while so take care not to get your newly waxed [shirt] near leather or upholstery.
Step 5: Re-wax the Shirt once a year…
We recommend you re-wax your [shirt] once a year (depending on how often you wear it) so that it will last for many adventures to come.
Barbour wax: Re-waxing (overwriting) instructions for your Scorpion Covert Wax Riding Shirt
Barbour wax: Video Tutorial for overwriting your Scorpion Covert Wax Riding Shirt
"Re-waxing will depend on the how the Shirt feels between washes," contributes Georgina from Scorpion's team.
"The waxed coating can last anywhere from 4 washes to 10 washes."
Since wax-treated stuffs become less effective after several washes, we recommend you budget your treatment and maintenance carefully.  Use a gentle detergent, hang to dry, and whatever you do, don't let the Shirt get in with the towels. The wax component will melt right off.
You'll also have to buy new towels.
For further details, please visit Scorpion's Care Instructions page; there, Scorpion's support staff has an insta-chat bubble where you can ask questions in maintenance, warranty, care, and more.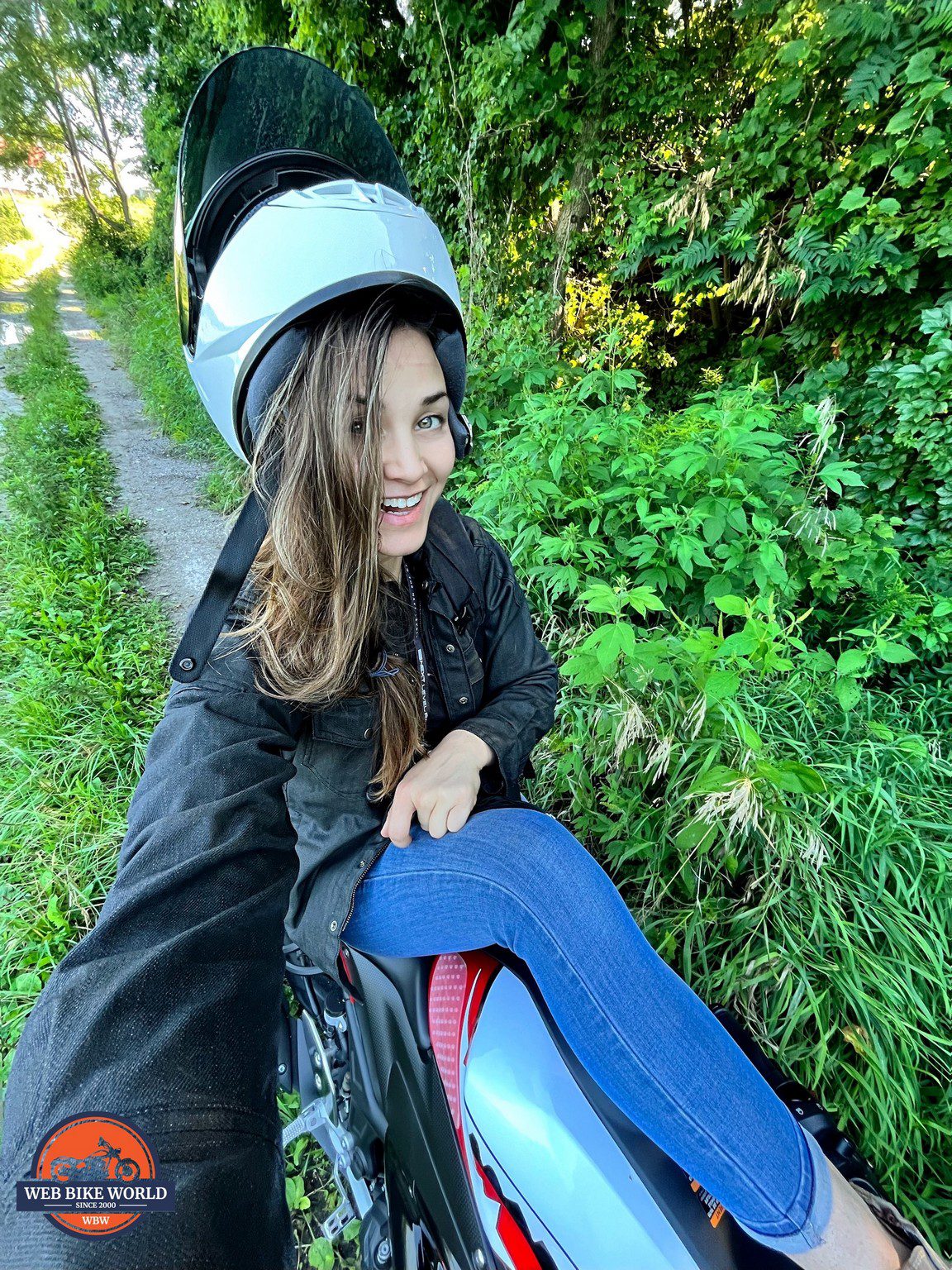 Warranty
The Scorpion EXO Covert Wax Riding Shirt is a member of Scorpion's EXOWear™ line; as such, the Shirt comes with a ​​1 Year Warranty, same as their Covert jeans.
Heads up, the warranty is "limited to the repair and/or replacement of parts and the necessary labor and services required to repair the item." That means normal wear 'n' tear is not covered by this warranty, so it pays to re-wax your Shirt as recommended by Scorpion (see "Care Instructions" section).
Should you need to file a claim for a warranty, expect Scorpion to give you a Return Authorization Number. Here's where you can make requests for stuff like that:
Scorpion EXO
Telephone: 888-672-6774
Email: help@scorpionusa.com
Address: 12145 Mora Drive, Unit 13 Santa Fe Springs CA 90670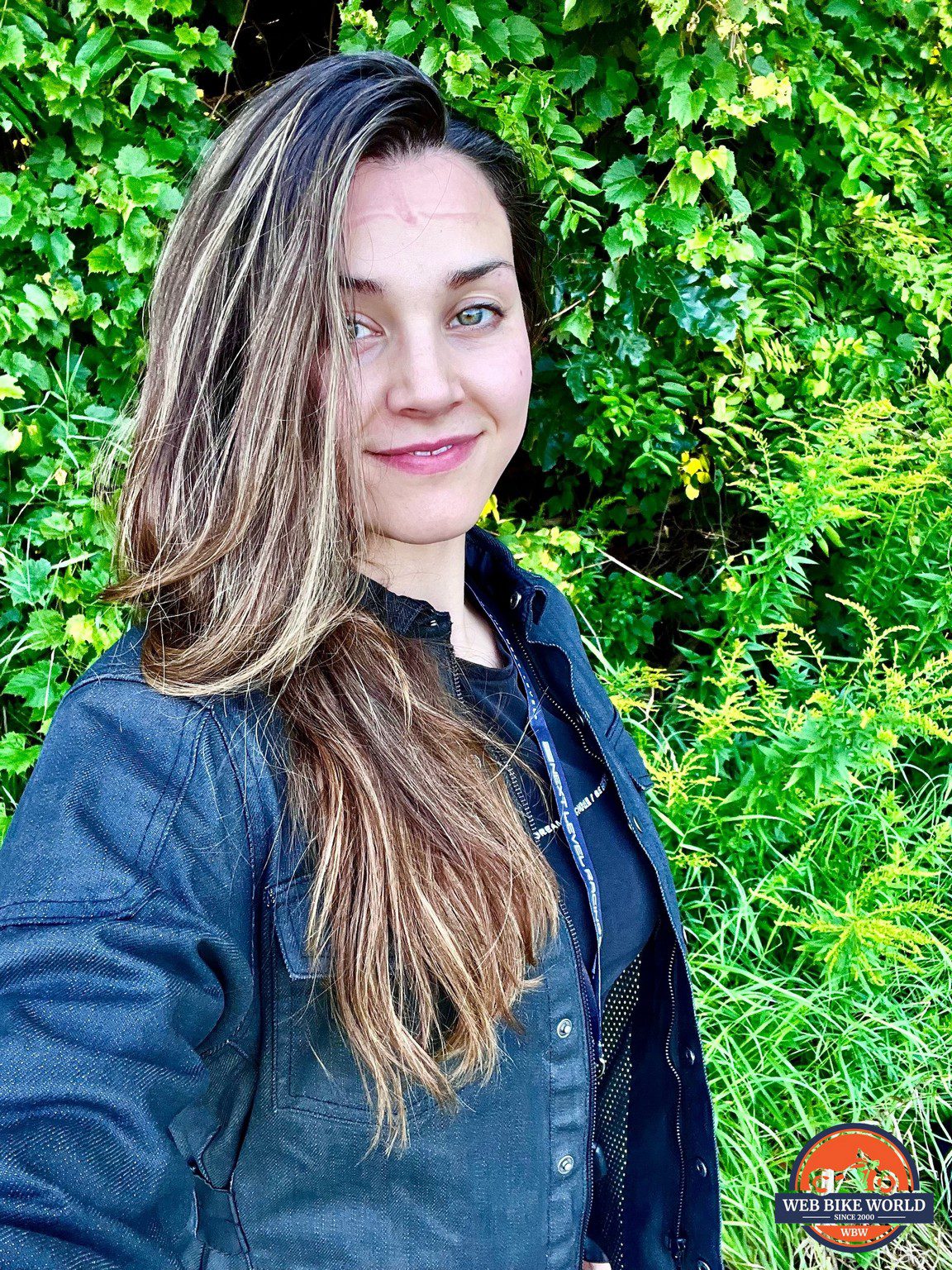 Conclusion
The only conclusion I can come to after all this is that time with any well-made product will have you falling in love with the item's better parts; I had informed our Head of Operations that I would likely not be keeping this gear, but now that I have spent a good 4.5 months with the thing, I'm second-guessing my decision.
The Scorpion Wax Rdiing Shirt is like that old sweatshirt that is aesthetically retired but at the very front of your grab 'n' go closet section; it may not look flashy, but the shirt does what it needs to, feels great in situ, and doesn't mind "frequent flyer miles."
The only big con, in my books, is that I like to care for my clothing properly. If you are down for the care required to maintain a potential heritage piece, the Covert Wax Riding Shirt will definitely take up more of your time than a quick toss in the washing machine every once and a while. If you're up for that level of upkeep, then go grab yourself one; otherwise, know that the Shirt's capabilities will deteriorate faster than advertised.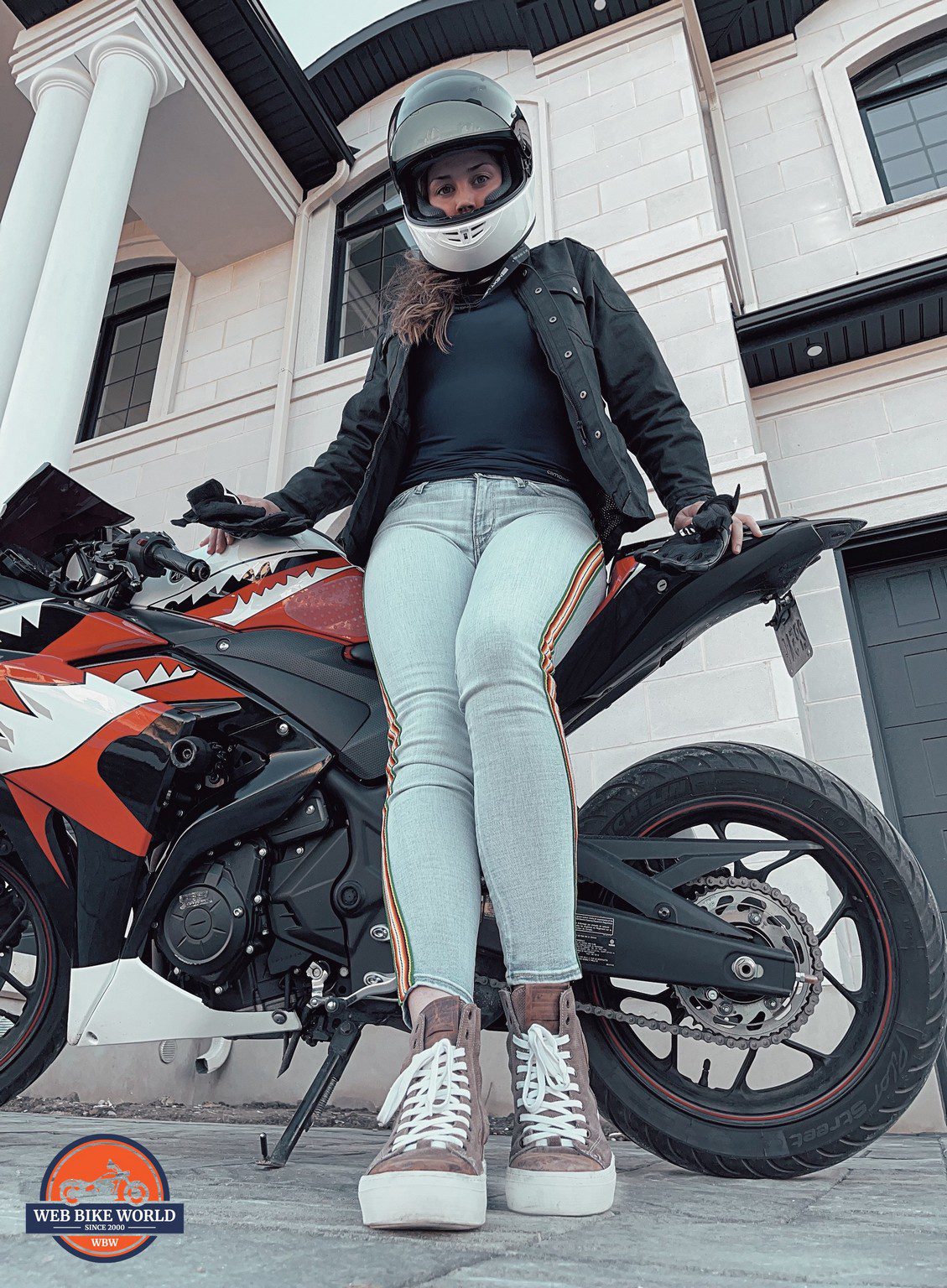 Recall, body types similar to mine will have fewer problems with ventilation in the Scorpion Wax Riding Shirt, but more problems with water resistance – and the more room in the shoulders, the better chance your armor will fit.
The end of every review feels bittersweet, but it's time to publish this piece and move on to the next; looking forward to hearing how many of you guys try this Wax Riding Shirt out, as I'm an absolute nerd about comparing notes.
Enjoy the rest of the season, let us know what you think of this bit of gear, and always – stay safe on the twisties.
Pros
12oz. denim shell and 165 GSM DuPont™ Kevlar® lining are both  fantastically flexible, yet tough
Tons of room in the waist for more curvaceous gals
Top-tier componentry (zippers, seam quality, etc.)
You really can't do better than the $139.95 USD price tag
Cons
Heavy
Middling breathability ratings, less suited to heatwaves
Not a "second glove" fitment for my body type
 Not an all-rounder; Paraffin Wax-treated coatings are NOT WATERPROOF!
Specs
Manufacturer: Scorpion EXO USA
Price: $139.95 USD
Made In: Pakistan
Colors: Black
Sizes: SM – 2XL
Review Period: May 2 – August 20, 2023
Important Links / Where to Buy