You can make your ride even more interesting if you stop off at Russell Crowe's Coaching Station Inn. It's located about 20km south of Grafton on the Armidale Rd and is owned by the Hollywood actor and bike fanatic, Russell Crowe. There's a tavern and motel attached, but the interesting part is the Museum of Interesting Things which contains a collection of movie, bike, sporting and historic memorabilia Crowe has collected or borrowed from locals.
Rooms start from $100 a double weekdays or $140 weekends plus $30 for an extra person, or there are rooms with up to eight bunk beds. The motel will accommodate 78 people and there is a function room for 120 people for club events. On Sunday afternoons, bands entertain while you have a beer and enjoy a big and juicy Nymboida burger with chips and salad for $15.
Rooms are classy with a fridge, airconditioning, spa bath, TV, spectacular verandah views of the river and free wi-fi in the restaurant and bar.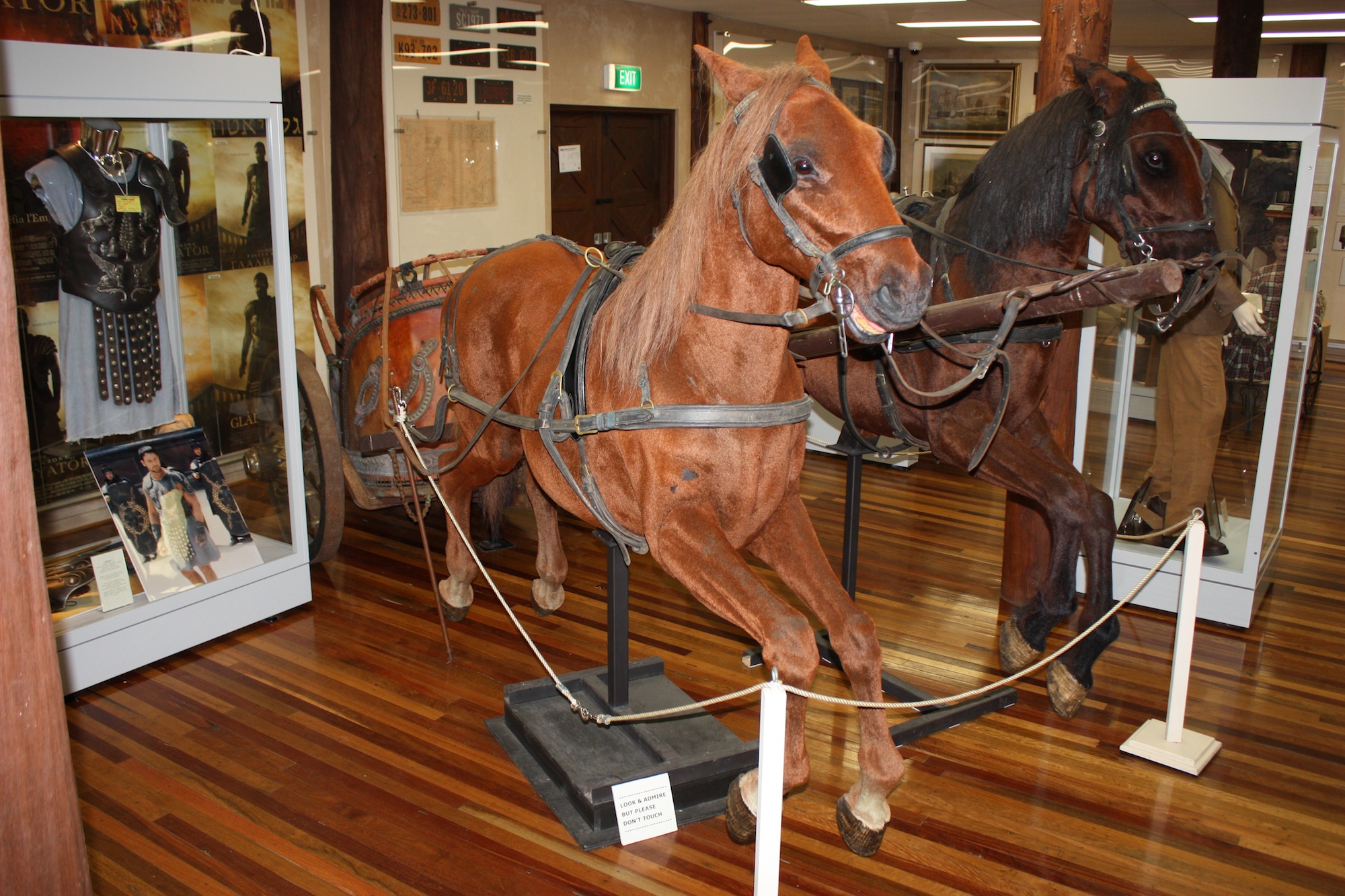 Drawbacks are no mobile reception (or is that a bonus!), gravel carpark and no undercover bike parking … yet. Don't be surprised if the big man himself doesn't show, says manager and bike rider Peter Valle. On some occasions Crowe even brings celebs with him such as the Orange County Chopper guys (Paul Snr, Paul Jr and Mikey) who delivered a custom "Rabbitohs" chopper (pictured at top) which is still on display in the museum.
The S&S-powered chopper is one of several bikes on display. Others include some owned by Crowe and some loaned by locals such as a 1917 Precision 500, 1933 BSA Blue Star, 1963 Norton 350 Navigator and 1973 Norton 750 Commando. Display bikes change from time to time and there is much more to see for your $5, or $3 for seniors. For the bike nut there is an Evel Knievel signed photo, Easy Rider poster and the "colours" worn by Dewey Hungerford in the iconic Aussie bike film, Stone. Hungerford played the character Septic and is now a local resident. "I've never met someone with so much attitude," says Peter. "He's 81, still rides a Wide Glide and he's a real character."
There are other movie posters, plus a wide range of costumes and memorabilia from some of Crowe's films such as Gladiator (pictured above), Master and Commander, 3:10 to Yuma, Romper Stomper and Robin Hood. Peter says he expects some additions soon from Crowe's recent active spate of films.
But wait, there's more. How about a signed Gibson Les Paul by Mr Les Paul himself, Don Bradman memorabilia, Johnny Cash gold records, a Jaguar XK 1200 race car, Mythbusters bullets, broken cameras and parts from the model, "Buster" as well as local historic farming, mining, logging and blacksmith tools! The world's largest horse-drawn passenger vehicle, the "Leviathan", is a prominent display. The 5.4m coach was drawn by 22 horses, stood 3.4m high and could carry 60 people. "Every corner has something different," says Peter. "People come in expecting rusty and dirty old farm equipment but they go 'wow'. It's $5 well spent."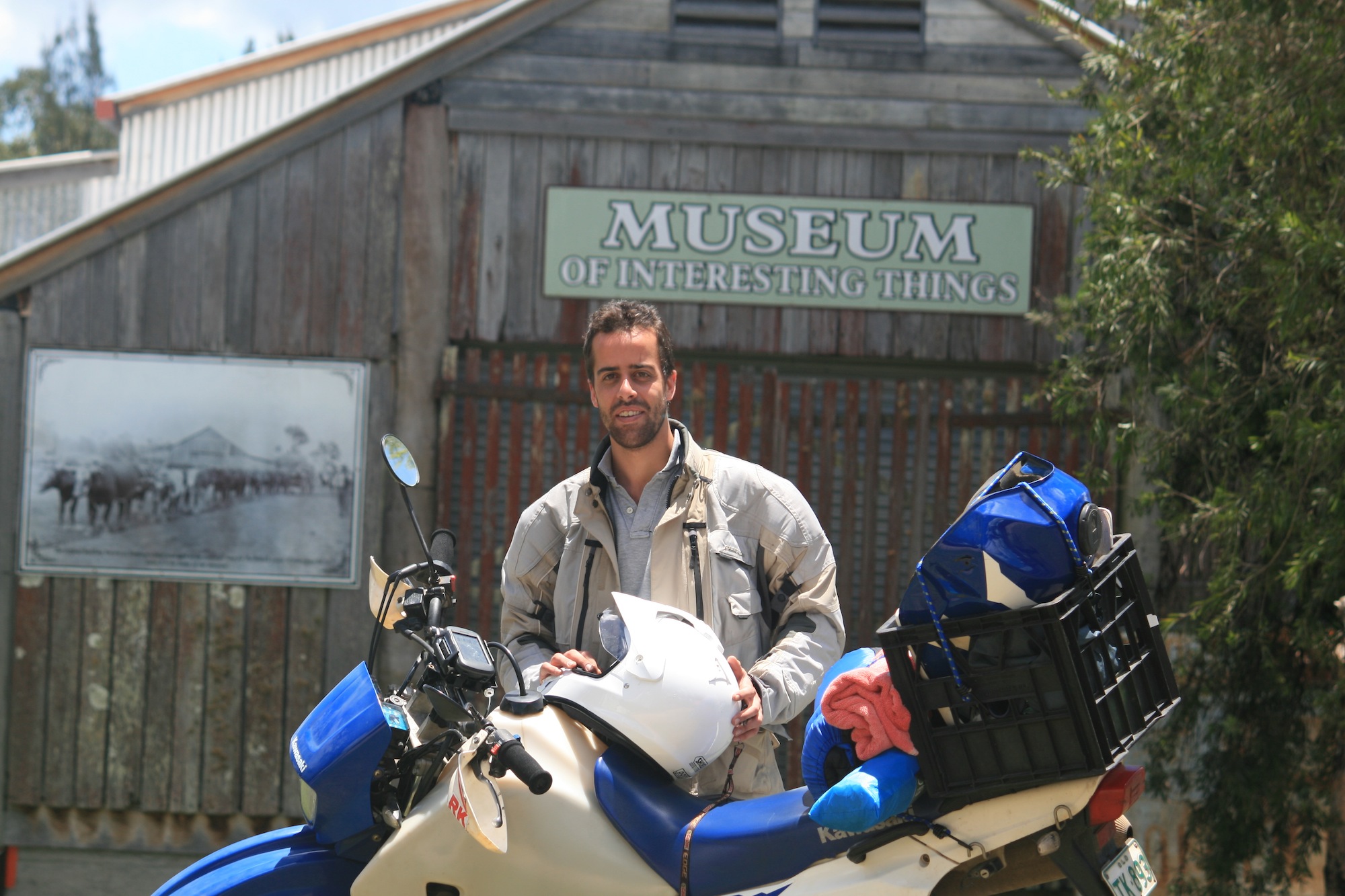 Unlike some tourist attractions that are closed by the time you arrive after a day's riding, Peter says they are flexible and can do after-hours tours if you ask nicely. Peter has owned Harleys all his life but swapped to a KTM 500 EXC to exploit the vast forest trails of the surrounding national parks. "We get all sorts of bikes here; road and off-road," he says. "Most ride through the forest roads. I'm surprised how many of these guys we are seeing now. They call in for lunch and a couple of hours or stay a few days and use this as a base for tours around here."
Peter can point out suitable circuits on maps ranging from challenging forestry trails to windy tar roads. When I was there last time I met Pedro Fernandes of Portugal (pictured right) who had picked up his Kawasaki KLR650 in Brisbane and was heading back to Sydney the long way. He was doing a mix of dirt and tar roads and there is a host of options through the area. Grab a copy of some Hema maps and check them out.