Ruroc ATLAS 4.0 Street Full Face Helmet Review Summary
Review Summary
Ruroc's ATLAS 4.0 Street is the entry-level line of helmets in their 3-tiered system. Priced as a mid-range helmet, the Street models share many of the same design elements as its premium counterparts while having a handful of features stripped from its offering. The ATLAS 4.0 Street does well to vent hot air but at the expense of a lot of road and wind noise. The large, unobstructed field of view is impaired by a fogged visor unless you add a $70 Pinlock insert at checkout.
Build Quality / Protection
Noise Management / Quietness
Features / Value for Money
Pros
DOT FMVSS 218 & ECE 22.06
Secure fit and feel with a comfortable moisture-wicking liner
6 intake vents with a dual rear exhaust for great hot air management
Beautiful unrestricted 215 Degree horizontal FOV
Seamless integration of Shockwave Bluetooth Audio System (purchased separately)
Quick-release visor, emergency pull tabs, easily washable liner are amongst a few features
Cons
General quality control concerns that made it past the final inspection
Only a clear face shield is included and fogs up easily without a Pinlock insert (not included)
Extremely noisy ride (worse than 4.0 Carbon) with lots of wind buffeting
Sizing runs small and exchange costs are the responsibility of the customer
Limited colorways and design options compared to the 4.0 Carbon
Ruroc ATLAS 4.0 Street Full Face Helmet Image Gallery
Review Summary
If you're looking for the main takeaways from this review, here is my summary of the ATLAS 4.0 Street review:
The ATLAS 4.0 Street retails for $350 USD for plain colors to $395 USD for graphics.
The helmet has a fiberglass shell and a multi-density EPS foam that weighs less than Ruroc's ATLAS 4.0 Carbon.
DOT FMVSS 218 & ECE 22.06 Certified
ATLAS 4.0 Street helmets are an intermediate oval head shape with 6 different sizes across 3 shells (XS-3XL). At the time of writing, it is available in 4 different colors/designs.
The ATLAS 4.0 Street ships with a clear visor only that is compatible with Pinlock inserts (not included)
Visor fogs up very easily without the use of Pinlocks.
6 intake vents on the front of the helmet and a rear dual exhaust effectively move hot air out of the helmet
The ATLAS 4.0 Street makes for a very loud ride with next to zero road and wind noise reduction
The helmet is equipped for use with the Shockwave Bluetooth audio system, but one of the auxiliary ports was broken on the helmet I received
Emergency pull tabs, a quick-release visor system, and an easily washable moisture-wicking liner are among a few features of the helmet.
A good helmet at the entry-level, but priced out of its performance capabilities as a mid-range helmet.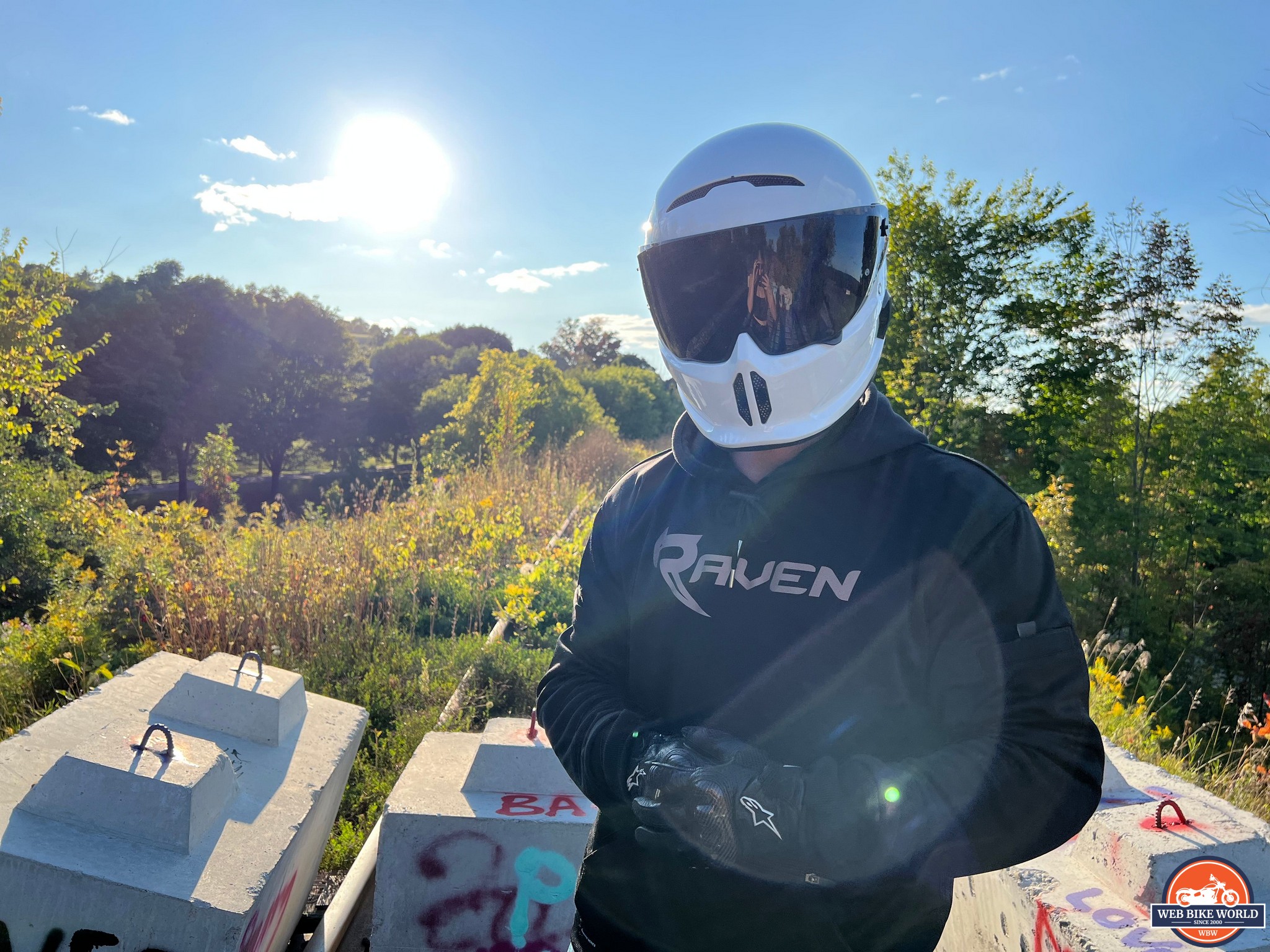 Ruroc's "Entry-Level" Helmet – ATLAS 4.0 Street
I don't need to introduce you to Ruroc, do I?
With over 2 million followers across Instagram and TikTok, I'm almost positive you've come across their page.
If not, I can guarantee that you've fallen victim to one of their digital marketing campaigns. I know I sure did. I came across one of Ruroc's ads on Instagram and immediately started inquiring about how I could get my hands on one of their helmets.
Sleek, great-looking helmets with badass designs and endless variety to choose from. What wasn't there to like?  It seemed like every social media influencer I knew was wearing one and I wanted to find out why. I reached out to Ruroc and they hooked me up with an ATLAS 4.0 Street and an ATLAS 4.0 Carbon.
For those who may not know, with the release of the ATLAS 4.0 helmets Ruroc introduced a tiered helmet list. With 3 tiers, Ruroc is able to target consumers looking for entry-level/mid-range helmets, high-end helmet users, as well as premium helmets.
What was different between the ATLAS 4.0 Street and Carbon that justified such a dramatic price difference? My goal was to find out and give it to you straight so that you can make an informed purchase.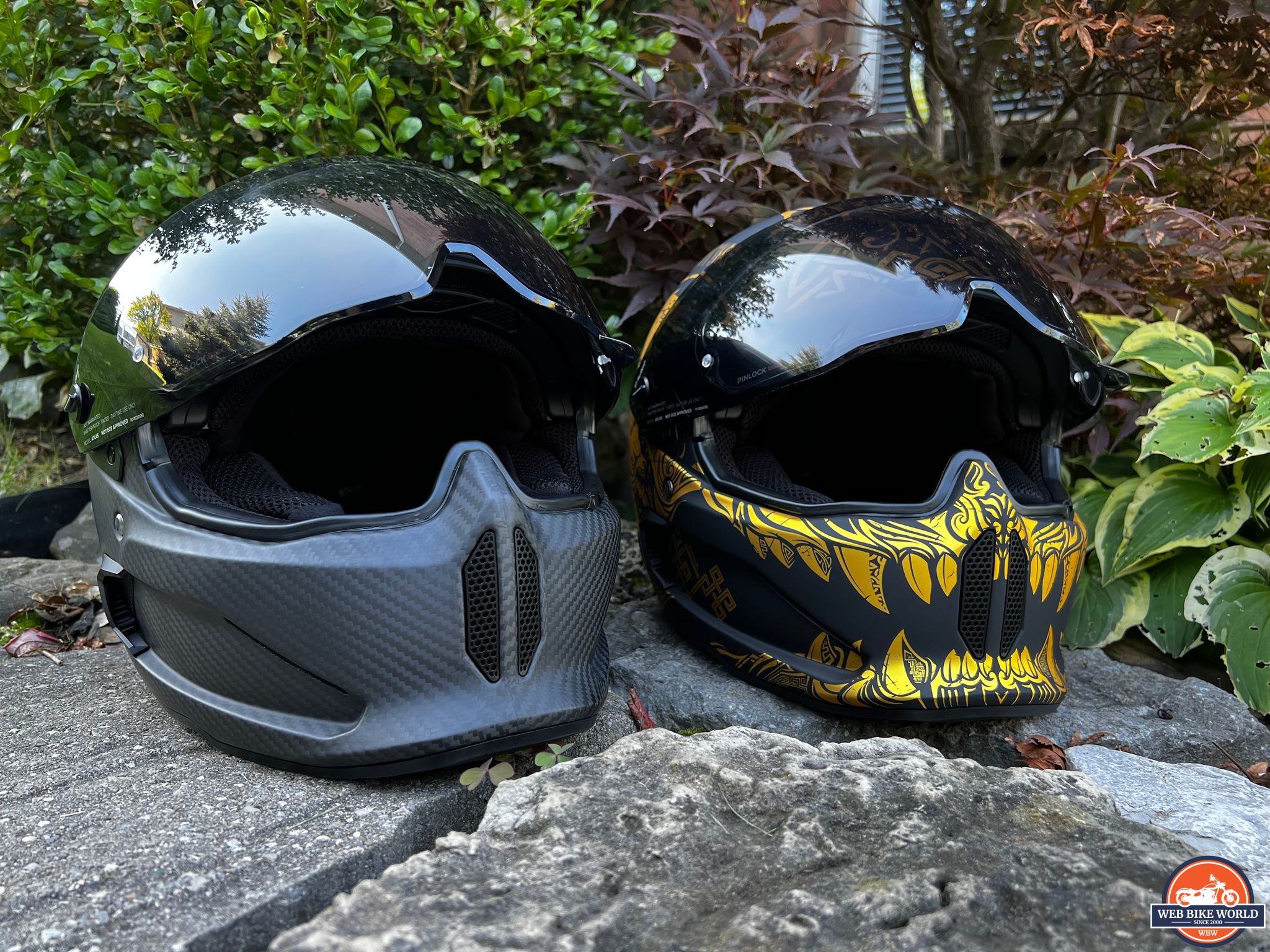 Understanding Ruroc's Helmet Tiers
Ruroc offers 3 tiers of helmet in their ATLAS 4 series:
While the ATLAS 4.0 Street is priced as a mid-range helmet by our standards, the Street offering is Ruroc's entry-level motorcycle helmet.
Following Street is their Carbon line of helmets, and finally Track.
With each tier progression, we see added features, as well as a healthy increase in price.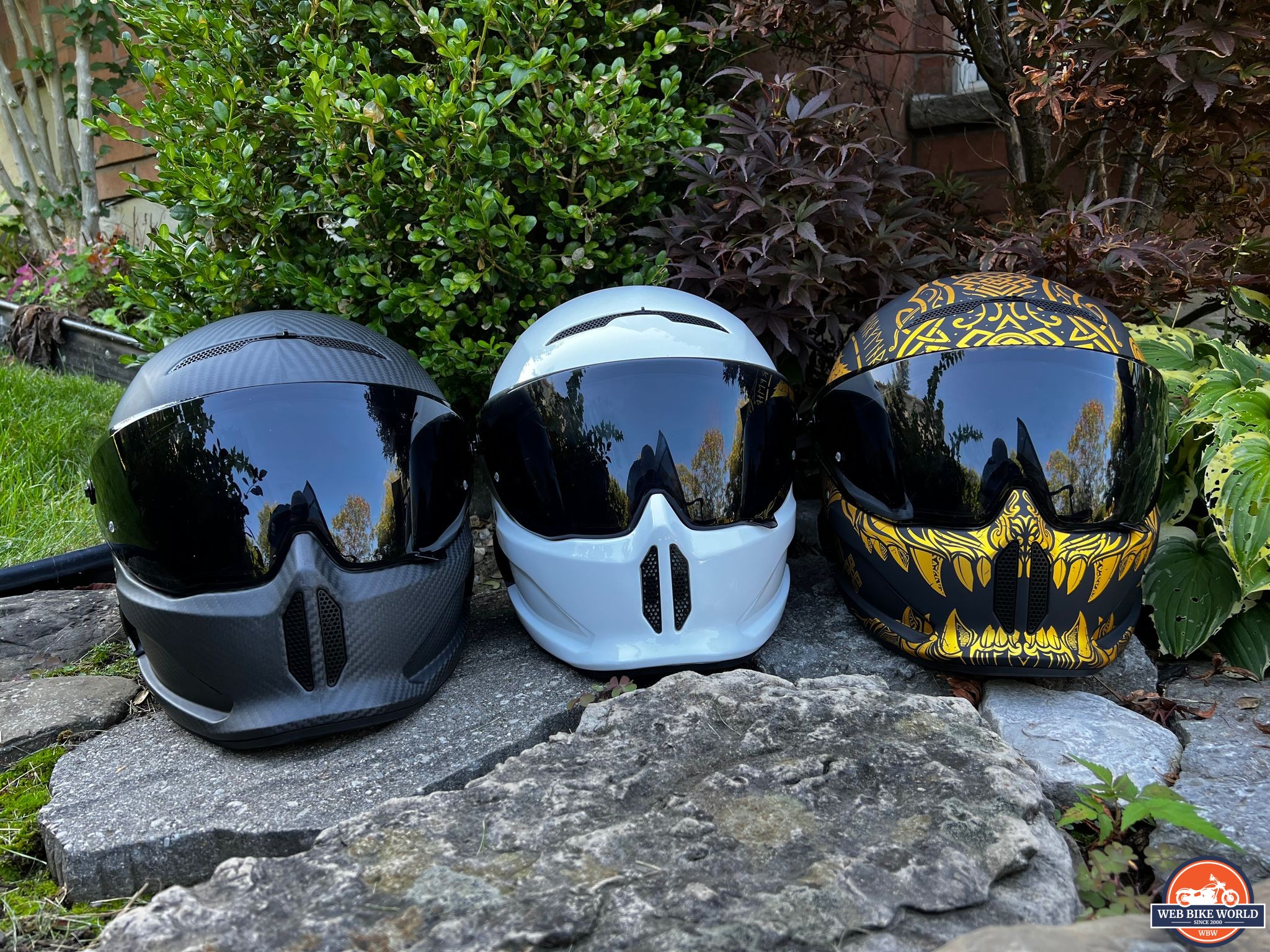 As I hinted at above, each one of Ruroc's helmet tiers comes with its own unique features. With the Street being their entry-level tier, expect for the least to be included. Later in the review, I will cover each exclusion in detail, but the most notable one is the helmet's shell composition.
What is the ATLAS 4.0 Street?
The ATLAS 4.0 Street is Ruroc's entry-level line of helmets. They are full-face helmets with a variety of colors/designs. Each helmet is equipped with Ruroc's quick detach face shield system and is compatible with all ATLAS 4.0 visors and pinlock inserts.
Like the other tiers, the ATLAS 4.0 Street line of helmets allows for seamless integration with Ruroc's Shockwave Bluetooth audio system.
Helmet Design
The Street and Carbon line of helmets have an identical shell shape, with the Carbon having more design options. Both sport a very rounded design that reminds me of a bobblehead. While the Track helmets are similar, they have subtle differences, such as a larger wing on the rear.
On the front of the ATLAS 4.0 Street helmet are two large vents centered on the chin bar. They are trapezoidal in shape and resemble a skull-like nose. New to the 4.0 models is a fully adjustable vent on the brow. Previous generations did not have the open or close feature.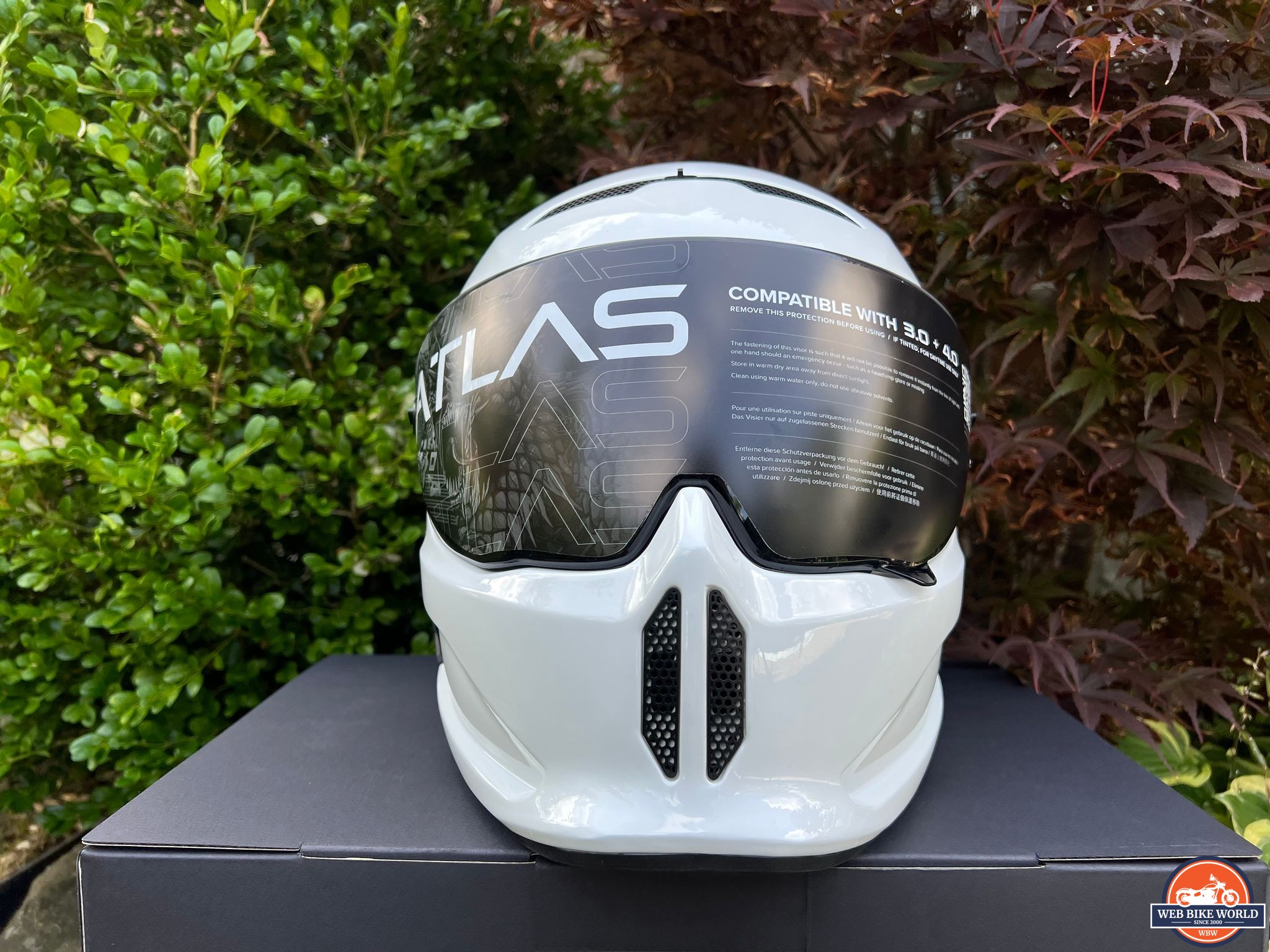 Large scoops on the side of the chin bar lead to intake vents located below the rider's ear. Unlike the Carbon line of helmets, this is the extent of the intake vents on the ATLAS 4.0 Street helmet. On the rear is a dual exhaust that is consistent across all 3 tiers.
At the time of writing, the ATLAS 4.0 Street is offered in the following colors:
Ghost (gloss white)
Core (matte black)
Ronin (ancient Samurai inspired with black and hold colorways)
Toxin (black, nitro pink, and green in a Joker meets Venom-inspired design)
Compared to the Carbon line of lids, the Street helmet designs are outnumbered 27 to 4.
Pictured throughout this review is the ATLAS 4.0 Street Ghost. Ghost is what Ruroc has appropriately named their gloss white shell. The helmet is brilliantly white and is free from any defects in the finish.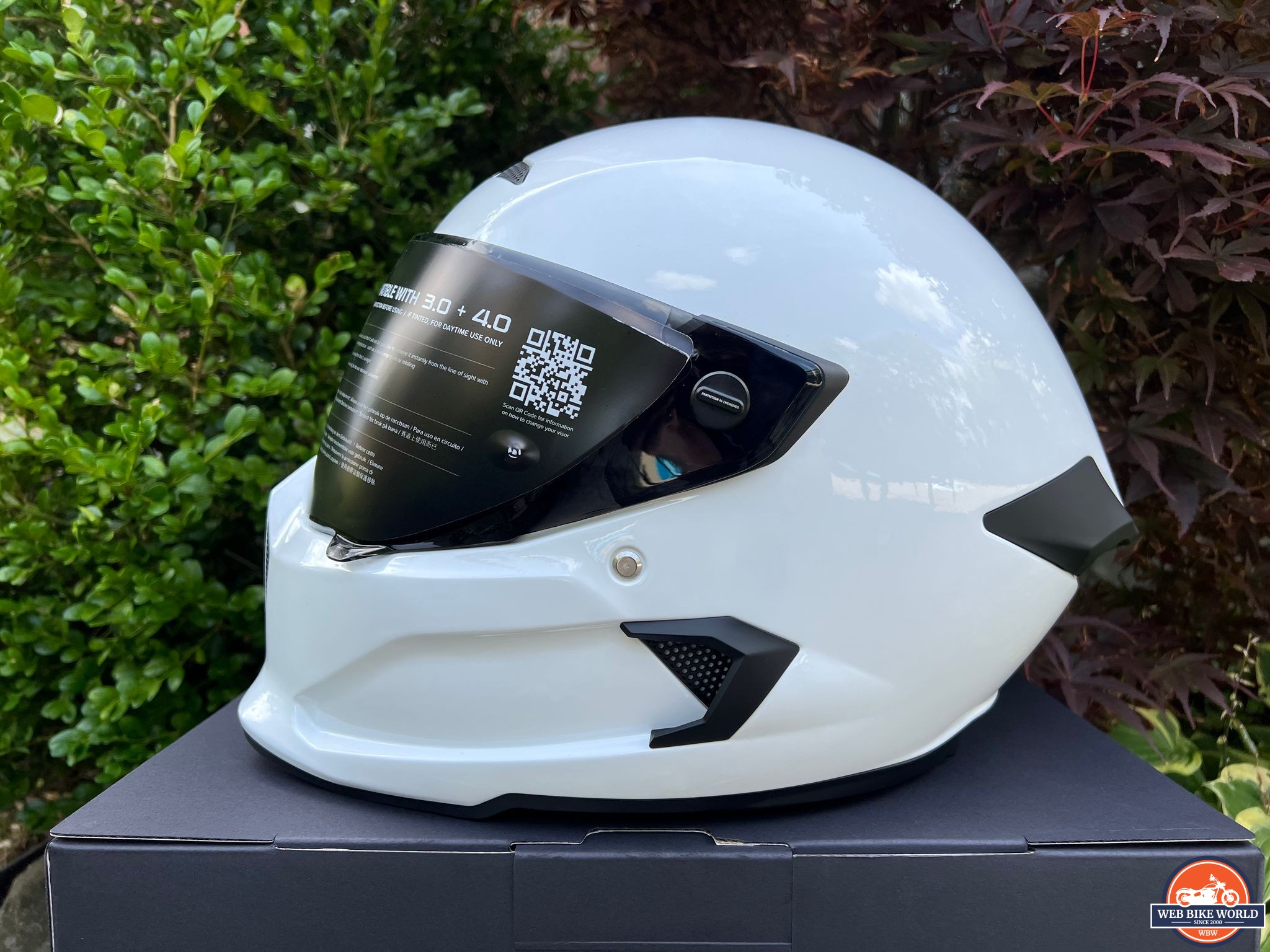 I ran a poll on my Instagram page asking my followers their preference between Ruroc's Ghost or Raw Carbon helmet based purely on looks. While the overwhelming majority chose the Raw Carbon, my personal preference is Ghost.
I found that the bright white helmet complimented my Spidi XPD Moto-1 shoes and added a nice contrast to my blacked-out Iron 883. Between my bike and all-black riding gear, the white Ghost helmet provided some much-needed visibility while riding.
What's more, white goes with everything whereas an intricate design, such as the Fenrir lid I reviewed, will only match specific gear.
Shell Composition
The shell on the ATLAS 4.0 Street line of helmets is made out of fiberglass. This is a notable difference between the Street and the other 2 tiers as both the Carbon and Track helmets have a carbon fiber shell.
In the debate of fiberglass vs. carbon fiber shells, carbon fiber typically comes out on top. While fiberglass helmets are strong, they are less rigid than carbon fiber and not as good at dispersing energy across the shell. To combat this, manufacturers typically incorporate more EPS into the design.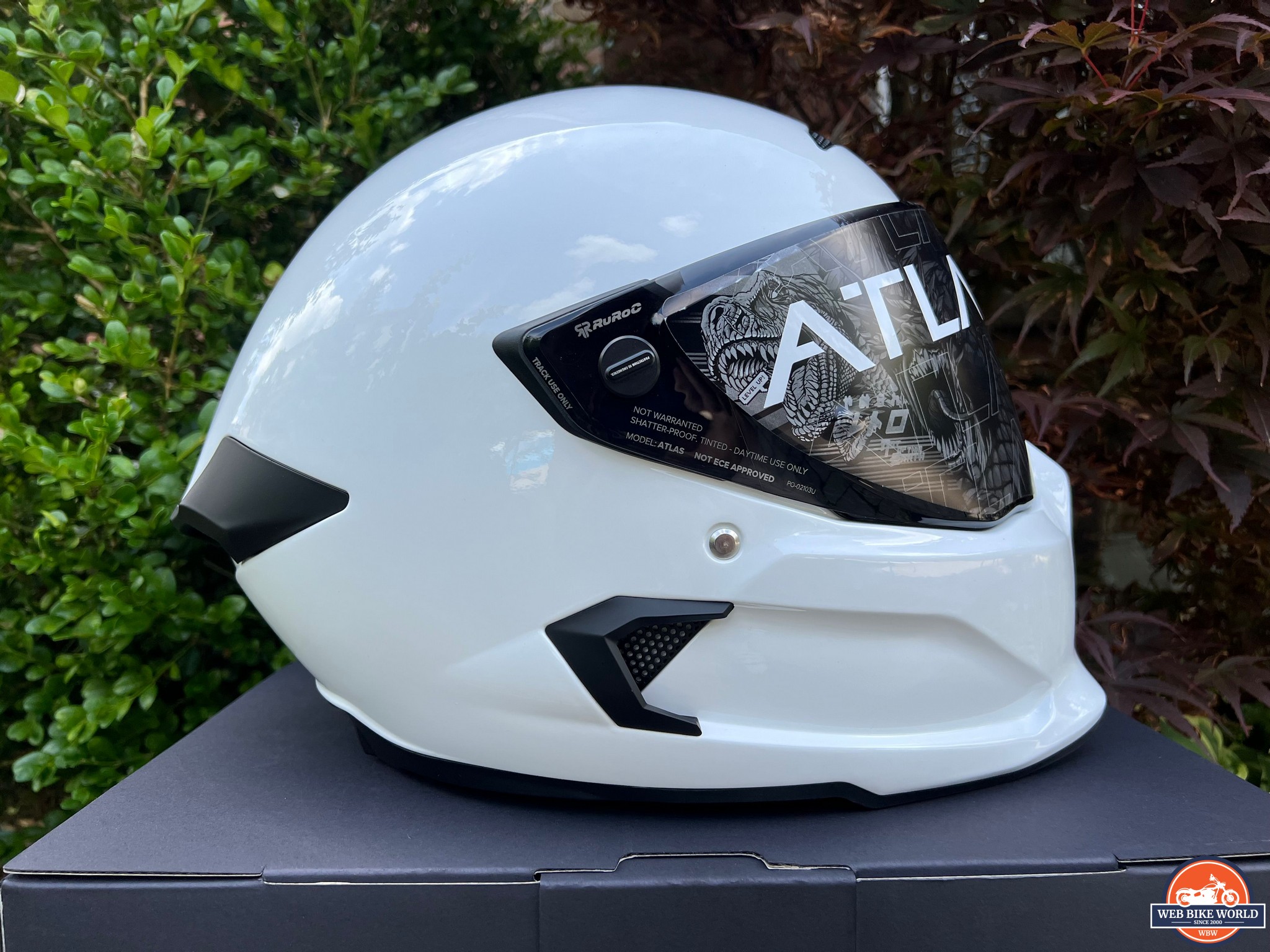 Fiberglass helmets are typically lighter than polycarbonate, but heavier than carbon fiber. In this case, the ATLAS 4.0 Street is +/- 50 grams lighter than the ATLAS 4.0 Carbon. I found this to be strange as the reverse is typically true.
The manufacturing process for fiberglass helmets is less intensive than carbon fiber, which leads to a lower price point. This is likely why we see Ruroc use a fiberglass shell for their entry-level lids.
You'll want to check out our list of the best carbon fiber helmets.
Protection & Certifications
The ATLAS 4.0 Street line of helmets are DOT FMVSS218 and ECE 22.06 certified. Meeting the new ECE safety standard is an impressive feat that puts Ruroc helmets among some of the safest in the world. At the time of its release, the ATLAS 4.0 was included in only a handful of lids that met this standard.
With the new ECE standard come stricter requirements and three additional test procedures. The new test mainly concerns additional impact tests, rotational crash tests, and testing of accessories as well.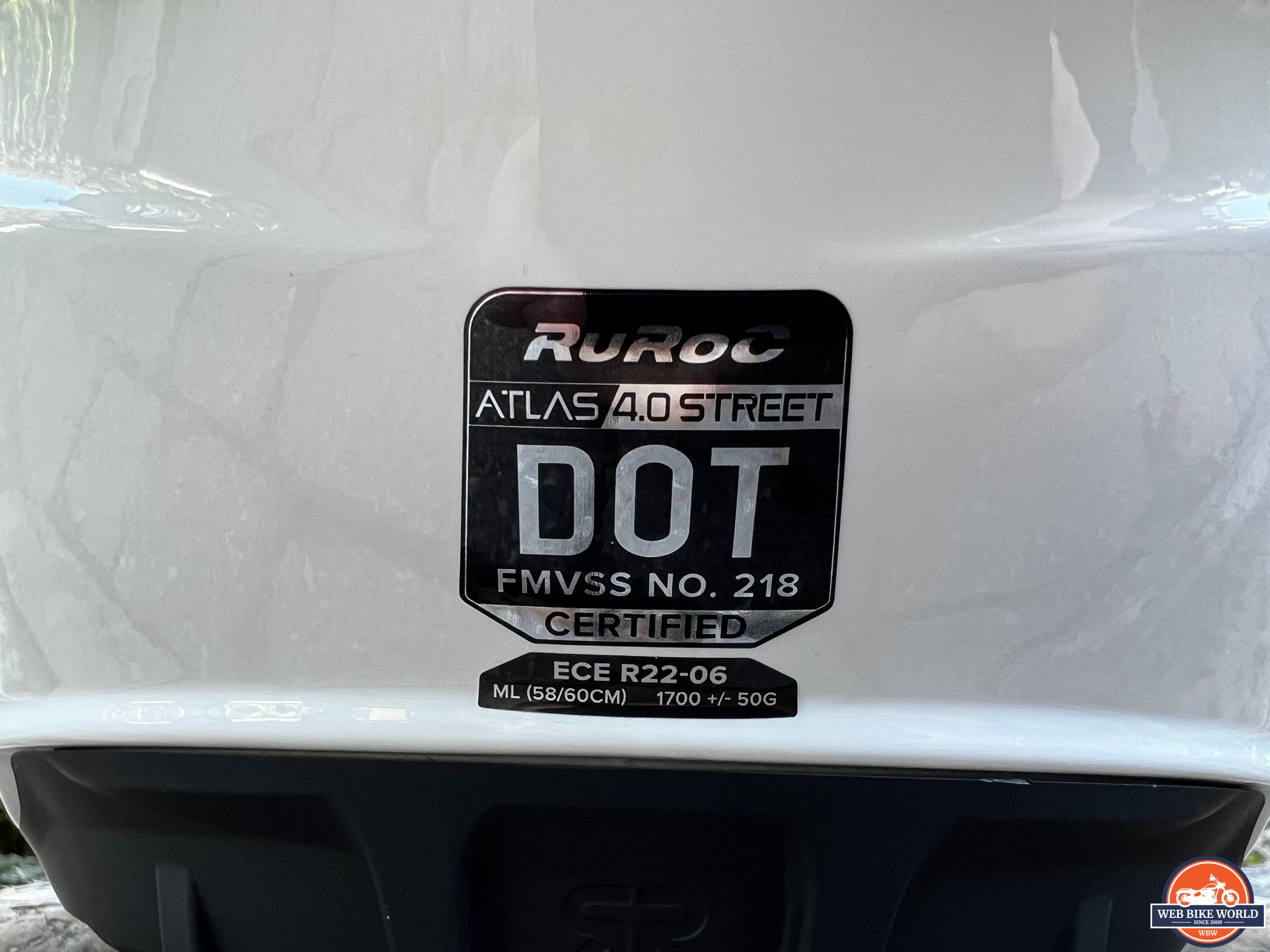 The most important improvements in the test are extra impact testing at different speed/angles, rotational testing as a whole, and accessories on the helmet. For example, in the past, only the closure of the visor was tested. With ECE 22.06, the strength of the visor itself will have to meet certain requirements.
An Interesting Side Note on ECE 22.06 Certifications & Visors
I noticed that the tinted visor I received with the helmet was not ECE-approved. I reached out to Ruroc for further comment and this was their response:
"ECE 22.06 has multiple testing criteria, listed below:
Field of vision of the visor
Luminous transmittance
Light diffusion
Recognition signal lights
Spectral transmittance
Refractive powers
Mist retardant visor (opt.)
Mechanical character
Optical quality and scratch res
High-speed particle test
The most aesthetically obvious is the minimum VLT (Visible Light Transmittance). Anything below the ECE certification threshold of 50% will be non-homologated, so has to be declared as 'not for road use' or 'for track use only'. The only exception being either a 'Light Tint', low-light or Photochromic (low-light and photochromic still have to be declared as 'For Daytime Use Only)."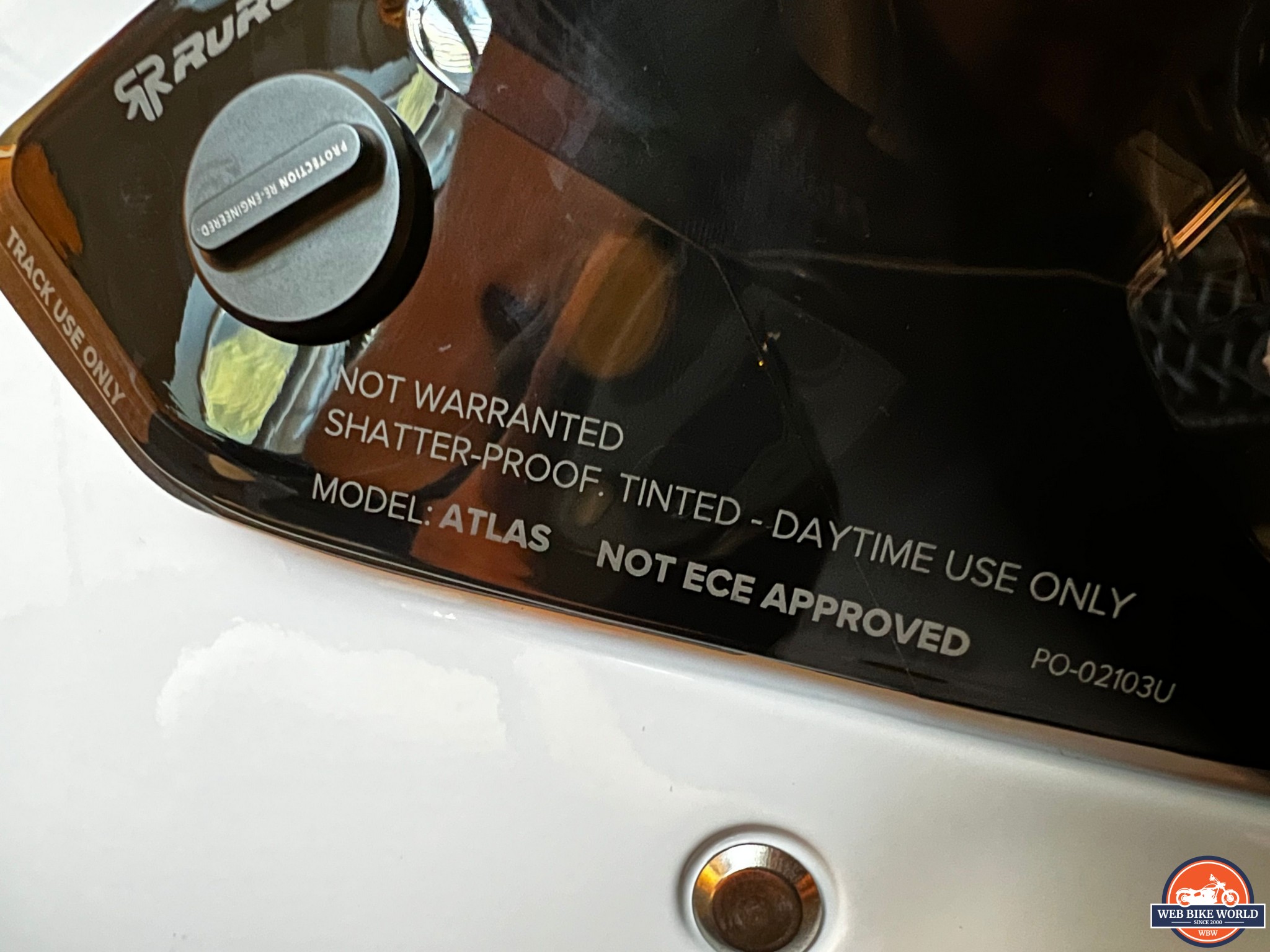 So there you have it!
The clear visor meets ECE certifications, but not the tinted ones. Any other Ruroc visor will have caveats etched into the visor itself for the customer's discretion. Ruroc's helmets are tested as they would arrive to the end user – with the clear visor installed.
This is not unique to Ruroc. The only other helmet in my possession that is ECE 22.06 certified is the Scorpion Covert FX. I checked with my contacts at Scorpion and they confirmed the same to be true. Only the clear visors are ECE 22.06 approved.
Protection Only Full Face Helmets Can Provide
Unlike other styles of helmets, full face helmets have a crash rated chin bar. With it, they are able to provide the rider a level of protection that ½ or ¾ helmets cannot. Check out our list of the best full face helmets for more great options!
Cons of the ATLAS 4.0 Street
There's no sense in reading my review any further if you cannot stomach my list of cons below. Like any piece of riding gear, the ATLAS 4.0 Street has a few drawbacks that are worth noting. I've listed the cons in descending order from the greatest downside to a fixable inconvenience.
Quality Control Concerns
Throughout my experience with the ATLAS 4.0 Street, I came across two concerns relating back to quality control measures at Ruroc. Neither of which is detrimental to the helmet's safety performance, but not something you'd expect at this price point.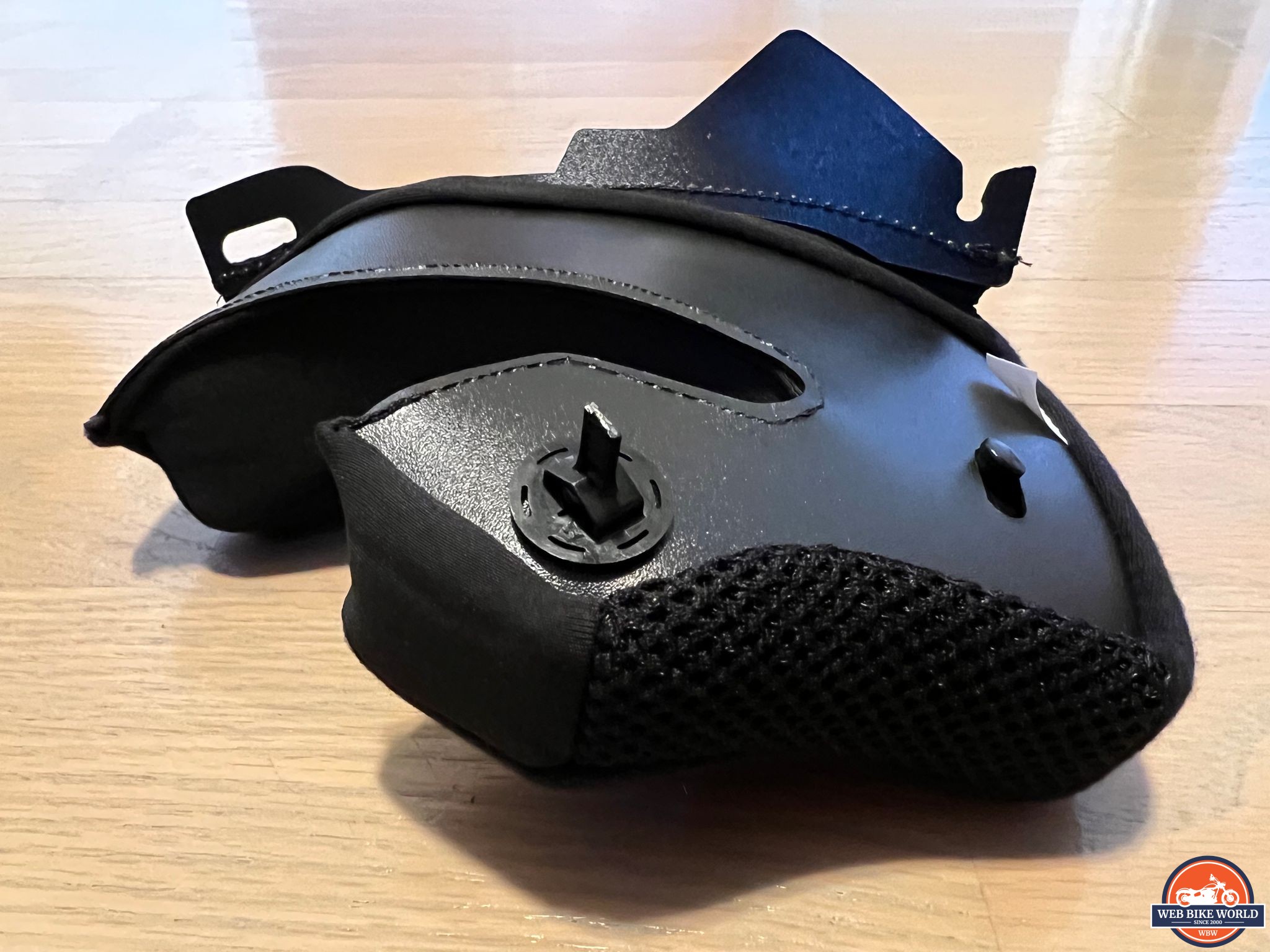 The first issue I had was related to the snap fastener that holds the helmet's cheek pads in place. Upon removing them to wash them, the portion that's embedded into the EPS foam came out. I was left with a gaping hole in the foam and nowhere to reattach the liner.
From what I gather this was highly unusual but Ruroc assured me it was an easy fix. Unfortunately, I didn't hear back from them on how to go about fixing it, but I'd imagine a bit of glue would do the trick. Regardless, this wasn't something I'd seen before.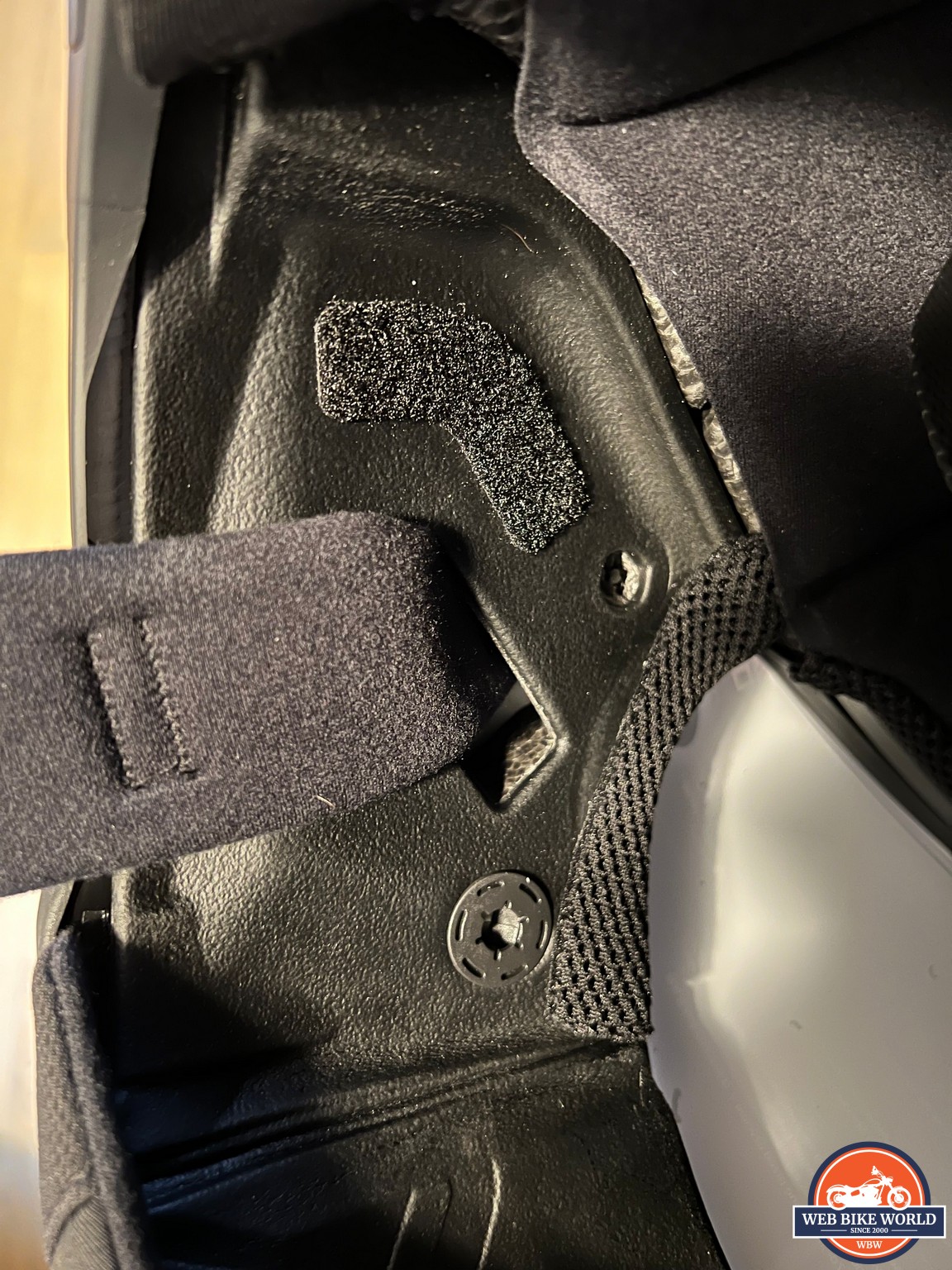 Secondly, only one of the built-in auxiliary ports for the Shockwave audio system worked. I tried two different sets of speakers and two different Shockwave units. No matter how much troubleshooting I did, I could only get one speaker to play.
This was a brand new helmet – a replacement for the one with the broken snap fastener. I had not attempted to use the Shockwave with this specific model prior to this incident. The speakers worked perfectly in my other Ruroc helmets.
Extremely Noisy Ride
When I received my shipment of helmets from Ruroc I opted to start reviewing the ATLAS 4.0 Carbon first. If you read my write-up, you'll recall that I commented on how noisy the helmets were. Unfortunately, the same is true for the ATLAS 4.0 Street, but worse.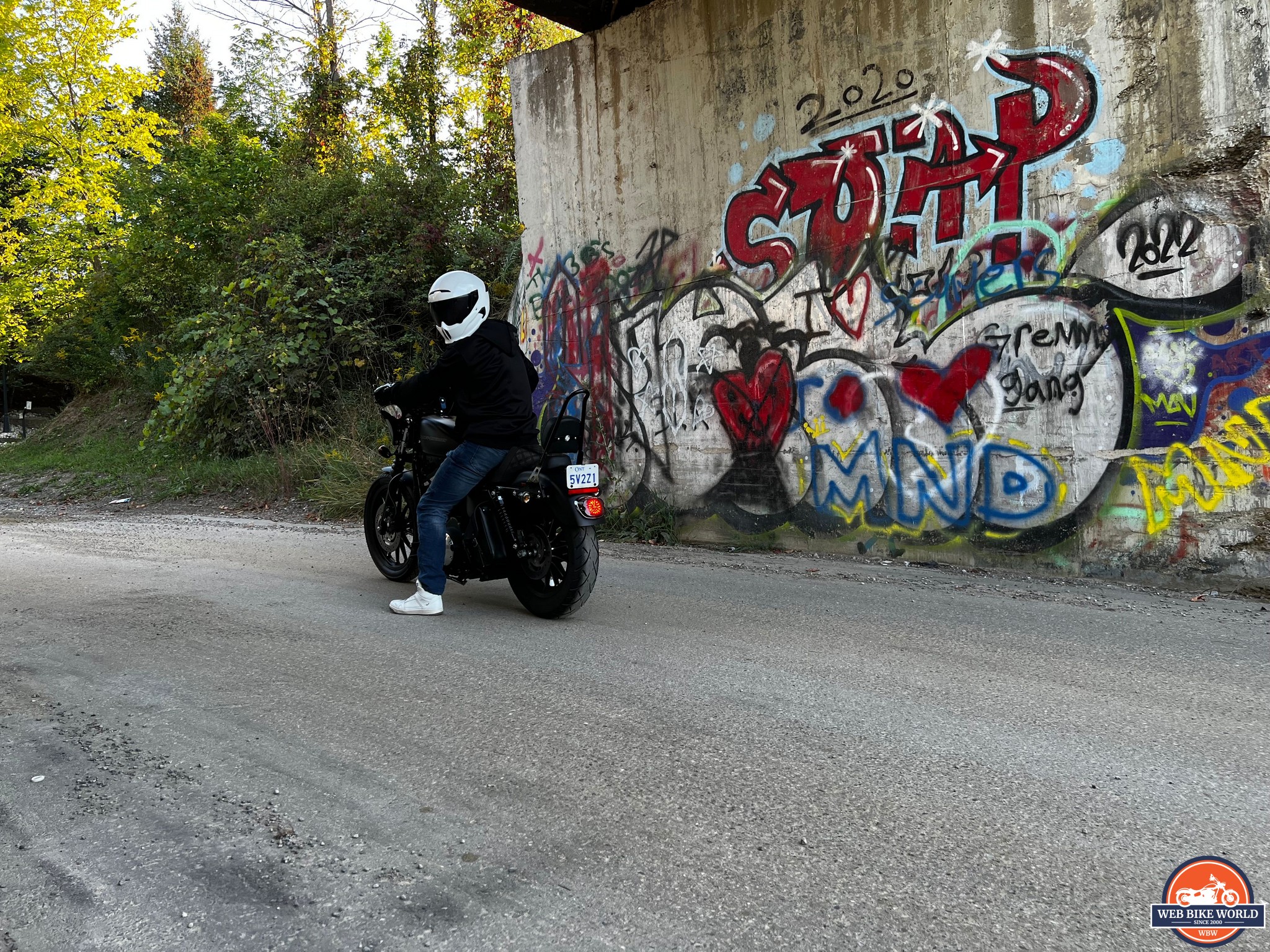 I'm being completely honest when I say that the ATLAS 4.0 Street provides next-to-zero noise reduction. While riding, the wind noise was so overwhelmingly loud that I had a hard time hearing my intercom system. At a red light, I could hear the exhaust of the car in front of me, as well as the car's engine that was idling behind. If I hit a bump, I could hear my suspension absorbing the impact.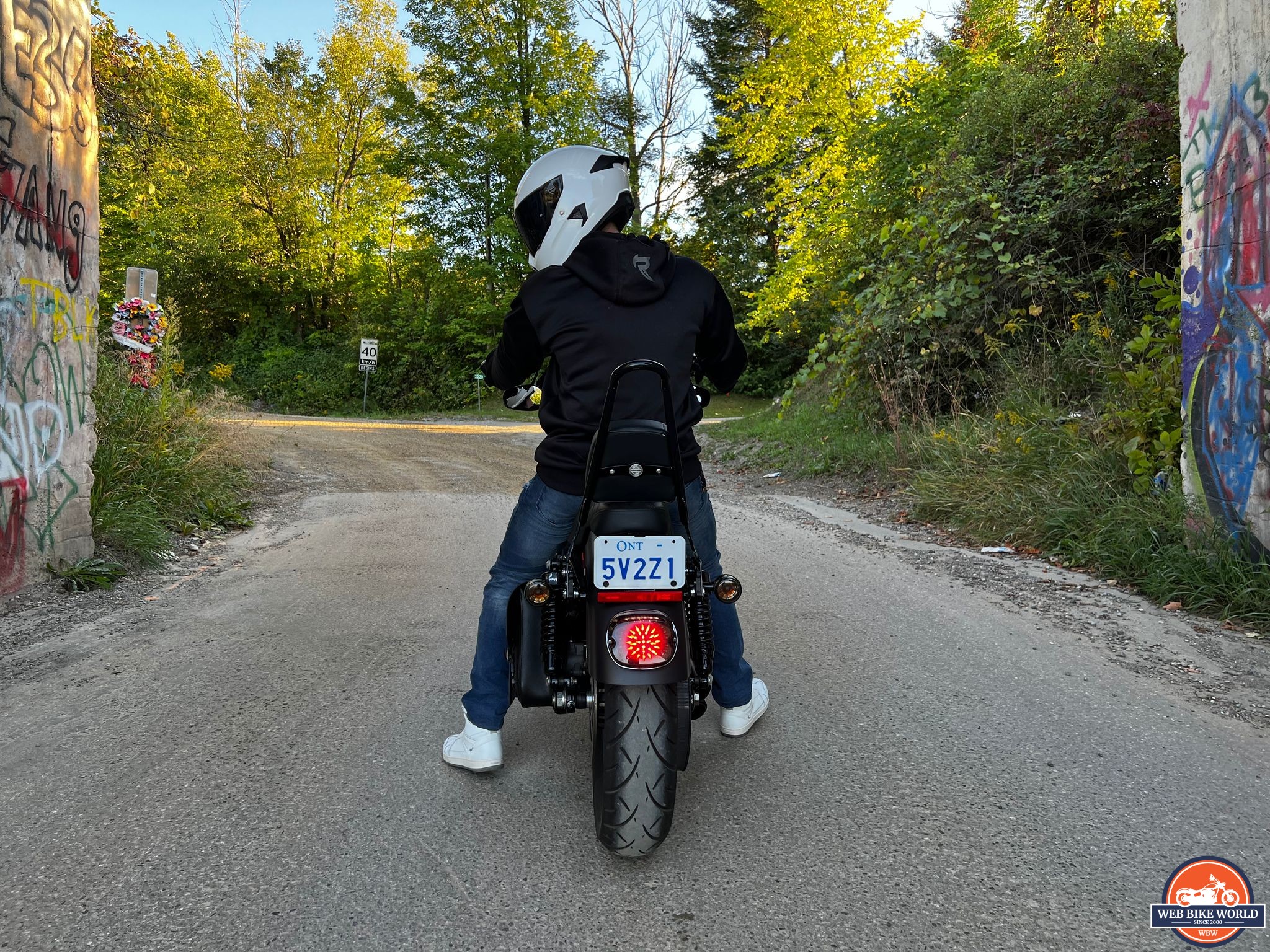 You get my point – this helmet makes for a noisy ride. So much so that Ashley refused to wear it as the wind noise was unbearable. While we always recommend riding with earplugs, they are absolutely necessary with this helmet. I hate to be harsh, but there's no sugarcoating this.
Poor Aerodynamics
If you cannot stand wind turbulence then the ATLAS 4.0 Street helmet is not for you. I experienced a great deal of buffeting while riding in this helmet, even at lower speeds. If I had to guess it would be due to the aerodynamics of the helmet's extremely rounded design.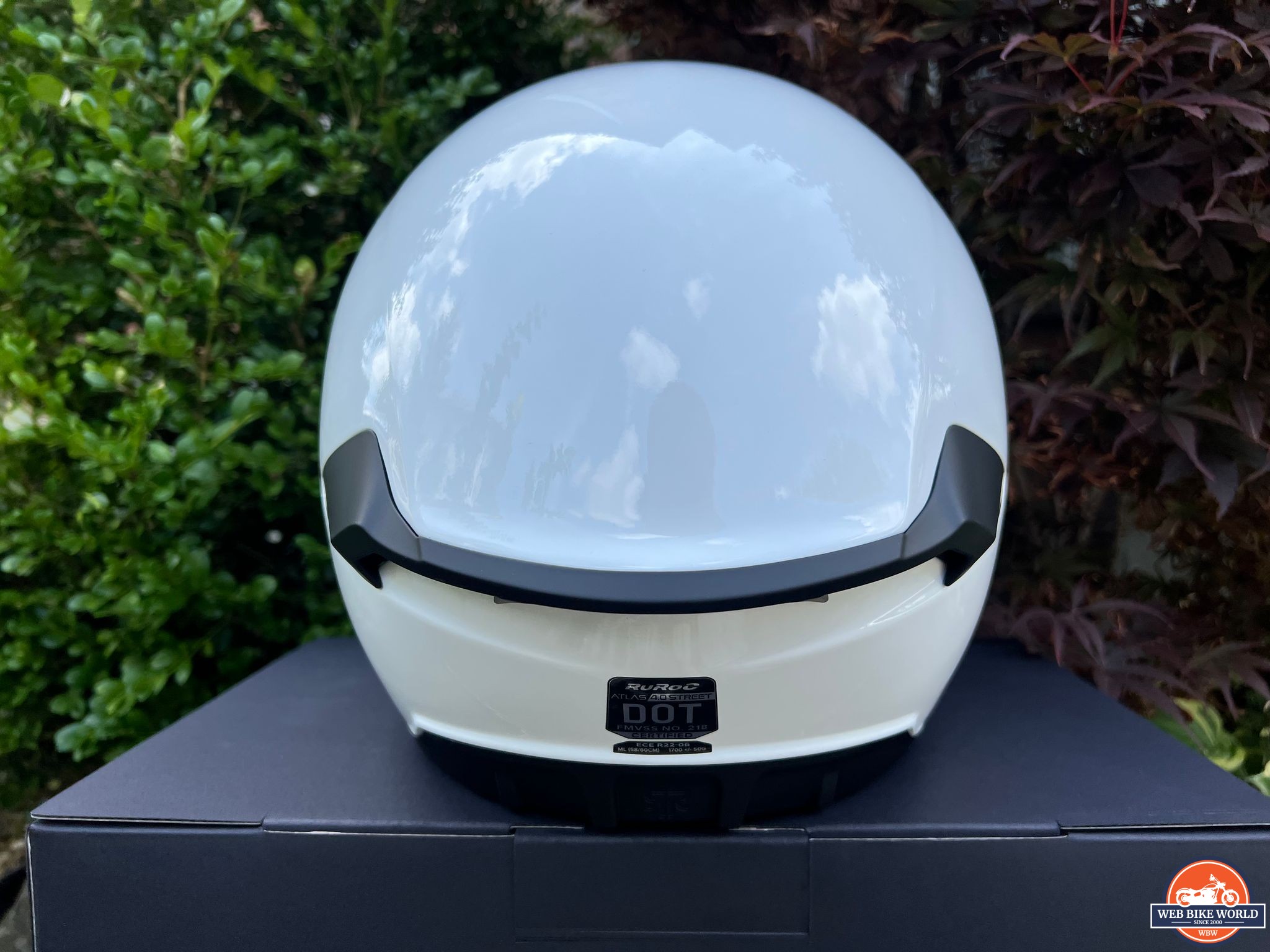 I believe it's worth mentioning that I ride a cruiser, and as such my riding position is fairly upright. Because of this, my head is subjected to a lot more turbulence than a rider on a sportbike would be. This is due to the tucked, more aerodynamic riding position a sportbike puts the rider in.
With that in mind, I've worn helmets in the past where I experience little to zero buffeting, even in a strong crosswind. A great example of this would be the Scorpion's EXO R1 Air Carbon Helmet.
Sizing That Runs Small
Much like the ATLAS 4.0 Carbon, I had an issue with sizing the Street lids. Based on Ruroc's size guide, I should've been a size SM. The head measurement for SM is 55.5cm – 57.4cm, and I was getting a repeat measurement of 56.5cm.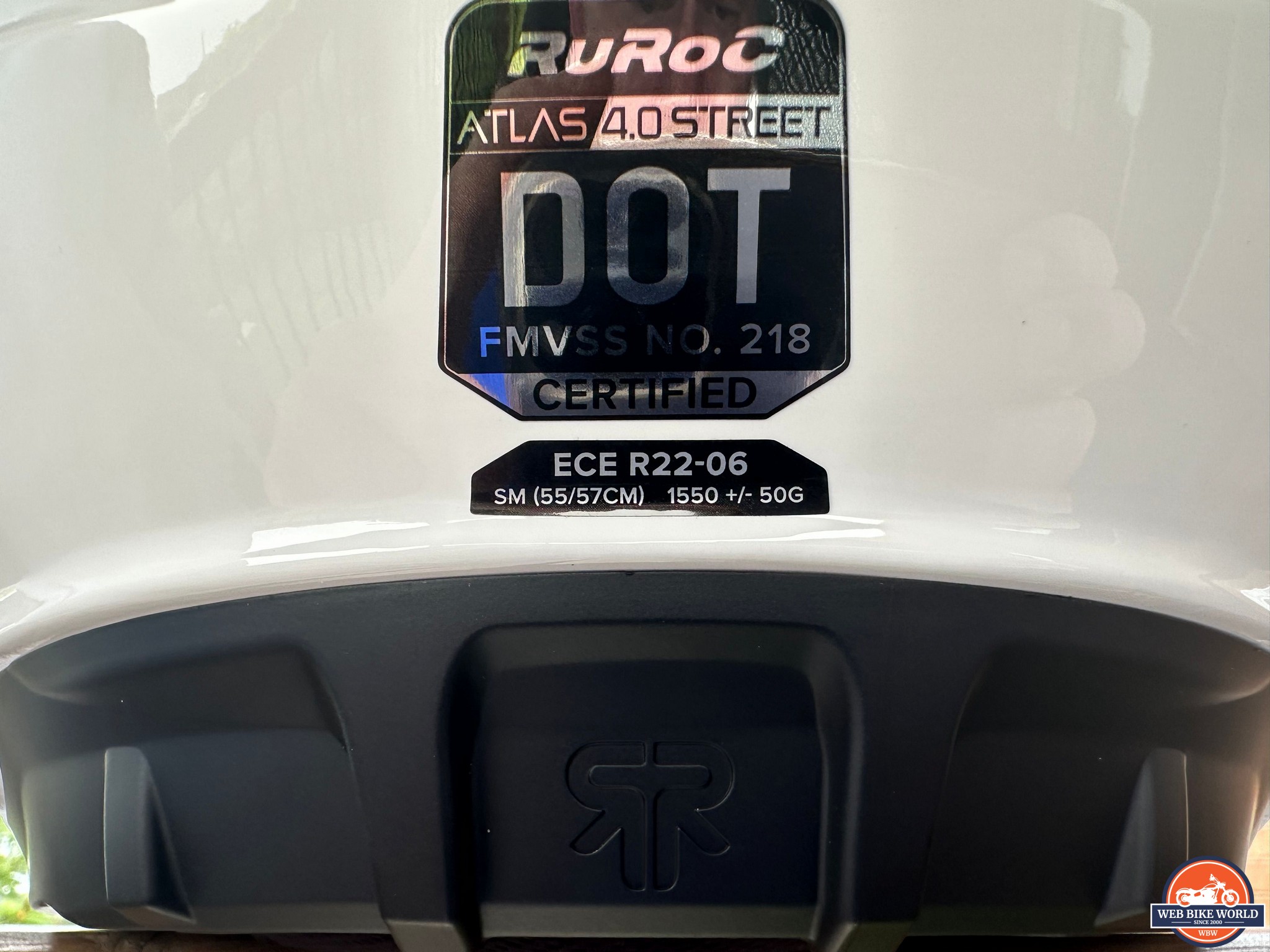 I ordered the SM and it was way too tight. My forehead and jaw had a lot of pressure points from the helmet, and my cheeks were squished so tight I was accidentally biting the inside. What's more, my nose was making contact with the helmet!
I was lucky enough to have Ruroc send me a size ML free of charge, however, you may not be so lucky. In their exchange policy, it clearly states that the cost of returning items will be the responsibility of the customer.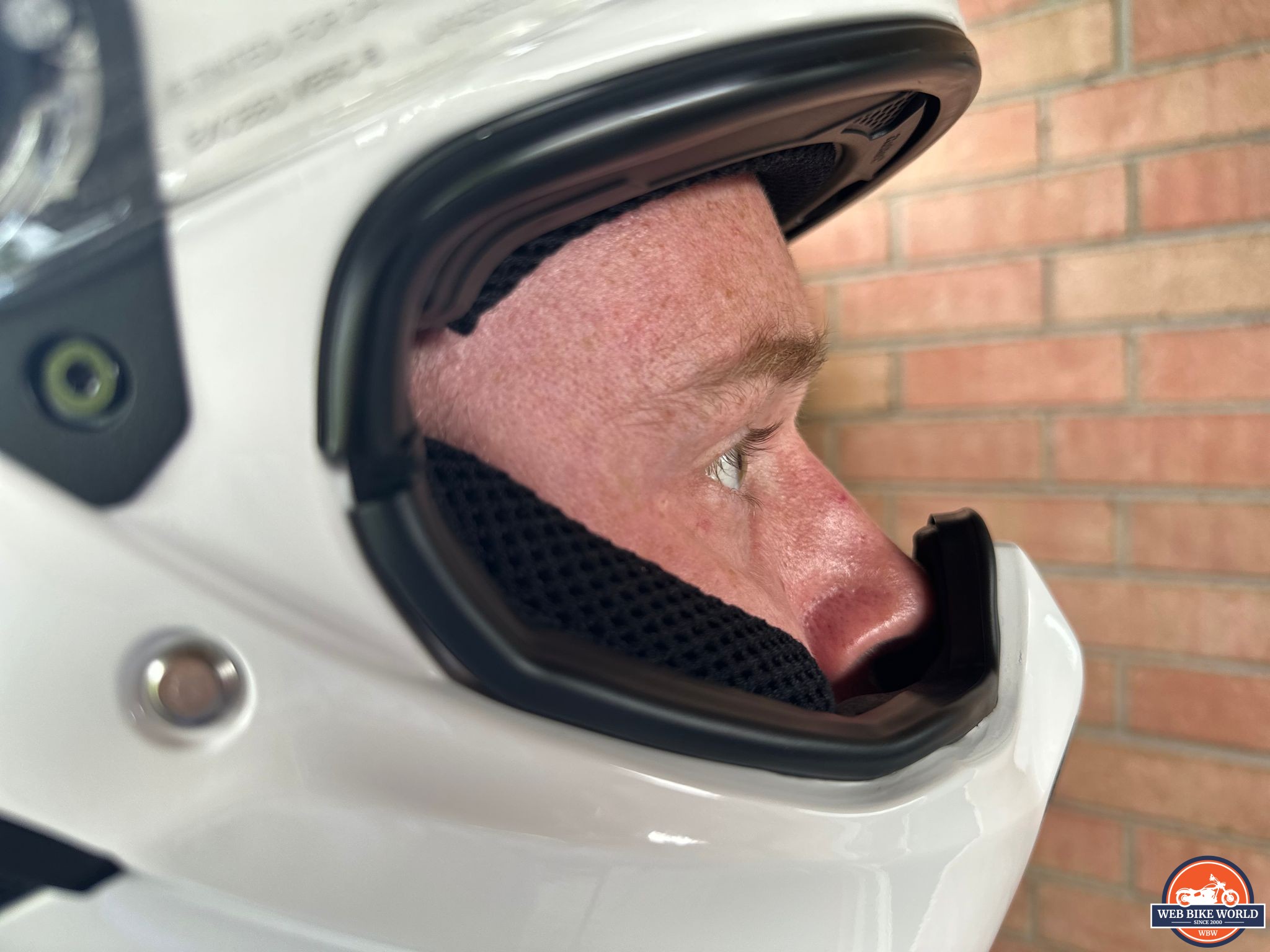 As a UK based company, the shipping fees could be costly. To avoid an unnecessary expense, I would recommend contacting the Ruroc support team for a recommendation on helmet size. If possible, try on a friend or family's helmet to get an idea of what size may be right for you.
Only a Clear Visor is Included
Perhaps I'm petty, but I couldn't believe that only a clear visor is included with your purchase of an ATLAS 4.0 Street helmet. The Carbon and Track line of helmets come with a tinted visor, but not the streets. At a mid-range price point, this isn't something I foresaw.
I know that not all helmets come with two visors, but it's becoming increasingly common to do so. The Bell Qualifier DLX Blackout is a fraction of the price of the ATLAS 4.0 Street and comes with both face shields, as did my Covert FX.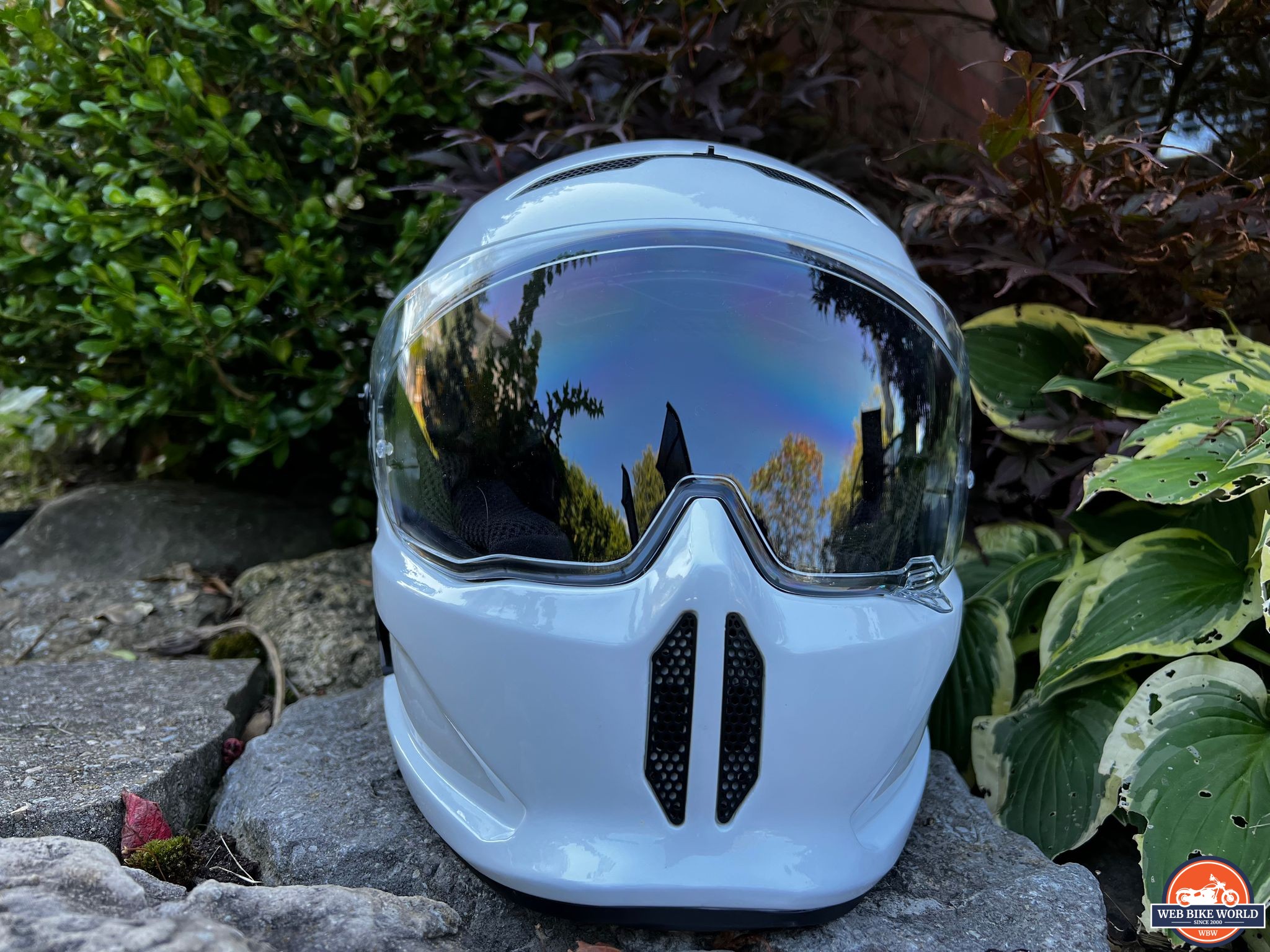 To me, it feels like Ruroc is punishing you for buying their cheapest line of helmets. Yes, additional visors are available for purchase through Ruroc, but at $70 per piece, you're better off splurging a bit more and buying a ATLAS 4.0 Carbon that comes with two visors and a heap of other perks, such as a RHEON headliner.
Visor Fog
My last con relates back to the visor once again. I found that they were extremely susceptible to fogging. So much more so than my previous experiences that I had to ride with the visor cracked on several occasions.
Each visor is outfitted with two adjustable pins that allow for seamless Pinlock installation. Pinlock inserts work by creating an airtight seal on your visor that acts as a thermal barrier. They prevent cold air from coming into contact with the warm air in your helmet, thus creating fog.
Ruroc sells three different inserts:
ATLAS Pinlock 70
ATLAS Pinlock 70 ProtecTINT
ATLAS Pinlock 120 XLT
Each 3.0 and 4.0 visor, with the exception of the photochromic visors, is compatible with Ruroc's Pinlock inserts. The numbers 70 and 120 describe the level of fog-resisting performance you get from the lens, with 120 being the top of-the-line and offering the best performance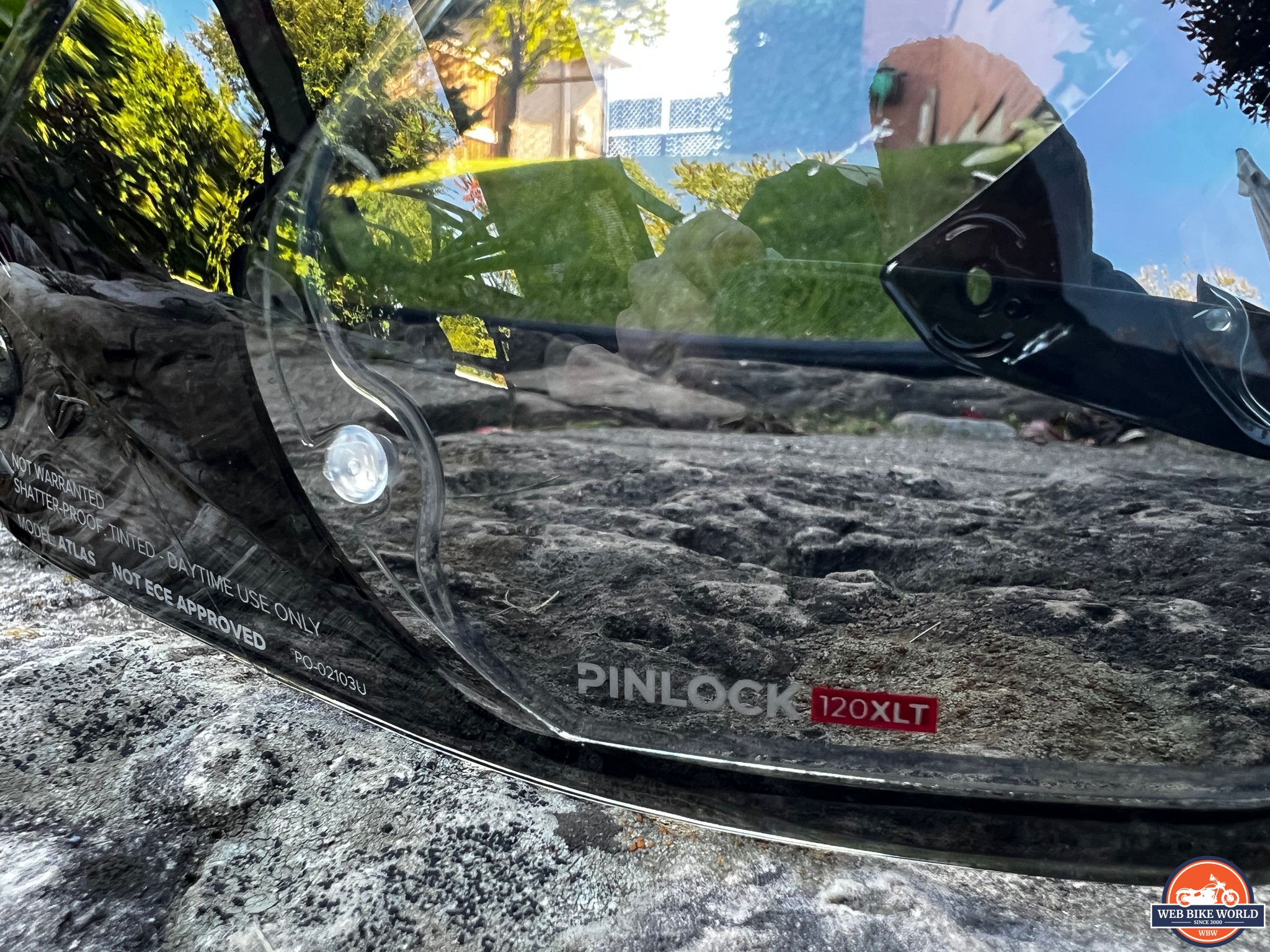 ProtecTINT acts like a transition lens and naturally tints depending on the brightness of the sun. XLT Pinlocks allows for a higher light transmittance throughout the visible light spectrum.
I would 100% recommend investing in a Pinlock Insert for your ATLAS helmet. I was lucky enough to receive the Pinlock 120 XLT to review and was extremely happy with how it performed. My visor went from constantly fogging to crystal clear without a noticeable change in colors.
Pros of the ATLAS 4.0 Street
Now that you've made peace with the downsides to this helmet, let's switch to a more positive note. Unlike the cons, I haven't listed the pros in any particular order. Each comes with its own unique set of benefits that can be weighted differently depending on the rider's preference.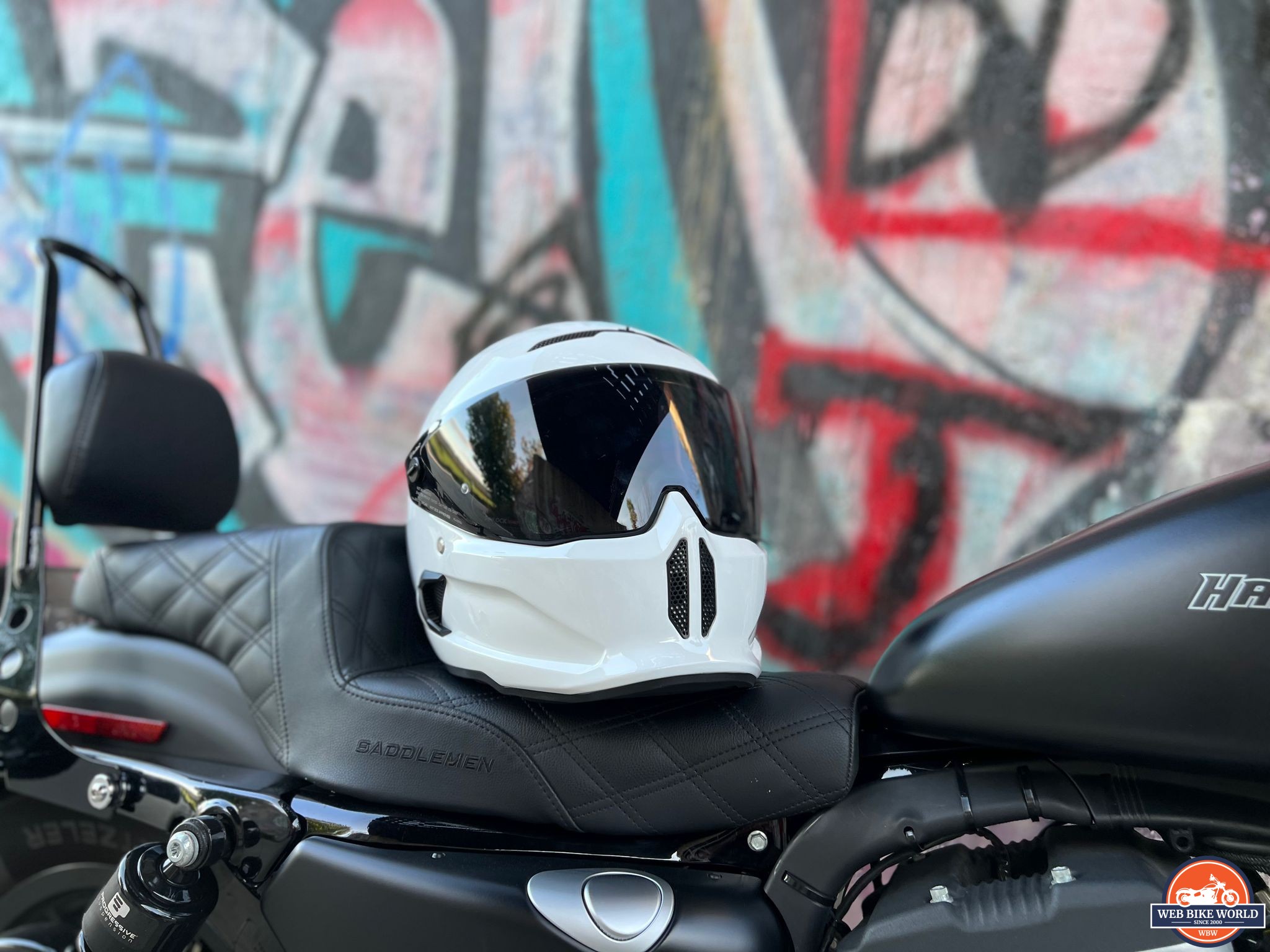 Secure Fit & Feel
Upon first wearing the helmet, the neck roll, and cheek pads on the ATLAS 4.0 were very predominant. They exerted a gentle pressure that gave me the initial impression that the helmet was too small.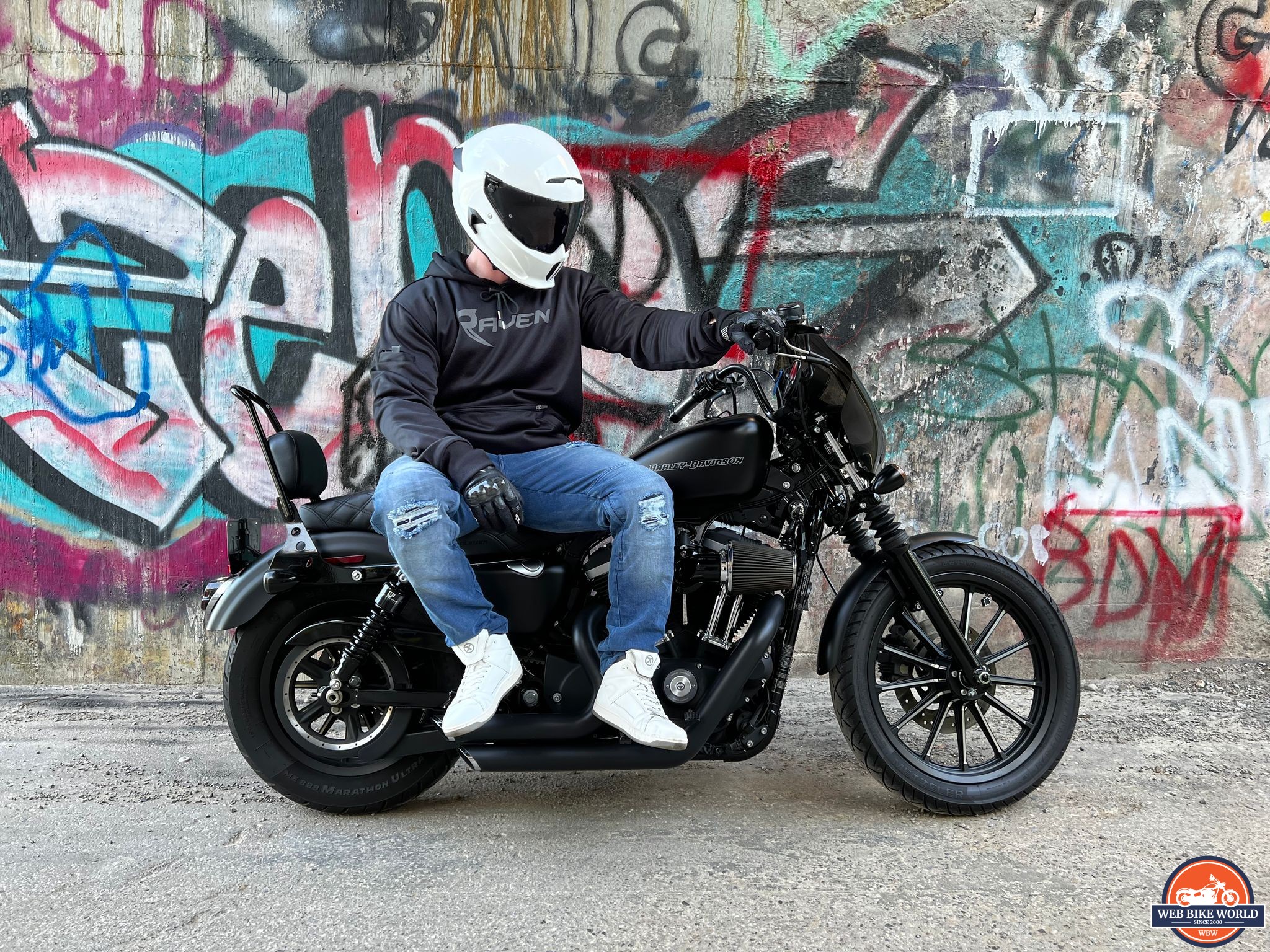 After some continuous use, the lining began to conform to my facial structure. I still experienced TMJ pain from time to time, but I am a chronic teeth grinder/clencher. With my jaw, it doesn't take long before I feel discomfort and even the slightest pressure can aggravate it.
If you're like me, this is something to consider but if you've never suffered from TMJ-related pain, I wouldn't think twice about it.
Shockwave Compatibility
Like all ATLAS 3.0 and 4.0 models, the Street line of helmets has built-in Shockwave compatibility. Shockwave is a Bluetooth audio system for your motorcycle helmet. It is shock and water-resistant and is capable of up to 10 hours of playtime. The system doubles down as an intercom for communicating amongst other Shockwave users, or from third-party systems, such as the Cardo Freecom 4X, via Ruroc's Chain app.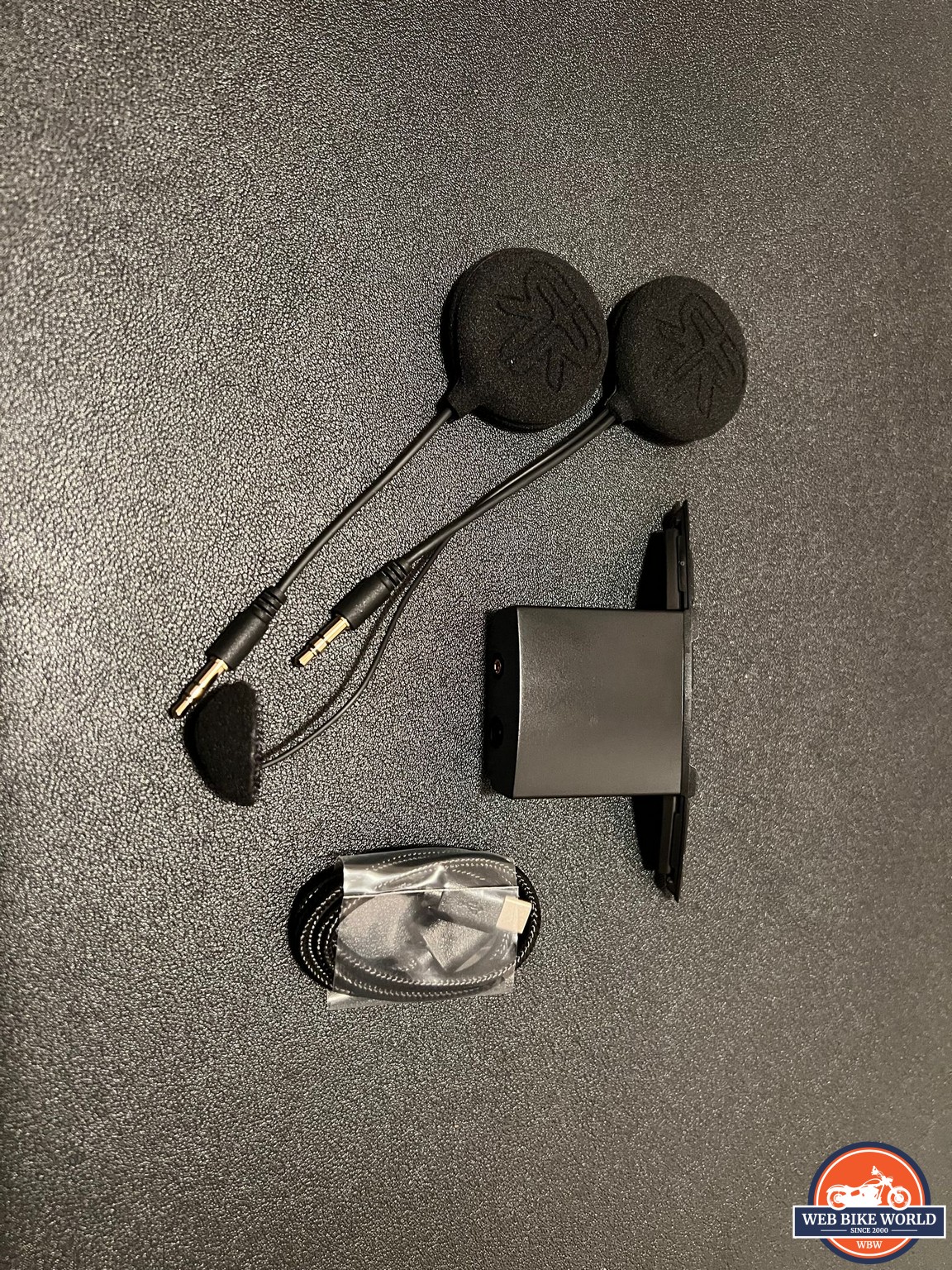 On the rear of the helmet, removing a small semi-circular piece of plastic reveals an integrated pocket that allows the Shockwave to tuck away neatly into the helmet's lining. Inside are cords for the speaker output and microphone.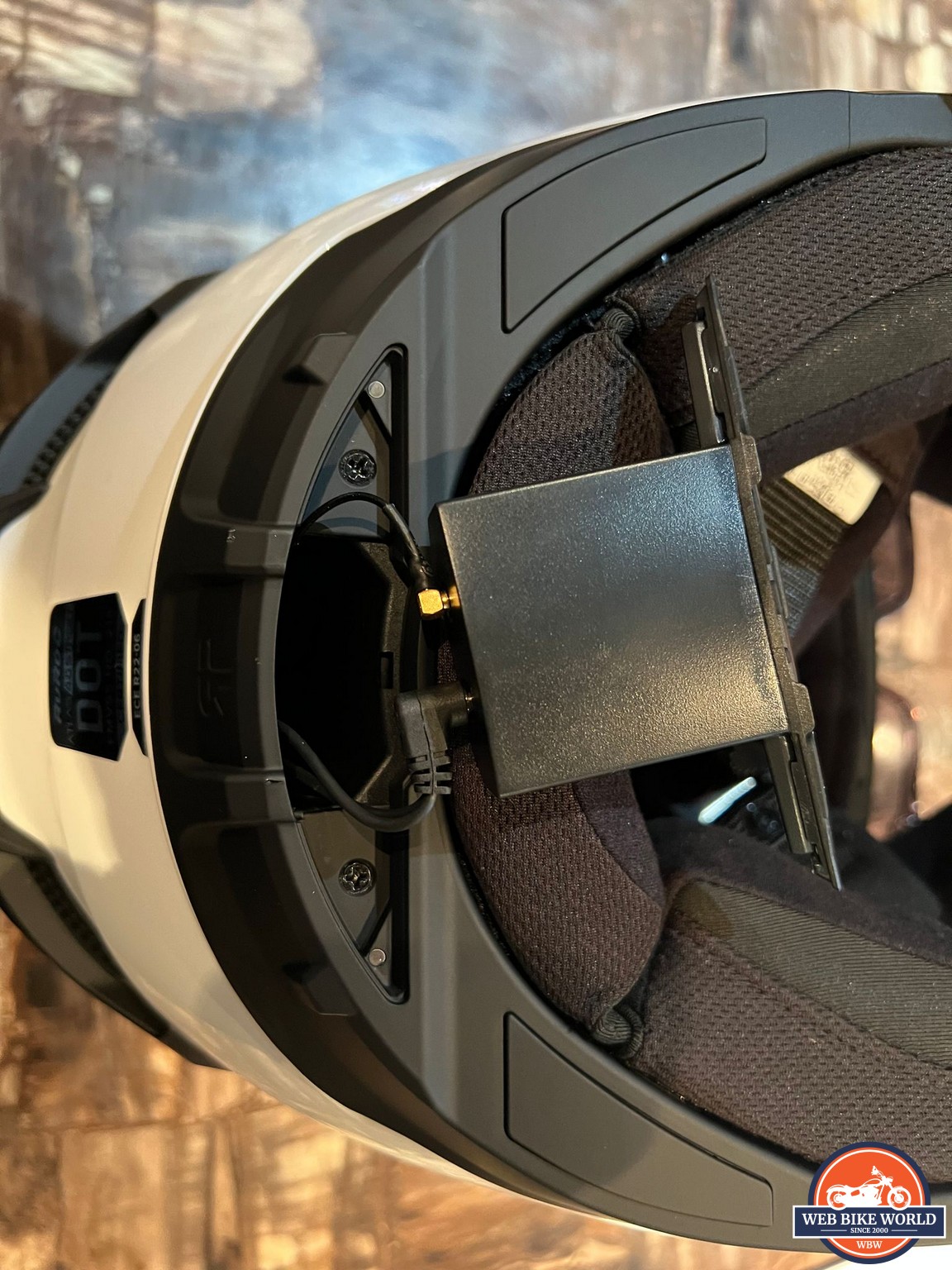 Behind the cheek pads are two auxiliary ports that the included Shockwave speakers plug into. The speakers are then fastened to the pre-installed velcro strips and positioned to align with the rider's ear.
The Shockwave system is not included in your purchase but makes for a great add-on to any Ruroc helmet.
Ventilation
Perhaps my personal favorite part of the helmet is how well it vents hot air. It performed exceptionally well and worked hard to keep me cool on hot summer days.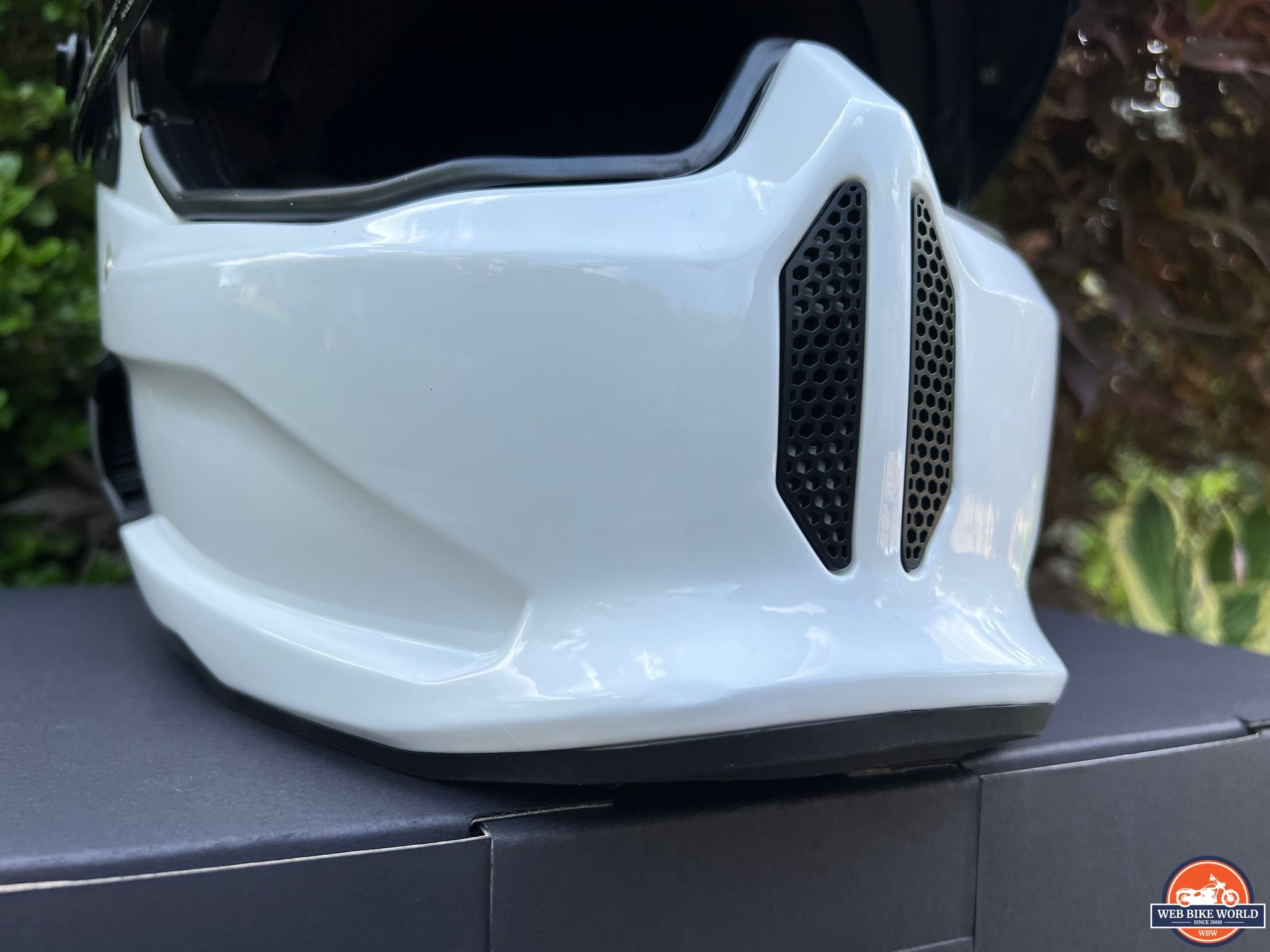 The chin bar has two trapezoidal vents located directly in front of your mouth. This vent can be opened and closed using a slider placed inside the helmet. While difficult to operate while riding, the design is seamless and visually pleasing.
On the sides, sharp scoops lead to intake vents located under your ears. Unfortunately, these vents are the main source of road noise but they do work to bring in cool air to the helmet. Above the eye-port is a dual brow vent with an open and close feature.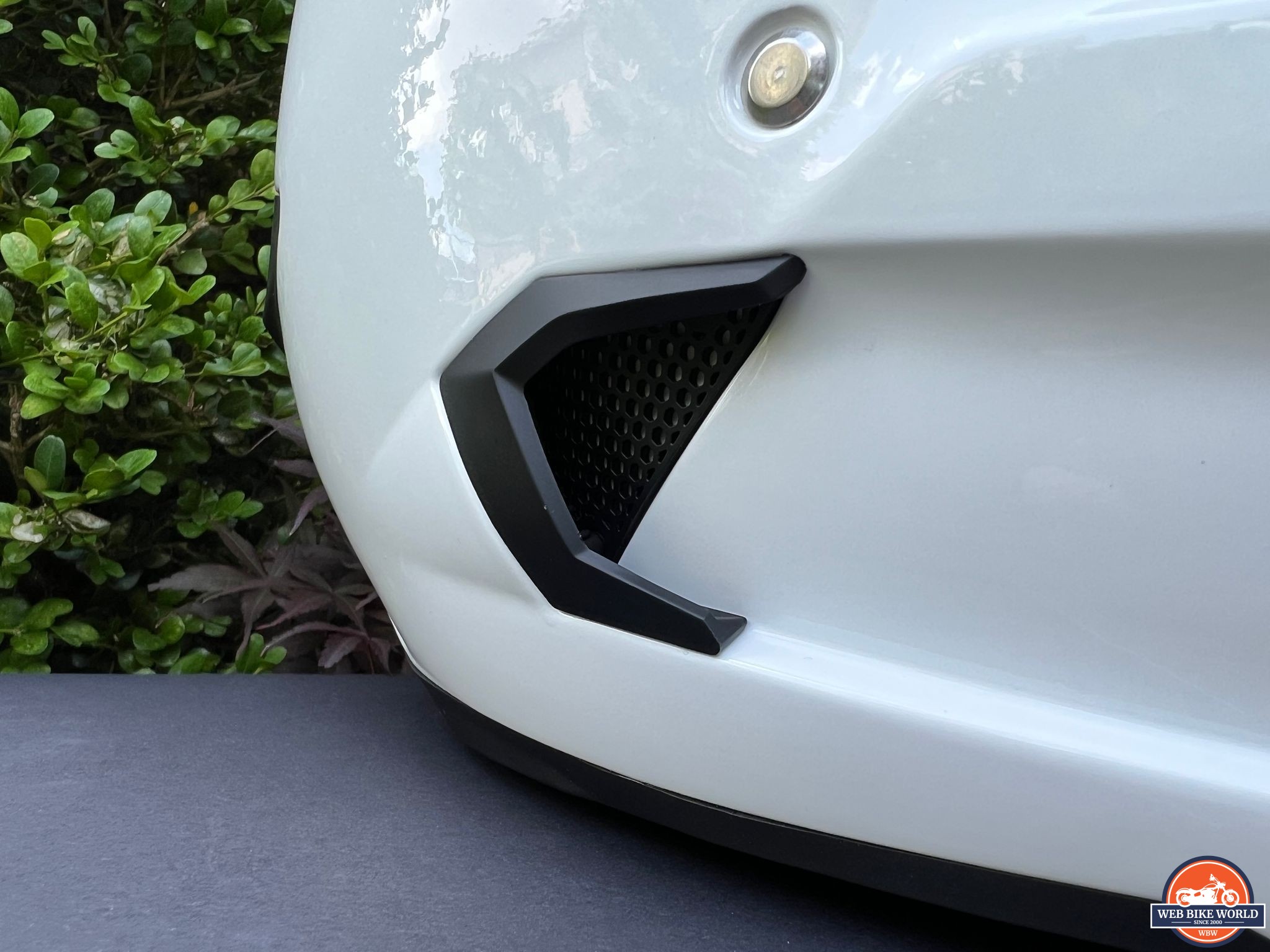 In previous models this vent could not be closed, making the option a nice addition for some riders. Personally, I kept it open at all times as I enjoyed the feeling of cold air rushing over my hair. On the rear, the helmet sports the same dual exhaust as the ATLAS 4.0 Carbon & Track helmet models.
Top-Tier Design Options
At the risk of repeating myself, I think it's worth highlighting again how great these helmets look. Not just the Ghost helmet in particular, but all of the ATLAS 4.0 helmets. In my opinion, there is no competition to Ruroc in terms of the sheer breadth of design options.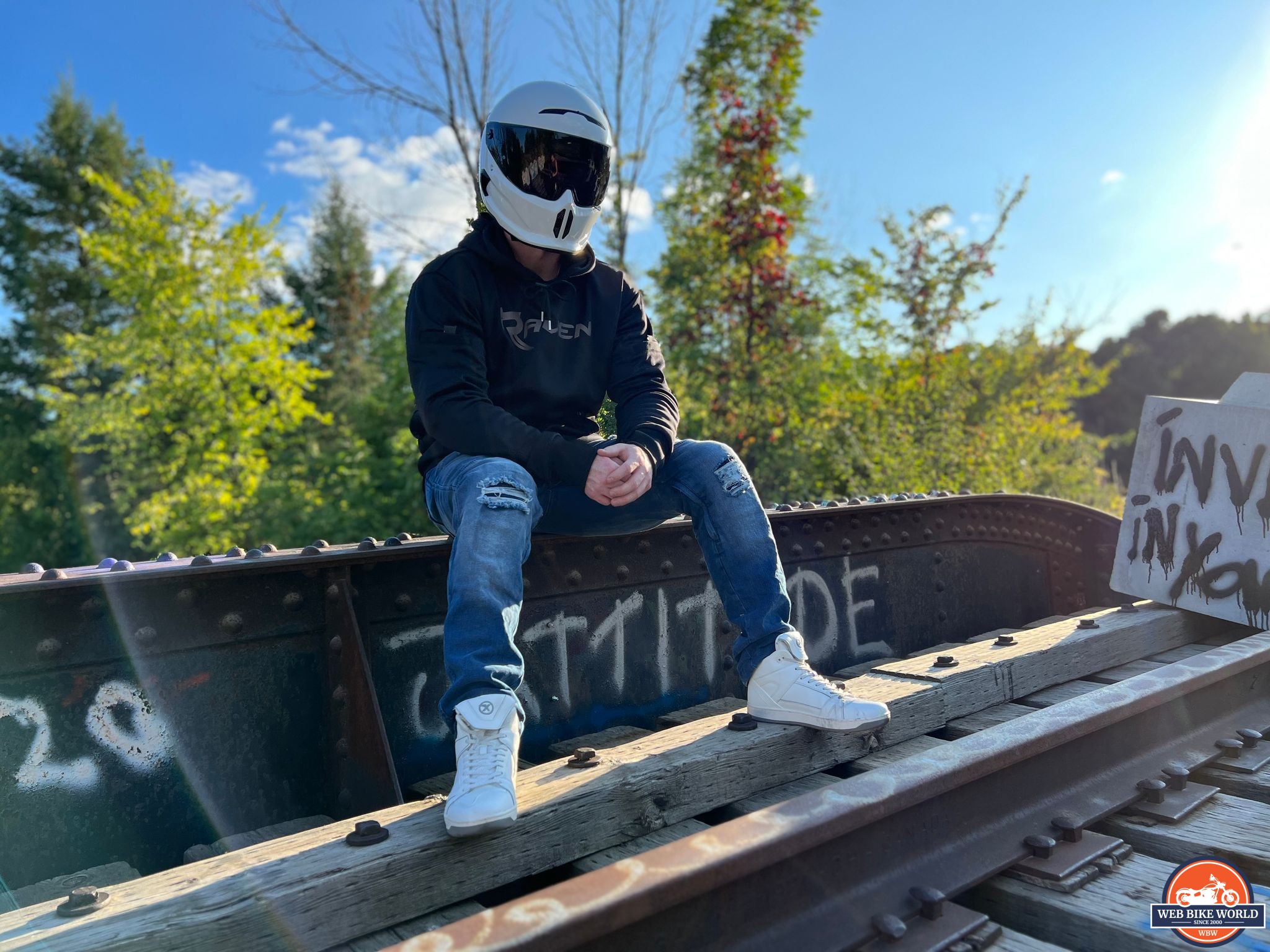 For riders looking to express their personal style, Ruroc is constantly releasing new colorways and design schemes. Of course, plain colors will always be available for those who want it. Even still, the single-color helmets look great with the large eye-port and aggressive scoops contouring to the side intake vents.
Head on, you can tell that Ruroc has really run with its skull-like appearance. Helmet wraps such as the Ronin or Toxin accentuate this with large mouth details in the design. I've received a total of 6 ATLAS 4.0 helmets over the course of this review and I can honestly say that each finish was free from defects.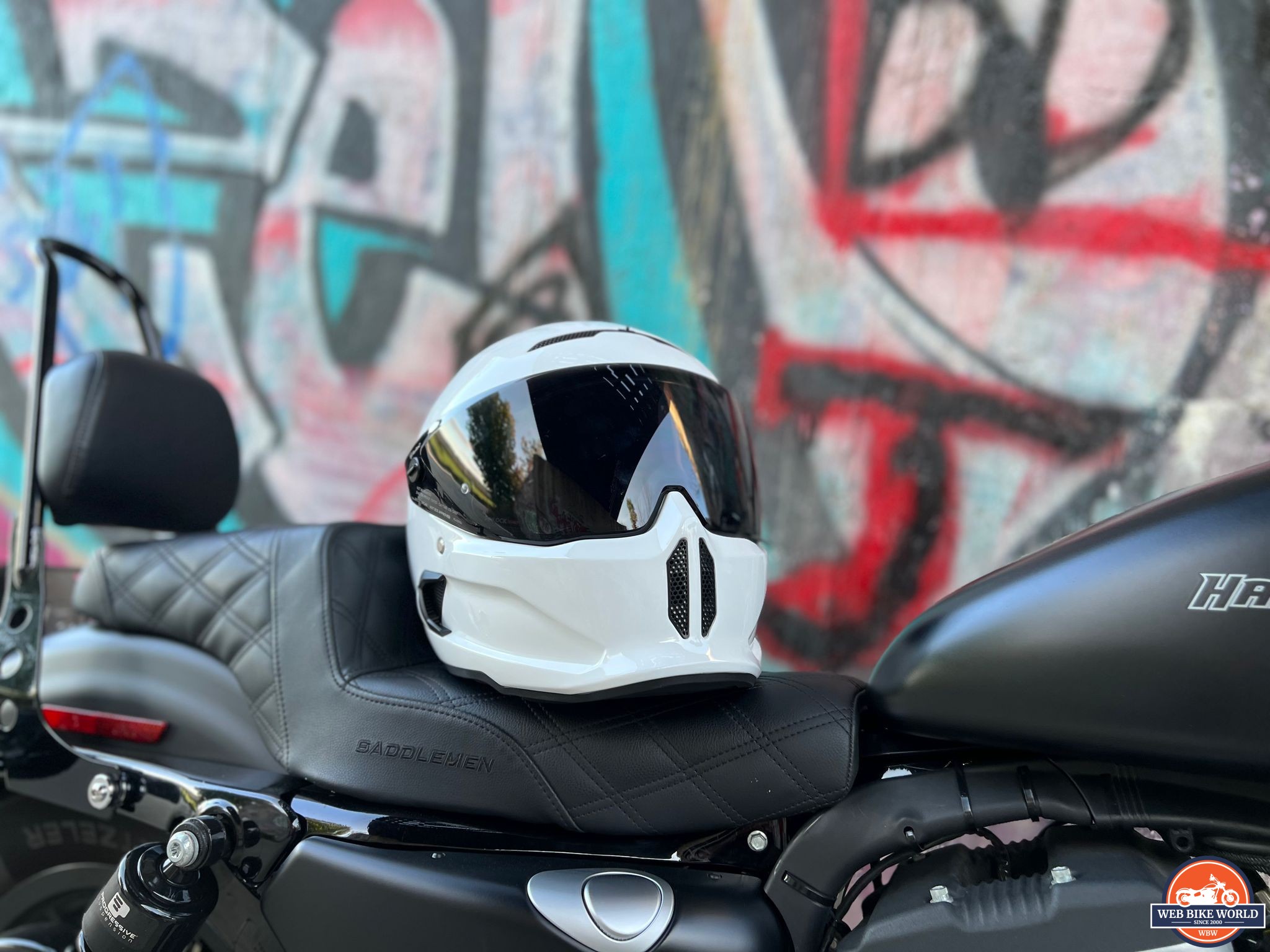 Excellent Field of View
I loved the near-unrestricted visibility I had while wearing this helmet.
The ATLAS 4.0 line of helmets has a massive field of view ranging 215 degrees horizontally. This is a mere 5 degrees under the maximum horizontal field of view of the human eye while fixating on a single point. In my peripherals, I can just barely make out the edges of the helmet if I really try to focus on them.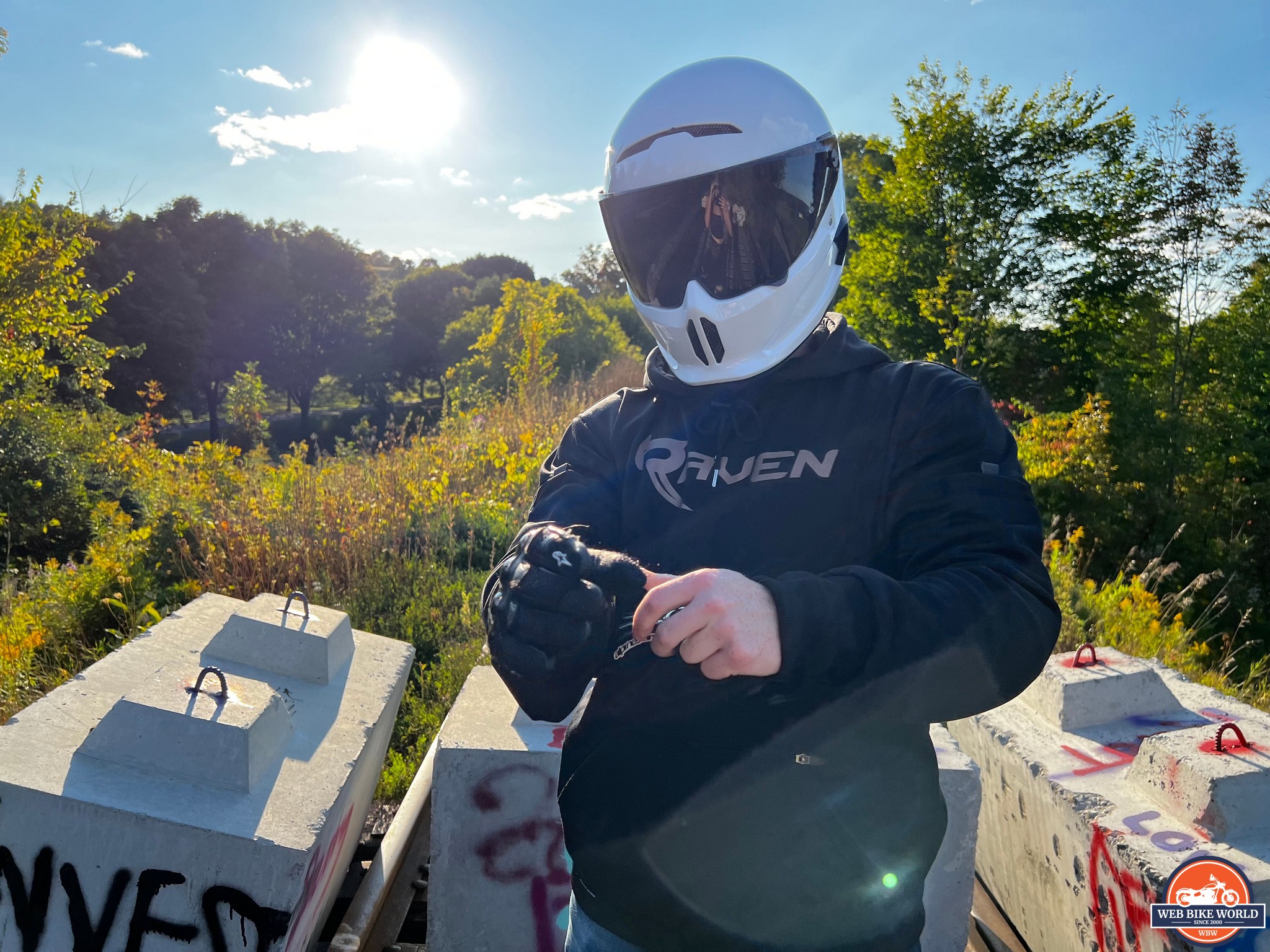 The eye-port stands over 4" tall at its deepest point with a large nose piece extending just over an inch into the center of your vision. My brain quickly learned to ignore both the nose and sides to allow me to fully immerse myself in my ride.
Quick Release Visor System
I've come across some really good, and some really bad, quick-release visor systems in my time. The system that Ruroc has devised rests firmly in the middle of that spectrum.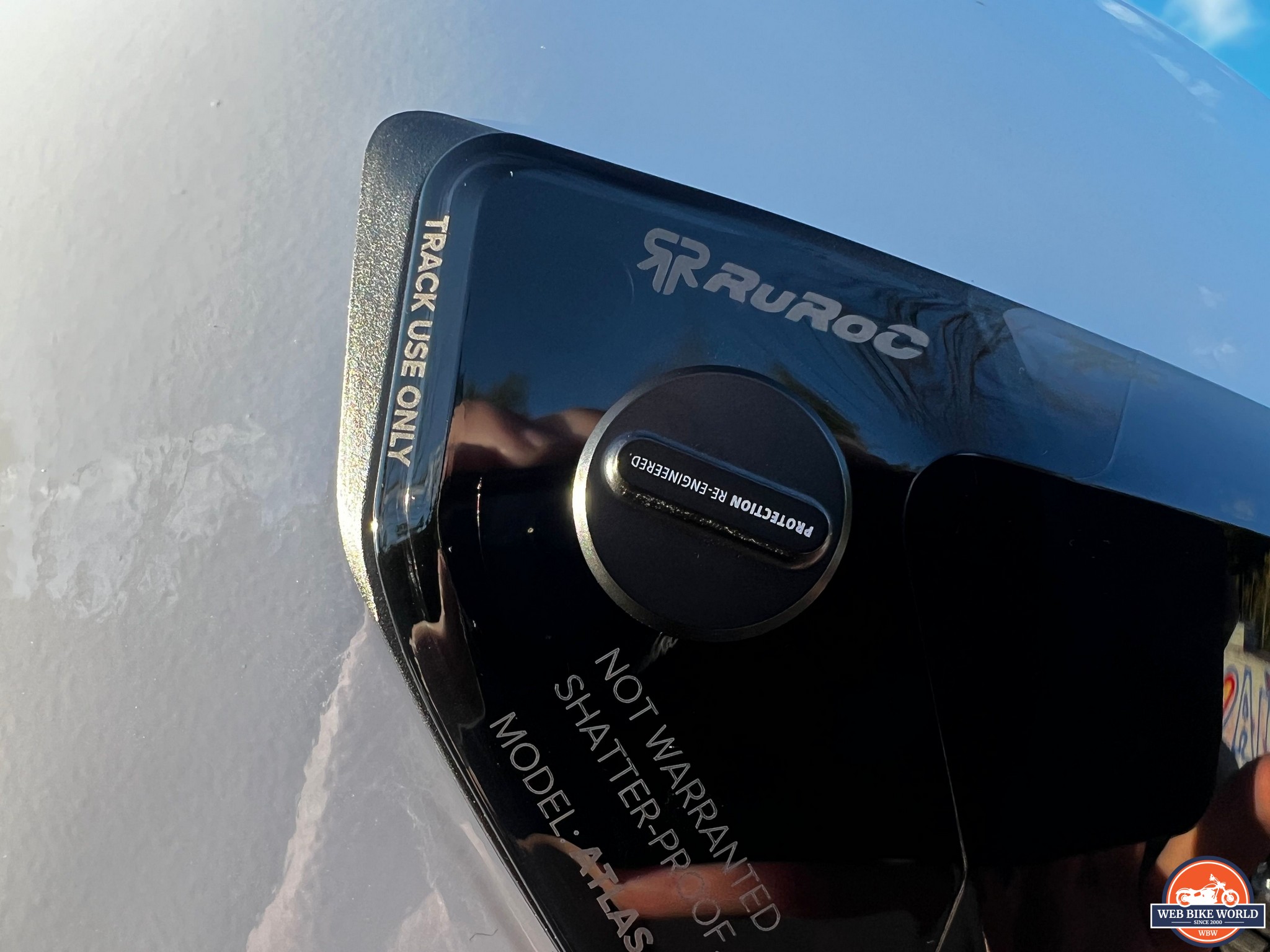 While it's not the fastest system I've used, it's certainly extremely easy to swap out the visor and feels very secure once complete. The system is comprised of two black thumbscrews that need to be removed to release the visor and then refastened to lock in the new one. Be sure to line up the small pin that navigates the visor track otherwise the visor will not snap into place.
Emergency Pull Tabs
Here is a feature that I think should be included on all helmets.
The ATLAS 4.0 Street has distinctive red pull tabs on the liner labeled emergency pull. By yanking on the tabs, the helmet liner releases and can be effortlessly removed from the helmet.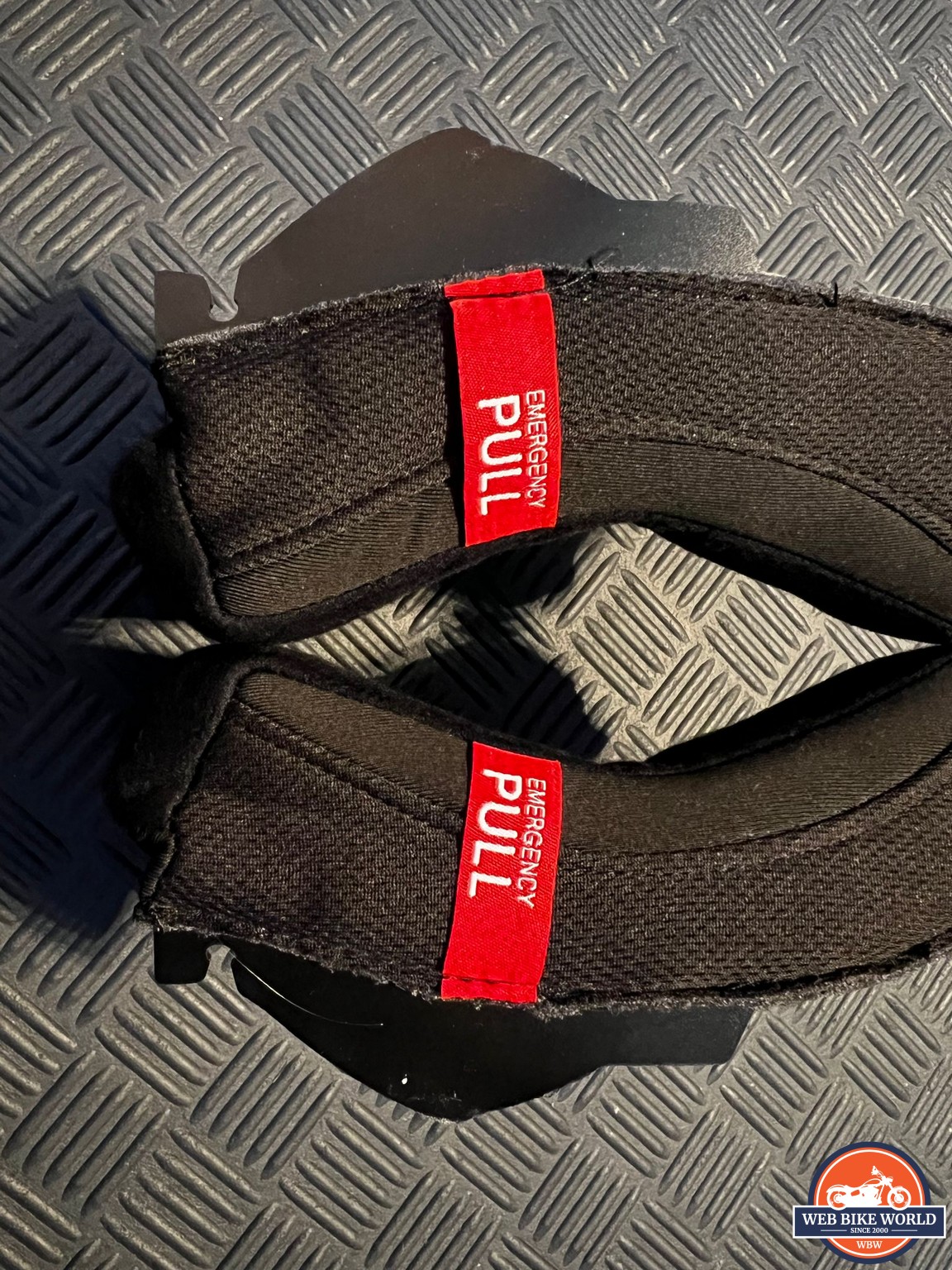 Should you ever find yourself in an accident, the emergency pull tabs will allow first responders to quickly remove your helmet. These crucial seconds could be the difference between life and death.
Easily Washable Liner & Cheek Pads
If you're a sweaty guy like me, having a helmet liner is extremely important. Thankfully, the headliner and cheek pads on the ATLAS 4.0 Street were as easy to wash as they were to remove from the shell.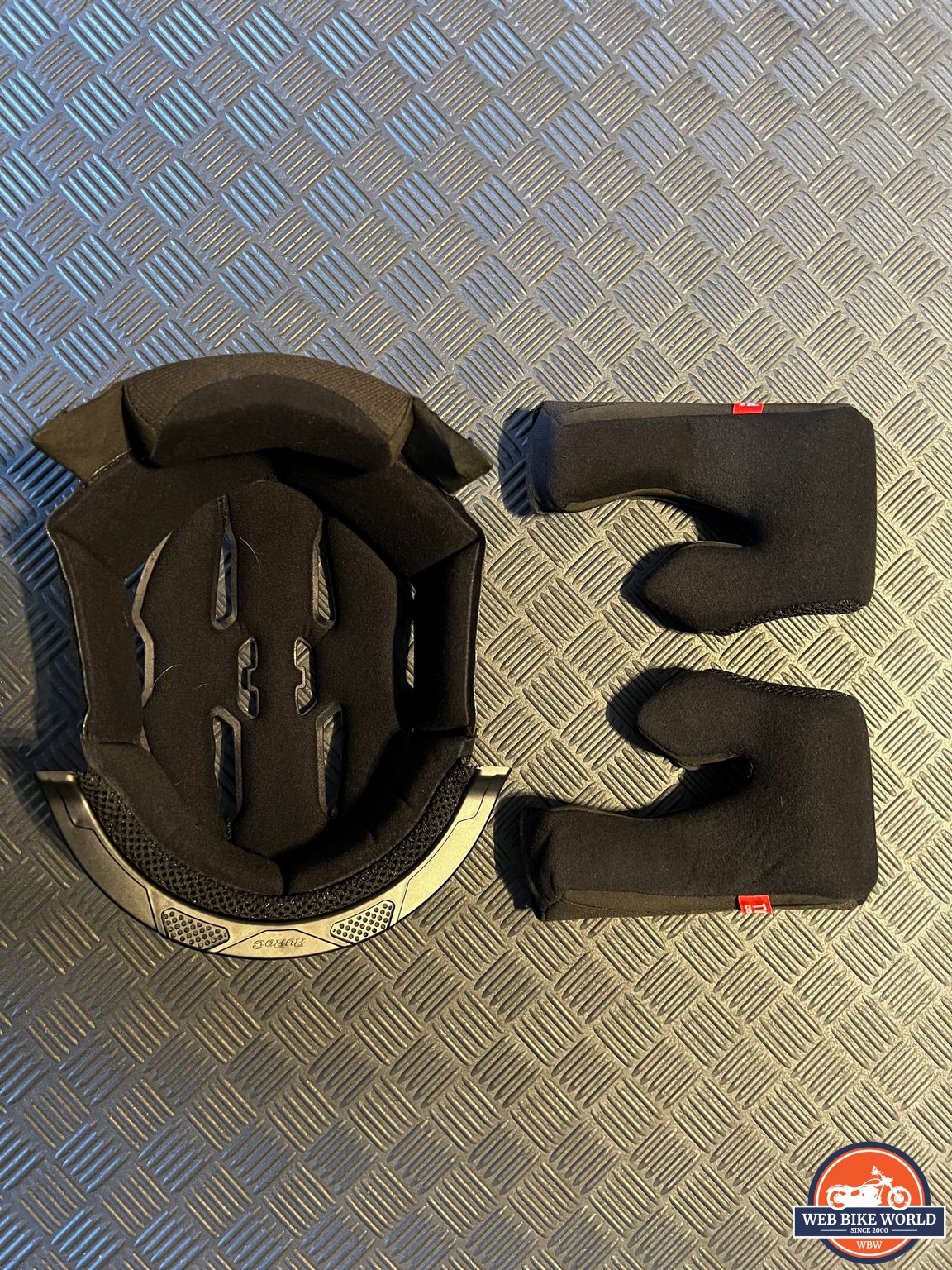 After a quick handwash in some lukewarm soapy water, I left the pads to dry over a vent in my house. The cool air from the air conditioning sped up the drying process and the lining returned to its original level of firmness. Overall they were extremely easy to clean without much manual labour being involved.
Great Customer Service
The way a problem is handled can sometimes be more important than the problem itself. In the case of the ATLAS 4.0 Street, Ruroc was apologetic and quick to send a replacement when I had issues with the helmet.
Throughout my entire experience dealing with Ruroc, I found them to be extremely responsive and great to work with. From size exchanges to getting the helmet replaced due to the above-mentioned issues, the Ruroc team was attentive and very professional. This made the process quick, and painless and left a lasting positive impression on me.
Overall Ratings
After careful consideration of all the above points, I've given the ATLAS 4.0 Street the following ratings:
Build Quality / Protection: 70%
Noise Management / Quietness: 50%
Size, Fit & Comfort: 75%
Design: 85%
Visibility: 75%
Ventilation / Airflow: 80%
Features / Value for Money: 70%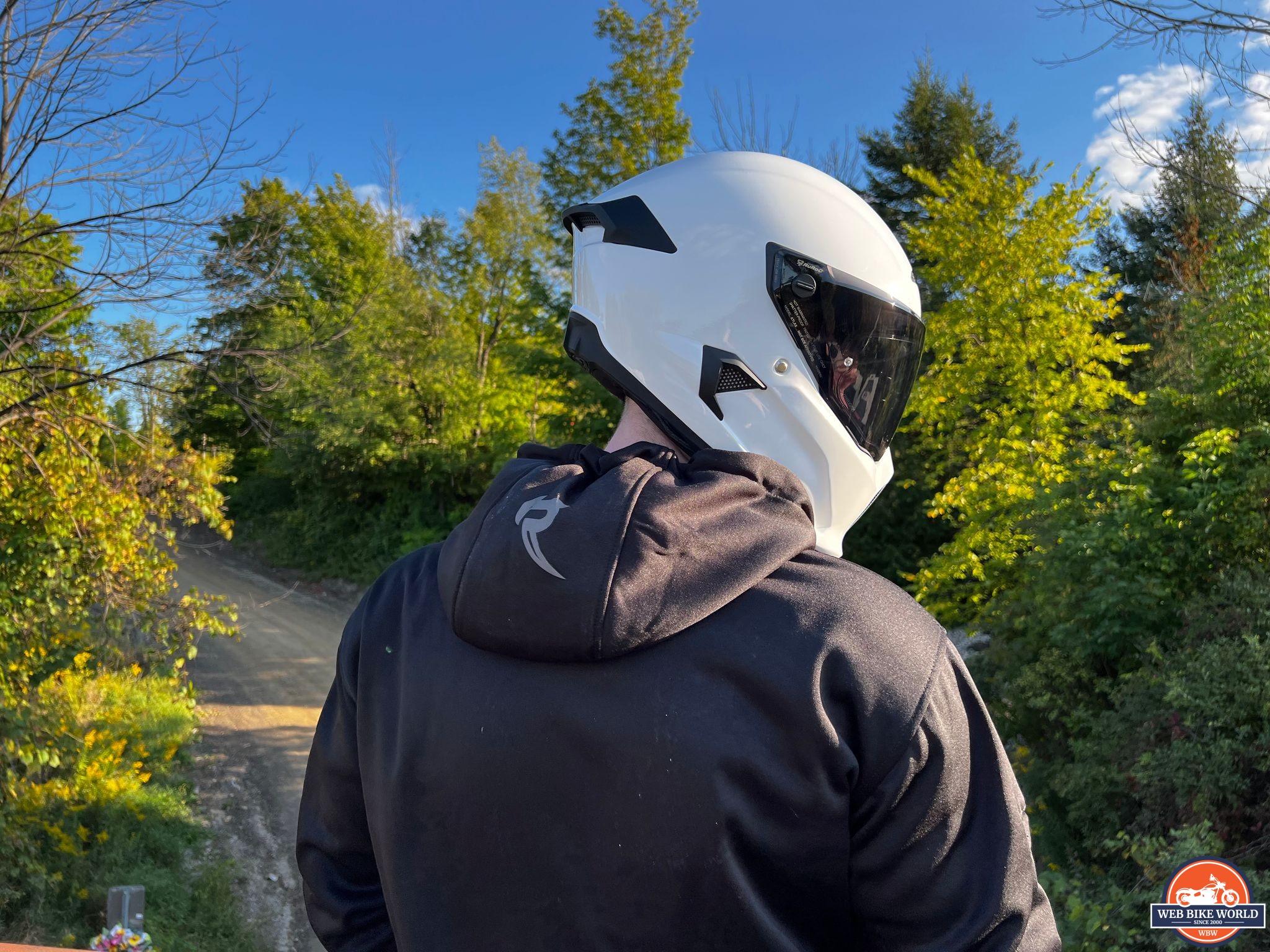 Build Quality / Protection – 75%
Meeting the new ECE 22.06 certifications is a much-welcomed feature, and was even more impressive at the time of its release when only a few helmets had previously done so. The ATLAS 4.0 Street has received a lesser score for protection than the Carbon helmets as Ruroc omitted the RHEON headliner from these models.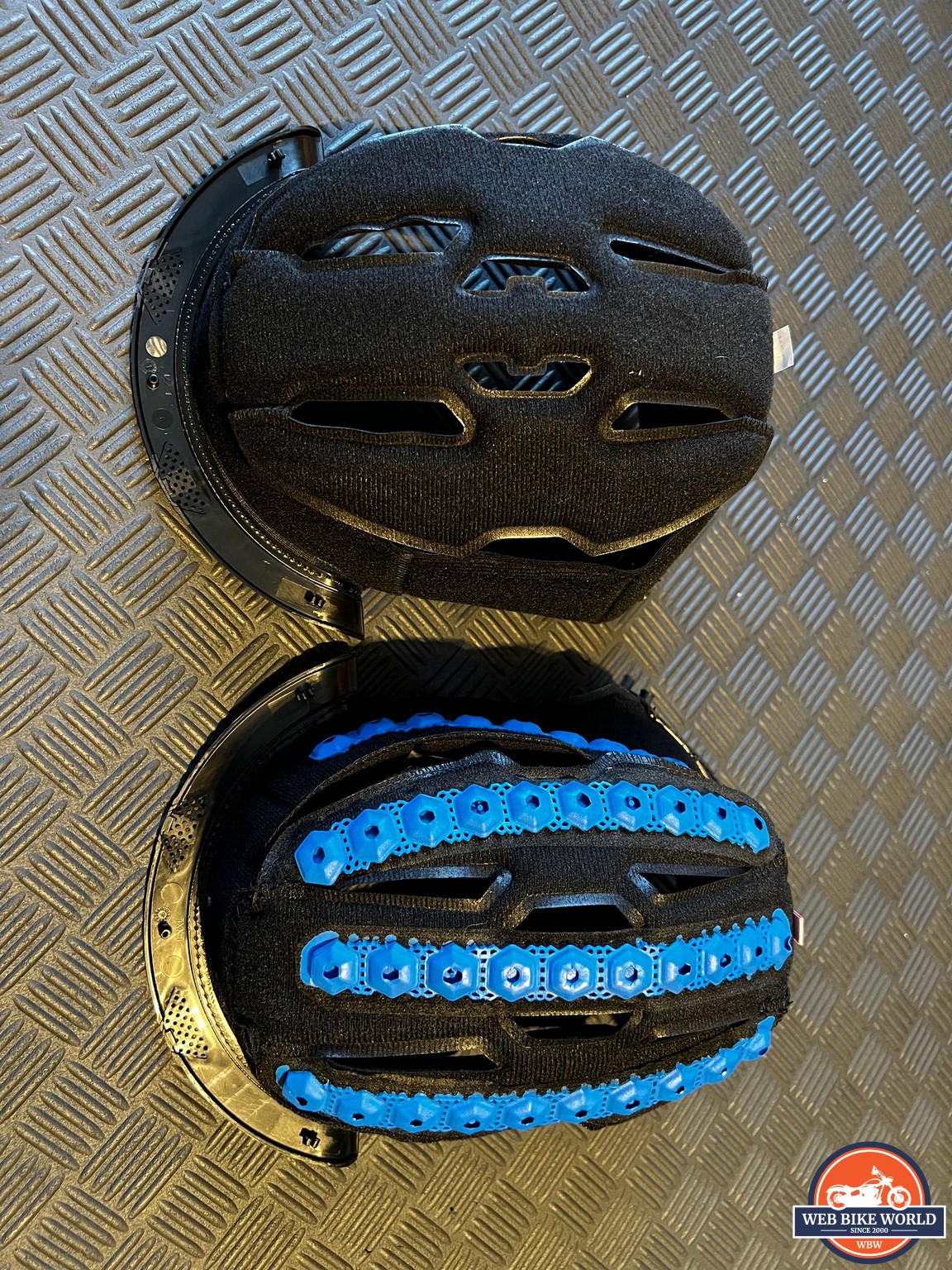 If you want to learn more about RHEON technology and how Ruroc has incorporated it into the headliner, check out the RHEON Labs article here. 
In terms of quality, the lining, visor, and final finish felt high-end, but other components failed me. Simply put, quality concerns such as the broken auxiliary port and broken liner snap closure make me question the overall quality of this helmet.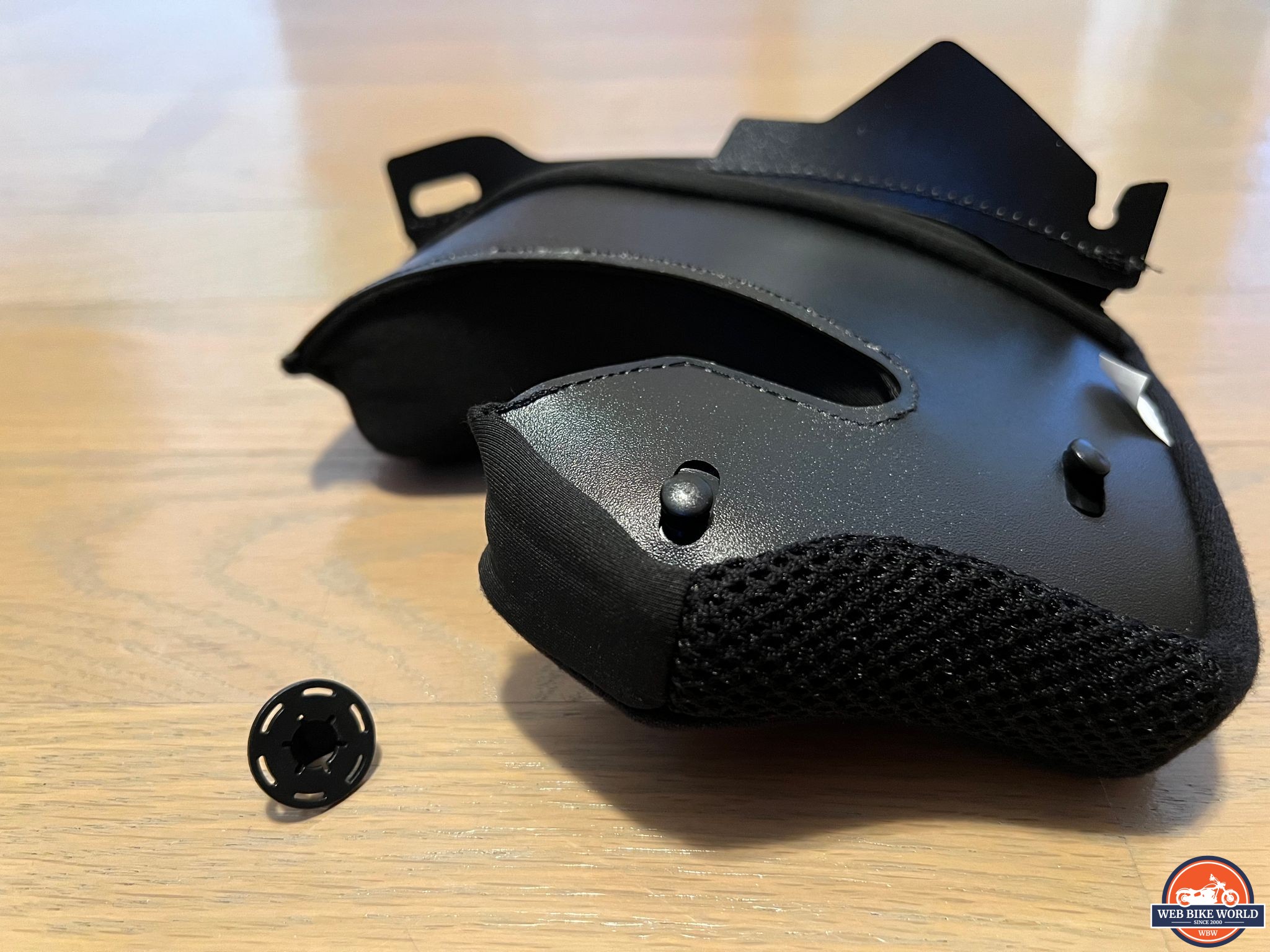 Noise Management / Quietness: 50%
Hurting the ATLAS 4.0 Street's final rating the most is how the helmet manages noise. Aside from a large amount of wind noise while riding, the overall quietness while wearing the helmet was underwhelming.
The side vents and amount of road noise received a large amount of criticism on the ATLAS 3.0 and despite Ruroc's claim to have addressed it, they're still a large drawback to the helmet
Size, Fit & Comfort: 75%
On one hand, the helmet fits very nicely and feels comfortable, but on the other, you need to have the right size first. I would love to see Ruroc update its size guide to be more accurate about how the helmets actually fit. Exchanging sizes could prove to be very costly for the end user.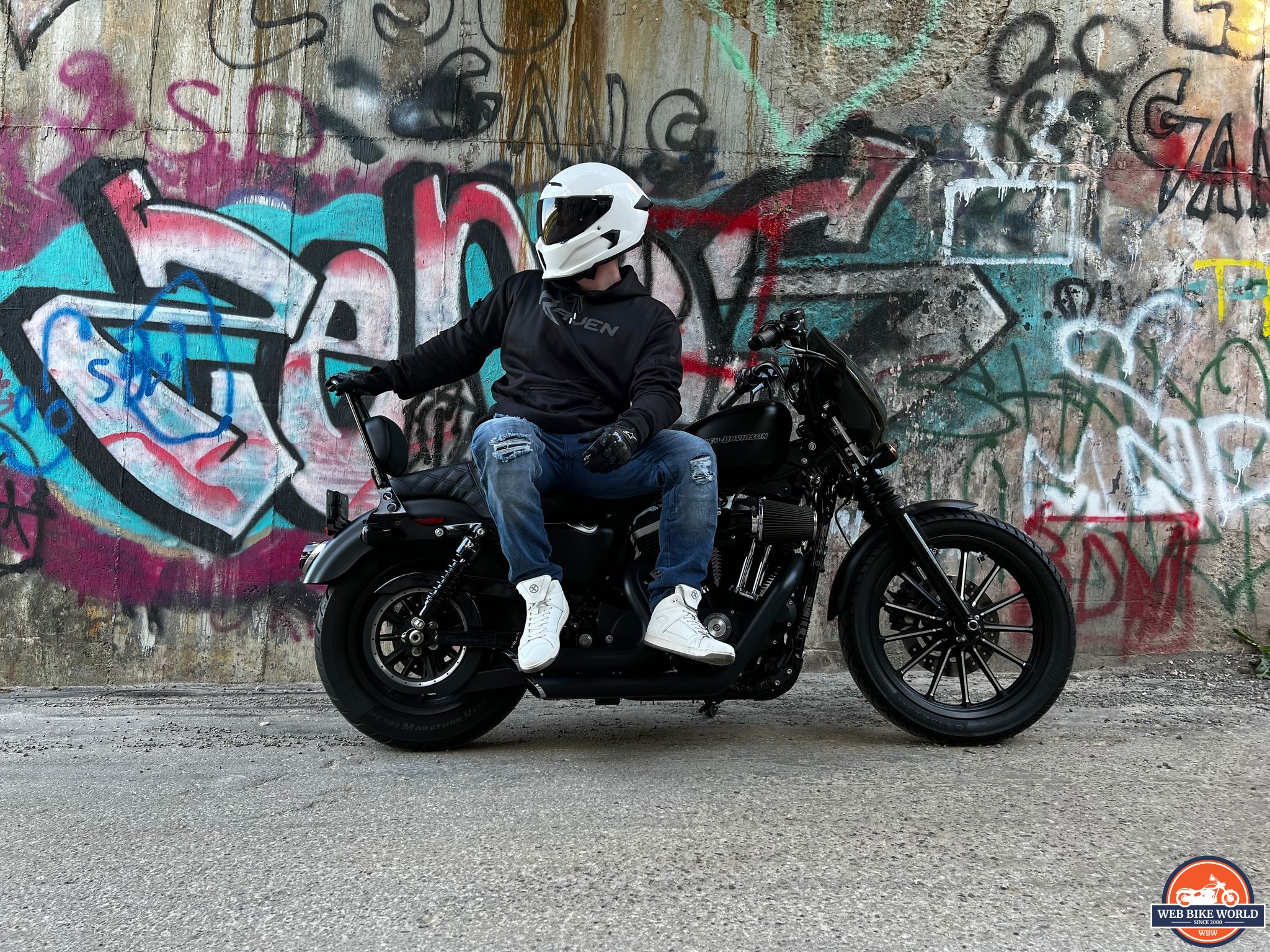 Design – 80%
This rating should come as no surprise to anyone. We can all agree that the Ruroc helmets look great and bring a refreshing change to helmet wraps that are unmatched in the industry. I've had to decrease the rating slightly because the variety of options is much less than the 4.0 Carbon by a staggering amount.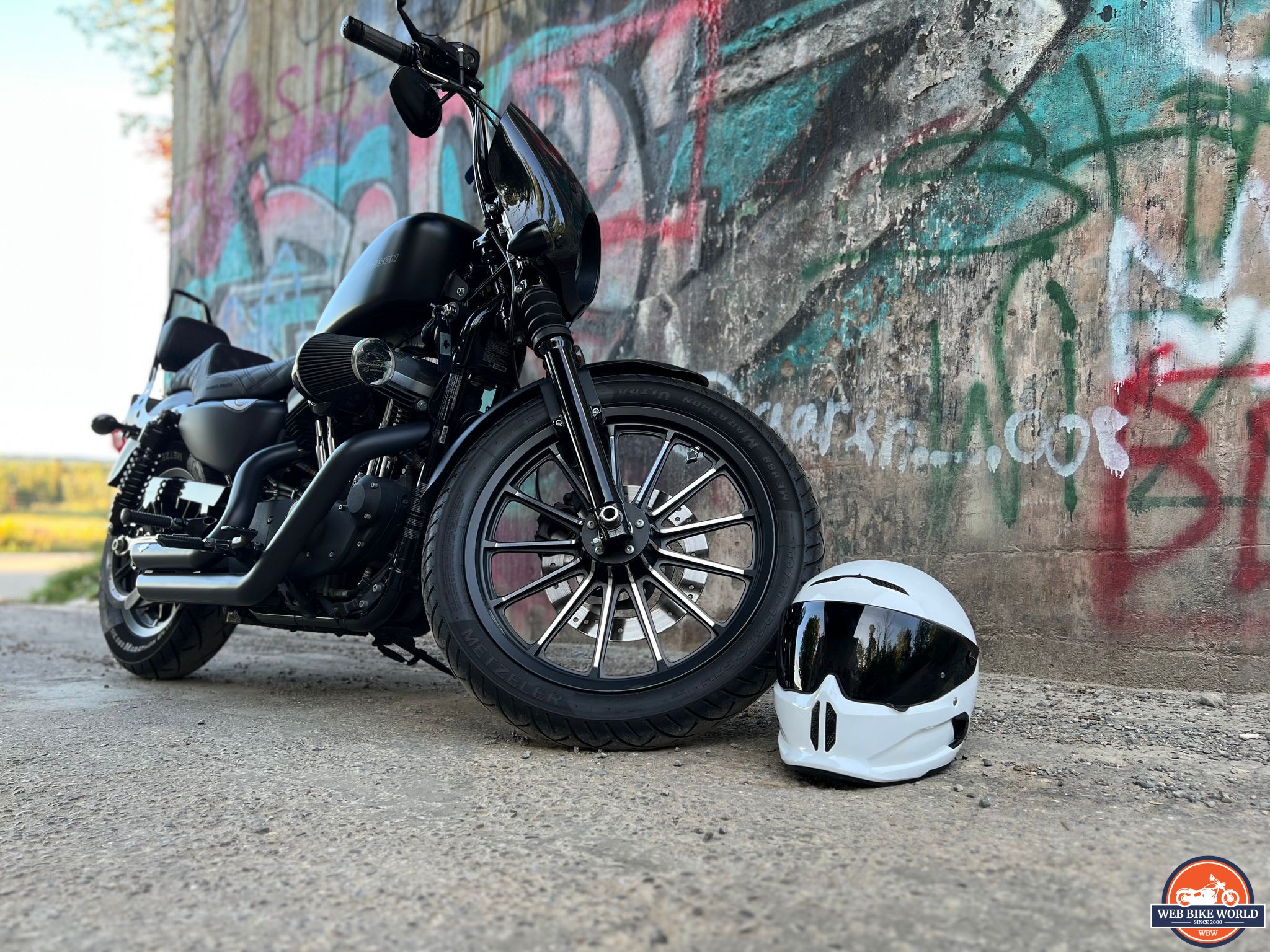 Visibility – 75%
I have a love-hate relationship with the visibility on the ATLAS 4.0 Street. The eye-port is massive with a beautiful, unrestricted field of view that allowed me to fully immerse myself in my ride. I would love to see Ruroc include both a clear and tinted visor with the 4.0 Street or a complimentary pinlock insert to combat the troublesome fogging.
Ventilation / Air Flow – 80%
As I previously mentioned, the airflow on this helmet was one of my favorite parts about it. I found the intake vent on the chin bar brought in ample air to help keep me cool. The brow and side vents didn't perform as well as the front, but still assisted in the overall ventilation.
Features / Value for Money – 70%
Features such as the seamless Shockwave integration, emergency pull tabs, and quick-release visor system made my user experience much more enjoyable. I would've liked to see the same Fidlock closure found on the Carbon models, as well as a cooling-fabric headliner.
Final Verdict
The ATLAS 4.0 Street is a mixed bag with plenty of things to like about it, but an equally demanding list of things to dislike.
If we are talking about the helmet's looks and protective properties alone, the ATLAS 4.0 Street is a great helmet. If an ATLAS 4.0 Carbon helmet is out of your price range, the Street models are fantastic-looking helmets with a fair breadth of color variety, a healthy amount of additional accessory options, and meet a high standard of safety.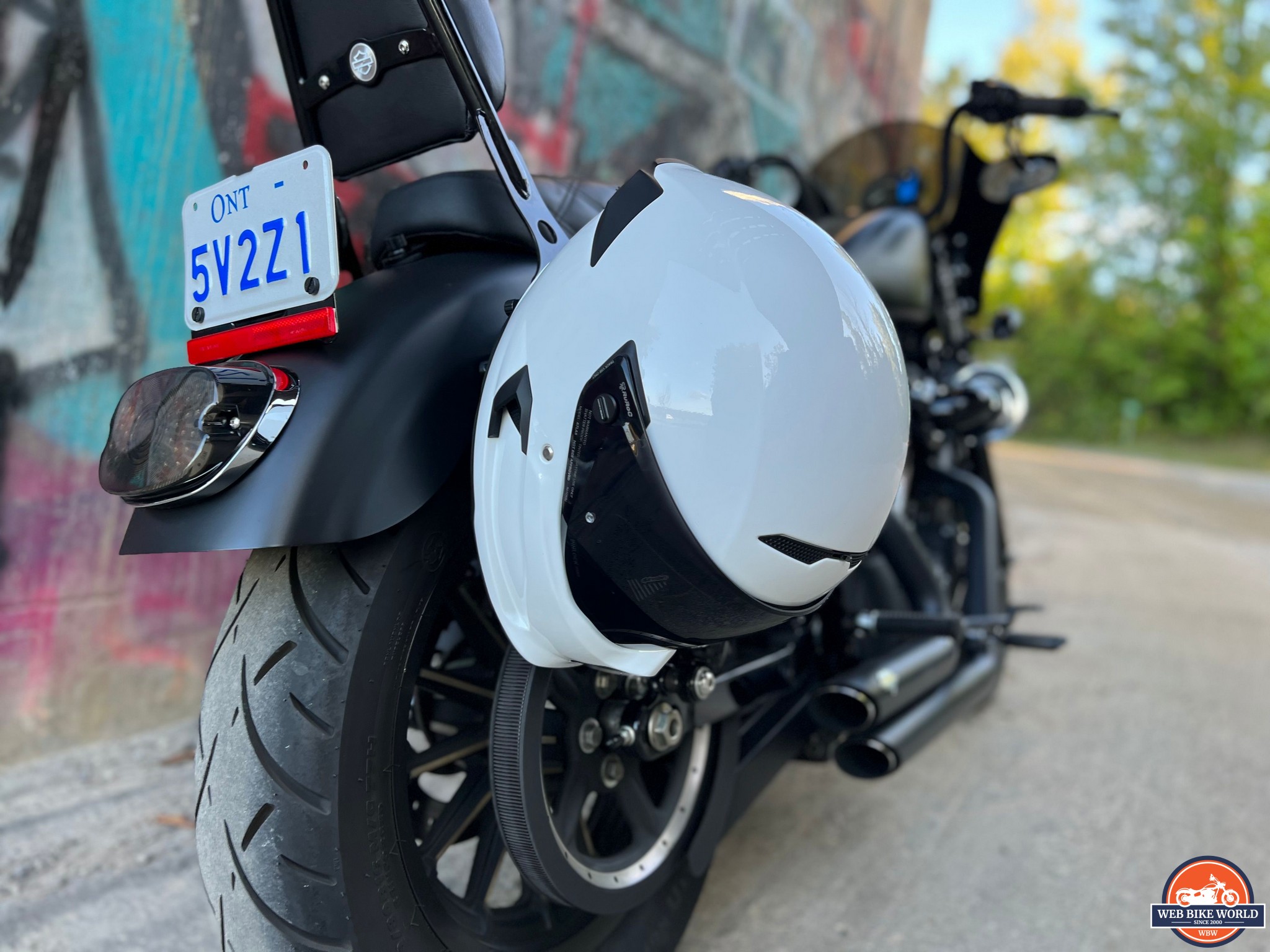 In terms of practicality, the ATLAS 4.0 Street is priced out of its league. A combination of heavy wind turbulence, loud road noise, and spotty quality concerns make this helmet perform more like an entry-level helmet than a mid-range.
If you're dead set on getting a Ruroc helmet, I don't blame you. It's hard to pass up something so good-looking. The 4.0 Street models are a great way to get your feet wet, but for a few hundred dollars more, you can enjoy a larger variety of colorways, a RHEON impact headliner, additional vents, Fidlock closure, and more with the Carbon line.
Pros
DOT FMVSS 218 & ECE 22.06
Secure fit and feel with a comfortable moisture-wicking liner
6 intake vents with a dual rear exhaust for great hot air management
Beautiful unrestricted 215 Degree horizontal FOV
Seamless integration of Shockwave Bluetooth Audio System (purchased separately)
Quick-release visor, emergency pull tabs, easily washable liner are amongst a few features
Cons
General quality control concerns that made it past the final inspection
Only a clear face shield is included and fogs up easily without a Pinlock insert (not included)
Extremely noisy ride (worse than 4.0 Carbon) with lots of wind buffeting
Sizing runs small and exchange costs are the responsibility of the customer
Limited colorways and design options compared to the 4.0 Carbon
Specifications
Manufacturer: Ruroc
Price: $350USD to $395 USD
Colors: Ghost (White), Core (Matte Black), Ronin (Design), Toxin (Design)
Sizes Available: SM – XXL
Review Period: July 2023 – Sept. 2023
Where to Buy