Royal Enfield is facing trialling times with a new CEO, plans to build an assembly factory in Thailand and the launch of Trials versions of its 350cc and 500cc Bullet.
Bullet Trials
While the new Trials bikes could hardly be used for trials riding, they do show a slightly more off-road emphasis, although they have avoided the usual trendy scrambler styling.
Instead, they get a single pipe that rises at a 45-degree angle, headlight grille, slightly knobby rubber, solo seat, rear rack, bash plate and a side plate.
They come with chrome tanks in a day-glo red and an olive green.
The Trials versions look pretty cool and should be able to tackle some dirtier roads.
Not that gnarly tracks have ever stumped the RE thumpers.
Many tours are conducted up the Himalayan mountains on these bikes and I did a trip around Sri Lanka last year that included some rough dirt tracks with ease on a Classic 500.
There is no word yet on when or whether they will be available in Australia, but they shouldn't cost any more than the current crop.
New CEO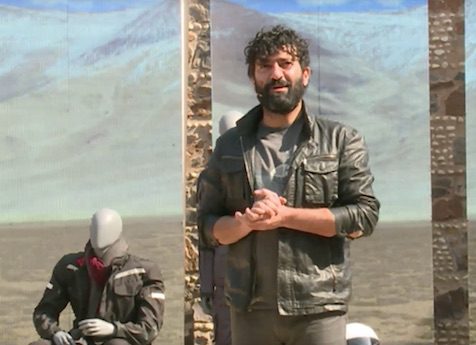 Parent company Eicher Motors has announced the appointment of Vinod K. Dasari as the Chief Executive Officer of Royal Enfield to take over from Siddhartha Lal who will continue as the Managing Director of Eicher Motors Ltd.
Siddhartha says the new CEO will lead the company "into its next phase of evolution to a global brand".
Vinod has been CEO and Managing Director of Ashok Leyland since 2011 and also served as President of the Society of Indian Automobile Manufacturers and President of Automotive Research Association of India.
"Vinod is a proven leader who combines business vision and people skills. He has been a catalyst in reviving the fortunes of his previous company and re-shaping the dynamics of a hitherto slow-moving industry," Siddhartha says.
Thai plant
Royal Enfield also recently announced it would build an assembly plant in Thailand to cater for rising demand in the domestic market.
There is no confirmation that the bikes will be exported to other countries, but it has also not been ruled out.
Thailand has become the new automotive powerhouse.
It is now the largest automotive manufacturer in South East Asia and the 12th in the world, thanks to protective tariffs, corporate tax breaks and a central location wth several ports for export.
In 2015, Thailand made 1.8 motorcycles, with domestic sales of 1.6 million and exports of 350,000 units.
Australia gets 80% of the Triumph range, Ducati Scramblers and some small- and medium-capacity Japanese bikes and scooters from Thailand.