LA motorcycle designer Roland Sands is one of several customisers who was invited to add their take on Indian and Victory models at the brands' stands at the Sturgis Motorcycle Rally this wek in South Dakota.
While most came back with custom baggers – the latest US trend with lowered rear, extended panniers, massive front wheel, mini-apes, big sound systems and painted dashboards – Roland Sands had a different take.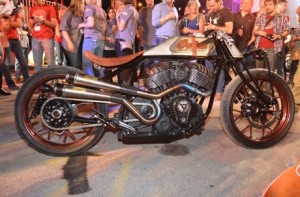 He has cut down the Indian Chief into a minimalist boardtracker, dominated by the massive 111 Thunder Stroke engine. Roland brought it out to light up the back tyre at the unveiling party for the new Indian Scout last weekend. The noise was as potent as the smell of burning rubber.
Roland's boardtracker features a leaf spring fork with a modern piggyback shock, a titanium fuel tank with visible welds, internal wiring, RSD air filter and twin titanium megaphone exhausts. The rear is bare: no shock, no fender.
Roland's BMW R 90 Concept was a thing of beauty and so is this. The BMW concept made it into production as a watered-down R nineT, but there is little chance the Indian boardtracker will ever see production in any shape or form. More's the pity.