Roadgear Bungee-in-a-Bag
Reversible bag with an attached bungee cord net inside keeps everything nice and tidy.
A bungee cord is a pretty amazing device when used correctly.  Some motorcyclists swear by them; others swear at them, but just about everyone carries a couple of them "just in case".
Bungee cords are right up there with duct tape as some of the simplest and most useful products ever designed.
They're not without problems though — cheap bungee cords can snap too easily; the hooks can come flying off, causing serious injuries (especially to eye injuries) and the metal in the hooks can scratch the paint quicker than you can blink.
That's why some motorcyclists simply won't use them, no matter what.  But stick with good quality bungee cords and use some common sense and you should be fine.  One of the primary rules is don't over-stretch the cord.  A rule of thumb is to never stretch it to more than half its length.
Also, there are some pretty good bungee cords designed specifically for motorcycling.  Check out the "Fat Bungee" on our Motorcycle Tips from visitors page; this is a different style bungee cord with a flat profile, and it's available in a variety of lengths and they even make an adjustable version.
Another product I use quite often is the Roadgear Euro Sport Jumbo Hauler (review); it has bungee cords permanently attached to the bottom of the bag, hidden underneath a separate layer that also serves as a paint protection layer.
I've stuffed all sorts of goodies in this bag — including a helmet, cameras, clothing, water bottles, a sweater…  It has a lot of flexibility and it takes no time at all to throw it on the back of the bike.  When I get to my destination I can pop it off, stuff the bungees back into the pocket underneath and it works as a nice piece of soft luggage — and no one will ever know it's really a motorcycle bag.
Which brings us to my latest bungee-enabled device, the Roadgear "Bungee-in-a-Bag".  It looks like a basic small carrying bag or purse, and it has the standard reflective Roadgear logo on the outside.  But there's something curious about it — the zipper is installed backwards!  This is the first hint that this bag is hiding something unusual.
I thought that the backwards zipper was some sort of mistake when I first looked at the bag, but unzip the backwards zipper, turn the bag inside-out and voilà!  There's an entire bungee net inside, complete with four bungee cords with adjustable hooks, and the zipper is now correctly oriented to use the bag as a separate storage unit!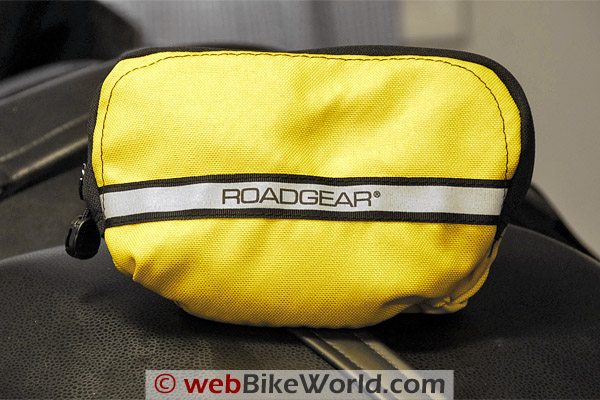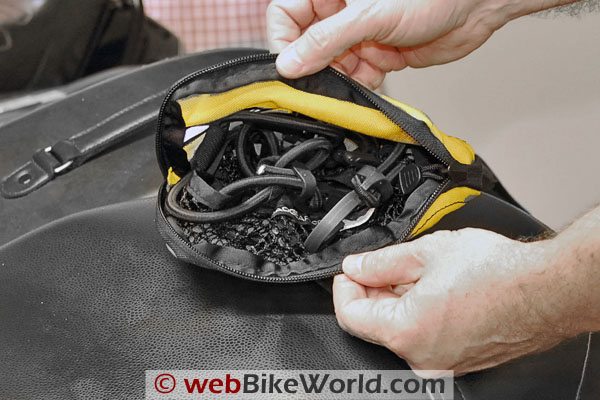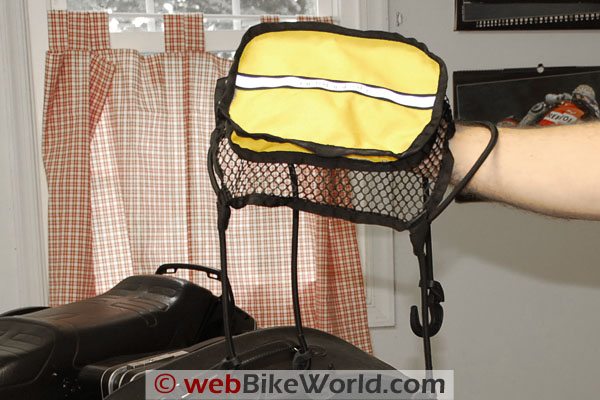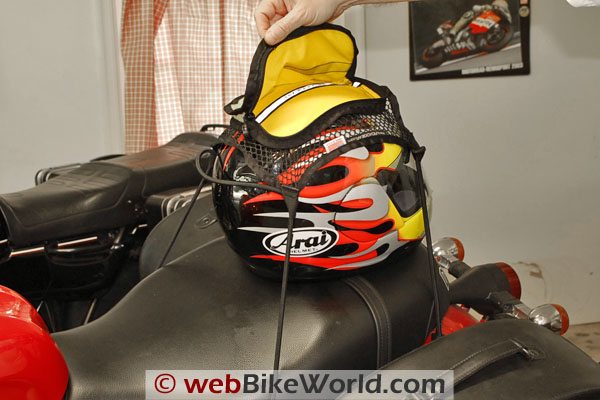 The Bungee-in-a-Bag is a handy little devil, and one of the best things about it is that it manages the rat's nest of bungee cords that usually results from carrying the things in a saddlebag.  Since the bungee net is sewn inside the Cordura bag, everything falls handily into place.
The built-in bungee net has a lot of stretch — just for kicks, we bungeed (is that a word?) a helmet on to the back of the GT1000 to see how it would work.  I probably wouldn't carry a helmet that way, because there are better and safer methods, but the Bungee-in-a-Bag has enough stretch to hold the helmet securely.
Bungee cords are, of course, very flexible, and that's their advantage.  They can be used to hold all sorts of irregular shapes.  But individual bungee cords can't really be used to secure a helmet, at least in any way that I'd ever trust.
That's why a bungee net is sometimes much more useful for motorcycle use.  The Roadgear Bungee-in-a-Bag takes the net concept and kicks it up a couple of notches, making it easy to store and carry the bungee net and also because of the smart design that turns the carrying pouch into a useful storage compartment when the net is deployed.
Conclusion
The Roadgear Bungee-in-a-Bag is a very handy little product that I'm sure you'll find useful in numerous ways.  It's a bit more expensive than those cheap bungee cords you don't want to use anyway, but get this: it has a 10-year warranty and it's made in the U.S.A.!  Check it out…

wBW Video:  Roadgear Bungee-in-a-Bag