After almost 4000km of some of the most beautiful scenery and enjoyable riding we have ever done, Mrs MotorbikeWriter and I have arrived in Sturgis, South Dakota, aboard our trusty 2015 Victory Cross Country Tour.
It's not the end of the road for this happy trio. We still have a week of partying in Sturgis, riding around the Black Hills and maybe even venturing out to Yellowstone, plus a 900km trip to Minneapolis to return the bike to Polaris HQ. But this is the focal point of our tour: the world's largest and most famous motorcycle rally.
Day 13 started out with a very sad farewell to quaint Buffalo, Wyoming, a charming town with friendly folk, beautiful scenery, plenty of native fauna (although we only saw deer), rich pioneering history and delicious baby back ribs.
Our trip today is short and we hit the 80mph interstate eager to get to Sturgis as soon as possible. The highway is alive with bikes as well as massive RVs and trailers also packed with bikes. (Later when we get to Sturgis we find one of the most popular stickers is the proud declaration "I rode mine to Sturgis".)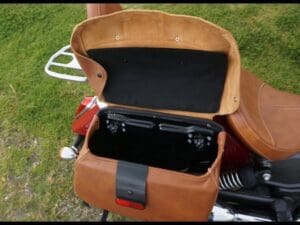 We turn off at Gillette to fuel up because the high speed has drained the tank quickly and my wife wants to visit a western outfitters for more cowboy merch. The place is humming with motorcycles and there are several clued-up and interested onlookers who realise I'm riding the 2015 model.
Back on the highway and the overhead electric signs are reminding motorists of "heavy motorcycle traffic ahead" and "look twice for motorcycles". It's nice to be on a major road and, for once, be among the dominant form of traffic.
But now we're getting road-weary and we take a detour along Route 16 which we've been told is worth the extra distance. We aren't disappointed. The road starts to bend and the scenery instantly becomes more pleasant with rolling hills and interesting rock outcrops and canyons.
We can also smell the fresher air, pine needles, freshly cut hay, and the fields of yellow and purple wildflowers. Mrs MBW remarks: "That's what's so beautiful about riding; you can live it and smell it and almost feel it. Sometimes it's good and sometimes it's bad."
Then we see signs pointing to Devils Tower which was the meeting place with the aliens in the 1977 Steven Spielberg film Close Encounters of the Third Kind. It's only a 6-mile extra detour off our Route 16 detour but it's well worth it. And it seems we are not alone. Hundreds of bikers have also taken the double-detour.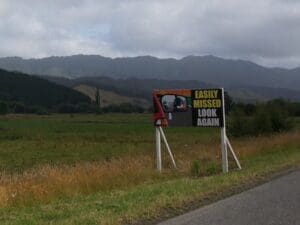 Back on Interstate 90 for the final stretch, the three of us have flared nostrils like starving horses heading for home. The throttle is wound out past 80, but when we see a growing presence of highway patrol cars I judiciously wind back again as we cross the border into South Dakota – incidentally the state with the highest gun and motorcycle ownership in the US.
Along the side of the highway are sign after sign after sign promoting the rally and various venues such as One Eyed Jack's, Full Throttle Saloon, Buffalo Chip and more, making you feel more and more excited.
When we finally peel off the highway, the hills on either side are already seething with campers a day before the event officially starts. And the little town of 6000 is overflowing with bikes and bikers. Officials expect anywhere from 200,000 to half a million. Next year they expect a million for the 75th anniversary.
There are bikers of all sizes, ages, nationalities and talent, as well as bikes in all colours, shapes and models, although cruisers dominate; Harleys in particular. However, their official company presence seems overshadowed by Victory and Indian. It seems the latter is making Sturgis the official place to launch their new models. They will be unveiling the Roadmaster, plus another bike (see my previous story) tomorrow night at Buffalo Chip.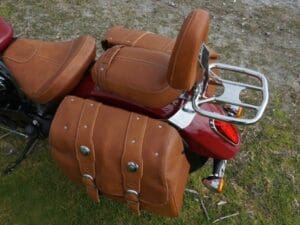 Sturgis is a melting pot of people who love anything to do with bikes. Of course, there is a seedy side and plenty of bare female skin, but you feel safe walking around the streets because of the huge police presence and the "no guns, no colors" signs on all the bar entrances. We've also been told along our 2000-mile trek by Sturgis veterans that the event is becoming more gentrified each year.
Rally goers are certainly spoilt for choice and entertainment. There is a wide variety of food vendors, bars, merchandise tents, entertainment, trade stalls, dynos and more. There are also concerts, rides, fairs and other events in and around the Black Hills district over the next week to keep us occupied and plenty of tourist brochures to provide advice for the Sturgis virgin.
Thanks for coming along on our "Road to Sturgis" series.Please keep coming back to the website for reports on the event, the new Indian model unveiling tomorrow and more blogs from the road as we finally return our beloved Victory to its rightful owners.