Are we about to witness an explosion of Motorcycle Friendly Towns across Australia?
Politicians at the official launch of Texas as the first mainland Australia Motorcycle Friendly Town at the weekend seem to think so.
The event attracted about 100 bikers from as far as Sydney, Dubbo and the Sunshine Coast for the day and, of course, the obligatory swag of politicians keen to snare some of the kudos and spotlight.
Texas sits right on the border with New South Wales, midway between the New England and Newell highways and just a couple of kilometres off that golden ribbon of biker delight, the Bruxner Highway.
For years bikers – attracted by the winding highways, pleasant scenery and the decomposed granite back roads – have been riding around and through the town, stopping off for a meal, a beer or an overnight stay.
Helen Rush, licensee of the only pub in town, the Stockman Hotel, noticed the growing number of bikers passing through and began asking what they wanted to make their stay more pleasant.
As a result, she started putting bigger hooks in the rooms to hang riding gear, oil heaters to dry off wet gloves and boots, power boards to charge up phones, bluetooth systems and satnavs, and she installed a free kit in the bar with bike and visor cleaning gear and chain oil for all riders to use.
They also get a free beer with every bed they book, which was, in itself, one of the best incentives.
Cr David McMahon of the regional Goondiwindi council also noticed the number of bikers staying in the town and established a committee to encourage more.
He invited Helen, local business owners, the local press, representatives of regional tourism bodies and even a couple of motorcycle magazine journalists.
Within 10 days, they had cordoned off an area for bike parking.
Within weeks they had established a formal working party.
Within a few months they had printed special bike tourism guide maps and decided to declare themselves the first mainland Motorcycle Friendly Town.
Unlike the now-ubiquitous "RV friendly" signs which are accredited by the Campervan and Motorhome Club of Australia under strict guidelines, there are no such rules or regulations for declaring a town or city biker friendly.
However, motorcycle councils in each state have been approached to set up guidelines, but don't hold your breath waiting for agreement.
Texas certainly didn't. They just went ahead and did it, anyway.
They are not the first in Australia. that honour goes to Glamorgan Spring Bay municipality in Tasmania which declared itself motorcycle friendly several years ago.
However, Texas now has the attention of other towns and state and local politicians, and could become a model for rolling out Motorcycle Friendly towns all over the country.
Regional Mayor Graeme Scheu told the gathering of bikers at the official launch "it just goes to show what rural towns can do".
"It's people like you coming to towns like this that will keep them alive," he said.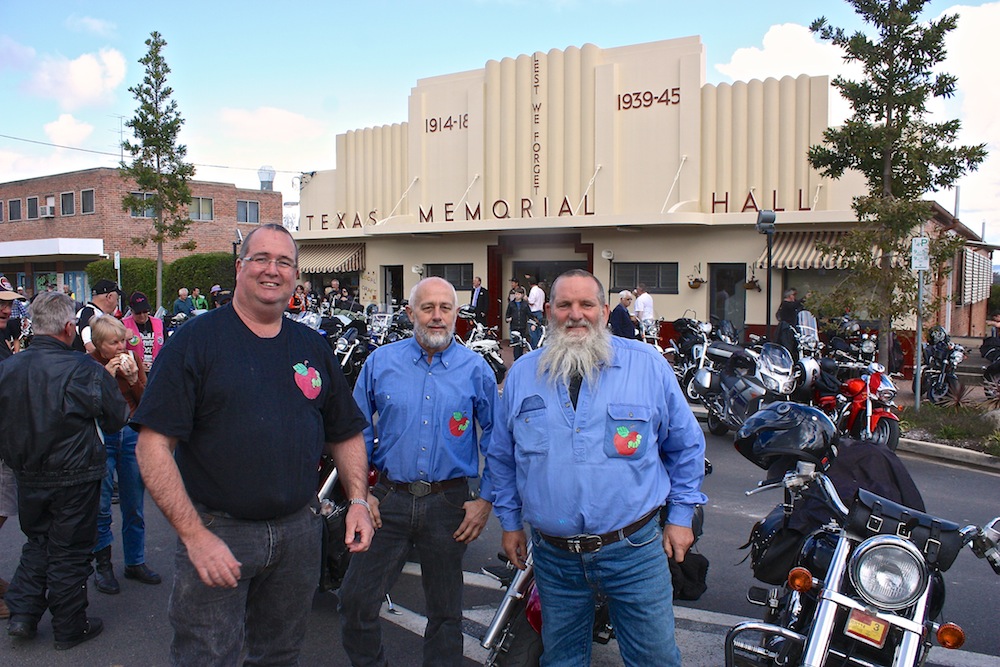 The mayor of the neighbouring Southern Downs regional shire, Peter Blundell, rode into Texas on his 2008 Yamaha XVS1300 for the official launch with his "Apple Dumpling Gang" of biker friends.
He's been riding on the road since 2009 and spent most of his days chasing sheep and cattle on his property on horses and dirt bikes.
"I hadn't thought much about what we could do for bikes but I'm about to start thinking about it," he said.
"The best thing you can do is ride around local towns and spend your money locally. I see motorcycle tourism as a big thing.
"I know we spend $300 to $400 a weekend in the local economy.
"Most small towns have a pub and some rooms and interesting things to see and we like to have a beer and some meals or go to race days (his shire includes the Stanthorpe Carnell Raceway and Morgan Park at Warwick).
Cr McMahon is confident the Motorcycle Friendly Town idea will spread, at least within his shire to places such as Inglewood and Goondiwindi.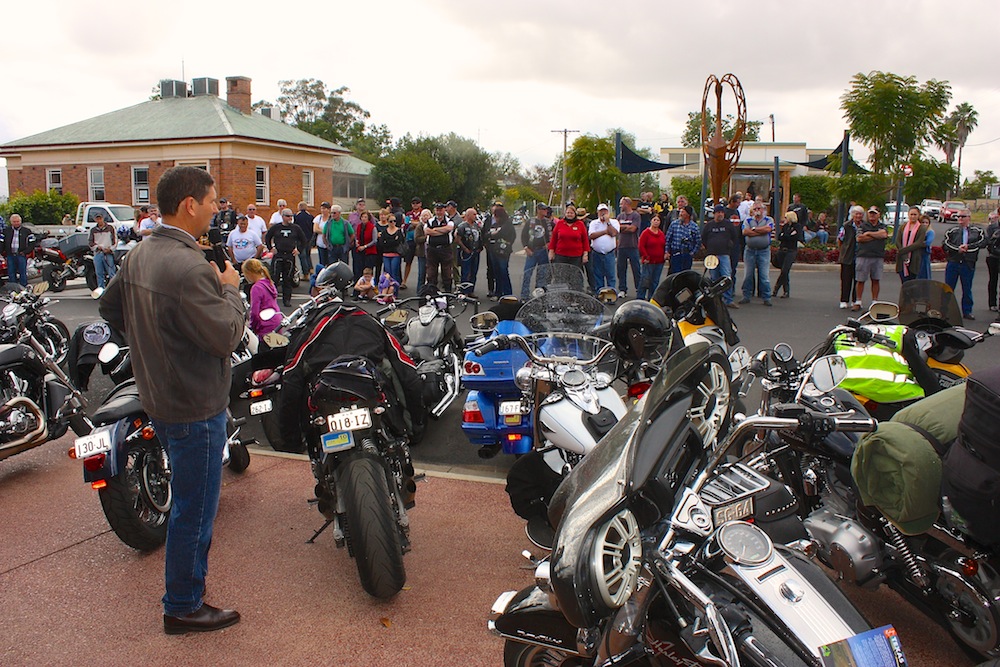 Regional state member and current Health Minister Lawrence Springborg is confident it could spread even further.
He rode into town on the back of a Harley along with Mayor Scheu, but he said he had been riding on his property and on the road for years.
He told the assembled throng of bikers at the official launch that he even rode his Yamaha XT250 several hundred kilometres to Brisbane many years ago to see his fiancee.
However, words of advice from his father to his then politically driven son prevented him from riding as a politician: "He told me half the people will hate you and the other half won't trust you.
"Unfortunately people's views of bikes is spoilt by the minority who play up."
But Springborg is aware of the potential for biker tourism.
He says that in the past 10 years in Queensland there has been a 50-60% increase in bike registrations and twice as many active riders hitting the road. It's a fairly similar story right around the country.
Springborg says there has been a three-fold increase in the number of active riders in their mature years.
"People are buying bikes in retirement and couples are getting out together," he says.
"These bike tourist are people with a bit of money to spend. They buy expensive bikes.
He also said they spend an average of $120 a day when they're on the road.
"Grey nomads are very important (to local economies) but they are more self sufficient. These guys (bikers) stay in local accommodation and have to buy all their meals.
"A few dozen people per week makes a difference to a local community. There is a multiplier effect. It becomes infectious."
He also pointed out that it was not just an economic benefit but motorcycle clubs also did a great deal of charity work in local communities. He cited the example of the Warwick branch of the Ulysses Club that was raising money for the victims of the freak tornado that tore apart the township of nearby Pratten.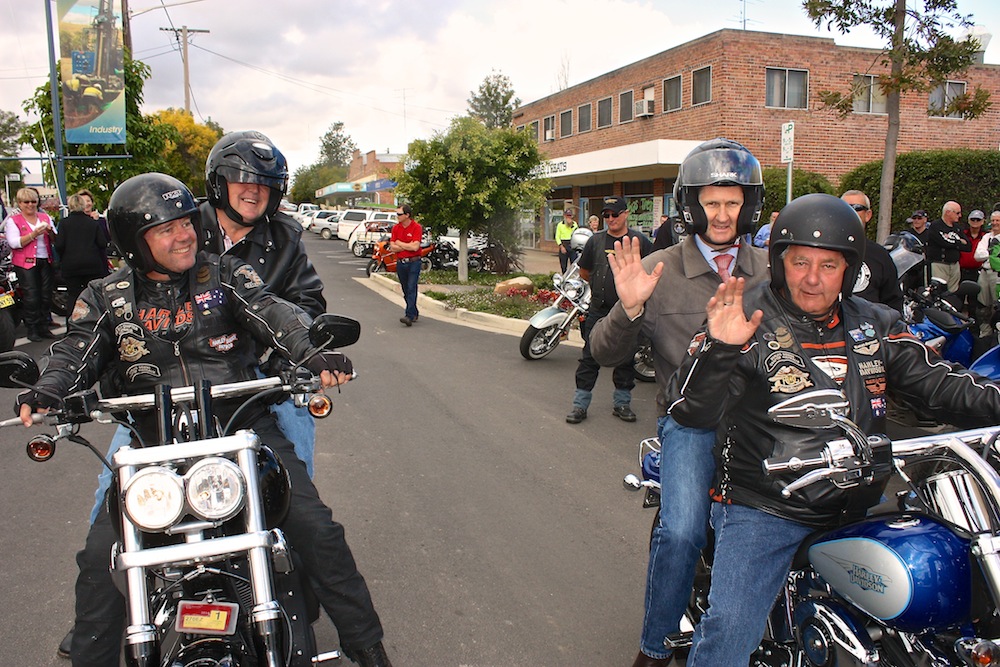 "We think what is taking root here is something that can be positively encouraged by the state government," he said.
Of course, politicians always say nice things at official functions, but often don't back it up with actions.
Springborg could not promise any particular action or support, nor could he even say there would be an economic impact study done on Texas.
However, the Texas model got off the ground because the local community got behind it, not because the title was bestowed on them by a government.
We don't need politicians to make it happen, but we do need their support.
What needs to happen now is for bikers around the country to visit texas and see what they have to offer and then spread the word to other country towns.
Tell them what they need to do to make it happen.