A rider who bought a BMW R 1200 RT motorcycle that was painted and equipped to look like a police bike so he could feel safe in traffic has been fined for impersonating police.
Darren Emanuel, 46, was stopped in London by motorcycle police officer PC John Harding who thought he was a colleague.
He told the court the bike had black and white checkering down both sides, a badge resembling a police badge with the letters ER (Elizabeth Regina) and a blue light. He was also wearing a jacket with three reflective stripes on the sleeves.
"If a person looked in their rear-view mirror and saw him what would they think?" the officer said.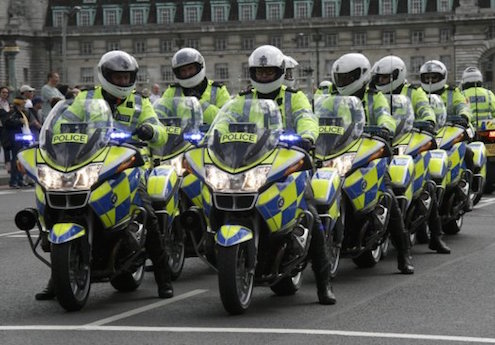 "Twenty days earlier, we had a terrorist attack. I am not calling the defendant a terrorist, but people in London help the police we have a good relationship and they move out of the way for us when they see us."
Darren sad he bought the bike to feel safer in London traffic.
"I have lost two friends who died in motorcycle accidents coming home from the office," he told court.
He bought the BMW second-hand from a former police inspector who assured him the livery was legal.
Darren was found guilty of wearing a police uniform with intent to deceive, under the Police Act of 1996, and given a 12 months' conditional discharge and ordered to pay court costs of £670.
Impersonating police
He is not the first rider to be fined for impersonating police, but it is fairly rare.
In most countries, you are deemed impersonating an officer if you wear a similar uniform, but usually it is with the caveat of "for the purpose of deception or committing a crime".
For example, in April 2015, a father and son were robbed in Newcastle by offenders impersonating police officers.
However, the laws on impersonating police differ vary and it may be illegal even if you and your bike resemble a police bike and officer, even if you are not committing a crime.
So, if you have an ex-police bike or one that may be considered to resemble a police bike, it is advisable to check your local authority.
There are usually exemptions such as special police consent or for entertainment use at special events.