The Indian Motorcycle Rider Group has kickstarted in Australia with two years of free membership and inaugural rides in Melbourne recently, Brisbane today (November 8, 2015) and Sydney in two weeks.
NRL Premiership-winning North Queensland Cowboy, Victory ambassador and all-round nice guy Ben Hannant was the guest of honour at today's ride that ended with a free barbecue lunch at the Indian Motorcycle Museum of Australia.
About 30 riders turned out at the Brisbane shop in appalling weather to celebrate the launch of the IMRG.
Indian Motorcycles Country Manager Peter Harvey flew in from Melbourne to join the ride.
"We don't want to be HOG, but we'll see how it develops over the next couple of years," he says.
Membership is currently free for the first two years and partners of members can join for $40. Members receive a gift pack including a special t-shirt, badges and patches.
"We won't have chapters and presidents and that sort of thing," Peter says. "We want to keep it fairly informal, but it will depend on how the members want it to go."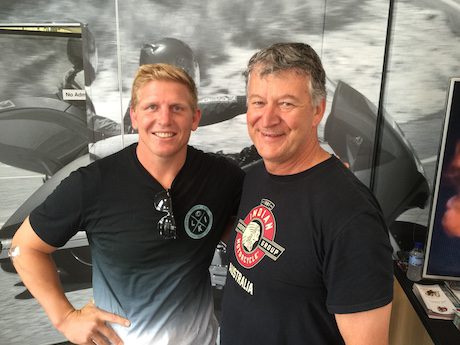 The short ride headed out into north Brisbane, wound around through the suburbs, over to Redcliffe for a coffee and down over the bridge headlong into a storm.
It ended at the privately owned and operated Indian Museum where Indian put on a free barbecue lunch.
After lunch, Peter handed out novelty awards to various riders of $100 coupons for Indian merchandise.
The group members also toured through the museum which has expanded since it opened in March 2014 with the addition of a "Burt Munro Bar" and a whole new showroom featuring two "barn find" Scouts, an old police bike and a three wheeler.
Owner Darryl White says he has amassed possibly the biggest collection of Indian Motorcycles memorabilia in the Southern Hemisphere.
Darryl says his passion for Indian Motorcycles began in the 1970s "as a young fella riding bikes".
"At the time, Indian was selling Italian dirt bikes made under licence using the Indian name. They were just so much more powerful than what we were riding. Since then I've always wanted one." 
However, Darry's bus and truck parts business took up most of his energies and it wasn't until 23 years ago that he bought his first Indian, a 1922 Powerplus outfit.
"I had the passion to own an Indian, but work commitments got in the way," he says. He bought the Powerplus outfit for $7000, but sold it two years later for $22,000 to fund the purchase of his first Chief which he still has today. It also further fuelled Darryl's desire for more Indians.  "So started the disease, although I've also heard it called a virus," he says.
Darryl's museum at 419 Newman Rd, Geebung, is housed in a former forklift business that he has been painted up in classic style with mural artist and good friend Eric Henn, also of Ohio, replicating several traditional Indian Motorcycles posters. Even the shop window features a sign for Rhodes Motorcycles which was the first official Indian dealership in Australia.
CHECK OUT ALL THE MUSEUM PHOTOS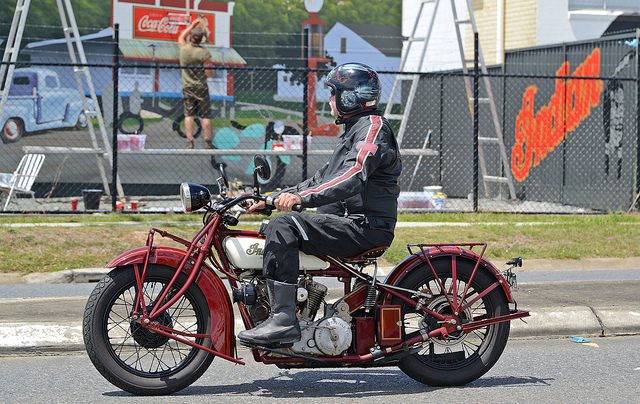 Almost every model is in working order and some are still in original paint condition with that quaint and valuable patina of antiquity about them. Darryl is proud of his original paint bikes that haven't been "prettied up".
It's not just the motorbikes that will attract patrons, but the memorabilia which includes helmets, posters, pennants, fuel bowsers, motorcycle parts, race medals and even an Indian outboard motor.
The museum also includes Indian Motorcycles merchandise such as t-shirts, jackets, hats and promotional items for sale.
Darryl says more public interest in Indian Motorcycles was sparked by the Hollywood movie, The World's Fastest Indian and the reborn Indian brand under Polaris ownership.
He's now a proud owner of a new Indian Scout.
Indian Motorcycle Museum Of Australia
Where: 419 Newman Rd, Geebung, Brisbane
Phone: 0477 184581
Museum hours: Saturday 9am-4pm and Sunday 9am-2pm (first and last weekend of the month).
How much: $15, children 16 and under free