Victory Motorcycles has added Maroon Bronco and Kangaroo Ben Hannant to its line-up … as an ambassadsor! And Victory owners will get to ride along with the footy star.
Car manufacturers have long been appointing VIPs and celebrities as ambassadors for their brands and most of them have nothing to do with cars or racing.
Motorcycle manufacturers are less likely to appoint these "lifestyle" ambassadors. Instead, they usually promote racers. But not so companies such as Ducati and Harley-Davidson who recognise the need to identify their product with other sports and lifestyle identities.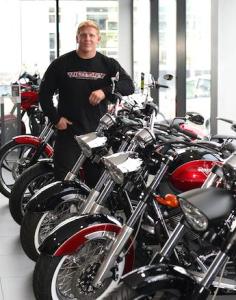 Victory Motorcycles has also joined the fray with AFL star Dermott Brereton and comedian Shane Jacobson as ambassadors and are now adding rugby league star Ben Hannant. Ben has represented Australia and Queensland, and been a key member of the Brisbane Broncos team since 2006.
Victory Motorcycle country manager Peter Harvey explains the selection of Ben as ambassador because he is "bold and maverick" like their bikes. He says he's a "perfect fit" for the brand and these images certainly show the big footballer fits the big American cruisers.
Ben Hannant will be one of the first Australians to ride the new Magnum custom bagger when it arrives in November. Meanwhile, he will rotate through the Victory range of cruisers, tourers and baggers.
He's a country boy and says he has always been passionate about motorcycles. "Growing up on a farm, I've always been around bikes and I'm beyond excited about being associated with Victory – the bikes are awesome and I can't wait to start riding them," he says.
"I love the adrenalin rush from being on two wheels, and the Victorys offer plenty, with lots of power and grunt."
Ben Hannant will also join in upcoming Victory customer rides. The next scheduled rides from the Brisbane Victory/Indian dealership are on October 5 to Lions TT, short Saturday rides to Mt Glorious and Calypso Bay on October 18 and November 9 and another long Sunday ride on November 23. Visit the store for details.