Ducati is looking for seven riders to ride more than 30,000km around the world on their new Multistrada 1200 Enduro for the brand's 90th anniversary year.
Applications for the Globetrotter 90 journey are open now online.
Ducati is looking for "intrepid bikers" to ride from their factory at Borgo Panigale along the Trans-Siberian highway, to Japan, the US, Europe and back to Italy.
The world trip starts on July 4, 2016, 90 years after Ducati was founded and will return on December 15.
Those selected will obviously be featured in Ducati PR and videos as the regulations require " a good knowledge of spoken and written English" and a "High-profile editorial capacity intended as autonomous production of texts, photographic and/or video material".
They refer to it as "Casting" and the closing date for applications is June 1.
Applicants will have to be bloggers or journos as the regulations say participants have to provide links to web sites, blogs, or other sources such as magazines where they can publish their travel-blogs.
Ducati will choose 14 finalists who will undergo a psycho-aptitude test and a "second screening" for their riding ability.
It will require off-road skills to show the abilities of the new Enduro model designed to compete with the venerable and top-selling BMW R 1200 GS.
The seven chosen globetrotters will bear a "Ducati torch" on their round-the-world journey, a "special flame designed by the Ducati Style Centre and a fitting symbol for that passion which burns so bright in Ducati."
Registration is free. Good luck!
Ducati Multistrada 1200 Enduro
The Multistrada 1200 Enduro has arrived at $29,990 which is $200 above the current Multstrada S.
The bike has more off-rad credentials with  a 19-inch front wheel instead of a 17-inch wheel like the BMW, as well as 120/70 and 170/60 tyres, 19 and 17-inch tubeless spoked wheels, more rugged bodywork, bigger front fender, aluminium side covers, higher exhaust, off-road footpegs and a 30-litre tank with up to 450km range.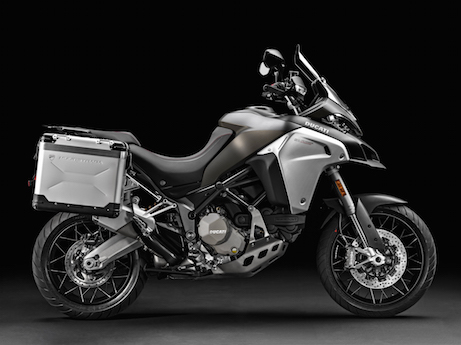 SEE ALL THE MULTISTRADA PIX HERE
It will feature the semi-active Ducati Skyhook Suspension (DSS) Evolution system by Sachs, 200mm wheel travel and 205mm round clearance (30mm higher).
The Enduro comes standard with Cornering ABS, Cornering Lights, Ducati Traction Control, Ducati Wheelie Control and Vehicle Hold Control for hill starts.