Review Summary
REV'IT! has motorcycle enthusiasts covered when it comes to gloves for every situation. The Kryptonite 2 GTX is specifically designed for cold, wet weather riding situations and the Gore-tex material gives it a slim look while the Thinsulate™ G insulation keeps the rider warm. It offers the protection that one would expect from a motorcycle street glove.
Pros
GORE-TEX liner is waterproof, windproof, and highly breathable Connect fingertip
Level 1 Kp Certified According to the EN 13594:2015 standard / Hardshell knuckle
TPR injected finger knuckle protectors Thinsulate™ G insulation
Goatskin Leather palm
Hook-and-loop adjustment strap at the wrist
Cons
Rather plain looking
Only in black
No hard palm slider
Connect fingertip only worked on right thumb
REV'IT Kryptonite 2 GTX Photo Gallery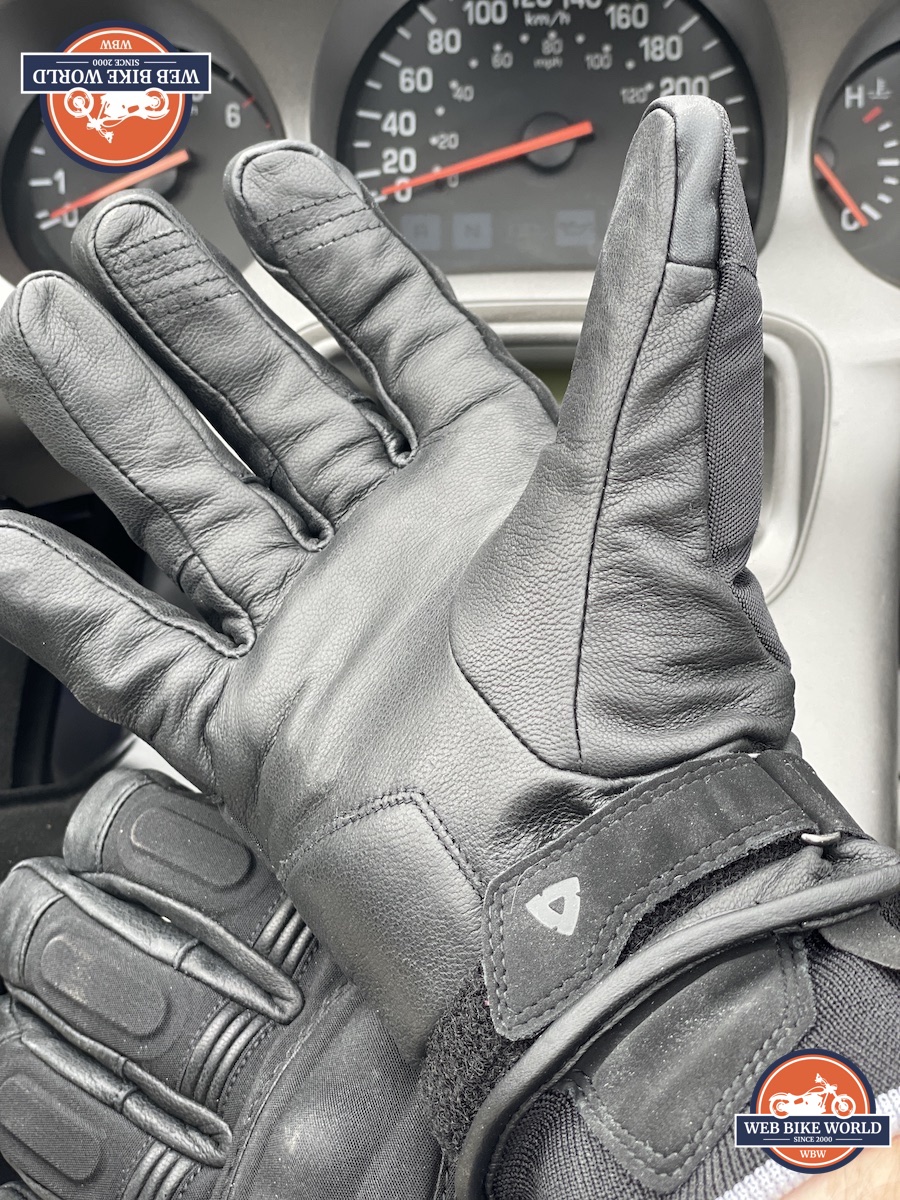 REV'IT! is headquartered in Oss Netherlands, a country well known for its love of two-wheel transportation, but not a country that leaps to mind when I think of high fashion or style. Based on that logic, it totally makes sense why the Kryptonite 2 GTX gloves strike me as plain and practical. I realize that style is subjective, and in my standard riding kit, I will admit that cosmetics totally come into the decision-making process, but for foul weather gear, it is all about function.
Many of the aesthetic elements of these gloves are simple incorporations of the protective elements and functional features. The outer Gore-tex materials blend well with the goatskin leather palm surface, and the protection elements provide texture to the whole look.
GORE-TEX Pro membrane
Hardshell knuckle protection
Hook-and-loop adjustment strap at the wrist
Tri-fleece liner
Knitted cuff
Connect Finger Tip
3M™ Thinsulate for warmth
Temperfoam® palm slider and thumb knuckle
Sizes S-3XL
Aesthetics Rating: Simple, Black Design. 80%
REV'IT! Kryptonite 2 GTX Gloves: Build Quality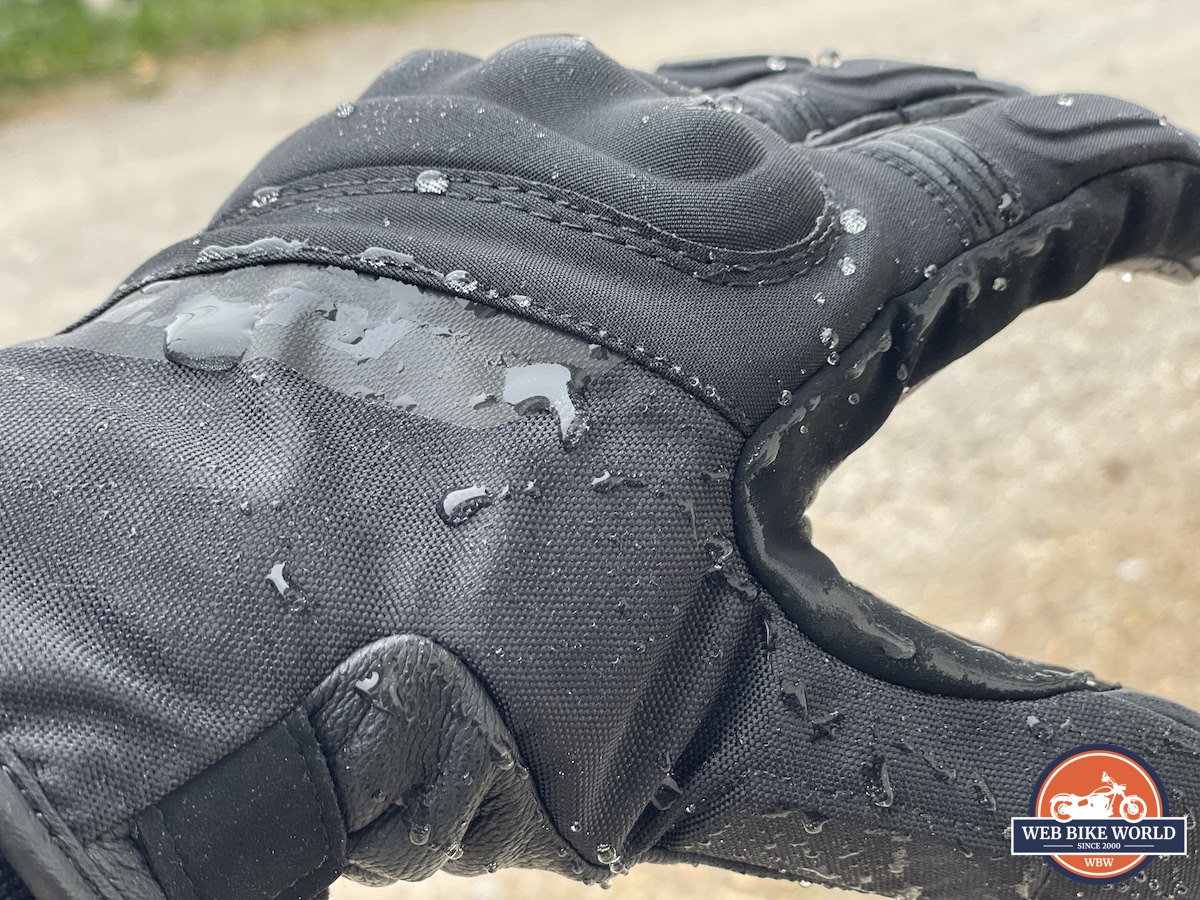 Designed in the Netherlands and manufactured in Indonesia, the REV'IT! Kryptonite 2 GTX gloves are nicely constructed, but I found a few things that let this reviewer down.
From a functional standpoint, the combination of Gore-Tex and 3M™ Thinsulate did a great job and keeping me dry and warm. I rode these gloves on my Honda Goldwing with the heated grips turned off on a 12℃ morning at 120km/h for a good distance and felt quite comfortable. I also used them during a light rain on my KTM SuperDuke GT and again stayed warm, and the water shed off the gloves the entire time. I did not experience the heavy rain I was hoping for but based on my hands under running water test, there is nothing to indicate these gloves would not perform perfectly.
So what was it that let me down? The biggest one was the Connect Touch fingertips. Other REV'IT! gloves I have reviewed with this same feature worked quite well, but on this pair of Kryptonite 2 GTX gloves, only the right thumb had any ability to operate my iPhone screen. I likely had a bad pair because REV'IT! products have not had this issue in my prior tests.
The last item of concern was just the durability of the outer fabric shell, mainly on the knuckle protector area. I found white scuffing marks would often appear on the knuckle surfaces from just light contact, and I was concerned that it would not take much effort to tear through this fabric.
The knitted wrist cuff seems durable and, through my short time using these gloves, did not show any signs of pilling or wear. This was a bit of a surprise, considering how often I would catch my watch on the cuff.
Build Quality Rating: Clean Construction With A Few Faults. 75%
REV'IT! Kryptonite 2 GTX Gloves: Comfort
If you are not accustomed to cold weather riding, slipping on a pair of gloves with this level of insulation will feel a bit strange. As with any new piece of kit, some break-in time needs to be given, especially to gloves.
The REV'IT! Kryptonite 2 GTX gloves were stiff in the fingers, and the insulation materials always give a squishy feel, but this settles in after a few rides. The finger dexterity was actually quite good considering the materials in the gloves, and the finger expansion area near the first knuckle seemed to alleviate the strain during long holds on the bars. I expect that after more riding time that the resistance during clutch and brake pulls will get much lighter.
The leather palm worked great even when gripping the wet handles. I never had any issues with slippage of the throttle when my hand and the grip were both wet. I did notice that I was running my heated grips a setting higher until my palm more fully warmed, and then I was dialing things back to a lower setting – a testament to the loft and insulation in the palm area.
I am not really a fan of knit cuffs with riding gloves, but they work. The cuff seals up my hands, keeping the weather out, and never interfered with my jacket sleeve. I found I actually didn't object to this feature the way I thought I would; it just took a bit of time to realize that I wasn't wearing a ski glove.
Comfort Rating: Comfy, Warm & Dry. 90%
REV'IT! Kryptonite 2 GTX Gloves: Protection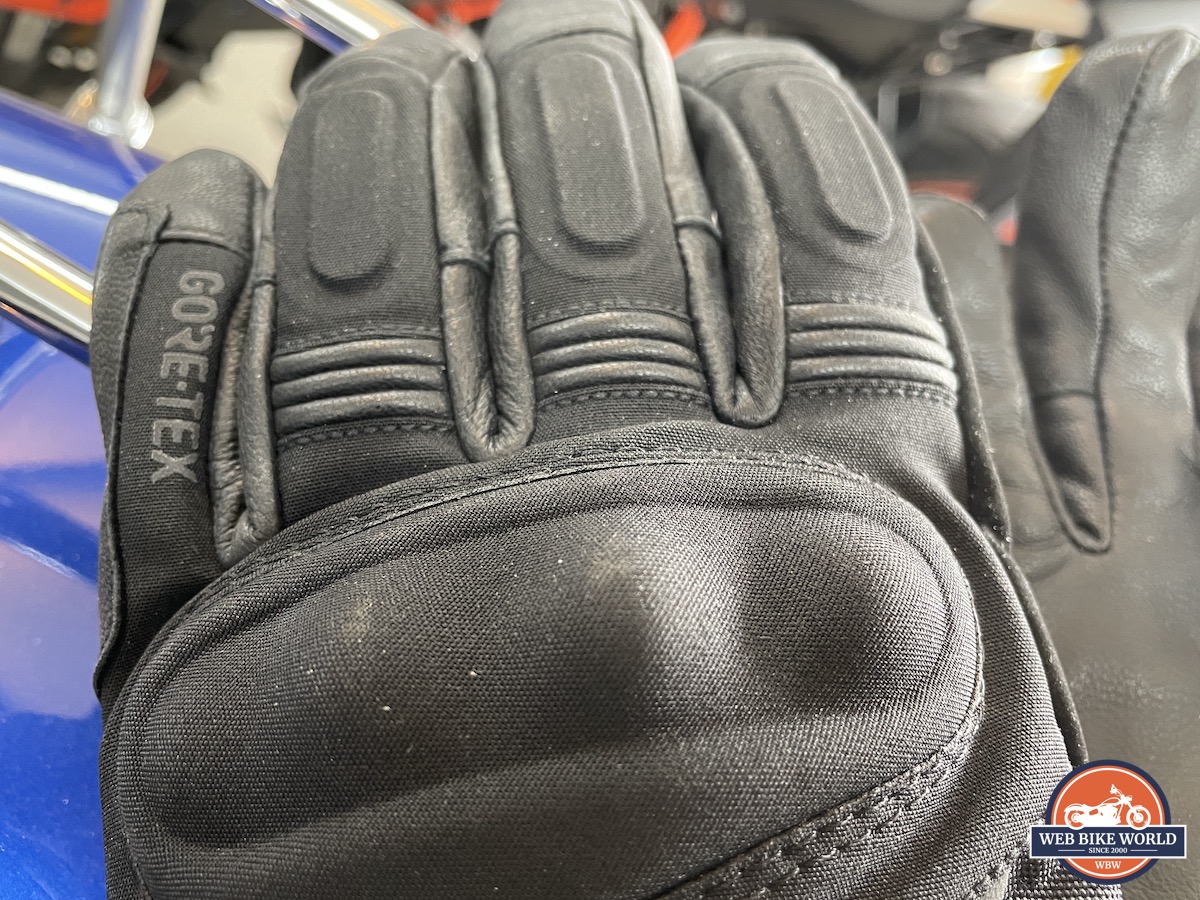 The Kryptonite 2 GTX gloves are certified according to the EN 13594 Standard, published in 2015, and have achieved a level 1 KP rating. That means they offer a level of protection that, in most sliding/abrasion/rubbing situations, will keep your skin from making a direct connection with the road surface.
REV'IT! has aimed these short cuff gloves at the Street market. The Touring and Cruiser crowds will find the performance of these foul weather gloves to be adequate. There are standard elements like hard knuckles and finger protection. The materials are all abrasion resistant, and during a wet road slide, I feel confident they will perform as rated.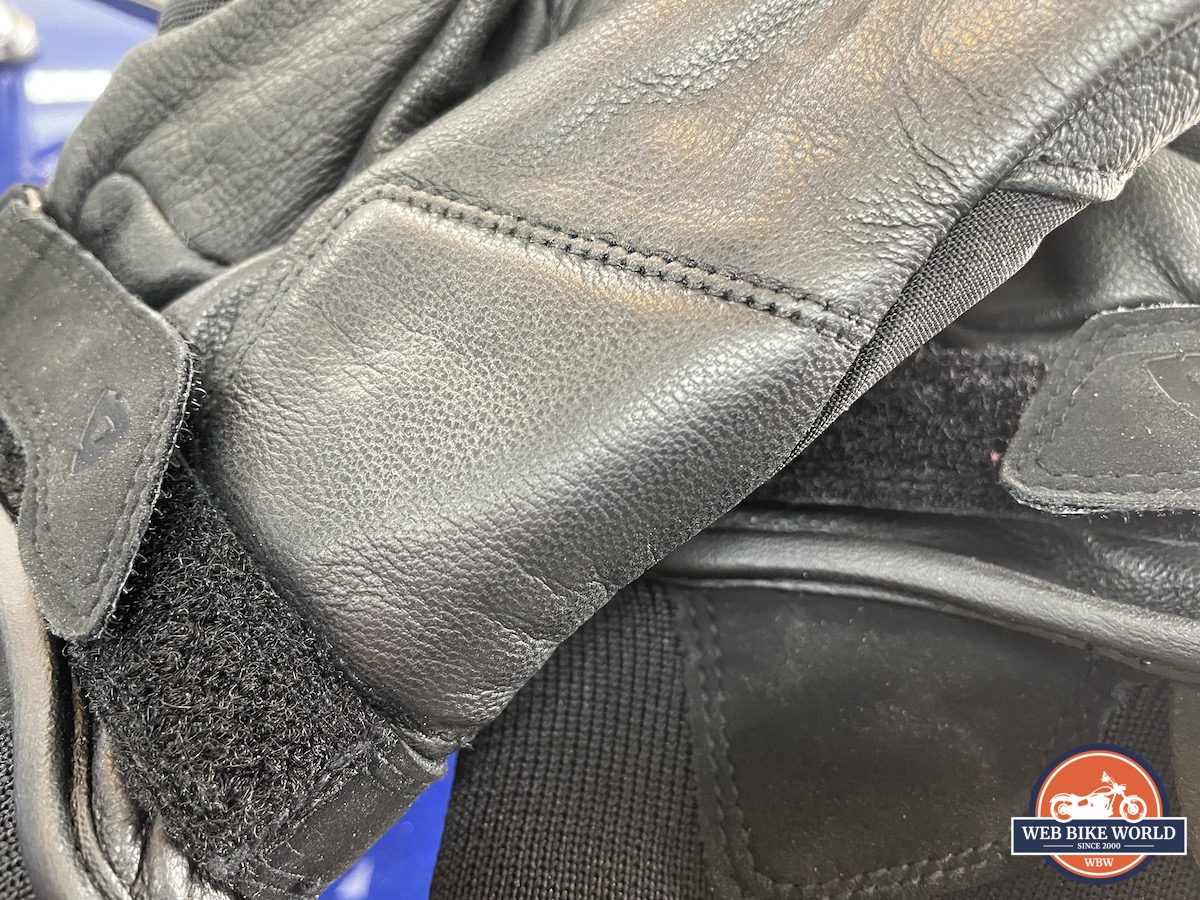 I am not a fan of the palm slider. The Kryptonite 2 GTX has a small additional padded leather piece on the palm that I would prefer to see as a hard slider material. Beyond that complaint, the expected protection is there for normal street use. These would not be a good choice for ADV riders; there are just not the extra hard protective elements that I prefer when off pavement.
Protection Rating: They Will Save Your Skin On Wet Slides. 85%
REV'IT! Kryptonite 2 GTX Gloves: Value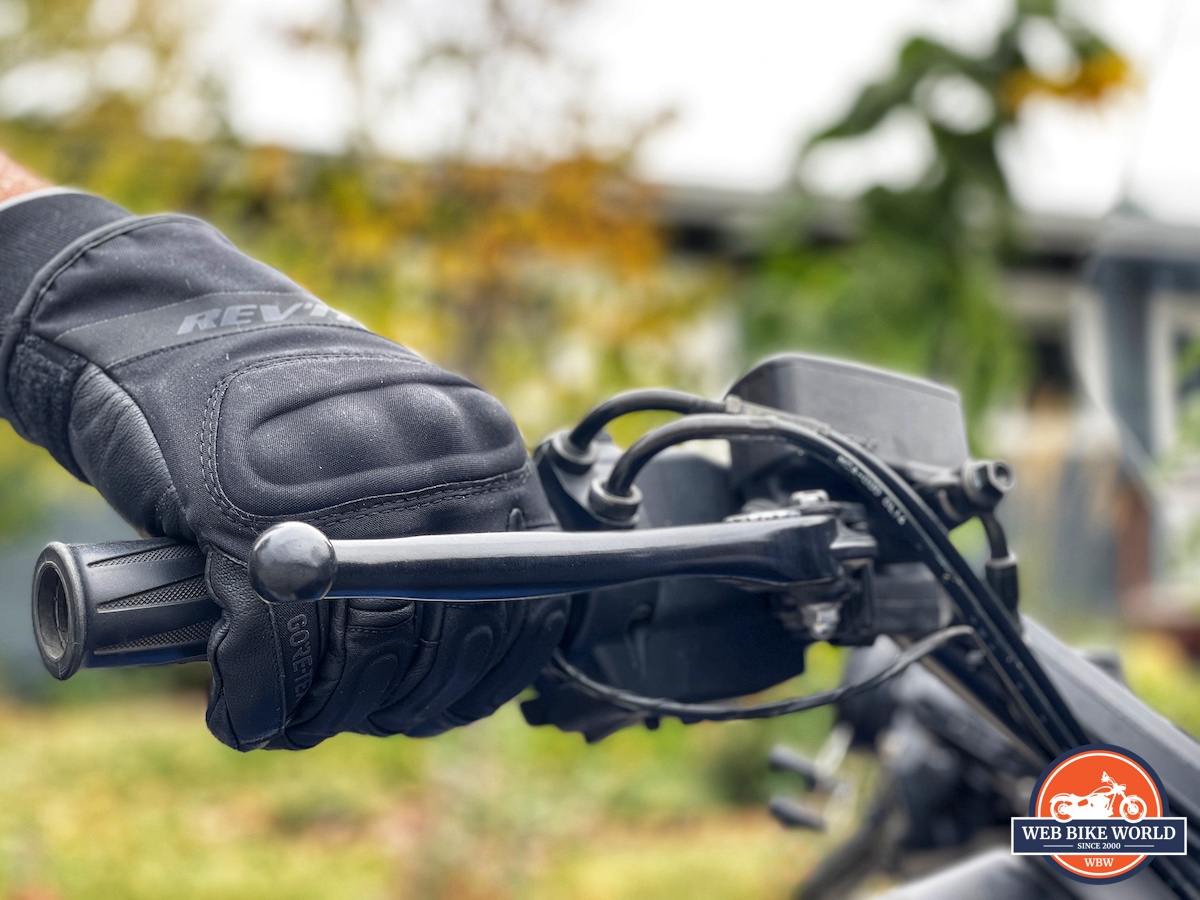 I am certain many can relate, but there is nothing worse than trying to get to your destination when any part of you is cold and wet. If I am going any significant distance, my rain gear is always with me, and these REV'IT! Kryptonite 2 GTX gloves will become part of that kit. I prefer a short cuff glove when riding on the street, and these gloves perform exactly as I need them to.
Are they flashy? No. But who cares when you are riding in a downpour? – I want function at that point. It would be nice to have some contrasting stitching or some color options available, but keeping my hands warm and dry is a huge component of keeping the ride safe. I have had good experiences with REV'IT! products in the past, so I will speculate that the issues I have with the Connect Touch fingertips are just a one-off.
At $160 USD, the price is okay. Find these on sale, and I think you can consider them a good value.
Value Rating: Good Price For The Function. 80%
Verdict
While the REV'IT Kryptonite 2 GTX gloves are not the flashiest gloves on the market, they are functional as they keep a rider's hands warm and dry. The leather palm provided plenty of grip in wet weather and the knuckle guards offer a level of protection you'd expect from the street glove segment.
Pros:
GORE-TEX liner is waterproof, windproof, and highly breathable
Connect fingertip
Level 1 Kp Certified According to the EN 13594:2015 standard
Hardshell knuckle
TPR injected finger knuckle protectors
Thinsulate™ G insulation
Goatskin Leather palm
Hook-and-loop adjustment strap at the wrist
Cons:
Rather plain looking
Only in black
No hard palm slider
Connect fingertip only worked on right thumb