After five years of development, Minnesota handyman and inventor Norm Kokes is ready to go into production with his reverse trike conversion kit.
A reverse trike has two wheels at the front, like a Can-Am Spyder roadster, instead than then traditional two at the back. Norm's Endeavor Trike kit will reportedly work on just about any make or model of bike. It appears similar to a recent project to turn a Harley V-Rod into a revere trike.
However, Norm's kit is different. It has a universal main frame that's mated to the user's existing motorcycle via an adapter cradle. The front of that cradle is always the same, as it's the part that's attached to the standard main frame. The back, however, is made specifically to fit each bike.
The cradle can also house a radiator for water-cooled motorcycles, or low-speed blower for air-cooled models if needed. It can be removed in 10 minutes via 10 bolts for servicing and Norm claims anyone can fit the unit without specialty tools.
"We have only been in the development/prototype phase for five years and actively pursuing the legal patent rights for a year now," says Norm from rural Minnesota. "Our current build to this year's SEMA event in Las Vegas Nevada is our first official production build. This is a 2010 Yamaha Raider with a pretty far reaching design specifically produced by my son and two auto body specialists.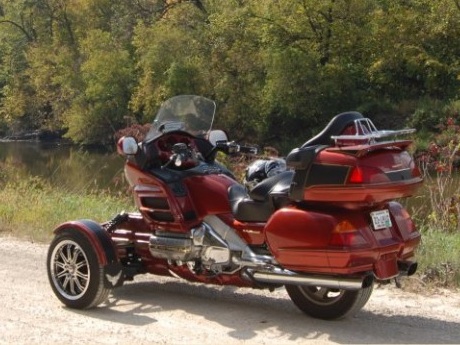 He will unveil his "Vegas Raider" trike at SEMA on November 3 and hopes to connect with a manufacturer or retailer to license the product and take it into production worldwide. Norm has the patent pending in 148 countries and will begin with specialty builds and custom designs to augment the production firm's R&D efforts.
He estimates pricing at US$8000 to $9000, including installation.
"This is an award-winning product as I won best invention of 2014 at the Minnesota Inventors Congress and also won a Gold medal for best Engineering at the Pittsburgh INPEX expo," he says proudly. Norm lives in a small rural community in SE Minnesota. "Just a middle income family trying to survive," he says. "I have a background in mechanics, carpentry and masonry. I spent my life working on motorcycles mostly as a hobby but I also buy old bikes, restore them to like new and sell them for added income.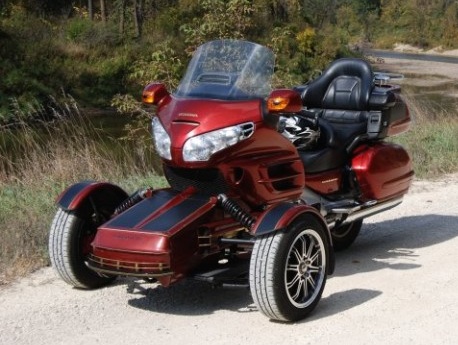 "Currently I am full-time Systems Engineer and full time inventor/developer of Endeavor Trikes. So right now free time is something I do not have much of. Three years ago I passed the Million miles on a motorcycle milestone and am up to almost 1.25 million now. Obviously I spend as much time on motorcycles as I can. I have owned over 100 bikes of all types from trials bikes to tour models but for the most part cruiser and sport tour bikes."
So Norm sure does know what he is talking about when it comes to motorcycle dynamics. The trike appears to have independent suspension on the front end, so it should have some "give", although it rides with an upright stance similar to the Spyder.