Somewhere over the past 17 years that Chinese-made CFMOTO motorcycles have been exported to Australia, they have morphed from cheap and cheerful transportation into good value.
Now, with the launch of their new 800MT range of Touring and Sport bikes, starting at $12,990, they have made another transformative leap — to a desirable adventure machine.
Largely due to their association with Austria's KTM, CFMOTO motorcycles have improved their build quality while piling on the technology.
But more importantly they now seem to have a better understanding of discerning global markets that view motorcycles as more than mere transportation.
I have ridden just about every CFMOTO model imported into Australia in the past 17 years and have been impressed by how much bike you get for your buck.
In fact, maybe a bit too much bike as they are usually overweight.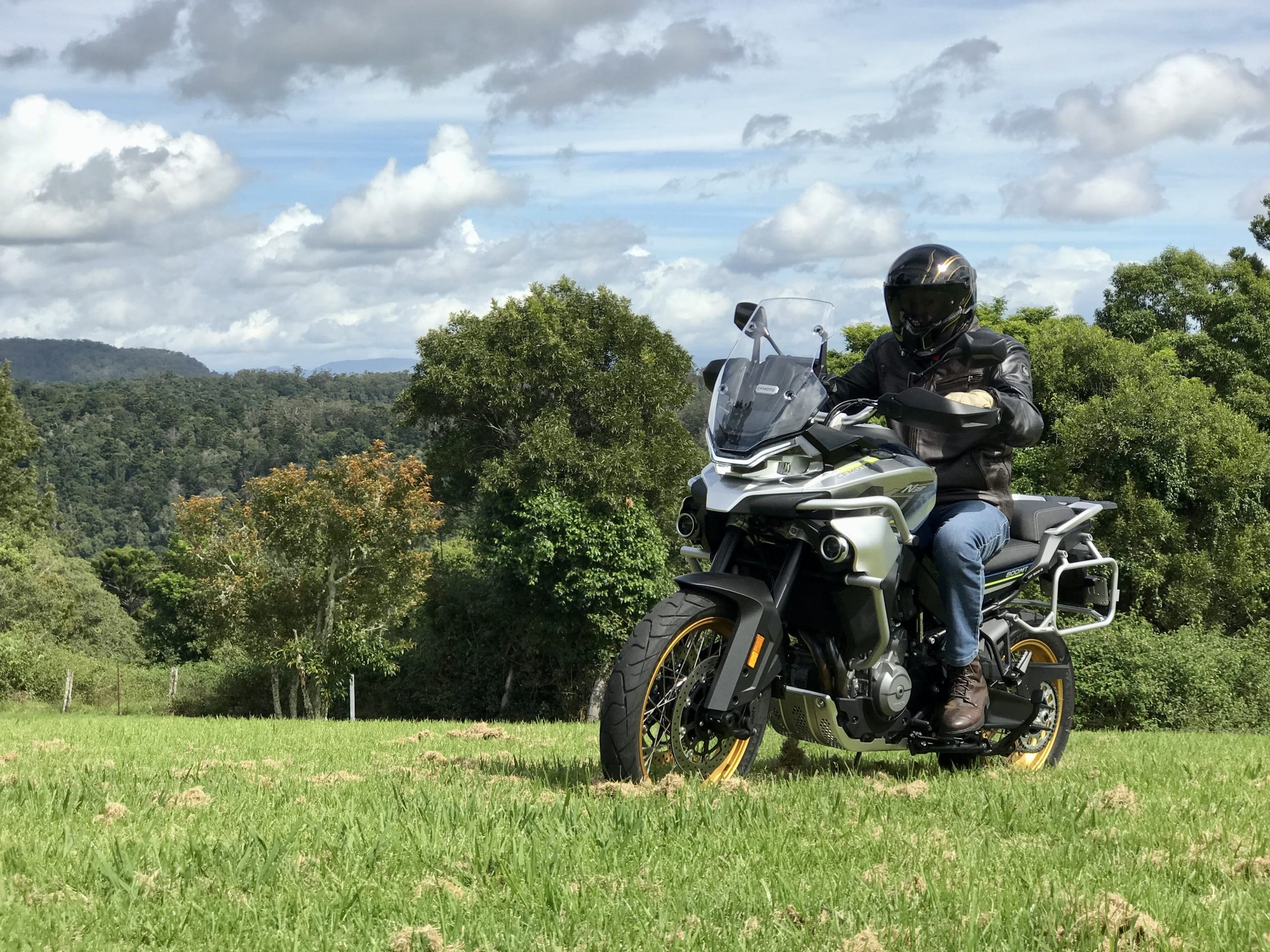 Weight is still an issue in the 800MT Touring I have been testing. At 231kg, it's plump for a mid-sized bike. Most of that heft is up high in the 19-litre fuel tank making it top heavy which is not ideal for an adventure bike, especially when the going is slow and technical.
But my other issues with past CFMOTO models — rudimentary suspension and minor glitches such as riding modes that don't work and nonsensical instrument info — have been wiped out by the 800MT.
This bike simply entices with its quality of finish, high level of creature features and competent handling.
Look at this impressive array of standard features: cruise control, seat and handgrip warmers, rear wheel hugger, adjustable gear shifter, self-canceling indicators, LED lighting including fog/auxiliary lights, conveniently positioned USB and 12-volt chargers, two riding modes, slipper clutch, cornering ABS, crash bars, a huge iPad-sized TFT screen with comprehensive info, hand-adjustable windscreen, fully adjustable suspension, and even Bluetooth connectivity that provides simple navigation commands on the screen.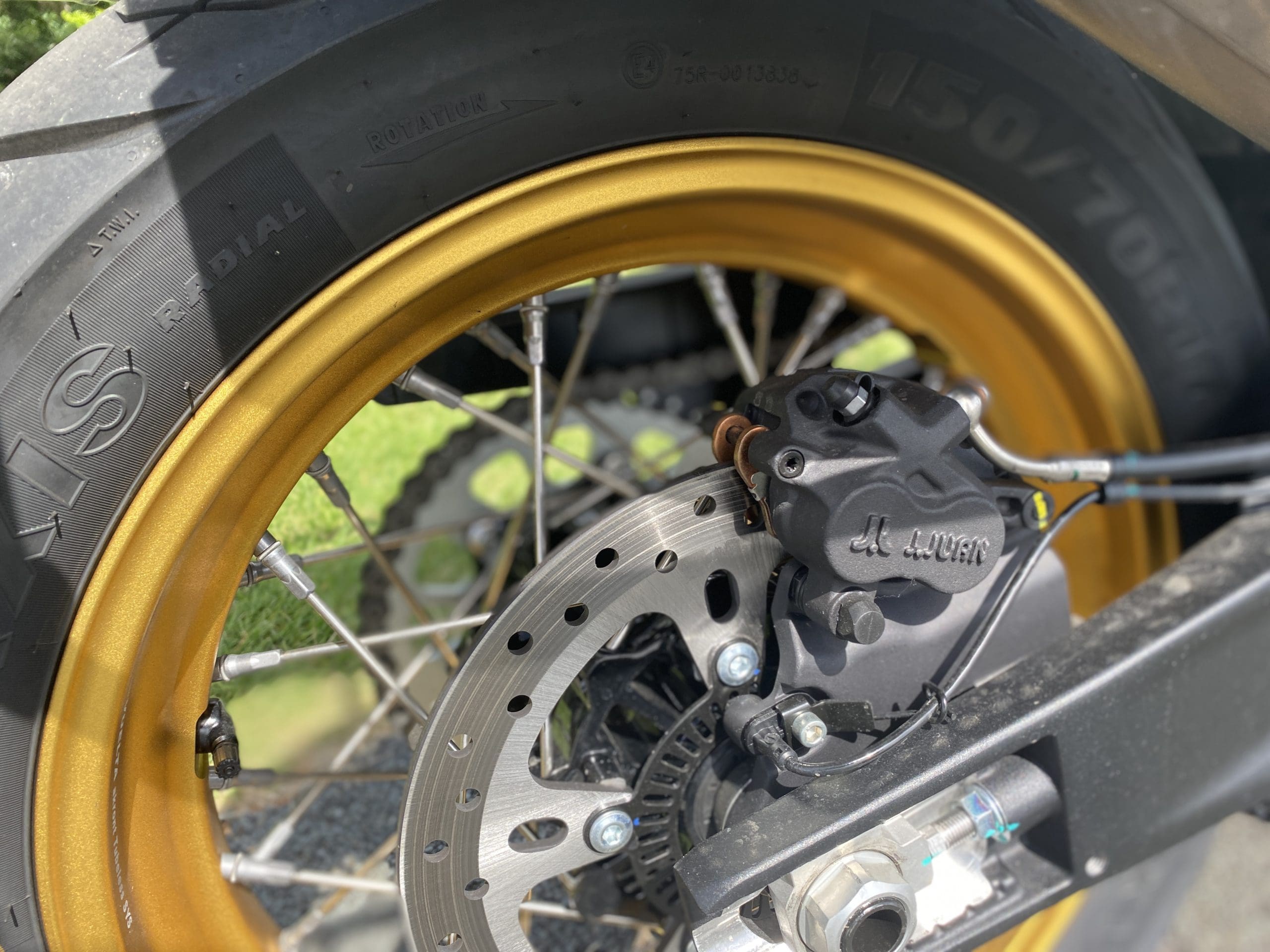 I wouldn't be surprised if in a couple of months CFMOTO Australia doesn't do a deal where they throw in luggage as they have done in the past with other models.
The 800MT range is their first non-learner model.
The Touring ($14,490) and Sport ($12,990) went on sale in January 2022, initially for customers who joined their pre-order campaign, which included $800 worth of free accessories. 
The campaign just about exhausted their initial shipment but they have since received more containers to crank up the stock levels again.
So far, the most popular model is the Touring model which adds tyre pressure monitoring, centrestand, up/down quickshifter, plastic handguards, luggage racks, alloy bashplate, steering damper and attractive "gold" wire-spoked wheels that accommodate tubeless tyres. They even feature handy right-angle valve stems.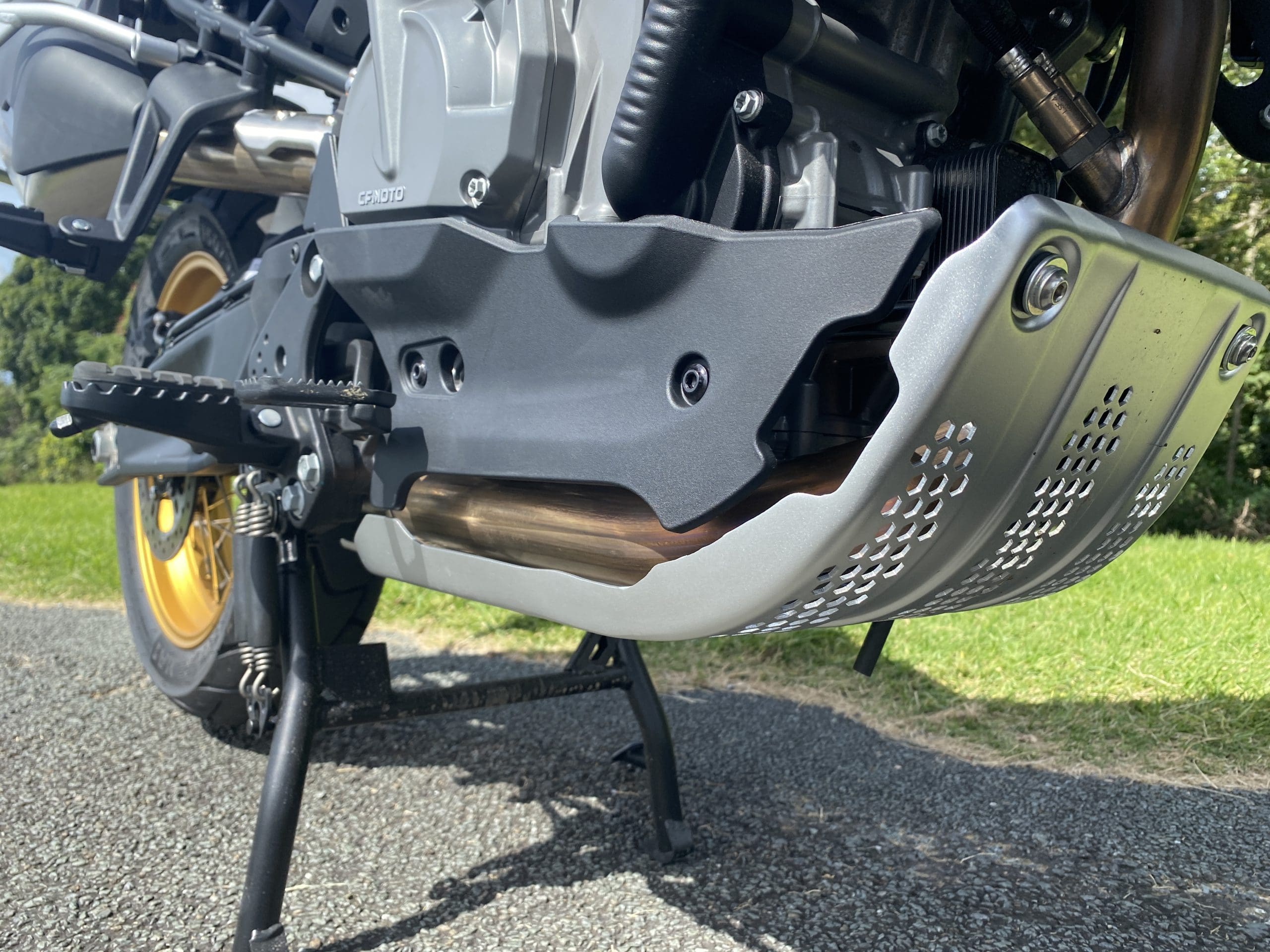 Whew! That's an exhaustive list of features on top of the already impressive array of standard equipment.
But is it all just frosting on a stale cake?
No, this is a fresh and exciting bike with capable performance, ride and handling for touring our wide, brown land.
That's not to say there aren't some drawbacks, apart from the top-heavy weight.
That weight issue should be of particular concern to any rider shorter than me.
At 183cm (6'), I have trouble putting my feet flat on the ground when stopped because of the tall 825mm seat. It's not just the height, but the width that prevents you getting your heels on the ground.
On a couple of occasions I almost dropped the top-heavy bike when stopped on slippery or unstable surfaces.
You will also have to be careful about where you park the bike as the side stand is too short and it could topple over on a sloped or rough surface.
The 800MT range is powered by KTM's 799cc parallel-twin engine that has been one of their best units for the past five years.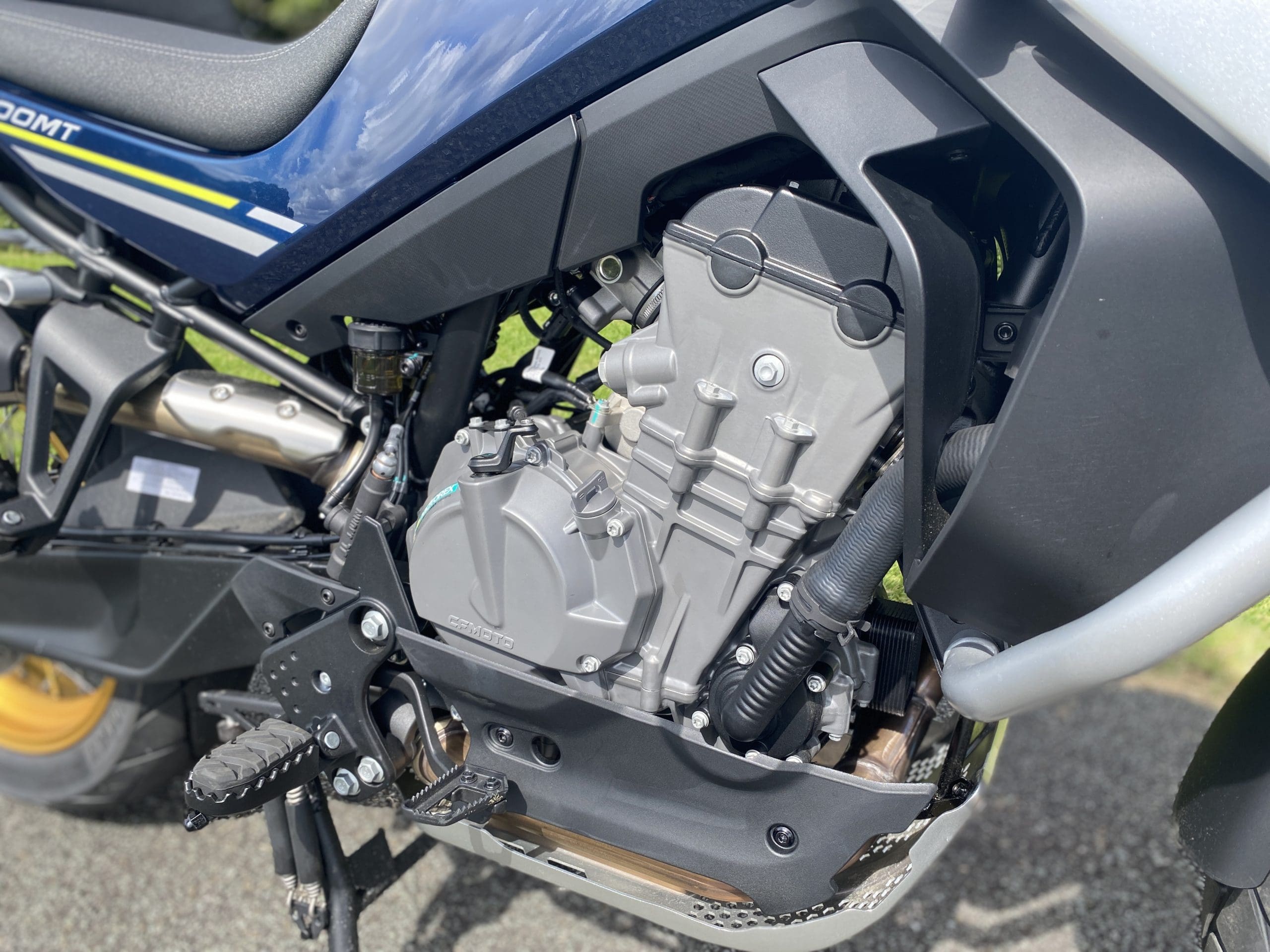 The twin is a capable unit, although the power band here is fairly narrow and you have to judiciously use the gears for stirring motivation.
It will pull strongly from 3200 revs, but loses breath about 5000, well short of the limiter at 9500rpm.
There is also a jerkiness in the throttle and a surging at constant throttle going about 50-60km/h. I believe there is a software fix coming for this.
The engine has little low-down torque for tricky off-road situations, though the low gearing helps.
However, its overall gearing is too low with the engine spinning at 4400revs at highway cruising speed (100km) in sixth gear.
That's probably why the fuel economy is a disappointing 5.6 litres per 100km.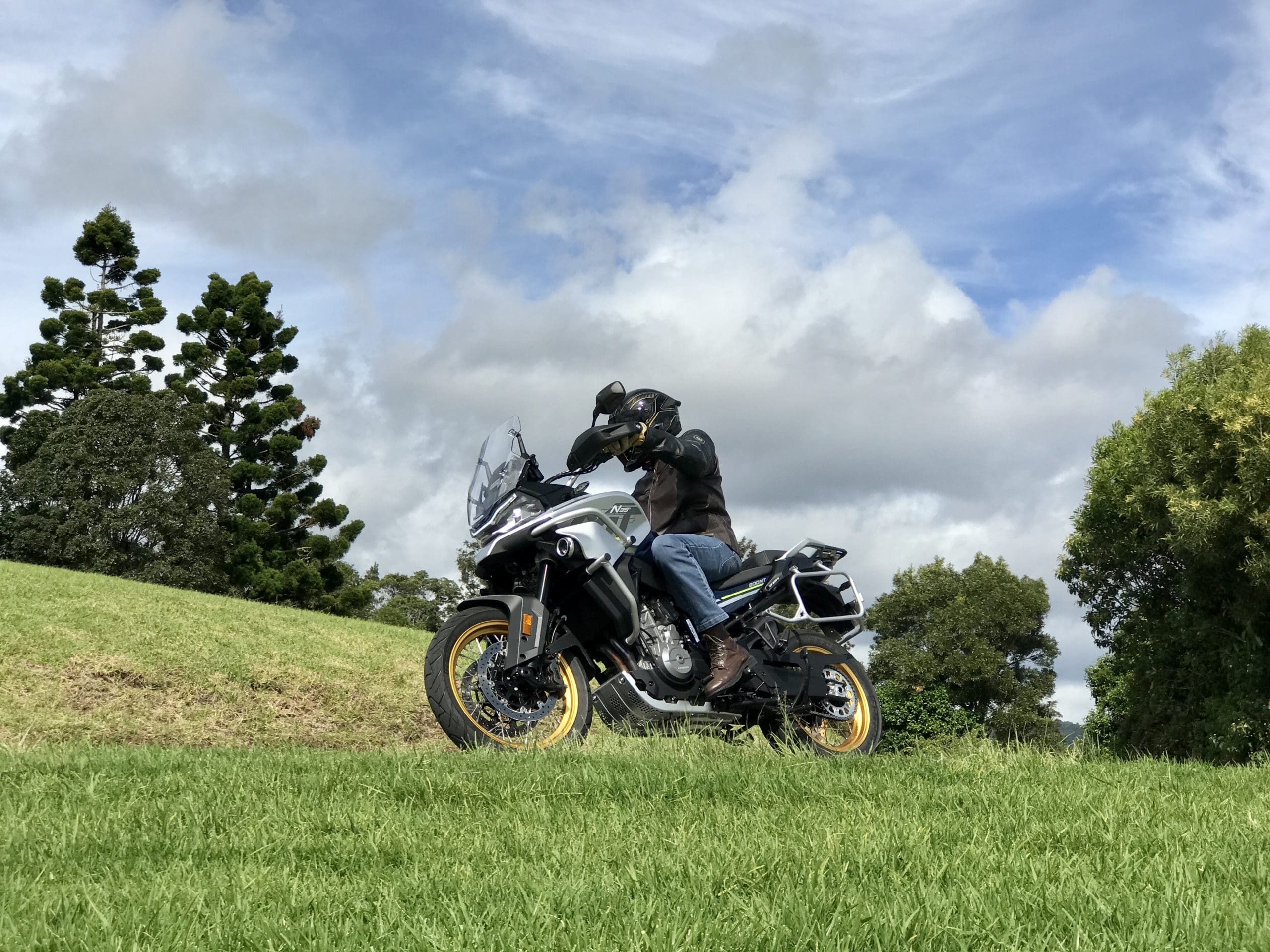 It's not as low geared as the 700 range, but an optional sprocket for higher gearing would be welcome for Australian conditions.
Otherwise, the transmission with up and down clutchless quickshifter feels reasonably slick and functional, while the slipper clutch works well to prevent rear-wheel lockups on handfisted downshifts.
When you work the gears and run the engine hard there is an entertaining, but not annoying, growl from the exhaust.
The engine runs quite hot and there is a blast of hot air blown from the radiator directly on to your shins. While this is expectedly uncomfortable in slow-moving urban traffic, it is even noticeable out on the highway.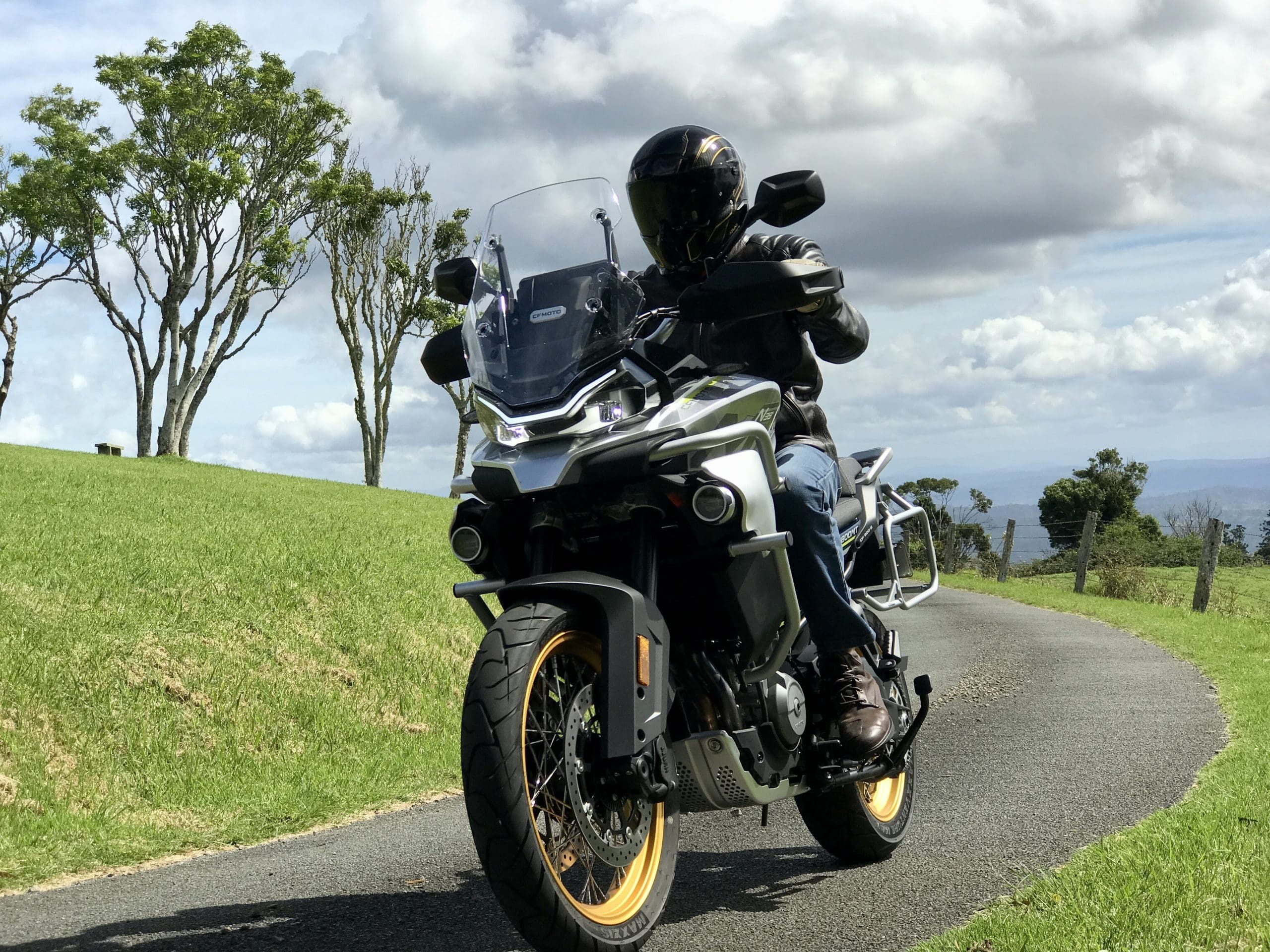 You will have to wear long boots, otherwise it could become intolerable in a Queensland summer. Of course in winter, it's an advantage.
The 800MT comes with two riding modes: Sport and Rain. The latter dampens throttle response and is handy for slippery conditions such as wet roads or gravel. It helps compensate for the lack of traction control which many adventure riders may miss.
CFMOTO uses Spanish J.Juan brakes (now owned by Brembo) on most of its bikes and they are reasonable performers.
On the 800MT they feature twin discs up front which lack some initial bite, which is not an issue when riding on gravel.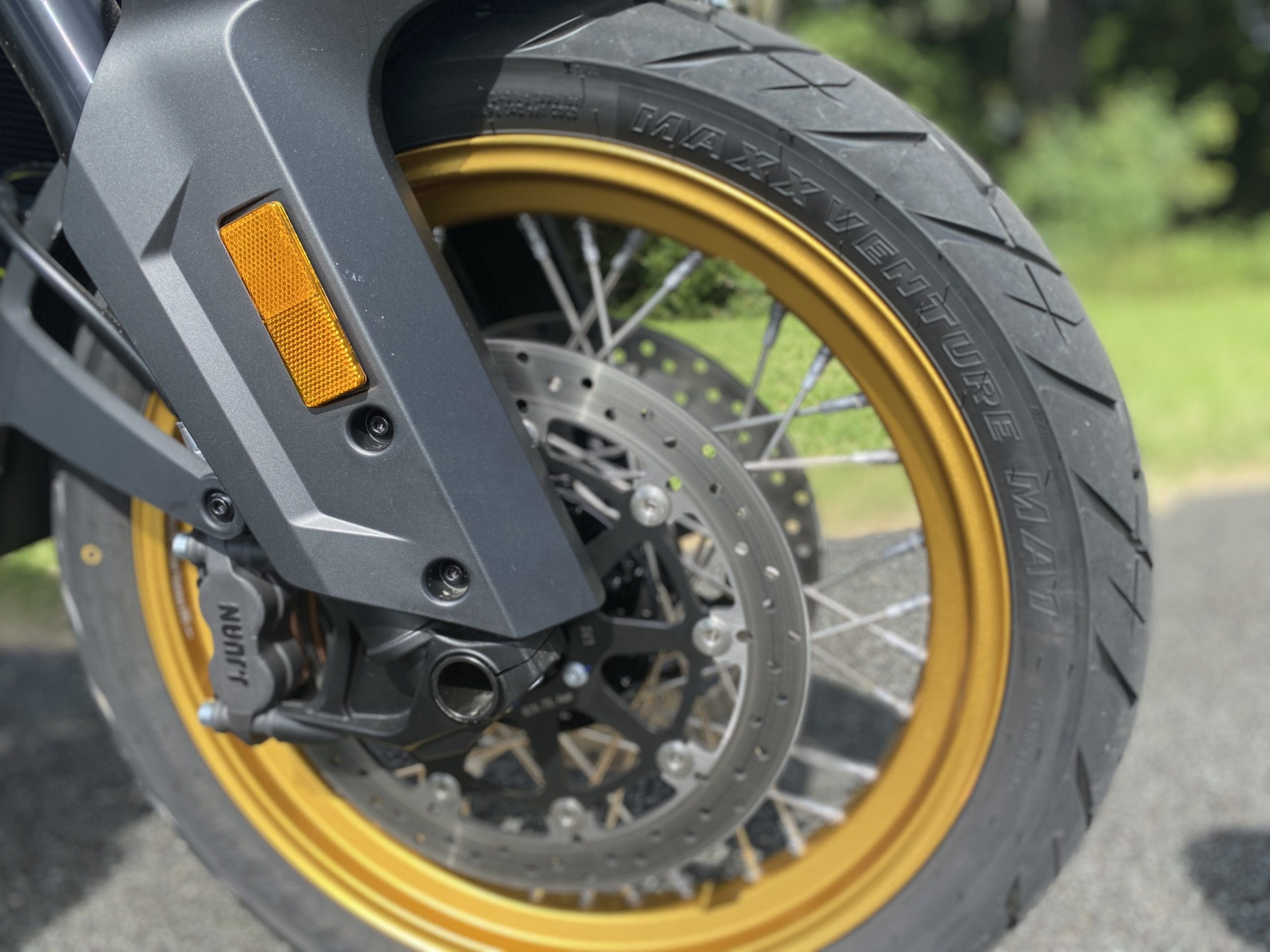 If you hit the brakes hard in a panic stop, the hazard lights automatically flash which is a great safety feature that should be standard on all bikes.
The cornering ABS is also a worthy safety device that prevents the front tyre from slipping out from under you on a bend. 
The ABS does allows minor rear-wheel lockups that may be disconcerting for some but are handy for riding on dirt roads where the tyre tread needs to dig into the gravel.
Ride is on the plush side so it suits our bumpy urban streets as well as B-grade country roads.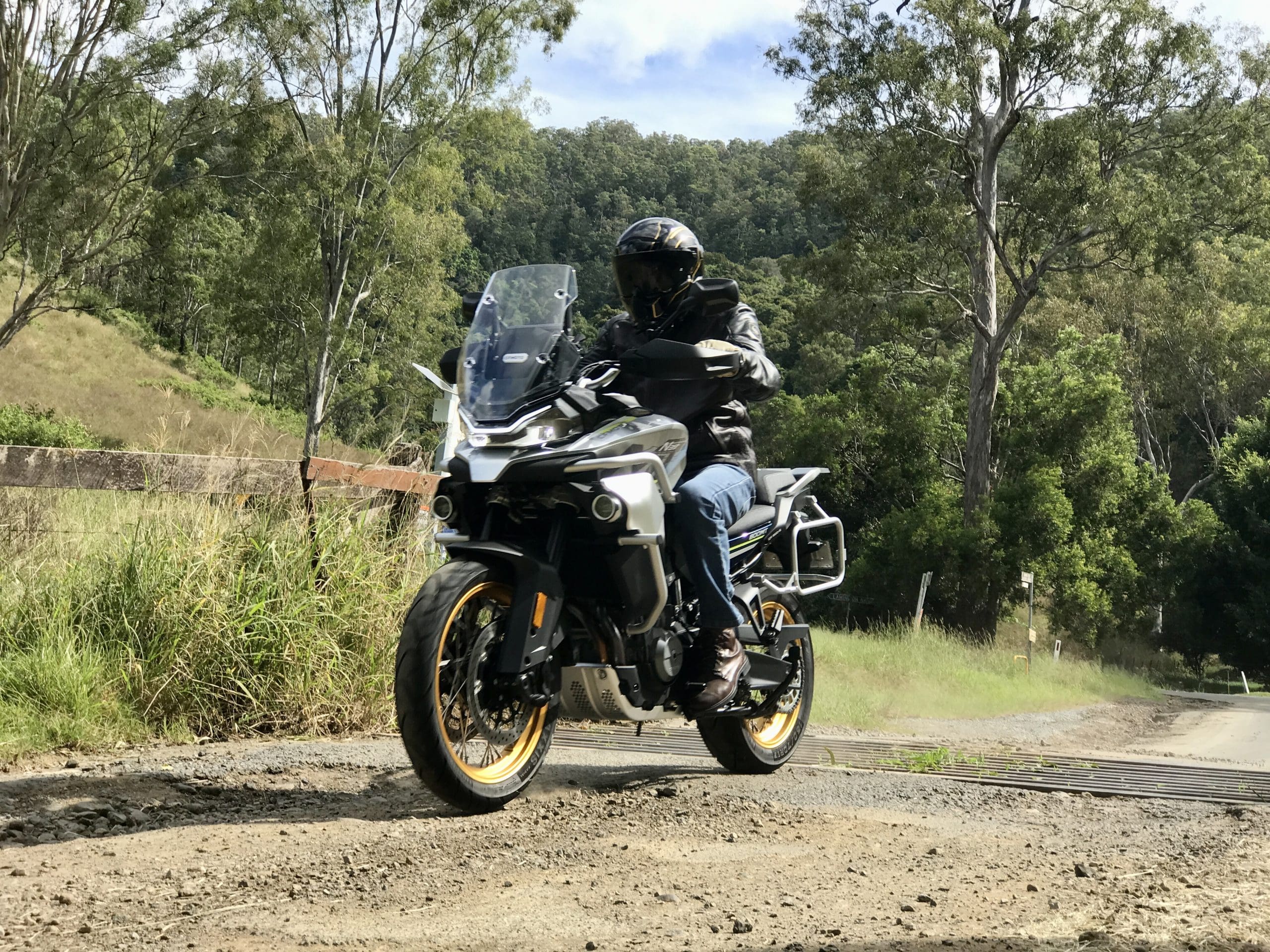 Since the suspension is adjustable for compression, rebound and preload, most riders should be able to find suitable settings for their weight and riding style. However access to the rear shock preload adjuster with a C spanner is difficult as it is hidden under the tank and seat.
Steering is ponderous with a 19-inch front wheel and wide bars, but again this suits adventure riding for which it is intended.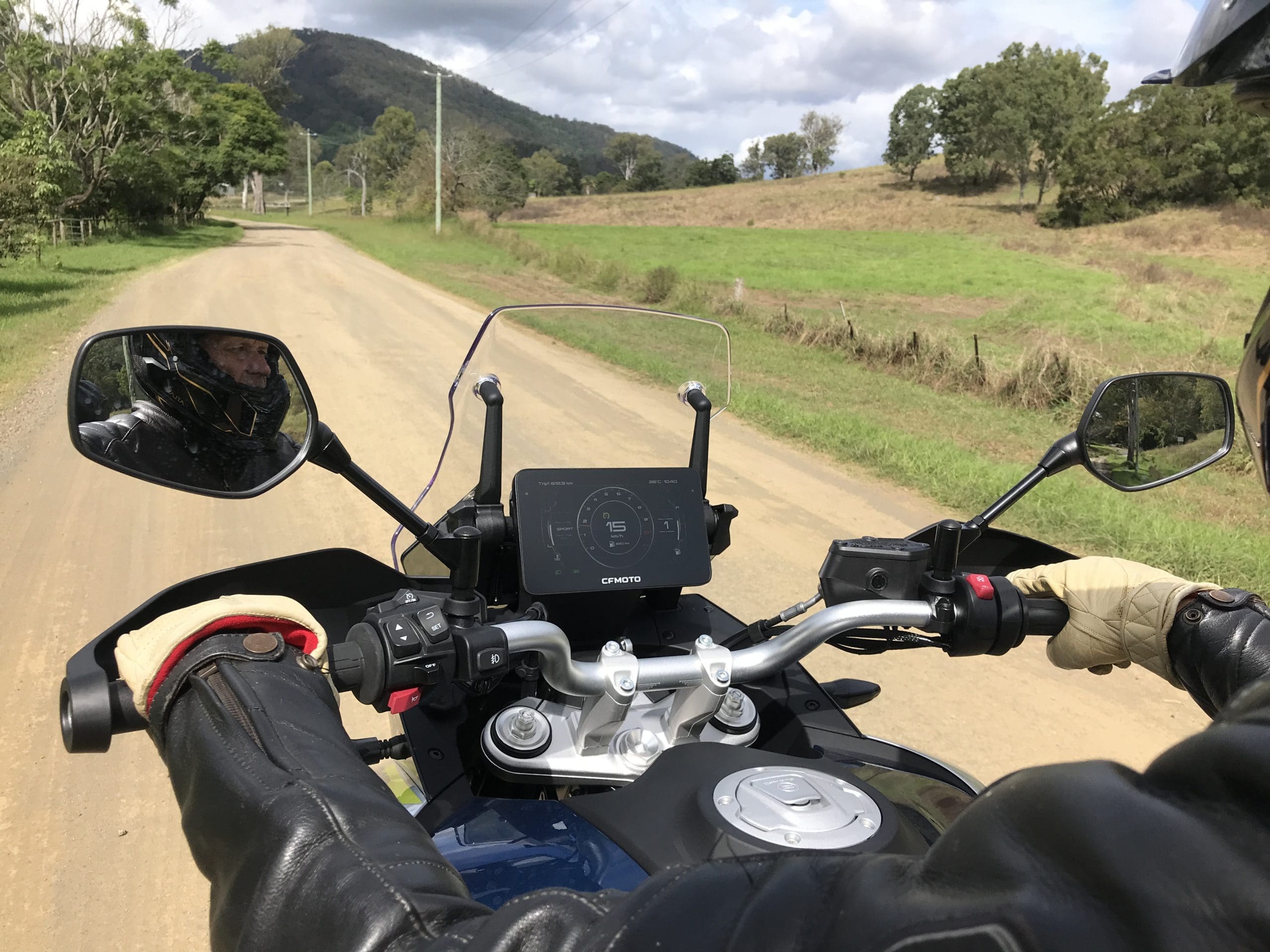 Cruise control is a welcome addition and is easy to operate.
It can only be deactivated by hitting the brakes or pulling in the clutch, not rolling back the throttle.
I found it did allow the bike to drift over the set speed by up to 5km/h, even on a flat surface, so keep an eye on your speedo.
The massive TFT instruments have a plethora of information on the home screen which is great. No need to scroll through several screens to get all the info you want.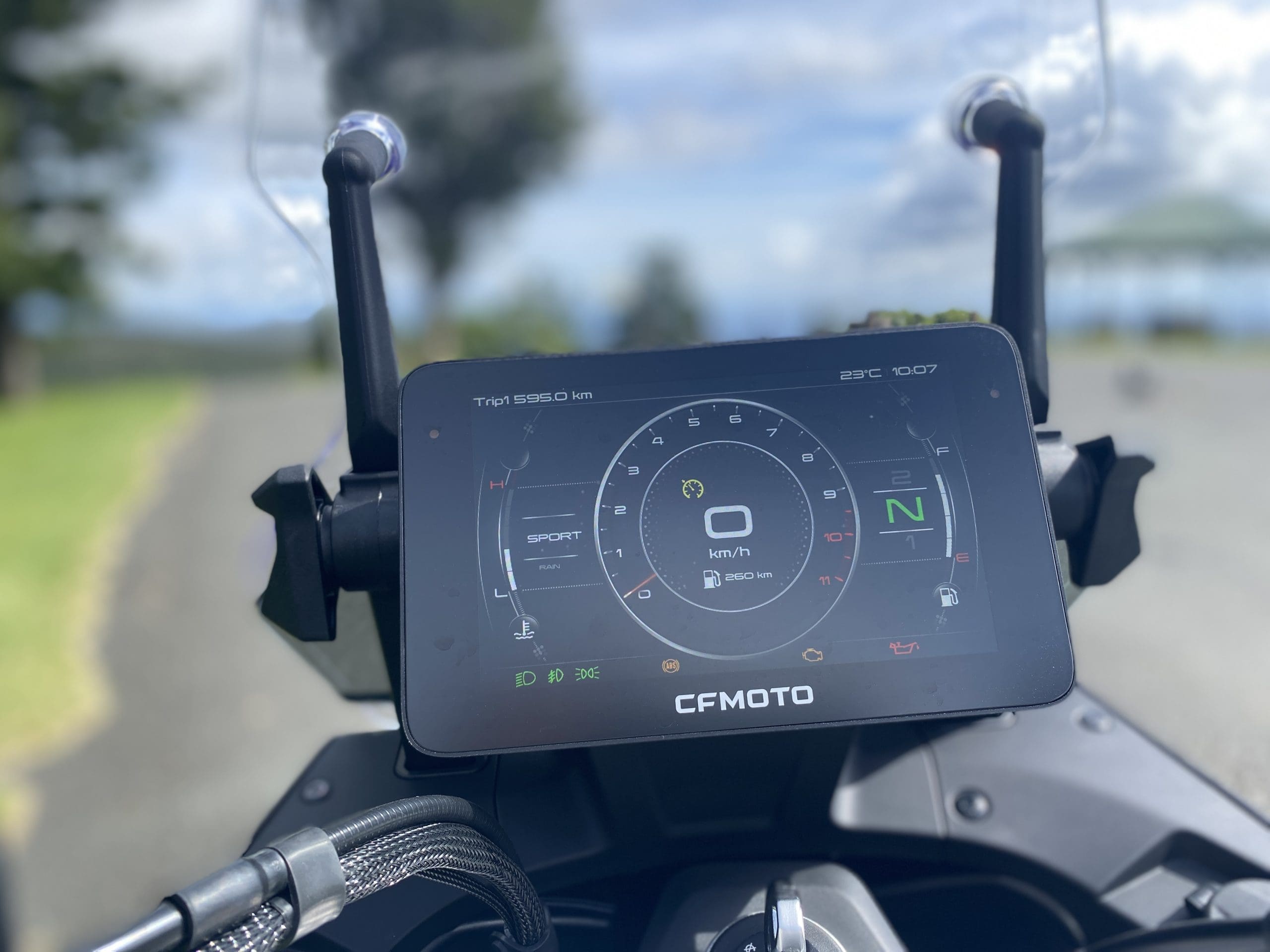 There are also several other screens for controlling a host of other functions such as the seat and hand grip warmers.
Surprisingly, you can change most of these settings on the fly which can be a distraction. 
You can also hook up the bike to the CFMOTO RIDE app, which is available across iOS and Android platforms. All you have to do is punch in the bike's VIN to register on the app which also opens up the navigation function.
The 800MT has one of the biggest instrument screens on any bike and it is easy to read in most conditions, expect when the sun is shining directly on the screen.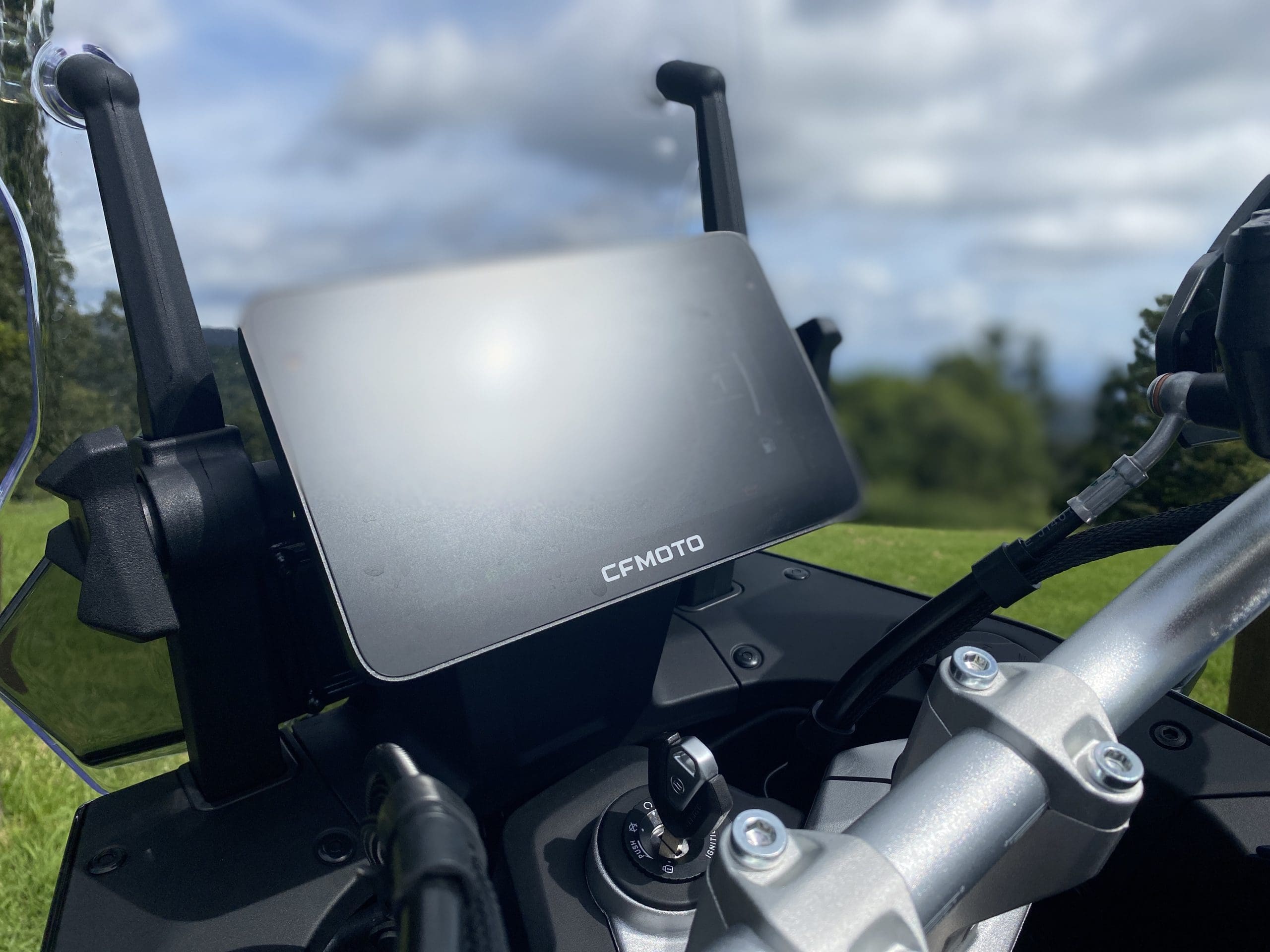 Riders will find the 800MT has a neutral riding position with a plush seat that should see you comfortably through its 300+km fuel range without a break.
Pillions will also find their wide and flat perch very comfy with generous handles to grip.
The handlebars may be too high for some short riders, but you can easily roll them back for a more relaxed reach. You certainly won't need bar risers to accommodate riding in the standing position across rough surfaces.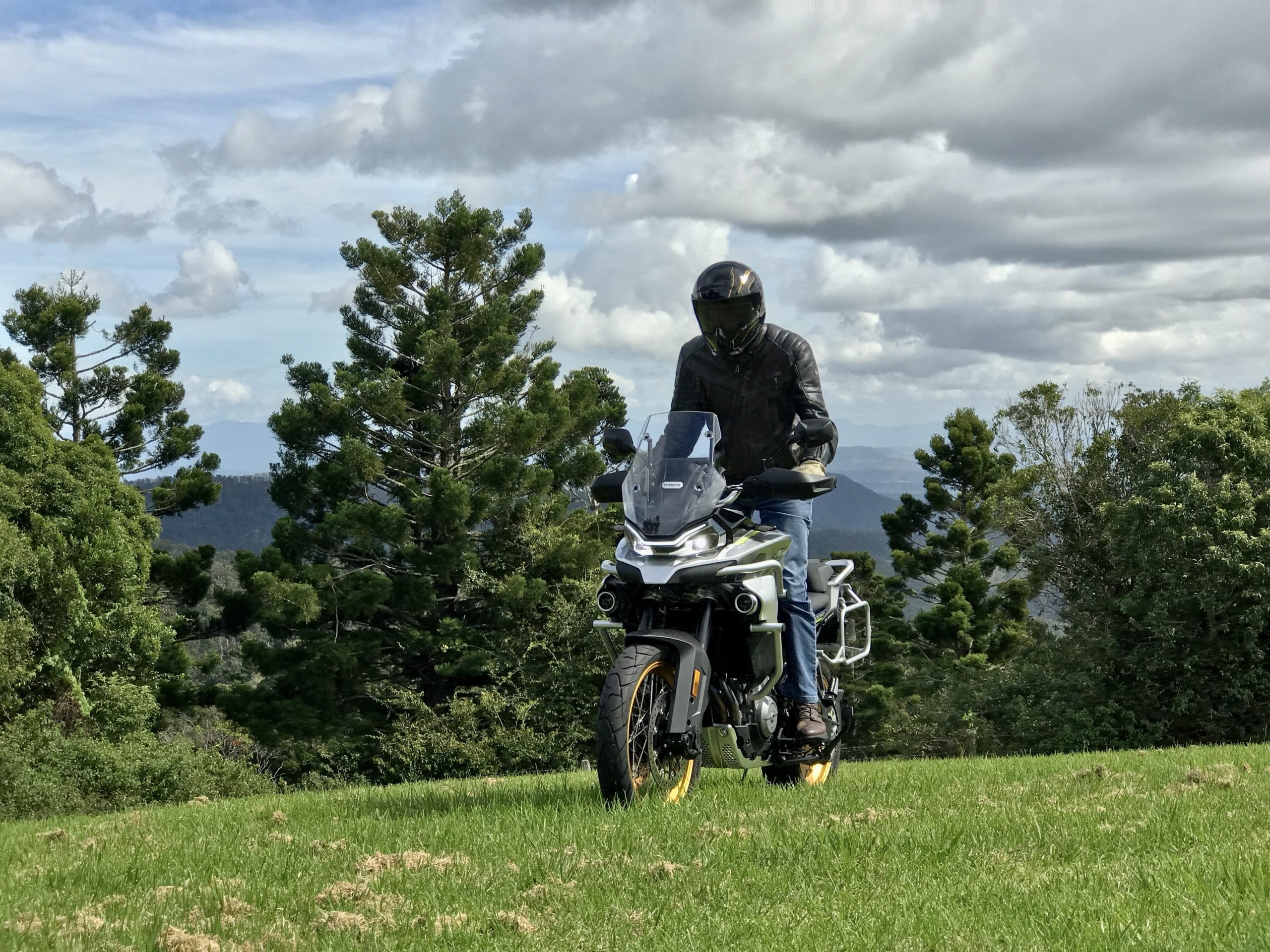 Those bars are also quite wide at 853mm which makes legal lane filtering tricky. 
Perched atop the bars are large truck-style mirrors which give a big and clear view behind but can snag on SUV wing mirrors in traffic.
The windscreen provides moderate protection and can be adjusted 5cm by turning two knobs on either side of the screen. It would have been better if it could be adjusted by just one knob or lever on the left so you can keep your right hand on the throttle grip.
Tall riders may experience some wind buffeting even in the highest position.
At night the LED headlight casts a very bright and white headlight with good dispersion and eyebrow-singeing high beam, especially when used with the auxiliary driving lights, although you will have to disable the auto light function.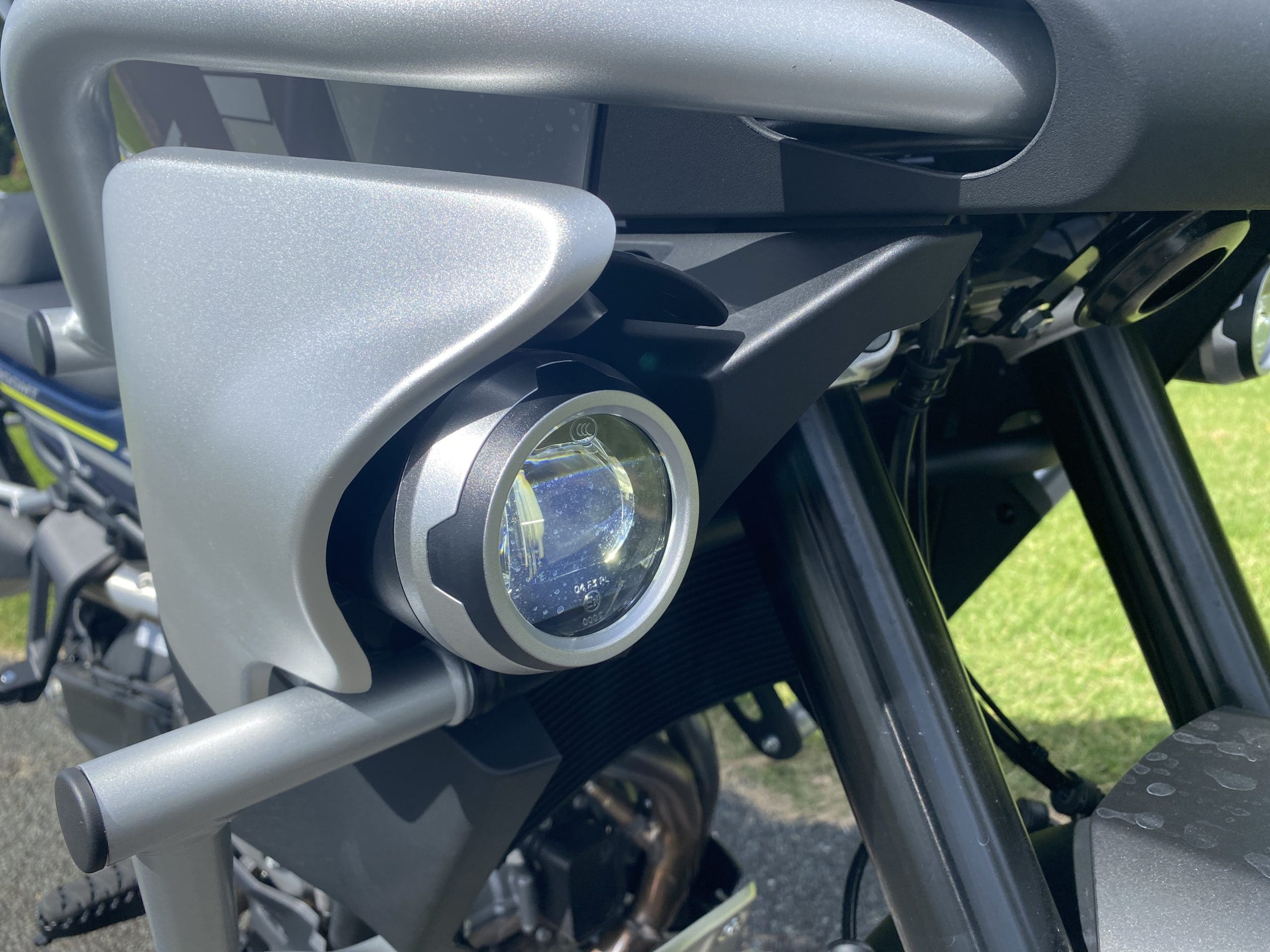 Despite some shortcomings, this is now a desirable bike for Aussie adventure riders.
The 800MT competently fulfils its design intention to tour a variety of terrain. Just throw on some luggage and go chase the horizon. 
CFMOTO 800MT Tech Specs

Price

$12,990 rideaway (Sport), $14,490 (Touring) 

Warranty

3 years, unlimited km

Engine

Liquid-cooled 799cc parallel twin

Power

70kW @ 9000rpm

Torque

77Nm @ 7500rpm

Transmission

Six-speed, slipper clutch, chain drive

Suspension

 

43mm KYB upside-down forks, fully adjustable, 160mm travel; KYB mono shock rear, fully adjustable, 150mm travel

Brakes

320mm twin discs, J.Juan 4-piston radial callipers; 260mm rear disc, J.Juan twin-piston calliper, cornering ABS

Wheels

19×2.5; 17×4.25 cast

Tyres

Maxxis tubeless 110/90-19; 150/70/17

Wet weight

231kg

Wheelbase

1531mm

Seat

825mm

Clearance

190mm

Length

2234mm

Width

853mm

Height

1277mm

Fuel

19 litres