A conversion kit that turns a Harley-Davidson V-Rod into a "reverse trike" with two wheels in the front like a Can-Am Spyder roadster is coming to market next year.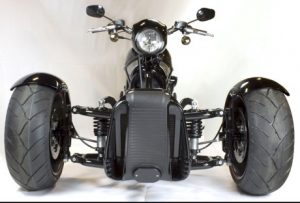 The Scorpion Trikes V-Rod kit will cost about $5000 when it becomes available early next year and owners will also have to buy some extra parts from their Harley dealership. The Wisconsin company also plans to make a second kit for FL frame Touring Harleys and maybe others if there is suitable demand.
Scorpion Trikes claim the water-cooled V-Rod conversion can be done in an afternoon and that there are no frame modifications required. However, it seems like a lot to ask of the existing frame and I'm aware of what damage some other trike conversions can do to the original bike, so anyone considering the conversion should be aware.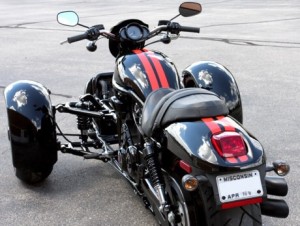 There is a growing demand for three-wheelers as the average age of riders increases. Go to just about any rally these days and there are more and more trikes.
The Scorpion Trikes kit will eventually be backed up by a host of options such as frame covers, bodywork add-ons, and lighting kits.
The V-Rod roadster certainly looks good, but how it will handle is another matter. Click on this short video of the Scorpion Trike being ridden slowly in a carpark.