RAVEN Moto ARCANE Armored Cargo Joggers Review Summary
Review Summary
The ARCANE Armored Cargo Joggers offer a unique blend of comfort, convenience, and protection. The slim-fit pants are available in unisex sizes and effortlessly blend into my everyday style. Plenty of ventilation made these pants a pleasure to wear both on and off the bike. Features such as external access armor pockets, 6 large cargo compartments, and dual zipper air vents add exceptional value to the joggers. As if that wasn't enough, premium CE Level 2 armor for your hips and knees is included in your purchase.
Pros
Very discreet design that's indistinguishable from regular streetwear
Dual zipper air vents are a blessing on hot days
2 back pockets and 7 on the front that are secured with YKK hardware
The inner lining is made out of 100% DuPont Kevlar with reinforced stitching
Armor pockets can be accessed externally
Premium CE Level 2 protectors are included
Cons
Sizing does not accommodate taller riders and/or curvier women
Low waist design can be annoying while in riding position
The zipper on the external access knee pocket could scratch your bike's paint
RAVEN Moto ARCANE Armored Cargo Joggers Image Gallery
Review Summary
If you're looking for the main takeaways from this review, here is my summary of RAVEN Moto's ARCANE Armored Cargo Joggers:
The ARCANE Armored Cargo Joggers retails for $329.99 USD
Unisex slim-fit, tapered-leg joggers with a low waist are available in 3 different colors.
Extremely comfortable to wear with plenty of breathability/ventilation
Additional sizing is required to accommodate taller riders and/or curvier women.
Visually, the ARCANE joggers are indistinguishable from regular streetwear
Premium CE level 2 armor with external access pockets is included
A Kevlar lining with reinforced stitching protects the rider from abrasion
Dual zipper air vents, 6 large cargo pockets and adjustable flex-zipper ankles are amongst some of the features of these pants
Overall, an exceptional pair of riding pants that didn't leave me wanting more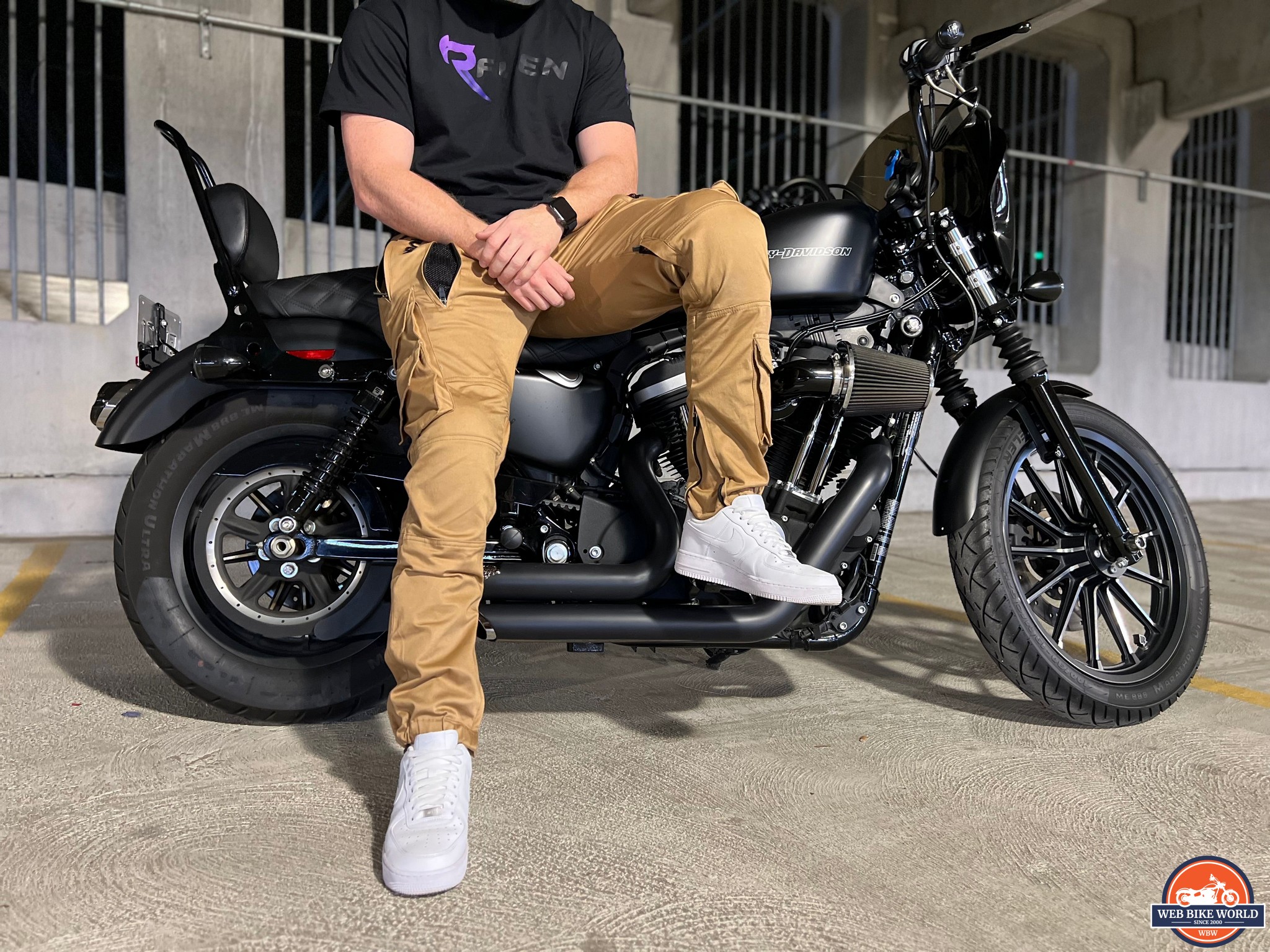 A Busy Summer for RAVEN Moto
Have you been paying attention to what's going on at RAVEN Moto?
While you've been out enjoying the sunshine, RAVEN's design team has been cooped up inside and hard at work. They've been releasing hit after hit all summer. Unless you've been off the grid, you're sure to have stumbled across their gear online.
I shouldn't have to repeat this by now, but here I go again; I look for riding gear that does not look like riding gear. RAVEN Moto, just so happens to make said gear. It's almost like a match meant to be, right?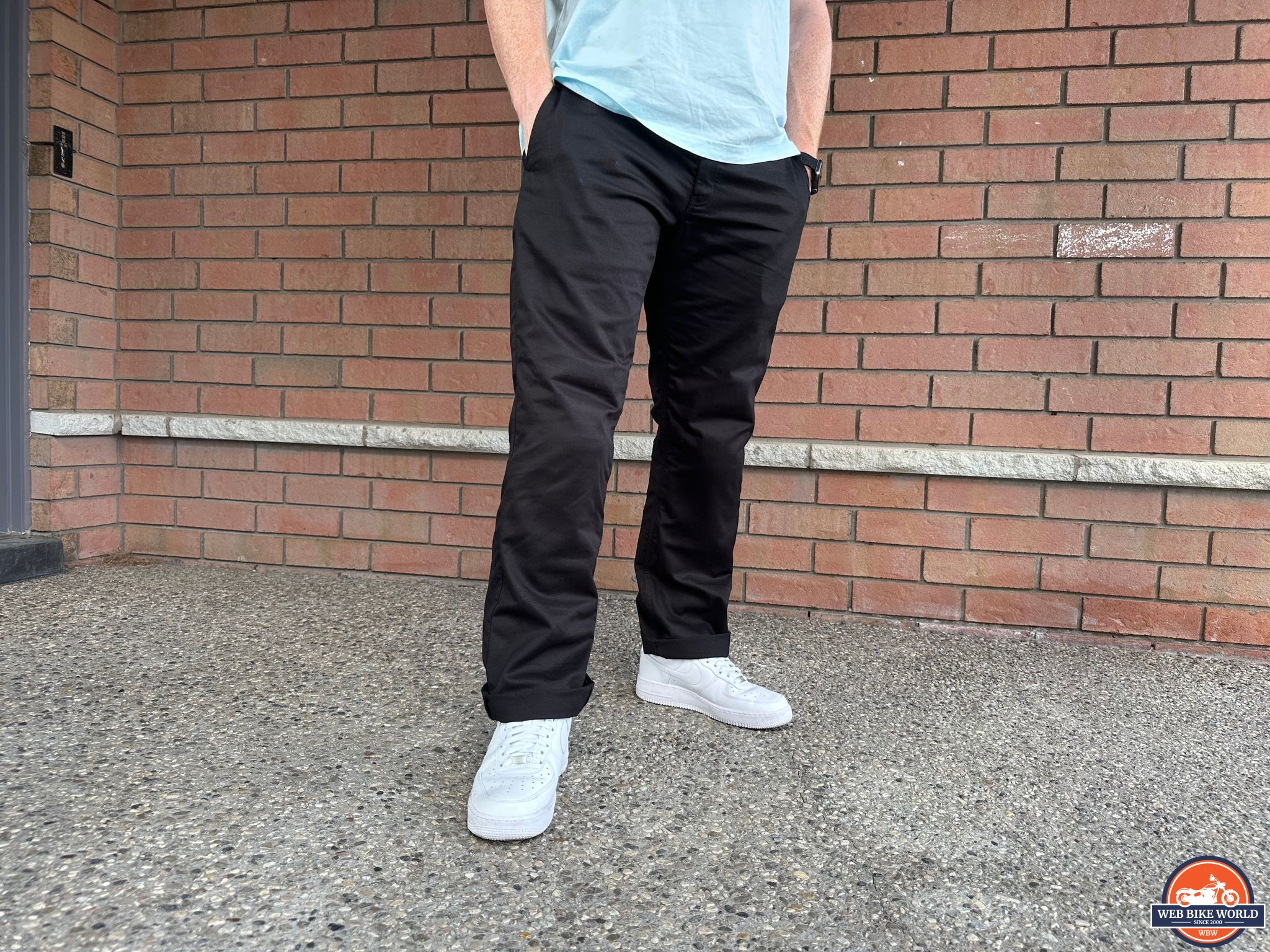 When I began searching for a pair of riding pants that I could finish off the riding season with, I opted to reach out to Alex over at RAVEN Moto to see what they had cooking.
Turns out, it was a whole lot! In the few weeks prior they had released their ARCANE Armored Cargo Joggers. In the week following our conversation, they were gearing up to release an industry-first; ripped riding jeans that don't expose the skin.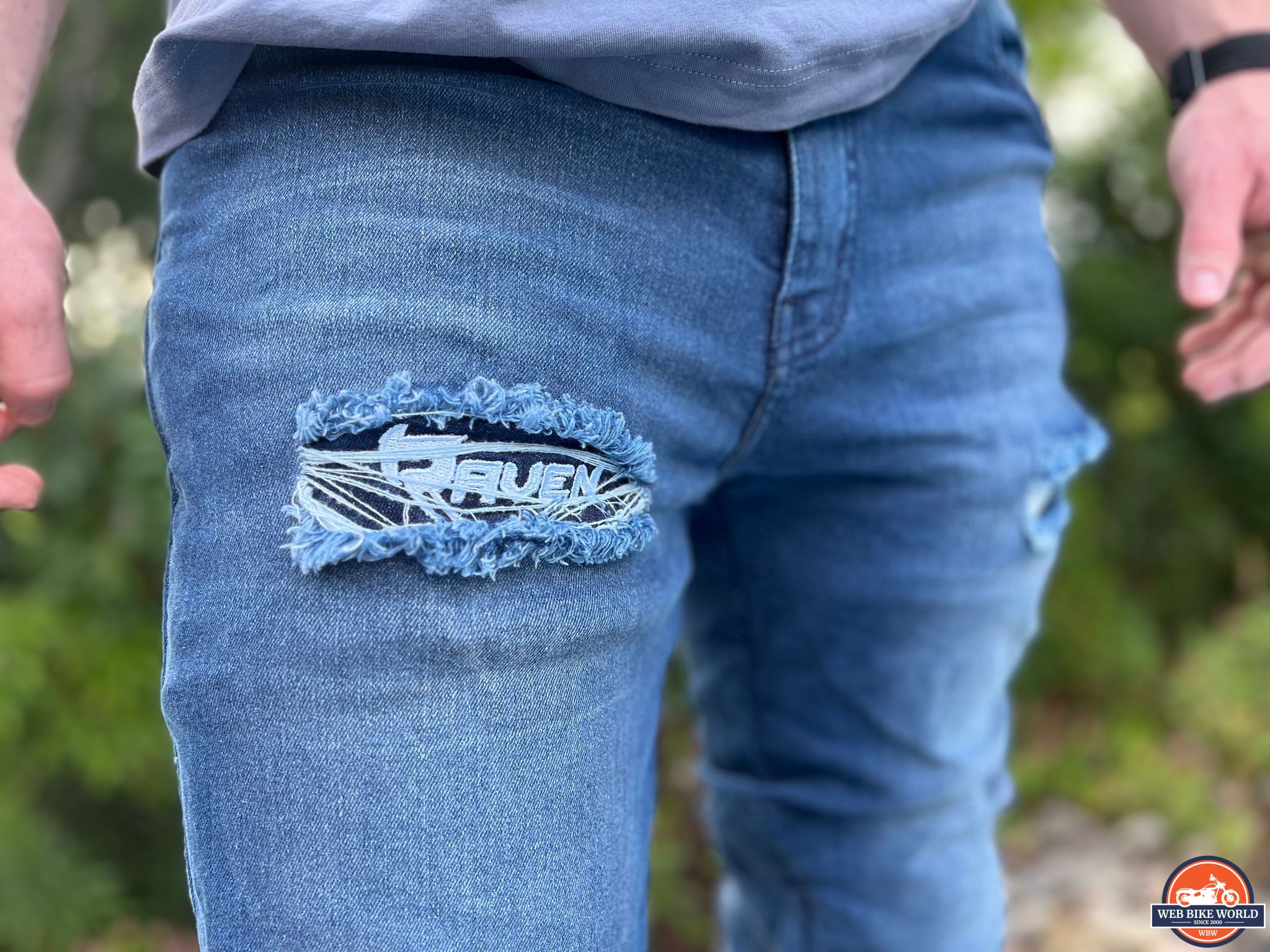 What perfect timing? I was lucky enough to receive all 3 colors of the ARCANE Armored Cargo Joggers to review. They also included a pair of their REVOLT Ripped Armored Jeans, which I highly recommend checking out.
But the fun didn't stop there!
RAVEN Moto has developed a pair of women's high-waisted jeans with enough stretch in them to accommodate curvy figures. They are the first pair of riding jeans to comfortably fit Ashley's body type. Seriously, these things are a game changer.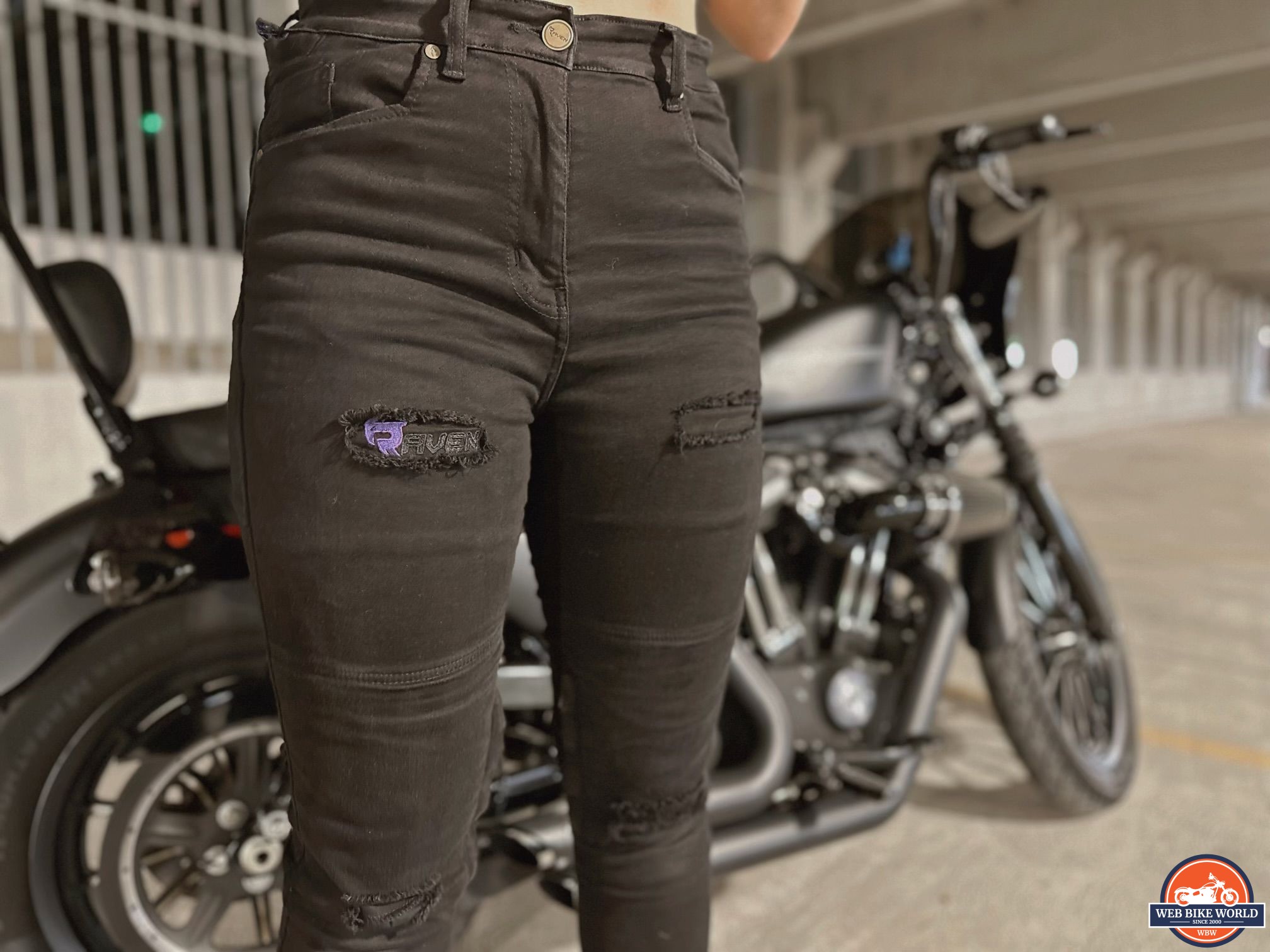 ARCANE Armored Cargo Joggers
I'm not interested in the stiff, unbreathable riding denim that's been dominating the market for years. My very first pair of riding pants were Speed & Strength's Critical Mass jeans. I believe I've worn them a total of two times.
Both times were because it was mandatory in my 2-day how-to ride a motorcycle class.
I also can't be bothered with leather pants. Something about sitting on an all-black bike in leather in the scorching sun just doesn't appeal to me. If that's your thing, I won't knock it. But at least do yourself a favor and be sure to grab a decent pair.
Are you starting to see my point here? There are zero reasons to be wearing uncomfortable gear when far better options exist.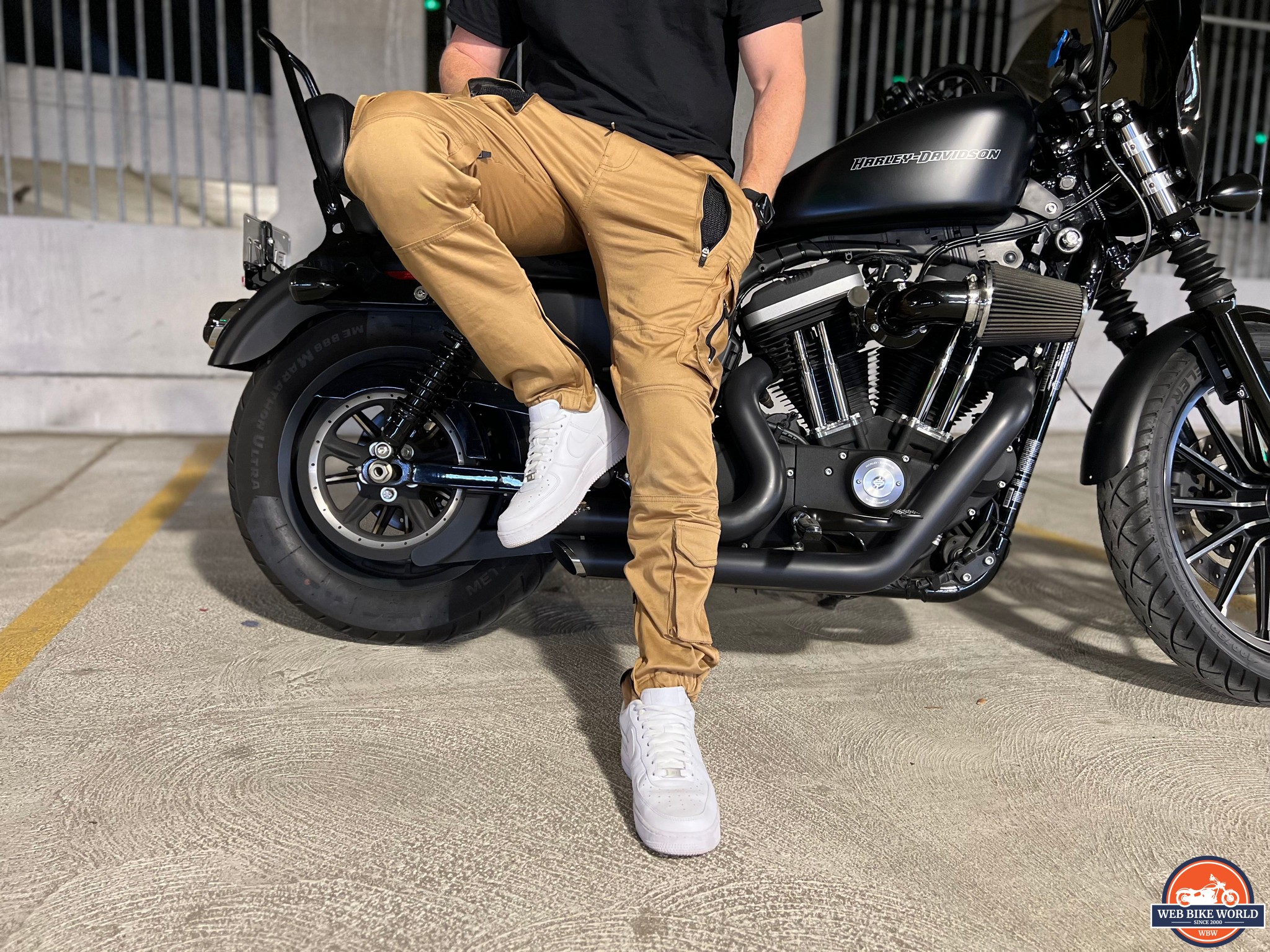 Enter the ARCANE Armored Cargo Joggers. These riding pants look and feel like an everyday pair of joggers. They are unisex, comfortable, slim-fitting pants with heaps of meaningful features that have kept me impressed since day 1.
There are many aspects of these pants that made me fall in love with them. By the end of this review, I strongly believe that you too will have a little crush.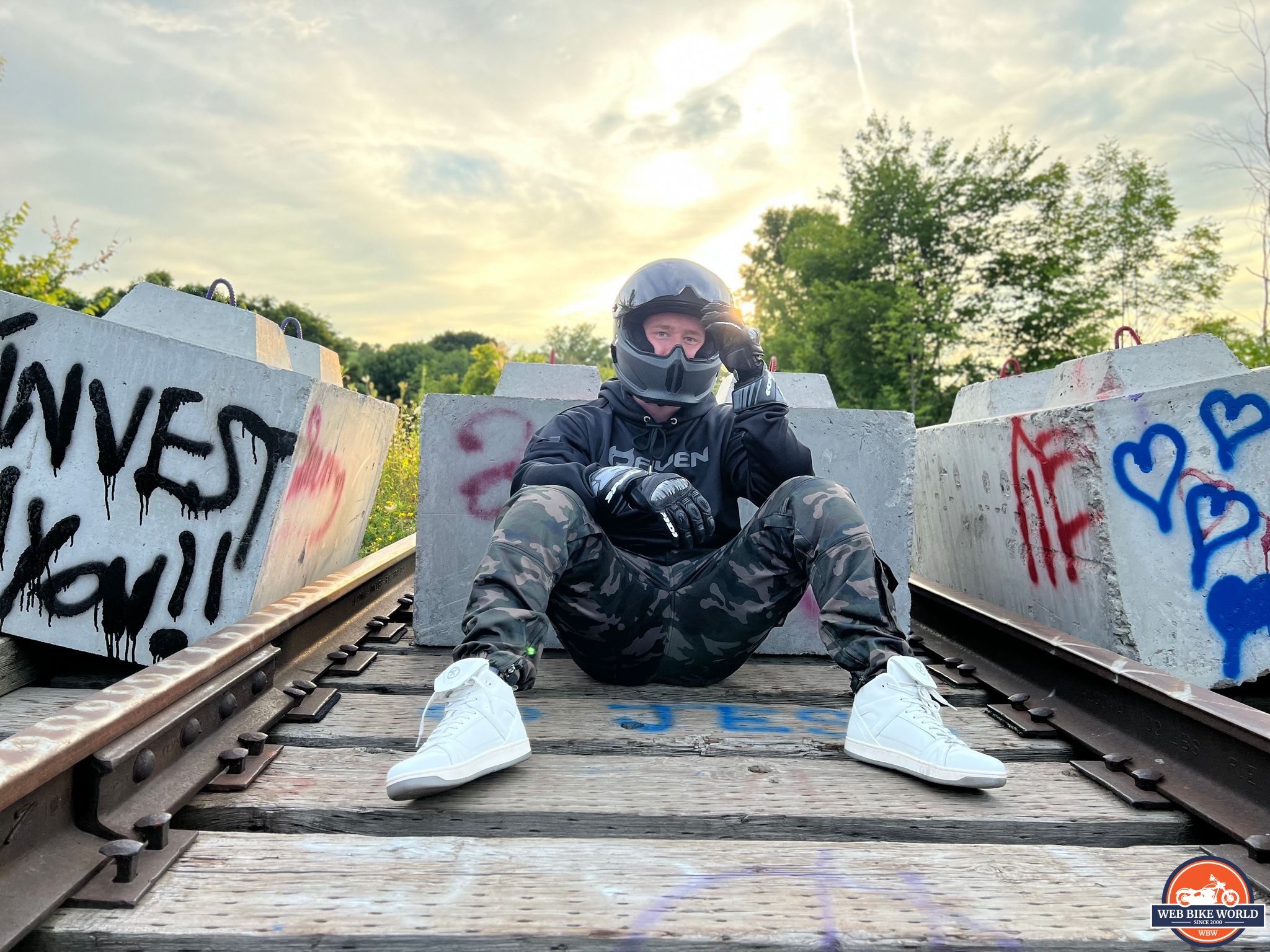 Fit & Feel
We are going to start this review off on a typical note and discuss fit and feel first. Spoiler alert, I'm going to repeat myself multiple times and say the pants feel great but with synonyms.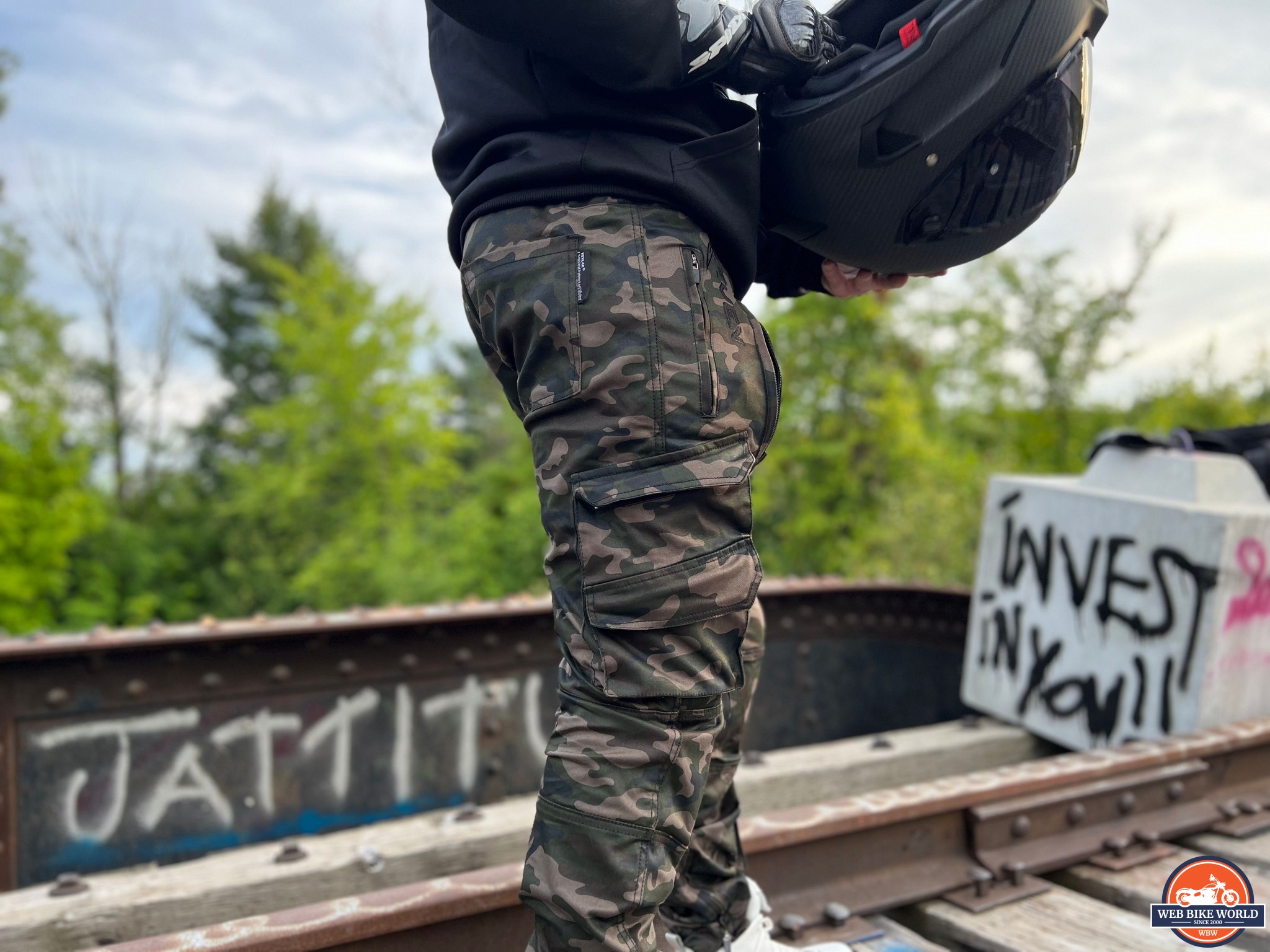 On a serious note, how comfortable these pants are is what sold me on them. Protection and comfort don't usually go hand in hand, so when I find the perfect combination I have to preach it to the masses.
How the Joggers Fit
The ARCANE joggers are slim fitting, but not to the point that they're tight on your skin. They are tapered in the leg and cuffed at the ankle. I found the material to be flexible and stretchy enough to not limit my movement.
The pants are outfitted with a stretchy waist with an adjustable drawstring closure. Because of this, I was able to fit into a size medium for a skinnier fit, as well as into a large for a more relaxed fit. If I had to choose my preference, it would've been the large because of the tapered leg.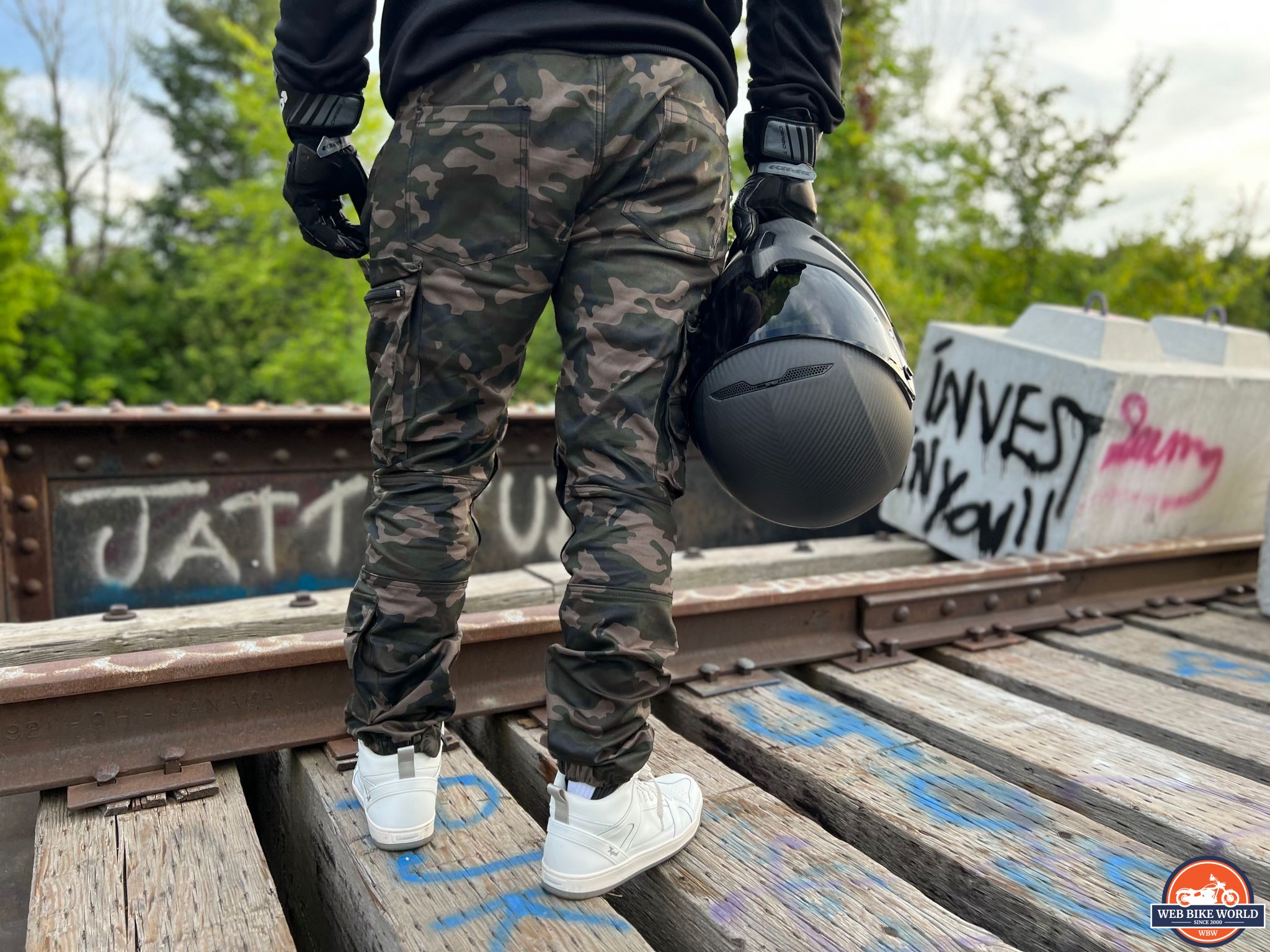 As a person with smaller calves, I can sometimes run into trouble with tapered pants as they make them look disproportionate compared to my quads and hamstrings. I found this to be true with the mediums I had received, but not so much in the large.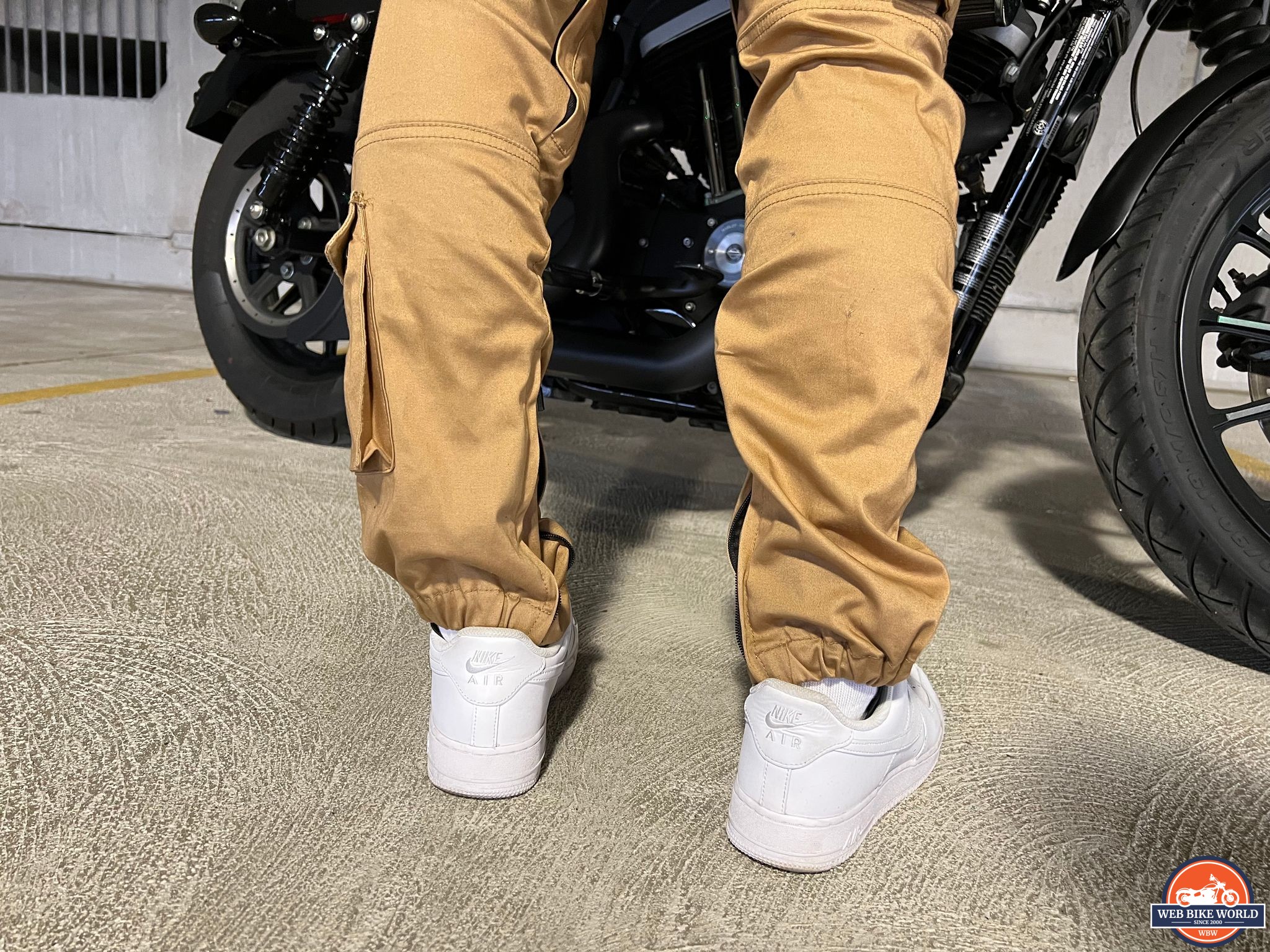 In both sizes I found myself wishing for a bit of a higher waist. While walking or standing, the pants fit fine. On my bike, I felt like I had a bit of a plumber crack every time I leaned forward.
The low waist design also presents a challenge for curvier women. Ashley, for example, tried a larger size than normal to try and accommodate her hips but was still out of luck. Once she had pulled the pants past her butt there wasn't any material left to pull up to her waist.
Taller riders beware as the ACRANE Armored Cargo Joggers have very limited options in terms of inseam length. Across all 8 sizes, RAVEN only offers a 5" inseam length variation with the shortest being 28", and the longest being 33".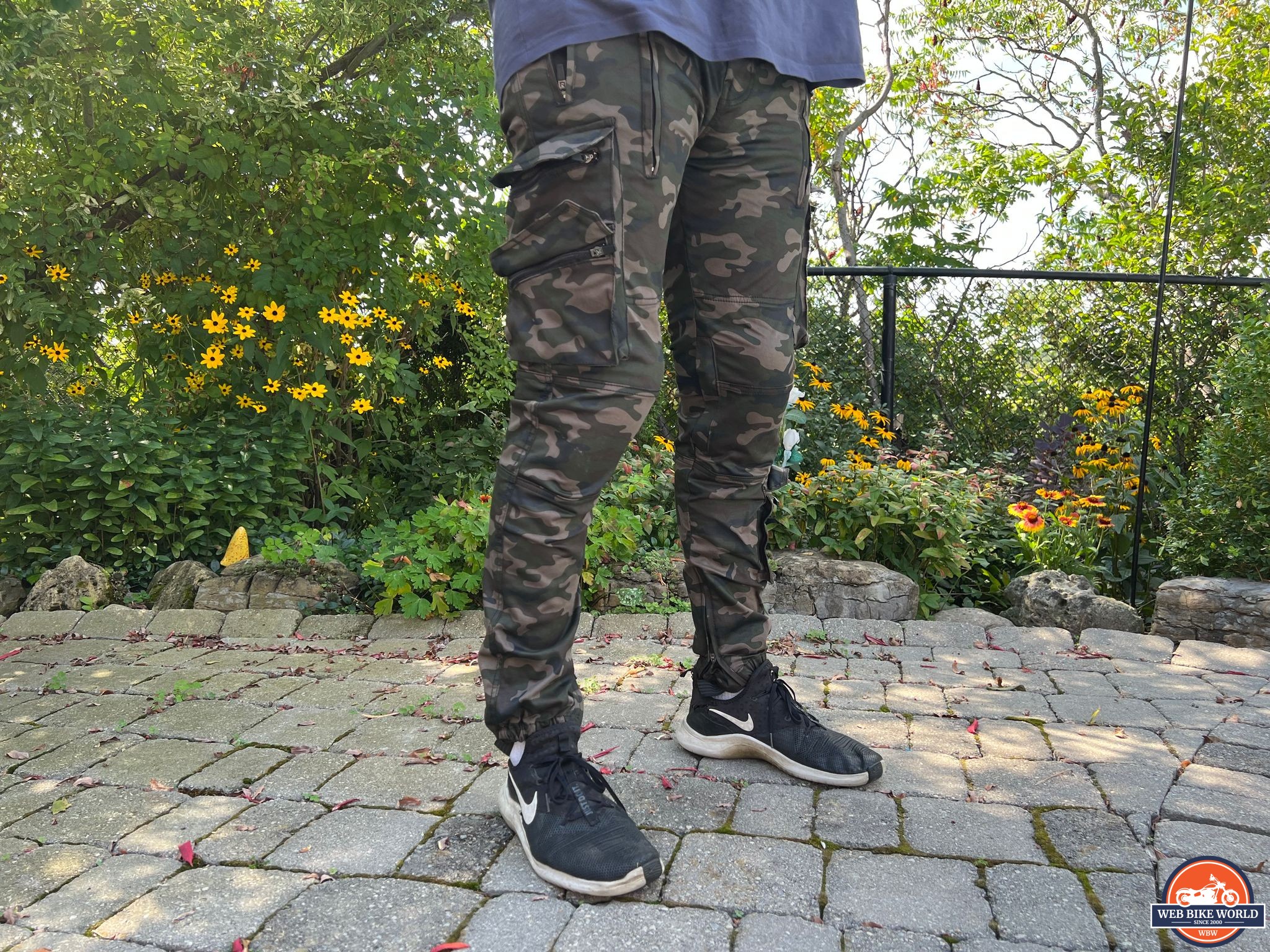 If you're well over 6' tall, you may find the ARCANE joggers too short in the leg. Pictured above is my brother who is 6'3" tall. As you can see, the joggers are at their limit and would likely expose his ankles in a riding position.
Comfortable Feel Perfect for Long Rides
I never want to wear riding jeans again!
The website claims that the ARCANE joggers are 68% cotton, 30% polyester, and 2% spandex outer shell. The tag on the inside of the pants, however, claims they are 98% cotton and 2% elastin. As they feel almost identical to a pair of chinos you'd pick up at the mall, I'm inclined to believe the tag due to the higher cotton content. Either way, they feel great.
They feel heavy out of the box but wear like light pants. While I wouldn't go as far as saying they're as comfortable as your favorite pair of sweatpants, I will admit that I've worn them off the bike. That might say more about my personal wardrobe than the pants, but there you go I've said it.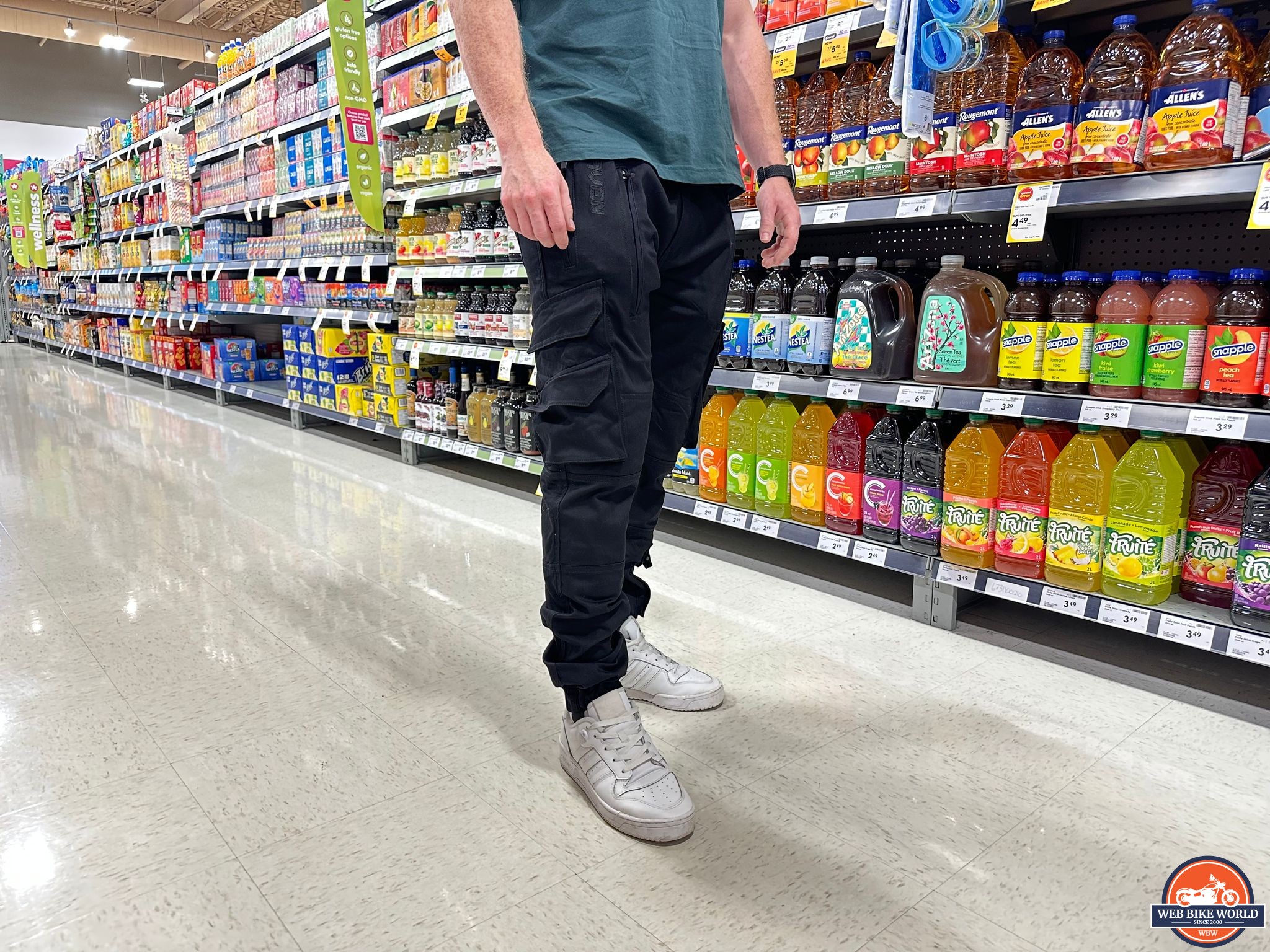 If RAVEN ever wants to get out of the motorcycle industry, they could sell these joggers off as casual wear. The fabric is soft and offers enough breathability to make you forget you're wearing riding gear.
Another thing to consider is that not all colors feel the same. Sometimes manufacturers have to switch up materials in order to get a specific color or pattern which results in a different feel to the clothing. In this case, each color felt good, but the black pants were much softer than the others.
Fit & Feel Rating: 85%
At 5'10" and 180 lbs, both the medium and large pants fit and felt great. I was able to comfortably switch between the two sizes depending on the style I was looking to achieve.
Wearing them was an absolute pleasure. Later in the review, you'll see me discuss the dual zipper air vents that took my comfort beyond what any riding pants had before. For me and my body type, the only area of improvement I saw was a slightly higher waist.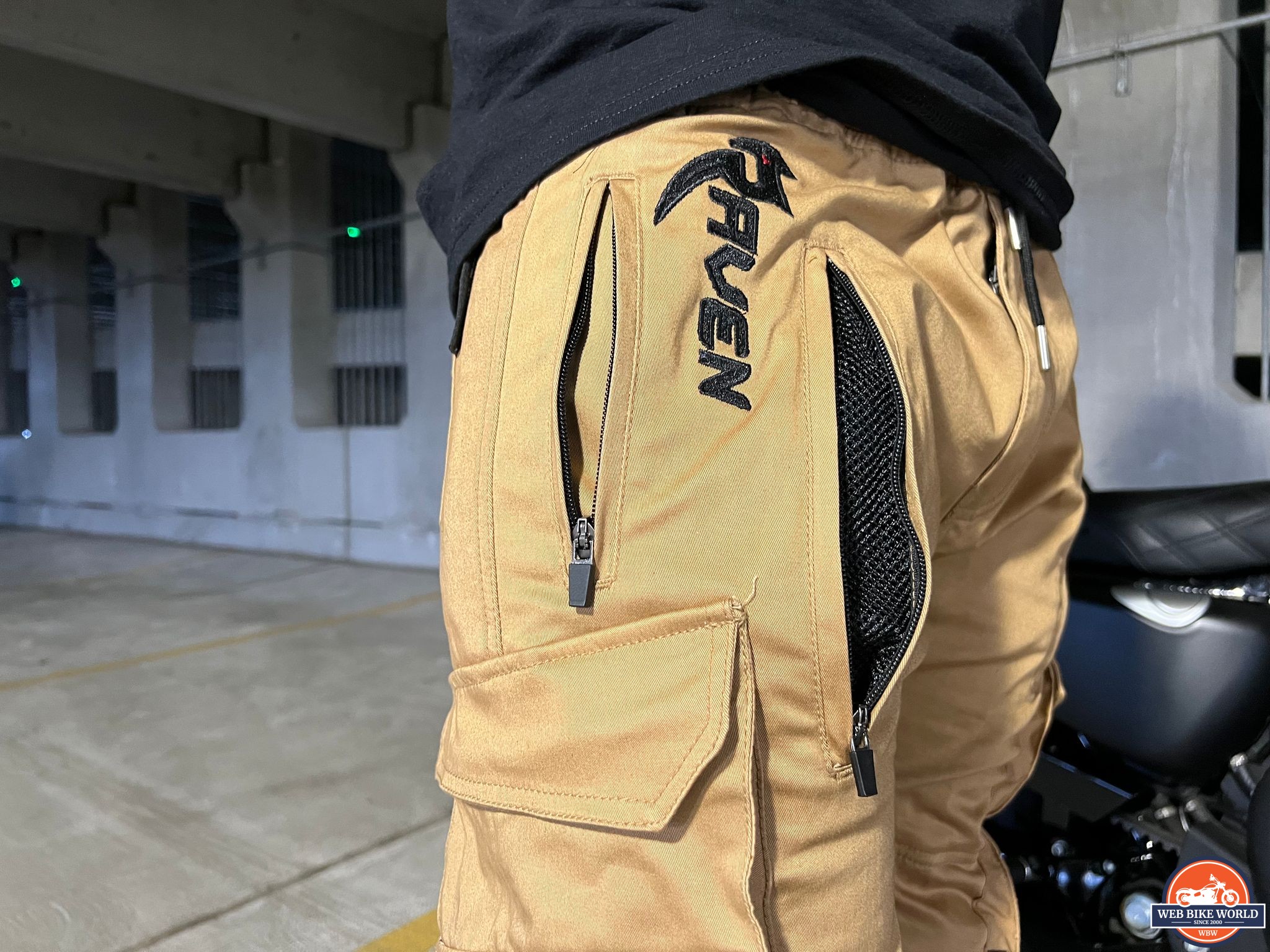 Looking at the broader population, RAVEN may want to consider tall sizing for riders over 6'. I understand the pants are designed to be unisex to fit both men and women, but they're missing a big audience in the market with taller riders.
The same can be said for targeting women with a much larger hip measurement than their waist. I can't think of any reason why RAVEN wouldn't find success in producing gender-specific joggers to ensure a better fit. This idea is no different than the new ripped jeans they've released with REVOLT Ripped Armored Jeans for men, and a High-Waisted REVOLT Ripped Armored Jeans option for women.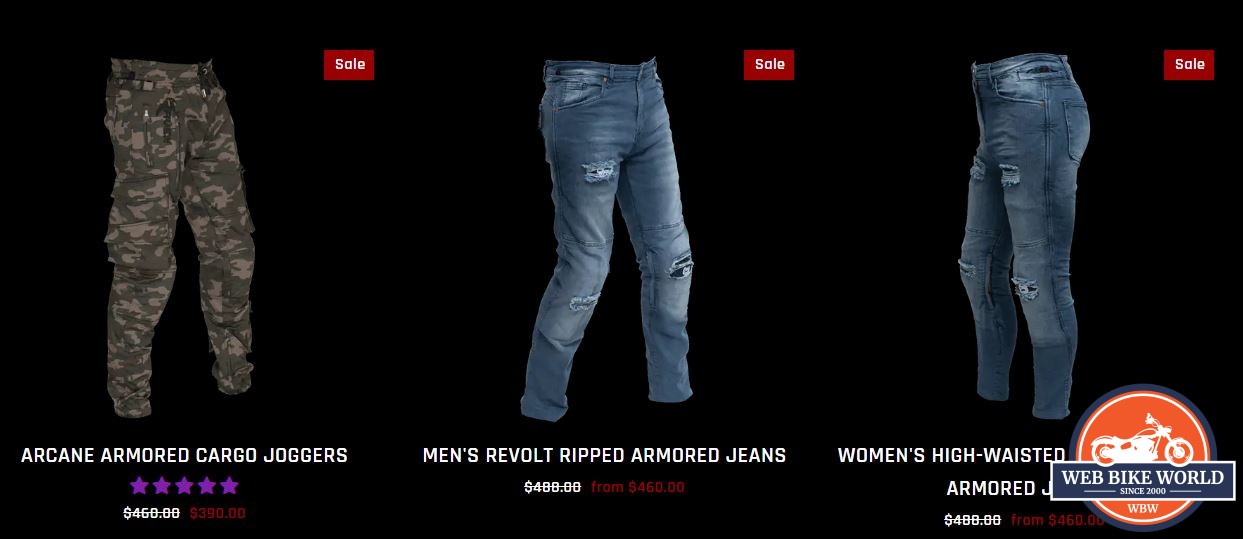 Sizing the ARCANE Armored Cargo Joggers
Following up on the comments I made for the fit and feel of these pants is how to size them. The ARCANE joggers are available in 8 unisex sizes ranging from XS to 4XL.
If you take a look at RAVEN Moto's size guide you'll see there's some overlap between the medium and large in the waist, with a similar inseam length. It also mentions that for a slimmer fit, size down, and for a loose fit, size up. The pants fit true to size and exactly as the guide suggests.

Be sure to check and re-check your waist measurement. The material is stretchy, but not to the point that it's forgiving should you order too small of a size. Even though the ARCANE Armored Cargo Joggers are a unisex fit, Ashley was unable to fit into them.
In her situation, her hip measurement is much larger than her waist. It's not uncommon for pants to fit her in the hips, but not the waist, and vice versa. Unfortunately, the size guide did not reference a hip measurement for each size.
Another thing to keep in mind when sizing the ARCANE joggers is that they have an adjustable drawstring closure with only 2 belt loops. If you were to opt for a bigger size, you may not be able to tighten the drawstring enough to secure the pants in place.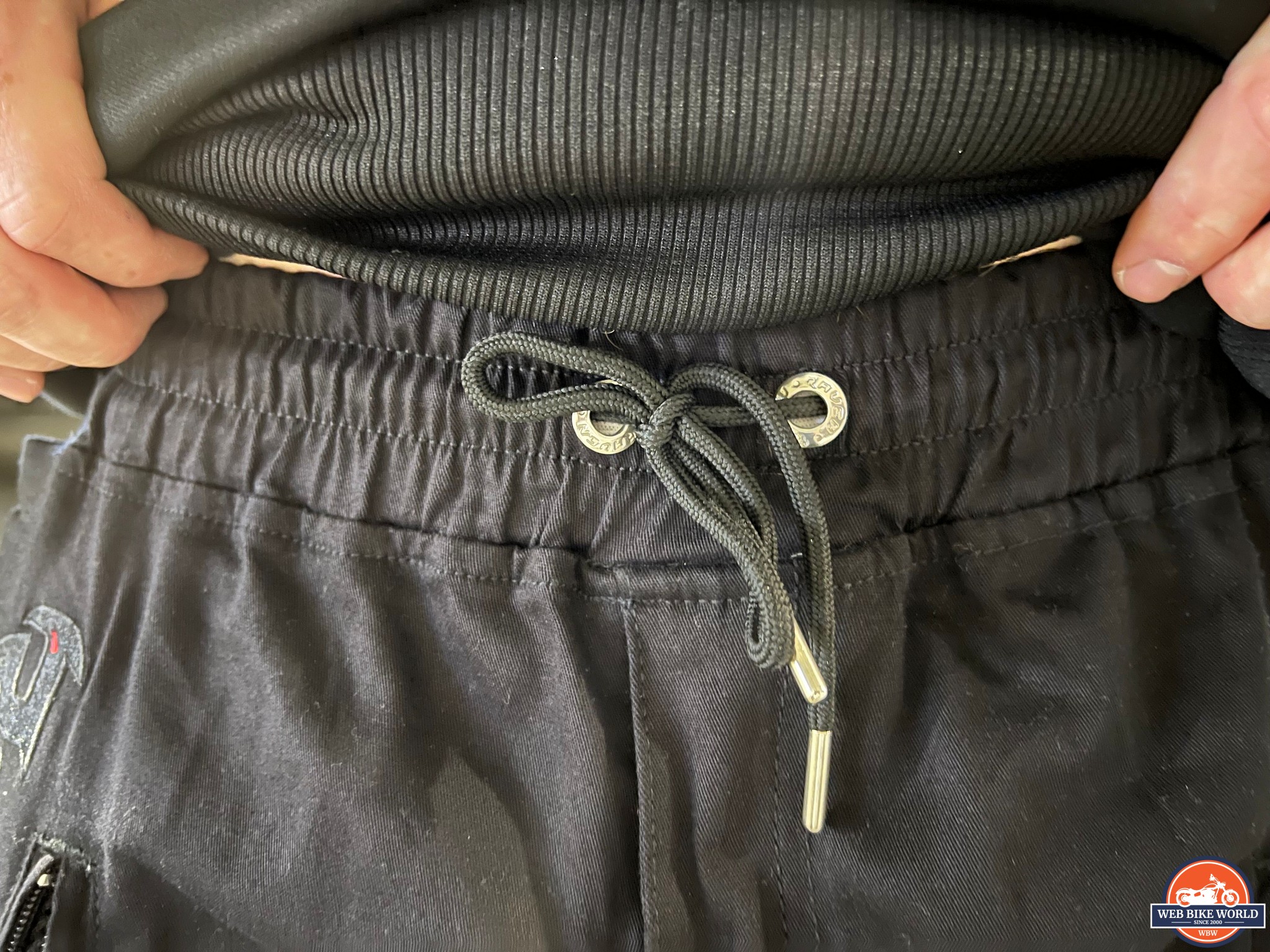 This could be potentially hazardous in a slide as the pants could be stripped off your legs, leaving your skin exposed. Sometimes style and fit aren't as important as being safe, so be sure to choose wisely!
 Size Rating: 80%
Making unisex clothes is extremely difficult as you need to try and accommodate both male and female body types/sizes while ensuring the article of clothing still looks good. Add in Kevlar and armor and the job is damn near impossible. For the pants that I received, the size guide was spot on and the clothing fit true to size.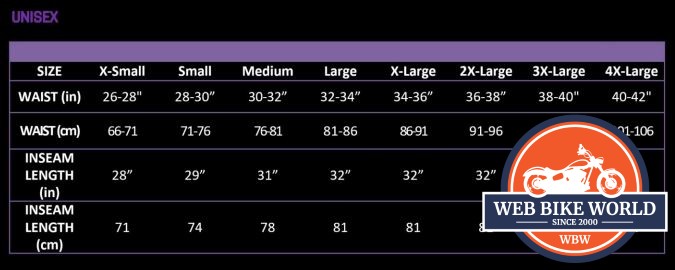 RAVEN Moto has done a good job at sizing the ARCANE Armored Cargo Joggers to fit the general population but not taller riders, and curvier women. As unisex pants, I would recommend RAVEN include a hip measurement in their size guide for female riders to reference before ordering. This is an alternate suggestion to the one I made above relating to having gender-specific options.
Design
The ARCANE joggers are a whole different beast compared to the Wrench Motorcycle Pants. While both are styled to look and feel like regular streetwear, the ARCANE cargo joggers were a much more complex design with impeccable attention to detail.
For starters, if I took the pads out of the knees and hips you'd never be able to tell these pants apart from a pair you can pull off the rack at the mall. To be honest, I could probably leave the padding in and you still wouldn't know.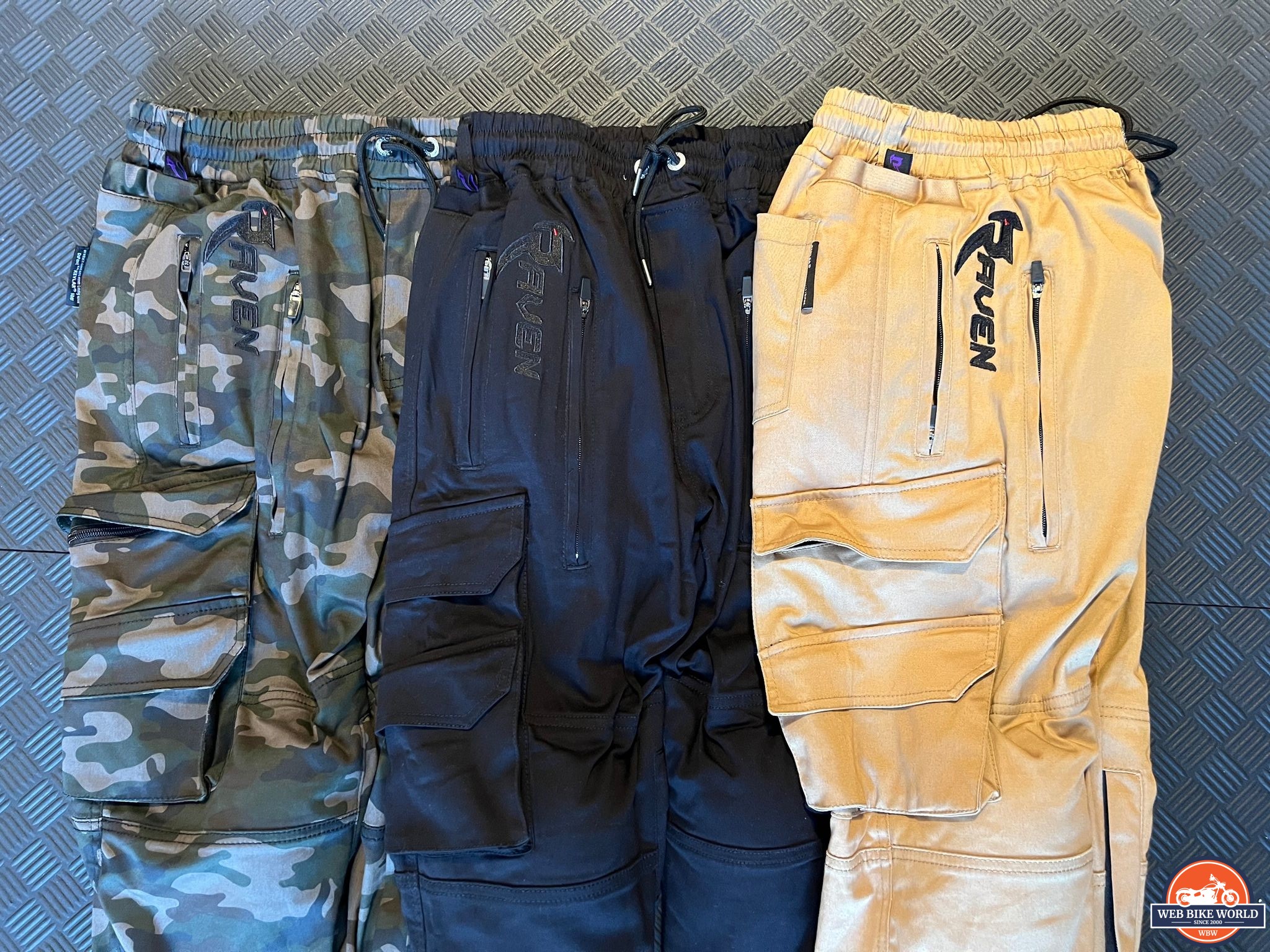 The ARCANE joggers were designed to pass as streetwear and they've done a remarkable job at it. The pants are available in 3 different colors;
Green Camo
Black
Khaki Brown
At first, I was skeptical of the Green Camo joggers. Camo really isn't my style and I was afraid they'd look more like hunting gear than riding pants. I am happy to admit that I was wrong.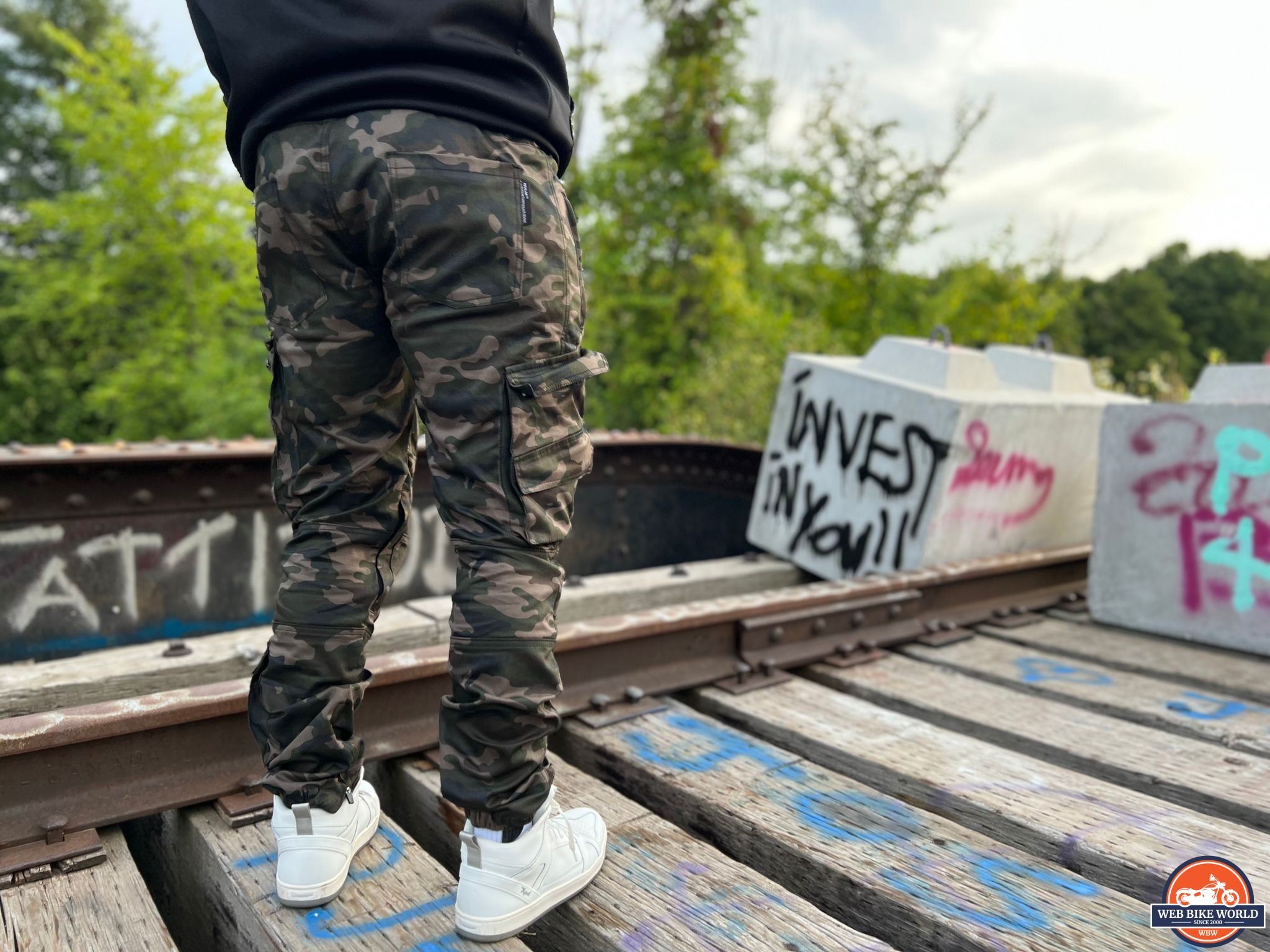 The Green Camo looks fantastic with my white riding shoes and black LORICA Armored Hoodie. The green, beiges, and browns used in the camo complement each other nicely the pattern isn't too busy.
The Khaki Brown was another favorite of mine. I thought that the black YKK zipper closures and drawstrings added a nice touch of contrast to the pants. These paired up perfectly with my all-white Spidi XPD Moto-1 Leather riding shoes.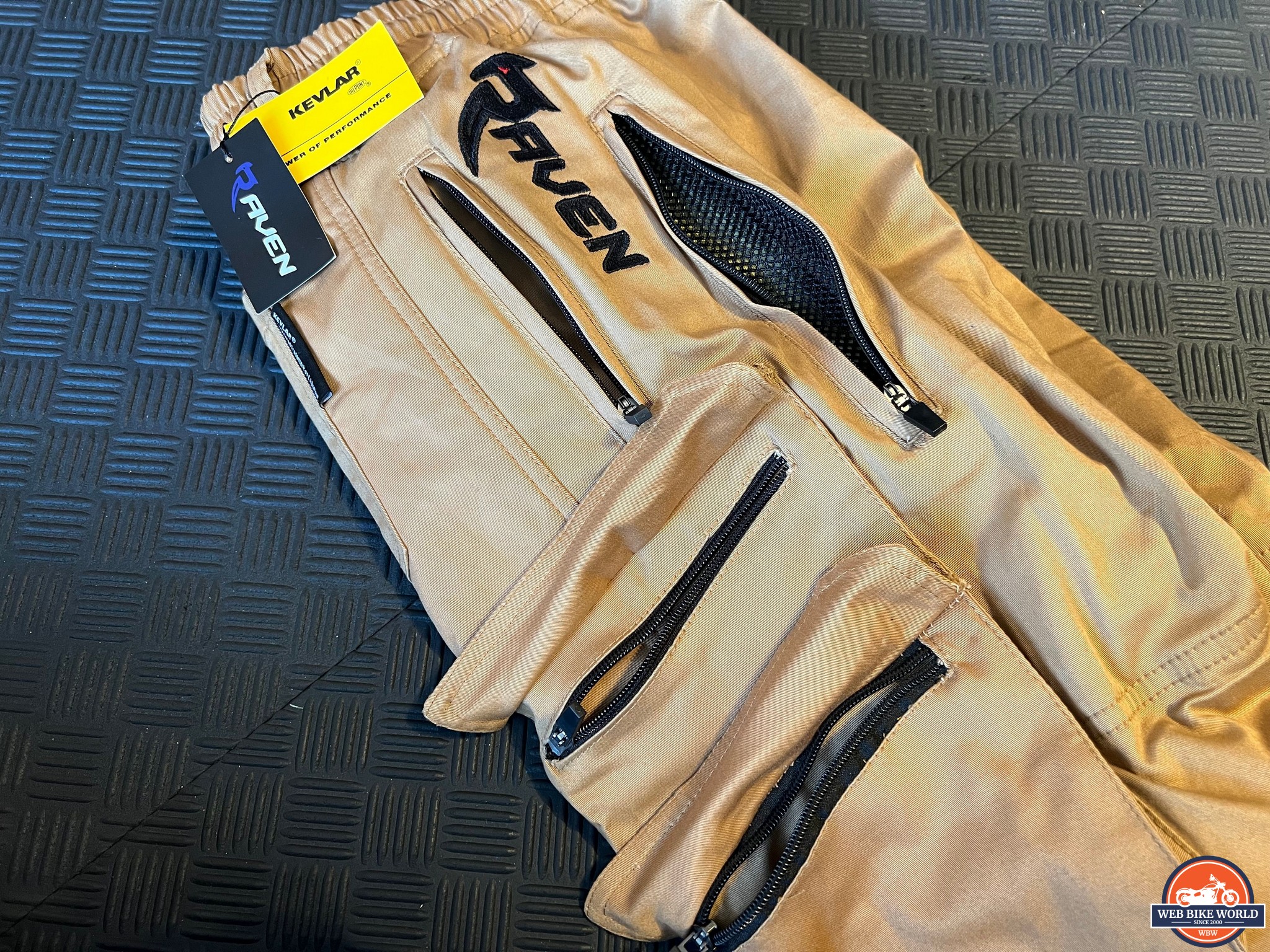 Of course, the Black looks fantastic as well. You can't go wrong with black and these joggers were no exception. I was a huge fan as they matched my all-black Iron 883 and I can pair them with any riding jacket/hoodie, regardless of the color.
The cargo portion of these joggers was done in a tasteful way. In my opinion, the placement, size, and variety of pockets can either make or break conventional cargo pants. The same holds true for the ARCANE joggers and I think that RAVEN Moto has smashed it. They blend in nicely and add to the pants as opposed to taking away from them.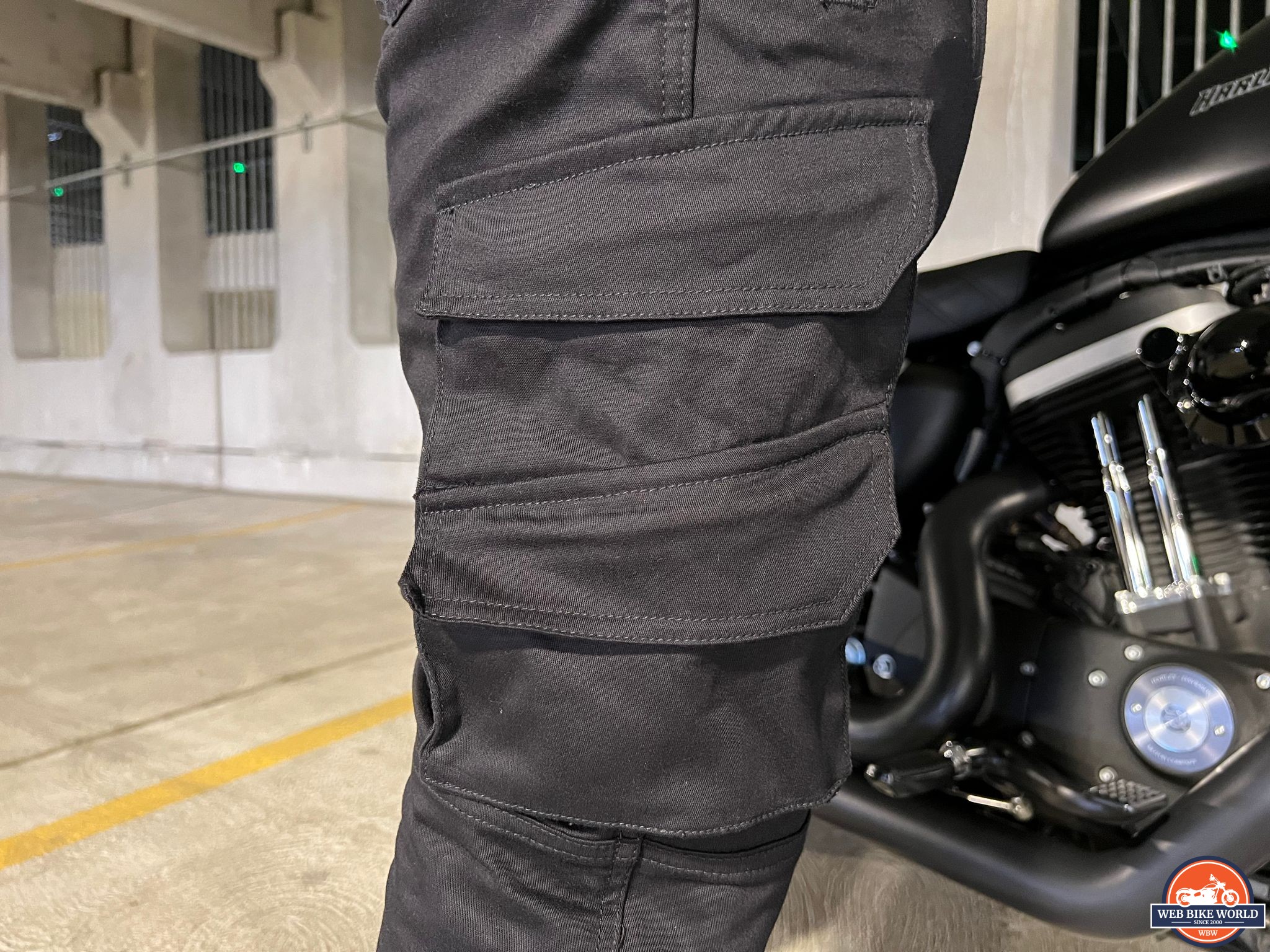 As touched upon previously, the waist features an adjustable drawstring with two belt loops. In the large, I found the waist to be somewhat loose. Typically I wouldn't bat an eye at it, but with only two belt loops I found it hard to tighten the waist to a comfortable level.
Design Rating: 90%
In all honesty, I love the look of these riding pants.
Branding is very subtle with nothing but small tags on the hip pockets and RAVEN's logo next to the top right pocket. The cargo pockets are stacked asymmetrically and have been incorporated into the design of the pants in a tasteful way.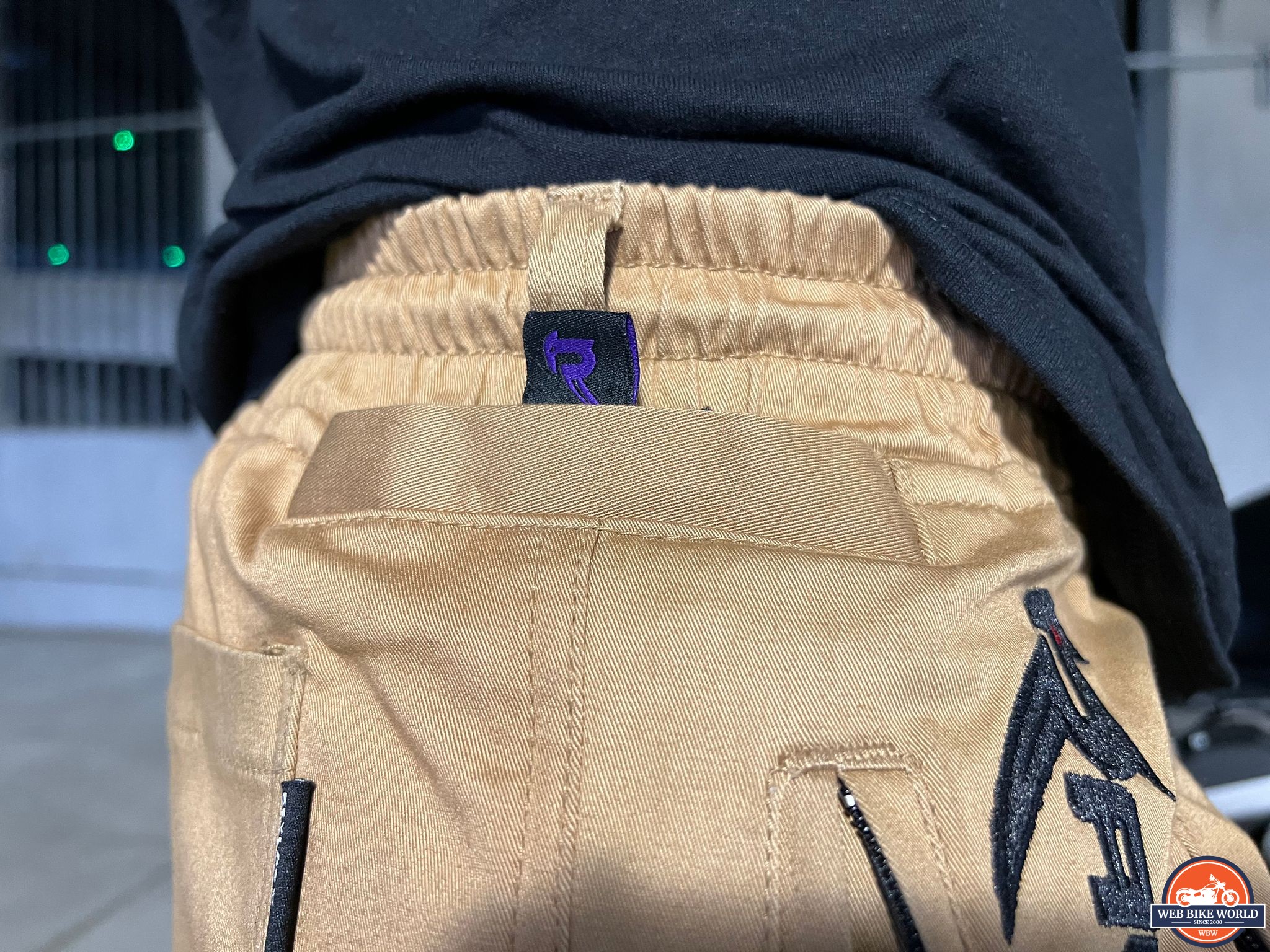 The slim-fitting tapered legs are a refreshing change to the baggy riding jeans/pants that flood the market. Joggers aren't for everybody. Understandably, there will be a few of you reading this who can't get behind the style. For those of you who are fans, I think you'll be hard-pressed to find a better-looking pair.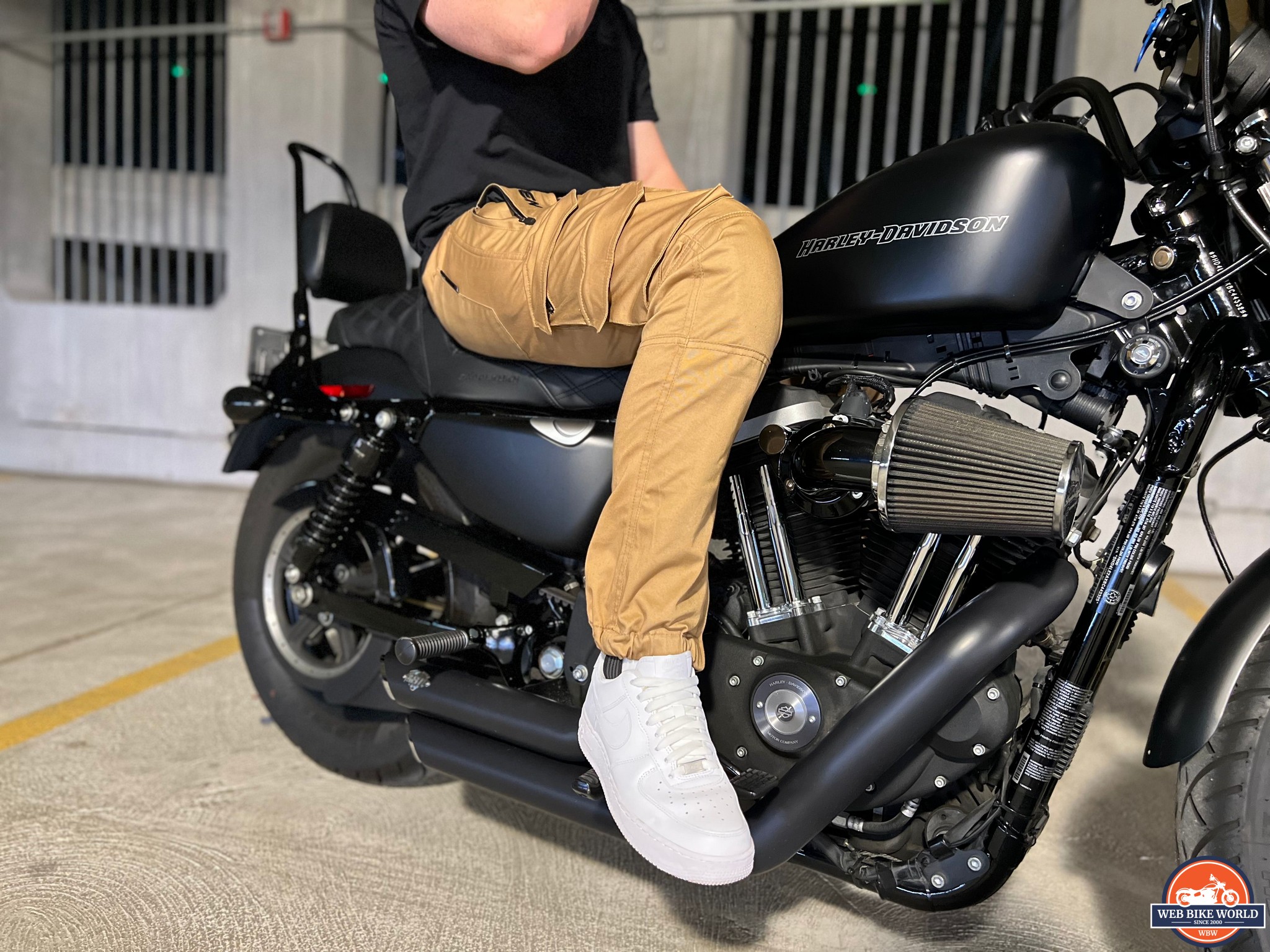 The only reason I couldn't give the ARCANE Armored Cargo Joggers 5/5 for design is the lack of belt loops. The 2 loops on the pants make it very awkward to wear a belt, and I would've liked the option to wear one in combination with the drawstring.
Innovative Protection & Safety Features
We all have that one friend who loves to rip up and down the streets in nothing more than a t-shirt and shorts. For those of us who don't have a death wish, RAVEN Moto has jammed numerous safety features into these pants that are sure to keep you looking as good, if not better, after a crash.
Impact Resistance
As always when we are looking at riding gear and its protective properties we consider impact and abrasion resistance. Typically we see manufacturers all following the same design and incorporating pockets on the inside of their gear that'll hold armor.
It is apparent that RAVEN was thinking outside of the box – literally. The ARCANE armor pockets can be accessed externally. I loved being able to access the armor from the outside. This was my first bit of riding gear that incorporated an external access. It certainly made it much easier to position the armor in the most suitable position for me. I'll touch on this feature more below.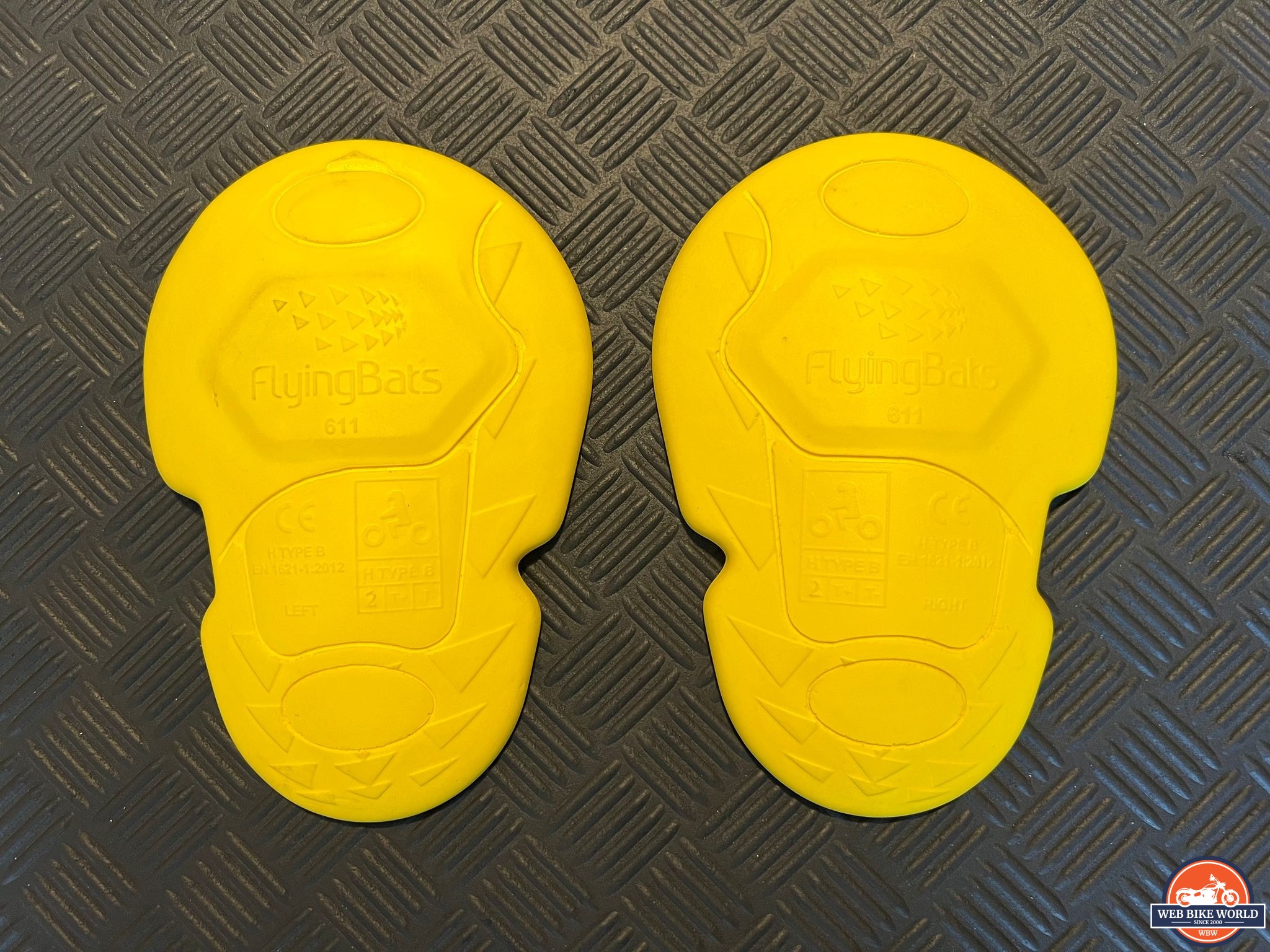 As with all their gear, RAVEN Moto includes CE Level 2 armor in your purchase. The armor is high-quality and gives me the impression that it would hold its own against a large impact. If you aren't fond of the armor that's included, be sure to check out our list of the Best Armor Inserts for 2023.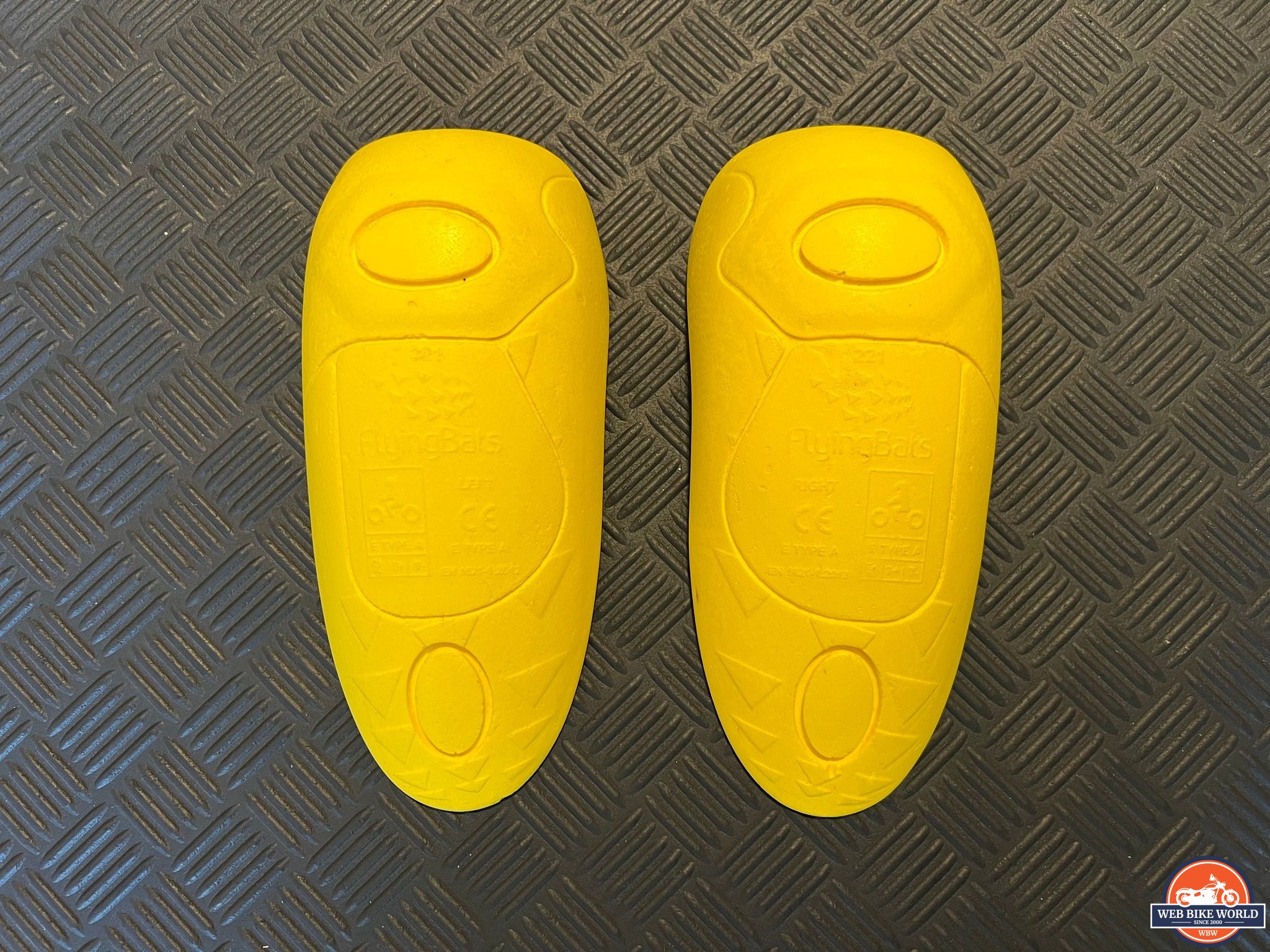 Abrasion Resistance
To protect you in a slide, leather is king. With textile pants, rarely do we see manufacturers incorporate leather into the design. Even though leather is superior in combating abrasion, it's fairly expensive and can be downright ugly. One notable exception is REV'IT!'s H2o Pant which has sewn-in leather patches but still looks good.
More often than not with textile pants, we see an aramid fiber lining stitched into the inner shell of the pants. By doing so, the protective lining remains invisible and undetectable to the unsuspecting public.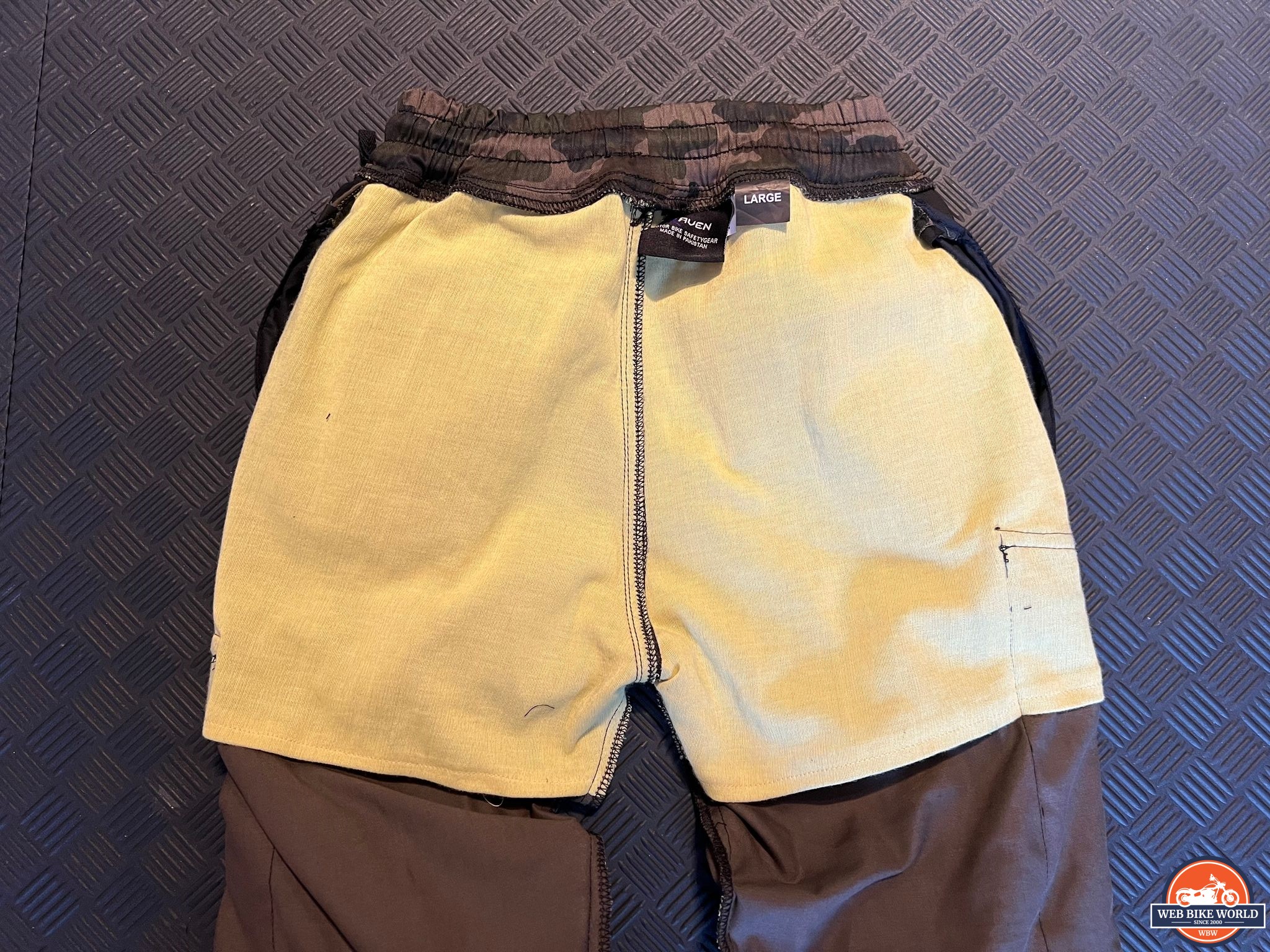 The ARCANE Armored Cargo Joggers are no different. Flip the pants inside out and you'll find a high-density DuPont Kevlar aramid fiber lining. This liner has a distinctive yellow color that I've frequently come across in my reviews.
The liner is stitched into high-impact areas for abrasion resistance in a slide. In the ARCANE Joggers, the liner entirely covers your backside down to your mid-thigh, as well as the hips and lower thigh area on the front, extending slightly past the knee. The rear of the knee is left exposed.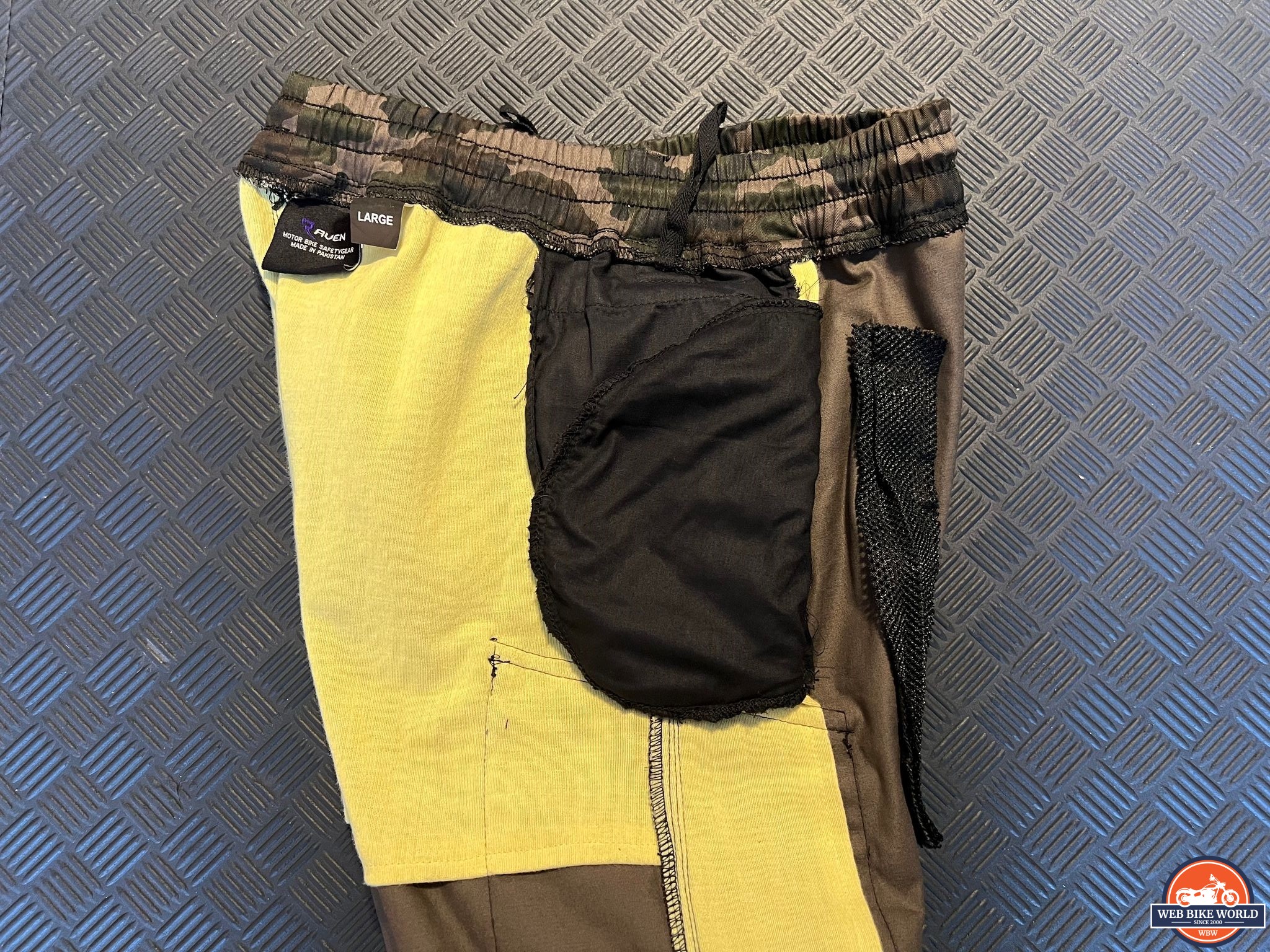 Pictured below you'll notice that the liner does not cover the front of the pants, unlike the Wrench Motorcycle Pants which included a liner that looked like a sewn-in pair of shorts. My best guess was that RAVEN opted to leave this area exposed for ventilation purposes, but after taking a look at the REVOLT Ripped Armored Jeans, I noticed it didn't have a liner in the front either.
The Kevlar lining is held in place by reinforced stitching. It can be seen along the terminations, as well as around the armor pockets. In my eyes, this is an indicator of a high-quality liner with the intention of staying in place.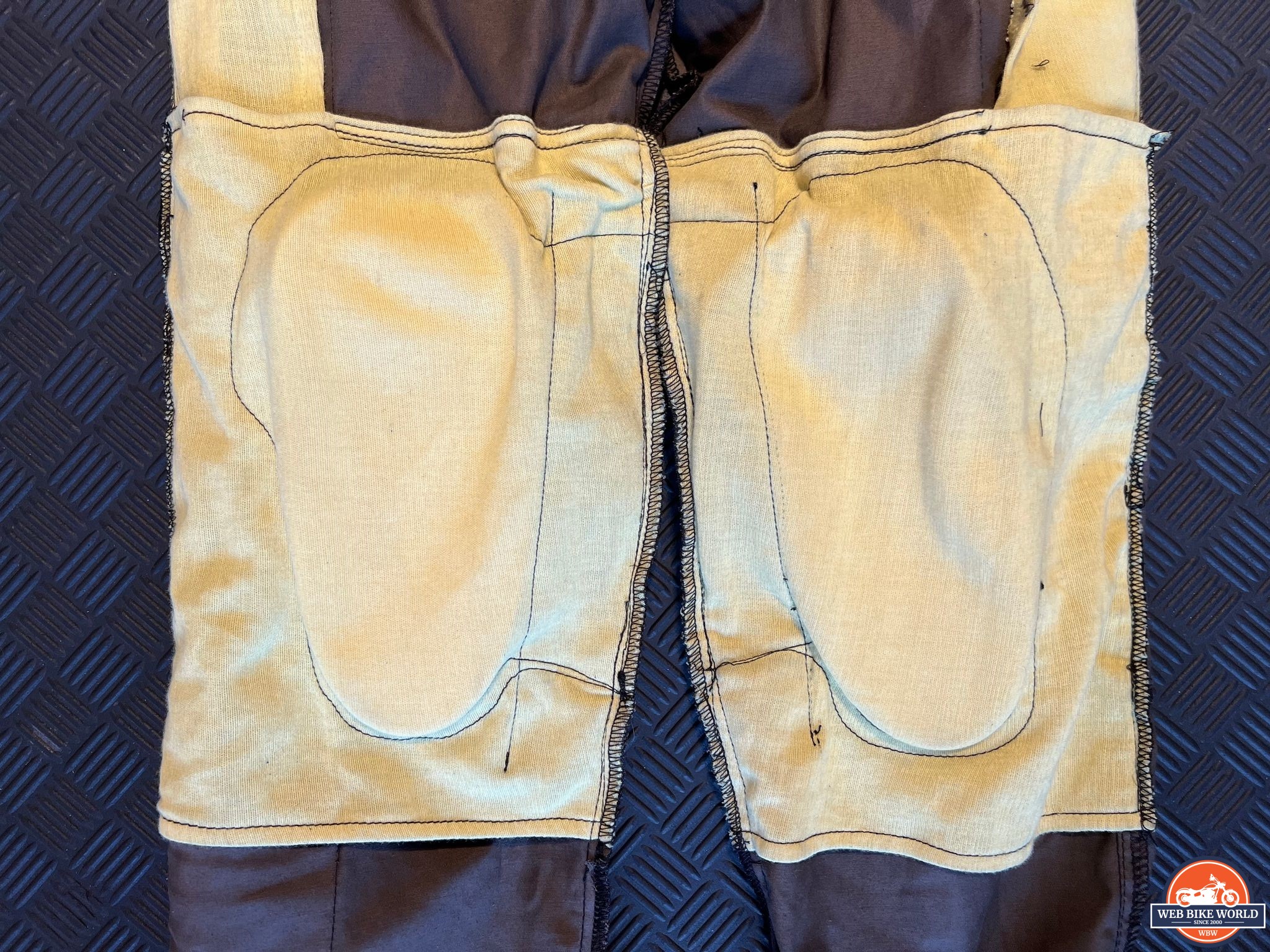 Thoughtful Stay-In-Place Design
Normally I'd include this section under features but I feel it is better suited here as it's a creative safety reassurance.
RAVEN designs their gear to go hand-in-hand with each other. Do you recall the belt loops I mentioned in my LORICA Armored Hoodie review? Inside the waistband of the pants are a pair of safety loops on either side that the LORICA can fasten to. The connection will help prevent the possibility of your skin being exposed if your gear comes in contact with the asphalt.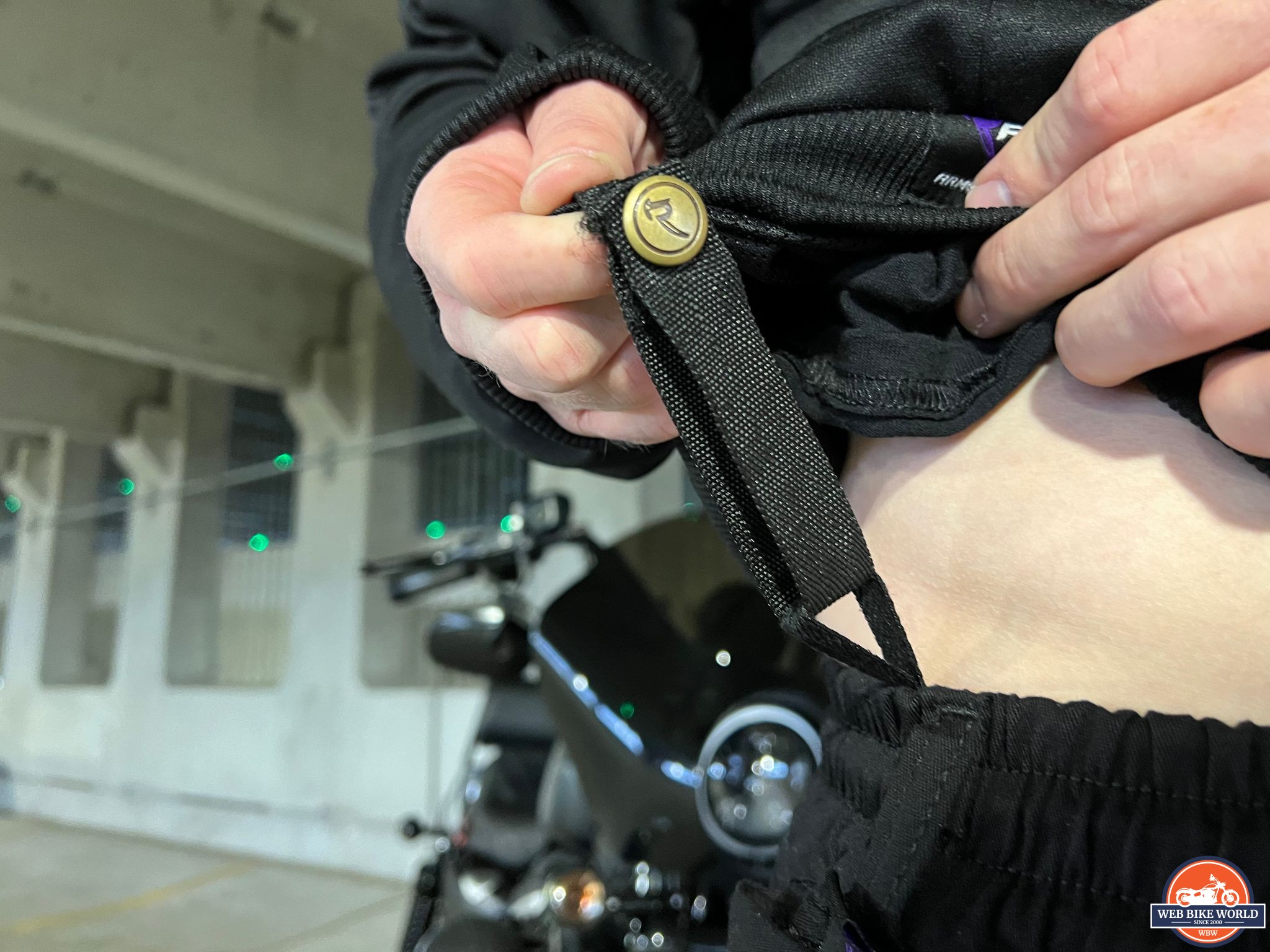 At the cuff, RAVEN has incorporated another pair of safety loops meant to go around your heel. With the help of a decent pair of riding shoes, the safety loops will prevent the pant leg from rolling up in a slide.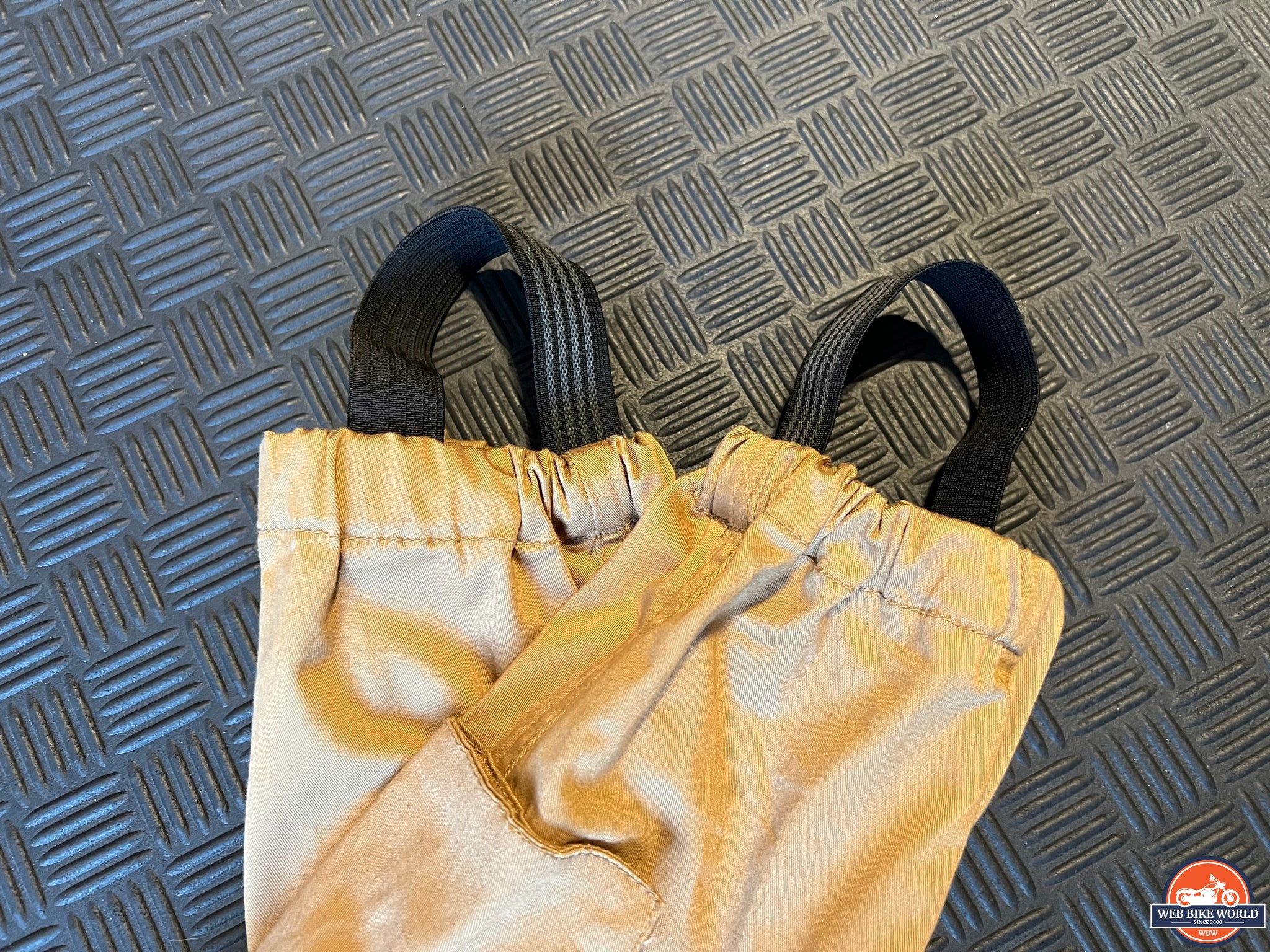 Protection Rating: 80%
I've given the ARCANE Armored Cargo Joggers a good score for protection for a number of different reasons.
First off, I love that RAVEN Moto includes CE level 2 protection in your purchase. I've received several pieces of gear from them and each time the included armor has been of better quality than I've purchased myself separately.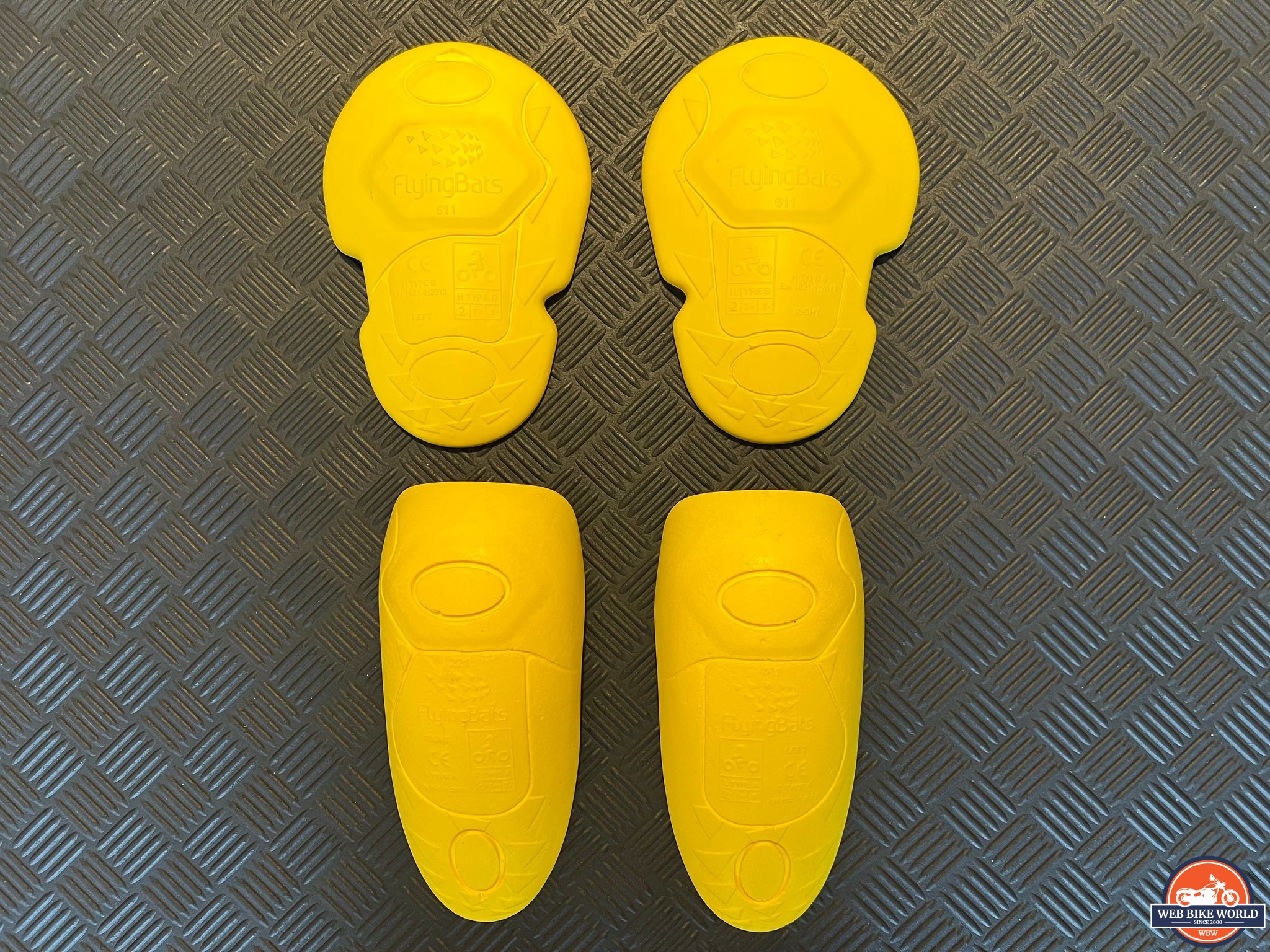 Secondly, the added safety loops are a simple, yet very thoughtful addition. Of course, riding gear can only protect the skin that it's covering. The safety loops may not be the perfect solution, but they'll certainly help keep everything in place during a slide.
The Kevlar lining is where the ARCANE joggers are taking a bit of a hit. While effective and essential to have, it is not the most extensive lining we've seen. Coverage is limited with the majority of the rear mid-to-lower leg exposed, as well as portions of the front upper thigh, crotch, and lower legs.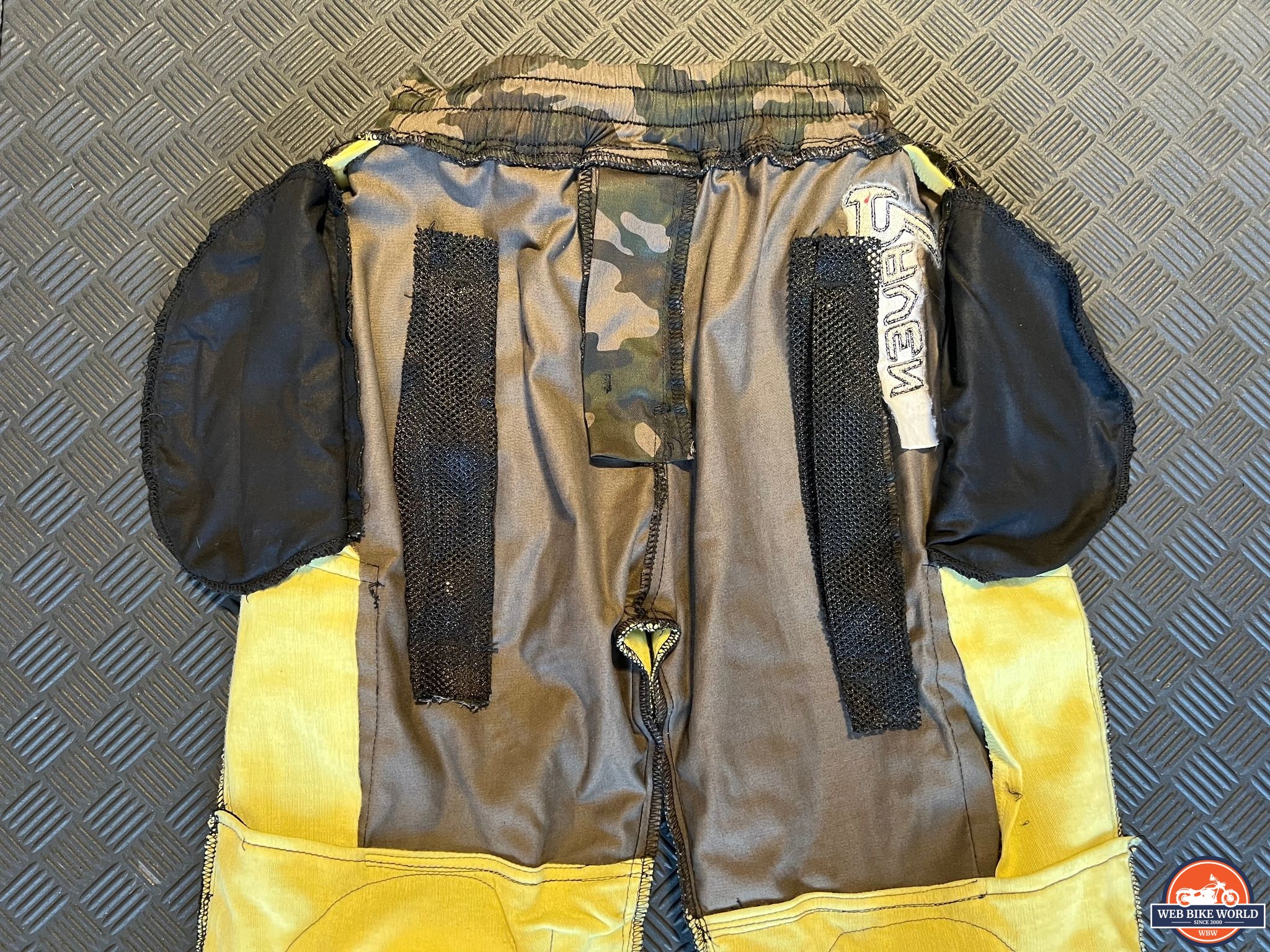 With that in mind, it is my belief that the ARCANE Armored Cargo Joggers offer more than sufficient protection for casual riders like myself. If you have a knack for higher speeds, you may want to look for something more robust.
Features
If you've made it this far into the review, you'll be relieved that I'm finally getting to the good stuff. As they typically do, RAVEN Moto has incorporated as many features into the ARCANE Armored Cargo Joggers as they could.
External Access to Armor Pockets
If you're like me, you can't stand flipping your gear inside out to adjust, remove, or add armor inserts. Something tells me the team over at RAVEN Moto feels the same way as they've designed external access for the ARCANE joggers.
On the hip, armor can easily be added or removed by opening the velcro closure. The pocket is fairly large and located directly over the hip joint. It was able to accommodate various types of inserts that I had in some of my old gear.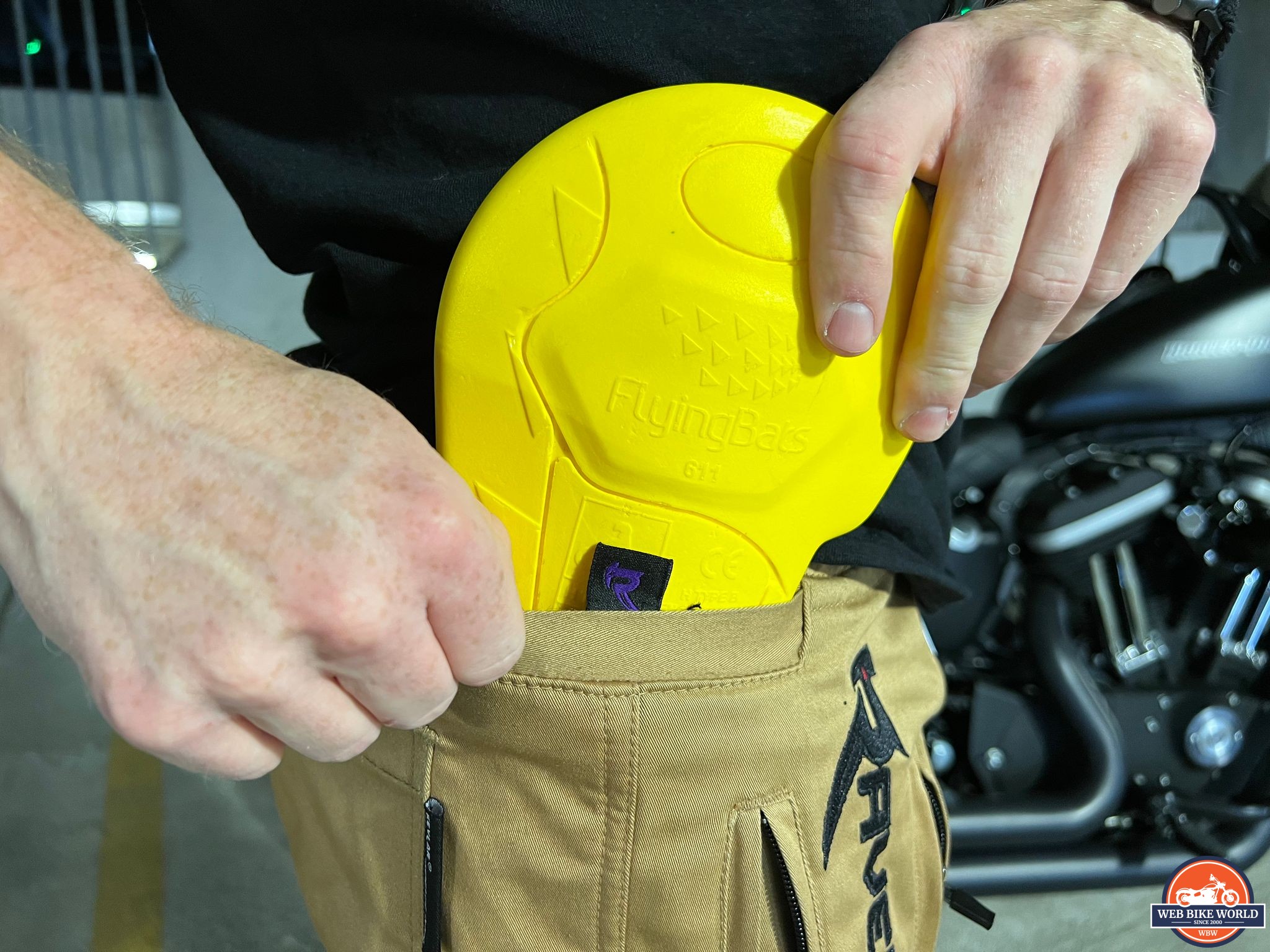 The knee armor can be accessed by unzipping the pocket on the inner knee of the pants. Unlike interior pockets, the armor can easily be adjusted externally while wearing the pants through this pocket to ensure a perfect fit. Once again, the pocket was able to accommodate armor from different manufacturers.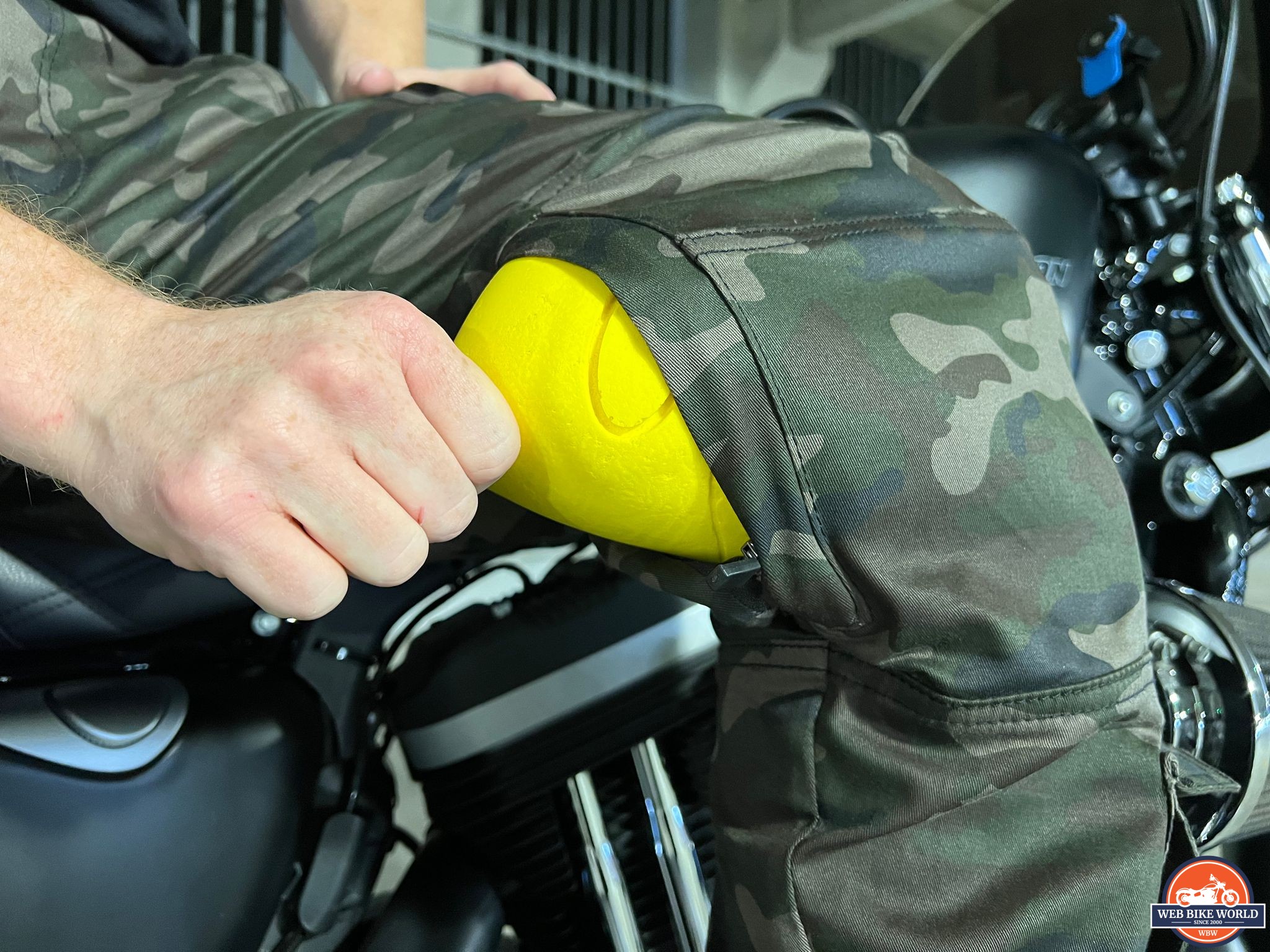 Air Vents
On the front of the joggers are two zippers positioned ever so slightly on the inner thigh. You wouldn't believe my excitement when I unzipped them and found dual air vents with mesh backing.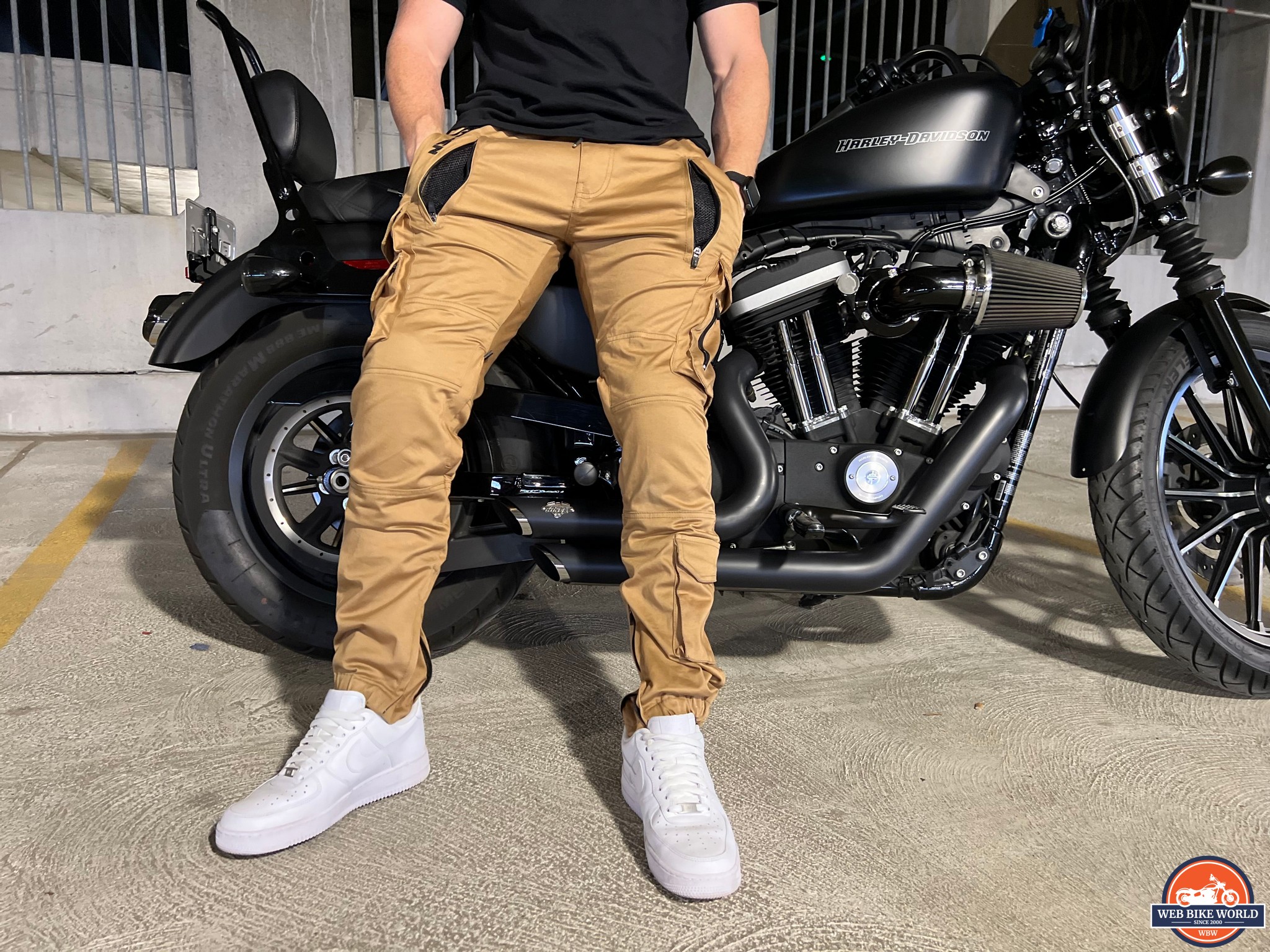 On my bike, I couldn't believe the difference this made on a hot day. The vents are positioned perfectly to allow in air while riding and keep everything cool and comfortable. As I suggested above the only downside to the vents is the lack of Kevlar lining in the area to accommodate for them.
Pockets Galore
The ARCANE Armored Cargo Joggers have more pockets on them than I know what to do with. Aside from your traditional front and back pants pockets, there are 2 large stacked cargo pockets on each leg. On the left leg, there is a smaller cargo pocket just above the cuff of the pants.
Each pocket, with the exception of the back pockets, is secured with YKK zipper closures. The zippers felt durable and were free of any frayed stitches for smooth open and close action.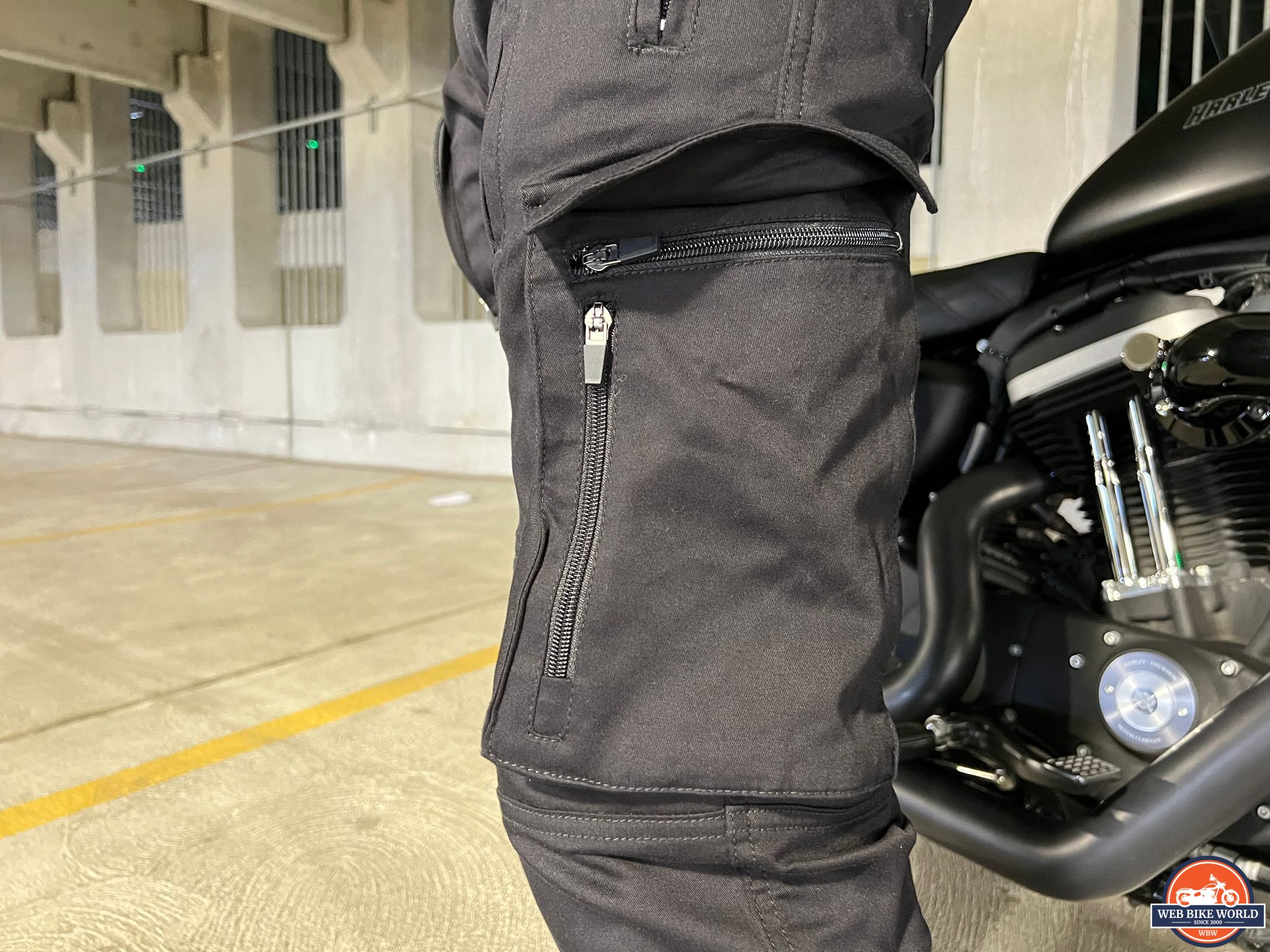 Adjustable Flex-Zipper Ankles
If you're unlike me and won the genetic lottery to be blessed with big calves, RAVEN's got you covered. Just above the ankle is a zipper that extends roughly 8 inches up the leg of the pants. The zipper can be opened and closed for more or less taper for a tailored fit.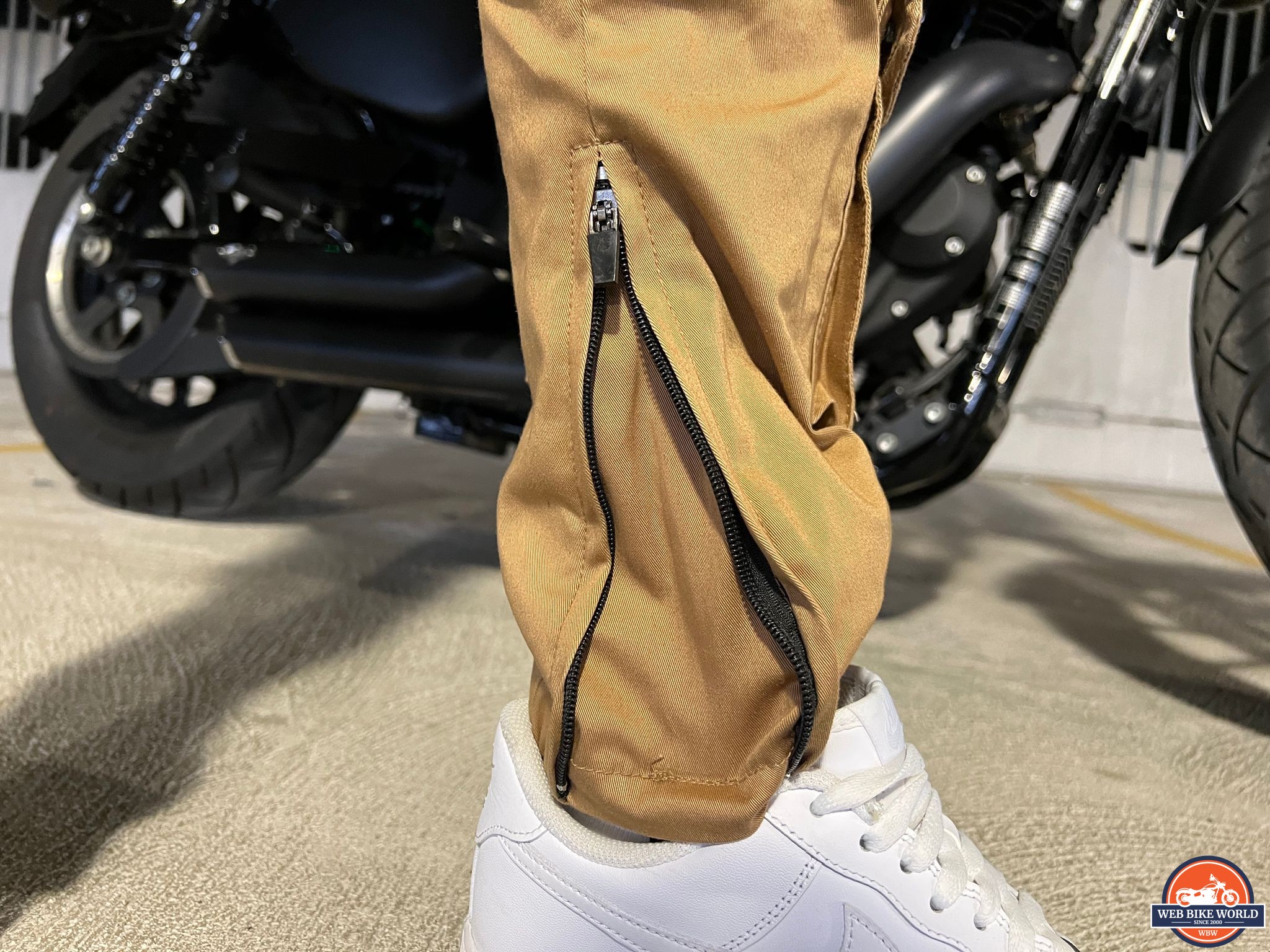 Features Rating: 85%
Sometimes we see manufacturers jam features into riding gear seemingly just to say that they did. Oftentimes they lack a meaningful purpose and can potentially deter you from buying it. Fortunately, the opposite can be said for RAVEN with the ARCANE joggers. Each feature they've incorporated is well-thought-out and brings BIG value to the rider.
I'm not very fond of pockets on riding pants that don't zipper, or other means of closing. I don't feel as though my belongings are secure while riding without it. With the ARCANE Joggers, every pocket, aside from the rear, is secured with zippers. That's a huge plus for me!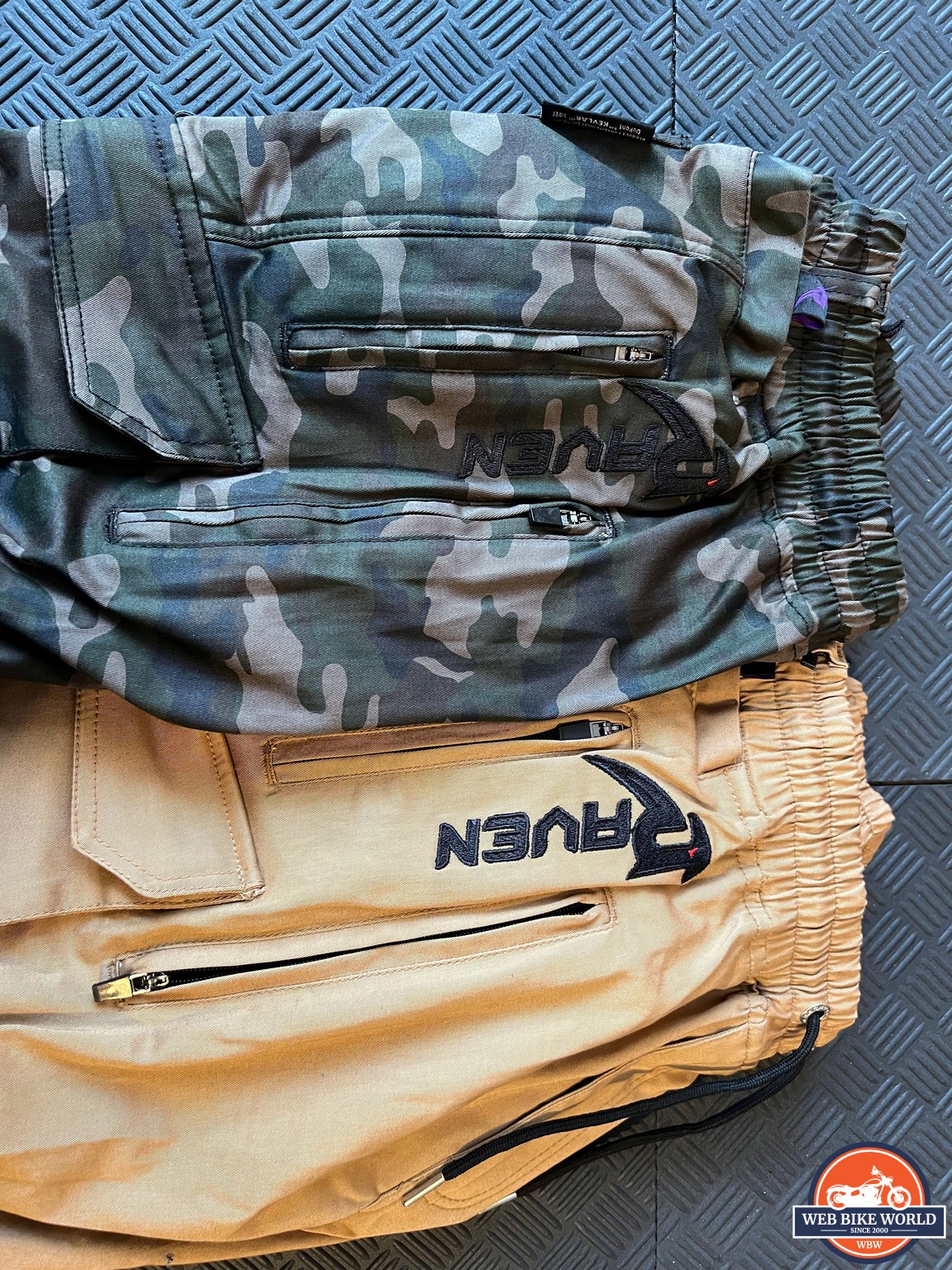 How do you score big with me? Incorporate breathability and airflow into your design. The air vents are a blessing on a hot summer day. I liked that I could open and close them as I pleased and that they didn't take away from the overall look of the pants.
The external access armor pockets are very convenient and a nice touch, but I'd to see the knee access reworked. As is, the zipper is on the inside of the leg and is covered by a flap of material for a seamless look.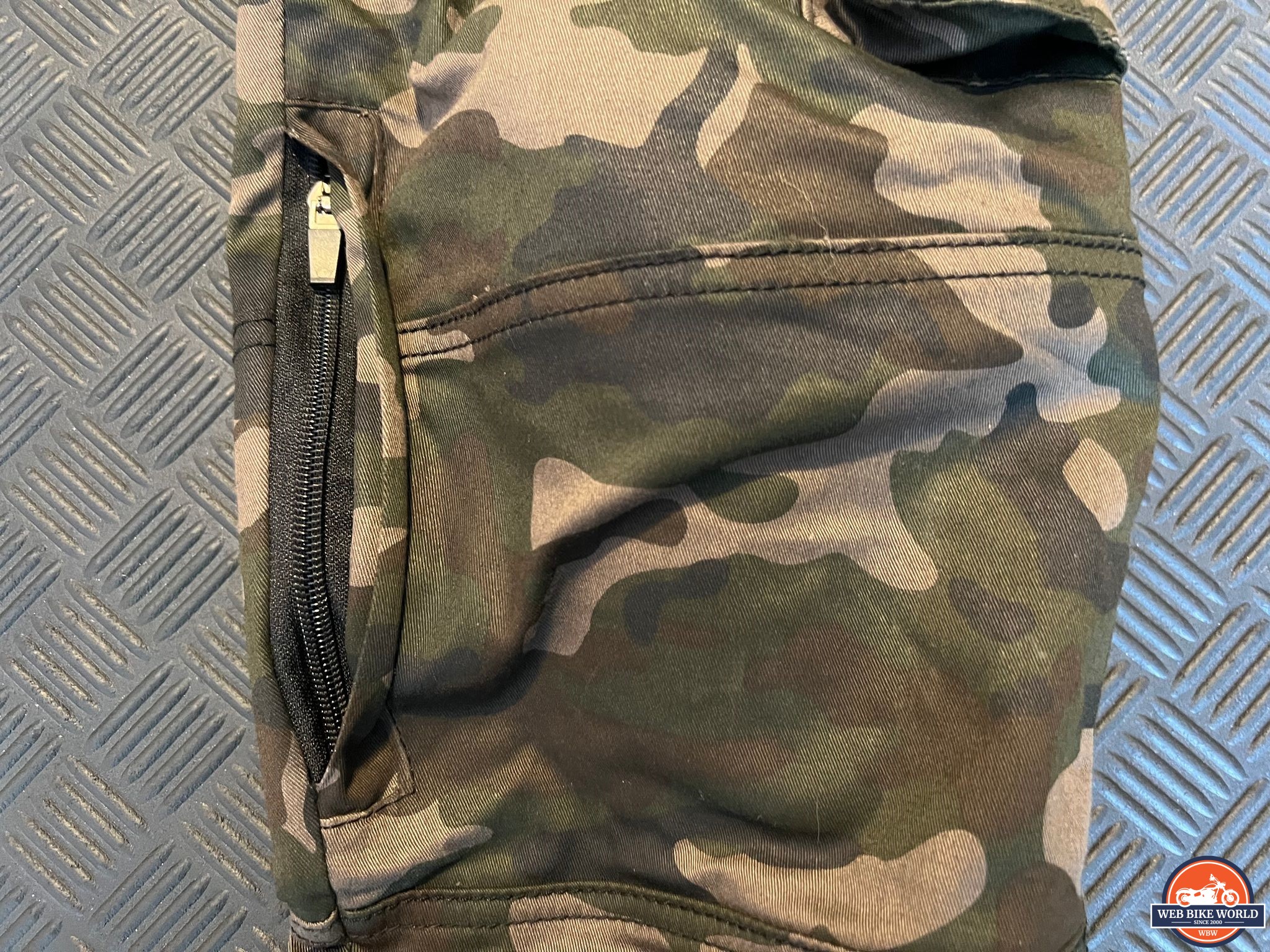 While admittedly highly unlikely, there is a chance that the zipper could scratch your bike's paint should it rub against it. By moving the zipper to the outer leg, RAVEN can effectively eliminate that possibility entirely.
Final Verdict
Are you still with me?
I apologize for the lengthy write-up, but I feel it would've been an injustice to you as a rider to not cover the ARCANE Armored Cargo Joggers in depth. That is my way of ensuring that you are making an informed decision.
Almost my entire experience with the ARCANE jogger has been positive. I believe it's important that you keep in mind it is my job to nitpick and point out every drawback I find; even if it is such a minor inconvenience that I wouldn't think twice about it.
So after my long-winded review, where do I stand on the ARCANE Armored Cargo Joggers?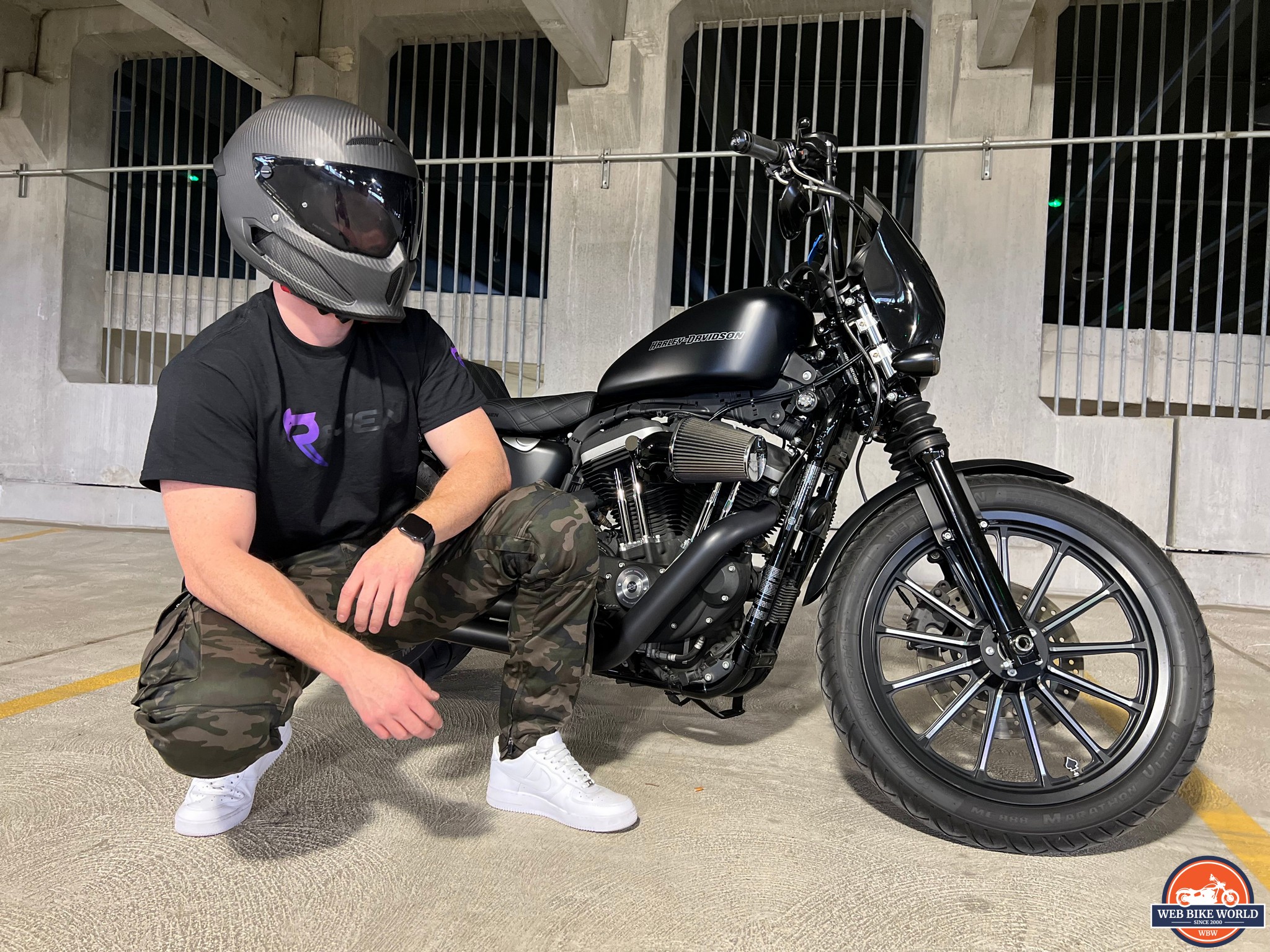 I love them. They are a pair of riding pants that I know I'll be riding in for many seasons to come. The comfort is unmatched and the added convenience of being able to load up the secure pockets is huge for me.
The pants will provide me with plenty of protection, perfect for the casual riding that I do. Those of you who have a need for speed may want something with more protection, but for the vast majority of us just looking to enjoy a day out, they'll serve you well.
Taller riders and women with an hourglass figure may find that the unisex sizing is not inclusive for their bodies. Hopefully, in the future, we will see RAVEN offer greater size variety to include your body types as well.
For now, the only thing left for me to say is what are you waiting for?
Pros
Very discreet design that's indistinguishable from regular streetwear
Dual zipper air vents are a blessing on hot days
2 back pockets and 7 on the front that are secured with YKK hardware
The inner lining is made out of 100% DuPont Kevlar with reinforced stitching
Armor pockets can be accessed externally
Premium CE Level 2 protectors are included
Cons
Sizing does not accommodate taller riders and/or curvier women
Low waist design can be annoying while in riding position
The zipper on the external access knee pocket could scratch your bike's paint
Where to Buy?