Don't be a knucklehead! There is no need to go overseas to buy rare, significant and exotic motorbikes at auction. Shannon's is holding a big sale in Sydney on November 17 that includes a world-class 1937 Harley-Davidson Knucklehead, two superb Post-War British racing bikes and seven rare 'no reserve' small-capacity Italian motorcycles.
But just because it's an Australian auction doesn't mean you won't be bidding against international collectors as Shannons has an Online Bidding facility. So expect some lively bidding.
The good news is that not everything is going to cost you an arm and a leg. You can get into bike collecting much cheaper than cars and, if you're on a really tight budget, how about a 1950s Cyclops Scooter in original condition with no reserve? It is expected to go for around $200-$300.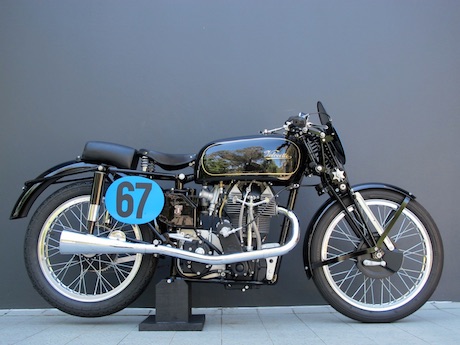 At the other end is the star of the collection, a circa 1937 Harley Davidson EL Knucklehead V-Twin that has been the subject of a show-winning, ground-up restoration. It is expected to reach as much as $80,000. The last Knucklehead sold by Shannons was a 1947 model that fetched $64,000. (UPDATE NOV 19: It sold for $73,000.)
There is also a rare Harley-Davidson circa-1965 Bobcat 175cc single cylinder believed to be the only one in Australia. It has just 2020 miles on the odometer, as it has spent most of its life as a display piece. It is offered with 'no reserve' and is expected to sell up to $5000.
Two rare post-war British racing motorcycles are expected to attract international interest. They are an AJS 7R 350cc single-cylinder ($46,000-$54,000) and a Velocette KTT MK VIII ($48,000-$52,000). The former may need some engine work, but the latter has been lovingly and carefully displayed in a humidity-controlled environment since its Concours-standard restoration.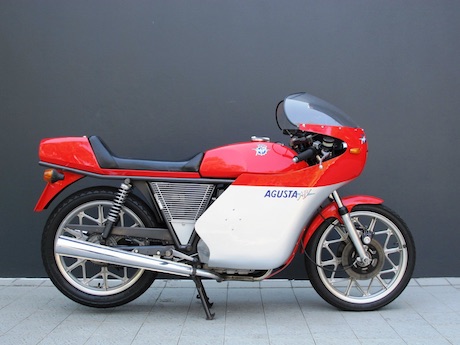 If small-borer Italians get your heart racing, there are seven offered at no reserve, including a circa-1976 MV Agusta 350cc S Ipotesi that has been maintained to original condition with factory upgrades. It is expected to sell in the $10,000-$14,000 range.
Others include a circa-1954 Gilera Saturno Sport 500cc ($14,000-$17,000), a circa 1965 Moto Morini 250cc ($5000-$8000), a circa 1956 Moto Guzzi Zigolo 98cc ($5000-$8000) and a circa-1951 Lambretta Model C 125cc Motorscooter.